Winter is upon us, which can only mean one thing for the ever-moving world of fashion: Spring shoes are just around the corner and a heap of new trends is going to come with it. It's intimidating, but have no fear! While you've been zipping up your knee high boots, we've been hot on the trail of the best shoe styles of the upcoming season. Even though it was difficult to narrow it down, here are the trends we're most looking forward to for Spring 2014:
Mules: Not to be confused with the animal, mules are shoes characterized by their exposed heel and this Spring 2014 season they are everywhere. Backless shoes are a trend everyone can rock, as they come in a myriad of heights. We spotted them on the catwalks of mega-brands Alexander Wang, Chloé, Stella McCartney, and Céline. Our faves? Of course, Gianvito Rossi is the master of the mule – he even designed Altuzarra's gorgeous runway mules – but, we also can't help but love Monique Lhuillier's gorgeous use of PVC in her heel-baring designs and Christian Louboutin's bead-embellished creations.
Placid Blue: This icy-toned blue is one of Pantone's top picks for the Spring 2014 season. Dubbed "placid blue," this hue does indeed have a calming and serene quality about it and designers latched onto it for their warmer weather designs. Used as both the main color and as an accenting neutral, we love the way this normally subversive color is taking control this season. From the curved heel of Walter Steiger's glorious pump to Miu Miu's chunky heeled platform, this color has proven itself to be much more than an Easter egg favorite.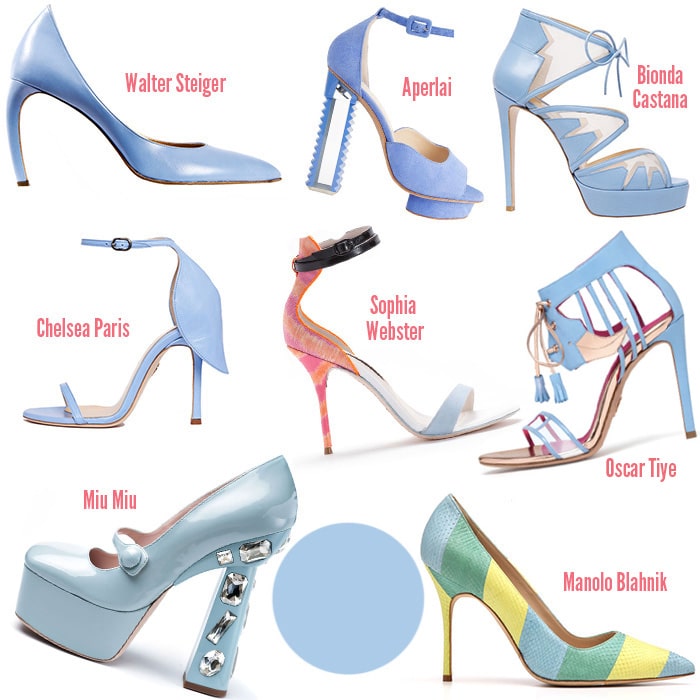 Freesia: As if to tell placid blue to move over and share the stage, this Pantone pick is a blazing yellow that commands attention. Freesia is the color of electric citrus, and where placid blue is a blue sky, freesia is the smoldering sun. Just a glimpse at the color instantly energizes you, which is why it isn't surprising that designers such as Giuseppe Zanotti, Nicholas Kirkwood, Prada, ShoeRazzi favorite Jerome C. Rousseau, and John Galliano (spotted on the trendy heels of Rita Ora) have all utilized this vibrant color. After all, there is no better way to add a kick of ferocity to an outfit than with a sick pair of shoes!
Sporty: This spring, the femininity of high heels are combining with an unexpected element: sportiness. We briefly delved into this trend in our recap of the hottest shoes on the Milanese runways, but this trend is proving to be much more than a footnote. Whether it's through the use of athletic materials such as perforated leather (Daniele Michetti), woven nylon (Balenciaga), and neoprene (John Galliano), or through design like Emilio Pucci's padded leather straps, Prada's rubber bumpers and sole, or Christian Dior's sneaker laces, it's clear that one of the hottest trends of Spring 2014 is combining urban style with luxury.
Funky Embellishments: For the past couple seasons, wild embellishments have been a designer standby to make their shoes really stand out, and this season is no different. We're seeing a wealth of extravagant and unique embellishments that are making classic shoe designs total statement makers. From Sophia Webster's spunky and vibrant butterfly wings to Bionda Castana's ingenious use of lace and silicone to create a leopard print, using embellishments is the go-to way to make your shoes the most enviable soles on the block. Christian Louboutin even got in on the trend with his darling doorknocker embellishments and that's how you know it's a must-follow trend.
Floral Appliqué: Along the same vein of embellishments, another incredibly popular trend during this upcoming spring and summer season is the use of floral appliqués. It makes sense when you think about it: what better way to celebrate warm weather's flowers and gorgeous variety of colors than using those very vessels of vibrancy as shoe-spiration? The flowers range from subtle (Christian Dior, Brian Atwood) to a veritable bouquet (we're looking at you Aperlai and Kotur!), but no matter the size of the flower, we love the elegance and femininity it effortlessly conveys.
Beaded: By this time, you're probably sensing a theme: next season is all about personality-filled shoes. The more accoutrements the better. Following the shoe jewelry trend (shoewlry? We'll work on a name for this, we promise), some of the hottest shoes you'll be seeing in Spring 2014 are ornately beaded works of footwear art. Emilio Pucci's Masai-inspired beading is picture perfect, Paul Andrew's floral inspiration combines two trends in one pump, and Aperlai's caviar beaded platform shoes – seen on Willow Shields during The Hunger Games: Catching Fire press tour – is edgy while still being darling. However, the shoe that takes the bead-embellished cake is definitely Jerome C. Rousseau's multi-beaded, multi-dimensional heel, which is sure to turn heads.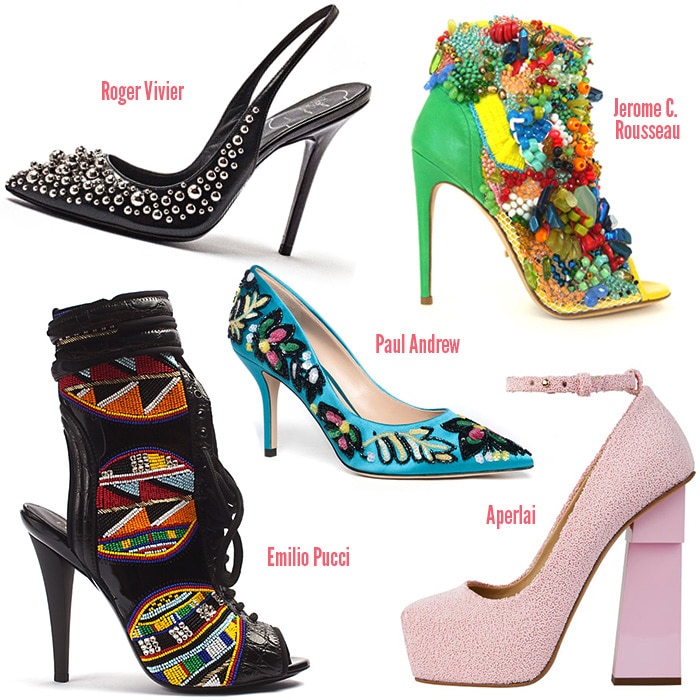 Written by Shannon Weston