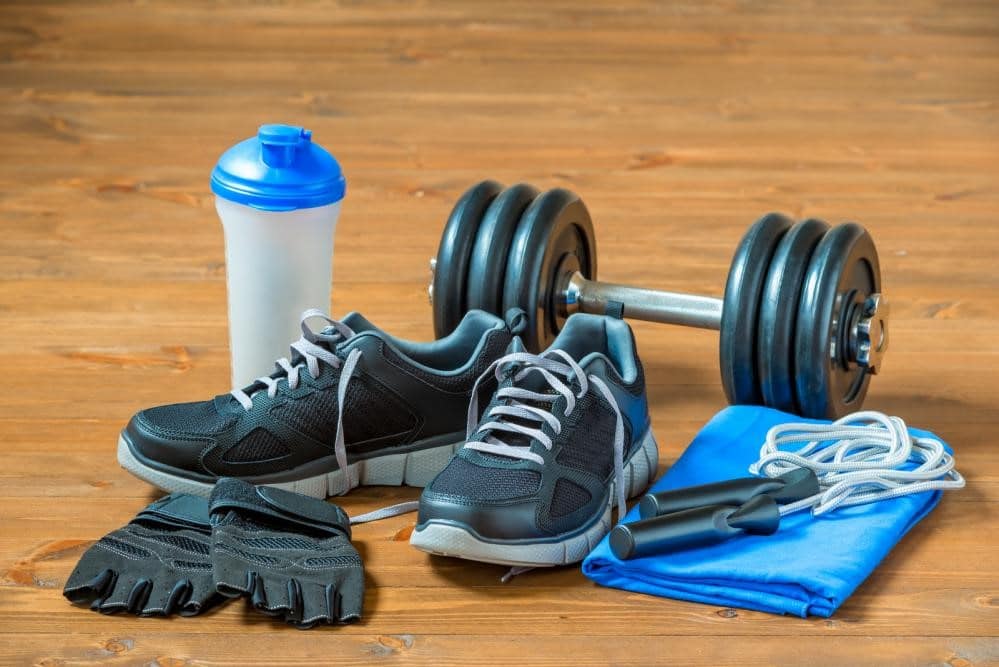 If you have recently found the motivation to go to the gym, you must be feeling great, right? There are a number of reasons why people hit the gym. Maybe you want to get back into shape or you want to lose some weight. Perhaps, you may be looking to gain lean muscle mass. Whatever your goal is, regular workouts at the gym can improve your energy levels, and physical and mental health.
Whether you are new to the gym or are a regular wanting to up your game, it is crucial to use the right apparel for your workout sessions. This will help make your sessions more efficient and productive. One of the most basic parts of your apparel is footwear.
It can be difficult to perform a proper workout with formal or casual shoes. This is why fitness footwear companies have been offering shoes that are made, especially for gym use. Wearing the best gym shoes can ensure safer and more efficient workouts for you every time you hit the gym.
For those planning to get a pair of gym shoes for themselves, they are likely to find several brands and models out there. Picking out a pair or two that will match your specific needs is going to be overwhelming, to say the least. Selecting the right pair requires knowledge and understanding of these shoes so you know what to look for when you are considering your options.
If you are having a hard time finding the right pair, we have got you covered. We have prepared this comprehensive guide that focuses on the best gym shoes for men. From this guide, you can expect to get detailed information on gym shoes in general, essential factors that can help you choose the best pair and the best models out there.
Buying Guide to Gym Shoes for Men
We have divided the entire guide into several sections to help you learn about gym shoes. In addition, we have reviewed the top 10 gym shoes that you can get in the market right now.
By the time you are done reading this guide, you will become an expert on everything related to gym shoes, and you will have no problems in deciding on your next purchase.
Why is it important to buy gym shoes?
First of all, let us discuss why it is important for people to buy gym shoes instead of wearing regular shoes at the gym.
Exercises of all types, whether it is running, walking, or using different gym equipment like treadmill, all require the use of appropriate shoes. When you exercise, your body goes through a lot of stress due to the intensity of the workouts. Gym shoes are designed with the purpose of facilitating these workouts and protecting you from injury.
They can have a lightweight construction or a specific design to provide you with support during specific workouts. They provide a safer and more stable base for you to exercise on, reducing (or even preventing) the risks of injury, which can affect your fitness goals and your health.
Gym shoes are essentially sneakers made using a variety of materials. You can expect them to have various synthetic materials or leather construction, and they typically have flexible soles. The heels usually provide cushioning to absorb the force of impact when you make heavy landings, preventing the chances of incurring common injuries like bunions, strains, corns, and even fractures.
If you do not have the right footwear, you will expose yourself to the risk of several exercise-related injuries. Gym shoes offer complete protection for your feet, ankles and toes. The weight distribution they provide keeps your whole body stable. This means these shoes help reduce your overall risk of injury while exercising.
Investing in the right gym shoes pays off well in the long run. Whether you are running, weight training, or performing any exercise, wearing the right shoes will keep you comfortable and safe so you can achieve the desired results.
Anatomy of Gym Shoes
Now that you understand why it is important to invest in gym shoes, let us try and understand why they are better than regular shoes. Gym shoes consist of several parts that work together to improve the wearers' performance. While the design varies from manufacturer to manufacturer, and from model to model, the general anatomy of these shoes is typically the same.
Shoe Upper
The entire area of the shoe above the heels is considered a part of the upper section. This is the area that covers the foot of the wearer. This is the part made of either leather, mesh fabric, or a host of synthetic materials, and it is attached to the midsole. If the shoes have a lacing system, it is also going to be located on the upper section of the shoe.
Midsole
The midsole is the part of the shoe that is between the layer your foot rests on and the outer sole. In gym shoes, the midsole generally contains air or gel within it. The upper section of the shoe is attached to the midsole. The primary function of the midsole is to provide shock absorption from a strong force of impact and provide support to the feet of the wearer.
Outer Sole
The outer is the bottom-most part of the shoe's exterior. The outer sole makes contact with the ground. Typically made of rubber for gym shoes, it acts as the barrier between the ground and the feet. Traction in the outer sole provides wearers with the grip they need so they can walk or run on any kind of surface.
Inner Sole
The inner sole or the sock liner is a removable layer of foam inserted in gym shoes. The bottom of your feet comes into contact with the inner sole. It protects your feet from the seams within the shoe and offers comfort to the wearer. Some inner soles can have arched designs or additional cushioning for more comfort.
Lasting
The lasting is the part of the shoe between the midsole and the inner sole. This is where the upper section of the shoe is attached to the sole.
Heel Counter
While not all shoes have this, the heel counter is the part of the interior of the shoe at the back. This is where the heel of the wearer rests within the shoe. Heel counters provide additional stability and support to the foot.
Heel Collar
The heel collar is also known as the heel cuff. This is the part of the shoe you find at the opening where your feet are inserted into the shoe. Heel collars are typically padded, and keep the ankles in place when you wear the shoes. Heel collars provide extra comfort to the ankles of the wearer, thereby protecting this area from chafing against possible friction.
Shoe Tongue
The shoe tongue is part of the upper section. It is located between the feet of the wearer and the laces of the shoe. In gym shoes, the tongue is typically padded to provide more support and comfort to the wearer.
Shoe Lacing System
The lacing system of a shoe allows the wearer to get the right fit, based on their needs. There are a series of small holes in this area called eyelets that have laces running through them. The shoelaces tie up to close the top of the shoe around the foot, creating a custom fitting for the wearer.
Things to Consider When Buying Gym Shoes for Men
Understanding the anatomy of a gym shoe is just part of it. Now that you know about the different parts of the gym shoes and what they are responsible for, it is time to look at the qualities you need to look for when you are buying gym shoes.
Traction
Regardless of what type of workout you are using your gym shoes for, their traction matters a lot. Excellent traction can prevent you from slipping and injuring yourself while working out. Make sure to thoroughly consider the traction of the shoes you are considering buying.
The pair needs to have an advanced pattern on the outer sole, which provides great traction. The traction required for outdoor shoes is generally different from what is required for indoor exercises. Keep that in mind.
Support
Stability and support can make a massive difference to your workouts. No matter what kind of exercise you go for, you cannot afford to wear shoes that cannot hold your feet steady under stress.
Traction is a major part of the support that gym shoes should provide, but design stability depends on more factors. Proper support is critical to ensure you execute your form perfectly when exercising and remaining steady. A stable midsole makes a significant contribution to making sure of this.
When your feet have adequate support through your shoes, they are less likely to assume an overpronating or unnatural position. You need to be aware of the exercises you are doing and the form you need to assume to make the most of it. But the shoes you choose should allow you that extra bit of support to achieve the perfect execution.
Different types of activities require varying levels of support. People focused on weight training rely a lot on their feet to provide them with a stable base for pulling up heavyweights. They will require relatively higher stability compared to someone focusing on CrossFit. CrossFit requires more stability compared to lighter training done on stationary bikes or weight machines.
When you are choosing a pair of gym shoes, you need to consider what purpose you want to use them for and focus on that during your workout. If you are only interested in weight training, gym shoes for that will be different from the shoes which people use for running on a treadmill. For general workouts, each of the options we have reviewed will give you the support you need.
Another thing is to keep your particular requirements in mind. If you have flat feet, for instance, you need shoes that provide the underside of your foot good support throughout the length of the sole. Someone with high arches needs a more cushioned option that is flexible and does not cause friction against the top of the feet.
Breathability
The merits of well-ventilated shoes cannot be stressed enough. This is an important quality to consider all types of shoes. Even if you are using your gym shoes for light training in the gym, breathability can mean a lot to your overall experience.
A shoe with an upper made from mesh or breathable perforations is ideal. If there is a decent amount of air circulating within the shoe, it will prevent the inner temperatures from rising too high and the feet from sweating. Aerated shoes keep your feet cool and dry throughout the training sessions, no matter how long they extend.
If the gym shoes do not have proper airflow, the buildup of perspiration can make the whole experience very uncomfortable. It can result in blisters and chafing.
Look for shoes that offer a substantial amount of airflow to your feet.
Weight
Footwear manufacturers generally try to make their products as light as possible, even when they are making casual shoes. The reason behind keeping shoe lightweight is simple: the lighter the shoe, the fewer effort wearers will need to make to move it. General exercises require a lot of movement from your feet, which is why you should wear light shoes.
Of course, not all gym exercises require plenty of movement. Someone focused on powerlifting does not need to focus on the weight of the shoes compared to someone running on a treadmill. The primary focus of weight training shoes is on stability in a stationary position. Sometimes, heavier shoes can actually be more efficient than lighter shoes in weight training.
Gym shoes meant for aerobic exercises need to have designs optimized for the best performance without too much weight. That being said, you cannot compromise on performance for lighter weight.
Depending on the exercise you need your gym shoes for, you need to find the shoes which can balance performance and weight to provide you maximum stability, protection and cushioning.
Look for shoes that have lightweight midsoles, but can still support your feet for the exercise you are using them for. The upper material should preferably be lightweight regardless of the exercise you need them for. Of course, if you are using the shoes for high-intensity workouts, the upper needs to wrap around your feet for a snug and secure fit.
When it comes to the general rule regarding weight for your gym shoes, think of it like this: The more impact and weight your shoes need to withstand, the heavier they might have to be.
Comfort
Comfort is often the most overlooked aspect in footwear across the board – gym shoes are not excluded from this. You should always pay a lot of attention to your comfort when you are picking out any type of shoe for any application, especially for your gym. The idea is pretty simple – the more comfortable you are, the better you can perform your exercises.
Comfort can depend on a whole host of features within the shoe. If anyone of these factors is not there, the overall comfort level can make shoes unsuitable for the wearer. Discomfort is a very clear sign that there is something wrong with the shoe's design. The best gym shoes provide you with substantial features offering you comfort while exercising efficiently.
Personal preferences aside, a design needs to allow breathability, cushioning, flexibility, and it should be made using comfortable materials, especially where it matters the most. When you are considering gym shoes, look for the comfort features that they offer. This can include padded collars, heel counters, EVA midsoles, foam-infused upper sections, and more.
There are countless ways that manufacturers can achieve comfort for the wearer through their products. You just need to make sure that the shoe you buy offers the comfort your feet need.
Midsole
Midsoles in shoes are generally able to define the exercise particular gym shoes are suitable for. If you are running or doing CrossFit exercises, the midsole plays the role of absorbing the force of impact and providing you a slight pushback to help make the exercise more efficient. If you are weight training, wearing shoes with highly cushioned midsoles can be dangerous.
Weight training shoes require midsoles that can keep their shape regardless of the heavy load they have to bear. Since there is no rapid movement, they do not need to cushion the force of impact.
Not having adequate midsole can result in grave consequences for the fitness enthusiast. When you are choosing gym shoes, keep your preferred exercise in mind and pick out shoes that have midsoles offering adequate support for that exercise.
Frequently Asked Questions
Text about some common questions regarding gym shoes
Q. What are the different types of gym shoes?
Aerobics shoes are the most popular gym shoes. They are suitable for running and CrossFit exercises. You will also find Olympic lifting shoes, meant specifically for particular exercises and regular weight training. These categories have their subdivisions like weight training, squats, deadlifts, or standard weight training.
Q. Are these workout shoes suitable for running?
The suitability of gym shoes for running depends on individual designs. We have included a lot of options that are suitable for running as well as general workouts.
Q. Do I need to buy weightlifting shoes separately?
If you are serious about weight training, you should definitely buy shoes specifically made for weight training. Everything about those shoes is designed keeping the requirements of weightlifting in mind.
Q. Does deadlifting damage my gym shoes?
If you are wearing shoes that are not meant for deadlifting, you can definitely expect your shoes to get damaged when you are lifting heavyweights. They might be able to bear the lighter weights in the beginning. But, as you progress and move to the heavier weights, the shoes will wear out much faster.
Read Also: Best Weightlifting Shoes
Our Top Picks
Best Overall Gym Shoes for Men: Adidas Alphabounce Instinct
Best Premium Quality Gym Shoes for Men: Nike Men's Metcon 4 XD
Best Value Gym Shoes for Men: Tesla Knit Pattern
---
Best Gym Shoes for Men
After going through hours of research, reading reviews of people who already wear these shoes, and factoring in our own experience, we have compiled a list of the top ten gym shoes for men.
By the time you are done reading this list, we are confident that you will know which pair (or pairs) is the best for gym use.
Featuring Adidas as the first entry on the list of best gym shoes for men should not come as a surprise. A top manufacturer of sports goods, Adidas offers an array of footwear products to cater to various needs. Among all these shoes, the Alphabounce is their premier pair of shoes for use in the gym.
As the name of the shoes might suggest, wearers can expect responsive shoes that offer exceptional shock absorption and feedback. The Adidas Alphabounce were designed by the company for runners who like running out on the road, but the pair performs equally well for indoor exercises. The lightweight upper gives you a skin-like feel when you wear the shoes.
The shoes give you an overall grip that is perfect for performing a wide range of exercises. The midsole on these shoes offers a lot of feedback, regardless of the kind of exercise you use them for. Upon making an impact with the ground, the midsole compresses to dampen the force of the impact and then expands back to its normal shape to deliver a pushback that gives you the boost you need.
Whether you are running on a treadmill or taking an aerobics class, your feet will not feel tired. The mesh used for the upper section is both lightweight and breathable. The sock-like fit on your shoes, along with the breathability, provides both comfort and cushioning. The heel cup is made using molded EVA foam for more stable support while running.
Expect to be able to take out long hours of workouts with relative ease and comfort with these.
Pros
Extremely comfort shoes
Alphabounce midsole provides excellent shock absorption and feedback
Snug fit
Breathable shoes
Molded EVA foam heel cup
Cons
Toe box is a little narrow
Shoes are bulky
---
Nike running shoes are famous across the world, and the Metcon 4 XD shoes us that even in the gym, Nike's products excel. These are the perfect shoes for any kind of exercise.
The lining of these cross-training shoes adjusts to the shape of your foot and ankle. This gives both your ankle and the rest of your foot remarkable support and comfort. The design of the Metcon 4 XD is so comfortable and efficient that these shoes are also becoming a popular choice for regular use.
They have air cushioning and air sole technology, which ensures lightweight as well as high levels of cushioning and comfort without compromising on responsiveness. The sneakers can take heavy impacts well while keeping your feet and ankles safe from the force of impact. Their cushioning and support reduces the general fatigue, aches, and pain you can otherwise expect.
The outer cage and elastic heel strap on the Metcon 4 XD gives these shoes a one-of-a-kind look. Of course, they are not just aesthetic elements. These parts of the shoe also provide additional stability and support to the wearer. The inner lining molds itself according to the feet of the wearer while the outer cage takes the role of ensuring lateral stability. These two working together provide a stable place for your foot within the shoe and helps you keep a better balance.
There are several versions of the Nike Metcon 4 XD, and all of them have proven to be successful shoes for gym enthusiasts. The price might be a little restrictive for some, but they are some of the best pairs you can consider for hitting the gym.
Pros
Nike Air cushioning provides fantastic cushioning and feedback
Outer cage for a proper lockdown of feet within the shoe
Inner lining moulds itself according to the wearer's feet
Elastic heel strap for additional stability and comfort
Moisture-wicking lining
Cons
Sizing can be a little tricky to figure out
Quite expensive
---
The Tesla Knit Pattern might not come from a manufacturer as famous as the first two, but that does not mean their shoes cannot compete on the same level. The Tesla Knit Pattern is a very stylish athletic shoe and a fantastic option to consider you can wear to the gym. These shoes offer you good shock absorption, cushioning, flexibility, as well as breathability. This is a pair of gym shoes you can expect to handle high impact cardio exercises, aerobics class, and even weights.
The Tesla Knit Pattern performs well on any kind of surface due to the high traction it offers. These sneakers are also easy to find the right size because the size fits true. You can just order your regular size and feel confident that the pair you get will fit your feet well.
The upper section of these shoes is made using polyurethane for better security on the sides of the wearer's feet. The non-rubbing fit prevents the chances of chafing along any part of the foot and it has a generally low-profile design. Expect these shoes to keep your feet in place within the shoe no matter how intense your workouts get. The extra padding in the heel works with the perforated upper to give you superior overall comfort.
The flex groove outer sole is multidirectional. This means you can move from side to side in quick motions without losing stability or grip. Whether you are right in the thick of spin class or playing a 1 v 1 basketball game, you will not slip with these two on. To add on top of that, the price for these shoes is a bargain compared to all the features they offer.
Pros
Side support for additional stability
Non-chafing fit to keep your feet locked in place within the shoe
Breathable upper for better airflow
Multidirectional grooves offer better grip and traction
Excellent durability
Very reasonably priced
Cons
A lot of customers found the laces too short
No motion control
---
If you are a gym enthusiast who is inclined towards more minimal footwear, Nike's Revolution 4 might fit your preference. This is a pair of shoes made by Nike to offer you a snug fit with a sleek profile and a lightweight. The fit is secure and will lock your feet into the shoes very well, but offers a reasonable amount of breathability.
These shoes also have great traction and provide you a decent amount of feedback. Expect to get the best out of your treadmill running and cardio exercises. The upper section of the Nike Revolution 4 is made using lightweight mesh, which uses underlays to maintain a solid structure that supports your feet.
The midsole is made from soft foam material, which is lightweight and responsive at the same time. You will be able to wear these sneakers for long hours without worrying about your feet getting tired. The dual-purpose played by the midsole material really makes the Revolution 4 stand out.
The foam is not the thickest, maintaining the minimal look of the shoes, but it is still able to provide a substantial amount of dampening for the force of impact during your intense workouts. The midsole combines well with the molded outer sole to give you a good pushback effect that increases the efficiency of your workouts, reducing the stress on your leg muscles and feet.
These shoes are excellent running shoes, and can fare pretty well for exercises like aerobics classes.
Pros
Responsive cushioning dampens the force of impact and provides good pushback
Solid taction on multiple types of surfaces
Ultra-lightweight design
Minimal and sleek profile
Breathable mesh upper provides substantial airflow
Cons
Stiff sole
Makes for a narrow fit
---
Puma is another name that deservedly finds a place on the list of the best gym shoes for men. The Tazon 6 FM by Puma, in particular, is a pair of shoes made for gym enthusiasts who have flat feet. People with flat feet require bolstered midfoot support, and the Tazon 6 FM serves that purpose very well.
The midfoot stabilization also comes in very handy during a range of exercises and workouts, which require fast foot movements like Zumba and HIIT training. These shoes are surprisingly very lightweight considering how bulky they seem, and they are very comfortable. The shoes do run a little wide so they can accommodate flat feet better.
The sock liner in the shoes is made from Puma's own EcoOrthoLite material. The liner provides wearers with a very good fit and a great deal of comfort. The sock liner also helps keep your feet dry and cool. People with flat feet often struggle to find shoes designed to keep their feet safe from strain and injuries while exercising. This is why the Tazon 6 FM is a particular favorite for flat-footed gym enthusiasts.
Pros
Excellent lateral stability
The toe box has plenty of room
Stabilizing shank helps improve the balance of the wearer
EcoOrthoLite sock liner provides better breathability and midfoot support
Odor control features keep the shoes dry and cool on the inside
Cons
Sizing is a little unreliable
Stiff upper section
---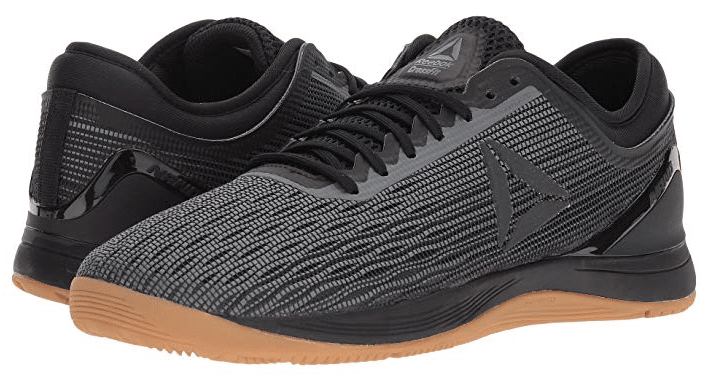 Reebok was never going to be far behind when it comes to shoes made for the gym. The CrossFit Nano 8 by Reebok, as the name suggests, was designed keeping CrossFit enthusiasts in mind. These make a durable and excellent pair of shoes made for exercising indoors. The outer sole on these sneakers is capable of handling just about any kind of exercise with ease.
The extra support that you get through the heel allows your feet to remain more comfortable even during high impact exercises. You can even lift heavy weights without your heels feeling sore by the end of the workout session. The outer sole is made using abrasion-resistant rubber and can grip multiple surfaces with great efficiency. This means you can easily use these shoes for running on different types of surfaces.
Whatever exercise you use these for in the gym, you can rely on these shoes to keep your feet firmly planted in one spot without slipping in any direction. The abrasion resistance ensures that they will last longer through the toughest of exercises with regular use.
The Nano 8.0 was designed with an external heel counter. This is an odd feature in gym shoes, but this makes the Nano 8.0 a more versatile pair. The heel cup placed outside provides more stability to the heel of the wearer's foot as well as creates a stable platform suitable for weight training exercises. The low cut of the shoe makes it reasonably flexible when you need it to be.
The Nano 8.0 is a great pair of gym shoes that can cater to your workout needs.
Pros
External heel counter for providing stable base
NanoWeave upper for superior breathability
CMEVA midsole
High abrasion-resistant outer sole
Low top flexibility for greater stability
Cons
Wider fitting makes them unsuitable for people with narrow feet
Overall durability is questionable
---
New Balance is another huge name in the overall fitness industry. Everything about the New Balance 608v4 training shoes was designed keeping the needs of gym training in mind. Whether you are lifting some weights or running on a treadmill, these shoes can help you do it all!
The padded collar and tongue on these shoes add to the overall comfort of the shoes. People with higher than normal arches, or those who suffer from swelling and other ankle issues will find the additional padding great for support. The sneakers will fit your feet, as well as any sneaker should, but they do not rub against the top of the foot or cause unnecessary movement within the shoe.
The suede leather upper might make a lot of people rethink whether or not they want to buy a pair of these. New Balance kept the aspect of breathability in mind when they chose suede leather. The inner lining is moisture-wicking and breathable, keeping your feet cool and dry even during the longest of workouts. You also get to enjoy solid support without compromising on your comfort.
New Balance has created a lot of amazing products that can suit the needs of gym enthusiasts, and the 608v4 is definitely one of the best that they have produced so far.
Pros
IMEVA midsole
Breathable lining for better air flow
Moisture-wicking inner lining to reduce perspiration
Offers good stability and traction
Padded collar and tongue for improved overall comfort
Cons
Shoes have a narrow fit
The durability is a little questionable
---
Seeing a pair of Nike shoes another time on the list of the best gym shoes should not come as a shock. The Air Monarch IV is one of their best gym shoes. They make every workout less stressful on the feet. Whether you are lifting weights or running on the treadmill, these gym sneakers can stand up to the force of impact of both and then some.
You will find these very light on your feet. The shoes are designed to keep your feet securely locked so you do not lose your balance or stability while you work out. The minimal design of the Monarch IVs also makes them secure yet comfortable. People with higher arches will love these shoes because of the excellent cushioning.
The sole is very flexible and it is engineered to allow for a more natural range of motion for your feet while providing them with support. The overall feel of the shoe is surprisingly light and the cutout sole keeps the shoes minimal and reduces any excessive weight. The Comfortable and flexible Monarch IVs is sure to please a lot of gym enthusiasts for a wide range of workouts.
Pros
Minimal design, lightweight
Excellent for people with high arches
Maximizes foot movement
Improves stability during workouts
Varies in width
Cons
Snug fit
Wider sizes are not wide enough for some customers
---
Asics is a relatively new company, but it is one of the best already. Where the likes of Nike and Adidas rely on their experience in the field, Asics has relied on the latest technology right from the start. The Asics Gel Kayano 24 is a perfect example of the ingenuity of their designers.
These shoes feature several technologies developed by Asics for the most modern sports footwear. Created to ensure a stable platform, secure grip and ensure that your feet stay firmly in place within the shoes, you will find these shoes remarkably responsive as well. The Gel Kayano allows you to focus on your form through different exercises instead of worrying about your shoes.
One of the technologies featured in the Kayano 24 is the FluidRide midsole. This material has a very light weight but it can provide an ample amount of cushioning and bounce back. The responsive material allows the midsole to take a beating for a very long time without losing effectiveness.
The FluidFit technology used in the upper features a mesh construction, which goes in multiple directions and reinforcements. They adapt to the shape of your foot and provide it support at the same time. The glove-like fit is comfortable and it allows you to get a substantial range of motion for your workouts.
These are great gym shoes for people with flat feet due to the supportive midfoot area. The impact guidance system developed by Asics is also featured in these shoes to allow a more natural movement for your foot from the moment your heel touches the ground to the point where it lifts off again into the next stride while running.
Pros
FluidFit upper mesh is breathable and provides a secure fit
FluidRide midsole provides superior shock absorption and pushback
Ample arch support
Ideal for people with flat feet
Excellent for overpronators
Cons
Sizes run a little smaller than standard
Rubber outer sole is not that durable
---
Many people prefer to use their running shoes at the gym. While not all running shoes can efficiently double as gym shoes, pairs like Adidas' Energy Cloud 2 definitely can. They are an excellent pair of gym shoes that offer stability and cushioning for the wearer while running outdoors. They work well for performing indoor exercises as well.
Durability is never a question with Adidas shoes and you can expect the Energy Cloud 2 to provide you with the long-lasting experience that the company's products are known for. These shoes have a breathable upper section with overlays that create a supportive cage. Keeping your feet cool, dry, and comfortable, these remarkable running shoes double as gym shoes efficiently.
The cushioned tongue and padded collar provide additional comfort for your feet on the top, the Cloudfoam midsole underneath your feet makes you feel like you are on a cloud with every step. The supportive cage prevents any unnecessary stress on your feet. The Adiwear outer sole is one of the most impressive features of the shoe.
The durable outer sole provides excellent grip and traction on a variety of wet and dry surfaces, making them a versatile pair of shoes.
Pros
Wrap around cage provides additional support for your feet
Cloudfoam midsole dampens force of impact and provides decent feedback
Reduces sweating through breathable construction
Durable Adiwear outer sole
Padded tongue and collar for better comfort
Cons
Narrow fit
Size runs a little smaller than standard
---
The Winners
We are confident that you have all the information you need to make the best buying decision from the top ten gym shoes for men we have reviewed. We understand that choosing the best out of then might still be a bit daunting, especially for someone buying gym shoes for the first time.
This is why we have mentioned our top picks based on different requirements.
Best Overall Gym Shoes for Men
When it comes to balancing all the best features at a decent price range, Adidas Alphabounce Instinct is our overall top choice.
Best Premium Quality Gym Shoes for Men
For someone looking for nothing but the best and is willing to pay top dollar for the most premium features, the Nike Men's Metcon 4 XD is our top pick for premium quality gym shoes for men.
Best Value Gym Shoes for Men
If you are looking for something on a lower budget but still capable of facilitating a good workout in the gym, the Tesla Knit Pattern is our top pick to meet your needs.