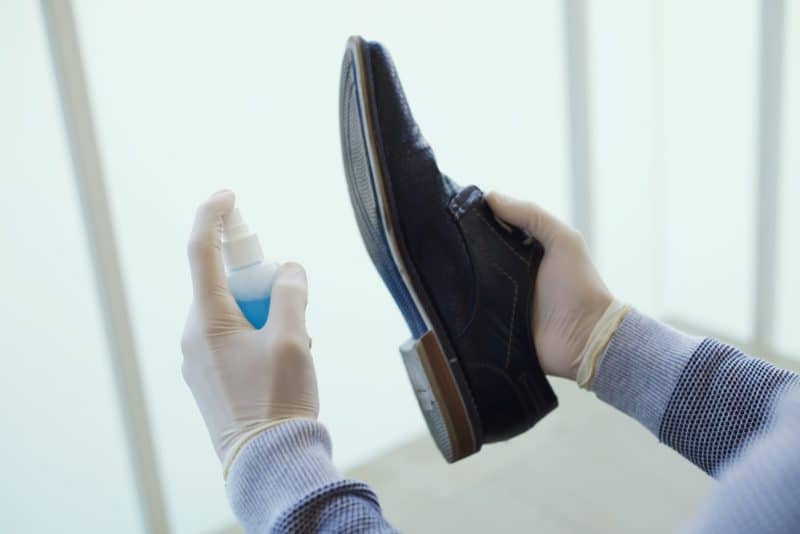 Best Shoe Cleaners. When you put on a new pair of shoes for the first time, they look great. They're in pristine condition, and you can't stop looking at how perfect they are on your feet. Then, you walk out the door.
Maybe you step in a puddle as you're getting out of your car. Perhaps you scuff your shoes on the pavement. They might just start to stink. You want to do something to restore your footwear to its original splendor.
That's where shoe cleaners come in. You'll need a different type of cleaner for your sneakers, leather boots, and canvas slip-on footwear. Keep reading to learn more about the best shoe cleaners for every pair in your closet.
Our Top Picks
Why Should You Use a Shoe Cleaner?
Shoe cleaners can extend the lifespan of your footwear. Whether you're using them for sports shoes or dress shoes, you can make the footwear look nicer and retain its original appeal by cleaning them regularly.
Different shoes have distinct cleaning requirements. As you walk around, dust can build up on any type of shoe, whether it's a canvas sneaker or leather Oxford. The particles can work their way into the pores and creases of your shoes.
Although dust seems relatively harmless, it's actually made up of hard particles. As you move, those grains rub against the material of the shoe. It's as though you're rubbing tiny pieces of sand into the fabric. Over time, this damages the fibers.
Therefore, removing dust from any shoe is a necessity. You can do that with a soft brush or cloth.
But merely brushing off debris won't make your dress shoes shine again. Taking this action can't cover up scuffs or repair scratches. You might need a more comprehensive cleaning routine if you want to keep your shoes looking brand new.
Shoe cleaners for leather do more than make them look spic and span. They restore and soften the material, helping it mold to the shape of your foot and hold up better to moisture and the elements. Leather cleaners also restore moisture, keeping the shoes supple and preventing them from cracking.
Softening your leather shoes can make them more comfortable, especially if they're brand new, and you need to break them in. You can massage some of these products into the hard areas of the shoes, such as the heels or the balls of the feet.
Athletic shoes can get dirty and smelly reasonably easily. If you've ever had white sneakers, you know that they don't stay blindingly bright for long. You can toss some types of shoes in the washing machine, but doing so can subject them to unnecessary deterioration.
A sneaker cleaner may be a better option. You may need to clean the outside of the shoe to remove mud, dirt, and sand. But sneakers also often require sanitation of the interior to prevent them from smelling like a locker room.
Any type of shoe can get dirty. There are many types of specialty shoes, such as satin, patent leather, and suede ones, which require specific cleaners. Although you can try a DIY method for cleaning these types of shoes, you might cause more harm than good.
Buying the appropriate shoe cleaner product for your footwear can help them look as though you just pulled them out of the box.
Plus, many shoe cleaning kits come with protective solutions that make them water-repellent and prevent future stains. You can use these products on brand-new shoes to keep them looking clean for a long time. It's easier to avoid scuffs and imperfections than to try to remove them once they've made their way into the shoe fibers.
What Should You Look for in a Shoe Cleaner?
All shoe cleaners don't work the same way. You should ask yourself the following questions before purchasing the product:
How many shoes does it clean?
What types of shoes is it good for?
Is it environmentally friendly?
Is it suitable for delicate shoes?
Does it come with accessories, such as a brush or cloth?
Does it involve harsh chemicals?
Will it make dyed shoes bleed?
Will it remove the color on leather shoes?
Will it make white shoes turn yellow?
How to Use a Shoe Cleaner
Because shoe cleaning products work differently, you'll get the best results if you read the directions on the item that you choose. However, there are some general guidelines that will help simplify the process.
1. Familiarize yourself with the instructions.
Read the instructions before you begin. If you need to work fast or require additional tools, you won't be subject to any surprises. Make sure that the shoe cleaner is appropriate for your type of shoe.
2. Gather your materials.
Make sure that all of the products and equipment are within reach.
3. Remove the laces from your shoes.
You'll have better access to the interior of the shoe if you remove the laces. Moreover, some cleaners can discolor the shoelaces. Therefore, it's best if you remove them before you begin the process. You might need to wash the laces or get new ones after you clean your shoes. The laces might look dingy against your sparkling clean footwear.
4. Get rid of dust and dirt.
Give your shoes a once-over with a soft brush or cloth to remove any debris. If you're using a liquid cleaner, it could make the dirt stain the footwear if you don't get rid of the dust first.
5. Deep clean the shoes.
Follow the manufacturer's instructions for using the shoe cleaner. Use a light touch. Heavy scrubbing can wear away the surface of the shoe.
6. Allow them to dry.
Don't wear the shoes until they're completely dry. Air-dry them in a well-ventilated location. Be careful about putting them in direct sunlight. UV rays can bleach certain types of materials. The sun can also make your shoes feel brittle and hard.
Best Shoe Cleaners Reviewed
This water-based, non-foaming cleaning solution is ideal for a variety of fabrics and materials, including:
Leather
Canvas
Vinyl
Knit
Mesh
Cotton
Nylon
Plastic
Rubber
Therefore, you won't have to purchase multiple products to take care of your entire shoe collection. This kit comes with two accessories to facilitate cleaning. You can use the brush on hard, such as vinyl and rubber. The microfiber cloth is better suited for delicate fabrics and smooth surfaces, such as canvas and mesh.
The cleaner itself contains biodegradable, non-toxic, and environmentally friendly ingredients. Even though it's gentle on your shoes, it's not wimpy. It removes stubborn marks and scuffs that water or a brush alone can't take care of.
Speaking of water, many shoe cleaning products saturate your shoes with moisture. You often have to wait for the shoes to dry before you can wear them.
You'll save time with this product because it doesn't drench the material. Therefore, you can wear your shoes immediately after cleaning them. Still, it does make them a little bit damp. You can't use this product on suede shoes.
This shoe cleaner does more than just make your shoes look spotless. It also disinfects your shoes. It kills 99.9 percent of germs. Your shoes attract lots of microbes. Sanitizing them can prevent you from bringing those germs into the house.
Because it kills bacteria, this product can also be used to eliminate foot odor. Spray it inside your shoes to freshen them.
This cleaner won't stain your shoes. It helps white shoes stay white and doesn't cause them to become yellow. It won't make brightly colored shoes bleed.
To use it, spray the product onto the areas of your shoes that you want to clean. Allow it to sit for about a minute. Then, wipe it clean with a wet brush or cloth. You might need to use some elbow grease to remove tough stains.
Pros:
Kills germs
Spray top is easy to use
Comes with a brush, and microfiber cloth
Concentrated formula goes a long way
8-oz. bottle cleans up to 60 pairs of shoes
Cons:
Not suitable for suede shoes
Cleans, but doesn't necessarily revitalize your shoes
Spray head can leak
This shoe cleaner is safe to use on a multitude of materials, including nylon, cloth, suede, nubuck, leather, canvas, vinyl, and rubber. The manufacturer recommends that you test an inconspicuous area before using this cleaner on dyed suede, though. That material can bleed when it comes in contact with water.
Still, this product is ideal for using on all your shoes. It removes scuffs and stains from all types of sneakers, boots, and dress shoes.
It comes with two different brushes. The sneaker cleaning brush is ideal for tackling stains on durable shoes that see a lot of wear and tear. The woodblock brush is attractive and laser-etched with the company logo. It's a durable brush that can take care of dirt that accumulates on the midsoles.
Many people are worried that sneaker cleaners will cause their white shoes to be yellow. The manufacturer claims that this one won't mar the surface of your bright shoes and can even restore discolored shoes to their original state. However, you might want to be careful. Some consumers have found that this shoe cleaner makes their sneakers yellow.
It's 98.3 percent natural. The product is also biodegradable, which means that it's environmentally friendly. It comes in a resealable pouch that keeps all of your items together so that they're handy when you need them.
Because it contains jojoba and coconut oils, this cleaner gives your shoes a nice sheen. The fragrance is clean and not overpowering.
Pros:
No harsh chemicals or abrasives
Safe and easy on the environment
Comes with two different brushes
4-oz. bottle cleans up to 100 pairs of sneakers
Highly concentrated
Suitable for suede shoes
Cleans and conditions footwear
Cons:
Brush may not be stiff enough to remove ground-in dirt on the midsoles
Brush is too abrasive for flyknits
May turn white sneakers yellow
The Sneaker LAB Deluxe Kit is a 5-piece kit that takes care of all of your shoe cleaning and deodorizing needs. It comes with the following items:
Sneaker cleaner
Odor protector
Leather care
Sneaker protector
Premium shoe brush
The sneaker cleaner takes care of all types of marks on your shoes. It removes surface scuffs as well as set-in stains. Plus, the cleaning power doesn't stop after you're done with your scrubbing session. The product contains probiotic cultures, which keep working for up to 80 hours after use.
The product doesn't contain soap. That means that you can use it on leather, suede, nubuck, and fabric.
After you clean your shoes, use one of the protectors to safeguard them from future stains and damage. Make sure that you wait for the cleanser to dry before using the protector.
The sneaker protector creates an imperceptible barrier between the environment and your footwear. Dirt and stains are less likely to adhere to your shoes. You can use the protector on new shoes to help them look new for longer.
The leather care product restores your shoes to their original softness. Because this cleaner is water-based, it won't leave a greasy residue. But the product is water-resistant. It can help you get more life out of your leather shoes by protecting them from the elements.
One of the best things about this product is the odor protector. If your footwear has become stinky, spray it with this product. You can use this inside the shoe to help prevent future odors.
The kit also comes with a premium shoe brush. It has a sturdy handle that helps you get a good grip as you're scrubbing your footwear. The stiff bristles can be used wet or dry, making cleaning easy wherever you go. It also works on a variety of materials.
Pros:
Comes with a variety of cleaners for different types of shoes
Small bottles are easy to travel with
Formula continues to keep shoes clean after use
Environmentally friendly formula and packaging
Cons:
Doesn't leave your shoes shiny
May not remove dirt as well as some of the other products reviewed here
Pink Miracle calls itself the original shoe cleaner. The product was developed in 1985 for use on sneakers and other types of leather shoes. It works on a variety of materials, though. It's not just suitable for leather.
Use it on any washable fabric that you can clean with water. The manufacturer states that you can use Pink Miracle on leather, vinyl, canvas, and cloth footwear. You can even use it on suede and nubuck, even though those materials aren't usually considered washable.
However, if you do use it on a material such as suede, test it on a small area first. Using too much and scrubbing too hard can darken the suede and remove the characteristic texture.
The product contains saddle soap, conditioners, and oils. These ingredients work to remove dirt, grass stains, mud, scum, grease, and grime, as well as condition the shoes. A product like this doesn't do much to soften synthetic materials, such as vinyl. However, it's ideal for sneakers and leather dress shoes.
To use Pink Miracle Shoe Cleaner, dampen the brush. Then, apply a dime-sized amount to the brush. Begin by scrubbing the most durable part of the shoe. Doing this will encourage the product to lather so that it cleans effectively. Once you have some bubbles, gently scrub the rest of the shoe.
If you need to, you can re-wet the shoe or the brush as you go. When you're done, wipe the shoe with a clean, soft cloth and allow it to dry.
Pros:
Ideal for any washable materials
Concentrated formula
Oils in the product make shoes look shiny and new
All-in-one cleanser and conditioner
Non-toxic
Can be used on suede
Comes with a brush
Cons:
May remove color on dark leather
Could stain light-colored shoes
May not work as well on old or deep stains
If you're looking for a shoe cleaner that will clean and revitalize leather, you'll find an easy solution in this wax-based saddle soap. The traditional ingredients have been used for centuries to cleanse, preserve, and soften leather. It only works on smooth leather, though. Don't use this product on suede.
Because it contains wax, this product creates a barrier against moisture. You'll protect your leather shoes from water stains.
Have you ever worn your leather shoes or boots in the winter? They could absorb salt if you walk on pavement that has been treated for ice. This looks like white water stains near the soles. Kiwi Saddle Soap removes these blemishes, making your shoes look like new.
Smooth leather can also pick up dirt and grime. Wiping it away with water doesn't always do the trick. This product eliminates filth easily and leaves your shoes with an attractive sheen.
Do you have leather jackets, watch bands, or belts that need cleaning? You can use this product on those items too.
If the interior of your shoes smell, you might want to use a different product to reduce the odor. This one can only be applied to the outside of your shoes and doesn't get rid of the stink. Nonetheless, the wax smells fresh and can mask some mild aromas.
You might want to test this product on an inconspicuous area before using it to condition your entire shoe. It can darken certain types of leather.
Pros:
Specialty formula is designed for use on leather
Leaves shoes with a sheen
Softens and preserves leather
Removes salt stains
Can be used on many leather products, not just shoes
Cons:
Doesn't work on materials other than leather
Not suitable for suede
Doesn't come with a brush or cloth
Not guaranteed to remove odor
This cleaning kit is safe to use on several materials, including mesh, canvas, nubuck, plastic, leather, and suede. It also comes with three brushes that you can use on different shoes.
The soft brush is ideal for suede. It' made of natural hog bristles, which are soft and gentle. It gets rid of dust and dirt without damaging the nap. You can also use it on delicate flyknits.
Some brushes that come with shoe cleaners end up leaving your shoes fuzzy. That won't happen if you use the soft brush on your shoes. You can even use this brush to clean your shoelaces.
If you're worried about damaging your footwear, start with the soft brush. Move up to the medium one if the stains aren't coming out.
The medium brush is perfect for using on most other types of shoes. The stiff brush does the dirty work, removing stubborn stains from the soles of your shoe and other resilient areas. You can also use the medium brush on the sides of the soles if the rubber is soft or you don't want to damage the upper.
It gets the job done with natural oils, such as jojoba and coconut. These leave a luster on the shoes and protect them from moisture. Oils are also great at removing and masking greasy stains.
Whereas some shoe cleaners shouldn't be used on dyed suede, this one is safe. You still might want to test it on a discreet area before scrubbing your entire shoe with the product, though.
Pros:
Dye-free formula won't stain shoes
Comes with three different brushes
Cleans up to 50 pairs of shoes
Environmentally safe
Non-toxic
Doesn't make vibrant colors bleed
Cons:
Cleanser pours out of the bottle quickly
May not work as well on canvas as other materials
If your shoes are stained from dirt and oils or just plain smelly, you might find this shoe cleaner kit to be incredibly useful. It comes with a variety of cleaning products and a brush.
You'll get the shoe cleaner, which lathers up and removes scuffs and marks from many types of shoes. A little goes a long way. Dampen the brush or cloth that you use to help the product absorb into the shoes and take care of your stains.
The Shoe Shield coats your shoes with a protective substance that makes them water-resistant. This product also protects your footwear from stains that might absorb into the material, including oils. It's a great way to keep your new shoes looking fresh or restoring old shoes that you've recently cleaned.
The Ultimate Freshener doesn't just mask odors; it removes them. It also prevents future odors from developing. That makes it perfect for using on athletic shoes, hiking boots, or those shoes that you wear without socks in the summer.
This kit also comes with a small brush, which is soft and shouldn't damage your shoes. However, the brush is small, and you might need to use some elbow grease to get rid of tough stains. The brush is not quite suitable for suede. If you purchase this kit, you might need to experiment with different brushes, depending on the types of shoes that you need to clean.
The Ultimate Freshener and Shoe Shield come in convenient spray bottles. However, the cleanser comes in a pourable bottle. That's because you'll need to squirt a small amount on a damp brush or cloth before cleaning the shoes.
Pros:
Three different formulas have multiple uses
Comes with an odor eliminator and preventer
Protector repels water and oils
Safe for all shoes
No dangerous chemicals or additives
Cons:
Brush is not high quality
May not work well on suede
Do your shoes get dirty all the time? If you use up those tiny bottles of shoe cleaner too quickly, you might prefer these 16-ounce spray bottles of sneaker cleaner. The best part is that it's appropriate for many types of shoes, not just sneakers. Plus, you only need a spray or two to get the job done.
The product's tagline is, "Bring your shoes back to life!" The manufacturer claims that the shoes will look new again after you use this product.
The instructions state that you should spray the sneakers once or twice with the product. Then, use a soft toothbrush and gentle motions to scrub the material. When the stains are gone, rinse the product off and allow it to dry.
To rinse, you might have to put the shoes under running water. This product is reasonably sudsy, and it can take a significant amount of rinsing to remove the residue.
But you might not want to stick your shoes under the faucet, especially if they're leather. Instead, try wiping the footwear down with a damp cloth. Then, follow up with a dry cloth. You might have to apply the product again if it didn't get rid of all of the stains the first time.
This product is ideal for cleaning your entire shoe or using as a spot treatment. Because it doesn't require water, you can use it quickly, and it dries fast.
This is one of the best cleaners for white rubber soles. With the help of a stiff brush, it removes those stains that work their way into the surface and don't seem to go away with other cleansers.
Pros:
Comes in bigger bottles than most shoe cleaners
Made in the U.S.
Environmentally responsible product
Safe for rubber, canvas, and leather
Cleans white rubber soles well
Works well as a stain remover on clothing
Cons:
Doesn't come with a brush or accessories
Not suitable for suede
This all-natural solution cleans canvas, cloth, mesh, knit, and cotton. It's the perfect product for taking care of all of your washable shoes. It's especially useful for cleaning delicate flyknit.
While some consumers have used this for leather, the manufacturer claims that it's best for athletic shoes. You can use it on sneakers that have a combination of cloth and leather. But you might not want to use this product on your leather boots.
The manufacturer has created the advanced cleaning solution with no toxic ingredients. The product is all-natural.
It also comes with a medium-bristle brush that's great for all-around cleaning. However, it may be too stiff for some fragile materials, such as flyknit.
If you're worried that the brush might damage your shoes, use the included cloth instead. It's white, which means that it won't bleed color onto even the lightest footwear. You can also use the microfiber towel to dry off the shoes after you've cleaned them.
The bottle has a convenient flip-top lid that's secure enough to travel with. Use a small amount to clean your sneakers.
Although this product doesn't contain any colored dye, it may react with certain materials. Test it out before you use it on white nylon because it could leave a purplish stain. It shouldn't cause yellowing, though, and it does work well on white cotton shoes, such as Keds and Vans.
Pros:
Ideal for cloth shoes
8-oz. bottle cleans over 85 shoes
Contains no colored dye
All-natural product
Comes with a cloth and brush
Cons:
Not suitable for suede or leather
Brush may be too stiff for delicate materials
May discolor or fade the color on rubber midsoles
Even though many multipurpose shoe cleaners say that they work on suede, you may feel safer with a specialty product. Suede isn't supposed to be soaked with water. Therefore, many foaming or lathering cleansers aren't appropriate. They can drench the nap while darkening it and making it lose its texture.
Dr. Martens Suede Cleaner is an excellent solution. Although it's a water-based formula, it won't douse your shoes with moisture. It comes in a handy spray bottle that disperses the droplets.
You don't even need to use a special brush. The instructions state that you should dampen a sponge or cloth. Then, spray the cleaner onto the fabric. Using a gentle touch, scrub the shoe with the cloth.
You'll need another damp cloth to rinse the cleaner off of the shoe. Don't use too much water, though. Allow the footwear to dry in a well-ventilated area. Once all the moisture has dissipated, use a suede brush to restore the texture.
One of the most important things to remember when cleaning suede is that you want to maintain the nap. When you clean this type of shoe, move the cloth in one direction. Avoid using circular motions or pressing too hard. If you have significant stains on your suede shoes, you might want to take them to a professional.
Pros:
Designed for suede
Easy-to-use fine-mist spray bottle
Non-aerosol bottle
A small amount goes a long way
Cons:
Requires you to use water, which could damage suede
Does not come with brushes or accessories
Boots get a lot of wear. They stand up to all kinds of weather, including snow and rain. That means that they get muddy and wet frequently. You need a good cleaning kit to take care of your leather boots.
Suede boots are a little more delicate. You shouldn't wear them in wet weather. However, the nap can attract and hold onto dirt and dust.
The Gear Aid Revivex can restore the luster of your leather boots and bring suede back to its original state. Plus, it protects your footwear so that it's less likely to be damaged when your boots are subjected to the natural wear and tear of life.
A concentrated cleaner removes grime from nubuck, canvas, and GORE-TEX shoes and boots. A protective spray makes your boots water-repellent. You won't be afraid to wear those suede shoes out and about. The water shield is breathable, which means that your feet will stay cool and dry even while guarding against water damage.
The kit also comes with an eraser block. This is critical for removing scuffs from suede. You'll use the eraser while the shoes are dry. It works similarly to a pencil eraser.
With a gentle motion, rub the eraser over the stained area. Use firmer pressure if the mark isn't going away. The eraser lifts up dry particles that create stains and eliminate blemishes.
If you've gotten dirt and mud on your suede shoes, allow it to dry. Then, flick off any thick, dry pieces. Use the eraser to buff away the marks. After you use the eraser, rub it on a piece of white paper to clean it before cleaning your boots with it again.
After using the eraser, apply the wet cleaner to remove any stains or marks that didn't come off. You can also use the cleaner to remove water stains from suede. You can use the suede brush after the cleaning products have dried. Move it back and forth across the nap to bring it out and make it look new again.
Pros:
Specifically formulated for suede, canvas, and GORE-TEX
All-in-one kit comes with cleaner, protective spray, a brush, and an eraser
Protects boots from further damage
Removes dust and deep stains
Cons:
Eraser may leave some residue on shoes
May leave water spots if you drench the footwear
Might leave shoes with a rough texture
You may also want to check out best shoe brushes.
This leather cleaner and conditioner kit is perfect for boots, sneakers, and dress shoes. You can also use it on furniture, car seats, jackets, and other leather items.
When you think about it, you might want to treat your leather shoes the way that you address your skin. You wash and moisturize your face. Do the same with your footwear.
This kit is pH balanced for effective cleansing. It won't damage the material. You can wipe away contaminants easily without affecting the leather.
It also preserves the material. It extends the leather's durability and strength. Moreover, it improves the appearance of any pair of shoes.
One of the reasons that this works so well is that it goes deep into the pores of the leather. It removes ground-in dirt and oil, bringing it to the surface so that you can rub it away.  It doesn't leave any residue, and it doesn't deteriorate the fibers.
Pros:
Cleans without leaving residue
Removes dirt from deep within the leather
Nourishes leather to make it silky smooth
Resists premature cracking and breaking
Can be used on synthetic leather
Disguises scratches and scuffs
Cons:
Could remove dye from some shoes
Doesn't create a luster on the leather
Conclusion
All of these shoe cleaners work well for tending to various types of shoes. Some have specific purposes, while others effectively clean all types of materials.
The best overall shoe cleaner is the Jason Markk Premium Shoe Cleaner. It can be used on a wide variety of materials, and you won't need a different product to clean your suede shoes. It's also 98.3 percent natural and environmentally friendly.
If you're looking for a premium product, the Sneaker Lab Deluxe Kit wins. We love that it includes products to suit a variety of purposes. The odor treatment saves boots and athletic shoes from lingering in your closet because they smell.
The leather care is ideal for dress shoes and other leather footwear. The shoe protector may prevent you from needing to clean your footwear as frequently as you might otherwise. Finally, it comes with a brush, making it a versatile all-in-one product.
The best budget option is Grandma's Secret Sneaker Cleaner Spray. You get a lot of bang for your buck with this item. If you're always cleaning your kids' shoes or dealing with dirty sneakers, you'll probably find that you use this item frequently. It comes in large containers, which means that you can spray down your footwear liberally without worrying about wasting money.