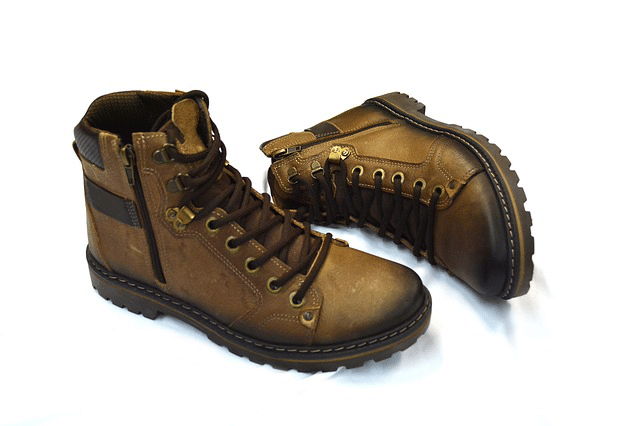 Do you find yourself on your feet all day in a dangerous working environment out in the field? Such a work environment can expose you to all kinds of dangers like greasy surfaces, uneven surfaces, electrical hazards, heavy objects, pointed protrusions, and extreme temperatures. These factors can gravely threaten your safety if you do not take all the right precautions.
If you are working in such dangerous places or find yourself going to them because of your job from time to time, a protective hat and thick clothes will not be enough to keep you safe. You need to buy adequate footwear that will protect your feet throughout the time you are on the field.
Buying just any boots is not going to be good enough. Steel toe boots are protective boots with specialized design to make sure your feet have comprehensive protection in dangerous working environments. If you have browsed through options for steel toe boots to buy for work, you must have come across a lot of products out there that claim to be the very best.
With so many options to consider, we understand that choosing the best pair can become quite difficult. You don't need to worry, though. We have you covered through this guide.
We have created this guide to help you make the best purchasing decision when it comes to steel toe shoes. In this guide, you will find all the information you need to understand steel toe shoes, why they are important and the things you need to be on the lookout for when you are considering your options.
Additionally, this guide contains a list of detailed reviews of work boots that truly are the best steel toe shoes in the market right now. After conducting hours of research, we have come up with a comprehensive list that includes a review of all the qualities you need to consider when you are buying steel toe shoes.
We hope that this will narrow down your options so you have an easier time deciding on the pair that works out best for you.
What Are Steel Toe Shoes?
As the name suggests, steel toe shoes are safety shoes that have steel toe boxes. They are meant to provide your feet with additional protection in the work environment. The best pairs of steel toe shoes are designed specifically to offer more protection for your feet, especially when it comes to the danger of heavy objects falling on your feet.
They additionally offer protection from pointed objects or hot materials, which would otherwise go through regular shoes and cause significant injuries. Typically, the structure of steel toe shoes also includes a midsole plating that provides the inner sole a shield from punctures which can occur from below.
How Do I Choose The Right Work Shoes?
Now that you understand what steel toe shoes are, it is time to understand the different factors which you need to use in order to find the right steel toe shoes.
Safety Toes
The first and foremost thing you need to consider when you are getting footwear for work is the aspect of safety toes. Out of all the parts of your body, your toes are the most vulnerable in dangerous work environments. This is not just because of the fact that they are the lowest part of the body and they are protruding outwards, but also because they are the typically the first to take a hit in case of accidents or bump into something harmful.
Needless to say, choosing boots with safety toes is the first thing that should come to your mind. There are different types of safety toes on shoes that you can choose from. Steel toes, by far, are the most compact and the heaviest option to consider. They also offer you more protection than the other types of safety toes.
What Are the Essential Features Of Steel Shoes?
When you are deciding on a pair of steel toe shoes, you have to keep the work environment you find yourself in every day in mind. If you choose the wrong shoe, it can cause you major problems and lead to injuries. You need to make sure that you are getting the kind of quality that you have paid for based on your needs. Here are some of the essential features you need to look out for when you are purchasing steel toe shoes.
Material and Construction Quality
Steel toe shoes have steel toe boxes, but they are made of a lot of different materials. The boot's weight will be heavy due to the steel toes, and if your nature of work needs you to talk a lot, you need to get a steel toe shoe that offers you a relatively lighter weight solution.
The heel and the sole on the shoe matters a lot. In order to provide adequate protection for the bottom of your feet, you need the right materials on the bottom part of the boot. Your steel toe shoes should be puncture-proof so that your feet are safe from impalement.
Most steel toe shoes come with a lightweight metal shank between the inner sole and the outer sole to this end.
You also need to make sure you get slip-proof steel toe shoes that provide good traction. They give you a good grip on damp and slippery surfaces. Shoes with multidirectional treads offer you a better grip than a shoe with lighter treads. Some safety shoes even come with acid-resistant soles that save your feet in case you find yourself in a situation with hazardous chemical spills.
Comfort
Comfort is one of the most important factors to consider when you are deciding on steel toe shoes. Traditionally, this type of safety shoe is notorious for causing uneasiness and fatigue on your feet after working all day. The best steel toe shoes ensure that your feet are not just protected in a dangerous work environment, but they feel comfortable at the same time.
The last thing anybody would want is to have sore feet more susceptible to injury due to a long day at work in uncomfortable footwear. This is why you need to invest in steel toe shoes that offer you safety and comfort at the same time. The right fit makes a lot of difference here. Ensure you get the right measurements and do not be afraid to try out different sizes until you find the one that fits your feet the best.
Your work can see you in places where there are high temperatures. Within the shoes, temperatures can get even higher and that can result in sweaty and sore feet. If your shoes do not offer the right air circulation, you can get very bad infections. You need steel toe shoes that are breathable and stop excessive sweat even in the warmest workplaces.
It also goes to say that if the places you are working in get really cold, frozen feet will not exactly allow you to be very productive. This is the reason why you need strong and dependable safety shoes that offer comprehensive insulation from both the heat and cold while being breathable.
Durability and Safety
It goes without saying that durability goes a long way with steel toe shoes. The durability of your shoes offers you the best possible defense against unexpected situations at work. This is the reason why brands constantly focus on making more durable shoes with innovative construction methods.
Mud, dirt, gravel, snow and a host of other factors can easily ruin the steel toe shoes if they are not made to withstand them. Electrical hazards can also pose a significant threat in some workplaces. Getting a safety shoe that offers you comprehensive electrical hazard protection and fortification will keep you safer.
Important Reasons to Wear Steel Toe Shoes at Work
Here is a look at some of the most important reasons why you need to wear steel toe shoes at work (in case you think you can make do without them).
Protects You from Falling & Flying Objects
In dangerous work environments, you can never be sure when something might fall and hit your feet. A steel toe shoe can withstand very high levels of impact without even so much as a slight dent. This is one of the most important reasons why you should wear steel toe shoes at work.
Protect You from Punctures or Cutting Hazards
If you ever step on a protruding nail or anything sharp, a steel toe shoe will offer you the kind of protection you need from impalement. They have superior construction that is able to resist punctures or cuts on the sole so your feet are protected from below.
Protect You from Electrical Hazards
Steel toe boots have a metallic element, but they come with electrical hazard protection. The materials outside offer insulation against electrical currents and make sure you are safe from shocks.
Prevent You from Slipping, Tripping or Falling
Because of the fact that they offer a good grip on a variety of different surfaces, high-quality steel toe shoes will decrease your chances of slipping, losing your balance and possibly falling. Falls are the most common worksite accident and the leading cause of workplace injuries. In fact, the third leading cause of unintentional injury-related death is falling. The right boot will help you make sure you don't fall and hurt yourself.
Prevent You from Getting Fatigued
Supportive and comfortable footwear will keep your feet happy and comfortable even after long days of standing on your feet. Wearing a pair of comfortable shoes will decrease the fatigue and soreness you can feel.
Protect You from Extreme Weather
Whether the weather is cold or hot, the best steel toe shoes will offer you the kind of insulation your feet need to stay safe from extreme conditions and their effects. Not only that, the right waterproofing and air circulation will keep your feet dry.
Probably Mandatory
Other than all of these, perhaps the most pertinent reason why you need to wear steel toe shoes is that all of the jobs where you find yourself in dangerous environments require you to wear steel toe shoes. If you fail to do so, you can be sent home due to a failure of compliance.
Steel Toe Shoes vs. Composite Toe Shoes
Over the years, a new kind of safety boot has become quite popular: Composite toe shoes. They are also like steel toe shoes, containing a reinforced toe area. Composite toes offer protection for your feet while foregoing some of the features that steel toes do not offer. Let's see a comparison of the two to decide which one is better.
Steel toe shoes are the original safety shoes, and to this day, they are the most popular. A tried and tested material, steel is the prime material for providing a worker's feet protection in dangerous work environments. They are also cheaper to manufacture and tend to cost less compared to their composite counterparts.
Composite toe shoes have toe reinforcement made using a mixture of different materials. Carbon fiber, plastic, Kevlar, and even fiberglass can be used in combination to make these. Composite toes are lighter in weight.
Which is Better?
Both these types of shoes are designed to protect your feet in difficult work environments. If we have to compare the two and decide which one is better, it can become a matter of personal preference. We do feel that the lighter weight of composite toe shoes is a huge advantage, especially if you have a job that requires you to walk long distances.
The only thing is, steel toe shoes offer a lot more protection than composite toes. Nails and other sharp objects can penetrate composite shoes with relative ease compared to their steel toe counterparts. Steel toe shoes are generally less bulky despite the heavier weight, which gives another reason to make them the better choice between the two.
There is a reason why composite toe shoes have not effectively replaced steel toe shoes: Steel toe shoes are just better.
Read Also: Best Shoes for the Elderly
Our Top 3 Picks
Best Overall Choice: Thorogood American Heritage Steel Toe Shoes
Premium Product: Caterpillar Second Shift Steel Toe Shoes
Best Value: Wolverine Raider Steel Toe Shoes
---
Best Steel Toe Shoes
Stylish, comfortable, versatile, and most importantly, safe. These are just a few of the words that you can use to describe the Thorogood American Heritage steel toes. This is a pair that tops our list of reviews because it will work for you no matter which works environment you will find yourself in.
Trusted by millions of people in the workforce all over the world, the pair is incredibly well-equipped to see you through the toughest workplaces with relative ease. Their shock-absorbing footbed, MaxWear Wedge and the Pron insole are some of the winning features of these shoes. They add more durability and comfort, thereby resulting in overall better performance.
These shoes are so comfortable that you probably won't want to take them off. The fact that they look good means you can even wear them casually. The shock and pressure that you can keep your feet protected from will allow you to go that extra mile at work.
They fit and feel like a dream and we do not know why anybody would want to get another pair. Of course, the matter of personal preference comes into play and it is ideal to look for different options before making any decision.
Pros
Zero discomforts even after long periods of wear
Stylish look
Easy to wear and take off
Superior construction quality
Superior protection for your feet
Cons
Some customers have reported heel separation issues
Toe is well-protected but narrower than other shoes
---
Wolverine has been one of the foremost manufacturers of work footwear for the working man since 1883. This is an iconic brand and they have produced countless shoes that define durability and comfort for work shoes. The fact that they have been doing it for over a century now is obvious with the quality you can see in their products to this day.
The particular model on the list comes with their proprietary Multishox construction along with ContorWelt. This pair of shoes is comfortable to stand on all day. This is a premium quality shoe designed for people who will find themselves standing on their feet all day but they need the comfort of running shoes. The supportive construction helps your feet stay comfy all day.
The shoes are flexible just enough to give you the right balance between safety and comfort. The ContorWelt and Multishox technology make the Wolverine Raider Steel Toe Shoes the most unique pair that we have reviewed and it is one of our favorites for a wide range of work environments.
The fact that these shoes look so good to make them an attractive option for people who want to wear them casually as well as in the workplace. While a lot of steel toe shoes are not comfortable until you are able to break into them, the Wolverine Raiders are comfortable right from the start. By the time you break-in, these shoes feel even better on your feet. This pair also offers excellent insulation for your feet in extreme weather conditions and work environments.
Pros
Comfortable even before break-in period
Lighter than some of the other similar shoes
Keep your feet well insulated
Supportive soles
Versatile work shoes
Cons
The traction is not as good as some of the other shoes reviewed
Their cushioning effect for high impacts is not as good as some of the others we have reviewed
---
The very first look at the letters "CAT" on anything can instantly give you peace of mind. Caterpillar has a reputation for being one of the best (if not the best) producers of safety shoes as well as other equipment for the labor industry. The Caterpillar Second Shift Steel Toe Shoes make their way on the list because they are perfect for so many reasons.
These steel toe shoes are a definitive product that gets the name for their superior capabilities. This is a boot that is suitable for when you need to put in a "Second Shift" at work. They have a Climasphere lining as well as ASTM-approved steel toes. The soles are slip-resistant and one of the strongest features of this shoe.
Caterpillar makes boots perfect for rough use and their boots last a very long time. The Second Shift is a shining example of both these qualities. Waterproof, these boots also keep your feet cold in hot conditions and warm in cold conditions. The moisture level within the boot is also well maintained due to the Climasphere lining so your feet will not get sweaty even after extended periods of use.
The weight of these shoes might be more than what a lot of workers might like and a hefty price tag, but they are not the most expensive pair of shoes on the list.
Pros
Long-lasting pair of safety shoes
Made with excellent construction quality and high-grade materials
Fitting is very easy and convenient
Perfect for extended periods of wear
Excellent insulation and waterproofing
Cons
Heavier than most shoes reviewed on the list
---
It might be a little confusing to see Dr. Martens on this list. If you are familiar with the brand, it is most likely because it is a name linked with fashionable footwear, not something well-known for safety shoes, let alone the best steel toe shoes. Yet, the Winch Steel Toe Shoes by Dr. Martens finds its way to this list and there are so many reasons to love these.
The Winch is a shoe made for durability and protection for your feet. Of course, the fact that it is made by a fashion-centric brand, they also feature an aesthetically pleasing design. The Dr. Martens Winch has an oil-tanned leather upper, which is waterproof and durable while being good looking.
The insole of the Winch Steel Toe is made using EVA foam. The EVA foam is something usually found in midsoles, but the Winch features the material right where your feet make contact to provide it efficient shock absorption and comfort. The EVA also provides adequate support for your feet and reduces fatigue and chances of soreness.
The insole is made to be removable in case you want to switch it out for something customized for your feet if necessary. The one issue we did find with the shoe is that the leather upper makes this shoe less breathable. If the air in the shoes has nowhere to escape, it can cause the shoe to heat up while you use it and cause your feet to become sweaty.
You can expect odor problems and sweaty shoes if you wear them for very long periods of time at work.
Pros
EVA foam insole for added comfort and shock absorption
Wide range of sizes to choose from
Oil-tanned leather upper for waterproofing and durability
Mesh lining for a comfortable fit
Cons
Inconsistency in sizing, which can make finding the right fit a little annoying
Breathability will be a problem for people who wear them for extended periods
---
The second entry on the list of the best steel toe shoes by Dr. Martens, the Icon Industrial Shoes are another pair of steel toes that come from a brand well-known for fashionable footwear. The Icon Industrial Shoes by Dr. Martens are made using waterproof leather and they protect your feet from the external moisture.
The shoes are also heat-resistant and come with a PVC outsole. The cleated sole provides additional grip while you are out on the field and a wooden shank gives additional protection to the bottom of your feet. The wooden shank also keeps the weight of this pair relatively lighter compared to some of the other models.
The footwear also emphasizes on ankle support for wholesome protection for your feet and additional impact resistance. You will not just get protected toes, your whole foot will be protected with the Icon Industrial shoes. This pair of shoes also boasts superior electrical hazard protection, a feature not a lot of others on the list can compete with at this level.
Given all of the features that this shoe has, the Dr. Martens Icon Industrial shoes are also a surprisingly well-priced entry on the list of the best steel toe shoes.
Pros
They are slip-on boots that are easy to wear and take off
They provide excellent traction
Waterproofing
Electrical hazard protection
Short break-in time
Cons
You might need to order a size larger than regular because of the fitting
---
Keen is one of the prominent brands to feature on the list of the best steel toe shoes. It is a company well-known for the versatile designs they offer for comfortable and durable footwear. While it was their line of hiking boots that made them popular, they have taken the same high standards and brought them to the work shoe construction with the Utility Detroit.
The Utility Detroit has all of the comfort that hiking shoes offer as well as the protection that steel toe shoes have to offer. They are made using weather-resistant Nubuck leather and offer a large toe box, which frees up your toes inside the shoe. The slip-resistant outer sole and reflective webbing make these a pair of shoes that is ready for any work environment.
The toe splay due to a wider toe box makes it a lot better for your feet. The Torsional Stability Shank in the midfoot region helps stabilize the foot as well as provide additional protection for the bottom of your feet. A waterproof membrane works with the Nubuck leather to make this a superior waterproof pair of shoes.
The Utility Detroit also features an EVA insole, which you can remove to replace it with something custom-fitted if it is necessary. The EVA foam gives you good shock absorption and impact resistance. The CleanSport NXT in the shoe prevents odor buildup and the reflective webbing on the outer part of the shoe gives it good visibility in lowlight conditions. The slip and oil resistant outer sole offer more protection in tricky workplaces as well.
Pros
Waterproof Nubuck leather construction
Waterproof membrane for additional waterproofing
Wider toe box for toe splay
Torsional Stability Shank for added stability and protection
Reflective webbing for better visibility in low light conditions
Cons
Price is quite high
Not as durable as some of the other shoes featured on the list
Size can vary
---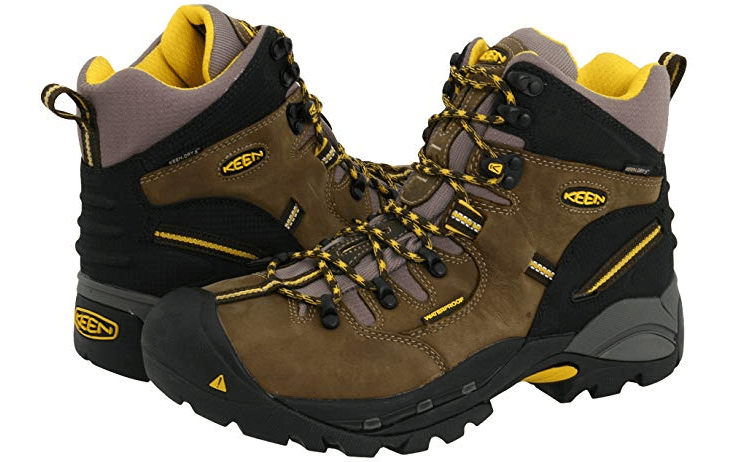 The second entry on the list featuring a Keen shoe, the Keen Utility Pittsburgh is named after the tough city because they are as tough as the city itself. The pair of shoes is ready for all kinds of work environments and it seems like there is nothing you can throw at them that they cannot put up with. There is a long list of features that make them excellent steel toe shoes.
The waterproof lining and membranes make them very good for damp work environments. The slip-resistant outer sole provides you additional stability on slippery surfaces. The waterproof breathable membrane makes sure your feet get the right amount of air to reduce sweaty feet issues.
The weatherproofing and waterproofing are two of the strongest features with the Pittsburgh shoes. The outer sole provides you a very good slip so you can be sure you will not slip and fall on the job anywhere with these shoes on your feet. The pair is a little on the expensive side, but it makes sense because of all the extra features it has.
For someone looking to spend more money and get excellent features for it, the Keen Utility Pittsburgh can be a very good pair of steel toe shoes. The only reason why they are this low on the list is because of their price tag which makes them inaccessible to a lot of people.
Pros
They have a lighter weight than a lot of the other steel toe shoes
They can withstand a long period of rough use without sustaining damage
Waterproofing and weatherproofing superior to most others on the list
Keep your feet dry and free from perspiration
Cons
Hard soles which are not as flexible as most others
Hefty price tag that makes them inaccessible for a lot of people
---
For those of you who are familiar with this pair of shoes, you might find them an odd entry on the list. The CMF6366 is not actually a pair of steel toe shoes but it does find its way on our list of the best steel toe shoes. We are cheating a little bit with this one but for a very good reason. Carhartt is one very well-known brand when it comes to making high-quality footwear.
The reason why we feel inclined to include this pair on a list of steel toe shoes is that the composite materials used for this pair offer a similar level of protection as most others on the list. They are also a lot less bulky than other composite toe shoes and bear more similarities to steel toe shoes than they do with composite toe shoes.
The Carhartt shoes are not a good looking pair. If you are looking for a pair of work shoes that you can wear both at work and casually, you might want to look for something else. If you are looking for durable work shoes that offer a lighter weight solution for your feet's protection in tough environments, this is the pair we feel strongly inclined towards.
Made using full-grain leather which is also oil-tanned, the leather is water-resistant and allows you to tackle moist work environments with ease. When it comes to maintaining the balance between durability and comfort, the Carhartt shoes do a very good job. You can wear this pair for extended periods and you will not risk fatigue or soreness.
The fact that the pair has a lighter weight also makes the Carhartt shoes excellent for jobs where you will need to walk a lot. The EVA midsole supports your feet and provides impact resistance. The Ortholite insole gives your feet comprehensive cushioning without increasing the weight of the shoes.
Pros
Lightweight safety shoes
Ortholite insole for added cushioning
Slip-resistant outsole for better stability on slippery surfaces
Full-grain leather construction
Durable pair of shoes
Cons
While the leather is naturally water-resistant, it is not completely a waterproof pair
To be fair, this is a composite toe, not a steel toe
---
It is not surprising to see another entry on the list featuring a Caterpillar work shoe. The Caterpillar Diagnostic Steel Toe Shoes are another pair designed to handle extreme work conditions and keep you safe. The Diagnostics are an especially good pair of steel toe shoes because they boast additional features for comfortable wear like no other pair.
The Caterpillar Diagnostics are a part of the manufacturer's Ergo Collection. Falling in line with the common feature of all the other pairs in the same line, this pair of shoes is designed to ramp up the flexibility, comfort and feel of the shoes. Caterpillar achieved this by making better anatomical adjustments to the footbed to make the shoes a better fit for people in the workforce.
The 6-inch lace-up closure with steel toe makes it feel like you are not even wearing steel toe shoes. The flexible and anatomically glove-like construction makes these shoes comfortable to wear. The pair of shoes helps and supports the natural foot movement. The feet hug the well-contoured inner surfaces of the shoe.
The extensive effort in the Ergo Collection makes for more stable, comfortable and flexible shoes that reduce the overall fatigue your feet can feel. Caterpillar did not compromise on workplace safety while designing this pair of steel toe shoes. The waterproof design, superior protection for your feet and 200 grams of thermal insulation are all amazing features.
The removable EVA foam has gel technology and perforations, which keep your feet well-ventilated and free from perspiration even after wearing them the whole day. The rugged outer sole is made using slip-resistant rubber with excellent treads. This makes a very stable pair of shoes, which can keep you from slipping and falling on the jobsite.
Pros
Ergo Collection comfort and design
Waterproofing to make it possible to work in moist environments
Removable EVA foam with gel technology and perforations
Perspiration resistant design
200 grams of insulation material for weatherproofing
Cons
Sole durability is not as high as other Caterpillar shoes
The hefty price tag can make it a difficult pair to consider for a lot of people
---
Skechers is another name you might not have ever imagined to be included in a list like this one. While hearing the name on the list of the best steel toe shoes might put you off, you should not just write this pair of shoes off without giving it a chance. The very name of Skechers makes you think of comfortable sandals and sneakers, and that is something they are known for.
The Workshire, however, proves that Skechers has a decent line of work shoes. These steel toe shoes are a deserving entry on the list. Featuring full-grain leather construction, the Skechers Workshire are comfortable for all-day wear much like the sneakers and sandals that they make. These shoes come at a very reasonable price as well, which makes them a must-have pair.
The pull-on tab at the heel of the shoe makes the Workshire easy to wear. The padded tongue and collar make them comfy. In fact, you might not even want to take these off once you have them on your feet. The Relaxed Fit allows for more room to move your feet within the shoe while keeping it very stable.
You will not feel all the rubbing, irritation and foot fatigue usually associated with steel toe shoes when you are wearing the Skechers Workshire. The insole is made from memory foam, which you can remove to insert something customized for your needs. The midsole offers good shock absorption.
The shoe features excellent traction through the slip and oil resistant outer sole. The Workshire also boasts electrical hazard protection and you can easily get approval to wear this pair on the jobsite.
Pros
Relaxed fit makes it very good for extended periods of wear
Electrical hazard-approved shoes
Oil and slip-resistant outer sole
ASTM tested to meet safety standards
Easy to find the right size
Cons
Not enough cushioning from high impacts
Durability is not the strongest suit for this pair of work shoes
---
The Best of the Best
As you can see, there are a lot of excellent steel toe shoes out there. The models we have featured on this list are the top performers, which we have chosen based on experience and reviews from professionals that wear them. All of them have the same basic function to protect your feet, but they differ greatly in features.
We have provided a guide on how to choose the best pair and detailed reviews of all these models. This should help you narrow down the choices and decide on getting the pair that matches your needs at the workplace.
Of course, a list of ten options might still be too many to choose from. If you feel overwhelmed, do not worry. We have narrowed down the list even further to give you our top picks. These picks are based on the best overall shoes, the best premium shoes and the best in terms of the value they offer for your money.
If you are unable to decide from the rest, these three options will definitely make it easier for you to make the right purchase decision.
Best Overall Steel Toe Shoes
When it comes to our favorite and the best overall steel toe shoes that you can choose from the list, we feel that the Thorogood American Heritage Steel Toe Shoes are the perfect pair. These shoes feature the perfect balance between comfort and durability, but they go beyond that.
The American Heritage is not just the most comfortable footwear, they also look incredibly good. You can wear them while you are on the job and as casual footwear. They offer comprehensive protection for your feet and boast a host of safety features, which make them a highly attractive option.
The price tag on these shoes is a little higher, but not restrictive and they will make a great long-term investment for someone working in tough working conditions each day.
Best Premium Steel Toe Shoes
When it comes to premium quality industrial footwear, nothing ever comes close to Caterpillar. So our pick for the best premium steel toe shoes is the Caterpillar Second Shift Steel Toe Shoes. This pair offers a lot of features that other shoes in the market do not. The Climasphere lining makes the Second Shift a clear winner for us.
The lining makes sure that the temperature within the boots is well regulated and it keeps the moisture level within the boots under control. Yes, the boot is on the heavier side, but heavy-duty protection does not get better than with the Second Shift. The high price tag might make it a little inaccessible, but we feel that it is worth every penny.
If you are willing to spend some extra money on guaranteed protection, the Second Shift is a no-brainer in our books.
Best Value Steel Toe Shoes
A name linked with durability and reliability, we felt that there was no better shoe to feature for great value for money than the Wolverine Raider Steel Toe Shoes. There is the reason why Wolverine is one of the oldest companies to be featured on this list. They have been around for a while, but they have kept up with technological innovations to keep on making some of the best shoes you can get.
The Raider shoes by Wolverine offer you all of the best features you can expect from steel-toed safety shoes, but without the hefty price tag. One of the most reasonably priced shoes on the list, the Raiders are an all-time American favorite and they are our top pick for shoes that offer you good value for your money.