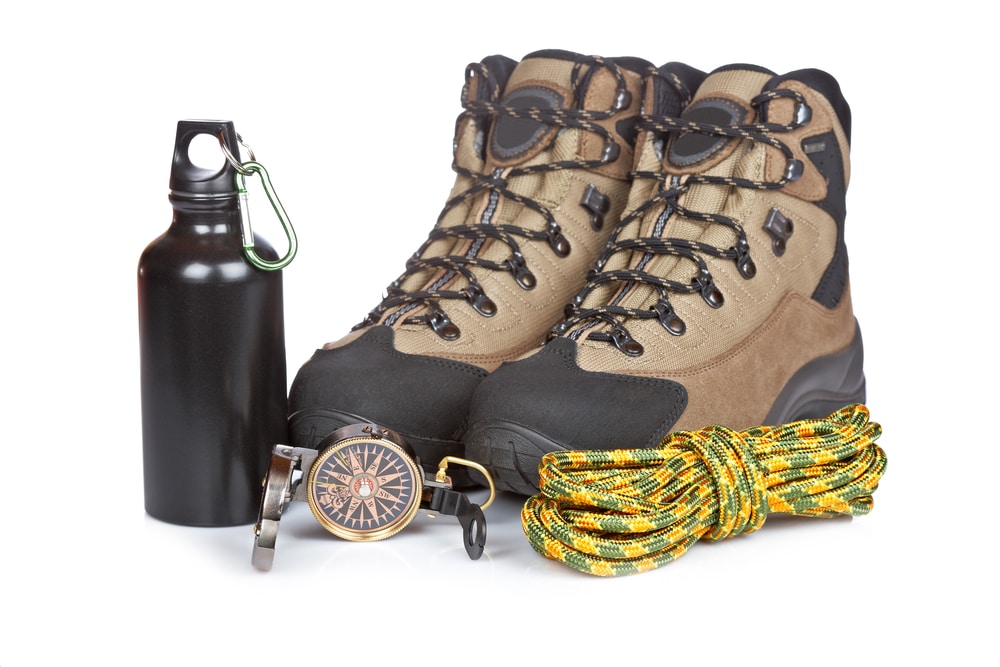 Imagine: you're in the middle of the woods, living off the grid, having a great time. Your hunting-gathering is very fruitful — good for you!
Until your boots rip. Not so good.
When it comes to surviving away from civilization, you need a pair of boots that are sturdy enough to withstand on their own. This means being able to hold their own, so you don't have to worry about them, allowing you to worry about other things more pertinent to your comfort off the grid.
We'll describe some of the best survival boots more in detail later on, but we've provided a quick cheat-sheet for you to get the info you want and continue with your survivalist ways.
Our Top Picks
To know why we picked these boots and the others on this list, keep reading.
What Should you Look for in Survival Boots?
Affordability
Generally, it's smart to save money wherever you can, but that rule does not apply to survival boots.
A good pair of survival boots should be considered an investment in your long-term future. Not only that, it's an investment in your survival. If you plan on being in remote areas for days or even weeks at a time, you have to make sure that the shoes you're wearing will last you without problems. Therefore, you should consider affordability, but it should be your lowest concern.
When it comes to survival apparatus, there's a direct correlation between what you pay and the performance of that item. In short, you get what you pay for, so it would be best to save up and buy a more expensive pair of boots if it means reducing the chance of shoe-induced headaches in the future.
Fit
Beyond price, the fit of the boot should be your biggest concern. Blisters and skin that have been rubbed away is the last thing you want after a long day hiking.
There are lots of good deals online, but you should check out your hiking boots in the store, so you get a chance to try them on before you buy them.
If there aren't any hiking or survival stores near you, you're forced to buy your shoes online. In such a case, give yourself a few extra weeks to order your boots and possibly return them if they aren't perfect.
When looking for the right fit, you should ensure that there is no pinching on any part of your foot. This not only means around your toes but the heel and the back of your ankle, as well. You should be able to walk for about ten to fifteen minutes without any severe pressure put on your foot. If there's pressure anywhere, it will only magnify throughout the day and cause you pain.
Therefore, even if your shoes fit great when you try them on out of the box, be sure to give yourself an extra few days to walk around and break them in.
How to Quickly Break-in Shoes
Wear thick socks. Slip-on a pair of thick, wool socks and walk around your neighborhood for a bit in your new shoes. Not only will the thickness press against the shoe's material and expand it a little, but it will also help smooth out any area that could potentially cause you blisters or rub against your feet.
Walk around. A lot. This means a couple of laps around the block at a slow, moseying place. Be sure you're walking on a concrete sidewalk or the side of the road to avoid damaging your shoes on hard materials. Extra points if you wear thick socks while walking around the neighborhood.
Use the ice bag method. Pour some water in two high-quality Ziploc bags. Put those bags in your shoes, then put your shoes in the freezer overnight. The water will expand against the boots' material and slowly stretch it out.
When the following day comes, take the bags out and let your shoes get to room temperature since you don't want to stretch out the constricted material. You can then walk around in your shoes, and you'll notice that they're a bit looser than when you initially tried them on.
The ice bag method can be the first step you do in breaking in your shoes, so you can do this before you walk around your neighborhood wearing thick socks in your new shoes.
Terrain
You should have some vague idea of what ground you'll be in for your survival adventures. Will it be the forest? Desert? Tundra? Taking the specific environment you'll be in versus the standard "all-terrain" one will help you get more utility out of your shoes.
All-terrain shoes are great, and they're suitable for lots of scenarios while out in the field, but they're essentially generalist shoes. You want shoes that will be specific to your surroundings, because that means the company will have taken all the needs of that particular environment into creating their shoe, making an overall better product.
When it comes to survival shoes, it's best to opt for more specialized shoes if you can. It's great to want a pair of shoes that will last you for years to come, but what if you end up needing to go in different environments? Either buy specialized shoes or pay a little extra for truly all-terrain shoes, such as tactical boots comparable to what the United States military uses.
Flexibility
Stiff shoes are the end of your feet. Seriously.
Shoes that don't allow your feet to move might have their advantages. It could mean that the boot's soles are incredibly rigid and thus durable, meaning you can walk on a variety of terrains. It could also mean that the boots have good traction when walking on wet surfaces.
However, you don't want inflexible shoes because they'll eventually leave your feet sore and blistered. When you can't move your feet fast enough, you could take the wrong step and not be able to catch yourself.
You need your agility and all your reflexes unhindered when in the field, making it essential to have flexible shoes in both the sole and the upper material.
Another thing: your foot naturally swells throughout the day because of all that walking. Maximum swelling occurs around noon, so it's best to not only pick out your shoes around that time to break them in around then as well.
Breathability
You'll most likely be wearing your shoes for half the day. If your feet get hot and sweaty, your skin gets softer and thus more prone to blisters and tearing. Besides, excess moisture and heat are uncomfortable.
When looking at the right boots for you, take into consideration breathability for the comfort of your feet. It will not only feel better but protect your foot health as well.
A note that shoes should provide flexibility around all the joints in your foot, and in the ankle and balls of your feet in particular.
Upkeep
You've found the most amazing pair of survival shoes. They're supportive, flexible, easy to walk in, and are functionally perfect. Until you wear them and notice that there's not a lot you can do to ensure your shoes maintain their awesomeness throughout time.
While shoes should have the above functionality traits, they should also be easy to clean and maintain. This means that leather shoes are pushed to the lower category of survival shoes you should consider.
Leather has a lot of perks — it's not only attractive but naturally water-resistant as well. However, leather dries up after time (especially when moistened) and can lose its service to you over time. Without constant cleaning, moisturizing, and conditioning, your shoes can crease and crack and let water in. That's not what you want in a survival shoe.
That's why you'll rarely see tactical or survival boots made out of leather. If they are, it's for aesthetic reasons mostly. Consider canvas, synthetic, or perhaps suede leather instead of finished leather. While suede is still a type of leather, it doesn't crack or dry up the way polished leather does.
Health
When wearing your boots, notice how they make your ankles look. Do your ankles seem crooked or vertical? How about your knees?
Your shoes should make your ankles stand vertically, which you can notice when standing in front of a mirror. Ask your friends or store clerk to observe your ankle angles. Anything other than 180 degrees vertical can cause problems.
Why? Because ankle misalignment can cause a substantial cascading effect of problems in your body. When your ankles are thrown out of whack, different parts of your feet are forced to compensate as a result.
This shifts how you use your knees, which affects your hips, which then impacts the back. When thrown out of balance for too long, you can develop pain in your joints or spine, which can slow you down or further impair you when out in the field.
Therefore, it's crucial that you notice how your boots make you feel when walking in them. Does your back hurt after hour three of use? Do your knees feel hot and swollen after a short trip around the block? Any pain can lead to worsening health effects at the most inconvenient time for you.
Not only that, but your shoes should especially support proper foot health. As mentioned before, the boots should fit well, meaning they don't cause blisters or sores to form on your feet.
But in addition to that, your shoes should ensure the internal mechanisms in your feet work smoothly as well. The boots should have lots of cushion in the inner sole and arch support for the sensitive bones and connective tissues around the midfoot. There should be plenty of room in the toe box and ample padding around the heel to prevent painful chafing.
The arches in your feet can fall over time due to wearing shoes without proper arch support, which can lead to flat feet. Flat feet can lead to pain in the midfoot while walking and hindered dexterity in the feet. Avoid lowered arches by buying shoes with proper arch support. Consider buying arch-supporting orthotics as well, just in case.
Your feet are your most important tools in survival, so be sure to take care of them with the proper footbed and survival boots.
Other Tips
Put duct tape on pressure points. If you find that your perfect pair of shoes still pinch your feet and cause blisters, it's best to put duct tape on the parts that cause discomfort. The duct tape smooths out the pressure landing on your feet and reduces the chance of developing a blister.
Buy orthotics, if needed. Some boots are great and provide arch support. Others don't. If you bought boots without arch support and don't want to return them, buying an orthotic can mean protecting your foot health over time. You should try to mitigate your arches falling at all costs, and orthotics tend to be inexpensive.
Test waterproofing before heading out. Some all-terrain shoes are less suitable for all terrains — especially when it comes to water. Sometimes the stitching allows water to bleed through and get to your feet, which would not only be uncomfortable but make you susceptible to developing blisters.
Instead, fill up a bucket a couple of inches full of water and wade in it for a few minutes. Then walk around. Do your feet feel wet? If you, you'll have to take the necessary steps to make your boots more waterproof than they actually are or return the shoes. Glad you know now instead of in the field, right?
Best Survival Boots Review
For heavy-duty survival shoes, consider these Smith & Wesson boots. The company is known for its high-quality products and attention to fine detail, and these shoes are no different.
These shoes are made from sturdy leather and nylon construction that protects your feet while staying comfortable. The gusseted tongue keeps out debris and dirt, and the EVA midsole cradles the bottoms of your feet.
There's lots of support to keep you walking without blisters. The torsion rigidity reduces foot fatigue, which is crucial when you plan to walk hours on end.
Not only that, but the bottom of the shoes are slip-resistant. In fact, the rubber outsoles are engineered to minimize the loss of traction thanks to its creative pattern. The pattern grips dirt, fences, ladders, rocks, and any other tricky surface with ease.
For a budget-friendly boot, consider the Smith & Wesson Men's boot. While the leather might need upkeep over time, the rest of the boot's performance makes up for that minor inconvenience.
Pros:
These shoes are comfortable and affordable.
The EVA midsole cradles the bottom of your feet and prevents foot fatigue.
The outer soles of these shoes are slip-resistant, improving safety.
Cons:
The leather option means constant upkeep in the field.
Some users found difficulty in finding the right size with these shoes.
For striking hiking boots that can last you thousands of miles in the woods, check out the Merrell Moab 2 Hiking Boot. They're more lowkey than the tactical boot shown above.
The upper is made from 100% leather and mesh, so the boots not only look good but also breathe well. In addition to the upper, the seams are breathable as well. So the boot is more for dry areas without lots of standing water, as the breathability means these shoes aren't waterproof.
The removable insole allows you to add your orthotic or further cushioning with ease, which makes customizing these shoes a lot easier.
These shoes come with air cushions in the heel that both absorb shock with every step and add stability to your frame, which reduces walking fatigue. The interior soles also have lots of arch support to protect the bones in your feet.
The protective rubber toe cap helps you protect your toes from damage — we all tend to kick a log when we're hiking accidentally, and jammed toes are never fun. The shoe's tongue is padded as well, meaning maximum comfort for your feet all around. The outer sole is also slip-resistant, meaning fewer potentially hazardous falls on the trail.
For hiking boots that are affordable and functional, consider the Merrell Moab 2 Hiking Boot.
Pros:
Breathable uppers mean less foot sweat and increased comfort while walking.
The Merrell Moab 2 Hiking Boot has slip-resistant outer soles and shock absorbing midsoles.
There's plenty of arch support in these shoes.
These shoes are affordable.
Cons:
When these shoes get wet, they tend to absorb a lot of water and stay wet. Be careful when hiking near bodies of water.
Some users say that they've had lacing issues with these shoes.
For a survival boot that works exceptionally well in cold environments, look no further than the Garmont T8 Extreme GTX Tactical Boot.
These shoes are incredibly insulated while remaining lightweight and comfortable. For hiking in snow or other harsh conditions, these shoes ensure your feet remain warm enough to keep you moving.
They also have ample cushioning in the midsole, so your feet don't get fatigued after hours of wearing these shoes. Not only that, the Vibram outer sole provides maximum traction — which is what you need when traversing over ice or other slick conditions.
These shoes are durably stitched and constructed, meaning cold water won't seep in through the seams or cracks in the sole over time. The durable uppers provide breathability and ventilation to keep your feet warm yet cool at the same time.
For demanding work or slogging through unforgiving environments, the Garmont T8 Extreme GTX Tactical Boot are the boots for you.
Pros:
The Garmont T8 Extreme GTX Tactical Boot is sturdily built and has slip-resistant soles.
The midsole provides enough cushion to stave off foot fatigue.
These boots are especially suited for cold environments.
Cons:
Some users report that these shoes are a bit too hard to find the right size in. You either have to go a size up or get the wide version.
For hiking boots that are lightweight and more lowkey than tactical boots, try on a pair of KEEN Revel III Hiking Boots.
KEEN is a company known for its high-quality outdoor products, and these shoes are no different. When it comes to getting you from point A to B (and C, and D, and E…), the Revel III Hiking Boots are not only durably built but comfortable enough to keep you walking all day with little to no discomfort.
First of all, the outers are made from 100% waterproof nubuck leather, meaning crossing the occasional river or stream won't have your feet getting soaks for hours. The outer rubber sole is durable and slip-resistant, meaning fewer falls on the trail.
The lace-up part of the boots features waterproofing material as well, in addition to a dry membrane and plush padded collar that keeps the tops of your feet comfortable as you walk.
These shoes are insulated as well, so when the sun sets and the temperature drops, you don't have to worry about your feet freezing. The dual-compound bottom grip is suitable for both snow and ice as well as a variety of other terrains.
KEEN has a keen knowledge of making high-quality hiking boots, and that knowledge shows in the Revel III Hiking Boot. For upscale hiking boots that are bound to last you for years, check out these boots from KEEN.
Pros:
The KEEN Revel III Hiking Boots include breathable and waterproof uppers that keep your feet comfortable while hiking.
The shoes are insulated and slip-resistant in icy conditions.
The midsole is cushioned and cradles the bottom of your feet, reducing your feet feeling tired after a hard day of hiking.
Cons:
These shoes are a bit expensive and can be out of the range for some hikers.
Some users report that the toe box is too tight and won't stretch out over time, so you should consider buying a half-size or full-size up.
These sleek, stylish shoes not only look good but are one of the best hiking boots on the market. Take a look at the Salomon Quest Backpacking Boots.
The uppers are made from both leather and synthetic material, making them both water-resistant in the leather and breathable in the synthetic mesh grates. They're designed for maximum traction on mixed terrain thanks to the durable, slip-resistant rubber soles.
These hiking boots feature a 4D Advanced Chassis that helps guide your foot rather than simply succumbing to your foot's weight. Such guidance not only feels more comfortable as you're walking but helps reduce foot fatigue during your hikes — even on rough, uneven terrain.
The midsole feels soft and secure against your feet, thanks to the light interior cushion. The interior is designed like a running shoe — it's supportive enough for maximum movement while ensuring you there's no obstruction in your path. These shoes keep all your joints aligned to avoid harming your body from hours of misaligned walking.
Whether you're planning a short day-trip or hiking for months on end, these Salomon Quest Backpacking Boots are suitable enough for living off the grid for a long time. Whether it's hiking, backpacking, or deciding to live away from civilization for a while, these shoes are sturdy and durable enough to fulfill your outdoor needs without much subsequent maintenance.
Pros:
The 4D Advanced Chassis technology in this shoe guides your foot while you walk, ensuring proper joint alignment while reducing foot fatigue.
The interior shoe is designed like a running shoe, making these boots comfortable enough to walk in all day.
The outer sole is designed to prevent slips and falls in mixed-terrain environments.
Cons:
These shoes are a bit pricey.
While the company claims that these shoes are waterproof, some users report that they get wet when submerged in water.
Like KEEN, Columbia is another company known for its outdoor gear. The Newton Ridge Plus Hiking Boots are another example of high-quality outdoor shoes from a knowledgeable hiking company.
These shoes from Columbia support the bones in your feet while maintaining a supple cushioning, meaning your feet remain comfortable throughout your hiking journey. The weather-ready upper and gripped sole means you won't have to sit out for too long when it starts to look like rain. You can keep going and not miss a step.
The laces on these shoes are waterproof as well, in addition to providing a firm grip while you walk. You don't have to constantly pause to make sure your shoes are tied — just tie them in the morning and forget about them.
The Seam-sealed Ombi-Tech membrane ensures even the seams of these shoes are waterproof. They don't block the breathability of these shoes, though, so you can be protected from the elements while remaining comfortable.
The tongue and collar of these shoes are padded, further upping the comfort levels of these shoes. In addition, the Techlite midsole is lightweight and cushioned to give you high energy while you walk.
Last but not least, the non-marking Omni-Grip rubber outer sole gives you reliable traction in both dry and wet conditions, which reduces the chance of potentially fatal falls when you least need them.
The Columbia Newton Ridge Plus Hiking Boots are functional yet simple, providing a minimalistic look while giving you all the features you need to hike safely and comfortably in the great outdoors.
Pros:
Waterproof yet breathable
Rugged lacing system
Comfortable enough for all day wear
Cons:
Toe box is a little short
Another great pair of tactical boots from Garmont, the T8 Bifida, is known for its high-quality and having been born with great attention to detail.
These shoes are made from durable metallic eyelets and nylon webbing, so you'll always be able to lace up these shoes without fear of the seams or eyelets tearing off. These shoes are incredibly comfortable, too, thanks to the Gore-Tex interior technology that not only provides insulation but cushioning.
These shoes stave off foot fatigue thanks to the PU breathable footbed and EVA insole. These shoes feel incredibly soft and flexible against your feet, which is exactly what you need when you embark on your next survival journey.
The instep provides great performance in a variety of terrains, so you don't have to worry about your shoes' performances when walking into the next ecosystem. The outsoles are slip-resistant and made from well-constructed rubber that prevents you from falling: you'll always be able to get to where you need to go without fear of falling.
Your feet need the highest quality shoes to allow you to accomplish what you need to. Whether it's for a military mission or a goal you've always wanted to cross off your bucket list, the Garmont T8 Bifida Tactical Boot has high-quality construction that's great for both amphibious and dry environments.
Pros:
Gore-Tex technology provides both cushion and insulation.
The outsoles are grippy and prevent slips.
These shoes have incredibly soft interior soles that feel great against your feet.
Cons:
Some users report that the tongue is a pressure point that can cause discomfort when you first wear these shoes.
The toe box is a bit too roomy for some users.
Another great pair of tactical boots come from Wideway. The company specializes in making premium, military-grade tactical boots, so there's no reason why you can't get the best survival boots for your needs as well.
In fact, if you don't like these boots, the company gives you a 30-day 100% refund if you don't like these shoes.
The uppers are made from polishable leather and nylon that's both supportive and water-resistant. The interior of these shoes includes a padded tongue, removable cushion insert at the midsole, breathable lining, and a side zipper that makes putting on and taking off these shoes a breeze.
These shoes help regulate the temperature of your feet as well, so whether you're in a hot, arid environment or out where it's icy, your feet will remain comfortable no matter what. The outsole grips ensure you can walk on mixed-terrain environments while keeping your balance — no falls are seen in your future.
These boots are easy to clean and care for, so you can ensure they're with you for a long time. The company even includes a sizing reference to make buying these shoes online a lot easier, so you can buy the right pair the first time.
For military-grade boots at an affordable price, the Wideway Men's Military Tactical Boots are the way to go.
Pros:
Wideway provides military-grade boots at an affordable price.
The interior is cushioned and comfortable, while the outer is suitable for a variety of rugged environments.
The slip-resistant sole ensures the best balance on uneven terrain.
Cons:
Some users report that the treads of these shoes wear out easily.
For backpacking, hiking, or just surviving in the woods, the Mishmi Takin Kameng Hiking Boot is suitable for any outdoor condition.
These shoes are designed to give you the top performance in wet and treacherous conditions. A solidly built boot, they're both waterproof and suitable for those whose feet tend to run hot. The boots forbid water from touching your feet but still maintain the ability to dry quickly when the outers do get wet.
The Vibram Megagrip rubber soles give you peace of mind while hiking. When encountering dusty or wet terrain, you won't have to fear falling onto the ground. The outsole keeps you steady on both unstable ground and on rocks as well.
The water-resistant suede and Cordura upper are abrasion resistant, so you're not likely to feet twigs and branches against your feet or ankles when you walk. The Ortholite footbed gives you top-notch comfort on your feet.
And lastly, these shoes are durably constructed and designed to last a long time. While other hiking boots fall apart after a few years, you can be sure that the Mishmi Takin Kameng Hiking Boots are here to last for many years to come. These boots are a bit expensive, but they can be worth the investment.
Pros:
These shoes are durable and well-constructed, so they're not likely to fall apart.
The Ortholite inner sole protects the delicate bones in your feet from long-term damage.
The Vibram Megagrip outsole keeps you stable on dry, wet, and rocky conditions.
Cons:
These shoes are a bit expensive.
Some users report that these shoes are a bit too narrow, which can cause discomfort.
Another great shoe from Mishmi Takin, the Jampui Hiking Boot provides the same high-level performance as its sibling, the Kameng Hiking Boot.
These shoes are suitable for both lightweight hikes and tactical use as well, meaning you can use these shoes to fulfill whatever outdoor needs you have.
The Jampui is 100% waterproof, so you can stand in a shallow flowing river and not get a drop on your toes. While waterproof, these shoes are also quick drying and very breathable thanks to the eVent membrane technology.
The Vibram Megagrip rubber allows you to get the best traction on a variety of surfaces, even wet ones. Compared to the Kameng, the Jampui is a little more flexible and a lot lighter, making it great for those who want to be quick on their feet.
For another pair of high-quality hiking boots that are worth the investment, the Mishmi Takin Jampui Hiking Boot is the way to go.
Pros:
These shoes stand up well to abuse.
They're lightweight and flexible yet still incredibly durable.
This Megagrip rubber sole gives you max traction on both wet or dry surfaces.
The anatomical interior sole provides arch support and overall foot comfort.
Cons:
These shoes don't keep your feet warm, so they're best suited for warm environments.
The Mishmi Takin Jampui shoes are a bit pricey.
The Verdict
Whatever your price range or other needs, these shoes will get you where you need to go without giving you extra headaches. We've covered a lot of shoes on this list, but we've picked three of our favorites in the top categories you care about.
The KEEN Revel III Hiking Boot is not only suitable for light day hikes; it can seriously help you out in longer excursions as well. These shoes are lightweight and flexible — a must for ample foot dexterity — but they're comfortable to wear enough all day.
The Revel III Boots are also water-resistant and help keep your feet dry in moist environments, which is perfect for ensuring your feet remain safe while away from civilization.
Finally, while a lot of shoes on this list are more expensive than the KEEN Revel III (and probably for good reasons), the Revel III shoes provide everything you need for long-scale hiking at an affordable price. No extra bells and whistles, just everything you need.
Durability is the name of Garmont's game, and the same is true for the T8 Extreme GTX Tactical Boot. What can we say — the boot hits all the spots of what you need for survivalism. They're lightweight, sturdy, gripped, and comfortable enough to wear all day.
While more affordable than the above two shoes, the Merrell Moab 2 Hiking Boots don't sacrifice quality for the price. They're still just as sturdy, comfortable, and rugged as the other shoes on this list.
For surviving in the woods, you need the best gear — and that includes the ones on your feet. You can't go wrong with any of the boots on this list to fulfill all your outdoor trekking needs.