The type of shoes you wear to work can make a massive difference to your comfort, productivity and most importantly, your safety. This is particularly true for those working in professions that involve a lot of manual work in a diverse range of environments.
Not wearing the right footwear for a job that requires extensive or prolonged use of your feet in a challenging environment can take a toll on your feet and overall health. That is why it is crucial to invest in a good pair of boots.
The best work boots do not just keep your feet safe, but they help you become more productive. You're probably thinking that a regular pair of boots might work, but they can become problematic if they are not waterproof.
Choosing a pair of waterproof boots over regular boots presents you with a lot of advantages. We understand that a lot of people have reservations about getting waterproof boots. It makes sense to be hesitant since you will most likely be wearing the boots for several hours on end and that can mean less breathability and lower flexibility. But, we would beg to differ.
Waterproof work boots for men come in many different shapes and sizes. There are plenty of waterproof boots that offer the most amazing features that you expect from work boots: durability, comfort, aesthetics and most importantly, waterproofing. A lot of them are quite affordable as well.
Waterproof boots are nothing to worry about. Instead of worrying about breathability, you should know that the best waterproof work boots for men are designed to make sure your feet remain dry – from moisture both outside and inside the boot.
Keeping your feet dry is very important since cold and wet feet all day long can do more than just make you feel uncomfortable – you can actually get sick.
Wearing a pair of proper work boots give you the benefits that regular work boots already offer. Your feet will stay in contact with the ground in a way that they are supposed to. They make sure your feet get the proper arch support they need so you can put in those long hours at work with minimal effect to your feet.
Another important reason you should be choosing waterproof work boots is that you can never really know what working conditions you might face unless you are exclusively dealing with indoor jobs where the temperature is always constant and the working environment is dry. If your job sees you going to places where the conditions are wet, slippery, muddy from snow or rain, waterproof work boots are the ideal footwear for you.
Is Waterproofing Regular Work Boots the Same as Ready-Made Waterproof Work Boots?
This is something you definitely might have wondered about when you found yourself in situations where you need waterproof boots, but all you have are regular work boots. If you already own a pair of work boots and you have seen waterproof work boots, you might have noticed that the pricing for both types is pretty much the same.
This is the reason why it makes no sense to choose regular work boots if you are already going to find yourself trying to waterproof them. Of course, there are people who have their preferences when it comes to the brand they wear or the type of boot. The particular model they are used to might not be waterproof. If they need waterproofing, they try to do it themselves.
This tactic can work sometimes. However, if you are not someone who is particularly skilled at the craft of shoemaking, you will find it almost impossible to do a good job of waterproofing your work boots.
There are ways to waterproof your own boots, but it involves a certain level of understanding and expertise that only experts are aware of. You need to use specialized equipment and methods. Ready-made waterproof work boots are a better option than waterproofing regular work boots for several reasons including:
Some waterproof work boots are made with insulated material to keep your feet warm, which can help you work comfortably in cold conditions by keeping your feet dry and
Waterproof boots are inherently designed to be waterproof. They are created by professionals that dedicate a lot of time, effort and money into designing waterproofing techniques to ensure infallible waterproofing.
Waterproof boots are made keeping all the aspects of what a work boot should have as well as the waterproofing and your comfort in mind. They are designed so that they will not just protect your feet from the moisture outside but also be breathable enough to keep your feet free from perspiration inside the boots.
A lot of jobs where waterproof work boots are required, the footwear you have will need to meet certain standards. There are chances your shoes will need the approval to be useful in a workplace environment. DIY waterproofing on regular work boots might not make the cut to fulfill those standards.
For those of you who have been looking for the right work boots, you might already be aware that there are plenty of them out there. Even when you look specifically for waterproof work boots for men, there are so many in the category that it can become almost impossible to decide which ones to go for.
Each manufacturer touts their product as the best in the market, but you cannot simply take their word for it. We understand that choosing the right pair of waterproof working boots is no easy task. To that end, we have put together a guide to help you out.
This guide consists of a comprehensive list of some of the best waterproof work boots for men you can get right now. These are all boots designed to give you all the benefits of standard work boots, along with being waterproof for additional protection for your feet. Of course, before we take a look at the list and the reviews, let us discuss some factors you should know about work boots to help you make the best buying decision.
Buying Guide for Waterproof Work Boots for Men
Before looking at the reviews of the best waterproof work boots for men, it is important to understand the qualities you need to look out for in the work boots. The first thing you should know is that the price does not always reflect the quality.
Sometimes, work boots you get for a comparatively affordable price can be just as good as a pair you might get for a lot of money. Think of it like this – most of the waterproof work boots are made in a similar manner. There are other factors that determine the pricing like the brand, the manufacturer itself, marketing costs and other costs, besides the quality of construction.
There are some brands out there that have a high price tag on their products just because of their established name in the market. That does not mean their quality might be lower, but you can say that they charge a premium for the guarantee their boots give.
These factors are not really important as long as the air of boots you get works out well for you. We have highlighted some qualities that the best waterproof work boots for men should have. Some models are designed for driving, hiking, walking long distances and driving. There are those designed keeping the indoor worker in mind. Some waterproof working boots are designed keeping in mind landscapers and farmers.
What you need to remember is that the best waterproof work boots for you might not be the same for someone in a different profession working in a different set of conditions. Now let us take a look at the qualities you should look out for when choosing a pair of waterproof work boots.
Features You Need to Look for
This is the part where you will need to check the features offered in the work boot. There are some work boots that are marketed as waterproof, but they are not actually waterproof – they are slightly water-resistant at best.
Check the type of material used for waterproofing and the way the waterproofing has been done. A lot of the time, waterproof work boots have rubber soles and upper bodies made from waterproof leather. There is also a waterproof membrane that provides additional protection against moisture and prevents it from entering the shoe.
Durability
Work boots are usually made for conditions where they will see a lot of heavy-duty usage. As a consequence, the expectation from work boots is that they will not break or get damaged that easily even if you use them roughly. Depending on the nature of the work you do and the working conditions you are in, the pair of work boots can last you anywhere from a few months to even a few years. Ideally, the work boots you get should last you for at least a year if not two and that is around the time you should replace the pair.
Comfort
Comfort is a primary requirement for any footwear, regardless of its application. It only makes sense that the waterproof work boots you consider should guarantee great comfort. The reason why they should offer greater comfort than regular footwear is that you will find your feet going through a lot of stress at work. They need additional protection and comfort from the boots.
No matter how tough or rugged a pair of waterproof work boots looks, you need to get a pair that is soft, cushioned and breathable on the inside. The work boot should provide ample support for your arches and help you make sure that your feet make the right contact with the ground. The last thing you want at the end of the workday is to worry about sore feet.
Slip Resistance
Slip resistance is a feature that is supposed to be there with work boots. It is a quality that comes in handy throughout various workplace environments where you find yourself working on slippery surfaces. It makes sense that the waterproof boots need to be slip-resistant since working in an environment with a lot of moisture means there is a higher chance of slipping.
You can expect most standard work boots to feature this quality as well. But, to be on the safe side, you need to specifically look for this feature in the waterproof work boots you are picking out, so that you do not compromise your safety.
Read Also: Best Work Boots for Mechanics
Benefits of Having the Best Waterproof Work Boots
While we have extensively talked about the importance of having waterproof work boots, we thought that it is best to highlight some of the most important benefits they offer.
Keeping Your Feet Warm and Dry
The most obvious reason to have a pair of waterproof boots is that they keep your feet dry and warm. Think about it – when you are dealing with extreme conditions, you will not want to waste your time trying to tackle the problems that cold, wet and uncomfortable feet throw your way.
Depending on how long your feet might remain wet, you also carry the risk of getting trench foot and other similar conditions. Waterproof work boots prevent you from getting those health conditions.
General Hygiene
For professionals who find themselves working in conditions where they have to deal with floodwater, mud or similar obstacles, you run the risk of exposing yourself to dangerous contaminants. Exposure to contaminated floodwater, for instance, has been linked with several health issues according to the U.S. Environmental Protection Agency.
Resistance to Chemicals and Solvents
Water is not the only liquid you might face out there in the field. There are working environments where you might traverse through spilled chemicals, fuel or other harmful solvents. While we are not saying that waterproof boots will provide you complete protection from them, they do entail a high degree of resistance. The rubber soles prevent you from slipping and letting any of the harmful liquid coming into contact with your feet.
Our Top 3 Choices
Best Overall: Timberland White Ledge Men's Waterproof Work Boots
Premium Product: Carhartt Men's Rugged Flex Waterproof Composite Toe Work Boot
Best Value: Keen Utility Men's Milwaukee Wide Work Boot
---
Best Waterproof Work Boots for Men Reviews
One of the most reviewed and highly recommended waterproof work boots for men, it should come as no surprise that the Timberland White Ledge Men's Waterproof Boot is right there at the top of the list.
The accounts of many happy customers and their reviews, as well as our personal experience with this pair of boots also testify how good this pair of boots is. Worth every penny, the Timberland White Ledge Men's Waterproof Work Boots is durable, stylish and most importantly, waterproof.
Waterproofing is not just one of the features; the quality of waterproofing on this pair of work boots is what makes it a clear cut winner for us. The seam-sealed upper is made from premium and full-grain leather. The padded tongue adds to this pair's ability to provide you a comfortable experience wearing it.
Other than these two features, this pair of work boots is also breathable, particularly at the footbed that is made using dual-density EVA foam, which you can remove for cleaning and maintenance. The footbed wicks away moisture and odor, thereby leaving your feet dry and comfortable, even after wearing them a long time.
Timberland is a brand associated with being a manufacturer for durable footwear for decades. The first waterproof model they introduced was in '73, which defined the industry standards for protection, durability and workmanship. While many years have passed and the manufacturer has been coming up with better, they still fulfill their promise of producing the most durable boots.
Comfort is a key factor for exceptional quality work boots. The Timberland White Ledge Men's waterproof boots are an industry-leading example because of Timberland's proprietary BSFP system for ensuring comfort. Whether you are running, walking, hiking, traversing slippery surfaces or climbing ladders, this pair of work boots will make sure that you stay safe and your feet remain comfortable through it all.
Pros
Fairly priced pair of boots
Break, Support, Flex and Propel system for comfort
Comfortable padding
Seam-sealed full-grain leather
Removable dual-density EVA footbed foam
Cons
Some users have had issues with variances in size
---
Another company that enjoys an impeccable reputation, Carhartt produces the Men's CMF6371 six-inch Waterproof Work Boots to meet the demand for reliability and waterproofing.
This pair is also highly rated by customers who have bought it and there are hundreds of positive reviews about these boots. While it might not be considered to be the most affordable pair of boots from the ones on this list of reviews, it is definitely one that is capable of doing everything it is marketed to.
This men's pair of waterproof work boots features a composite toe with a rubber sole and oil- tanned leather. These boots are made with sturdy materials upholding the highest construction quality standards by Carhartt. The waterproof membrane keeps your feet dry and warm all the time. The composite toe provides extra protection for your feet in case anything drops on your feet.
The rubber sole helps make the boot more waterproof. The material is also slip, oil and chemical-resistant to provide you the best protection even in the most difficult working environments.
While this boot does not have as many reviews as you might expect from the pair by Timberland, the ones that are there talk very highly about this pair. The pair is durable and it was designed to be used in the toughest working environments. It features cement-like construction so you can trust that it will last you for several months. If you take good care of this pair and maintain them regularly, you can expect it to last for several years.
The comfort aspect is where the real premium aspects of the Carhartt boots come in. A lot of work boot manufacturers prioritize durability and keep comfort on the back burner when they design their products – not Carhartt. The OrthoLite inner soles of this pair of work boots feature more than enough flexibility, cushioning and support for your feet to ensure you enjoy comfort while wearing these boots.
Pros
Oil, chemical and slip-resistant
100% Waterproof with oil-tanned leather upper body and rubber sole
Multilayered OrthoLite inner sole
Composite toe for added protection
Cons
Some customers have had fitting and size issues
---
While the broader footwear industry might not know it very well, professionals whose work involves a lot of physical labor and they need protective footwear definitely know about Wolverine. A company established back in the 1800s, Wolverine commands a high level of trust among its customers due to its reputably excellent products over the decades.
After over 150 years in the industry, Wolverine still proves itself as an excellent manufacturer with the Wolverine Men's Floorhand Waterproof Work Boots. This pair exhibits the best that Wolverine has to offer to its customers. The owners of this pair have had great reviews about this pair and find it an ideal work boot to have.
The pair is made using full-grain leather that is completely waterproof. Paired with a rubber sole 6 inches thick, it provides an excellent grip along with waterproofing. The thick outer sole also makes it easier for you to keep your feet dry as you walk through muddy surfaces or puddles of water while you are on the job.
Durability has always been one of the strongest qualities with Wolverine's products over the years. It is also the main reason why they have been one of the most dominant brands within the work boot industry. If you want to get a pair of work boots that last for years on end, it is this pair made by Wolverine.
Customers have reported that this pair is heavy for soft toe work boots, but it is still pretty lightweight and comfortable. The cushioned footbed is very comfortable and supports the arches of your feet to reduce the amount of strain on your feet after a full day of work.
Pros
Slip-resistant outer soles
Comfortable and removable full-cushion footbed
Rubber outsole
Made with full-grain waterproof leather
Cons
Slightly heavier compared to other soft toe work boots
---
Ever Boots is not a name some people might expect to see on this list, but we have checked out all the customer reviews of these boots before including them here. The people who have bought this pair are happy and have given great reviews, thereby compelling us to consider these boots very highly.
The Ever Boots Ultra Dry Premium Leather Waterproof Work Boots are efficient and it is a really good waterproof work boot for men. There are a lot of reasons why this pair by Ever Boots makes it to the list and the foremost reason is right there in its name. The Ultra Dry pair of boots by Ever Boots does not just promise waterproofing, it delivers the results as well.
A lot of manufacturers promise their customers waterproof boots only to provide them with water-resistant boots that get soaked when the customers actually find themselves in need of thoroughly waterproof footwear. That is never going to be a problem with the Every Boots Ultra Dry as far as the reviews can tell us. Made from waterproof leather, the boot also features an insulated lining that keeps your feet warm in tough conditions.
The Ultra Dry Men's waterproof work boots are some of the most affordable boots you can get in the market. You may assume that this means the manufacturer might have compromised on the durability of the product, but it is one of the most durable pair of work boots we have come across. The boot is made with exceptional workmanship and the materials used are of the highest industry standard. These boots will last you for months without posing any problems in the toughest of conditions.
When it comes to the level of comfort, you need to be considerate about the fitting of this pair. The Ever Boots Ultra Dry is a big fit pair of work boots. This is why you need to make sure you are getting the right pair before you purchase it. The boot is going to be around half a size larger than the standard work boot. If you do get the right size for your boots, you will find the Ultra Dry to be very comfortable. The polyurethane midsole is lightweight, flexible and comfortable. The flexible rubber sole provides enough room for you to be able to move your feet around while providing them the support they need for the long day at work.
Pros
Comes with a 30-day waterproofing warranty
Ultra Dry featuring 100% waterproofing
Affordable pair
Cons
Sizing can make it tricky to find the perfect fit for your feet
---
Another pair by Timberland making it to the list of the best waterproof work boots for men should not come as a big surprise. There will, of course, be another on this list and when you read the review, you will understand why the Hyperion Waterproof Work Boots by Timberland make the cut as one of the best on this list.
The Timberland Hyperion has received hundreds of 5-star reviews from customers who absolutely love this work boot pair. This is as good a pair of work boots as you can expect to get in the market. The Hyperion is one incredibly good looking pair of work boots. This is the kind of pair that you can wear even when you are not at work, but when you are at work, this is one formidable choice.
Made using premium leather, it features a waterproof membrane that keeps moisture out of the boot and keeps your feet dry. We have already discussed how Timberland enjoys a reputation for making durable products and the Hyperion definitely exhibits that quality as well. This pair is made using Ever-Guard leather which is considered to be some of the toughest leather out there. This material is abrasion-resistant and that keeps the boots looking good through the roughest of use in difficult work conditions.
The Timberland Pro Men's Hyperion Waterproof Work Boots is just about the most comfortable pair from the entire list. In fact, Timberland even gives you a 30-day moneyback guarantee when it comes to the comfort level with this pair. If you do not like how they feel on your feet after getting the right fit, you can get all of your money back without questions asked.
It is unlikely that you will return the pair, thanks to the Anti-Fatigue Technology Comfort System that absorbs pressure from strong impacts and reduces the stress on your feet. The comfort system in these boots also offers a lot of support for your feet so that they remain comfortable throughout the day. The alloy safety toe this boot features provides added protection in case a heavy object falls on your feet.
Pros
Anti-Fatigue Technology Comfort System
Alloy Safety Toe
Lightweight EVA foam midsole
Ever-Guard leather construction
Cons
Not a lot of options in terms of color
---
Seeing that huge CAT logo on anything from construction equipment to work boots immediately tells you that what you have in front of you is heavy-duty, capable and durable. That is also how you will look at the Caterpillar Second Shift Steel Toe Work Boots for Men.
This is not a pair that Caterpillar recently came out with. In fact, the Caterpillar Second Shift is a model that has been around for a while now and it still continues to be a favorite for many professionals across various fields. Reliable, comfortable and durable, this Waterproof Steel Toe work boot is spot on when it comes to boasting all the necessary qualities in a work boot.
The boot is constructed using waterproof leather that will keep your feet dry and warm throughout the workday. The 200g Thinsulate feature on the Second Shift allows you to keep your feet warm through the coldest of conditions. The Second shift has received hundreds of good reviews from happy customers who vouch for its durability. The hardware is made from the best quality material and expert craftsmanship.
While you might be expecting this pair to be uncomfortable due to the fact that the Second Shift is a steel toe boot, you will be surprised. The removable EVA foam inside made with specialized gel technology is very comfortable and provides a good fit for your feet. The steel toe only adds to the weight of the shoe, but you will find that this is one of the most comfortable boots to wear while you are on the job.
Pros
The 200g Thinsulate Insulation keeps your feet warm in cold conditions
Waterproof materials all around
Steel toe construction
EVA foam insert with gel technology for extra comfort
Cons
Size might not be accurate, so you need to check the details first
---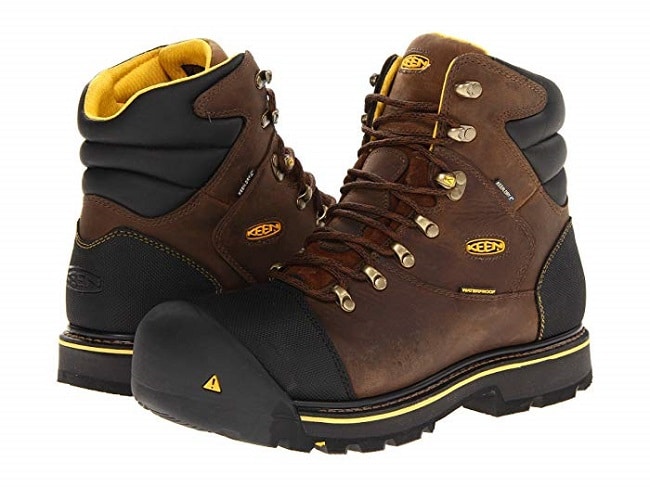 Keen is a manufacturer that was not going to be far behind the likes of Timberland, Wolverine and Caterpillar when it comes to the list of the best waterproof work boots for men. Among the brands regarded for comfort and durability, Keen has produced the Utility Men's Milwaukee Wide Work Boot keeping waterproofing as an integral part of design.
The Keen Utility Milwaukee is one of the most rugged pair of work boots you can get right now. These boots do not look half-bad, despite just two color options to choose from. The boot has a Dry Waterproof Breathable Membrane that allows your feet to stay dry and cool at all times. Your feet will not drown in sweat as the membrane does not just keep the external moisture out; it also allows a sufficient airflow within the boot. The fact that it has a slip and oil-resistant outer sole makes the boot a very good option for those working in wet conditions.
The Tough Tech nubuck upper, genuine leather, rubber sole and the overall detail to attention with how these boots have been crafted ensure their durability. The full-grain leather is also made with patented padding that Keen developed called the KEEN Welt Flexible construction. Keen advertises the Utility Milwaukee as one of the most comfortable boots you will ever own and we can vouch that it is definitely among the most comfortable if not the most that we have reviewed in this list of waterproof work boots for men.
Pros
Full-grain leather construction
Dual-density EVA foot bed for added comfort and support
Tough Tech nubuck upper construction
Keen's proprietary Hydrophobic/Hydrophilic 2-Zone Comfort Technology
Cons
Some of the owners that have reviewed this boot claim that the boot retains odor sometimes
---
There is a reason why Timberland enjoys such a high standing within the industry when it comes to producing reliable and durable products that do exactly as they are marketed. The Timberland Pro Men's Six Inch Rigmaster Waterproof Work Boot is a steel toe boot of the highest order.
Even though the Timberland Rigmaster is in the lower end of the list, it does not take away from the quality it boasts or our opinion of it. This is a waterproof boot made keeping professionals in mind and it should definitely be one of your choices.
This is a boot made using brown tumbled leather and a synthetic sole to give it a durable and strong construction. Some owners have claimed that the waterproofing fails after a couple of tears. Most of the other customer reviews talk about how durable these boots are and in fact, are the most durable pair of boots they have ever had. The Timberland Pro rubber vamp is made to be heat resistant and durable.
The Timberland Rigmaster is a very comfortable pair of waterproof work boots, but customers have reported that it takes time to break into these boots properly. The steel toe feature provides ample protection and the mesh lining keeps perspiration at bay by making the boots properly breathable from the inside.
Pros
Padded collar for added support around ankles
Timberland Pro rubber vamp
Structural support with fiber-glass shank
Mesh lining with anti-microbial treatment to keep foot odor at bay
Cons
Customers report plenty of break-in time before they start feeling comfortable
---
And another entry on the list which is made by Keen is the Utility Warren Waterproof Work Boots. The US-made pair of work boots is both durable and a good looking pair of boots. The list would not have been complete without this pair of waterproof work boots. Most owners have claimed that this is one of the most comfortable pairs they have owned and they have been using it for quite some time.
For a pair of waterproof work boots as affordably priced as it is, we found this pair to be surprisingly good. The Cascade Brown color makes the boots look really good and you can even wear them casually even if you are not at work. The Dry waterproof technology by Keen keeps your feet dry, but the breathable waterproof membrane keeps your feet free of perspiration.
The waterproof upper is made using nubuck leather and the outer rubber sole makes it resistant to slips. Just like the first pair of Keen work boots, the Warren Waterproof Work Boots are highly rated when it comes to their durability. The steel toes on the boots are asymmetrical and ergonomically designed to meet the needs of both feet. The combination of genuine and synthetic leather for the construction makes a material stronger than both and that is why these boots last you a very long time.
The Keen Warren delivers when it comes to providing wearers the kind of comfort they need to get through the workday without their feet feeling sore by the end of it. The boots keep your feet dry and comfortable while offering the kind of flexibility you need to reduce the stress they go through. The removable EVA foam footbed also helps keep your feet more comfortable for the long hours you have to wear the work boots at work.
Pros
Waterproof leather
Dry waterproof technology
Removable dual-density EVA foam
Meets the highest non-slip standards
Breathable waterproof membrane
Cons
Takes a few days for you to break into these boots and be completely comfortable
---
While it is the last entry on the list of the best waterproof work boots for men, the Skechers for Work Men's Radford Boot is no minnow among the industry's very best. Anything from Skechers would seem like an odd entry on this list. After all, Skechers is a brand well known for making fashionable footwear. The manufacturer has done pretty well when it comes to catering to the athletics industry and the Radford Boots from their Skechers for Men series shows that they produce capable work boots for the working professional.
The bonus of having a pair of Skechers work boots is that they are also going to be incredibly good looking. The prices are very affordable, but that does not take away from the quality of the boots. The Men's Radford Boots are as waterproof as you could ask for. The oiled leather is truly waterproof. It combines well with the seam-sealed outer rubber sole to create an impenetrable boot that will keep your feet dry in the harshest of conditions.
What about durability? The boot has a 6.5-inch thick sole made from synthetic rubber. While Skechers is better known for its fashionable footwear, Radford boots prove that the designers at Skechers know more than their fair share about developing durable boots. The combination of synthetic and natural materials make a very strong pair of boots that will last you a while.
The composite toe makes these boots highly protective but lightweight at the same time. The Radford boots are also very comfortable. Customers have said that the boots keep their feet warm during the coldest of working conditions and the boot takes very little time to break-in. The only issue is that if you have these on in warm conditions, your feet might feel a bit hot.
Pros
Comfortable tongue design
Waterproof materials
Very affordable pair of boots
Cons
Some owners of the boots complained that the boots become very hot during summers
---
Final Thoughts
That is about it from the list of the best waterproof work boots for men that you can get. There is still a lot of work to narrow down to a single pair from a list that contains ten excellent products. You might have noticed that all of them offer a varying set of qualities or looks – even different models from the same brand. The reason why we have so many different models is that professionals from different fields can find a pair that works out the best for them.
That is right. Not every pair might work out the best for everybody looking for a pair of waterproof work boots. Hopefully, these detailed reviews will highlight all the qualities you need to consider so you can make the best possible decision for yourself.
If you are still having a difficult time deciding on which pair to get, here is a little bit on why we have chosen our top three:
Best Overall
It is not surprising that the Timberland White Ledge Waterproof Boot makes the cut as our top choice. This is a pair of boots you can always count on to get you through the workday with better productivity and efficiency. The boots are made from the highest quality materials with expert craftsmanship from a brand that enjoys a longstanding reputation as one of the industry leaders. On top of that, the Timberland White Ledge offers a great value for money, considering that it is still among the more affordable high-quality pairs you can get.
Best Premium
Not the most affordable boots, the Carhartt Men's CMF6371 Rugged Flex Waterproof Work Boots are one durable pair. An exemplary product highlighting all the qualities you can get from the best waterproof work boots for men, this pair is durable, comfortable, waterproof and it will last you a long time. The fact that they look good makes these boots an even more attractive option. If the price tag is not an issue, there is no other pair you should consider.
Best Value
When it comes to getting the most bang for your buck, our favorite is hands down the Keen Utility Men's Milwaukee Waterproof Work Boots. A fashionable and rugged choice, this pair offers you the features of all the best work boots at an affordable price. This is perfect for professionals on a budget.