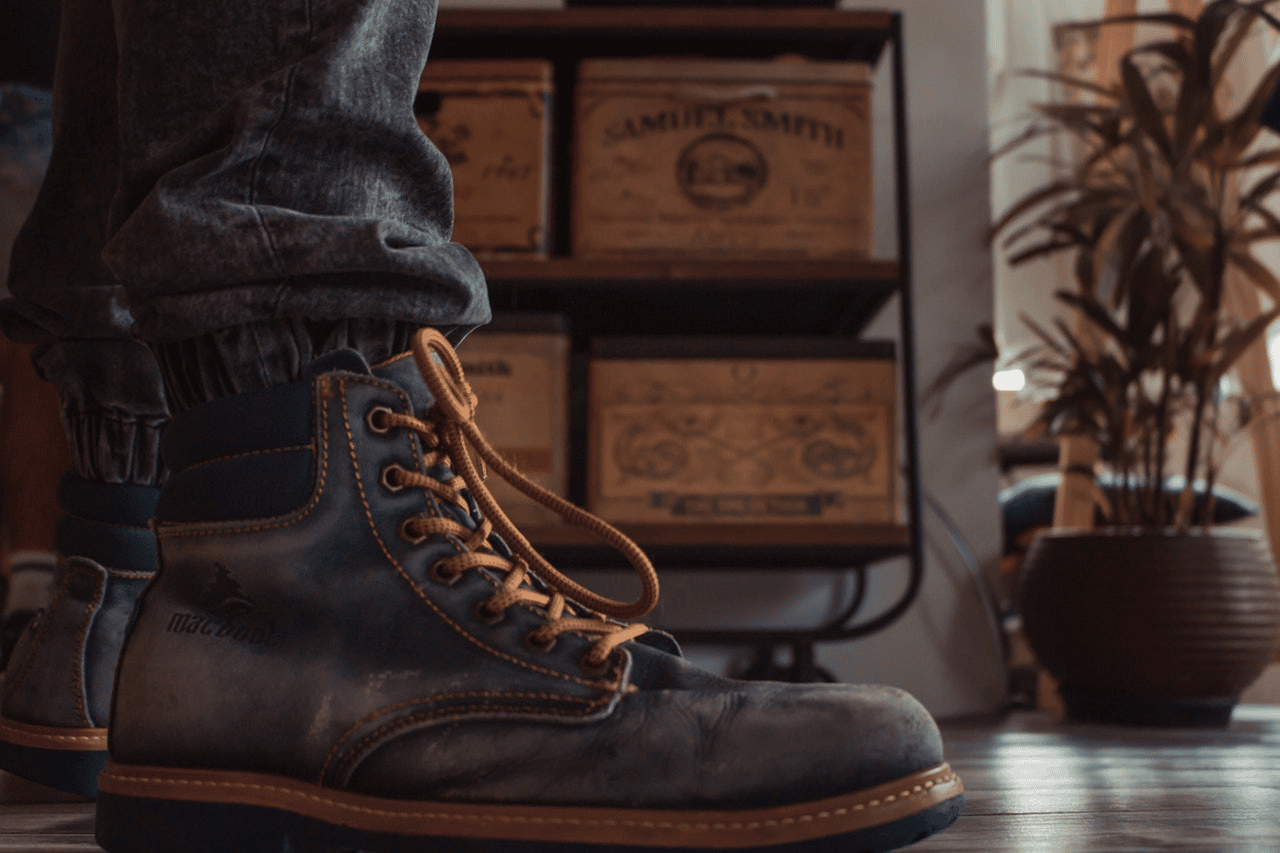 When it comes to footwear for professionals, the choices vary significantly. While some of us spend long hours staring at a computer screen, others have to grind away outdoors to earn a living. This means their footwear differs significantly. For those whose occupation means spending long hours of the day on their feet, work boots are an absolute must. This means, thicker outer soles, rough materials, and additional protective features are all a must-have for work boots.
Benefits of High-Quality Work Boots
The benefits of a work boot that has been designed well cannot be denied. While work boots are available in every conceivable style, the main features that are valued in work boots are the amount of protection and support they provide for one's feet.
For someone who works constantly outdoors and is involved in labor-intensive tasks, having a pair of strong work boots can be a godsend for so many reasons. For starters, it helps protect your feet by featuring reinforced construction and added layers that act as shock absorbers that keep your feet protection if you're in an accident at work. Furthermore, specially crafted work boots are also sought-after for the high level of comfort and support they provide your feet with. The added layering, cushioning and padding makes work boots comfortable to wear and the ideal choice for prolonged use.
Since not all work boots are made equal, it pays to ensure you've made the right investment when purchasing work boots. To stay safe and make sure you get your money's worth, its best to stick to American-made work boots for obvious reasons.
American-made work boots, among other things, offer a superior level of quality and durability which makes them a great choice for those in heavy industries. This also happens to be one of the main reasons why American-made work boots are sought-after even in other countries, mainly because of the high level of support and protection they provide for your feet.
Made in America vs. Made in China: Which Is Better?
It's no secret that China has flooded the market with their products that range from everything from tie pins to heavy machinery. According to the US Federal Trade Commission, even in an era of globalization, for footwear to have the "Made in America" label they have to be made and assembled in the United States.
The main difference between footwear that's made in China and the US, is that the former is notorious for using sub-par materials and procedures that are not recognized to produce premium quality products.
China has had a bad track record of using low-quality raw materials and manufacturing procedures which means that their work boots do not have the qualities of a work boot with the 'Made in America" stamp on it. That's because US manufacturers use industry best practices and go the extra mile to ensure their work boots follow the rules and regulations set out by the American Society for Testing and Materials.
This ensures that the work boots can withstand the pressure of labor-intensive industries without cracking or breaking. In other words, making an investment in trusted work boots that are made in the US are never going to let you down.
What's Unique About American Work Boots?
When it comes to American-made work boots, you can expect to get the best safety features along with the support your feet need, especially when working in a demanding work environment, such as construction, farming, heavy machinery manufacturing, etc. American footwear brands set the standards when it comes to designing and manufacturing work boots.
American brands not only use superior quality materials but also the latest manufacturing procedures and technologies to ensure all quality standards are met in every level of the production cycle. This is the main reason why American-made boots are amongst some of the most sought-after work boots in the world.
Furthermore, American work boots come in standard sizes, which take away the guesswork out of finding the right size work boots. This is a great advantage to have considering the blisters and discomfort one can go through if they choose work boots that are either too slim or too tight. At the end of the day, American-made work boots are known for providing unmatched quality, stability, traction, and protection.
American-made boots have been designed to be water, abrasion, chemical, and oil resistant while providing the appropriate amount of padding and cushioning for your feet. Additional safety features such as protective toes and ASTM F2413M I/75 C/75 certification ensures you are going to get a pair of work boots that you can rely on.
Things to Consider When Buying Work Boots
Several things need to be considered when investing in work boots made in America. The following are some of the areas that should be focused on to ensure you get the best quality work boot:
Arch Support
One of the most important factors to consider when buying boots for work is the amount of support it provides your feet. Keeping that in mind, arch support should always come at the top of the list. When it comes to contact with the ground, the four main parts of the foot that touch the ground are the heels, arches, ball of the foot, and toes.
The foot is supposed to strike the ground in a way that the heels touch first, the arch then rolls forward which is followed by the ball of the foot and then the toes. The best footwear is supposed to support the shape of the arch your foot has. Without the support, the arch does not keep its shape properly and the foot rolls out flat.
The Sole
Work boots must have a strong yet flexible sole. The nature of your job involves a lot of bending, which puts pressure on the middle of the sole. The sole shouldn't break from such actions. The sole should also be slip-resistant as there will be some oil, grease, or other liquid on the floor of your workshop. If the sole isn't slip-resistant, you could fall from slipping on these liquids and injure yourself.
Electrical Hazard (EH) Resistant
If you plan on coming in contact with any electricity or electric appliances and machinery, then you are going to need a work boot that is electrical hazard resistant. If your boots aren't electrical hazard resistant, the current might flow through them which could lead to injuries and also prove to be fatal. Having a pair of EH-resistant work boots is the best way to protect your feet and yourself from unnecessary injury.
Water Resistance
Another factor to consider when investing in work boots is the amount of water resistance or waterproofing they provide. This is going to be essential if you work in cold or wet environments. It is one of the qualities your work boots are supposed to have even if the nature of your work does not necessarily compel it. To ensure your safety it is best to look for work boots that offer both waterproofing and thermal insulation to make sure your feet stay protected.
Stability
The stability of the work boots you are planning to buy is another crucial factor to consider. Sometimes you'll have to carry a heavy load and your hands won't be free to maintain balance. Having a pair of stable work boots that are going to provide you with the stability and balance you need is going to be crucial to prevent you from falls.
Insole Protection
Insole protection is important since it allows your feet to get the support they need when working long hours. Oftentimes, people find themselves having to work hours on end. Staying on their feet for a prolonged period often leads to pain and discomfort. Insoles that are specially designed to provide your feet with cushioning and protection keep your feet from getting hurt or injured. Besides, work boots that have the right amount of insole protection also prevent you from getting any unwanted sores and blisters. Some work boots feature removable insoles while others have insoles permanently installed for your foot's protection.
Slip Resistance
Water-resistance and slip-resistance go hand in hand. This is the main reason why work boots that feature waterproofing also provide slip resistance so that you get the right amount of balance you need while working. Water-resistance is a handy feature for work boots to have for various workplace environments where you find yourself on slippery surfaces. It makes sense that the waterproof boots need to be slip-resistant since working where there is a lot of moisture means there is a higher chance of slipping.
Sturdiness and Durability
Your work boots need to offer the right amount of sturdiness and durability to keep your feet safe while working. Those who work in tough working environments are required to wear work boots that are sturdy and well built. The last thing you want is a pair of work boots that only lasts a couple of months or does not provide your feet with the right amount of protection. Genuine leather is an excellent material for work boots as it can handle the daily abuse in the workshop.
Finding the Perfect Size
Needless to say, you are going to have to choose the right size work boot so that your feet are safe and comfortable. The last thing you need is to wear work boots that are either too big or too small, which could lead to tremendous pain and discomfort. To avoid any unnecessary pain, it's best for those buying work boots to use the sizing chart that's been provided by the brand and measure their feet correctly to ensure they can get the right size work boots. One major advantage of American-made work boots is that they come in a standard size, which makes it easier to find the right size for you.
ASTM F2413M I/75 C/75 Standardization
The American Society for Testing and Materials standard F2413 or ASTM F2413 standard covers the minimum requirements work boots for various factors such as performance, design, classification, and testing of protective footwear.
Since you're going to be investing in work boots made in the USA, it only makes sense to choose ones that have ASTM certification. Protective work boots that are made in the USA usually meet all of the requirements of the ASTM safety standard, or at least some elements that make them safe to use in various work environments.
So, what do all these letters mean? The letters "F2413" denote the performance requirements for protecting your feet. The digits that follow the designation indicate the year of the ASTM standard to which the footwear complies.
Other common characters that are found on certified work boots include M= shoes designed for males, F= shoes designed for females, C/75= compression rating of 75 (2500 pounds of pressure), and I/75= impact rating of 75. It is important to note that different types of safety features are denoted differently in work boots, so you need to focus on specific codes to make sure you get the protection you need from your work boots.
Read Also: Best Hairdressers Shoes
Types of Protective Toes
Safety toes is another important feature of work boots mainly because they offer protection from impacts and falls that can injury your toes if you're wearing normal footwear. Safety toes is a feature of work boots that offer protection for the toe area of the work boot and is an absolute must if you are going to be working in a labor-intensive environment where there's a high chance of accidents. The following are some of the different types of safety toes that are available in the market today.
Steel Toes
The steel toe work boot is one of the heaviest options that's available in the market. While the downside of these work boots is that they're heavy, the plus side is that these boots have been designed to offer complete protection to your toes. This makes it the go-to option for people who need protection against massive or sharp objects or protection against electric shock.
Aluminum Toes
The aluminum toe work boots are considered to be lighter than the steel toe option. While these boots are not as heavy, they still deliver in durability and protection. In these boots, the toe area is constructed with an alloy of either aluminum or titanium which offers the toe area protection against sharp or falling objects. The thinner silhouette of the inlay results in more room for the toes to breath while being a bit more comfortable to move around in.
Composite Toes
Those work boots that have safety toes made from composites such as carbon fiber, plastic or Kevlar are considered to be much lighter as compared to steel-toe or aluminum-toe boots. While these boots are the lightest, they still provide a shield against those unwanted bumps and impacts that occur while on the job. Additionally, composite toe work boots can be used in all weather conditions since they are comfortable to wear.
Work Boot Reinforcements
Boot reinforcements offer an added layer of protection to the work boot, which makes them more likely to last for years to come. To enhance the protection of a work boot, an elastic material is attached to the sole. This paste is made from molten rubber and is poured between the upper and the outsole. Once it is hardened, this layer acts as a lightweight addition to the work boot which protects the feet by absorbing impact.
Comfort and Fit
If you're going to be wearing the work boots for many hours (and you probably are) then it will help to ensure that the work boots you invest in are comfortable. Wearing work boots that are either too big or too tight increases the chances of falls and puts needless strain on your heels and ankles which can lead to foot injuries.
When it comes to comfort and fit a few factors need to be taken into consideration. These are the fitting, size, type of material of the upper, the insole, the outsole and the lining within the boot. All of these factors will determine how comfortable a work boot is.
Break-In Time
This is the amount of time it takes for the user to feel comfortable wearing the work boots. The break-in period of heavy-duty work boots is mainly going to depend on the quality of the materials that have been used for its construction. This means the quality of the leather and fabric used for the upper and the insole, along with the presence or absence of any inner lining in the boot.
It is also important to note that while work boots tend to be rough and rugged, those work boots that have been constructed using full-grain leather with a cushioned layer and padded collar tend to be easier to feel comfortable in after a week of use. That being said, the break-in timeline can stretch to a month in some cases.
Size Adjustments
The sizing and adjustment options that are given in work boots ensure that the fitting will be comfortable and not too tight or loose. A fit that is too tight, narrow, short or having too much space between your foot and the boot is not considered to be ideal. This is why it's important to find work boots that have laces or straps for adjusting the boots for a better fit.
Weight
The weight of the work boots you choose is going to make a big difference in the level of protection you get, but it could also become a hindrance in terms of movement. This is the reason why it's crucial to get work boots that provide the right balance of protection and functionality.
Our Top Three Choices
Best Overall Choice: Thorogood American Heritage Lace-To-Toe Roofer Boots
Premium Product: Ever Boots Ultra Dry Men's Premium Leather Waterproof Work Boots
Best Value: Skechers for Work Men's Radford Boot
---
Best Work Boots Made in the USA
Thorogood American Heritage Lace-To-Toe Roofer Boots is a great choice for those who plan on working in labor-intensive work environments. If what you're looking for is a comfy fit and protection for your feet, then the Thorogood American Heritage Lace-To-Toe Boot should be right up your alley.
These work boots feature a unique and practical lacing system with metal eyelets and hooks that gives you a secure and tight feeling from your ankles down to your toes. One feature that adds to the durability of these boots is its seam reinforcement rivets. Besides the excellent lacing method, they also come with thick, oil-tanned genuine leather that provides extra comfort. Along with slip-resistant outsoles that allow you to avoid slipping incidents, these boots feature a cotton drill vamp lining for excellent breathability.
Removable, dual-density Ultimate Shock Absorption™ insert with Poron® 4000 comfort cushions provide enhanced support and comfort all day long. The engineered composite shank offers ultra stability and support. This model now comes with MaxWear Wedge outsoles; these outsoles not only provide a rugged grip but also flexibility.
Pros and Cons:
Pros
Made from 100% leather
Synthetic sole for added durability
Convenient removable insole
Features an attractive oil-tanned leather upper
Excellent breathability
Removable, dual-density comfort cushion
Superior durability
Cons
---
Red Wing Heritage Men's Classic Work 6-Inch Moc Toe Boot comes from a brand that launched their footwear during WWI and WWII that was to be used by soldiers. Since then, the company has built a reputation for producing some of the best work boots you can get in the market right now.
The thick sole of the Red Wing Heritage Men's Classic Work 6-Inch Moc Toe Boot is shaped perfectly to protect the entire foot from the heel to toe. This makes them particularly useful when it comes to working on hard surfaces like concrete.
Featuring triple-stitched seams and the welted-out soles, you get the right mix of durability, protection, and style from this work boots. You will also find this pair of work boots pretty lightweight and they also look quite good as casual wear as well. This is the reason why the Red Wing Heritage is popular in warehouses and even casual corporate wear. The leather construction throughout, including the inner and upper sole along with triple-stitched seams, means that these boots were built for excessive heavy-duty applications.
The Norwegian welt construction of the boots adds to the stability and the overall strength of these boots as well. A contoured outer sole also helps you keep a better grip on slippery surfaces as it works with the Red Wing patented Traction Tred cushion crepe wedge. Other features of the work boot include perspiration resistant insole and lightweight construction that goes easy on your feet.
Pros and Cons:
Pros:
Durable and slip-resistant
Synthetic sole
Triple-stitched seams provide superior insulation
Lightweight work boots
Perspiration resistant
Cons
---
The Wolverine Moc-Toe 6" Work Boots have been well-constructed and offer just the right amount of comfort and protection for your feet. Because of its lightweight construction, the work boots keep your feet stress-free and comfortable throughout the day. With the lightweight nylon shank's fatigue-fighting reinforcement and a breathable lining, you don't have to worry about your feet getting exhausted during your demanding work.
Full-grain leather upper gives the boots a versatile appearance. Along with featuring lightweight cement construction, Wolverine Moc-Toe boots also comes with removable full-cushion footbed. Their ultra-durability makes them ideal for asphalt roofing and they also come in three amazing different colors so that you can choose one according to your preferences. Tough, comfortable, and reliable footwear like this one is essential to complete your work gear.
The work boots also feature a leather wedge-heel style design which is ideal for a variety of heavy-duty tasks at work. These high-quality work boots also come with a crepe sole, lace-up vamp, padded collar, and contrast stitching and are also available in optional steel toe. The Goodyear welt construction and springy rubber midsole ensure that your feet stay safe and comfortable even after prolonged use.
Pros and Cons:
Pros:
Constructed with 100% genuine full-grain leather
Features high-quality crepe sole
Moc-toe boot featuring lace-up vamp and contrast stitching
Padded collar for superior comfort
Breathable lining
Fatigue-fighting reinforcement
Oil, water and abrasion-resistant sole
Cons:
Some folks might find it uncomfortable
---
Carhartt Men's CMF6366 Composite Toe Boot is another great option when you are looking for work boots made in the US. The superior design quality and protection that these work boots deliver make them one of the best options for your money. The CMF6366 Composite Toe Boot is an attractive and sturdy work boot that delivers in spades. Made from full-grain leather with double and triple stitching, this work boot oozes of style. But, that's not the only reason why this is on the list. The CMF6366 Composite Toe Boot features water-resistant leather.
Specially designed, cement construction makes these boots versatile enough to be used anywhere either at work or while exploring the outdoors. The boot features a well-padded collar and tongue for a snug fit. The work boots also feature an OrthoLite insole provides multiple layers of cushioning along with an anti-odor treatment that's an added advantage.
You also get a lightweight EVA midsole and steel shank offers better protection for the heels by absorbing any shock produced by the impact. The addition of Rugged Flex technology eases movement and provides better traction. You also get composite toe that offers additional protection for the toe area.
Pros and Cons:
Pros:
Made from 100% leather
Features a full-grain leather design
EVA midsole for improved protection
Rubber outsole with gripping lugs
Steel shank for superior protection
Cons:
The soles tend to delaminate
---
Skechers for Work Men's Radford Boot offers the best value for money because of the many bells and whistles that it offers that are required of a work boot. The Radford Boot features smooth oiled leather, a nitrile outsole, along with a composite safety toe that provides your feet with added protection. With a clever combination of textured surfaces and additional padding, the Radford is a versatile boot that's a great choice for those who are looking for a stylish boot that also protects their feet.
Skechers for Work Men's Radford Boot also features specially designed, sculpted rubber shell construction with a sealed seam for wearing in wet conditions. A cushioned insole offers additional underfoot support. Another clever feature of the Radford boot is that the memory foam insole can be replaced with one that matches your feet. The midsole offers an adequate amount of shock absorption against the impacts while working in a hazardous environment.
A convenient ankle-high, lace-up design of the work boot makes sure your feet stay protected while at work. The boot also features Thinsulate insulation offers a snug fit even if the temperature drops, and safety toe made from composites which offer protection for the toe area. The nitrile rubber outsoles are oil and chemical resistant which provides optimal traction. The fabric is also breathable which makes it comfortable to wear.
Pros and Cons:
Pros:
Made from 100% leather and synthetic
Excellent midsole shock absorption
Synthetic sole
Composite safety toe for added protection
Oil and chemical resistant nitrate rubber outsole
400g Thinsulate™ insulation
Convenient lace-up design
Cons:
Might fall to wear and tear.
---
Keen Utility Warren Waterproof Work Boots is a great choice if you plan on working in wet environments. These work boots have been designed and made in the USA, so you know you're getting an exceptional level of quality right out the box. These boots feature a Cascade Brown color which makes it an attractive pair while providing a high level of protection and comfort for your feet. The Dry waterproof technology by Keen keeps your feet dry, along with the specially designed breathable waterproof membrane keeps your feet free of perspiration. The waterproof upper is made using nubuck leather and the rubber outer sole make it slip-resistant.
The Warren Waterproof Work Boots are highly rated when it comes to comfort and durability. The steel toes on the boots are asymmetrical and designed to ergonomically meet the needs of both the feet. The combination of genuine and synthetic leather for the construction makes a material stronger than both and that is why these boots last you a very long time.
The Keen Warren delivers when it comes to providing wearers the kind of comfort they need to get through the workday without their feet feeling sore by the end of it. The boots keep your feet dry and comfortable while offering the kind of flexibility you need to reduce the stress they go through. The work boots also feature a removable EVA foam footbed which is extremely convenient and offers added comfort for longer use.
Pros and Cons:
Pros:
Waterproof leather
Dry waterproof technology
Removable dual-density EVA foam
Meets the highest non-slip standards
Breathable waterproof membrane
Cons:
---
Ever Boots Tank Men's Work Boots offers quite a few features that make it a good choice for work boots. Featuring Full Grain Nubuck Leather, these work boots are ideal for functioning in most environments. The boots have been designed to sustain all kinds of heavy-duty use in the most adverse working environments and provide the ultimate protection for your feet. The premium quality materials along with high-quality build allow this excellent pair of leather boots to make sure your feet are safe and they look good at the same time.
The high-quality rubber soles have been designed to provide superior support and control so that you can enjoy better stability when you find yourself working on uneven surfaces on the job. The high shaft of the pair measures around 7 inches from the arch of your feet. The long-lasting durability, sleek finish, and comfort that can guarantee 100% protection make this pair one of our favorites.
While you might not like it, these are soft toe work boots. Workers in mills and factories love these boots. For the professionals who operate heavy machinery or their workplaces them in slippery surfaces, the slip-resistant and insulated construction of the Ever Boot Tank Men's Work Boots ensures there are no accidental slips while you are on the job.
Pros and Cons:
Pros:
Boasts of a full-grain leather construction
Full Grain Nubuck Leather
Goodyear Welt Construction
Oil and slip-resistant
Comes with three-month manufacturer warranty
Cons:
Does not feature steel toes
---
The Wolverine Men's Raider Steel-Toe 6" Work Boot offers an impressive level of comfort and safety for your feet. Made from 100% genuine leather, these work boots are designed to go the distance which is one of the reasons they have been featured on this list.
The boots boast of a smooth brown upper which makes it the ideal choice for work and casual wear as well. The ankle shaft measures 6" so your ankles will be well-protected and well-supported. The four metal loops for laces make it easier to put the boots on and off. The ankle collar comes with special padding to ensure that you stay comfortable throughout the day. The insole of these work boots is removable so if you have a foot condition that requires special orthotics, you could just replace the footbed with them.
The Wolverine Men's Raider Work Boot also features a MultiShox rubber outsole, which is abrasion, oil, and slip-resistant. The interiors of the boots have been lined with a lightweight and breathable mesh to keep your feet dry throughout the shift. The sole is connected with the uppers using Goodyear welt technology so re-soling them is not necessary. You also get a Removable, full-cushion Wolverine Multishox insole for additional comfort and support. As if that wasn't enough, you also get breathable CK mesh lining that keeps your feet dry and comfortable, while avoiding any scratches or blistering after prolonged use.
Pros and Cons:
Pros:
Made from 100% pure leather
Removable, full-cushion Wolverine Multishoxrubber insole and outsole
Sturdy build quality
ASTM F2413-11 M I/75 C/75 EH rated steel toe
Abrasion-, oil- and slip-resistant rubber outsole
Breathable CK mesh lining for superior comfort
Cons:
---
Timberland PRO Men's 95567 Endurance Pr 8" Work Boots offer the best on comfort and protection as far as work boots go. These boots have been designed from high-quality, 100% genuine leather, which gives them a premium look and feel. You also get a reinforced triple-stitching design for added protection and durability. What makes these work boots unique is the amount of detail that has been put into their design.
TheTimberland PRO Men's 95567 Endurance Pr 8" Work Boots features durable, steel-cap protection for your toe area, which makes it an ideal choice for carrying out labor-intensive tasks. These boots also feature a cleverly designed tongue and 8" high shaft, which is padded for added protection. The high shaft, together with a tight speed lacing system, should prevent nails, nuts, and oil from entering your work boots. It also improves the knee, ankle, and foot alignment.
Just when you thought that was enough, Timberland throws in another feature that makes it one of the best work boots around. The Timberland PRO Men's 95567 Endurance Pr 8" Work Boots boast of a puncture-proof rubber outsole that should give you good traction on just about any type of surface from oily, slippery or slick. The inner lining is made with soft fabrics and removable cushioned footbeds are included for maximum comfort. The boot's design also makes it a great choice for those who have a foot condition and need to wear specialized orthotics soles.
Pros and Cons:
Pros:
Features a high-quality leather/textile upper
Comfy toe area
Slip-resistant outsole for better grip
Puncture-resistant design
Removable cushioned insoles for added convenience
Cons:
Some might find the boots heavy
Long break-in period
---
And last, but certainly not the least on this list of best work boots made in the USA is Ever Boots Ultra Dry Men's Premium Leather Waterproof Work Boots. One look and you can tell straight away that this is a premium quality product. The boots offer users with the right combination of comfort and style which makes these boots a great option for wearing at work or for casual use.
Ever Boots Ultra Dry Men's Premium Leather Waterproof Work Boots offers all the bells and whistles that one would want to have in work boots. Made from premium quality, waterproof leather, the boot features an insulated lining that keeps your feet dry, warm and comfortable even while working in harsh environments where your feet can get wet easily.
The work boots boast of expert craftsmanship and the use of premium quality materials in its design ensures that the Ever Boots Ultra Dry Men's Premium Leather Waterproof Work Boots are going to go the distance. These boots stand out effortlessly with features such as waterproof sealed, direct-attach, and weather-resistant durable rubber outsoles and a polyester lining insulation. All these features work together to create work boots that are up for the task at hand.
When it comes to the level of comfort, you need to be considerate about the fitting of this pair. The Ever Boots Ultra Dry is a big fit pair of work boots. This is why you need to make sure you are getting the right pair before you purchase it.
The boot is going to be around half a size larger than the standard work boot. If you do get the right size for your boots, you will find the Ultra Dry to be very comfortable. The inclusion of a polyurethane midsole to the design ensures that the boots have anti-fatigue properties which make it comfortable to wear even after prolonged use. These boots are going to ensure that your feet remain comfortable, dry, and protected throughout the day.
Pros and Cons:
Pros:
Features a premium quality leather upper
Features a leather sole
Waterproof design
Insulated lining keeps your feet warm
30-day waterproofing warranty
Ultra Dry featuring 100% waterproofing
Cons:
Finding the right size could be a challenge
---
Final Thoughts
When you're looking for the best work boots made in the USA, you're going to have to choose from highly competitive brands, and that's a good thing. Tough competition, means you get more features in a work boot that ensures superior quality, comfort, and craftsmanship. In other words, you are sure to get the best value for your money when going for the best work boots in the USA. But, just like everything else in life, not all work boots are made equal.
This is where you will need to know the features that matter (and the ones that don't) to make sure you get the best value and protection on your investment. The options that have been given above represent the best of the best when it comes to boots made in the USA.
Best Overall Choice
The Thorogood American Heritage Lace-To-Toe Boots boasts of superior construction while providing your feet with the protection it needs while working in labor-intensive environments. Apart from being constructed from 100% high-quality leather with an added synthetic sole, these work boots offer plenty of other features which have been integrated into the boots for better support, balance, and comfort.
From the Poron 4000 comfort cushions which keep your feet comfy to the dual-density ultimate shock absorption insert, which keeps your heels and toes protected from high impacts, this is one work boot that's going to be a welcome addition to any working man's wardrobe.
Premium Product
Ever Boots Ultra Dry Men's Premium Leather Waterproof Work Boots is an easy pick when it comes to choosing a premium work boot that can keep your feet safe and protected. These work boots are the ideal choice for heavy-duty construction and landscaping.
The standout feature of these work boots is the durable, yet comfortable materials which provide your feet with the perfect balance of comfort and protection. Features such as insulated lining to keep your feet warm, waterproof insulation, anti-fatigue polyurethane midsoles, and an overall lightweight and flexible design make these work boots a great choice for those who want to invest in boots for superior comfort and protection while on the job.
Best Value
For those of you who do not know, Skechers is an award-winning brand which makes the addition of the Skechers for Work Men's Radford Boot a no-brainer when it comes to best value. The Skechers for Work Men's Radford Boot offers the users with plenty of bells and whistles that one would look for in a premium quality work boot. And the features that Skechers offers certainly does not disappoint.
These work boots boast of a 100% full leather construction and excellent midsole shock absorption to keep your feet protected from high impact. Also, the 400g Thinsulate™ insulation makes sure that your feet remain safe, dry and protected at all times regardless of your working environment.
Other features that make the Skechers for Work Men's Radford Boot offer the best value to the user include a high-quality and durable synthetic sole, composite safety toe to protect the toe area of the boots, soft fabric lining and a flexible nitrile rubber outsole for better traction. All of these features coupled with the added cushioning and padding on various pressure points of the work boots ensures that the Skechers for Work Men's Radford Boot offers the best value for your money.