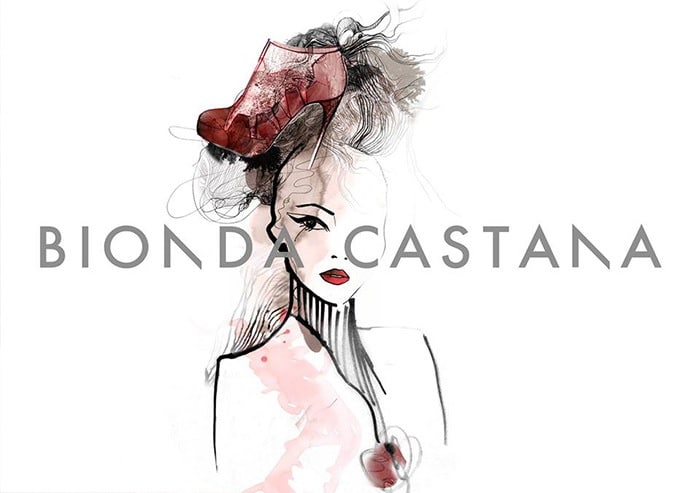 Founded by two half-Italian Londoners – Natalia Barbieri and Jennifer Portman – Bionda Castana collections are built upon the fashion principals of class, sophistication, and impeccable craftsmanship. Season after season, their sleek designs are inspired by pinnacles of feminine strength. Whether it's strong, vibrant, and textural pop art styles, or slinky, seductive, and strappy soles fit for femme fatales, their shoes are perfect for a woman that has excellent taste and a heavy hand of self-confidence. When the quirk of London melds with the panache of Italy, the result is a pair of shoes that women feel proud to slip into. With this in mind, it isn't surprising that their fall 2013 collection is nothing short of enviable.
"Our autumn/winter 2013 collection took regal inspiration – from the fabrics, to the colours, to the detailing. The couture detailing is further elevated from last season, showcasing the talents of the Italian artisans that produce our collections each season," Natalia said about the duo's latest collection to Fashion Gone Rogue.
One look at the designs truly cements the opulent feel, as the pumps, boots, and smoking flats are crafted with ingenious combinations and vision. Lace-overlain leather, sumptuous velvets, and mesh incorporated into geometry soar to new heights with platforms, studs, and ornate fan-inspired shaping. It all harkens back to the Renaissance in its attention to detail and old-fashioned feel, but with a modern twist that makes every design distinctly eye-catching. We love how unafraid they are of integrating old themes – such as brocade fabric and courting shoes – into new age tastes without the end result feeling like the footwear found at a costume party.
They're a brand that effortlessly exudes class and elegance. Lately, their styles have been seen on the feet of style stars like Eva Mendes, Elizabeth Olsen, Miranda Kerr, and Gemma Arterton. By attracting actresses and fashion icons that radiate an Old Hollywood va-va-voom appeal, they have found their niche in the market that we didn't even know needed to be filled until they stepped up and showed us that "classic beauty" is not synonymous with "boring."
These shoes practically beg to be worn this winter season, because these shoes are holiday spirit and warmth incarnate. Order a pair now and feel Christmas come a bit early this year.
Amelie blue velvet round toe boot with leather trim; available at Avenue32 & Opening Ceremony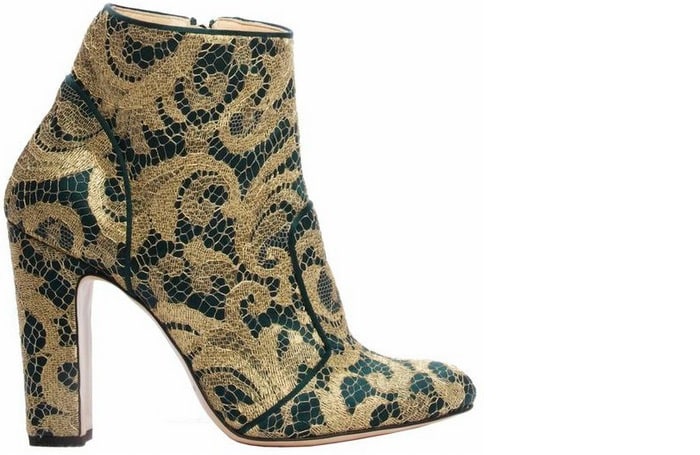 Amelie green satin boot with gold lace overlay; available in black at Avenue 32
Daphne black suede pump with Elizabethan ruffle collar pump; available at My Wardrobe & Bionda Castana
Daphne green satin & gold lace pump; available at My Wardrobe, Nordstrom & Bionda Castana
Daphne blue satin chain print pump with Elizabethan ruffle collar; available at Bionda Castana
Giovanna black & white leather boots; available at My Wardrobe and Bionda Castana
Karlie black sheer lace & suede lace-up platform boot; available at Bionda Castana

Lana red leather and mesh paneled pump; available at Bionda Castana
Lana black suede and mesh pump; available at My Wardrobe, Avenue 32, Bionda Castana & Opening Ceremony

Pia black & red suede ankle-cuff pump with gold pinpoint studs; available at Nordstrom and Bionda Castana
Roisin black suede round toe bootie with leather laces and small gold studs; available at Avenue 32, Nordstrom & Bionda Castana
Roisin grey suede bootie with gold pinpoint studs; available at Bionda Castana
Roisin bright red suede bootie with front corset-style leather laces; available at Bionda Castana
Victoria leather pump with a tapered toe, low heel and studded accent; available in black at Nordstrom & Bionda Castana
Lily over-the-knee boots with a block heel; available in vintage inspired black crushed velvet and dark grey velvet at Bionda Castana
Written by Shannon Weston