Blundstone boots have garnered worldwide adoration for use as both work boots and everyday shoes. These high-quality Australian boots have a bit of a cult following, so if you're looking to pick up your very first pair of Blundstone boots, you'll want to make sure you get the right size.
Blundstone boots use unisex sizing, meaning all of their shoe styles are designed with everyone in mind, and as long they're in stock, you can find every style in every size. However, this leaves some consumers confused about what size of Blundstones they should order.
This article will give a breakdown of Blundstone boot sizing, explain how to find your perfect pair of Blundstone boots, answer the question of whether Blundstone boots run large or small, give you clarity on how a well-fitting pair of Blundstone boots should feel, and lastly offer some tips to help find your perfect-fitting pair of Blundstone boots.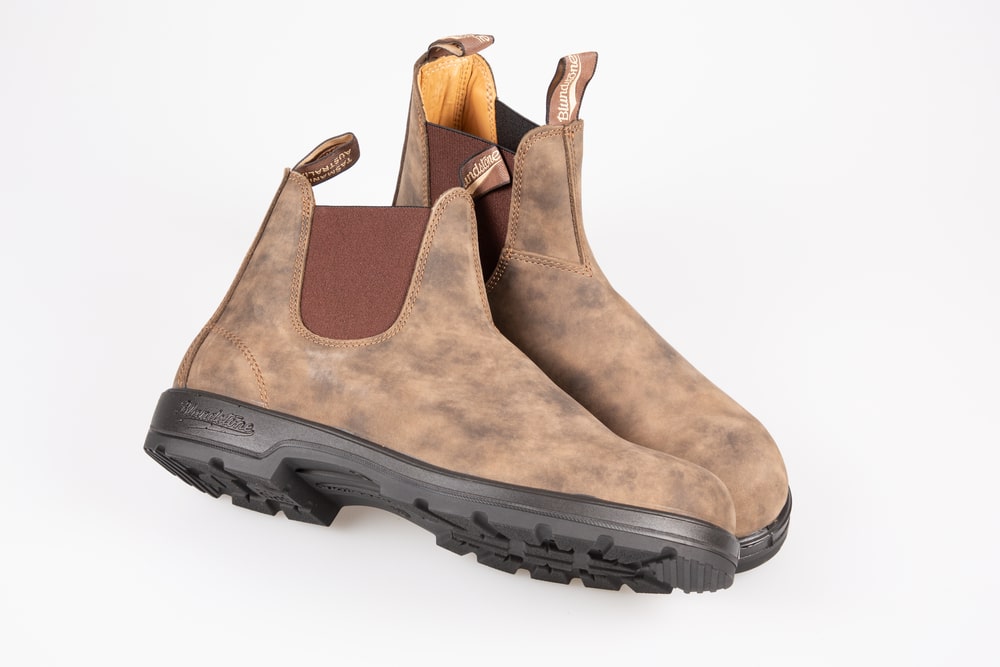 How Does Blundstone Boot Sizing Work?
Blundstone is an Australian company, so the original sizing is listed in Australian sizes. They provide helpful conversion charts on their website to assist consumers worldwide in finding their perfect size.
However, Australian shoe sizes are not actually that difficult to convert to US shoe sizes. The general rule of thumb is to go down one full size if you're buying men's shoes and three full sizes for women's shoes.
So, if you're a size ten in US men's shoe sizing, you would want a size nine shoe in Australian sizing. Similarly, if you're a size ten in US women's shoe sizing, you would want a size seven shoe in Australian sizing.
How Do Blundstone Boot Half Sizes Work?
Although designed to offer a slightly roomier fit than average, Blundstone boots fit relatively true to size. The one key difference that may throw people off is that the Blundstone half sizes refer to a change in width only and have no impact on the overall length of the boot.
Because of this, if you're trying to decide between size nine and ten shoes, it's important to keep in mind that getting a nine and a half will only adjust the size of the width but will not necessarily offer an additional room in the toe.
Because of this, it's best to measure your foot to find your perfect Blundstone boot size rather than rely on the size chart exclusively, especially if you're between sizes.
Blundstone Size Chart
Here we have listed sizes for men and women and also sizes for kids.
Blundstone Size Guide for Men and Women
| | | | |
| --- | --- | --- | --- |
| Inches | US men's size | US women's size | Blundstone size |
| 8 ⅓ | | 5 | 2 |
| 8 ⅔ | | 6 | 3 |
| 8 ⅔ | | 6.5 | 3.5 |
| 9 | | 7 | 4 |
| 9 | | 7.5 | 4.5 |
| 9 ⅓ | | 8 | 5 |
| 9 ⅓ | | 8.5 | 5.5 |
| 9 ⅔ | 7 | 9 | 6 |
| 9 ⅔ | 7.5 | 9.5 | 6.5 |
| 10 | 8 | 10 | 7 |
| 10 | 8.5 | 10.5 | 7.5 |
| 10 ⅓ | 9 | 11 | 8 |
| 10 ⅓ | 9.5 | | 8.5 |
| 10 ⅔ | 10 | | 9 |
| 10 ⅔ | 10.5 | | 9.5 |
| 11 | 11 | | 10 |
| 11 | 11.5 | | 10.5 |
| 11 ⅓ | 12 | | 11 |
| 11 ⅔ | 13 | | 12 |
| 12 | 14 | | 13 |
Blundstone Size Guide for Kids
| | | |
| --- | --- | --- |
| Inches | US kids' size | Blundstone size |
| 5 ⅔ | 8 | 7 |
| 5 ⅔ | 8.5 | 7 |
| 6 | 9 | 8 |
| 6 | 9.5 | 8 |
| 6 ⅓ | 10 | 9 |
| 6 ⅓ | 10.5 | 9 |
| 6 ⅔ | 11 | 10 |
| 6 ⅔ | 11.5 | 10 |
| 7 | 12 | 11 |
| 7 | 12.5 | 11 |
| 7 ⅓ | 13 | 12 |
| 7 ⅓ | 13.5 | 12 |
| 7 ⅔ | 1 | 13 |
| 7 ⅔ | 1.5 | 13 |
| 8 | 2 | 1 |
| 8 | 2.5 | 1 |
| 8 ⅓ | 3 | 2 |
| 8 ⅓ | 3.5 | 2 |
| 8 ⅔ | 4 | 3 |
| 8 ⅔ | 4.5 | 3 |
How Do I Find the Right Size of Blundstone Boots?
For some, finding the right size of Blundstone boot is as simple as going online and buying your standard size. However, a little more effort is required for others to find exactly the right fit.
In an ideal world, finding the right size of Blundstone boots means going to a store, starting with your normal size, and trying on shoes until you find the perfect fit. However, with more and more people opting for online shopping, you may have to do a little more research at home to get it right on the first try.
The most important component when selecting a pair of Blundstones is the length of your foot. The easiest way to ensure that the size of the Blundstone boots you purchase will fit you properly is to measure your foot and compare the results with Blundstone's size guide, which recommends shoe sizes based on foot length (in mm).
How To Measure Your Foot
We've all gone to a shoe store and gotten our feet measured with a Brannock device, in which you place your foot on a specialized ruler that suggests the correct shoe size. But the likelihood that we remember the exact measurements from our last trip is extremely low. Luckily, measuring your feet at home without a Brannock device is incredibly simple. Follow the steps below:
Gather a pencil, a ruler or measuring tape, and a piece of paper that is longer and wider than the size of your foot (for most people, a standard piece of 8 ½" x 11″ letter paper will be sufficient).
Put on a pair of socks that you're planning on wearing with your Blundstones (Note: if you're planning on using this trick when purchasing other pairs of shoes, skip the socks if you don't plan on wearing them with the shoes in question).
Find a flat piece of floor, preferably uncarpeted, so the piece of paper lies flat, and you can write without puncturing it. Line the piece of paper up with the wall or baseboard and place your foot on top of it, with your heel touching the wall, so the back of your foot and edge of the piece of paper is in line with one another.
Sketch the outline of your foot onto the piece of paper with the pencil kept upright; try to keep your drawing as accurate as possible. This step is often easier if someone is nearby to trace your foot while you stand upright.
Remove your foot from the paper and measure the length of your foot from the edge of the piece of paper to the farthest point on your drawing (whichever of your toes is the longest).
Follow steps one through five on the flip side of the paper to measure your other foot. Whichever drawing gives you a longer length is what you should use when calculating your shoe size. Often the results will be minimally different, but sometimes they tip you to one shoe size over another.
Once your foot's length is in millimeters, simply find the suggested boot size using the chart above.
Do Blundstones Run Big or Small or True to Size?
Most people report their Blundstone's to run relatively true to size, but Blundstone boots are designed to provide the wearer a little extra wiggle room in the heel, and this can take some getting used to for some wearers.
In addition to this, the exact fit of Blundstone boots varies based on the style of shoes purchased. The work boot series, for example, are designed with extra reinforcements around the toe area and provide enough space to wear thick socks.
However, if you work in particularly cold conditions and plan to wear multiple pairs of socks or extra thick socks, you may want to go up a half size from their standard size. Conversely, if you don't plan to wear them to work and intend to wear thinner everyday socks, you may benefit from sizing down half a size.
The Classic series of Blundstones also have a fit that is a little wider than their Original line, and Blundstone provides an extra pair of insoles to compensate for this extra width if the wearer finds them to be too roomy.
The toe shape is another consideration when wondering whether the shoes will run slightly larger or smaller than usual, as this adjusts the overall length of the shoe and may adjust where your longest toe hits the front of the boots.
In general, it's always a good idea to read any fit notes about the exact style you're looking at and read customer reviews to understand better whether you may need to size up or down.
How Should a Proper-Fitting Blundstone Boot Feel?
Once your Blundstone boots arrive and you try them on, it's time to determine whether you purchased the proper size or if you'll need to exchange them for a different size.
The length is the most important thing to pay attention to when trying on your new Blundstone boots. You should try them on both sitting down and standing up to gauge their fit. When walking around, pay attention to how they feel in the front. Your toes should have a small amount of room and should not constantly be touching the front of the boots.
When standing still, there should be roughly a half-inch space between your heel and the back of the boot that you can fit your thumb into. Blundstone's have a reinforced toe designed to prevent the length of the boot from ever stretching, so make sure you choose the correct size initially.
If you determine that the boot's length fits well, the next thing to pay attention to is the width. Blundstone boots are made with genuine leather, so they will stretch out as you wear them and eventually mold to the top of your feet.
A slight feeling of constriction around the sides and along the top is normal for a new pair of Blundstone boots, but you should not feel like your feet are being pinched. If you feel that the shoes are far too wide, but the length fits correctly, use the extra insole that is provided with most pairs of Blundstone boots to get the right fit.
The extra insole can accommodate the difference of roughly half a shoe size, so they come in handy for those with narrower feet.
How To Stretch Out Blundstone Boots
If the length of your Blundstone boots fit correctly but you're looking to break them in, there are a few things you can do to help the process along.
Remember that the leather will stretch over time, so normal wear should do the trick, but you could consider wearing thick socks when you initially break them in to help stretch the leather out more quickly.
You can also try the Ziplock bag trick if you're looking for a quick fix. Simply fill two Ziplock bags up with water, seal tightly, and place them inside your Blundstone boots, taking care to avoid spilling inside of your shoes.
Place your shoes with the bags of water in them into the freezer and allow the water to freeze; the expanding water will stretch the leather out as it freezes. Once frozen, remove the shoes from the freezer and wait for the water to thaw.
Once the water has thawed completely, remove the bags of water and try on your shoes; they will likely feel slightly roomier, and you can begin the process of molding them to your feet with regular wear.
Tips for Buying the Right Size of Blundstone Boots
If you measure your feet and follow Blundstone's sizing recommendations, you shouldn't have any difficulty finding the right size of Blundstone boots. However, here are a few additional tips to help:
Blundstones are an Australian company that sells their shoes internationally; if you're buying your boots online through third-party retailers like Amazon, double-check to make sure the size you're looking at is based on your country's sizing standards. Check Blundstone's size conversion chart if you're unsure.
Genuine leather shoes may take time to stretch out; make sure to avoid buying shoes that are painful when you wear them, but allow time for your shoes to stretch out before expecting the perfect fit.
One of the most common tips for trying on any pair of shoes is to do so at night. Your feet will likely be more swollen in the evenings after a day of moving around than in the mornings, which will prevent you from buying shoes that are too small.
If I Order Blundstone Boots Online, Can I Return Them if They Don't Fit?
If you order your Blundstone boots online and realize they don't fit once they arrive, Blundstone offers a thirty-day return policy; you can easily exchange your boots for a better-fitting size.
If you buy your Blundstones from a third-party retailer, you will be subject to their return policies. You should familiarize yourself with their exchange and return policies before purchasing.
Final Thoughts
Blundstone boots fit true to size, with the main difference being that their half sizes adjust only the width of the shoe rather than the length and width.
If you're buying your first pair of Blundstone boots, consider measuring your foot and using their size guide to find your ideal fit.
Read fit notes and reviews for specific sizing recommendations based on shoe style. You should be able to fit a thumb at the boot's heel when standing to ensure enough room in the shoe length.
Consider finding an in-person retailer using their store locator where you can try the boots on in person to find your best fit before buying.