It's hard – scratch that, impossible – to think of luxury shoes and not immediately think of Christian Louboutin. He's a man that put the "high" back into "high heels," literally elevating sartorially savvy ladies with his designs since his time of apprenticeship with Roger Vivier. With the average height of his shoes standing proudly at 120mm, his professed goal in designing has been to "make a woman look sexy, beautiful. To make her legs look as long as [he] can." He considers shoes to be a pedestal for the female form, an ideological stance that has allowed him to have fun with his designs, knowing that if a woman feels confident, empowered, and alluring in his soles, he's done his job.
The fact that Christian Louboutin is the most searched shoe designer on the internet isn't surprising. That splash of red is part of fashion iconography, cementing Louboutin's dynasty and legacy within the fast changing, increasingly high-paced world that he entered into over thirty years ago. When Christian Louboutin was founded in 1991, the result was electric; you could almost feel the fashion world changing in that instant. He's been a mainstay for discerning, chic fashionistas ever since – after all, many a fashionista would call a closet incomplete without at least one (or four) pairs of Louboutins.
Read Also: Are Christian Louboutins Comfortable Shoes?
This spring, his collection is filled with enviable pieces that are every bit kooky as they are gorgeous. Western-inspired laser cut pumps – seen on the Marchesa runway – add an old-world charm to pumps, sandals shaped by colorful PVC panels, studded cap-toe pumps designed in a timeless nautical stripe fabric and even cheeky door knockers on his "Door Knock" pump. Louboutin was also inspired by several periods of art, using oblong shapes inspired by surrealist artist Leonor Fini and even a multicolor satin bouquet print inspired by impressionist art. The latest staple pump So Kate was reimagined in several ways, including a clownfish striped python that we never knew we needed.  We love his Air Chance variations for the Spring 2014 season as well, and not just because our latest actress crush Jennifer Lawrence was spotted in them during The Hunger Games: Catching Fire press tour.
In this collection, we're also seeing him play around with different silhouettes – notably, white booties with candy colored spikes, mules with intricate bead embellishments, platform sandals with a patchwork leather design, and the most on-trend kitten heeled pumps you've ever seen. The cacophony of inspirations and designs is a lot to take in, but given his impeccable taste and the state-of-the-art craftsmanship that goes into every pair, it goes without saying that we're going to happily memorize every style.
We can't all be Danielle Steel and own over 6,000 pairs of Louboutins, but we can still appreciate how special and magnificent we feel when we slip into a pair.
Air Chance slingback pump in poudre & white leather, neptune patent leather, raspberry PVC and mirrored silver leather, 120mm heel; available with a 100mm heel in white leather, patent nude leather and clear PVC at Saks Fifth Avenue
Air Chance slingback pump with panels of black leather, suede & patent, plus clear PVC, 120mm heel; available with a 100mm heel in black and white leather at Neiman Marcus.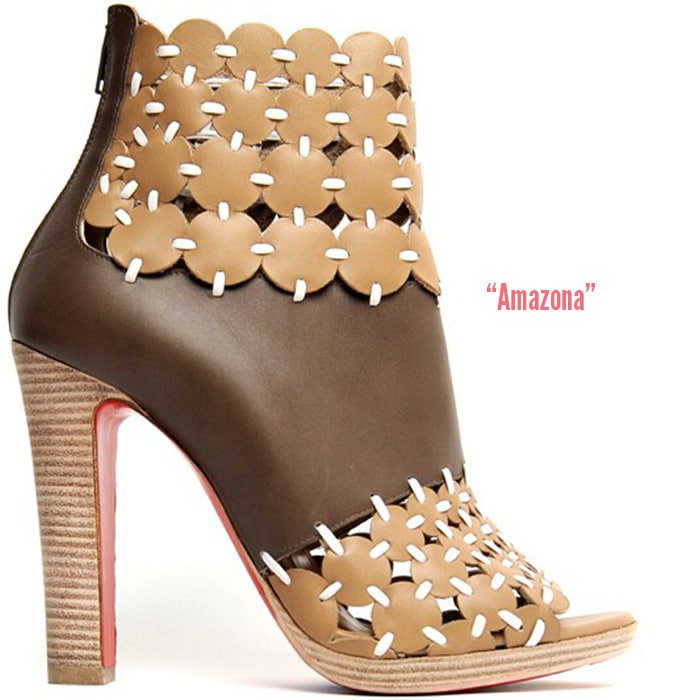 Amazona platform sandal in beige & brown leather with a stacked 120mm heel; avaialable at Christian Louboutin UK
Aqua Ronda 120mm sandal with aquamarine PVC, red patent leather padded straps, white patent leather trim and mirrored silver leather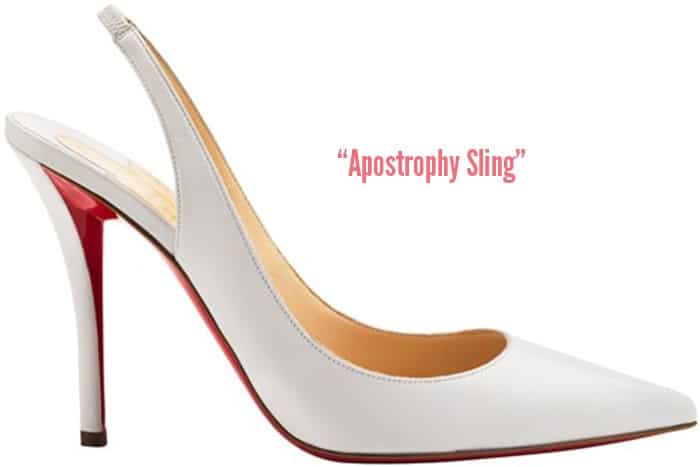 Apostrophy Sling pump in white patent leather with a tapered 120mm heel
Belly Nodo t-strap sandal in white leather with a flat bow and 120mm heel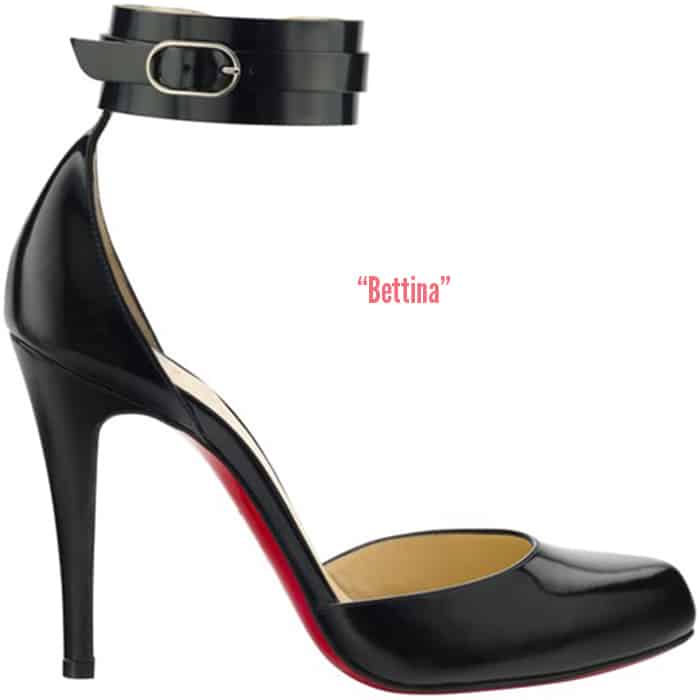 Bettina black glossy leather d'Orsay ankle cuff pump with a 100mm heel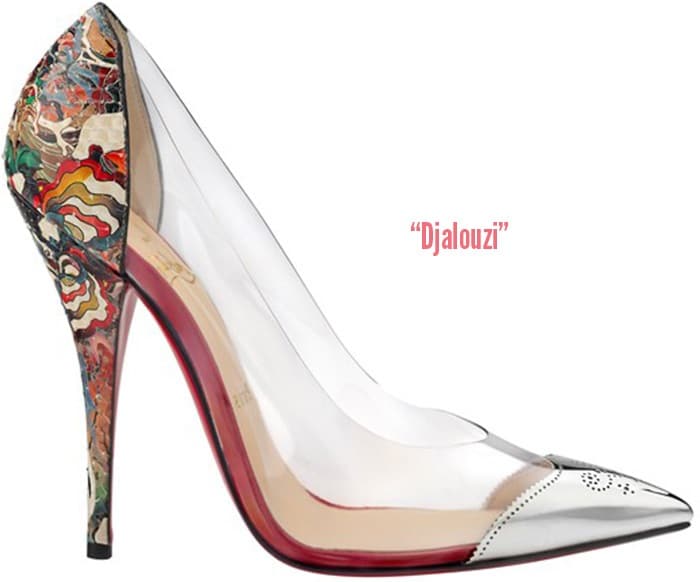 Djalouzi 120mm pump with a Western-inspired wing tip cap-toe, clear PVC and python-faience
Door Knock pump in white leather with a small silver door knocker, silver studs and 120mm heel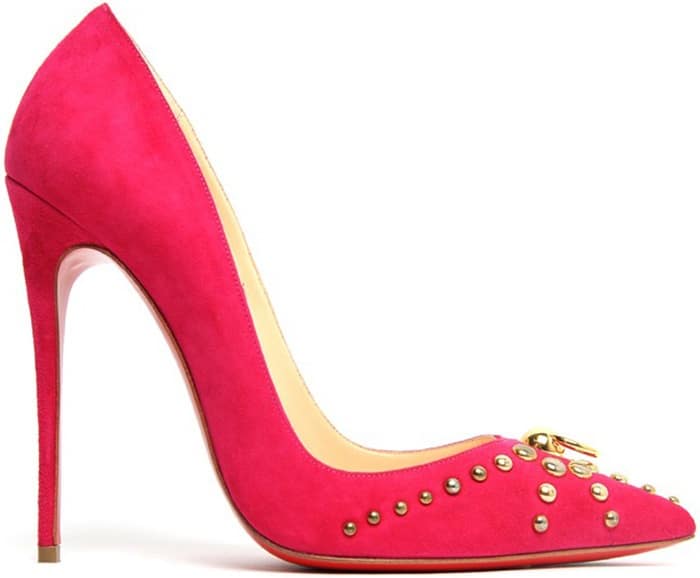 Door Knock pump in suede cyclamen with gold studs and 120mm heel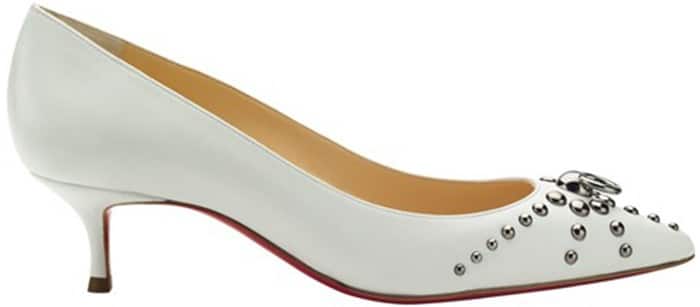 Door Knock pump in white leather, silver details and 45mm kitten heel
Farfamesh sandal in poudre with gold mini glitter, mirrored gold leather and 120mm heel
Geo 120mm pump in striped navy & white cotton with a red patent leather studded cap-toe; 100mm style available at Neiman Marcus & Saks Fifth Avenue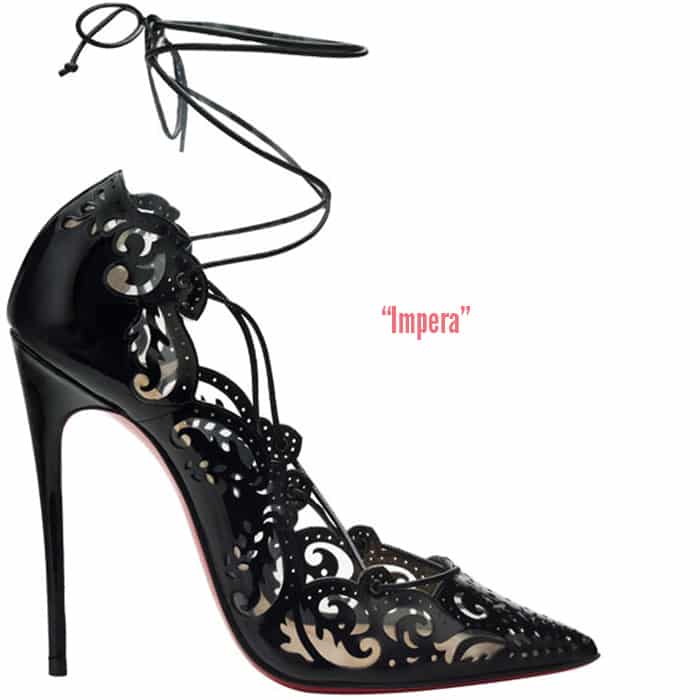 Impera laser-cut black leather pump, as seen on the Marchesa runway, with long corset laces and 120mm heel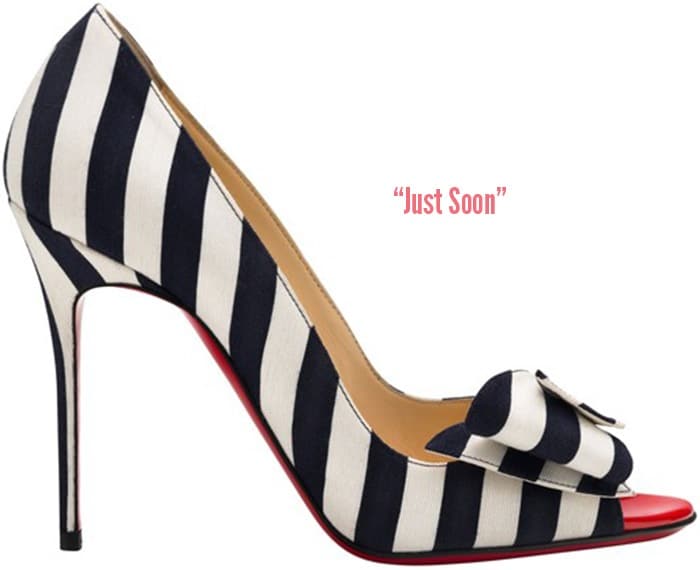 Just Soon 100mm open-toe pump in striped navy & white cotton with an asymmetric front bow, metallic gold leather band and red patent leather toe; available at Christian Louboutin US
Leonor Fini sandal in anis suede with soft curved lines, 120mm heel and back-zip
Martha 100mm t-strap sandal in metallic gold leather with sheer mesh lining and oval-shaped cage design
Mary June strappy sandal in yummy sherbet shades of leather, mirrored gold platform and multicolor painted perch fish leather
Miss Rigidaine black patent leather half d'Orsay pump with clear PVC trim and 120mm heel
Paralili 100mm slingback pump in corazon & neptune patent leather, clear PVC and mirrored gold
Paulina Strass pump in satin bouquet printed silk, clear PVC panel, crystal trim and 45mm heel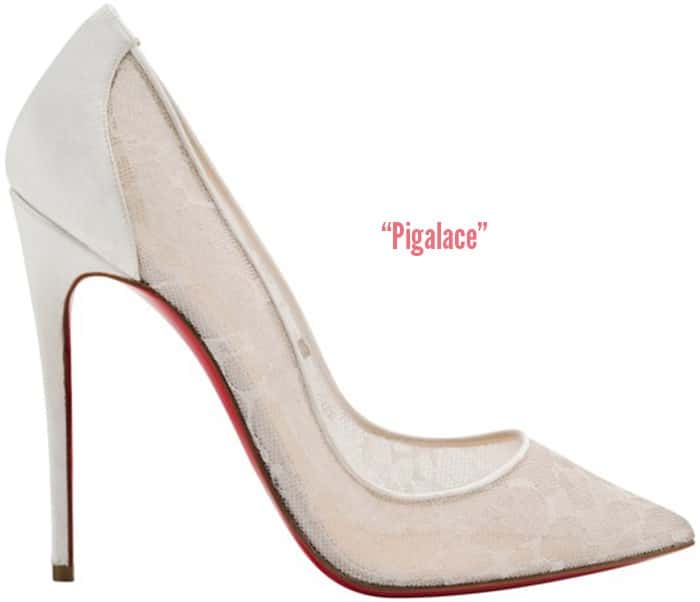 Pigalace 120mm pump in delicate white dentelle lace and silk satin heel
Pigalle 120mm python pump in neptune
Snakilta 120mm pointed-toe boot in white leather with multicolor studs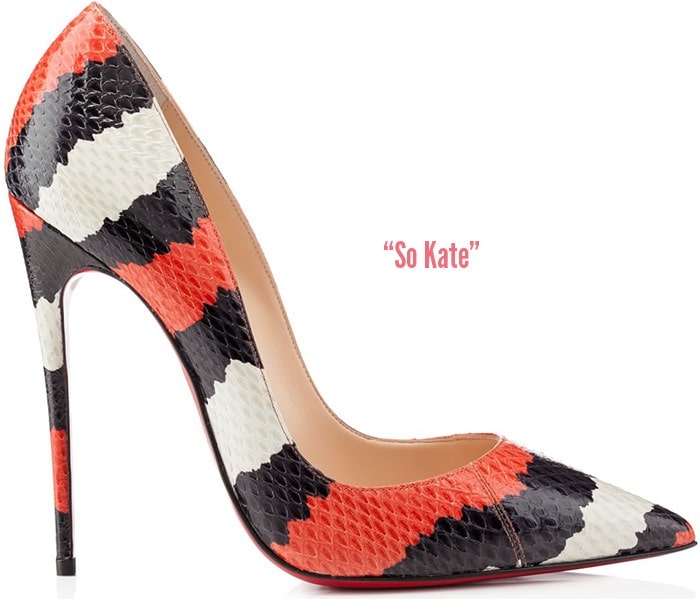 So Kate pump in clownfish striped python, 120mm heel; available online at Christian Louboutin US & Christian Louboutin UK – also available in a new python-faience at Saks Fifth Avenue
So Kate patent leather pump in corazon, 120mm heel; available online at Christian Louboutin US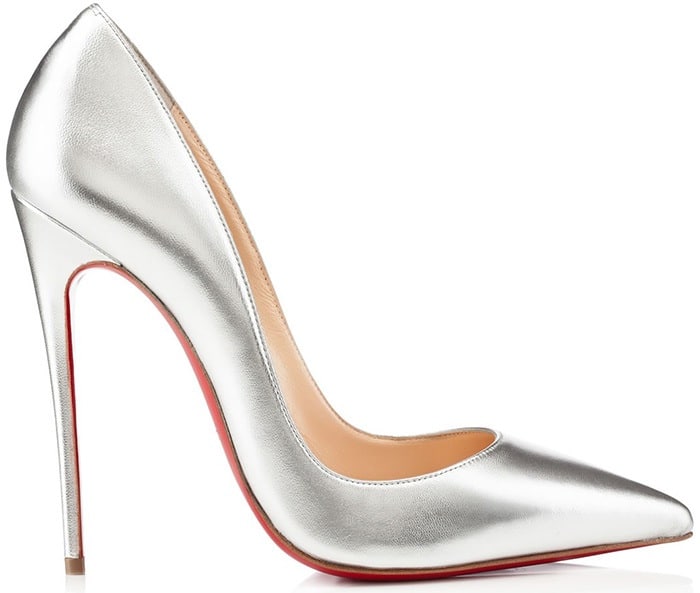 So Kate metallic silver leather pump, 120mm heel; available online at Christian Louboutin UK
So Kate nude patent leather pump, 120mm heel; available online at Christian Louboutin UK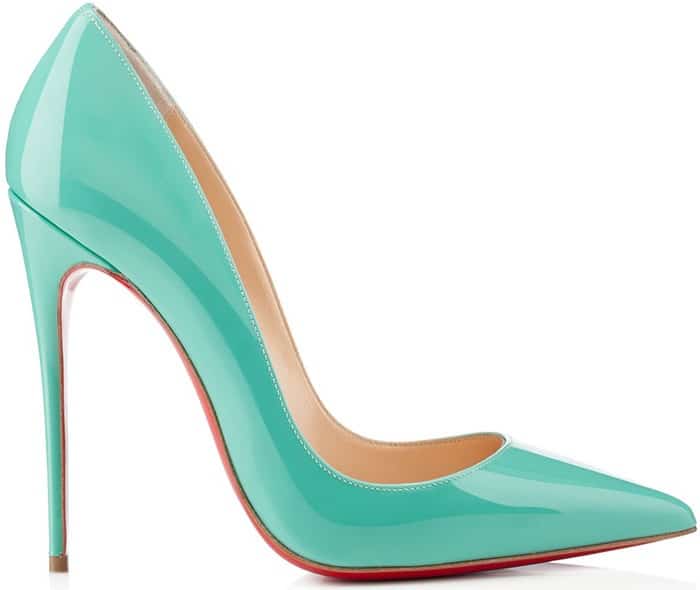 So Kate patent leather pump in aquamarine, 120mm heel; available online at Christian Louboutin US & Christian Louboutin UK
So Liz 120mm satin bouquet printed silk slingback sandal
Speleola 100mm cyclamen satin mule with a clear PVC strap and embellished front strap
Toboggan mirrored pale gold half d'Orsay 100mm sandal with a thin front strap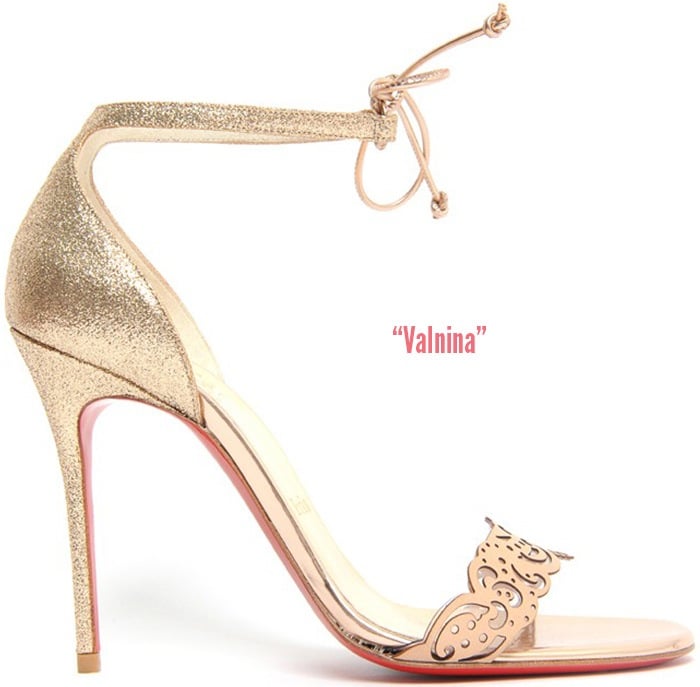 Valnina 100mm ankle-tie sandal with laser-cut mirrored rose gold strap and gold mini glitter
Viveka striped python peep-toe sandal with an asymmetric elastic strap and 120mm heel; 100mm style available in clownfish python and black leather at Saks Fifth Avenue
Written by Shannon Weston
Images from Vogue UK, Glamour UK, Style.com, Christian Louboutin US & WWD/Footwear News