You know she really can draw when her shoe sketches make you want to grab a 3D printer, stat. Gloria Hernando is a Miami-based artist whose vibrant and intricate illustrations –each one, truly a masterpiece –are housed under the brand LATIN FOR GLORY. We chatted with the talented designer to discover her inspirations and of course, to swoon over our common love –shoes!
When did you discover your love for art and eventually, illustrating shoes?
Art has been a passion of mine from a very early age. I was too young to realize it then, but my parents say that my innate talent for art has been apparent since kindergarten. I was a big fan of creating works of art on walls and floors with my mother's lipstick. My inclination for shoe illustrations ignited as soon as I discovered fashion magazines (I still have a collection of Vogue cut outs from middle school).
How would you describe your shoe illustrations?
The objective of my illustrations is to capture the details and overall style of the shoes through realistic artistic techniques and my point of view. I absolutely love using color pencils because they give me the control I need to render the minutest element. Most of the illustrations I create are inspired by existing shoes, whether I have seen them in person or through publications such as Shoerazzi! I dedicate a lot of time researching and studying every facet of footwear collections before I decide on the compositions and essence of each drawing. I also illustrate my own designs however, the majority of my ideas remain within sketchbooks until the day I can produce them. For now a girl can dream!
Who are your favorite shoe designers?
The list of my favorite shoe designers is endless! I find inspiration in all types of styles and
both in established and emerging designers. At the top of my list are Charlotte Olympia, Dolce & Gabbana and Oscar de la Renta. These brands fascinate me with their creativity, magical storytelling, application of materials and acute attention to detail.
What do you find the most challenging part in your design process?
At the moment, the greatest challenge I face is making the time to illustrate every shoe that takes my breath away. From the minute I wake up to the moment I fall asleep, my mind is relentlessly dreaming of fashion and art. There are so many shoes to illustrate yet so little time! I am currently developing an art series, Running of the Bulls, which consists of large-scale and highly saturated drawings. Concept development and production of these pieces is time consuming to say the least.
Is looking outside fashion an important source of inspiration for your shoe illustrations?
Looking outside of fashion for inspiration is equally important as looking inside. Fashion is a tool of expression and has the power to relate to people across the map. That being said, I keep my mind, heart and eyes open to all the beauty around me whether it is the rhythm of a song, a book quote or a culture in a distant land.
You reside between Madrid and Miami. How does each city influence you on a creative level?
I have been residing between Miami and Madrid a little over a year now. It has been such a liberating and wonderful experience tying in my passion for travel along with the
development of my artistic career. Miami is my birthplace and will always be my hometown. It is an upbeat city, full of exuberant personalities, artistic venues and mesmerizing sunshine. My parents are both Dominican and I have that tropical and vibrant blood running through me. Madrid on the other hand is full of history, culture and also partakes in a high-spirited lifestyle that I love. It is truly inspiring in its romantic European nature and pursuit of happiness.
Have you always adored shoes? Describe your favorite pair.
I have been head over heels for shoes since I can remember! My outfits are always created from the feet up and allow me to express my personality without words on a daily basis. Heels prop me closer to the stars, fine-tune my posture and inevitably invoke a sense of power over my walk and my surroundings.
My taste in shoes is quite broad, but if I have to choose out of my closet, it would be the Parisian pair of black leather Walter Steiger pumps with his signature claw heel. Those shoes perfectly combine boldness through an architectural heel, classic sophistication and sex appeal.
What goals do you have for your designs in the next few years?
The goal with my illustrations is to continue collaborating with designers to render inspiring designs and foster creativity with pencil and paper. I want to work with Charlotte Olympia, Gianvito Rossi and Josep Font for Delpozo, just to name a few. The big dream is to one day turn my sketches into reality and create a collection of shoes that beautifully integrate art and design, while telling a unique story for women all around the world.
The Shoe Closet collection by Gloria Hernando – purchase her prints & illustrations at LATIN FOR GLORY. Also, make sure to follow her for your daily dose of her beautiful haute art on Instagram.
Walking on Crystals  | Chanel Fall 2012 crystal-embellished pumps | See more here.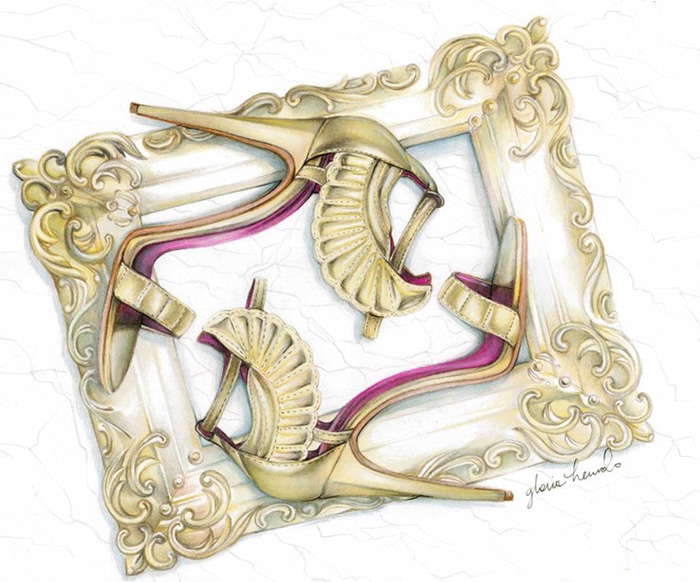 Malikah | Oscar Tiye signature gold winged ankle-strap sandals | See more here.
Something Blue | Original design by Latin for Glory | See more here.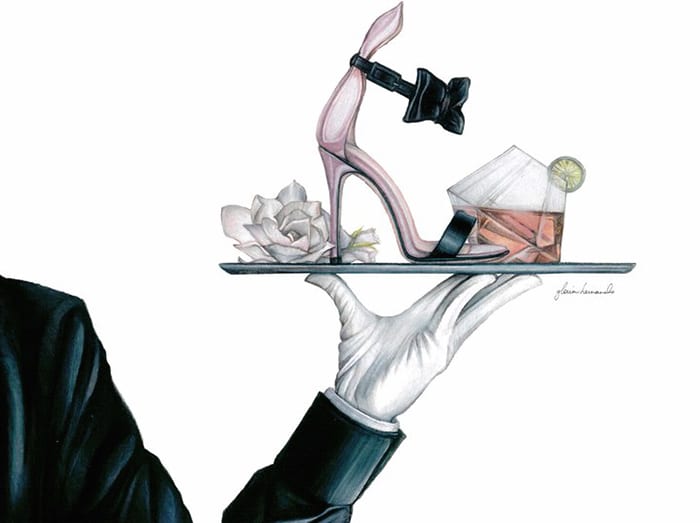 A Bunny Tale | Gianvito Rossi ankle-strap sandals | See more here.
No Carbs: Exotic | Original design by Latin for Glory | See more here.
No Carbs: Flirty | Original design by Latin for Glory | See more here.
No Carbs: Sweet | Original design by Latin for Glory | See more here.
No Carbs: Avant Garde | Original design by Latin for Glory | See more here.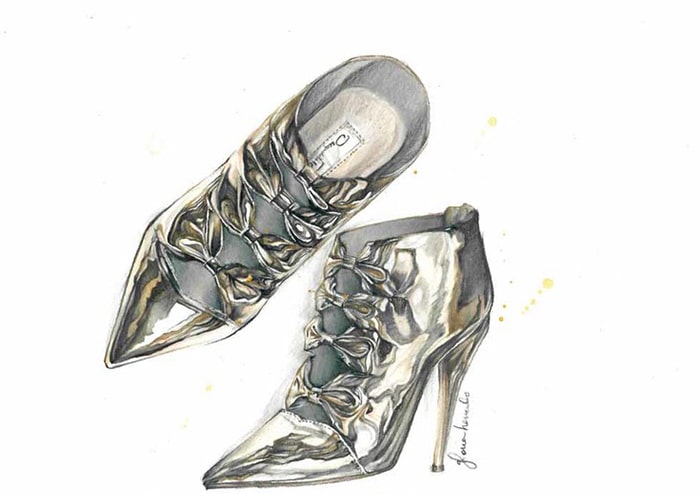 Golden Dreams | Oscar de la Renta bow embellished pumps | See more here.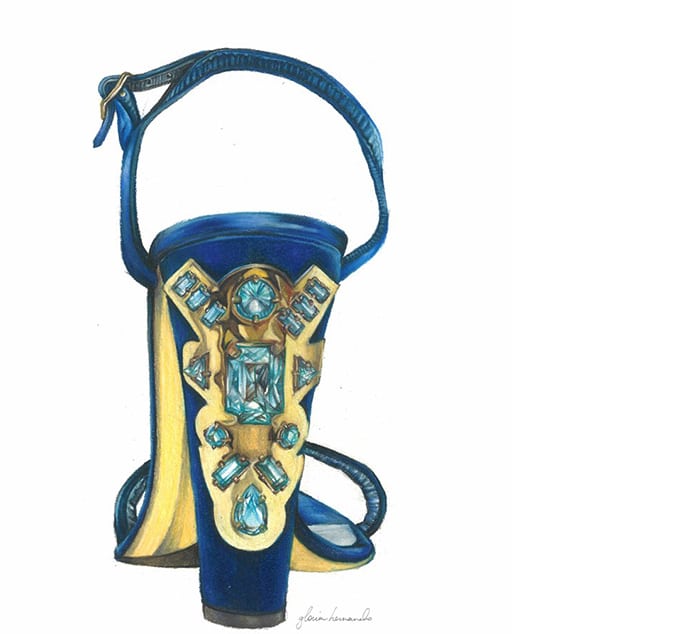 Lemmy | Oscar de la Renta Fall 2015 embellished sandals | See more here.
Del Pozo Bow | Josep Font for Del Pozo for Fall 2015 sandal | See more here.
Spanish Affair | Dolce Gabbana Spring '15 embellished pumps | See more here.
About the author: Romina Tobias is a freelance fashion and lifestyle writer who is also a hopeless shoe-addict. She thinks her 5'4″ height and her love for long walks make her deserving of all the stilettos, pumps, sandals and ballet flats in the world. If only the cupcakes she expertly bakes can be traded in for a new pair (or two, or hopefully, more).