When you think of Jerome C. Rousseau's collections, the mental images you conjure should be as vibrant as they are intriguing and as bizarre as they are gorgeous. Remember his Fall 2013 collection? Studs, color blocking, glitter, floral velvet, and bondage straps (sometimes all working simultaneously!) elevated his ultra-high heels to new, quirky heights. However, with new seasons come new inspirations, and we're very excited to report that the Spring 2014 line from Monsieur Rousseau is a veritable Technicolor wonderland.
Whether you're into cork-infused pumps, perforated suede, strappy snakeskin, or – yes, you're reading this right – glittery python, Rousseau has your feet covered and all done with his signature architectural flair.
The crowning jewel of the collection is the embellished bootie – the base of which is his phenomenal Juda model in gorgeous green leather (the color is somewhere between minty mojito and saturated sage) with lemon yellow leather mesh. From the supple leather base, over 7000 beads are carefully hand-applied by Los Angeles artist Emily J. Snyder, including coral, freshwater pearls, and vintage Czech crystal. The booties mirror Emily Snyder's aesthetic perfectly, with each vibrant clusters of beads combining to create a sole-ful rainbow that will never fail to grab attention.
If you want in on the beaded Juda fun but don't want to wait 60-75 days for the custom application (or maybe you're just afraid of a wayward snag hitting your beautiful new booties), the open-toed shoe also comes in a printed silk design complemented by metallic golden leather. Juda is one of Rousseau's design staples and available in several other stellar designs, like woven leather, animal printed calf hair, and even a leather laser-cut rose motif.
As if the collection couldn't get better, he has also released a line of clutches and handbags that mirror the themes of his shoes. It's time to retire your well-worn clutch and invest in one of his statement making minaudières!
Basel ankle-strap sandals with a chunky tapered heel and thick adjustable buckled ankle-strap in cork, tan leather and white croc-embossed leather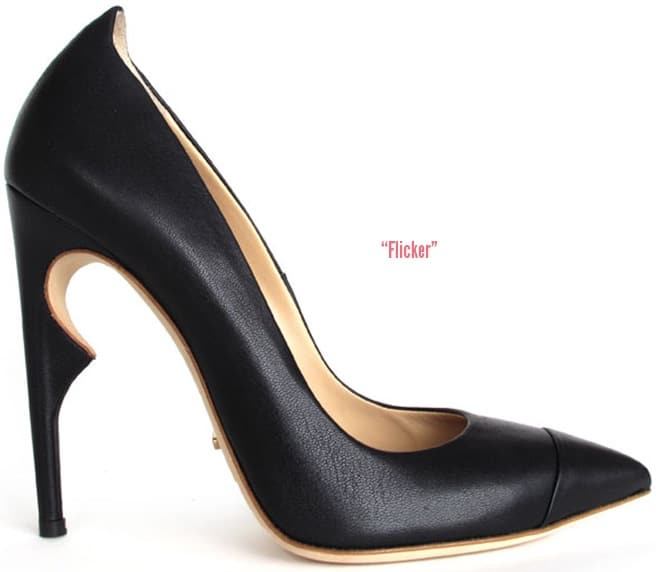 Flicker pointed cap-toe leather pump with the signature thorn heel; available in nude patent leather with a silver cap-toe at Jerome C. Rousseau
Floyd strappy sandal with a gold-tone pin heel; available in nude croc-embossed leather at Shopbop & Jerome C. Rousseau, colorblock style at Pink Mascara or white croc-embossed leather at Jerome C. Rousseau

Juda open-toe booties; available in jewel-printed silk at Bloomingdale's, black laser-cut leather at Mona Moore, laser-cut cork at Bloomingdale's or embellished with over 7000 beads (custom made) at Jerome C. Rousseau.
Karma pointed-toe pump with a thorn-shaped heel and elastic slingback designed in white patent leather with black polka dots, black leather, glossy aqua blue patent leather, jewel-printed silk, lemon patent leather, pearl pink patent leather with polka dots and natural snakeskin

Lio ankle-strap sandal with a 3-d fan bow in lizard-embossed pink glitter fabric and thorn-shaped heel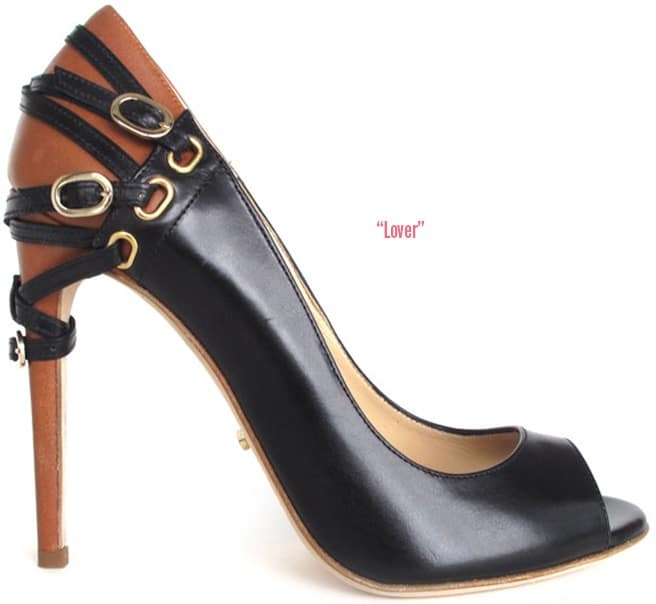 Lover peep-toe pump with a leather upper, bondage-style leather wrapped heel and leather or snakeskin stiletto heel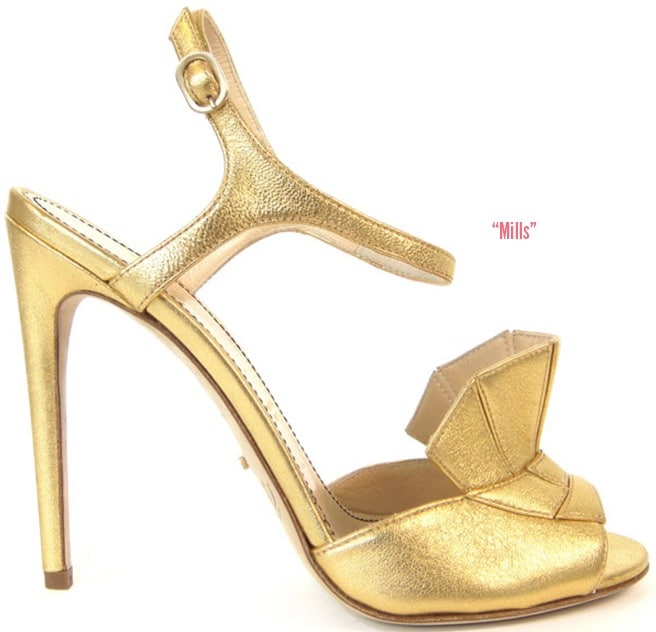 Mills adjustable ankle-strap sandal with a fan-shaped front and 110mm covered heel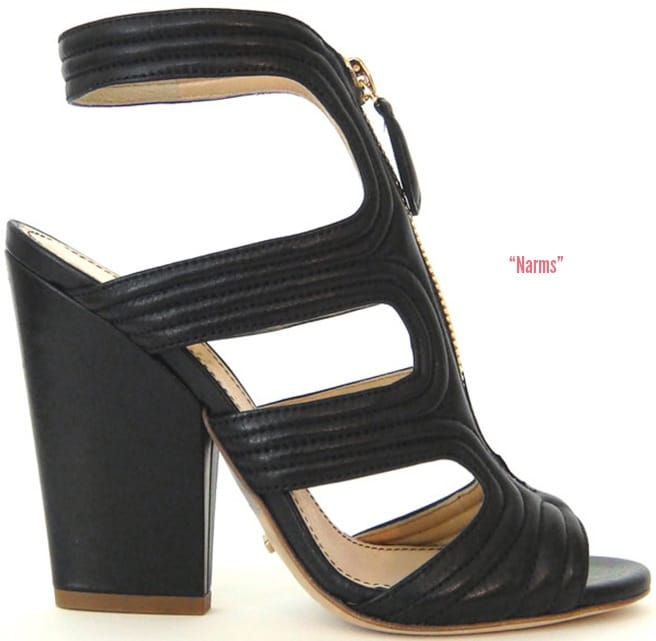 Narms leather zippered sandal; available at Intermix

Narms stitched leather sandal with a gold-tone zip up front and tapered block-shaped heel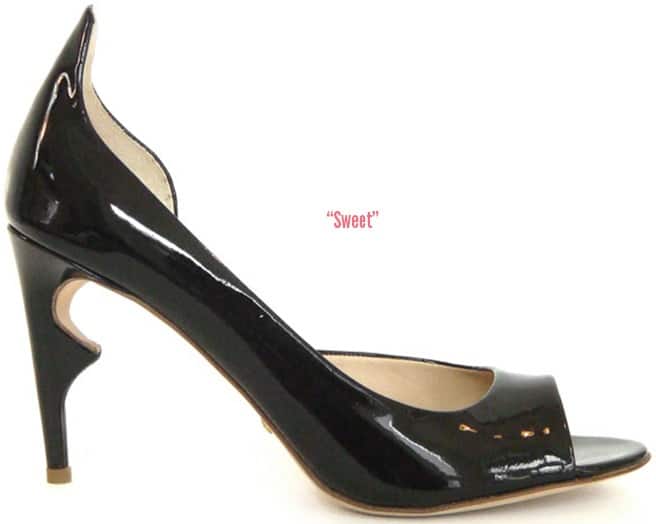 Sweet half d'Orsay peep-toe pump with a high-rise heel tab and thorn-shaped stiletto heel

Topanga banded open-toe sandal in leather or snakeskin with a back-zip and gold-tone pin heel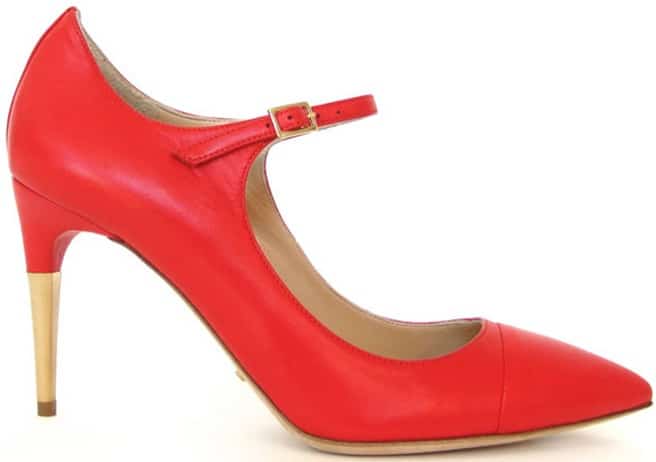 Vierre pointed-toe Mary Jane cap-toe pump with a buckled halter strap and gold-tone stiletto; available in red leather at Madison Style or black leather Bloomingdale's
Written by Shannon Weston