Nicholas Kirkwood is a shooting star in the high fashion footwear world and soaring ever higher – if you're not familiar with his eponymous brand, chances are you know and lust after his footwear designs for Peter Pilotto, Roksanda Ilincic, Erdem, Fendi, Rodarte, and Pollini. Unsurprisingly, the brand has jumped up on the "Must Have, Must Love" list after LVMH purchased a majority stake in the company last year, reflected in the skyrocketing sales and sudden attention from acclaimed stylists. His fabulous shoes appear on the red carpet regularly, donned by Hollywood starlets and certified celebrities alike; from Kiernan Shipka to Cate Blanchett, from Lupita Nyong'o to Saoirse Ronan, it wouldn't be a star studded sartorial affair without a pair of Kirkwood's not-quite-classic heels making an appearance.
A majority of the shoes are designed in a stunning leather filigree of ornate laser cut leather that really adds a punch of glamour and edge to the collection. Stating that he was inspired by the luxurious history of Morocco, those laser cut designs channel hand-painted tiles and motifs. Secondarily, Kirkwood took inspiration from one of the hottest trends in high fashion right now: sportswear. When talking to Nordstrom about the strong influence of Technicolor fabric and lace-up straps he stated, "there's a sporty '70s vibe that features high-tech low soles."
The collection also plays with texture such as woven silk in neon green, brightly dyed raffia, and elaborate jacquards contrasted against metallic snakeskin. Heels vary in shape from streamline to sleek, chunky to jagged – some of the heels even include signature hidden details, like a pearl nesting under the heel or a unique triangle silhouette. If that's the way Nicholas Kirkwood views the spring and summer season, we definitely can't complain! It's a festive collection that makes a statement in every sole.
If you want a Kirkwood pump that is safe to wear in an office setting – because life is sadly not all soirées and chic brunches – he's got you covered! His trademark metallic pinheel pump makes an appearance in luscious colors such as emerald, bronze, and blazing red; those dynamic colors will provide versatility year 'round, whether paired with a summer dress or woolen slacks. We can't deny the appeal of a perfect heel that can take you from day-to-night with ease.
For years Nicholas Kirkwood has been building an impressive repertoire of fashion awards, we're absolutely stoked that he's gaining the popularity and recognition that he deserves. We can't wait to see where he takes his flourishing label next!
Fiery red patent leather sandal with clear PVC side straps; available at Saks Fifth Avenue
Asymmetrical strap satin sandal with a curved heel and PVC detail; available in sky blue at Nordstrom & Saks Fifth Avenue, burnt orange at Moda Operandi, navy at Nicholas Kirkwood & Montaigne Market,
T-strap knotted leather sandals with a zig-zag shaped heel and thin padded leather straps
Signature sandal bootie in natural snakeskin with white leather trim, woven leather front detail, leather laces and gold-tone pin heel
Asymmetric sandal in white snakeskin with gold glitter trim, PVC inserts and gold-tone pin heel; available at Harrods or in a similar style at Saks Fifth Avenue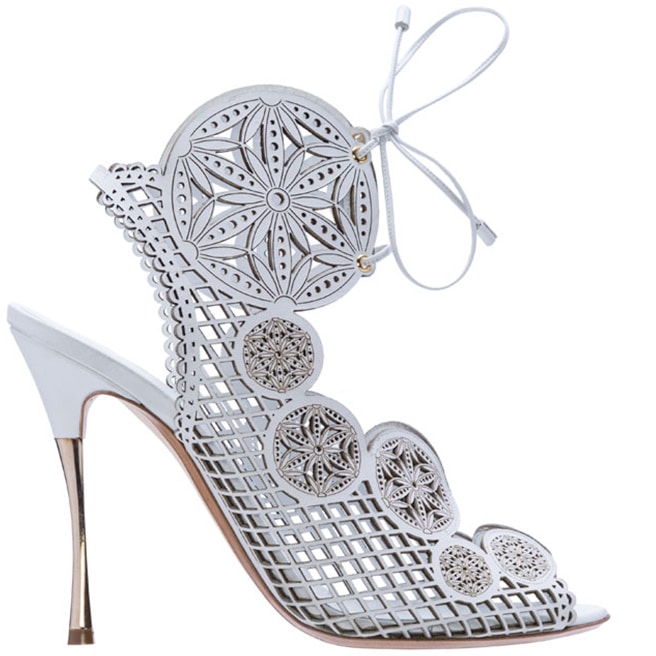 White laser cut leather sandal with a gold-tone pin heel; available at Neiman Marcus
Nude leather laser-cut leather sandal with a gold-tone sculpted pin heel; available at Net-A-Porter & Harrods or in black suede at FarFetch and Browns Fashion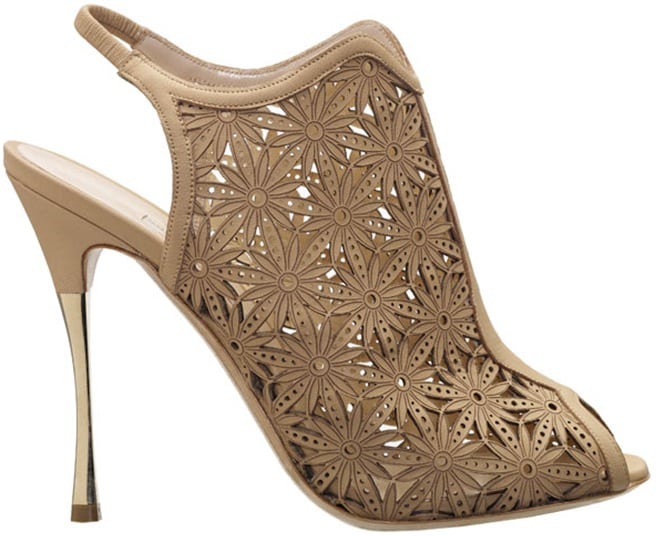 Nude laser cut leather peep-toe slingback bootie with a gold pin heel; available at Nordstrom and Nicholas Kirkwood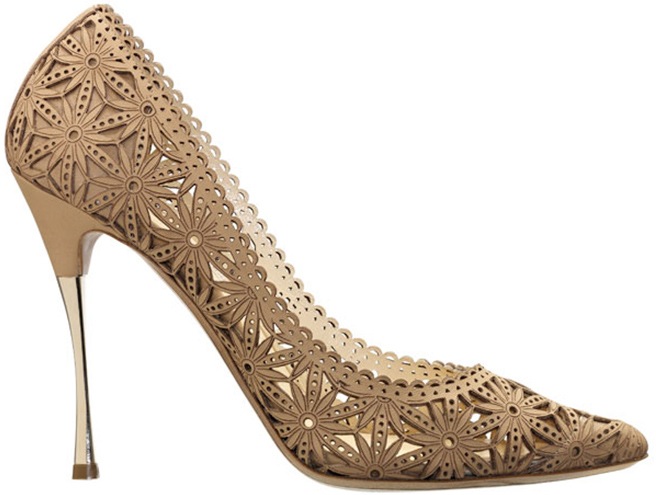 Laser cut-out leather pointed toe pump; available at Matches for $902.00
Black laser cut suede pointed-toe pump; available at Nicholas Kirkwood
Ankle-strap sandal in nude laser cut leather with a cork platform and mirrored block heel
Cobalt raffia slingback open-toe bootie with a white technical rubber platform, green leather trim and hexagonal bijoux
Orange raffia ankle-strap sandal with fuchsia snakeskin trim, beige jacquard ankle strap and technical rubber platform; available at Nicholas Kirkwood
Sage raffia ankle-strap sandal with a sky blue and holographic snakeskin trim; available at Nicholas Kirkwood
Lime green raffia pointed-toe pump with a hexagonal bijoux embellishment at the toe; available in black suede at Ssense or white leather at Matches
Grey raffia pointed toe pump with a cream hexagon; available at Nicholas Kirkwood


Orange raffia round toe platform pump with a hammered gold platform; available at Nicholas Kirkwood
Grey raffia round toe pump with a thick hammered gold platform; available at Nicholas Kirkwood
Cobalt blue raffia pump with a mirrored block heel, iridescent green trim, cream hexagon, and white technical rubber platform
Geometric printed fabric pump; available with a shorter heel at FarFetch and Browns Fashion
Black suede platform pump with a technical rubber trim and block heel; available at Harrods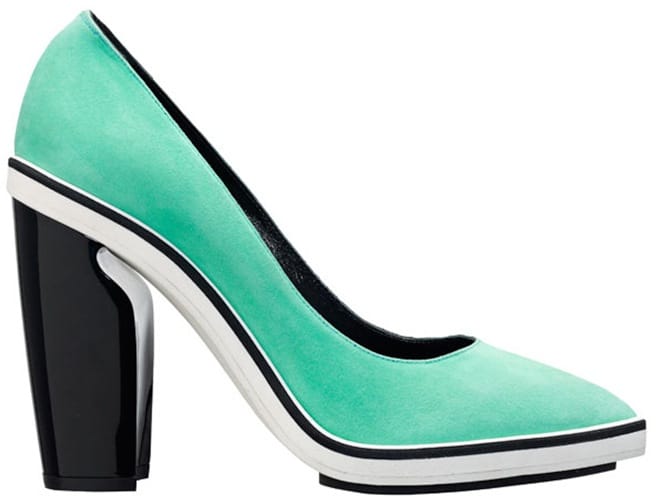 Seafoam suede pointed-toe pump with a white technical rubber trim and block heel
Nude leather pointed-toe pump with a contrasting white rubber trim and mirrored pale gold block heel
Black leather open-toe slingback bootie with a mirrored pale gold block heel; available at Nordstrom
Leather ankle-strap platform sandal with a hexagon button and block heel; available in colorful jacquard and woven raffia at Saks Fifth Avenue
Geometric printed silk jacquard curved heel pointed-toe pump; available in black silk jacquard at Moda Operandi, blue jacquard  at FarFetch and woven raffia at Net-A-Porter
Curved heel pump in natural snakeskin; available in green snakeskin at Net-A-Porter
Red snakeskin asymmetric sandal with a thick curved heel and PVC insert
Black suede platform pump with the signature angled platform and small pearl detail at the cutout heel
Nude silk satin sandal with a cut-out heel and small pearl detail
Sheer floral lace pointed-toe pump with a gold-tone pin heel; available in black lace at Forward by Elyse Walker & Nordstrom or red lace at Harrods & Net-A-Porter
Cream lace round toe platform pump with a hammered gold platform
Pale pink silk satin sandal with a crystal-studded asymmetric strap and clear PVC strap
Blue floral printed fabric sandal bootie with blue suede laces and navy leather details
D'Orsay pump in glossy black patent leather with a floral-printed ankle-strap and gold-tone pin heel
T-strap sandal in yellow & navy with thin patent leather straps and thin sculpted pin heel
Ankle-strap sandal in teal silk satin with a blue patent leather trim, mirrored beaded straps and floral printed curve-shaped heel
Peep-toe mule wedge sandal; available in nude leather and black suede sandal with a gold chrome wedge at Nicholas Kirkwood
Pointed-toe pumps with a sculpted gold pin heel; available in red suede, black suede & nude patent leather at Ssense or mirrored rose gold at MyTheresa
Nicholas Kirkwood for Peter Pilotto purple laser cut heel sandal with satin straps; available at Nicholas Kirkwood
Nicholas Kirkwood for Peter Pilotto turquoise and aqua laser cut heel sandal with satin straps; available at Nicholas Kirkwood or in nude at FarFetch and Kirna Zabete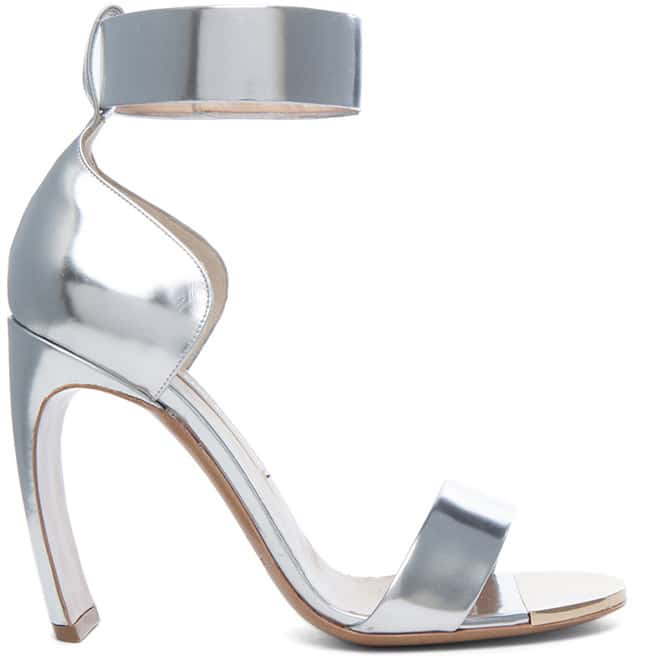 Curved heel ankle-strap sandal; available in mirrored silver leather at Forward by Elyse Walker & Ssense, colorful woven raffia at Nordstrom, Saks Fifth Avenue & Ssense, black leather at Matches & Moda Operandi
Nicholas Kirkwood for Erdem platform booties with an ombré lucite block heel and PVC or lace sides
Nicholas Kirkwood for Roksanda Ilincic t-strap pointed toe pump with a flat bow detail and curved heel
Nude laser cut leather gladiator sandal with a gold-tone pin heel; available at Neiman Marcus
Written by Shannon Weston