When we covered the amazingly creative new luxury accessories label Oscar Tiye back in November, it was hard to form coherent sentences through our passionate gushing about the brand and their unique Fall 2013 collection. We are happy to report that their Spring 2014 collection meets the quality of the last one and amplifies it, creating a stronger and larger line that is so jam packed with stellar designs, you are going to start apologizing to your credit card now.
We're seeing a lot of the gorgeous shapes featured in the Fall 2013 collection return in an array of warm weather colors and must-have-it-now variations. D'orsay iterations that put the wow in wow factor, fabulous cut out pumps that can seamlessly transition throughout the year, and an intriguing laser cut keyhole motif that is incorporated into sandals, sky-high pumps, and killer hybrid gladiator boots are all recognizable highlights. Our favorite comeback kid? The scarab beetle wings that echo the emblem of the brand – specifically, if we don't get a pair of those scarab beetle winged sandals, we're not sure if
we're going to make it to their next fall collection.
However wonderful those old themes are (and they truly are unique in the best way), with every new collection comes new themes. Gorgeous color blocking collides with fringes and a stellar black and white geometric motif, twining leather straps on ankle sandals add a hard edge to a classic design, and ornate interlocking leather creates a knot embellishment on sandals. Alongside the scarab wings are shoes that incorporate their scarab insignia in a laser cut leather motif, often acting as the front of a sandal or flashy pump.
The Egyptian symbolism continues with the inimitable elongated neck of the ibis that serves as inspiration for a stunning lace up sandal booty, done in shocking yellow, vibrant blue, and luscious rose gold. Whether you're a fan of fabulous flats or sky high statement heels, there is a pair of shoes out there just perfect for your shoedrobe.
With us being knee deep in red carpet season and the Academy Awards just around the corner, it's time to rock your own Oscars.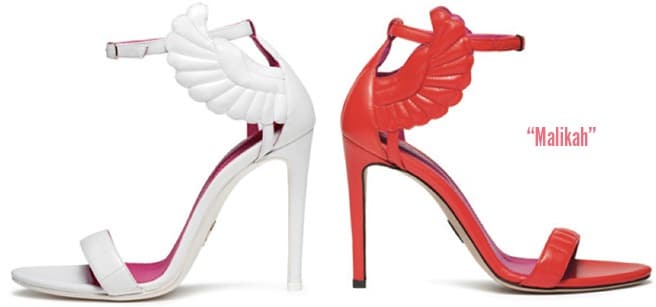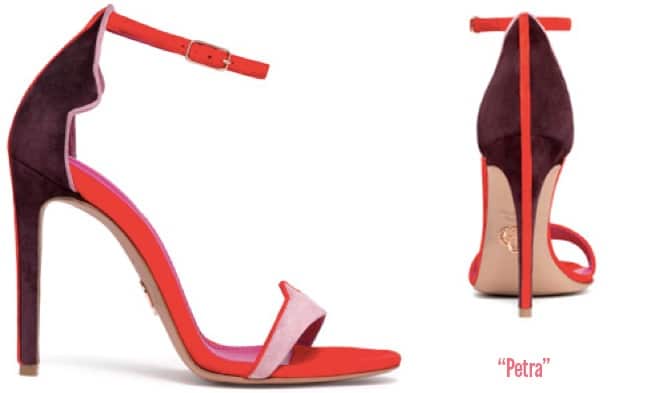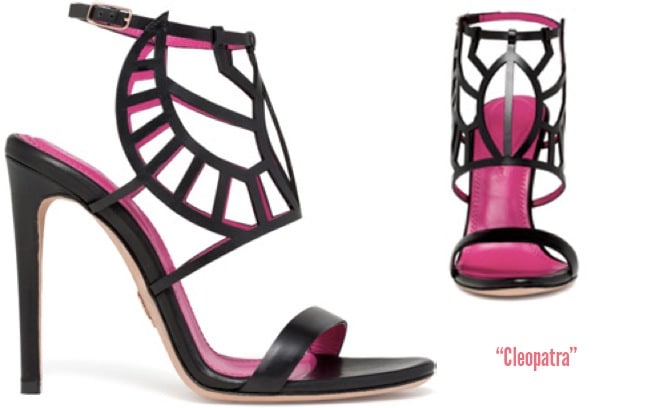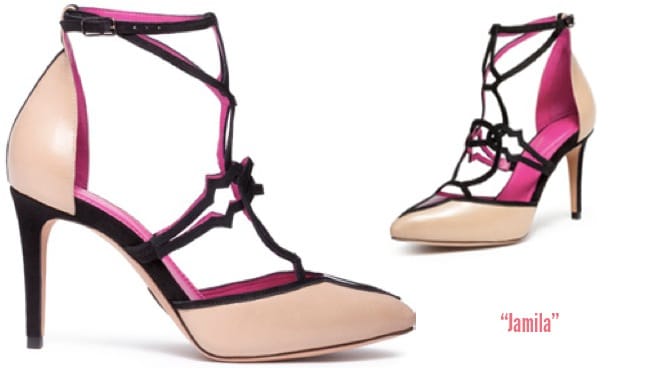 This collection hasn't hit retail yet but you can find Fall '13 designs at LuisaViaRoma and Antonioli. Spring styles will be stocked at H. Lorenzo, Antonioli, LuisaViaRoma, Avenue 32, The Box, Liska, Santa Eulalia, Passhion, and Alter.
Written by Shannon Weston