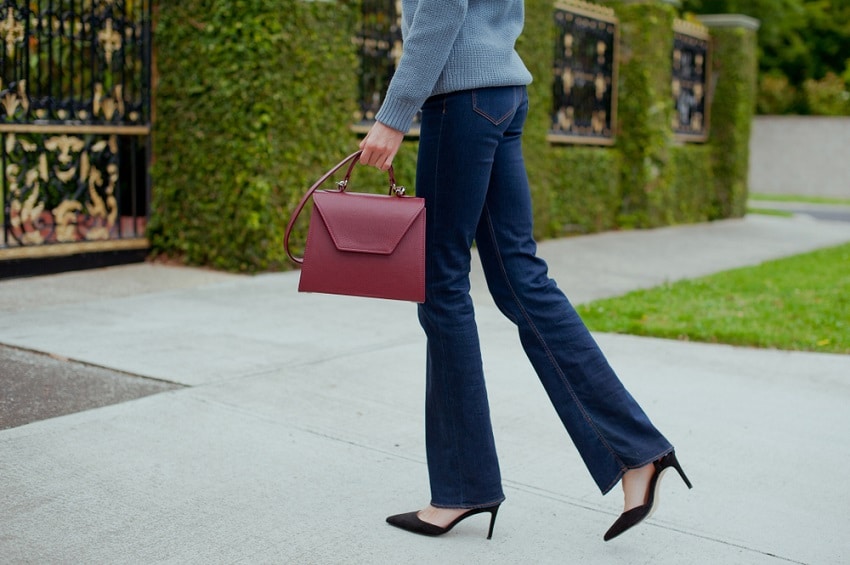 Denim goes with just about anything. However, these days, there are so many different styles of jeans that you have to wear them differently depending on their silhouette. Flare jeans are similar to bell-bottoms. They're usually fitted in the hips and thighs and broader at the hems. The roomy bottoms call for shoes that balance out the look.
What Are Flare Jeans?
When you think about flare jeans, you might go back to the 1970s, when the bottoms of the pants were reminiscent of bells. Modern flare jeans aren't always so wide. They come in a variety of shapes.
Bootcut jeans typically have the least amount of flare. They may sit at or below the waist. They hug the upper legs and widen subtly from the knee to the hem. They're designed to fit over boots without tugging or getting caught.
However, they aren't noticeably full. Bootcut jeans balance out the proportions of the hips and look relatively straight from the knee to the ankle.
Wide leg jeans are usually roomier throughout the entire leg. They don't taper in at the knee. Instead, they create an A-line silhouette from the hip to the foot. They may be extremely wide at the hem, but they also allow for more movement in the thighs.
Traditional flare jeans are wider at the hems than bootcut jeans. The opening at the bottom is usually between 21 and 27 inches. However, the thigh is usually cut extremely slim. Therefore, there's a visual contrast between the width at the knee and the hem.
When jeans flare below the knee, they can make you look taller. They tend to smooth out the figure and lengthen the leg.
Many people wear flare jeans to balance out a curvy figure. Because the hem is broad, it complements ample hips. The wide leg openings also work well for people who have wide calves or wear boots.
But boots aren't the only type of shoes that you can wear with flare jeans. These pants look great with several different shoe styles, which we will cover in this article.
What Shoes to Wear with Flare Jeans
Boots
We'll begin by discussing the benefits of wearing boots with flare jeans. It seems as though the cut of these pants was made for boots. The wide hems leave plenty of room for extra material underneath.
If your boots are snug and don't zip well over skinny jeans, you could wear them under a pair of flares instead. Boots with bulky material at the calves also work well under flares.
You won't see the tops of the boots. Therefore, you should make sure that you like the way that the soles look with your jeans. High heels or platforms add height and give you a streamlined appearance.
Just make sure that the hem of your pants isn't too short for the shoes. You'll see too much of the boot, and you'll break the lengthening effect of the pants.
Also, you might want to avoid wearing boots that go over the knee. If the top portion of the jeans is fitted, it can bunch up or show ridges from the boots underneath. You'll feel constricted, and you won't be able to bend your knees well.
Tall boots aren't the only option for flare jeans. Ankle boots work well with this style of pants. Plus, ankle boots are more appropriate to wear with flares that are on the short side. You'll show off your cute shoes and your flattering jeans at the same time.
What Materials and Colors Should Your Boots Be?
Some of the best materials for boots to wear with flare jeans are velvet, leather, or suede. These fabrics are a nod to the vintage vibe. If you want to take the nostalgic feel to the next level, consider wearing boots with fringe or studs. Animal print boots can modernize an otherwise retro style.
You can also wear a variety of colored boots with flare jeans. Because the pants are funky, you can get away with wearing bright tones on your shoes. Bright primary shades, jewel tones, and earthy colors are all appropriate.
Don't worry too much about matching the color of the boots with your outfit. You can look pulled together even if your shoes are a completely different shade than your shirt. You'll look fresh, and it won't seem like you tried too hard.
Platform Shoes
In keeping with the 1970s, style, platform shoes are ideal for wearing with flares. They'll raise the hems so that they don't drag on the floor.
Platform shoes can be very comfortable because there isn't a significant drop between the heel and the ball of your foot. Most people can walk well in sky-high platforms because the front is almost as high as the back.
Many types of platform shoes look great with flare jeans. Mules usually have an open heel and an upper that covers the front of the foot. They can be open or closed-toed. Closed-toe mules work well in colder months. Just make sure that your heels won't get cold.
Espadrilles and wedge platforms also complement the wide legs on flare jeans. These shoes are heavy and chunky enough to provide a solid foundation for the ample hem. They draw attention downward, which can be helpful if you want to flatter a curvy figure.
If your jeans are wide and long enough, they may cover the entire shoe. That doesn't mean that you shouldn't pay attention to your footwear, though. Your toes will peek out when you sit, and the soles of the shoes will show as you walk. Make sure that your platforms are in good shape and aren't scuffed at the bottoms.
You can allow your shoes to stand out by hemming your floor-length jeans. The best guideline for hemming jeans to go with your platforms is to allow the hem to end about an inch above the bottom of the heels.
Chunky Heels
Chunky heels are another flattering, comfortable option to wear with flare jeans. They're usually more comfortable than stilettos because you have more surface area to walk on. You won't feel as much pressure on your heels.
Experts claim that chunky heels are better for your feet than narrow ones. Because they're more stable, chunky heels are perfect for people with weak ankles or balance issues. They distribute your body weight well and make walking and standing more comfortable.
Plus, the substantial size of the heel stands up to the ample width of the pant hem. Again, you're creating a balance between the top and bottom halves of your body. You'll ground the pants by pairing them with shoes that hold their own.
Sometimes, people refer to chunky heels as block heels. These shoe types are interchangeable. It just means that the heel is rectangular instead of tapered.
Chunky heels come in several styles. You can find many sandals and shoes with buckles and straps that also have generous heels. Many close-toed shoes come with chunky heels too. One way to make your flare jeans look uniquely feminine is to wear them with high-heeled Mary Janes.
Some chunky heels have straps that wrap around the ankles. You won't usually see the straps when you wear flare jeans. But you can still wear those shoes if they're comfortable. If your shoes lace up at the ankles, make sure that they fit well under the flares.
Huge ribbons and bows can get in the way of the pants. You don't want the hems to bunch up because they get caught on those embellishments.
Read Also: What Shoes to Wear with Mom Jeans
Slim Heels
Slim heels work well with most flare jeans. As long as the hems aren't too wide, you can pair the pants with narrow shoes. The sleekness of the shoes will bring a delicate flair to your jeans. It makes them more modern, carrying them away from the 1970s and into this decade.
As usual, you have lots of options to choose from when it comes to shoes with slim heels. Stilettos are fine as long as the pants are refined and somewhat narrow at the base. Dark denim looks ideal with stilettos because it's more formal than faded styles. You'll look sophisticated when you pair narrow heels with dark-wash jeans.
Kitten heels also raise your legs enough to accommodate the flare of this type of jean. You might have to play around with the height of the shoe.
Because you can't cuff flared jeans, the hem has to be perfect. You might have to wear a different pair of shoes with your various flared pants. The hem should show off some of the front of the foot but end about an inch off the ground in the rear.
Traditional pumps are a great choice for flared jeans. These extremely versatile shoes can also be worn with just about everything else in your closet, from mini dresses to skinny jeans. Some people even pair them with joggers for an unexpected fashion statement.
Go ahead and wear some pumps with your flared jeans. You'll look chic from head to toe even if you're just going out to lunch. Pumps are polished and can even be worn to the office with your jeans on casual Fridays. Plus, they transition well from day to night.
Pumps don't have to be boring. They come in a wide variety of styles, materials, colors, and patterns. Choose suede pumps for every day. However, you might not want to wear these in inclement weather because moisture can damage the fabric.
Satin pumps dress up your jeans. But you need to make sure that the dye from the pants doesn't rub off on the shoes. Many dark jeans can bleed onto lighter fabrics. If you wear satin shoes, the footwear could absorb the color from the pants, especially if they get wet.
Leather pumps are always in style. Choosing basic brown or black is a safe bet. However, you can find leather pumps in a variety of tones, such as burgundy, navy, and emerald. Play around with the hue that suits your personality and wardrobe. Navy looks classic with a pair of dark jeans.
When you wear flare jeans with slim heels, opt for shoes that have elongated toes. Pointed-toe shoes peek out from the hem of the pants and balance out the style.
Stunted, rounded toes may not be the best option. It looks strange if you walk around with flares that hide your entire foot. You'll look like you're floating above the ground.
Clogs
Are you looking for an everyday shoe that's comfortable and goes with your flare jeans as well as many other outfits? Clogs might be suitable for you.
These shoes were extremely popular in the 1990s and have fallen out of fashion somewhat. But they are perfect for flare jeans because they have a retro feel to them.
Plus, clogs are comfortable. They usually have supportive footbeds and work well for people with high arches. The uppers enclose your entire foot, and you can wear them in any season.
Although you might think that clogs are matronly, they've gotten sexier over the years. You can buy some with tall heels and studs, which give your appearance some edge.
If you choose to wear clogs, opt for a pair with a heel. The heel doesn't have to be high, but you don't want to wear flat clogs, such as Crocs.
Look for a shoe that's made with high-quality materials and has a refined structure to it. If the clogs are too flat or bulky, they can look frumpy with flare jeans.
Sandals
Wearing sandals with flare jeans is perfectly appropriate, especially in the summer. Ensure that your sandals have some kind of heel to lengthen the leg, though. Flat sandals and flip flops usually don't work well with this jean shape.
Embellished and gladiator sandals are often appropriate with flare jeans. However, if the leg is wide and long, it might not showcase the shoe as much as you want. Opt for flares with a side slit. The opening will widen as you walk, showing off your incredible shoes.
Block heel sandals are easy to find in almost any shoe department. Those are often the best way to go with flare jeans. They elevate your heel but aren't too formal.
Earlier, we mentioned that you should be careful wearing shoes with ankle embellishments and flare jeans. If the shoes tie up the calves, they might look bulky under the pants.
However, in some cases, you can wear ankle-length flare jeans to show off your entire shoe. This look works best when the pants have a wide leg throughout the thigh and knee. If they taper too much at the knee and widen toward the ankle, they could look goofy. When you're wearing shorter flares, consider opting for a pair that has a straighter leg.
Read Also: What Shoes to Wear with LuLaRoe Leggings
What Shoes Should You Not Wear With Flare Jeans?
Although flats are ideal for so many occasions, they're not the best shoes to wear with flare jeans. Because these types of jeans are so wide at the base, they can shorten your legs if you don't add some height to the heel. If you're short, wearing flares with flats can make you look stumpy.
Plus, if you ever wear your flares with heels, they're probably too long to use with flats anyway. The back of your pants shouldn't drag on the floor.
If it does, it will become distressed and ruin your jeans. The front of flare jeans shouldn't bend or bunch up. If you wear long flares with flats, you run the risk of having the hems fold and detract from the streamlined appearance.
Some people say that you shouldn't wear sneakers with flares, but we don't think that's true. Running shoes aren't usually a stylish option to wear with anything except for your gym clothes. However, many manufacturers make fashion lines that would suit flare jeans well.
When you're just bumming around town or hanging out with your friends, you can certainly wear sneakers with your flares. Retro sneakers look great with flares.
Choosing leather options in vintage colors, such as brown, orange, or turquoise, can make you look fun and laid-back. Slip-on sneakers, such as Vans, also work well with flares.
Lace-up sneakers also work well. Just make sure that they're not the kind of shoes that you would wear for working out. You can get really funky with your sneakers and choose a pair with platform soles. The raised bottom will make you look taller and provide a broad base for the extensive hem opening.
When it comes to wearing shoes with flare jeans, make sure that you try the shoes on with the pants. Even if the shoes look great with another pair of jeans, they may not work with the hem of your flares.
You should have a few specific pairs of shoes that are the perfect height and style for your jeans so that you don't have to worry about what footwear to put on every time you go out.