Alexander McQueen's Fall 2011 shoe collection mixes the older styles in with the new. The signature heart peep-toe pump is re-made in a beautiful pink velvet and also in a suede-to-patent version. The new laces on the platform boots (at the very bottom of the post) are beautiful featuring metal eyelets (as seen on the runway).
I had to blink a couple times when I first saw the price on the first platform wedge featured below. I haven't seen a shoe (especially online) priced over $4,000 since Valentino's sculpted lace pump.
My favorite pieces include the t-strap sandal already seen on Sarah Jessica Parker, the curved platform peep-toe wedge and the beautiful pink suede boot.
As always I will continue to update the list as more styles appear online.
Metal platform wedge; available in white at Nordstrom
Black t-strap platform metal wedge sandal
White t-strap sandal; spotted on Sarah Jessica Parker
Red velour platform wedge; available in red at Zappos, $1061 at SSENSE in black at Colette
Laser-cut peep-toe skull pump
Tweed & velour platform peep-toe skull pump
Red velvet signature heart peep-toe pump; available online in a beautiful pink at Zappos & in navy at Matches
Cracked metallic signature heart peep-toe pump; available in gold at Zappos
Leopard print pony skin pump with heart shaped peep-toe; available online at Net-A-Porter & Alexander McQueen
Python peep-toe skull heel; available in black velour at Alexander McQueen
Suede to patent signature heart peep-toe pump
Pony hair skull embellished peep-toe platform pump
Studded peep-toe pump
Red suede peep-toe pump with Swarovski studded punk skull; available online at Alexander McQueen
Blue suede peep-toe pump with Swarovski studded punk skull; available online at Zappos & Bergdorf Goodman
Black suede peep-toe pump with Swarovski studded punk skull; available online at Alexander McQueen
Python double platform pump with metal embellishment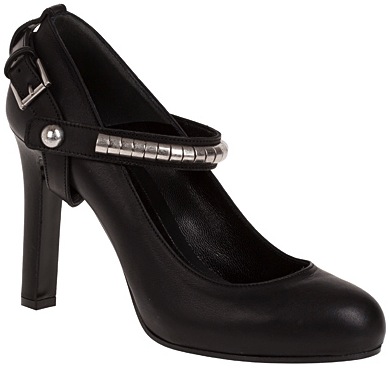 Tweed Faithful peep-toe bootie; available in black velour at Zappos & blue snakeskin at Nordstrom
Laser-cut Faithful peep-toe bootie; available online at Nordstrom
Red suede Faithful boot; available online in black leather at Alexander McQueen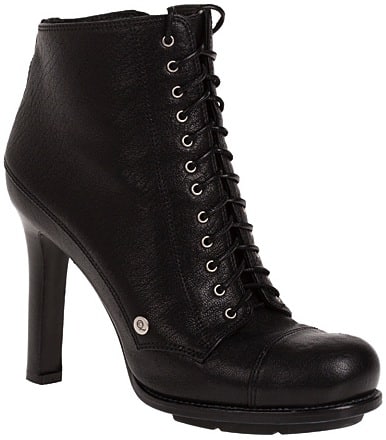 Pink suede platform ankle boot; available online at SSENSE, Matches & in red at McQueen
Navy suede buckled punk boot; available online at Zappos, Matches, & in black leather at McQueen

Lace-up leather platform boots; available online at LuisaViaRoma
Credit: Took Look Book, Alexander McQueen