The right pair of work boots can mean the difference between working comfortably and productively and being miserable all day. Depending on what you do for a living, the right boots can even make the difference between life and death.
Even if you're just looking for a reliable pair of boots for working around the house, you'll want a pair that's durable, comfortable, and capable of standing up to whatever you're dishing out.
Believe it or not, there's a lot more to work boots than meets the eye. To help you select the best 8-inch work boots for your needs, we're going to cover everything you need to know about choosing the right pair.
We'll also take a look at some of the latest and greatest 8-inch work boots, so it's easier for you to select a great pair.
Our Top Picks
Work Boot Buying Guide
Before we dive into the best boots on the market, we're going to take a closer look at the characteristics and features that you'll need to know about before you select your boots.
Boot Construction
One of the most critical factors that determine the quality and durability of a work boot is the way that it's constructed. There are three main methods for making any footwear: the cement method, the Blake stitch method, and the Goodyear welt. Let's learn more about these construction methods and what they mean for a pair of work boots.
Cement
Cement construction is the most popular and affordable way to manufacture footwear. With this method, manufacturers use glue to secure the sole of the shoe to the upper. Since this method doesn't involve sewing, it's the fastest and most cost-effective way to manufacture shoes and boots. Unfortunately, it's also the least durable.
It's usually easy to tell if a boot has been constructed using the cement method because you won't see any visible stitching that joins the upper to the sole of the boot.
Cement construction is favored for sneakers and other lightweight footwear, especially since those shoes aren't expected to be as durable or long-lasting as a pair of work boots. For work boots and different types of rugged footwear, cement construction is usually unable to stand up to the rigors of the job day after day.
With cemented work boots, the sole tends to separate from the boot. Once this happens, you aren't able to replace or re-glue the sole, and it's time for you to shop for a new pair.
Blake Stitch
Boots made using Blake stitch construction are better crafted and more durable than boots that use the cement construction method. This method has more in common with premium construction methods than with the cement method because the upper and the sole are stitched together.
Blake stitching involves sewing the upper to the sole from underneath the shoe's footbed. You'll be able to spot boots made with Blake stitching because you'll see the boot's upper stitched to the top of the sole. But, the stitches don't consider through to the bottom of the sole. This method is favorable for several reasons.
For manufacturers, it allows them to create a higher quality boot without investing in the expensive tools and machinery that Goodyear welt construction requires. Meanwhile, customers get footwear made with better quality construction without having to break the bank.
Goodyear Welt
Finally, the most sought after boots are those made with Goodyear welt construction. We can thank Charles Goodyear Jr for this construction method, which was no doubt inspired by his father's invention and implementation of vulcanized rubber.
To make a shoe or boot using Goodyear welt construction, the upper must first be attached to the insole of the boot, and then that piece is then attached to the boot's sole using a small piece of leather known as a welt. Stitching is then used to secure the entire boot or shoe together.
It's easier to spot boots that use Goodyear Welt construction. Not only will you see the beautiful stitched detailing along the welt, but the stitches will extend through the sole, so they're visible from the bottom of the shoe, as well.
Boots made with Goodyear welt construction are inherently more durable and longer-lasting than boots that are made with the construction methods above. These boots are also the most expensive, as the process is time-consuming and costly for the manufacturer. If you can afford it, you'll want to opt for a pair of boots that utilize Goodyear welt construction.
Boot Safety
Another critical consideration to make for most people shopping for work boots are the safety features on offer. Depending on the type of work you'll be doing in your boots, some of these safety features will be practical requirements.
Steel Toes
The industry standard for work boot safety, steel toe boots have a thick piece of steel integrated into the toe box of the boot. A steel toe helps provide structure and rigidity; most importantly, it protects your foot from falling objects.
Steel toes offer the most protection possible, but they aren't always the most practical choice. For one, since steel is magnetic, steel toes may interfere with your work, depending on your environment. Steel toes are also the heaviest and bulkiest type of work boots. Lastly, steel toes conduct heat and cold, so your feet will be hotter when you're working in warm environments and colder when you're working in the winter.
Alloy Toes
Alloy toes are a viable alternative to steel toe work boots for anyone who needs superior protection against impacts and falling objects but isn't willing to sacrifice comfort.
Alloy toes follow the same premises as steel toes, but instead of a solid steel toe cap, the cap is made from a lightweight alloy (typically aluminum and titanium). These materials are much lighter than steel, and alloy toe work boots can be around half as heavy as their steel counterparts.
Since the toe cap is also thinner, boots with an alloy toe tend to be more comfortable and provide the toe area of your foot with more room.
These boots are lighter in weight and generally just as protective as steel toes are. In exchange for those benefits, you can expect to shell out a bit more money than what you'd pay for a comparable pair of steel toes.
Composite Toes
The last type of toe protection you'll find is boots with a composite toe. These boots use materials like kevlar, carbon fiber, or plastic to protect the toe area of the boot. Depending on the material used, these boots can also be quite protective. Also, depending on your job, a comp toe work boot may be required.
While these are lighter in weight than steel or alloy toe boots, they're much bulkier than steel or alloy toe boots. In order to provide adequate protection, the toe cap on a composite pair is much larger than that of a steel or alloy toe.
One of the significant benefits of a comp toe work boot is that unlike steel and alloy toe boots, they don't conduct electricity. So, electricians and anyone who deals with electrical hazards on the job tend to prefer comp toe boots. They don't conduct heat or cold either, so comp toe boots are usually the most comfortable when you're working in extreme temperatures.
There is one significant downside to composite toe boots that may be important to you. The nature of composite materials means that once your boots have faced a substantial impact, they no longer have the same protective properties as they did before.
Once an impact has compromised your comp toe boots, you must replace them, which can get quite expensive. Also, even though these boots do offer excellent protection against impacts and other job site hazards, they still aren't as protective as alloy or steel toe boots.
Puncture Resistance
For construction workers, as well as people who deal with hazardous materials at work, puncture-resistant soles are a great feature to have.
This feature is typically found in the midsole of a shoe, just above the outsole. The puncture-resistant material is either steel or a high-tech woven fabric that's impervious to puncture.
As with steel toe boots, a steel plate to prevent punctures will add more weight to your boot. It will also conduct heat and cold when you're working in extreme temperatures, which will make your footwear less comfortable.
Non-metal puncture plates don't detract from the comfort or protection the boot offers, but they're more expensive than shoes with a steel plate.
Slip Resistance
For many people, slip-resistant outsoles are the most crucial factor to consider when shopping for boots. Non-slip outsoles are made from high-tech rubbers that are designed to provide sure footing when you're working on a surface that's wet or slippery.
EMS workers, hazmat workers, and others who regularly deal with spills and clean-up will want to opt for a pair that offers superior slip resistance.
Selecting the Right Work Boots For Your Needs
Now that you have a better idea of some of the key features and characteristics that separate different work boots let's take a closer look at how you can ensure you're selecting the right boots for your needs.
Height
Shaft height is a crucial consideration for most people. A 6" shaft height is standard for general-duty work boots, and these boots provide ample support and protection.
For construction and other heavy-duty applications, an 8" shaft height is generally preferred. 8" boots offer more support and protection than 6" boots. All the footwear we'll be looking at today feature an 8" shaft height.
Weight
Weight is another vital consideration, as it will dramatically affect how comfortable your boots are. You'll want boots that are as lightweight as possible without sacrificing the features that you need to have. If you're going to be on your feet all day, search for the lightest boots you can that still offer the protection and support you need.
Material
The material your boots are made out of is another crucial concern. Most work boots are made either entirely from full-grain leather, or from a combination of full-grain leather or a combination of leather and mesh.
Full-grain leather is such a popular material because it's exceptionally rugged and durable, it takes to waterproof coatings quite well, and it provides excellent heel support. However, full-grain leather is a heavyweight material, and some people find boots from this material to be unnecessarily burdensome.
Nylon mesh is a much more lightweight alternative, and this works well for tactical boots and other forms of work boots where performance is more important than protection. Leather is still the predominant material, with mesh incorporated in specific areas to increase breathability while reducing weight.
Using mesh in strategic areas is popular with duty boots, which are a type of work boot that's popular with first responders and the military.
These boots typically offer less protection than boots made entirely of leather, but they may still be the right choice for you, depending on your needs.
Protection
The level of protection your boots offer can be especially important if you work on job sites, or in a warehouse. Many work boots, especially those of the high-end variety, tend to carry ASTM certification and are OSHA approved.
In most dangerous work environments, OSHA approved footwear is required, and not complying with these safety regulations can result in fines, or being sent home from the job. Even if your job doesn't require approved footwear, you can rest assured that work boots that carry an ASTM certification will offer adequate protection.
Water Resistance
Water-resistant and waterproof boots may be especially important if you work in standing water regularly. But, for many people, this feature isn't worth the trade-offs. Some footwear is inherently waterproof, while others use a membrane below the leather to provide waterproofing.
Regardless of the method the manufacturer uses, these boots don't breathe nearly as well as non-waterproof boots do. If you opt for waterproof boots when you don't truly need them, you'll find that your feet sweat more, and they aren't as comfortable as a more breathable alternative.
Convenience
Granted, a pair of boots isn't quite as easy to slip on and off as a pair of casual sneakers, but that doesn't mean that putting them on should be a chore. Some boots have additional convenience features, like side or front zippers or elastic panels, which make it easier to slip them on or off.
Boots that you can put on quickly are critical for first responders, and if you need to be ready at the drop of a hat, these features are something you'll want to look for.
Read Also: Best Boots for Electricians
Comfort
Comfort is especially important when it comes to work boots. If you only need to wear them occasionally or for a few hours at a time, you can probably deal with uncomfortable work boots. But, if you're like most people, you'll be wearing boots and on your feet for eight or more hours each day.
Fit and comfort go hand and hand when it comes to work boots, so it's also essential to ensure you're wearing the right size boots. Boot sizing is different from manufacturer to manufacturer, so the size you typically wear for sneakers may be different than the size you need in boots from a particular brand.
Many of the most popular brands, like Red Wing, Timberland, and others, will fit you for your perfect size in store. Other top retailers of work boots will also be able to custom fit you for a variety of different brands in store.
Overall, when it comes to comfort, you're the ultimate judge of what is and isn't comfortable. So, try on as many pairs of boots as you can before deciding on the best pair for you.
Budget
Lastly, you'll need to consider your budget. While some excellent boots on the market are affordable, most quality work boots fall into the $150-400 range.
The Best 8-Inch Work Boots: Reviews
Without further adieu, here's our take on ten of the best 8-inch work boots you'll find on the market.
If you're looking for a high-quality steel toe boot that won't break the bank entirely, the Timberland PRO Direct Attach boot may be perfect for you. This boot is loaded with high-end features that you're sure to appreciate during a long day at work.
For comfort, Timberland starts with anti-fatigue technology in the midsole, which helps with energy return and shock absorption while keeping you feeling comfortable all day long. The 24/7 comfort system provides impressive arch support and cushions your foot with each step.
Timberland uses a unique tanning process on these boots, which makes the leather waterproof. Each seam is sealed to ensure that the boot stays waterproof regardless of the conditions you're in.
In cold weather, these boots are ideal thanks to the 400 grams of Thermolite insulation, which keeps your feet warm and toasty no matter how chilly it gets outside.
When it comes to safety, this boot has all of the most coveted certifications for on-the-job safety, including ASTM F2412-11 and ASTM F2413-11 I/75 and C/75 impact and compression safety standards and CAN/CSA-Z195-14 Grade 1. These boots also meet ASTM F2412-11, ASTM F2413-11 and ASTM F2892-11 standards for electrical hazard protection.
So, if you're looking for a moderately priced boot that's rugged, durable, and protective, the Timberland PRO 8-inch boot may be a good fit for you.
Pros:
Built to last
Steel safety toe and electrical hazard protection
30-day comfort guarantee
Cons:
Prone to overheating in the summer months
Not as comfortable as some high-end boots
Danner's Quarry USA boots are quickly becoming an industry-standard thanks to their American-made construction and high-quality components.
Danner first released the Quarry boot around ten years ago, and since then, they have gone back to the drawing board several times to create the most durable and comfortable boot possible.
This boot is made from full-grain leather and features a GORETEX lining, which is waterproof, even though it's still breathable. This superior breathability helps to keep your feet cool and comfortable, no matter the temperature or your work environment.
A Vibram outsole is both durable and responsive, and it provides superior traction on oil, water, or other slippery surfaces. The non-linear treads further aid with traction, and they release debris quickly as well.
This boot features an alloy toe that meets ASTM F2413-11 I/75 C/75 EH standards, and these boots are certified to protect against electrical hazards as well.
These American made boots represent the utmost in quality and durability, and they're ideal for people who rely on their boots every day to help them make a living.
Pros:
Unparalleled comfort
Alloy safety toe and electrical hazard protection
Vibram outsole
Cons:
Still quite heavy despite the lightweight alloy toe
Expensive
Sometimes, a traditional work boot isn't really what you're in the market for. Thankfully, if you're looking for a more athletic take on a classic work boot without sacrificing protection, Reebok's Rapid Response boot may be a wise choice.
This duty boot blends the look of a tactical military boot with the safety features of a traditional work boot. The composite toe cap meets ASTM F2413 standards, and this boot is certified for electric hazards as well. The rubber outsole is oil, slip, heat, chemical, and abrasion-resistant, so you'll be on sure footing no matter the ground beneath you.
Where this boot truly shines is in the comfort department. Most people find these boots to be as comfortable as their favorite pair of sneakers; the large mesh panels make them about as breathable as your favorite sneakers, as well. A side zipper also helps you pull these boots on and off in just a few seconds, which is sure to delight first responders.
These boots dial up the comfort even further thanks to features like Reebok's F2A PU cushion footbed with a shock eliminating heel cushion and an EVA midsole.
Pros:
Unmatched comfort
Excellent breathability to keep your feet cool
Impressive safety features for a duty boot
Cons:
Might not be heavy-duty enough for some professions
Suede upper isn't as durable as full-grain leather
This modestly priced boot from Carhartt provides a myriad of high-end features that are typically associated with more expensive boots.
The Ruggedflex boots from Carhartt offer waterproof protection while still maintaining excellent breathability thanks to the Storm Defender breathable membrane that sits above the lining of the boot. That way, your feet will stay dry and cool no matter the conditions you're working in, and 400-grams of 3M Thinsulate insulation keep your feet warm on the coldest days.
These boots are made from oil-tanned full-grain leather with an EVA midsole and Carhartt's patented Ruggedflex outsole. A large rubber cap protects both the toe and heel from premature wear, ensuring you'll be able to get years of use of your boots.
These boots also score impressive marks for safety. The composite toe meets ASTM 2413-17 regulations for impact, and they're also rated against electrical hazards as well. Additionally, this footwear provides secondary protection against circuits up to 18,000 watts.
Pros:
Toe and heel guards for superior wear resistance
Breathable yet waterproof
All-day comfort
Cons:
Bulky because of the composite toe
Must be replaced after impact to the toe box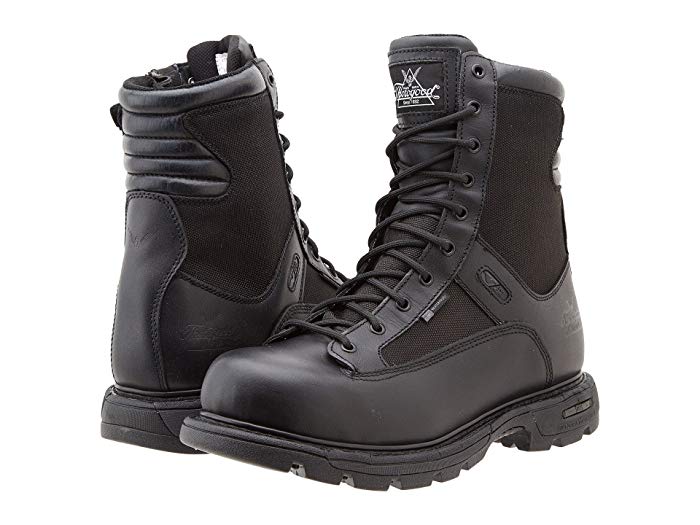 Another solid choice for anyone looking for a duty boot that focuses more on comfort and performance than it does on safety.
The Trooper boot from Thorogood offers an oil-tanned full-grain tumbled leather upper with hits of mesh to provide plenty of breathability, so your feet stay cool no matter the weather. These boots are equipped with the Thoro>Dri waterproof system. This system has a breathable waterproof membrane with sealed seams, and it's also rated against bloodborne pathogens, making it ideal for EMS and medical professionals.
While this boot affordable, Thorogood didn't cut corners on the making of this boot, as evidenced by the Goodyear Storm Welt construction. The sole of the Trooper is a dual-density rubber that's both oil and slip-resistant to keep you on solid footing in any terrain.
When it comes to comfort, the Trooper boot scores high marks, the EVA midsole has a gel heel insert for superior impact absorption and the polyurethane EVA cushion flex footbed as further cushioning. It's also removable, should you find that your boots fit too tightly. That brings us to our next point: you may want to order a ½ size up, as these shoes do fit a bit snug.
These boots have a soft toe, so they may not be appropriate for use on job sites, but for many professions, safety toe boots aren't necessary. Despite these boots having a soft toe, they're still quite heavy at just under two pounds per shoe.
Pros:
Goodyear storm welt construction
Easy to take on and off thanks to side zipper
Very comfortable
Breathable yet waterproof
Cons:
Quite heavy for a soft toe boot
Doesn't fit true to size
One of the most well-loved footwear manufacturers of all-time, Red Wing boots are favored by everyone from tradespeople to motorcyclists. The brand is known for its exceptional customer service and American-made craftsmanship. While their boots are pricey, they're lauded as some of the best around.
The 1412 boot is one of Red Wing's most popular and iconic models. The 1412 starts with their Ebbtide full-grain leather, which gets tanned at Red Wing's in-house tannery in Minnesota. The fiberglass shank adds ample rigidity to keep you feeling stable and secure all day long, and a 90-degree defined heel helps you to find your footing on any terrain.
One of the things that Red Wing boots are best known for is their incredible comfort. These waterproof boots have a breathable GORE-TEX liner that manages to keep your feet comfortable and dry regardless of the conditions. A Texon insole provides plenty of cushioning and comfort to keep you going during long days. The 1412 is available in four different widths, so you'll be able to find an ideal fit no matter what.
Red Wing is also notorious for their durability and safety features. The 1412 features the SuperSole 2.0 outsole, which is Red Wing's best outsole for oil, gas, chemical, and abrasion resistance, making the 1412 ideal for anyone who works with hazardous materials.
Pros:
Available in four different widths
GORE-TEX lining
Incredible slip resistance
Cons:
Doesn't have a safety toe
Very expensive
Another solid offering from Timberland PRO, the Boondock boot is ideal for anyone looking for a top-of-the-line composite toe boot. The Boondock boot is full of comfort features that should keep your feet happy, even in extreme work environments.
This Boondock boot is ideal for all weather conditions, thanks to its waterproof leather upper and waterproof membrane. The waterproof membrane also meets ASTM F1671-07 safety standards for bloodborne pathogen resistance. Unlike other Timberland boots, these are non-insulated, so if sweaty feet is a problem you deal with, these boots may be an excellent choice.
This footwear features a composite toe that meets a litany of safety standards, including ASTM F2412-11 and ASTM F2413-11 I/75 and C/75 impact and compression safety standards and CAN/CSA-Z195-14 Grade 1. The Boondock is also rated for electrical hazards, and it meets ASTM F2412-11, ASTM F2413-11, and ASTM F2892-11 standards.
If you're looking for a comfortable option, these boots deliver in spades. The Boondock features Timberland's anti-fatigue technology that offers exceptional shock absorption and energy return to help you tackle long days on the job no matter what you're doing.
Not only are these boots comfortable and protective, but they're built to last, too — the upper features Ever-Guard leather, which provides impressive abrasion resistance. Rubber toe and heel caps provide an additional level of protection against abrasion and premature wear and tear, which helps you get more use out of your boots.
Pros:
Reinforced toe and heel area
Comprehensive protection against impact and electrical hazards
Antimicrobial odor control
Cons:
Doesn't fit true to size
Sole isn't as durable as other high-end boots
Finding a high-quality 8-inch work boot that you can rely on for comfort, performance, and protection for under $150 is virtually impossible. Realistically, it's hard to find even a decent pair of work boots in that price range. Thankfully, the Georgia Boot Company is working to change that with its G7313 Logger boots, which are packed with impressive features.
The G7313 boasts Goodyear welt construction, a full-grain leather upper, a steel shank for added stability, and a steel toe. These boots meet ASTM F2413 standards for impact protection and electrical hazard protection.
The leather is high-quality and abrasion-resistant, and the removable brush guard kiltie offers further protection against premature wear. The ten eyelets are made from solid steel, so you should never have issues with the eyelets pulling out of the boot.
If there's one knock on these exceptional boots, it's their weight. Between the steel toe and steel shank, these boots weigh in at three pounds each, which is heavier than most performance work boots on the market.
Pros:
Great value for money
Goodyear welt construction
Impressively durable
One-year warranty
Cons:
Very heavy
Not the most comfortable boots available
For years, tradespeople have lusted over Red Wing's top-of-the-line work boots. But, unless you were ready to invest $300 or more into a pair of boots, you were out of luck. Thankfully, Red Wing's Irish Setter label has brought Red Wing's notorious quality to the masses with a more affordable line of footwear.
The Farmington boot is full of high-end features that anybody can appreciate. The quality is nearly on par with Red Wing's main label, and these boots feature direct attach to welt construction, the ENDURANCE crosswire outsole, and a steel shank for added stability.
Despite the steel safety toe and steel shank, these shoes are fairly light, weighing in at just over two pounds per shoe. A removable PU footbed and an enlarged KINGTOE toe box provide cushioning and the room you need to feel comfortable at all times. The larger toe box also helps if you use insoles in your boots, as you'll still have plenty of room in the front.
The worn full-grain leather is attractive for work or casual settings, and it's every bit as sturdy and durable as Red Wing's other leathers. Anyone looking for a quality boot for under $200 should take a closer look at the Farmington from Irish Setter.
Pros:
Much more affordable than Red Wing boots
Roomy toe box for added comfort
Fairly lightweight for a steel toe boot
Cons:
Larger toe box makes them feel a bit clunky
Full lining makes them a bit hotter than most boots
The Fast-Tac 8-inch duty boot from 5.11 Tactical is a solid option for anyone looking for a reliable duty boot for an affordable price.
These boots offer an Ortholite footbed and enhanced cushioning to keep you comfortable at all times, and an Agion antimicrobial lining helps keep your boots smelling fresh, even after long hours on the job. The sole provides plenty of flex, which gives these boots an almost sneaker-like feel.
These boots feature an 840-denier nylon upper, which is abrasion resistant while still providing optimal breathability. Full-grain leather is stitched in all key wear areas for durability. These boots have a SlipStream waterproof lining with a bloodborne pathogen membrane to keep you protected, and the rugged slip-resistant sole keeps you on a sure footing in any terrain.
For waterproof footwear, the Fast-Tac boots still breathe exceptionally well, so they're a solid choice for anyone who gets sweaty feet when they wear other boots.
Pros:
Very comfortable
Affordable
Excellent breathability and still waterproof
Cons:
No safety toe
Not as durable as more rugged boots
Conclusion
When it comes to work boots, it's exceptionally important that the boots you select provide you with all-day comfort, rugged durability, and the safety features you need to stay protected on the job.
With so many different types of performance work footwear on the market, you should have no trouble finding a boot that suits your needs regardless of your line of work. Since everyone's feet are different, your best bet is always to try out as many different boots as possible before you decide on your perfect boot.
If you're looking for the best boots for any job, the Danner Quarry USA boot is our top choice. These American-made 8-inch work boots provide impressive performance features, like an alloy safety toe, fiberglass shank, and GORETEX waterproof lining. The Vibram sole is heavily cushioned for comfort, and it's as durable as any material you'll find on the market.
Meanwhile, if you're looking to splurge on a seriously high-end pair of boots, the 1412 from Red Wing may be your best choice. Red Wing manufacturers each component of the boot down to the full-grain leather in their Minnesota factory, and their dedication to craftsmanship is clear from the moment you lay eyes on this boot.
For anyone looking for the most bang for their buck, the Georgia Boot Company Logger 7313 boot is our clear favorite for the best value. This boot combines high-end features like Goodyear welt construction, a removable brush guard kiltie, and beautifully tanned full-grain leather at a price point that's virtually impossible to beat.
Of course, this is just the tip of the iceberg when it comes to the best 8-inch work boots. Our exhaustive list is an ideal place to start, but be sure to do your own research as well as you search for the best 8-inch work boots for your needs.