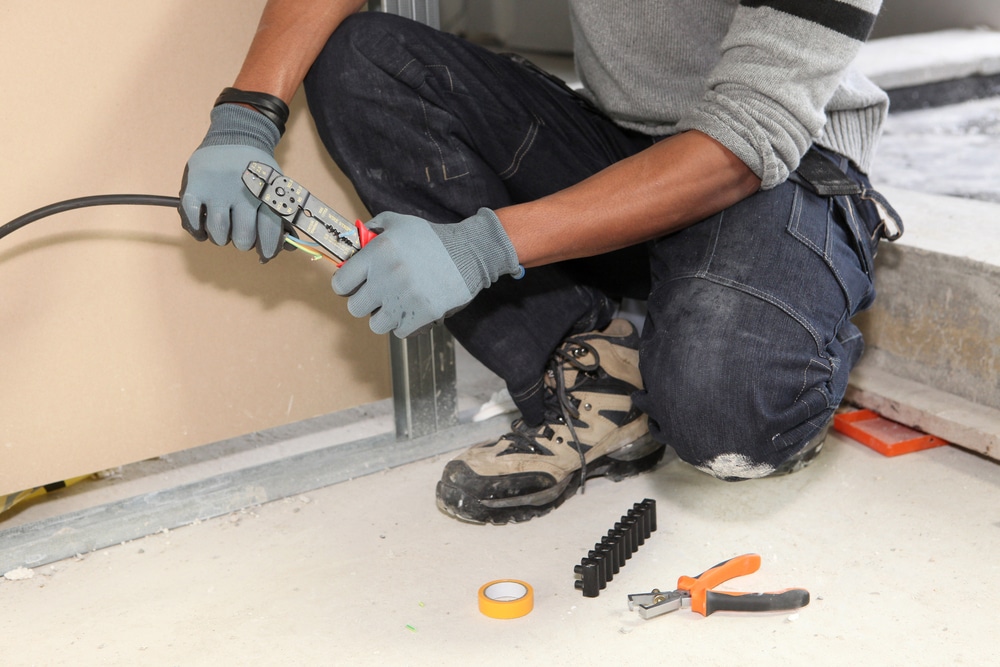 No matter what line of work you're in, you need the right tools for your job. If you're an electrician, your uniform is just as crucial as your tool belt. The boots that you wear must help you perform your duties and protect you from harm.
As an electrician, you need work boots that stand up to long hours on the job. More importantly, they need to keep you safe. But sometimes, the safest boots aren't the most comfortable ones, and the most comfortable ones won't protect you from electrical hazards.
While you're working, you don't want to think about your feet. If they're aching, you might get distracted. You need to be on your game when it comes to your job.
Electricians are also exposed to open circuits, live wires, and slippery floors regularly. Taking a misstep could put your life in danger. Your work boots should protect you from these dangers. The right boots can prevent you from having accidents on the job.
Our Top Picks
What Safety Features Should Electrical Boots Have?
If you're an electrician, you should look for boots with an electrical hazard rating. What that means is that the shoes protect you if you step where there is a live electrical current. Boots with electrical hazard protection must be capable of tolerating 18,000 volts for a minimum of one minute without transmitting the shock to your body.
Shoes that are ATSM-approved for electrical work are the best boots for electricians. Look for a stamp of approval to make sure that you buy boots that are ideal for your line of work.
Some of the features that make boots safe for electrical work include:
Thick rubber soles, which insulate you from the ground and prevent electricity from making a complete circuit
Non-conductive materials – Some people believe that electrician boots should not have metal toe caps or shanks. However, metal only conducts electricity when it's touching other metal. If leather, insulation, or rubber surrounds the toe caps, steel toes are not a problem.
Anti-static characteristics – Excellent for environments where static electricity could be an issue. For example, if you work around flammable materials, you need to discharge static electricity so that it doesn't cause a fire. Anti-static boots don't protect you from high voltages. Anti-static boots might have an ESD or SD label.
What Else Should You Look for in Boots for Electricians?
Beyond safety features, you should seek out some other characteristics that make the boots comfortable and useful.
How Are the Boots Built?
High-quality boots will last much longer than poorly constructed ones. However, you don't always get what you pay for. Look for specific product features that set superior boots apart from the rest.
For example, a Goodyear Welt is a sign of a high-quality boot. With this construction method, the manufacturer attaches a leather strip to the insoles and uppers. The soles are attached to the leather strip, creating a powerful bond. Boots with this type of welt can be re-soled if necessary.
Cement soles are bonded to the top part of the shoe with adhesive. These types of shoes are often lighter in weight and easier to break in. However, you can't replace or repair these soles.
Do They Have Traction?
Slip-resistance is a priority if you're working in hazardous environments. Your boots should have grippy soles made of Vibram or rubber, which create resistance against slippery surfaces. They must keep you steady on slick floors, wet surfaces, uneven terrain, and gravel.
Deep lugs, the indentations on the sole of the boot, work well for a variety of environments. If you're walking on pebbles, they'll still make contact with the ground and help prevent you from falling.
Electricians often have to climb ladders. Some types of boots feel clunky and insecure on ladder rungs. Look for some with a 0.75-inch heel to keep you safe on ladders.
Are They Puncture-Resistant?
If you work in a construction area or an environment that might be strewn with sharp objects, you'll likely need puncture-resistant boots. With these, thin metal or composite lies between the sole and the upper of the shoe. It provides extra protection from nails, glass, and other pointed items.
Do They Have Toe Protection?
Working with heavy equipment can put you in danger of breaking the bones in your feet and toes. Durable toe caps can safeguard you from falling objects and toe-crushing injuries.
Toe caps are often made of steel or another type of metal. If you're an electrician, it's not surprising that you might be concerned about the safety of these types of boots. As long as the metal is surrounded by rubber or another insulating material, they should be safe. Look for the EH rating on steel-toed boots.
You can also purchase boots with composite toe caps. These do not have any metal. They're usually lighter than metal toe caps. The composite material might be Kevlar, fiberglass, or carbon fiber.
Both metal and composite toe protection work well to protect your feet from getting crushed. Composite materials are often preferable for people who have to go through metal detectors frequently.
What Size Shaft Do You Need?
The shaft is the height of the work boot. Boots for electricians usually come with a 6 or 8-inch shaft. If you have weak ankles or need extra support, an 8-inch boot might be preferable because it will definitely cover your ankle. So will the 6-inch, but you'll have less support.
Six-inch boots are easier to put on and take off quickly. They're also a little lighter than 8-inch boots. If agility is important and you need to be fast on your feet, you might want to opt for the 8-inch boots.
Are The Boots Waterproof?
If you're going to be working outside, your boots should be water-resistant, at least. Soggy feet can make you uncomfortable and interfere with your concentration. Waterproof boots will prevent you from being miserable at work.
Even if you don't work outside, you're bound to be walking through puddles on your way to and from work sometimes. Waterproof boots keep you comfortable.
Read Also: Best Boots for Landscaping
How to Shop for Electrician Boots
If you're looking for work boots, follow the tips below to streamline the process and end up with the best boots for your needs:
Research – Find out whether your job requires you to purchase boots with specific safety features. You don't want to buy a great pair of boots only to learn that they aren't acceptable for your work environment.
Shop later in the day – Try on your boots in the afternoon or evening. Your feet swell throughout the day, and your boots may feel tight at the end of a long workday if you bought the ones that fit you perfectly when you tried them on in the morning.
Wear the right socks – Put your boots on with the socks that you'll be wearing to work. You need to know exactly how they'll fit during long days on the job.
Look for comfort features – Your boots should keep you safe, but they must also be comfortable enough to wear all day. Look for elements such as padded insoles, which will make your feet feel better. If the boots don't have padding, check whether they have room to add orthotic insoles. If you work in cold climates, you might want to buy insulated boots.
Read reviews – Shopping online is convenient because you can read reviews about your potential purchase and learn some of the nuances of the boots. Remember that everyone's feet are different; what works for one person may not be ideal for the next.
Best Boots for Electricians: Reviews
These leather boots have a 6-inch shaft that covers the ankle but gives you plenty of range of motion. They're durable, comfortable, and geared toward people who work in hazardous conditions.
One of the first things that you'll probably notice about these boots is how comfortable they are. The padded collar feels soft around your ankle. With a 13-inch circumference, the opening is also wide enough to allow large boots to go in and out of the boot freely.
Even the tongue is slightly padded. It provides some comfort against the top of your foot.
The Ortholite footbed gives you even more cushion and soothes sore feet. It has ergonomically designed cushioning in various zones to support you while optimizing flexibility.
To make you even more comfortable, the boots feature Dryz Intellitemp X-Static technology. This wicks away moisture and helps your feet regulate their temperature. The mesh lining is antimicrobial and combats odors.
These boots are ideal for wearing in warmer temperatures. They're not insulated, which means that your feet might get cold in the winter. But if your feet run hot, you won't have to deal with walking in pools of sweat.
The composite toe cap protects your delicate toes from falling objects and heavy blows. It won't set off metal detectors or conduct electricity.
The slip-resistant outsole provides even more stability. It helps you maintain your footing in slick conditions. The 1.5-inch heel is perfect for climbing ladders and giving you some support underfoot.
The cement construction makes these boots lightweight. They're also easier to break in than boots with Goodyear welts.
Timberland guarantees the comfort of these boots. If you're not happy with them for any reason, you can return them within 30 days, no questions asked.
These boots aren't completely waterproof. However, the leather is so thick and durable that it will keep the elements away from your skin. You can treat the boots with a waterproofing product for added protection.
Pros:
Breathable, temperature-regulating lining
Meets or exceeds ATSM standards, including electrical hazards
Lightweight, composite safety toe
Antimicrobial lining fights odor
Rubber outsole is abrasion and oil-resistant
Cons:
Not completely waterproof
The eyelet holes for the laces aren't durable and may pull out
For electrician work boots, these are surprisingly streamlined. They have thick soles, but the uppers are not bulky.
These boots have rugged flex technology, which makes you feel as though you're wearing a sneaker. This technology features layers of polyurethane that are sandwiched between your feet and the soles to maximize your comfort.
The footwear stretches and moves with you, making it easy for you to do the work that you need to do. The cement construction adds to the durability and flexibility of this boot.
The dark, oil-tanned leather stands up to weather, spills, and scuffs. It looks great even after years of wear.
The lugs on the bottom of the soles are perfect for working in any environment. These boots also feature ladder lock channels, which keep you safe even at the greatest heights.
Even though the sole is thick, it's lightweight. It's made of rubber, which protects you from electrical hazards. The sole is also resistant to oil and chemicals. The midsole is cushioned with EVA, which won't drag you down and provides padding underfoot. The Ortholite insole adds another layer of comfort.
The padding doesn't end there. The ankle and tongue of these boots have generous cushioning to prevent the tops of your feet and ankle from getting chafed.
These boots are ideal for a variety of working conditions. They have a storm defender membrane, which is waterproof and breathable. Whether you're on the job or taking a hike in the great outdoors, you can count on these boots to support your ankle, protect your feet, and give you peace of mind.
The 6-inch shaft is tall enough to help you stay stable. A composite toe provides added protection to keep your feet safe.
Pros:
Waterproof
Breathable
Plenty of padding
Abrasion-resistant heel bumpers
Streamlined profile
Extra-wide toe box
Cons:
Not insulated
Takes time to break in
Not enough padding in the heels
This boot looks tough and rugged. The manufacturer constructs it with 100% leather and rubber soles.
If you can't decide between a 6 or 8-inch shaft, perhaps you'd like to choose this option. It has a 7-inch shaft, which covers the ankle but doesn't rise so high up the calf. People who find 8-inch boots restrictive might prefer this middle-of-the-road option.
The sole has a 1.5-inch heel, which is perfect for climbing ladders and keeps your foot slightly elevated. The platform in the front measures about 1 inch.
One of the best features of these boots is the removable footbed. It's made of high-density polyurethane, which conforms to your feet and provides cushioning without weighing you down.
VGS 300 technology transfers shock absorption where you need it most. It's proven to withstand up to 300 pounds of pressure. It won't compress over time and stays as soft as the day you bought the shoes. If you need custom orthotics, you'll have plenty of room to insert those.
These boots are incredibly durable. With Goodyear welt construction, they'll last a long time. They can also be re-soled if necessary. This feature makes these boots an excellent investment.
The outsole is grippy, thick, and flexible. You'll keep your footing in many different environments. The soles are oil and slip-resistant.
Because these boots are EH-rated, they don't have any metal. The composite toe will protect your feet without conducting electricity. This type of toe cap also keeps your feet warmer than metal toe caps in the winter. The eyelets are also plastic to make these boots completely metal-free.
One of the only downsides to these boots is that they're not waterproof. They're more appropriate for dry environments. If you do a lot of work outdoors, these may not be the best boots for you.
Pros:
Goodyear welt construction adds durability
Flexible sole
EH rated
Extremely comfortable cushion beneath the foot
Cons:
Not waterproof
Not insulated
These premium boots have a leather and synthetic upper and synthetic sole. They utilize advanced technology to provide durability, comfort, and support.
The soles are puncture-resistant, which means that you can walk in many environments without worrying about damaging your feet. Even though the soles are so resilient, they're not bulky or uncomfortable.
The Stableflex technology allows you to move freely in the forefoot. It also provides stability in the heel. This technology is similar to what you might find in a running shoe or athletic sneakers.
One feature that makes these boots unique is the combination of Goodyear welts and cement construction. The rear of the shoe has a Goodyear welt build, which enhances the sturdiness. The front is adhered with cement for flexibility and ease of movement.
If you need your feet to stay dry in wet conditions, these boots are indispensable. They have ultradry waterproof components that prevent moisture from entering. If you deal with sweaty feet often, you can rest assured that the moisture-management lining will wick dampness away from your skin.
Armatech technology adds to the waterproof qualities and resilience of these boots. The manufacturer adds this material to high-wear areas for extra resistance against scuffs and tears.
Pros:
Puncture-resistant
Moisture-wicking lining
Thinsulate Ultra insulation
GORE-Tex waterproofing
Composite safety toe
EH-rated
Cons:
Not as slip-resistant as some other boots
These work boots come in insulated and non-insulated versions. Therefore, you can choose the perfect footwear for your climate and working conditions.
The 100% leather boots have a GORE-Tex lining, which prevents moisture from getting to your feet. This feature makes them ideal for various weather conditions.
If lacing your boots tends to slow you down, you might want to consider purchasing this footwear. The speed-lacing system lets you tighten the closure with one tug. No more fumbling with the laces when you're in a hurry.
Plus, these boots are downright comfortable. They have a secure heel cup that keeps your foot in place. The toe box is roomy enough to accommodate the way that your feet spread when you carry heavy loads.
The EVA midsole provides ample cushioning while allowing your foot to flex. You'll get added support from the 8-inch shaft, which ends at the mid-calf to prevent your ankles from rolling.
If you're worried about slipping in slick conditions, rest assured that the Vibram outsole will keep you steady. It's also oil-resistant and won't corrode over time when exposed to petroleum-based products.
You'll stay safe in these EH-rated boots, which meet all ATSM standards. The composite toe cap adds an extra safety feature.
Pros:
Full-grain leather upper
GORE-Tex lining makes these boots waterproof
Fast lacing system
EH-rated
Shock-absorbing outsole
Thinsulate Ultra insulation
Cons:
Low-profile heel isn't ideal for climbing ladders
Not much padding around the collar
Safety comes first with these Keen boots. The patented toe protection is a unique feature that Keen adds to their boots for maximum durability. The sole wraps up over the front of the foot with no separation in between the outsole and upper in that area. You won't have to worry about your soles coming loose and flapping open, making you trip or fall.
Plus, this feature protects your toes from being stubbed or crushed. It's also perfect for electricians who frequently scuff their toes by crawling in attics and basements.
Beyond the outer toe protection, these boots have a steel safety toe. These are the perfect boots for people who work with heavy loads and need to safeguard their feet. Keen makes the safety toes with an anatomically-correct, asymmetrical design. It gives you more room for your big toe and lets your feet move freely in the toe box.
The waterproof membrane lets moisture out of the shoe without allowing it to penetrate inward. Therefore, you can wear these in wet environments, but you don't have to deal with sweaty feet all day.
The soles are oil and slip-resistant. They'll stand up to a variety of environments without breaking down. Plus, they're made of rubber and EH-rated.
Keen offers a one-year warranty on these boots. You don't even have to send the boots back; you can take a picture of the defect.
Pros:
Extra cushioning in the heel
Waterproof membrane
EH-rated
Made in the U.S. with minimal waste
Roomy toe box
Speed-lacing system
Cons:
Low shank may not provide enough ankle support
Can be slippery on icy surfaces
If you have felt constricted by narrow openings at the top of your work boots, you might want to try this Caterpillar footwear. The opening measures about 15.5 inches in circumference, leaving plenty of room for movement in the calf. However, with their 6-inch shaft, they're tall enough to support your ankle and prevent it from rolling.
The ankle is slightly padded for a comfortable fit. The top of the tongue is also cushioned to ease the pressure on your feet.
The leather upper is waterproof and keeps your feet dry. The seams are also sealed to ensure that moisture can't enter through any cracks or crevices. The nylon mesh lining wicks away moisture and feels comfortable to step into.
The manufacturer uses synthetic fabric in a contrasting tone at the toes and ankle for an aesthetically pleasing design. But the real benefit of these boots is that they're designed to keep you comfortable all day. An ergonomic comfort system has specific contours to match your foot's shape. The anatomically correct design keeps you more stable and prevents foot fatigue.
This brand makes an EVA insert with gel. It's so comfortable that you might not want to take these boots off when you get home. If that's not padded enough for you, you can remove the insole and replace it with a different one.
You'll stay warm in these boots. Thinsulate insulation provides a barrier from the cold.
A steel toe keeps your feet safe. However, the manufacturer doesn't indicate whether these boots are EH-rated.
Pros:
Removable EVA gel insole
Waterproof leather upper
Extreme slip resistance
Very lightweight
Cons:
Not as durable as some of the other shoes in this review
These RockRooster boots come in tan and black leather. They look as good as they feel, which is saying a lot. The manufacturer created these boots for comfort as well as safety.
Many leather electrician boots trap heat. These don't do that. They have CoolMax technology, which transfers moisture away from the body and allows it to dissipate. These are some of the most breathable work boots that you can find.
Even though these boots will keep you cool on hot days, they help you regulate your temperature when it's cold out. These are the ideal boots for every season.
They'll keep you safe when discharging static is important. These boots let you release electrical charges into the ground and keep you safe around combustible materials. The outsole is also slip-resistant, puncture-resistant, and oil-resistant.
The anti-fatigue footbeds let you work long hours without sore feet. They're anatomically contoured and cradle your feet with cushioned support.
One of the best features of these boots is the zipper closure. The footwear laces up so that you can adjust them to fit you perfectly. Once you set that up, you can put them on and take them off quickly using the zipper on the inside of the boot.
However, there is a safety strap that crosses the zipper. It can make it difficult to maneuver the zipper quickly and easily.
The steel toe protects the structure of your foot. A rubber cover over the top of the toe protects the boot from damage.
Pros:
Easy on and off with zipper closure
Static-dissipating
Keep you cool on hot days and warm on cold days
Dlip-resistant outsole
Toe has rubber coating for abrasion-resistance
Cons:
Toe box isn't very roomy
Safety strap at collar impedes zipper
These budget boots are high in quality and value. They offer plenty of safety and comfort features for electricians or anyone who is on their feet a lot.
The premium, full-grain leather upper protects your feet from harm. It's durable and tough to cut or tear. The front of the rubber sole extends up over the toes, giving extra protection to your feet and the boots.
Large lugs in the outsole provide excellent traction. These boots are slip-resistant and will stand up to oil and slick surfaces. Plus, the aggressive tread is great for keeping you steady on rocks or mud.
They're also puncture-proof. You can walk peacefully on any surface without worrying about getting poked by a stray nail or other sharp objects. Plus, the steel toes protect you from falling objects and make these shoes even sturdier.
The anti-static boots keep you safe in perilous environments. The injection-molded construction makes the midsoles durable and comfortable.
Although these boots are not waterproof, you can spray them with a waterproofing product before you wear them. If you work in extremely wet conditions, though, you might want to search for a boot that has better waterproofing capabilities.
Pros:
Premium leather upper
Significant rubber toe covering
Comfortable footbed
Oil and slip-resistant rubber outsole
Discharge static
Cons:
Are you tired of wearing tall and heavy work boots? For electricians who prefer their boots to feel like athletic shoes, LARMMERN has created an especially sporty type of footwear. You'd never guess that these boots have steel toes and as much protection as bulky work boots that most electricians might wear.
The manufacturer makes the uppers with a combination of leather and mesh for durability and breathability. This blend of materials also reduces the weight of these shoes.
Even though they're so lightweight and comfortable, these shoes have a wide range of safety features. Reflective strips on the uppers improve your visibility when you're working at night.
These boots have a steel toe cap embedded in the front of the boot. The puncture-proof midsole keeps the bottoms of your feet safe too.
The tongue is semi-nested to prevent dirt and debris from getting trapped inside the opening. They're also wind-resistant and can keep your feet warm.
The slip, oil, and abrasion-resistant outsoles will hold up to heavy use. You'll get excellent traction on slippery surfaces indoors and out.
If you work around flammable materials, these shoes will help keep you safe. The manufacturer has incorporated anti-static wires in the insole to discharge static electricity.
These boots are incredibly comfortable. They have ample padding around the opening and underneath the tongue. The cotton lining absorbs moisture and allows your feet to breathe.
Because of the mesh upper, these shoes are not completely waterproof. You might want to improve their moisture protection with a waterproofing spray.
Pros:
Heel loop helps you put the shoes on
Static-discharging shoes
Comfortable
Lightweight
Cons:
Not much ankle support
May run small
Not very water resistant
Like the LANMERN Steel Toe Boots, these Wolverine Work Boots have a leather and mesh construction to enhance airflow and help you manage moisture from the inside out. If your feet sweat while you work, the moisture will dissipate. You'll be able to regulate the temperature of your feet well.
The shaft is lower than most electrician boots. It measures 5 inches from the arches and might not cover your ankle completely. If you generally work on flat surfaces, this shouldn't be a problem. However, it might not provide enough ankle support for people who work on uneven terrain. Even though the shaft is short, it contains a nylon shank for added stability.
The boots have a steel toe. The upper also has a toe covering that protects the leather from getting scraped or scuffed. The rubber toe covering also provides added protection against water.
These shoes aren't completely waterproof. However, they hold up well in damp climates. As long as you're not treading through puddles or stuck in a downpour, the shoes should hold up fairly well in wet conditions.
The insole is removable. Therefore, if you don't find these boots to be as comfortable as you'd like, you can swap out the insole for one with more arch support or padding.
Because the sole is synthetic, it's lightweight. It's directly attached to the upper for flexibility and reliability. However, you wouldn't be able to get these shoes re-soled if they needed it.
Pros:
Heel loop for easy insertion
EH-rated
Break in quickly
Cons:
Low shaft
Not insulated
May not be ideal for wide feet
When you need a relaxed fit and flexible sole, look for the Skechers Workshire Condor Boots. The uppers are made from 100% leather. They come in black and brown to go with any uniform.
One of the first things that you'll notice when you put these boots on is how comfortable they are. They don't have thick, firm uppers. The soles flex with your feet. They feature memory foam under your foot so that every step you take feels great.
The insoles are not removable. Therefore, if you want to add orthotic inserts, you might have to size up. But these boots are so comfortable that they reduce foot soreness and fatigue without a custom insole.
Even though they look like a pair of stylish, casual boots, this footwear will keep you safe on the job. The boots are EH-rated and slip-resistant.
There is no steel or composite toe cap on these boots. Therefore, they might not be suitable for jobs that put you in danger of having your feet crushed by falling objects. But they're appropriate for other types of work that require agility.
Pros:
Slip-resistant
EH-rated
Flexible fit
Comfortable right out of the box
Memory foam midsoles
Cons:
No insulation
Not puncture-resistant
No safety toe cap
Conclusion
If you're an electrician, you have a wide variety of work boots from which to choose. Some look like traditional work boots; others are more like sneakers. You need to choose the appropriate type for the job, your foot shape, and your needs.
The best boots for electricians overall are the Carhartt 6-inch composite toe boots. They look great, don't drag your feet down, and have an affordable price. Although these boots are rugged, they aren't too stiff. They flex with your feet and help you stay comfortable when you're standing up all day.
In addition to comfort features, the Carhartt boots keep you safe. They're rated for electrical hazards, and the soles are resistant to oils and chemicals. Plus, the treads offer excellent traction in a variety of surfaces. The only thing that's not ideal about these boots is that they're not insulated. If you work in cold conditions, you might want to look for something warmer.
When you have a little more money to spend or want to make an investment that lasts longer, you might want to buy the Thorogood Gen-Flex 6-inch composite work boots. They are the only ones that we reviewed that have Goodyear welts. That makes them much easier to repair or re-sole than other boots in this category.
Plus, the 7-inch shaft gives you adequate ankle support without limiting our mobility. The boots also have a removable insole and thick outsoles. The only thing that we didn't love about these boots is that they're not waterproof. But that's a quick fix with a waterproofing spray or product.
Finally, if you want to save some money, consider the Overstone Anti-Static Work Boots. They have many similar safety and comfort features as the other shoes that we reviewed here. However, they're less than half the price of many of the other boots.
We love that these boots have a toe cap and puncture-resistant sole. They're slip-resistant and durable enough to wear every day.
Take a look at the different products in this article before you decide which ones to purchase. They have different designs and features, but they're all of high quality. As long as the boots satisfy the requirements of your job and feel comfortable on your feet, they're likely to be the best electrician boots for you.