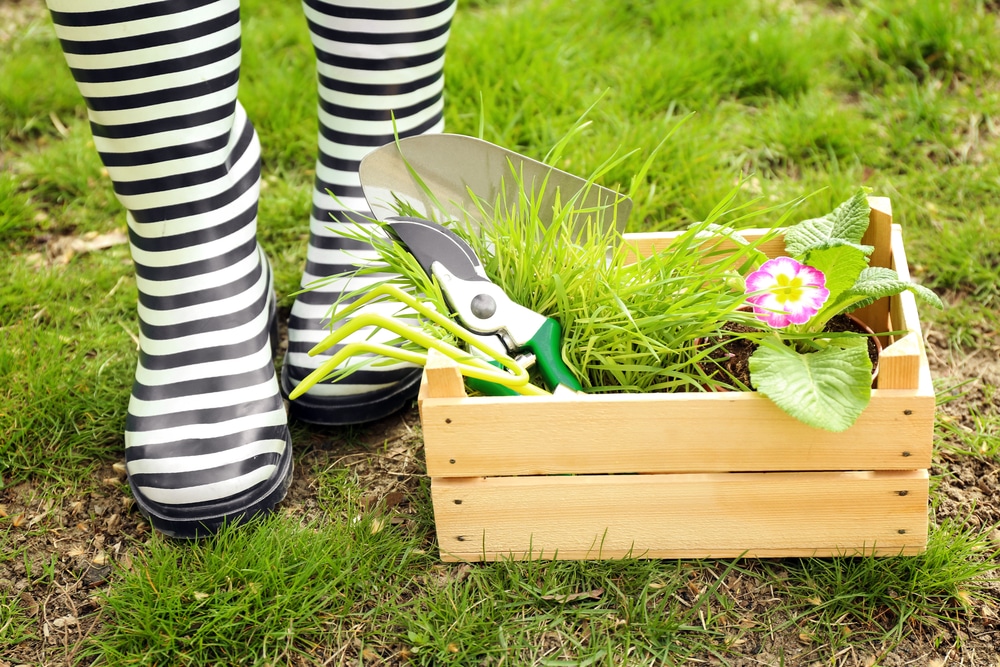 Landscaping involves creating natural spaces with visual appeal. A landscaper prepares lawns, plants, shrubs, trees, and flowers in pleasing designs. The process involves long hours in the sun, exposed to the elements. You need to be creative and somewhat strong to be a landscaper.
Landscapers maintain the grounds of property by mowing lawns, watering plants, taking away dead leaves, and performing other tasks. The degree of maintenance depends on how much greenery covers the property and the complexity of the design scheme.
A home gardener can wear athletic shoes to tend a small garden or a few plants, but professional landscapers or folks with extensive gardens need sturdier footwear.
The best boots for landscaping resemble boots that factory workers and construction workers wear. Landscapers work outdoors, like construction workers, and encounter many of the same issues. Electrical hazards, oil and chemical spills, water, mud, fallen tree branches, and other problems can cause injuries.
Invest in a sturdy boot for your landscaping to avoid injuries so you can work faster and more efficiently.
What to Look for in a Landscaping Boot
A landscaper needs to wear suitable footwear and clothes for long hours in the sun. He or she uses work implements, including power equipment, chemicals, pruners, cultivators, and fertilizers. You need to wear durable, closed toes boots or shoes while handling these items or risk injury.
Your landscaping work boots should be sturdy enough to protect your feet when you climb over rocks, dig through dirt or walk through mud. Landscaping boots need to shield your feet from insects or debris you encounter as you work.
Well-made landscaping boots help you maneuver inclines. Steel toe boxes prevent you from stubbing your toes. Your boots should also have a padded tongue and collar to keep your foot comfortable as you move through different parts of the landscape.
Gardening boots that double as rain boots are an excellent option if you have a small home garden. Rain/garden boots are less expensive than regular landscaping boots, though they aren't as tough. (Theses boots don't have steel toes, for example.)
Most rain/gardening boots are made from women, but you will occasionally find men's or unisex styles. Gardening boots may have colorful patterns or colors, and you can slip them on and off quickly. Rinse these boots off with a hose, like you would any rubber or rubber-like rain boot.
Desirable Features in Landscaping Boot
Removable liners give you additional protection from moisture. Some mesh liners will keep your feet fresh on hot summer days, be treated with anti-microbial to prevent bacterial growth.
Your boots should protect your feet against moisture from rain and irrigation water. Wet socks feel terrible, and water in your boots may cause you to slip and fall. Excess water in your boots may damage the material and cause foul odors.
Even if you feel you'll never work in the rain or deal with irrigation systems, always look for water-resistance features in landscaping boots. You'll still need to protect your feet from damp soil, morning dew, and less apparent forms of moisture.
The boot's midsole should follow the shape of your feet and be raised and contoured. Anatomically correct midsole supports your arch and guards against supination and overpronation.
Insoles should be springy and soft and absorb impact as you walk. Check for ample cushioning inside the boot to keep feet comfortable.
Directional lugs placed on the sole bottom grip the ground. These treads help you walk on soil, sand, or leaves. Some designs redirect water away from certain points on your foot to ensure you walk safely on water or oil-covered surfaces,
Other Landscaping Gear
You'll need to wear special clothing when landscaping, too. Coveralls keep your regular clothes clean while you work in the dirt, and cut thorny plants. You won't need a belt when you wear coveralls, and they come in many durable fabrics and blends.
Coveralls may have zippers, pockets, or loops that let you store your tools while you do work around the garden. Overalls give your similar protection and comfort. Bib overalls have lots of pockets to store small tools. Some overalls have loops to store larger tools.
Other landscaping gear includes goggles or safety glasses you can wear when using power tools. Wear neoprene or rubber gloves when mixing chemicals or using fertilizer.
Safety
Landscaping may not sound like a dangerous job, but you'll encounter many hazards, depending on the tools you use and the specific tasks required by each project.
Here are some ways landscaping boots keep your feet safe while you work.
Foot and Arch Support
Landscapers stand all day and are often required to stoop and bend while completing specific tasks. Therefore, ergonomically-correct boots are important to keep feet comfortable and prevent injury.
You'll encounter rocks, debris, thorny plants, steep inclines, insects, and other obstacles as you do landscaping work. Landscaping or garden boots keep your feet safe from injury or infection. Work boots for the garden have firm arch support, gel insoles dense padding, and other features to keep you comfortable during a busy day.
Shanks made from composite material, steel, or fiberglass give you arch support. Shanks are located directly in the sole of the boot. Shanks prevent you're the bottoms of your feet from buckling. Your arches will stay steady on bumpy or uneven ground.
You won't twist your ankle when a tall shank gives you extra support. A tall shank extended above the ankle will give you enough support and align with your feet.
Protection from Heavy Equipment, Chemicals, and the Elements
Tools such as shovels and garden forks may cause cuts or even amputations. These implements may hurt your feet or other parts of your body if misused. Lawnmowers and other electrical equipment may malfunction and cause electrocution if you don't wear sturdy, steel-toed work boots made to withstand electrical hazards.
Your boots also need to protect your feet from the elements. Landscaping boots should be waterproof and have a sturdy toe box. Full-grain leather is one of the best materials for landscaping boots. All leather work boots should last a long time and withstand heavy walking on tough terrain.
Landscapers use chemicals, pesticides, abrasives, and oils to create or maintain large gardens and green areas. A waterproof boot will help prevent soggy feet and stop falls. A rubber sole with excellent traction gives landscapers enough grip on gravel or other uneven surfaces to avoid slips and trips.
You'll also lift and move tools, equipment, and lumber, stones, statues, or other heavy objects doing landscaping work. You may drop these objects occasionally, so a steel or composite safety toe boot is essential for your safety.
A toe safety cap protects your toes and metatarsals from hard materials, tree branches, and heavy-duty equipment. Shields and caps prevent mishaps with hard materials from fracturing or crushing delicate bones in your feet. A toe cap is made from steel or composite material.
Look for landscaping boots with special treads on the soles to grip the earth effectively as you walk or climb. Thick soles may have metal shields to guard your feet against nails, branches, and sticks.
Make sure the uppers are well-constructed but comfortable. Your boots should be sealed to prevent water from entering through gaps in the upper material. The sturdiest boots for landscaping have cement or a Goodyear welt on the soles to keep the bottoms of your feet dry.
Landscape Boot Brands
Landscaping boots are manufactured by the same companies that make work boots for factories and construction. You'll also find landscaping boots by Skechers and other hiking and athletic shoe brands. Few landscaping boots are advertised as such; most are marketed as generic work boots.
However, any boot with a cushioned footbed, real leather construction, waterproofing, steel toes, insulation, and/or other features usually found in work boots will protect your feet if you do landscaping.
Caterpillar, Keen, and Carhartt offer boots with steel toes, EVA foam footbeds, waterproof construction, and other features you'll find in construction boots. Landscapers have to deal with many of the same problems as construction and factory worker, including electrical hazards, falling objects, and chemical spills.
Amateur landscapers working on their property may not need normal work boots. Rain boots that double as gardening boots may be appropriate for homeowners tending to their gardens. These boots often have gripping treads on the soles for better traction and fit tightly against the foot to keep water away from your skin.
Read Also: Best Lineman Boots
Best Boots for Landscaping
Here's our list of the best boots for landscaping. Some of the boots are manufactured by familiar names in the construction industry, like Caterpillar or Carhartt, while others are made by popular consumer shoe companies.
Most of our landscaping boots are made for men and are appropriate for moderate to heavy landscaping jobs. We've included one woman's rain and gardening boot, which can also be used for light landscaping jobs.
These steel toe utility boots protect against debris and the elements while giving your feet enough room to move. The slip-resistant rubber outsole allows the boots to grip better on all sorts of terrain.
Asymmetrical toe protection protects the toes on both feet. The large toe box lets your toes spread out, breath, and flex. This design prevents pinching when you hyper-flex your feet.
These Keen boots are pretty tough, and they offer medium duty for advanced projects. The contoured heel lock ensures a comfortable fit even during challenging landscaping projects. There's a Dry-Lex footwear lining to keep moisture out and a removable EVA footbed.
The Keen Utility Men's Pittsburgh Steel Toe Work Boot contains a waterproof, breathable membrane that lets vapor out but keeps water from seeping onto your foot.
The rubber toe guard and traction offered by the soles keep your foot steady to prevent injuries. These utility boots have an ATSM rating of F2412-11, F2413-11 I/75 C/75 with reflective webbing and protection against electrical hazards.
The durability is the main selling point with these boots. The Keen Utility Pittsburgh Steel Boot lasts at least a year or two even with daily, hardcore use. These boots aren't insulated, however, which may be a problem if you work in cold or damp weather.
Keen Utility Steel Toe Work Boots cover all the bases, except for insulation. Unless you continuously work in cold temperatures, these boots will protect your feet on all your landscaping tasks.
These boots come in bison brown/red, brown/slate black, black/yellow, raven/yellow and brown/black.
Pros:
Contoured heel lock
Dry-Lex footwear lining
100 percent Nubuck leather
Removable EVA footbed
Slip-resistant rubber outsole
Cons:
Not insulated
Boots aren't breathable enough on hot days
Seams come apart after a few months of use
The CMF6380 has a premium leather upper and six-eyelet lace-up closure design with speed hooks. (The eyelets are constructed in a way that makes laces last longer.)
There's visible contrast stitching that give the uppers more detail. This Carhartt boot offers composite toe protection to prevent injuries. The breathable, waterproof construction helps feet stay dry.
The composite safety toe adheres to or exceeds ASTM 2413-11, EH safety standards.
EH stands for Electrical Hazards. An EH safety rating means the boots won't conduct electricity to keep you safe while you work.
These boots have EVA cups inserted into the heels for better step recovery. Cement glue keeps the soles in place. The soles resist oil and chemicals, so you don't need to worry about accidental spills.
A padded collar keeps your feet safe as you move around, and the rubber heels and toe are durable as well as comfortable. The Rugged Flex® rubber outsole is slip and oil resistant, and the dual-density OrthoLite® insole keeps your feet cushioned and cozy.
These boots are a bit stiff when you first wear them but conform to your feet as you begin to wear them more often. You can wear CMF6380 boots all day and feel comfortable.
These work/landscaping boots have a heel height of two inches and a platform height of one inch. This Carhartt boot comes in one color, dark brown oil-tanned leather.
Oiled leather is more water-resistant than regular leather and somewhat sturdier. Oiled leather has more flexibility and avoids wear and tear easily. The leather bends with your movements. You can clean oiled leather easily after a day on the job
Pros:
Padded collar
Rubber heel and toe
Composite safety toe meets EH. ASTM 2413-11 standards
Lace-up closure
Breathable and protects against the elements
Cons:
Not waterproof as advertised
May hurt feet if you do lots of walking
Poorly constructed
The Danner Quarry USA Work Boot has a full-grain leather upper. This boot is well put together, with triple-stitching and a fiberglass shank for better support. The triple-stitched construction ensures a longer life for the boots, even if you use them often. The boot's stitch-down construction provides more stability underfoot for complicated projects.
There's a cushioned footbed to keep your feet pain-free during long projects. The Gore-Tex® lining prevents water from entering the boot.
For better traction, the Vibram® Quarry outsole has a 90-degree heel to give you more leverage, a non-linear lug pattern, and a slip-resistant rubber compound. The slip-resistant rubber compound integrated into the sole. Along with a lug pattern, the treads give you a better grip on all surfaces and get rid of debris.
These boots feature traditional lacing for a more accurate fit.
This boot has a one and a half inch heel height, a three-quarter inch platform height, and an eight and a half-inch shaft length. The Danner Quarry USA Work Boot is brown with yellow laces.
If you want premium construction and durability, this landscaping boot offers underfoot stability, triple stitching, excellent traction, full-grain leather upper, waterproofing, and breathability. There are a few drawbacks to wearing this boot, and the minor complaints, such as thin soles, are a matter of personal preference.
Many people need a break-in period with this boot, but once you get used to the Danner Quarry, it will be well worth the time. You can wear this boot regardless of your foot shape or size.
This boot isn't insulated, so it may not be the best choice if you expect to work in a cooler climate. The Danner USA Quarry can be recrafted by Danner, which means the manufacturer can restitch the boot, replace parts, or repair leather.
Pros:
Full-grain leather upper
Fiberglass shank for support
Waterproof Gore-Tex® lining
Cushioned footbed
Fiberglass shank for support
Cons:
Poor quality leather
Uncomfortable
Thin soles
These Timberland boots look like sturdy hiking boots at first glance, but they're made for landscaping, hiking, construction, and other heavy-duty occupations.
The Timberland PRO® Hyperion WP XL Safety Toe boot has a waterproof membrane in its leather upper. There's a molded EVA midsole for better comfort and performance. Lace up these work boots to your best fit with dual-purpose top hardware and high-quality laces.
The safety toe cap protects against falling debris or tools. (The safety toe meets I/75 and C/75, ASTM F2412-11 and F2413-11 impact/compression safety standards.)
The PRO Hyperion boot is EH rated to protect you against electrical hazards, including stepping on electrical parts, conductors, or live electrical circuits.
There's an Agion® antimicrobial mesh lining to keep your feet cool and dry. You'll stay active longer because of the contoured, dual-density footbed that controls moisture and absorbs shock. Another unique feature, the Ladder Lock™ outsole radius, gives you more stability when you use extension ladders.
The sturdy rubber double toe and Ever-Guard™ leather backstay protect against abrasions. Your ankle receives protection from the fiberglass shank, and the Vibram® rubber outsole is slip and shock-resistant.
The contoured insole provides support at pressure points, including the heel and ball of the foot. There's dual-purpose lacing hardware, and the Timberland PowerFit™ system offers more comfort at specific zones.
The Timberland PRO® Hyperion WP XL Safety Toe boot measures six inches from the arch and has a 14-inch circumference. This boot has a 30-Day Comfort Guarantee. Return the boots for a refund if you're not satisfied within 30 days of purchase. This boot comes in black and brown.
Pros:
Premium leather
A lightweight molded EVA midsole
Alloy safety toe
Anti-fatigue technology
Contoured insole
Cons:
Poor construction
Uncomfortable
Rubber soles wear out easily
Irish Setter boots, including the Six Inch 83605 Work Boot, look as attractive as a fashion boot because its made with top grain leather. The leather used in this boot is handcrafted by the S.B. Foot Tanning Company exclusively for the Irish Setter brand. These boots also feature double stitching to assure durability and longevity.
There's a soft polyurethane footbed that molds to the shape of your feet to provide a pain-free experience on busy days or anytime. These work boots have heat-resistant, rubber EVA outsoles. The soles may seem hard, but there are comfortable on most surfaces, including concrete and stone.
This work/landscaping boot will protect your feet against out-of-control carts and dropped objects. The toe-safety coverings meet impact and compression standards ASTM F2413-11, I/75C/75.
The 83605's shaft measures five and a half inches from the arch, the heel measures one and a half inches, and the boot opening measures 13.5 inches all the way around.
The durable leather, good traction, and waterproof covering make this a prime candidate for light to moderate landscaping functions.
However, this Irish Setter boot style lacks toe protection. If you use heavy equipment or work in areas where rock and debris may land on your toes, you should choose another pair of boots or add toe protection to these boots. The waterproof covering and fine leatherwork together to keep your feet dry and get rid of excess water.
The 83605 work boot comes in brown with brown and gold laces.
Irish Setter boots are part of the Red Wing shoe brand.
Pros:
Heat resistant rubber-EVA outsole
Rubber sole
Made of full-grain leather
Comfortable out of the box; no break-in period needed
Well made shows few signs of wear after extensive use
Cons:
Your feet may get hot after wearing these boots for a long time
Sole may split after a few months
No toe protection
Skechers makes many shoe styles besides sneakers. The Skechers Men's Mariner Utility Boot has some of the sturdy features you'd expect from name-brand construction boot manufacturers.
This 100 percent leather landscaping/work boot has a smooth or oiled upper. The padded collar offers comfort throughout tough jobs, and reinforced seam detail increases durability.
The Mariner has gel-infused memory foam for better comfort and fit. Memory foam offers pressure relief and breathability. The foam is sandwiched between the moisture-wicking insole and molded, dual-lite base material.
If you live in or do landscaping in rainy climates, the Mariner will keep your feet dry. The real leather construction will guard against mud or water entering the boot. This boot style isn't waterproof treated so that you can spray it with waterproof-resistant spray for more protection.
The extreme tread on the sole grips all terrain types and absorbs shock for easier walking and climbing. With a deep lugged sole, this boot grips securely on gravel, and can help you maneuver through mud and debris.
There's a deep toe box and excellent instep support. This Skechers work boot is roomy, so you can stand and walk all day without worrying about blisters or pinched toes. There's plenty of room between your foot and the ground via the sole/insole height.
If you have weak ankles or flat feet, these utility boots will give you plenty of support, whether you're landscaping or performing other tasks.
Pros:
Rubber sole
100 percent leather
Padded collar
Excellent shock absorption
Reinforced seams
Cons:
Heel linings wear out quickly
Inside stitching may cause blisters
The tongue of the boot may bunch up and cause pain
Slip these landscaping boots on and off with a back pull loop and speedy hooks. The 100 percent leather construction ensures the boots last longer, and insulated lining keeps your feet warm during brisk or cold weather.
Wear these waterproof work boots for gardening, landscaping, hiking, or construction. This style has a lightweight, flexible rubber sole and polyurethane midsole. The tread pattern absorbs shock and offers excellent traction.
Ever Boots run half a size larger than Timberland, so you're in luck if you have big or wide feet. The Ever Boots Seal-Direct Attached Construction lends a weatherproof bond to the upper part of the boots. The mesh-insulated liner wicks away sweat and moisture.
This work boot has multiple uses. Wear these boots for hiking, construction, everyday gardening, or anytime your feet need extra protection. The durable PU midsoles offer anti-fatigue technology to keep you comfortable all day long. The entire boot is waterproof, down to the stitches and laces.
Pros:
Rubber sole
Waterproof leather
Mesh insulated liner
Back pull loop for easy on and off
Tread pattern provides better traction and absorbs shock
Cons:
Stitching may come loose
Narrow toe box
May cause heel pain
Muckster II Ankle-High Garden Boots are appropriate for home gardening and light landscaping projects. The rubber outsoles have high traction to shed debris and allow you to walk more easily on wet surfaces. These rugged boots are made for yard work and keep you balanced on slippery surfaces and uneven ground.
The Airmesh lining and four-mm neoprene construction improve comfort and increase air circulation to make the boots breathe. The boots are lightweight, too, so they protect without weighing down your feet.
Use the pull-on tab to put Muckster boots on and take them off easily. The top strap loop well-made and will last a long time, regardless of how often you use the boots. Mucksters adhere to the shape of your foot for more accurate sizing and help prevent chafing and blisters.
These boots are made of high-grade rubber that's easy to clean. The curved, stretch-fit Comfort Topline improves range of motion. The topline keeps calves warmer while shielding the feet from debris.
The shaft measures six inches from the arch. These boots are best in moderate weather; they aren't made for extreme cold or heat. These boots come in black, moss/green, black/otter, original black, Realtree/Xtra, bark/otter, and original black/otter.
Pros:
High traction rubber outsole
Breathable Airmesh lining
Waterproof
Extended rubber exterior
Comfort Topline
Cons:
Tread wears out easily
Too slippery
Runs large
These 100 percent leather landscaping work boots have a seven-layer outsole for better protection and durability. Goodyear welt construction improves traction on all types of terrain. The thermoplastic polyurethane shank provides more insurance against buckling and encourages arch support.
The soft midsole is made partially with EVA foam to absorb shock. Double-ribbed steel shanks give you more support, so your calves and arches aren't strained.
The waterproof upper keeps your foot dry, and the full-length, full-grain leather tongue prevents debris from getting inside the boot. There's a cushioned polyurethane footbed for comfort, and a padded collar to absorb shock and repel debris.
The shaft is eight inches away from the arch. The boot comes in one color – Bridle (Brown).
Pros:
Goodyear welt construction
Rubber sole
Waterproof
Made with full-grain leather
Cushioned footbed
Cons:
Stops being waterproof after about a year
Sole may wear out quickly
May be tight across the top of the foot
Caterpillar work boots come from the same company that makes construction machinery. The company's work boots are designed with safety in mind, and steel toes are one of the features in the Second Shift Steel Toe Boot.
The Second Shift has a leather upper made from nubuck or full-grain leather. Lace up the boots, and you're ready to tend to your landscaping or garden.
This boot has a Climasphere insole to help your feet stay dry and odor-free. There's Goodyear welt construction for better grip on soil or any terrain, and nylon mesh lining wicks moisture. A slip-resistant rubber outsole adds more protection against the elements and debris on the ground.
The Caterpillar Second Shift has steel toes which meet EH and ASTM F2413-11 I/75 C/75 standards.
The heel height of this boot is one and a half inches. The shaft measures six and a half inches, and the platform height measures three-quarters of an inch.
Pros:
Features steel toe that meets ASTM F2413-11 I/75 C/75, EH standards
Nylon mesh lining
Slip-resistant rubber outsole
Odor-resistant Climasphere insole
Goodyear welt construction
Cons:
The fabric on the back of boot wears out easily
Steel toe may be uncomfortable
Leather may rot after extensive use
Wolverine 100 percent leather waterproof work boots feature a waterproof upper to stop debris and liquid from seeping onto your feet. The nylon shank protects your arch and offers stability when climbing or walking. These boots feel light as a running shoe, but have most of the features you need in a hardcore landscaping boot.
The removable cushion insole lets you adjust the boot for comfort and proper fit. You'll get even more cushioning from the padded collar. A slip-resistant, polyurethane sole keeps you steady and safe on the water-soaked ground.
These boots are insulated with 200 grams of Thinsulate.
Wolverine's special Opanka, rubber lug outsole makes these boots flexible and gives them extra cushioning. The process involves hand sewing the upper, sock lining and outsole together. The underfoot conforms and rebounds with each movement for better protection and comfort.
The shaft is about six and a half inches from the arch. The platform measures one inch, and the heel measures an inch and a half.
We do have a few complaints about Wolverine's Men's Dublin W04780 Waterproof Boot, however. The waterproofing may wear off after a few months, depending on how often you use these boots. If you have wide or big feet, you may have trouble fitting into these boots. The non-safety toes won't protect you from equipment or tool malfunctions.
Pros:
Nylon shank
100 percent leather
Mesh lining controls moisture
Opanka constructed outsole
Waterproof
Cons:
No shank support
Waterproofing may wear off
Non-safety toes
Sloggers Women's Rain and Garden Boots have a lug-tread design for better traction. You wouldn't expect to find this feature on gardening boots, but Sloggers lug pattern offers extra protection against slippery ground and debris. The deep treads even grip at steep angles, and in that respect, Sloggers act more like a work boot than rain boot.
Put on and take off these durable boots with a pull tab at the back of each boot.
These vegan-friendly boots are made of 100 percent recyclable material. Sloggers your feet without being too tight or too loose, and the lack of lining won't affect fit.
There's an "All-Day Comfort Insole" to keep your feet comfortable when you have to spend a lot of time in your garden. The formed insole is 5mm thick at the ball of the foot and 7mm at the heel. The All-Day Comfort Insole features a skived support material under the heel.
Clean Sloggers boots with a wet cloth or use a garden hose. Let the boots air dry.
Sloggers are available in whole sizes only. Buy the next larger size if you wear heavy socks or have wide feet.
Sloggers are available in 18 colors/patterns, including leopard, paisley red, poppy red, navy, classic black, California Dreaming, and Midsummer Blue. These rain/gardening boots have a glossy finish that accentuates the patterns.
Sloggers are a flexible, lightweight choice for women who do light landscaping and don't need a heavy-duty work boot. The boot has a 16-inch circumference around the opening.
Pros:
Vegan-friendly, non-latex
Skivved support material under the heel
100 percent waterproof
Available in many colors and designs
Easy to clean – just hose off
Cons:
No arch support
Not for wide feet
Not sturdy enough for heavy-duty jobs
Conclusion
If you work as a professional landscaper or simply take care of the greenery on your property, it's important to wear landscaping work boots to keep your feet safe and ensure that you finish your projects faster.
Here are our top three choices for best boots for landscaping
Best Overall Choice
Keen's Steel Toed Utility Work Boot has all of the features a landscaper, or anyone who stands all day and works with heavy equipment could want. This boot offers asymmetrical toe protection and an extra-large toe box to prevent pinching.
The waterproof upper, heel lock and outstanding traction make this the best overall choice for a landscaping boot, and it's available for a reasonable price.
Best Premium Product
Danner Men's Quarry USA 8-Inch BR Work Boot gets our vote as best premium landscaper's boot. This 100 percent leather boot features a fiberglass shank for better arch support, a waterproof Gore-Tex liner, a non-linear lug pattern, and cushioned footbed.
This attractive brown landscaping/ work boot has most of the features a professional landscaper needs so that it will give casual landscapers more than their money's worth.
Best Value

Ever Boots "Ultra Dry" Men's Premium Leather Waterproof Work Boots I give you high-quality at a low price. This multi-use boot has a durable polyurethane midsole, shock-absorbing treads, and a mesh insulated line. There's even a special Seal-Direct Attached Construction to keep the upper waterproof and free of debris.
Finding the right boot for your landscaping work involves picking and choosing from work boots that look similar, but may not have all the same features. Some boots have steel-toes to protect against electrical equipment and debris while others don't; other boots contain insulation to keep feet warm in chilly weather.
Learn about the features of landscaping boots and choose the brand and style that meets all your needs.