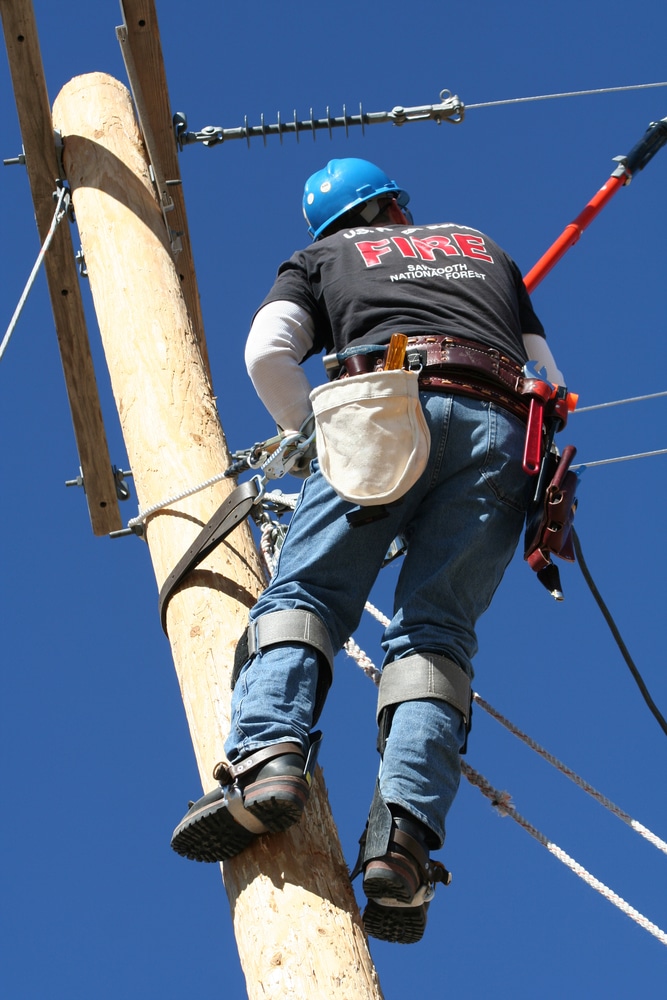 A lineman is a tradesman who installs, repairs, and performs general upkeep on power lines and electrical systems. In a world where more and more things (including cars and now, airplanes) are running off of electrical power, linemen are in high demand. Furthermore, as electrical systems become increasingly complex, the job of the lineman is becoming as mentally demanding as it is physically. Best Lineman Boots.
And physically demanding it is. Linemen are often required to pull large cables, cut and dig trenches, solder, slice, and attach electrical wires. Much of this work is done off of the ground, sometimes without many safety measures in place. As a result, being a lineman is considered one of the most dangerous jobs in the world.
One of the ways that linemen stay safe is by always maintaining a proper uniform. One element of this uniform is lineman boots. In the following article, we'll take a look at what makes lineman boots so necessary and what makes them different from other boots. In the end, we'll take a look at some of the best Lineman boots on the market, offering Pros, Cons, and features for each brand.
Our Top Picks
For those of you looking for a more in-depth report on the best Lineman boots, read on.
Features of Good Lineman Boots
Lineman boots are not just your average footwear, and no self-respecting (or safety-conscious) lineman would ever consider going to work wearing anything that wasn't suitable for the job. Though lineman boots come in a variety of styles, boast an array of features, and come from many different manufacturers, there are features that almost all of them will have in common.
Here, we'll list some of those features, explain why they're important, and discuss how they keep the men and women who wear them safe. You should note, however, that though we will call all of these "lineman boots," they are frequently work by other workers whose job requires climbing, including loggers, aerialists, and cable installers.
Solid Construction
While the materials used in lineman boots tend to differ from manufacturer to manufacturer, one thing that remains constant is that these boots are built solidly, with a focus on creating a stable platform for the foot. In many cases, lineman boots are thicker, taller, and feature more heavyweight design features that other work boots – even those designed for heavy-duty jobs.
Heavy and Durable Soles
The sole of a lineman's boot is one of the first things people tend to notice. Not only are they much thicker, but they also feature a taller heel (sometimes two inches or more). This design helps provide grounding for the worker, give them a more-solid platform on which to stand, and ensure the shoes will grip the ladder rungs, climbing pegs, etc. as they work high above the ground.
High-Arched Design
The extremely high arch we mentioned is essential to make sure linemen have support as they climb. Since the majority of the weight will be placed on the mid-boot area, having a high arch helps lock the wearer in place and drastically reduces slippage. Most linemen will want to be sure they can put their full weight on that arch and heel without feeling any slippage or weakness.
Tall Design
Where the majority of boots will stop below the calf, lineman boots will go for another six inches or more, providing extra ankle support and protecting the lower leg from injury or shock. Though this can make fitting the boots more of a hassle, it is well worth it for the added safety. You should note that this is a preference, not a requirement of these boots, as added material can drastically increase cost.
Wider Shank Design
Where almost all boots feature a shank, or some other type of support structure inside the sole, lineman Boots will boast a much broader and thicker shank design. This feature helps ensure a more stable footbed for the wearer, which is extremely important when they're climbing. One hundred feet up is no place to injure your foot on a ladder rung after all.
How to Choose the Right Lineman Boots for You
Even taking the information above into account, there are still things you need to consider when choosing the best lineman boots for your needs. In the interest of helping you make the best choice for your budget; we've listed a few suggestions below.
The Right Sole
Even the thickest, most durable boots can be chewed up by metal rungs and ladders, especially when worn day after day. That's why it's crucial to ensure your boots have a thick, durable outsole with a high arch and tough heel. You don't want them so soft that you'll lose a centimeter every time you go to work, but you also don't want them so hard that you might as well be climbing on banana peels.
Steel Toe vs. Composite Toe
In the mind of the average tradesman, a steel toe equals the ultimate in protection. However, both composite and steel toes rate to the same safety specifications. Whether resisting and impact or preventing compression, both types will perform the same way. From there, it becomes a matter of comfort, weight, and whether or not your employer mandates one or the other.
Consider the Weight
As we mentioned earlier, most manufacturers design their lineman boots out of thicker, heavier material than normal boots. That said, you don't want to be lumbering around like Frankenstein, especially when climbing is concerned. It would help if you considered the weight of the boots you're buying to make sure that you can operate comfortably in them.
Above all, you want to avoid fatigue when climbing up or down.
Know the Local Climate
Where you live and work will not only play a part in what boots you buy but also what size you decide to get. For instance, if you live in an unusually cold climate, you might not only want to consider investing in thicker, heavier boots, but also getting them a half size or full size larger than you need. This consideration will give you room to add an extra pair of heavy wool socks when the weather turns frigid.
Fit Matters
Ideally, a boot should feel like an extension of your body regardless of how thick they are. A good tight fit will help you maximize your comfort, avoid injury, and help you have a better sense of where your feet are while climbing. Though it can be hard to describe, experienced linemen know the difference between a boot that helps them "feel the ladder" and one that feels like a hunk of cement.
Support is Key
As we mentioned before, the frequent climbing and added stress of Lineman work will put an extraordinary amount of strain on both your feet and your boots. To avoid injuring yourself (or damaging your boots, which can result in injury), you want to ensure you have proper support. Look for high arches, thick, broad soles, and a solid shank when shopping for lineman boots.
Don't Completely Ignore Comfort
Though it may seem like it should take a back seat to safety in a situation like this, comfort is integral to avoiding injury. Comfortable shoes don't slip, they don't cause your toes to become pinched or bunched, and they don't make your feet ache every day when you take them off. As we said, you want your lineman boots to feel like an extension of your body. That sensation requires comfort too.
Thickness Equals Protection
From the thick, full tongue to the sturdy, dense walls of the boot frame, the thickness of your boots is essential to them standing up the job of a lineman. You'll want to inspect the design of your boots to ensure that the manufacturer has minimized gaps and openings. You'll also want to make sure there are no places that the material might rub and fray over time.
Electrical Protection is a Must-Have
Most lineman boots will feature some manner of electrical protection, which should be indicated by the manufacturer in some way. In general, this sort of protection refers to the boots having thick enough rubber to keep the wearer from becoming grounded. It also means that the manufacturer has taken special care to ensure that there are no exposed metal parts in the design.
NOTE: There are a lot of different linemen boots out there, as well as plenty of boots that will perform adequately on the job while costing much less. Whatever type of boot you buy, please remember that this is a dangerous profession, and costs should never be cut if they put one's life at risk.
Read Also: Best Boots for Fishing
Best Lineman Boots Reviews
Now that we know the basics about how to select a reliable pair, we'll highlight some of our choices for best lineman boots. For each model, we'll include features, Pros, and Cons so that you know exactly which design will best suit your needs. We'll also select three "winners" in categories, including Best Value, Best Overall, and Top Premium Product.
Georgia Boot is a subsidiary of Rocky Brands, Inc., which has been around since 1932. Over the years, the company has established itself as a major supplier of work, western, and military footwear, developing high-quality boots that are comfortable, innovative, and – above all – keep the wearer safe in a variety of conditions.
The Georgia Boot Logger Waterproof Boots sit much lower on the calf than most Lineman boots, which may cause some stability issues. Still, the high arch makes them ideal for gripping ladders and climbing rungs, and the breathable-but-waterproof design makes them a perfect choice when it comes to comfort. The addition of a removable kiltie to hide the laces is also a nice touch, as it will prevent snags.
The Georgia Boot Logger Boots are wide-set and feature a solid steel shank to add additional support when the job calls for frequent climbing. While the rubber sole is durable and resistance to abrasions, slips, and chemicals, it lacks the thickness needed to resist constant use. All in all, at $145, this is an excellent work boot, but linemen may want something with more support and structure.
Pros:
Removable kiltie can cover the laces to prevent snags
High arch for gripping ladder steps and climbing rungs
Waterproof but breathable
Steel shank will help support frequent climbing
Steel toe will protect feet from injury
Cons:
They lack the calf support common in many lineman boots.
The rubber sole is not quite thick enough for Lineman work
The Wolverine Boot Company has been producing high-quality work footwear since the early 1900s. Since their introduction of the original "1000 Mile Boot" in 1910, the company has grown, modernized, and diversified its offerings. Their goal is to provide specific boots for specific purposes and to engineer their products for comfort and durability above all else.
These western-style Wolverine Blade LX Boots sit just below the calf muscle, providing reliable support and stability. The lack of laces is a good idea when it comes to lineman work, as it should adequately prevent snags and tugs. Even so, this may also keep the shoes from fitting tightly enough for some wearers. Though the arch is present, a thicker heel design would be better for grasping ladder rungs.
The Blade LX Boots come with a durable nylon shank, moisture-wicking mesh lining, and a removable EPX "anti-fatigue" footbed, which the manufacturer claims help conserve and return energy. At around $140, these boots are a reliable option for anyone working outside in all weather conditions. From a lineman perspective, they may lack the grip and support needed for day-to-day climbing.
Pros:
Sits just below the calf muscle, providing adequate ankle support.
Rubber outsole provides durability and solid grip
Waterproof leather outside and moisture-wicking mesh inside
Durable nylon shank for added support
Cons:
The lace-less design may keep the shoes from fitting tight enough
The heel could be thicker, allowing wearers to grasp rungs more effectively
While the Timberland Company has undoubtedly evolved into a more "fashion-based" clothing producer, it has also been manufacturing reliable work footwear for over 90 years. With a commitment to quality and a reliable track record, Timberland boots are durable– if expensive – products for use in many different outdoor applications.
Timberland's Pro 9-Inch Waterproof Logger Boots sit high on the ankle, providing plenty of stability despite not connecting with the calf muscle. Made of durable leather with a waterproof membrane, these boots will keep feet dry in virtually all conditions. The company has also taken comfort into account, adding Thermolite insulation and "anti-fatigue" technology to keep the wearer from tiring.
While the Timberland Pro Waterproof Logger Boots are not explicitly designed for use by a lineman, the unique "Ladder Lock" outsole radius and extremely high heel design make them perfect for gripping ladders and rungs. While pricy at nearly $250 per pair, the laundry list of features associated with these boots makes them an impressive, reliable, and durable piece of equipment.
Pros:
Sits high on the ankle to provide additional support and stability
Durable leather with a waterproof membrane
Thermolite insulation for extra warmth
"Ladder-Lock" outsole radius with an extremely high heel design
Anti-fatigue technology helps keep the wearer from tiring
Cons:
Rather expensive at nearly $250 per pair
Would be more useful for lineman work if they sat higher on the leg
Dr. Martens (or "Doc" Martens) is a footwear company with roots that go back to early 1900s England. Over the decades that followed, the company proved to be a relentless innovator both in fashion and practical design. To this day, Dr. Martens footwear can be found at job sites around the world as well as in houses of fashion and style.
Dr. Martens' 1914 14-Eye Leather Boots sit very high, almost at the mid-calf for the average wearer. This design provides exceptional support and will help reduce injury and fatigue in the lower legs while on the job. The inclusion of the manufacturer's patented "bouncing" AirWair soles help maintain a comfortable and slip-resistant experience for the wearer.
Like all Dr. Martens boots, the 1914s will last a long time, thanks especially to their heat-sealed leather and oil and fat-resistant soles. While the price is right, these boots are not something the average lineman will feel comfortable strapping one before a long day's work high above the ground. Without proper "heel lock" and a thicker sole, these are more of a fashion statement than a work tool
Pros:
Sits at the mid-calf to provide additional support and stability
Bouncing AirWair soles help maximize comfort
Designed for use by both men and women
The soles resist buildup of oil and fats that cause slippage
Cons:
Little to no arch and minimal "heel lock" ability
Designed with fashion in mind as well as durability
Wesco, otherwise known as the West Coast Shoe Company, has been producing quality footwear since 1918. Based in Scappoose, Oregon, the company is well-known for manufacturing boots for firefighters, loggers, bikers, and linemen. Furthermore, with less than 20 employees, Wesco has one of the smallest footprints of any company on this list.
Wesco's Highliner 16" Work Boots have established themselves as some of the most sought-after lineman boots on the market. Despite boasting a price more than double the average on this list, these hand-made boots can surely handle the day-to-day problems that many linemen encounter.
At 16 inches high, these boots will provide adequate support from knee to toe, preventing injury and providing a stable platform for the wearer. The arch and heel of the Highliners are also extremely tall, allowing the wearer to grip ladders and climbing rungs without fear of slippage. The actual sole is also extremely thick and will provide years of use.
Among the other features of the Highliner Work Boots is the recessed metal heel breastplate, which prevents the shoes from being damaged by climbing spurs, and the ribbed steel shank, which keeps feet and soles safe while climbing. All in all, few boots are as ideally suited to lineman work as these.
Pros:
High enough to provide complete stability from knee to toe
High arch and heel allow the wearer to grip ladder rungs as needed
Steel shank for maximum durability and support
Recessed metal heel breastplate offers protection from spurs
Very thick rubber sole for years or durability
Cons:
At almost $500 per pair, these are "Cadillac" Lineman boots
Long laces hang awkwardly from the knee and could get snagged
White's Boots started in Spokane, Washington, back in the early 1920s. A small family business for most of its formative years, White's Boots produced ultra-tough, handmade work boots for loggers, construction workers, and other people that needed both support and durability. To this day, the company still manufactures all of its products by hand.
White's Smoke Jumper Lace-to-Toe boots boast a ten-inch height, making them perfect for workers who want support for their ankles without stiffening their entire calf. The very high, aggressively-angled arch is excellent for gripping climbing rungs, while the thick Vibram sole will prevent slips while providing years of durability regardless of use.
The Smoke Jumper Lace-to-Toe Boots also feature an all-leather construction to protect against cuts, scrapes, and abrasions, while the lace-in tongue guard keeps water and dirt from penetrating the boot. Though expensive, these are reliable boots for anyone who works outside or has a job that requires climbing every day.
Pros:
High enough to support ankles without constricting the calf muscle
High arch with an aggressive cut for gripping climbing rungs
Slip-resistant, ultra-thick Vibram sole
All-leather construction protects the wearer's foot
Cons:
Extremely pricey at between $400 and $500 a pair
Not particularly waterproof or comfortable
The 10-inch version of the Highliners from Wesco, these lace-to-toe boots are explicitly designed for linemen and feature a Vibram sole, low-profile design, and full leather construction. This model also features a less dramatic heel and arch, though it still offers plenty of grip when it comes to ladder steps and climbing rungs.
Other features you might remember from the 16-inch Highliners are the ribbed steel shank, which gives the wearer a solid platform while protecting the arch from injury, and the recessed metal heel breastplate, which prevents damage from climbing spurs. While they cost nearly as much as their larger counterparts, these boots provide an excellent opportunity for those who want less leg coverage.
Pros:
Won't interfere with the calf as much as the 16-inch version
Medium-depth arch and heel allow the wearer to grip ladder rungs as needed
Ribbed steel shank for maximum durability and support
Recessed metal heel breastplate offers protection from spurs
Cons:
Extremely pricey at around $440 per pair
Some users will prefer a taller model for additional stability and support
A higher heel and arch would be nice
For every high-dollar product on the market, there is a manufacturer that attempts to offer the same quality, but at a drastically reduced price. In the case of loggers, firefighters, and lineman boots, that company is AdTech. Since 1981, this Denver, Colorado-based company has been providing reliable footwear and workwear to hard-working people all over the US.
AdTec's 1964 Fireman Logger Work Boots boast a durable rubber sole and a 2.5-inch heel with a deep-cut arch for climbing. Designed to fit under the calf muscle, these boots will provide adequate ankle support to keep the user from twisting or spraining while climbing. Though it may not matter for some users, these boots also feature a 500-degree heat resistance as well as fire resistance laces.
Made of high-quality leather and designed with solid brass eyelets and steel hooks, there's no question that these boots will last a long time. Considering the price point fo the AdTec's is between $75 and $140, they are an excellent choice for those who need lineman boots but don't have a huge budget with which to shop.
Pros:
High enough to provide adequate ankle support and resist twisting and spraining
5-inch tall heel with a deep arch makes these boots perfect for climbing
500-degree heat resistance
Priced between $75 and $140, making them a bargain by comparison to many other lineman boots
Cons:
Some purchasers have complained that the durability isn't up to snuff
Not specifically designed for linemen
The Kenetrek Boot Company began in Montana in the early 2000s. Though an all-American company, they manufacture their boots in Italy, where hand-made craftsmanship is still something held in high regard. Though focused on hiking and camping, Kenetrek also makes high-quality, ultra-durable work boots, including models designed specifically for linemen.
The 10-inch tall Kenetrek Lineman Extreme Boots feature a thick sole made out of one solid piece of leather, which boasts a deep, open tread pattern to maximize grip. The arch features a deep grooved cutaway that helps ensure the heel can grasp ladders and climbing rungs without slipping off. All of these features fit to a .1-inch thick leather frame with double and triple stitching.
Though designed specifically for use by linemen, these boots do lack some of the classic lineman boot features, such as an above-the-calf design. Regardless of this, the thick rubber sole, deep cutaway, and aggressive gripping on the bottom of the shoe are all welcomed elements. Other standout features include forged hardware, a waterproof membrane, and a steel safety toe.
Pros:
Sole is made of a single piece of rubber and designed for maximum grip
High arch and deep cutaway helps wearers climb safely
Double and triple-stitched leather for maximum durability.
Forged hardware with corrosion resistance coasting
Waterproof membrane helps keep feet dry
Steel safety toe
Cons:
Quite expensive at between $400 and $500 per pair
Some users would prefer an above the calf design for added stability
More focus on comfort than toughness
Danner Boots have come out of Portland, Oregon, for nearly a century. Initially, the focus was on outfitting loggers with the best possible footwear for their demanding job. They bill their footwear and outerwear as being built to last and have earned an excellent reputation among hard-working men and women across the US.
The Danner Flashpoint 10-inch Leather Work Boots are made in the USA and boast a shell comprised of 100% leather. Combine this construction with the high, mid-calf design, and you get a boot that's durable, reliable, and will protect the wearer from whatever they might encounter. They also feature a thick Vibram sole, which will help stand up to heavy wear-and-tear.
As the boots don't feature any insulation, they will breathe quite well during the summer. During the winter, however, users will need heavy socks, which may require them to "size up." With a thick sole and high arch, these are excellent lineman boots and are sure to last a long time. Though they are still expensive, they cost about $100 less than some of the other premium boots on this list.
Pros:
All-leather construction creates a durable, reliable, and protective shoe.
Vibram sole will stand up to heavy wear-and-tear
High-arch to help wearers grip climbing rungs and ladder steps
Under $400, which is a fair price for premium lineman boots.
Cons:
Still rather expensive, even for specialty boots
Not insulated, so many wearers will have to "size up."
The ARIAT company was the brainchild of a farmer living in Pennsylvania. For over thirty years, the company has been designing and producing high-quality western wear, as well as work boots for men and women with a variety of work-intensive jobs. Since its founding, ARIAT has managed to become a leading innovator in the market while still producing cost-effective footwear.
ARIAT's Linesman Ridge Gore-Tex Composite Toe Work Boots are one of few boots on this list to be explicitly designed with linemen in mind. This intent is most apparent in the depth and aggressiveness of the arch, which makes it almost impossible to lose your grip while climbing. The Gore-Tex construction makes them completely waterproof, weatherproof, and extremely durable.
Other features of the Linesman Ridge Work Boots are the composite toe, which helps keep the overall weight of the boot down. They also have a rebound foam insole, and a heavy-duty steel shank to keep feet safe at all costs. As a bonus, the boots also feature a full-length stability board, ensuring the wearer will have a reliable base whenever they're on the move.
Pros:
The aggressive arch design makes it difficult to slip off of ladders and rungs
Gore-Tex material is weather and water-resistant and quite warm
Composite toe for more lightweight protection
Under $400, which is a fair price for premium lineman boots.
Heavy-duty steel shank will provide excellent support for the boot
Rebound foam insole for maximum comfort
Full-length stability board
Cons:
Still rather expensive, even for specialty boots
Could fit higher on the leg to provide more stability and reduce injury
Another quality product from the people at Danner is these Men's Logger 8-Inch Work Boots. Despite costing much less than many of the products on this list, they still exhibit several features that linemen will love. The most notable of these features is the thick all-rubber sole, which boasts a tall heel and deep cutaway arch for gripping ladder rungs.
These boots are all leather and feature a durable, waterproof coating to help keep feet dry. For those linemen operating in cold weather, the Logger Work Boots also feature 400 grams of Thinsulate Ultra insulation. Other features include a non-metallic toe to help reduce weight and a lightweight Bi Fit board, which keeps the heel rigid while allowing for toe flexibility.
All things considered – these are an affordable alternative to actual lineman boots. Providing they fit well, they should serve most wearers quite well in the field.
Pros:
Much more cost-effective than other premium work boots
Tall heel and deep cutaway arch
Danner Dry waterproofing helps keep feet dry
400g of Thinsulate Ultra insulation to keep wearers warm
Non-metallic toe helps keep weight down
Cons:
Could fit higher on the leg to provide more stability and reduce injury
The flexible shank design can cause some arches to fall

The Verdict
Though only a few of the boots are "true" linemen boots, other designs are proving to be incredibly popular. This fact is especially evident considering most lineman boots have price tags approaching $500.
While many linemen will consider this a necessary price of the trade, some would instead seek out more budget-friendly options, even if they aren't designed only with linemen in mind.
Taking all of this into account, we've selected the best lineman boots in three different categories: Best Overall, Best Premium Product, and Best Value.
Best Overall
Our vote for Best Overall lineman boot goes to the ARIAT Men's Linesman Ridge 10″ Gore-Tex 400G Composite Toe Work Boot. Though these are not "lineman boots" in every sense of the term, they do offer an aggressive arch to help the wearer keep their feet in place on ladder steps and climbing rungs. They also undercut many other lineman boots on price, boasting a tag of under $400.
Other features that helped ensure the ARIAT Lineman Work Boot took the top prize was the flexible and reliable Gore-Tex material, which is suitable for both cold and warm weather, and the composite toe, which will help reduce weight and fight fatigue. There is also the heavy-duty steel shank, which will provide a solid platform for the wearer and keep the soles of the shoes from wearing prematurely.
By far, the biggest negative of the ARIAT Lineman Work Boots is their overly-stout design. Though many linemen would undoubtedly love more stability in the calf and knee area, these are still the right product for the right price considering the competition.
Best Premium Product
If you've got the budget to get your hands on them, our best-rated premium product is the Wesco Highliner 16″ Work Boots. Unlike many of the boots on this list, these are high enough to provide adequate stability no matter the situation. These boots also feature extremely durable construction. From the steel shank to the aggressively high arch, these are perfect boots for any lineman.
One of the best features of the Wesco boots is the recessed metal heel breastplate, which will help keep the boots from wearing out when climbing spurs are attached. This element represents the sort of attention to detail that shoppers expect from a premium product. Though they are most certainly an investment, Wesco's Highliners are sure to offer years of service to whoever purchases them.
Best Value
Priced between $79 and $140, the AdTec Men's 1964 10″ Fireman Logger Black Work Boots are our choice for Best Value. Despite being priced well under the majority of the competition on this list, it's clear that the manufacturer did not cut corners when designing these boots. With a 2.5-inch high heel, a deep cut arch for maximum grip, and several heat-resistant features, these boots are a reliable buy.
Though many linemen would likely prefer higher boots, these fit just under the calf area, which is adequate to provide stability when climbing. Furthermore, the all-leather construction and the lack of a steel toe help keep the weight of these boots down, reducing fatigue. If you don't have a large budget to afford the best of the best, these boots will keep you safe, comfortable, and attached to your ladder.