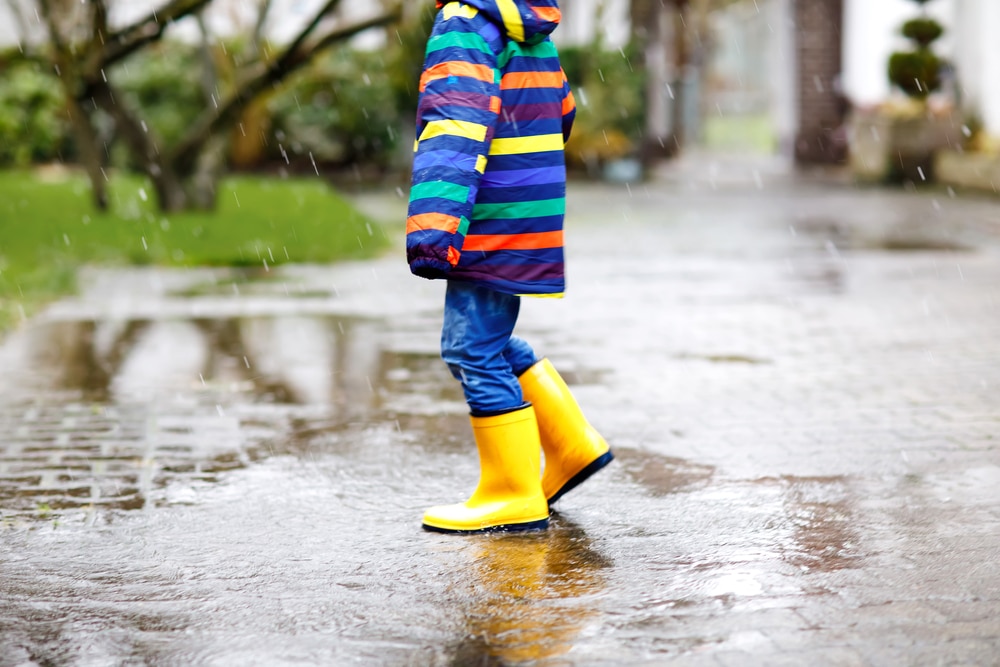 Is there anything more synonymous with childhood fun than running and jumping through rain puddles? For some reason, the thrill and joy children get from splashing through puddles after a good rain is unmatched.
Most parents let their children indulge from time to time, but don't want them to ruin their good shoes stomping through the rain. If you're looking for rain boots to keep your children comfortable and dry in wet weather, we've done a round-up of our favorite rain boots for kids.
On the practical side of things, if you live in an area that experiences a steady season of rain, you've probably been looking for rain boots that will fit your child well, keep them dry, and remain durable throughout a season. Because kids aren't the best critics, we've taken it upon ourselves to bring you our top 10 best rain boots for kids.
Whether you're searching for a budget rain boot to get you through a mild, rainy season, looking for premium rain boots for your little one, or trying to find the best overall rain boots for kids, we've got them listed and reviewed, here for you.
Our Top Picks
If you're interested in our buying guide and in-depth reviews, read on.
How To Choose the Best Rain Boots for Kids
Not everyone has the same idea about what's best for their child or what qualities they're looking for in a rain boot. When we thought about the characteristics of the best rain boots for kids, here are the considerations we made:
Will they appeal to kids?
Are they a style that works with the clothes we already have?
Is the weight going to be okay for a range of kids?
How well do they hold up to the elements?
Will they last through a long, rainy season with lasting durability?
Are they comfortable to wear as is, need inserts, or require thicker socks for cushioning?
Are they made from materials that will keep my child warm?
Are they made from materials that will dry easily, quickly, and without leaving a smell?
Will kids be able to put them on without help?
Do they have added features such as insulation or handles?
Here's What to Look For
You likely thought of most of the same considerations we thought of above. Here are a few more things to look for when you've narrowed down the search and ready to buy a pair of rain boots for your child.
Flexibility – Kids are a little shaky as it is, you want to make sure the boots you buy for them are flexible and move quickly. This will make playing, climbing, and running more comfortable. The boots will also be easier to get on and off without help. You can look for natural rubbers or synthetic materials to ensure flexibility.
Weight – No one likes to walk around in clunky, heavy boots. Check the weight before you buy any boots to make sure they'll be light enough for your child it be comfortably active in.
Traction – Not all rain boots are created equal, and traction is a significant need for children in boots. You can check to make sure the boots have a non-slip outsole to guarantee traction.
Try to Avoid – You'll want to avoid boots made with PVC (polyvinyl chloride) as research suggests it contains chemicals like phthalates and lead, which can be harmful to your child.
Do Kids Wear Rain Boots?
When you think of rain boots, you often think of a clunky, uncomfortable boot that's okay for walking but probably not great for running, climbing, or playing. That being said, it's hard to imagine a child being happy to wear rain boots all day if they need to wear them to school due to weather conditions.
The good news is that most of these things were considered when the boots were made specifically for kids. Often, they're a little more flexible, light, and durable so that kids can stay dry but remain warm.
Can My Child Use The Same Rain Boots When it Snows?
You might think that rain and snow boots are interchangeable, and depending on your local weather conditions, you may be able to get away with it. However, as a general rule of thumb, rain boots and snow boots are different. The most significant difference is that rain boots are meant to keep the foot dry while snow boots are intended to keep the foot warm.
What Age Can My Child Wear Rain Boots?
Babies grow and develop differently, so age isn't necessarily a great guide when it comes to deciding on rain boots for kids. If your child is pretty steady on his feet and spends a lot of time outdoors, he would probably do well in rain boots.
If your child is not so experienced and still wobbling around a bit, you might skip the boots this season.
How Will I Know If the Boots Will Fit Well?
The best way to tell your child's boot size is to take her to a store to try some on. If you're going to purchase online without trying any on, you can stop by a shoe store to check your child's current size or go by their current shoe size.
You may notice that most rain boots come in whole sizes. If your child wears a half size like 12 ½, your best bet is to go up to the next whole size. Kids tend to grow fast, so they'll likely be more comfortable in a half size up. If needed, you can always have your child wear thick socks like these to make up the difference.
Does My Child Need Special Socks for Rain Boots?
The answer to this question depends on personal preference and local weather. Rain boots tend not to have a snug fit, meaning the foot can slide around. This can happen if you had to go up to the next size since many only come in half sizes.
If you have mild weather conditions, your child can get away with wearing regular socks, and if it's needed or more comfortable, they can wear two pairs. Another thing to keep in mind is that rain boots aren't padded on the inside typically, so a thicker sock can add cushion and prevent blisters.
If your child is doing a lot of running, climbing, and playing, a thicker sock or two pairs of socks will probably be more comfortable. The same thing goes for chilly and moderate to severe weather conditions. If it's frigid out, your child is likely to do better with a thick, tall, boot sock that does up the calf some.
Are There Any Added Features to Look For?
Most rain boots are somewhat similar without too much variation though style and quality produce the most typical differences. When it comes to added features on rain boots, there aren't too many to consider.
One additional quality you may want to look for is the addition of handles. Handles can make the boots more comfortable to get on and off for your child without needing help. This comes in handy, not just in the mornings or afternoons, but while your child may be away from you during the day at school or on the playground.
Another feature you may be interested in are boots that are lined for comfort or warmth. Some rain boots will have a cotton lining, which can help regulate temperature and absorb sweat, keeping your child's feet warm and dry. Other boots may have a wool lining for warmth and breathability, as well.
Read Also: Best Flip Flops for Kids
Best Rain Boots For Kids: Reviewed
Now that you're familiar with the basics let's dive right into the reviews. Below you'll find some of the highest-rated and best-selling rain boots available for kids.
Oakiwear is a trusted company that knows its way around both rain gear and gear made specifically for kids. One of the best features of Oaki kid's rain boots is that they not only keep your child's foot dry, but they also keep them warm too. If you live in a climate that experiences a cold rainy season, these boots could work great for your child.
The rainy season can pose some hazards to your kids if they have to be out in slick conditions. These rain boots are made with a molded sole that's tough and provides sufficient traction to keep your child right side up.
As far as added features go, your child may like the range of print and robust designs they come in. They'll also love that their feet are both warm and dry since the neoprene lining helps keep the temperature regulated even when it gets down to 0 degrees Fahrenheit.
These boots are great for kids because they're midweight and easy for kids to move in. The boot is tall enough that it keeps the leg from getting wet when splashing, but not so tall that it agitates the knees or becomes bothersome. Your child should easily be able to slip these on and off since they come with reinforced handles.
Pros:
These boots were designed with reinforced handles for secure handling
The durable, molded sole in these boots gives them added traction and non-skid abilities
Tall enough to keep rain/mud from getting inside the boot
The materials used keep feet dry and warm
Cons:
These boots tend to run large rather than true to size
This is a midweight boot, not lightweight which some children aren't fond of
The boot shaft can be too narrow for some children to take the shoes on and off easily
If you're a parent that's concerned about the risk of additives in boots for your child, Stonz has a natural rubber option that many parents seek. Stonz natural rubber boots can keep your child's feet dry while keeping them free from chemicals or additives at the same time.
These rain boots are made from 100 percent natural rubber and leave out potentially harmful additives like PVC, lead, cadmium, and phthalates. They also use formaldehyde-free glue and lead-free paint.
Stonz rain boots are made with a 100 percent cotton lining, making them comfortable for kids who are running, playing, and moving. Cotton helps to wick moisture away and keep the foot dry. One added feature you might enjoy is that Stonz makes an adaptable fleece liner for those facing snowy or harsh, cold weather conditions.
Instead of having multiple pairs of boots, you can have one pair that adapts to your needs, which is a plus for many parents. As far as kid appeal goes, Stonz comes in a rainbow assortment of bright colors.
These boots have a wide opening that makes them simple to pull on and off, but they don't have handles. They're also flexible and allow kids to be kids and move freely without restraint.
Pros:
Wide assortment of colors kids like
Available add-on fleece liners to winterize rain boots for snow conditions
All-natural, chemical, and additive-free rubber
Flexible and light enough for kids to move freely
Cons:
There are no pull-up handles for pulling on
These boots are a little more costly than others
The label on the inside can become bothersome to some kids
Western Chief boots are another top contender when considering kids' appeal. These boots come in an excellent fireman design for any of your parents with a fireman loving kid in tow. They've also got some cool monster truck designs, assorted floral prints, colored glitter boots, and light up boots!
Another big plus with Western Chief boots is that they come in character designs to match umbrellas and raincoats if your child is into the whole outfit setups. These boots are also made of 100 percent natural rubber and are designed to be comfortable enough for kids to walk around in, play, jump, and move as kids do!
With all that movement, you need traction, especially when it's wet out. These boots are made with a non-skid outsole to keep your little upright. They also have pull-on handles to make pulling them on and off easier for your child.
These rain boots are lined to help keep your kid's feet warm, dry, and comfortable. These are one of the only boots that come with a cushioned footbed, which is also removable. The lining in these boots can take some time to dry, but removing the footbeds can help speed up the process.
Families with multiple kiddos will be happy to hear that these boots often hold up well enough to pass from sibling to sibling, making them an excellent value for their cost.
Pros:
Durable enough to last through sibling wear
100 percent natural rubber
Lined and cushioned footbed for added comfort
Handles help your child put boots on quickly
Cons:
Can take longer to dry inside than other boots
The pattern may fade over time
These boots are lined but not insulated
If you're searching for a more basic rubber rain boot, Oakiwear makes this list again with their kid's rubber rain boots. Kids will love these because they come to a wide variety of fun colors and prints. Whether you've got a mermaid-lover or a dino-lover who needs rain boots, there's a print your child may fall for.
These basic rubber rain boots are made lightweight so that your child can still be on the go. While he's on the go, he may need a little more traction in the wet weather. These boots are lined with cotton inside to keep moisture away from the foot, and they dry quickly overnight.
These natural rubber rain boots are free from PVC, they're waterproof, and they're easy to clean with a wipe down and dry. These boots have handles so your little one can pull them up without your help. They were also designed with a low heel and flat sole to keep your child comfortable and free from slips and falls.
These boots do tend to run a little large, so you may consider sizing down if your child isn't too close to outgrowing their current size. These boots aren't the most or least expensive on the last, and they're built to last about the season, so if you're hoping to pass these down to siblings, you may be doing so with-out intact handles or cracking the rubbers.
Pros:
Variety of fun, bright prints kids will love
Durable sole keeps kids from slipping
Handles to help your child get boots on and off
Lasts solidly through the season
Cons:
Not the best for heavy, everyday use or passing down to siblings
The rubber can crack over time, allowing water to get in
The handles were prone to breaking over time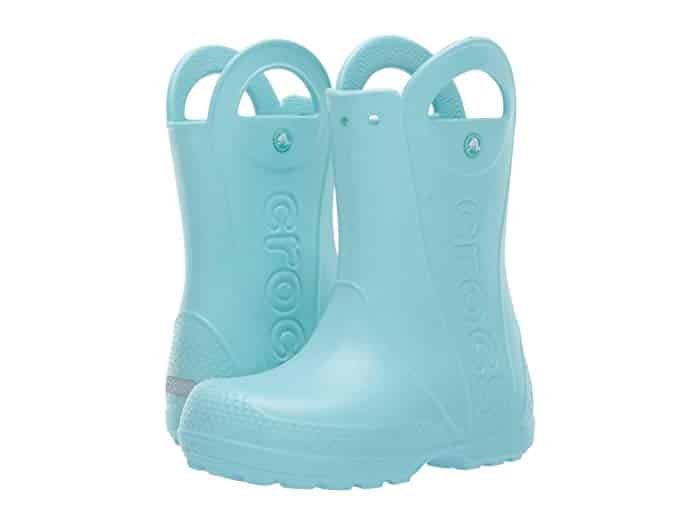 If you're a parent that's a fan of Crocs for kids or yourself, these Crocs rain boots may be a great option. The kid's Handle It rain boots have oversized handles that give kids the freedom to do it themselves – a favorite way to do things!
The great thing about these handles is that they're made from the traditional Croc material, and they're oversized to stand up to more tugging and pulling without ripping by the middle of a season.
The material that Crocs traditionally uses is breathable, which will help keep your little one comfortable outdoors. The sole is chunky, which helps provide additional support and traction in wet weather, so your child isn't sliding around.
If you're not a big fan of logos on your kids' items, you might be put off by the big Crocs logo down the side of the boot, but if you don't mind it, these are a great option. A small added feature Crocs gave these boots was reflective detail in the heel of the boot to increase visibility in dark weather conditions.
The last thing we love about these boots is that Crocs has implemented a seamless design, which helps a ton with splitting and leaking. Kids tend to be rough on footwear, and even the smallest crack in rubber rain boots can render them useless against leaking. The Crocs design helps these boots make it through an entire season (or two) without letting any water into the boot.
Pros:
Big handles that withstand normal wear and tear
Added reflective detailing in the heels for safety
Lightweight material allows for ease of movement and comfort
Seamless design holds up against splitting and leaking
Cons:
These boots tend to run a little small
These boots won't be warm enough for frigid temperatures
Large logo down the side which some people are not fond of
While some little ones have that fresh baby smell going on all the time, the same can't be said for all kids. If you've got a kid whose shoes are regularly smelling up your mudroom, these might be the best choice for you.
Bogs Kids' Skipper rain boots aren't just waterproof and rubber, they're lined with materials that fight odor and wick moisture away, keeping your child's feet dry and odor-free. Rainboots can become smelly when they're continuously worn in wet conditions and not properly dried.
The company designed these boots with "organic bio-technology" called DuraFresh, which they state helps the boot fight any smells. They also use their proprietary Max-Wick in the material that lines the boots, which they claim is highly moisture wicking to combat sweat.
Another feature in the design of these boots is that they tend to be a little wider than others. If you have a toddler or bigger kid who hasn't entirely lost their baby fat, you know what a struggle it can be to get your child's foot into a shoe that doesn't open up entirely to the toe. These boots tend to fit kids with more full feet just fine.
Since kids can be harsh on shoes, even boots meant for severe weather, Bogs has reinforced most of the seams along the sole and up the back of the boot to help keep the boots from splitting. The handles are further down into the boot so that they aren't flimsy. They're also reinforced so that they'll stand up to pulling and tugging throughout the season.
Pros:
Lined with moisture-wicking and odor-fighting materials
Reinforced seams to protect against splitting and leaking
Reinforced handles that won't rip or tear
Comes in several fun prints and colors for kids
Cons:
Because the handles are lower into the boot, water may get into them
These boots are a little more costly than some of the others on the list
These boots are midweight which can be hard for some kids to get used to
The Original Muckboot Company designed a boot for kids that should easily last through a season, depending on your child's wear and tear capabilities. These are a premium boot that is going to cost a little more. If you're a parent in a climate that requires rain attire daily, these will make an excellent choice for you.
Since kids are notorious for horseplay even in wet and slippery conditions, they've added chunky slip-resistant soles that wrap around the heel and toe to help keep your child from slipping when it's overly wet out. Kids and parents also love that these boots are so lightweight so that kids can move quickly and comfortably in them.
The lightweight material is 100 percent waterproof, flex-foam neoprene. These boots are also lined with a breathable mesh, which adds a layer of warmth and keeps your child comfortable in daily wear.
If your child is hesitant about rain boots because they've had to suffer in stiff boots that caused blisters, you'll like that these boots were designed with just that common flaw in mind. The materials used easily contour to the foot and provide flexibility to prevent rubbing and chafing and provide extra shock absorption.
Pros:
The outsole in this boot wraps around heel and toe for added traction and stability
Added pull handle on the back of the boot to help little ones get them on easier
These boots were designed with a breathable mesh lining for warmth and comfort
Tall boot length keeps kids dry up to the knee and prevents water from getting into the top of the boot
Cons:
These boots are a little pricier than others on the list
These boots tend to run a bit small
Can be overkill for those who need an occasional rain boot
Another option for parents who prefer all-natural materials and gear for their kids is the Hibigo Children's Natural Rubber rain boots. The natural rubber used to make these boots are durable, often lasting through several seasons, making these boots great for passing from sibling to sibling.
The boots stand up well to wear, tear, and aging. They're also BPA-free and free of other potentially harmful materials found in some different boots. Kids love these boots because they come in a range of sizes for toddlers and bigger kids, as well as several patterns and prints like sharks, turtles, and dinosaurs.
The natural rubber used in these boots is waterproof, so you won't need to worry about your child's feet getting wet when they hit a puddle or two while playing. The natural rubber used also gives your child the flexibility to play and move freely without feeling too stiff or heavy.
The outer sole is thickened and flocked to give your child traction while they're moving around outside. These boots have a soft cotton lining that allows your child to be comfortable throughout the day, and they have a breathable EVA insole that keeps little feet dry and odor-free after a day of playing.
Pros:
The thick, flocked outsole keeps water away from the foot and adds traction for stability
These boots were designed with pull handles to give your child the ability to pull puts on easily
The soft cotton lining and EVA insole keeps kids warm, dry, and comfortable through the day
Natural materials are waterproof and non-toxic
Cons:
The handles on these boots are thin so that they may tear with prolonged use over the season
These boots are little more substantial and can take some getting used to for some children
These boots tend to run a little small, so you may need to go to the next size up
If you have toddlers and bigger kids and need boots in sizes to fit both, the Kamik Raindrops boots may be a hit for you. They're only available in four colors, amber, eggplant, black, and viola, so if you prefer solid shades that match most outfits your child wears, these will be a great choice.
For kids who have narrow feet that tend to slide around in most boots, these are going to be one of the top choices as they're built for a smaller foot. If you've got a child with wide feet that are hard to get into shoes, these are not the boots for you.
These boots are made with a synthetic sole that has thick treads to keep kids stable on wet surfaces and give them traction while moving around. If your kids are going to be out in the rain a lot or some snow, these boots tend to work well because they're about 9″ from arch to the top, which makes them about knee high for most kids.
Even though the foot of the boot is narrow, they have a wide opening with added handles so that kids can pull them on and off easily and move without being restricted. These boots stand up well to wear and tear and rough, daily use, which makes them great for families who spend a good deal of time outdoors, playing, hiking, or otherwise.
Pros:
Thick outsole with tread and heel gives kids added traction and stability
Wide opening allows kids to get boots and off easily
Narrow foot area prevents kids with thin feet from sliding around
100 percent waterproof outer and removable insole makes them easy to dry
Cons:
These boots don't have handles to pull them up
The 1" heel in the boot takes some getting used to for kids that generally wear flat shoes
These boots won't fit kids with more full feet
Parents and kids who are into art will love these boots because they come in a wide variety of unisex prints and patterns, all designed by local artists in Boise, Idaho. Since they're unisex, you shouldn't have any trouble passing these boots from sibling to sibling.
We liked these boots because they're made from BPA-free, flexible rubber that gives your child comfort, flexibility to play and run, and keeps them dry. The rubber used in 100 percent waterproof and has been independently certified as free from potentially harmful toxins and chemicals. These boots also don't have that terrible new rubber smell that some shoes have.
These boots were designed with large handles to give little handles a leg up on grasping and pulling the shoes on themselves. The outer sole is thick with chunky tread to make them non-skid and comfortable to be in during wet or slick weather.
These boots have gone a step above the rest because they've been tested to withstand at least 100 hours of play without the risk of cracking or splitting, which makes a rain boot useless against the rain. The company offers a 6-month guarantee on these boots without loss of function.
We like that these boots are simple to keep clean with a wipe down and the wide tread allows mud and dirt to rinse off quickly. The one potential downside is that they aren't insulated, so they don't provide a ton of warmth, which can be easily overcome with the right pair of socks.
Pros:
These boots come in tons of unisex prints and solid colors
The 6-month guarantee and 100-hour play test ensure your child can get some dangerous use out of these boots and make it through an entire season (or two!)
These boots are made from rubber that's chemical and toxin-free
Reinforced handles allow the child to pull on and take off boots easily
Cons:
These boots aren't insulated, so they aren't very warm
The handles on these boots are a little thin, but reinforced, if your child is rough on boots, the handles may tear
The patterns may show some wear after some time spent in the shoes, but this doesn't affect the build of the boot or indicate the breakdown of the quality
The Verdict
With a multitude of options to choose from, it's tough to pick one winner. Instead, we chose the top three to suit your needs, whether you're searching for a premium boot, the best value, or the best overall boot.
Premium Product
As far as premium rain boots go, we had to choose the Muck Boot Kids' Hale Rain Boots because they hold up well through an entire season, even with considerable play. These boots have a thick non-skid outsole that wraps around the heel and toe for added traction, ensuring your child can play as much as they want without the risk of slipping and falling quickly.
We love that these boots are lightweight and comfortable enough for kids to play around in without restriction to their movements. The materials are waterproof, and the flex-foam neoprene helps keep kids both dry and warm. The inner mesh lining also lends itself to warmth and moisture-wicking properties.
The materials also add shock absorption and prevent chafing and blisters, a common problem with rain boots. Muck boots also come in a few color options and patterns, but we loved this monster character in bright green the best.
Best Overall
As far as the best overall boots go, our top choice is the Oaki Kid's Neoprene Rain Boots. Parents who are interested in buying boots for their kids that are not only waterproof but warm, too, maybe impressed with these boots.
The boots are designed with a waterproof, molded outsole that keeps feet dry and stable. The shoes are also made with a neoprene lining, which is what helps keep little feet warm along the way. The boots are also a little taller than most, helping to prevent water from splashing in through the top as well as keeping your child's legs warm.
We also loved that these boots came with reinforced handles because we know how little ones can be tough on pulling up their boots, often resulting in ripped handles by the end of the season. With a thick pair of socks, these boots should be able to keep your child warm, dry, and comfortable all day long, through an entire rainy season.
Best Value
If you or your child is an art-lover, you'll be impressed with the Lonecone Rain Boots unisex boots that feature fun designs and prints from artists local to Boise, Idaho. Aside from their fun curb appeal, we chose these boots as the best value because they had all of the essential factors built into them, at a price that makes their value high.
These boots are made from natural rubber, which means they're free from potentially harmful chemicals and toxins. They're still made from a flexible rubber that allows kids to move around quickly, so you don't have to worry about giving up quality for price with these boots.
We also love that these boots have actually been tested and withstand at least 100 hours of play. But what's even better is that the company actually guarantees these boots for six months without loss of function, making them our top choice for the best value.
Whichever rain boots you choose for your kids, each of these has the highest ratings for comfort, traction and stability, waterproofness, durability, and flexibility. You'll find that most kids love these choices in all the bright prints and designs they come in!