Whether you love them or hate them, flip flops are here to stay. For more than fifty years, flip flops have been a staple at American beaches and pools. They come in hundreds of colors and patterns in nearly every size imaginable. Even babies can sport miniature flip flops!
Flip flops are practically a requirement for beach vacations. They are lightweight, take up very little space in luggage, and can be versatile footwear for adults and kids alike. Depending on the style you choose, flip flops may be the most worn shoes on vacation.
Knowing how important a pair of flip flops can be, how do you choose the right pair for your kids? You need to appeal to their individual tastes, but that's not all. If you're going on vacation for a week and need to do a little walking in them, you'll want to know they can last.
Good news! We've researched for you. Read on to learn everything you never wanted to know about flip flops and see which ones are the best on the market.
Our Top Picks
What Are Flip Flops?
Flip flops are casual sandals comprised of a Y-shaped strap attached to a sole. The stem of the Y-shaped strap goes between the first and second toes, and the V-shaped straps wrap around the sides of the feet. They are made from various materials in several color and pattern combinations.
A Brief History of Flip Flops
Did you know that flip flops have been around for hundreds of years? Ancient Egyptians actually wore a version of flip-flops made from papyrus and reeds. Similar footwear was worn in many early human civilizations from Africa to Japan.
What Americans know as flip flops were popularized in the 1950s when U.S. soldiers brought back Japanese zori after World War II. The Japanese made zori with rice straw, but manufacturers in the United States saw an opportunity to make a splash in fashion. They switched to rubber soles and printed them with bright colors.
As flip flops gained popularity in America, they evolved into everyday footwear for the beach. Some brands have developed dressier and upscale versions of flip flops for special occasions.
Today, flip flops are a multi-billion-dollar business in America. Each year, more flip flops are purchased than any other style of sandal. Most styles and brands are inexpensive, which adds to their popularity.
When Do Kids Use Flip Flops?
Wow, that's a lot of scary information about wearing flip flops! Don't let it discourage you because there are plenty of reasons to wear flip flops. They do protect against some equally scary things and are even recommended in some situations.
The Beach or Pool
Beaches and pools are probably the most obvious places to wear flip flops. They will protect the bottoms of your child's feet from hot sand and asphalt without weighing them down. When their feet are wet and sandy, flips flops are a better fit than trying to wiggle a pair of sneakers.
At Home
It's hot and humid, and the garbage needs to get to the curb before the garbage truck passes your house. Your child can slide their feet into a pair of flip flops and get that garbage out to the street! They are cool and comfortable during hot summer months, making them excellent for around the house and quick errands.
Sleep Away Camp
You've heard the horror stories about camp showers, right? Flip flops could keep your kids from returning home with viral or fungal foot conditions, like Athlete's Foot or warts. You may even see flip flops listed on the generic camp packing lists for this reason.
Community Showers
From college dorms to fitness locker rooms, you're looking at exposure to the same viral and fungal conditions as sleep away camp. Your older kids will thank you for flip flop protection when they head out into the "real world."
What to Watch When Wearing Flip Flops
Flip flops are an excellent option for beaches and community areas because they provide a modicum of protection against some hazards. When the sand or ground is hot, they prevent your feet from getting burnt and can even act as a barrier against sharp objects. In community spaces, like locker rooms, they can protect against fungi and viruses spread through the feet.
However, there are some cautions about wearing flip flops. Extended or inappropriate use of flip flops can lead to injury.
Be Wary of Long-Term Wear
Flip flops are fun and comfortable when used for short periods, like a trip to the beach, but they aren't supportive enough for long periods of walking. Heading to the amusement park in flip-flops may sound like a great way to keep cool, but you could end up in a lot of pain by day's end.
While most shoes offer some form of stability and support, most flip flops do not. Their basic design gives them limited functionality. While flip flops are excellent at protecting against some things, without arch support, cushioned heels, or shock absorption, they can cause foot pain, tendinitis, and sprained ankles.
Flip Flops Make Poor Athletic Footwear
Be honest, how many of you have played catch or tossed around a frisbee in flip flops? It happens, you're at a cookout where you expect to lounge by the pool, and all of a sudden, a game breaks out. Maybe it starts friendly enough, but then things heat up, and somebody twists an ankle.
You don't want your child to end up another cautionary tale about why flip flops should not be worn during athletic activity. They are flimsy and don't offer enough support for running, especially on uneven terrain.
For kids, this means that flip flops are bad ideas for swing sets, basketball in the driveway, and tag. Saying no to wearing flip flops for play may make you the mean mom or dad, but it's better than a trip to the emergency room.
Read Also: Best Flip Flops for Men
Flip Flops Leave You Open to Other Injuries
The bottoms of your kid's feet won't get burned by hot sand or asphalt, but the rest of their foot is largely unprotected. Exposed toes can sustain several types of injuries.
Stubbed, sprained, or broken toes can happen if your child slides in or out of their flip flops.
Debris like broken glass and sharp stones can cause puncture wounds or lacerations if they step incorrectly or the sole is too thin.
Flip flops offer limited protection from insect stings or snake bites.
How Are Flip Flops Made?
Flip flops have come a long way since Ancient Egypt. Some manufacturers have added more comfortable straps, extra cushion, arch supports, and even bottle openers. There are three main methods for making flip flops, but they all start the same way.
Begin with a bunch of rubbery, plastic pellets.
Insert the pellets into an injection molding machine where they will be heated and injected into a shoe-shaped mold.
Allow the mold to cool and trim away excess materials.
Open the molds to reveal the bases for flip flops.
At this point, there are three different methods for finishing flip flops by adding the straps.
Puncture holes through the base of the flip flop. Tie the ends of the straps together under the sole.
Glue or sew the straps to the top of the plastic base.
Drill a hole partway through the sole and glue or sew the straps in place.
Usually, manufacturers inspect every pair, even the cheapest ones, because rejected flip flops can be recycled for a new batch.
How Do You Find the Proper Flip Flops for Your Kids?
With so many choices on the market, how do you begin to choose the right pair for your child?
Purpose
The first thing to decide is how will your child use the flip flops. If the sole purpose is to wear them in a community shower, then you may want to go with the cheapest pair you can find. However, if you're going on vacation and looking for a little more durability or support, you may want to consider a modified pair with some arch support or extra cushion.
Materials
Flip flops are made from dozens of different materials ranging from plastic to cork. In recent years, a trend has emerged where manufacturers use recycled materials, like tires, to make environmentally friendly footwear. If you prefer an eco-friendly or organic pair, look for those designations on a product.
You'll probably see the term "lug sole" as you search for flip flops. Most of the products on our list use this industry terminology, but it just means a thick rubber sole with a pattern of deep indentations to improve footing. Since it's rubber, it's still a synthetic material.
Don't forget to account for the material of the straps. Even though straps are usually made from some sort of synthetic material, that could mean many things. Rubber is synthetic, but so are certain fabrics and fibers. Some materials can irritate the skin between the toes if worn too long or when feet are wet.
Sizing Matters
Pay close attention to the size charts and reviews. Flip flops generally are available in whole sizes. If your child wears a half size, you may want to go up to the next whole size to make sure they are protected. However, this is one type of footwear that doesn't work with the "room to grow" rule of thumb.
You want the base of the flip flop to match with the length and width of your child's foot. If there is arch support or cushioning in the heels, they need to match appropriately with your child's foot. You also don't want their heels or toes hanging off the ends of their flip flops.
Age
Older kids generally have more control over their motor skills, making them less susceptible to some flip flop-related injuries. For younger kids, you may want to look for a pair that has an extra strap around the ankle. Even a lightweight strap can help keep the flip flops on their feet and provide extra support for young walkers.
Price
You can find a cheap pair of flip flops for $5 or less, but like most shoes, you'll get what you pay for. However, if your kiddo only needs them for a long weekend or if they're in the middle of a growth spurt, you may not want to spring for a pricier pair of flip flops.
Fun Facts About Flip Flops
This wildly popular footwear has become a staple in the United States and for a good reason. They are affordable, fun, and much cooler during the hottest months of the year. Here are some more fun facts about flip flops.
The name "flip flop" wasn't coined until the 1960s. It was intended to describe the sound made by the sole slapping against the heel when walking in them.
Since 2007, the third Friday in June has been set aside to commemorate National Flip Flop Day.
In some cultures, the strap went between the second and third toes, including ancient Romans. The ancient Mesopotamians actually wore the strap between the third and fourth toes!
Gucci and Crystalishious worked together to create an $18,000 pair of flip flops. The uniquely shaped, hand-painted flip flops were part of a campaign to raise money to protect the endangered rainforest in Costa Rica.
The Best Flip Flops for Kids
As promised, we did a lot of research to narrow down the massive list of choices to a few of the best. After combing through product pages, reviews, and company websites, we arrived at this list of the best flip flops for kids.
Reef has made a name for themselves in the world of flip flops. Their company slogan is "we live by one rule: beach freely," and they seem to work hard at that. They even pledged to clean up beaches and have cleared more than 300,000 pounds of trash to date. Reef also makes a variety of sandals for adults, including the infamous bottle opener flip flops.
Cute, comfy, and durable are the most commonly used words in reviews for Reef's Kids Ahi flip flops. They have a little extra cushion and some room to mold to your child's foot.
There are a variety of sizes, colors, and patterns. The Infant and Toddler sizes include an extra strap that goes around the back of the heel for extra support – and to keep them on the feet!
Materials
The footbed is printed EVA and the strap is synthetic with a polyester liner.
Pros:
They are cute with a lot of color and pattern choices.
There is some arch support.
Infant and toddler sizes have additional straps around the ankles to keep them on the feet.
Cons:
They run small, so you'll need to be very aware of your child's shoe size and probably consult the company's size chart to get an accurate size.
Some reviewers noted problems with the print rubbing off after one or two wears.
Birkenstock is synonymous with footwear in many parts of the world. Their kids' sandals are no different, and they bend the very concept of flip flops by providing a premium product.
The sole is synthetic and layered beneath a cork footbed. Birkenstock chose to use a cork that is 100% renewable and sustainable. The footbed is shaped to provide support, and the leather straps are comfortable against the skin.
Materials
The sole is synthetic with a cork footbed and genuine leather strap.
Pros:
Known for their support, they will mold to fit the shape of your child's foot.
Adjustable buckles and hardware add aesthetic appeal.
They can be re-soled to make the sandals last longer.
Cons:
It's a high-end item with a price tag to match. It may not be worth the investment if your kiddo is growing fast.
These are more about fashion than anything else. Even though they have some moisture-wicking ability, they aren't made for community showers or hitting the beach.
If you're looking for a basic flip flop with a little pizazz, these may be the ones you're looking for. The Brazilian company has specialized in sandals and flip flops since 1962.
For these kids' flip flops, they blended a classic design and traditional materials with fun colors and patterns. The rubber sole offers protection from hot sand or gross community showers. You can get these flip flops wet without fear of damaging them.
Choose from block color patterns with the Brazil logo, fantasy scenes, Disney princesses, Marvel characters, and more! There is something for every taste and kids of all ages. Toddler flip flops come with an additional strap for around the ankle.
Materials
The straps and soles are synthetic.
Pros:
Kids like the color and pattern choices.
They look cool, and the soles have a textured rice pattern regardless of color or pattern choice.
Many reviewers appreciate the durability and note that their kids wear them frequently.
Cons:
Many of the reviews mentioned a lack of arch support.
The straps are a synthetic, rubbery material that can irritate the skin between toes.
The Jack Rogers brand was made famous by Jackie Kennedy in the 1960s. These American-made sandals focus on comfort and style. Now, they've created a version of their women's sandals that will fit younger girls.
For young ladies who love style and a little bling, the metallic colored straps will have them smiling. There is a low heel and some support through the footbed, making them a fashionable choice for girls.
Materials
The sole is synthetic, and the straps are leather.
Pros:
Most reviewers note that they are well-made and durable.
Stylish and attractive with leather straps and detailed stitching.
Cons:
One of the priciest options on the list.
Don't expect to wear these to the beach, pool, or shower.
Sanuk is another specialty sandal and flip flop company with a desire to impact the environment and give back to their communities. They have initiatives like a green, Leed-certified building for their headquarters and using sustainable materials and packaging.
These flip flops are made from real yoga mats! They may be one of the more comfortable options on the list. Though there aren't as many color and pattern choices as some of the other brands, they have some chic options like glitter straps.
Materials
They are fully synthetic with soles made from yoga mats. The straps are synthetic leather with jersey lining.
Pros:
They are noted to be comfortable because of the squishiness of the yoga mat soles.
One of the few brands that most reviewers note to be true to size.
Several reviewers applaud the moderate arch support.
The leather and jersey straps are comfortable against the skin. Toddler sizes come with an additional strap around the ankle.
Cons:
A few reviewers noted that the flip flops didn't last long before tearing or ripping.
They are difficult to clean, so you may want to go with darker colors.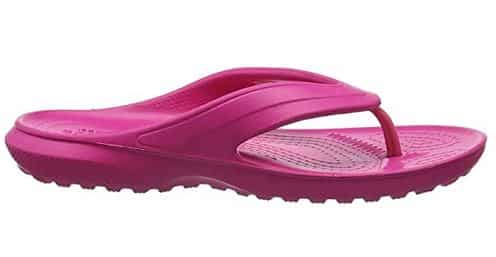 Crocs is one of the most unique footwear brands in the world. They create comfortable shoes that allow you to show off your personality with a variety of colors, patterns, and even accessories. Crocs also has a philanthropy division focused on helping families, animals, and the environment.
While the flip flops won't support the use of Jibbitz, they resemble the unique design we've come to recognize from traditional Crocs. They have a lightly textured footbed for traction and added comfort. This flip flop also has built-in arch support.
Toddler and younger kid sizes have an additional strap that goes around the ankle for extra support and stability.
Materials
Crocs Classic Flip Flops use the same synthetic material, Croslite foam, as other styles in their catalog.
Pros:
There is a wide variety of color and size options.
Though the design is simple, there is a lot of texture and style.
You don't have to worry about them getting wet because they dry quickly and they're easy to clean if you get them dirty.
Cons:
Some reviewers reported problems with shrinking in the hot sun.
Sizing was a problem for some reviewers because they are a bit different than other brands/styles.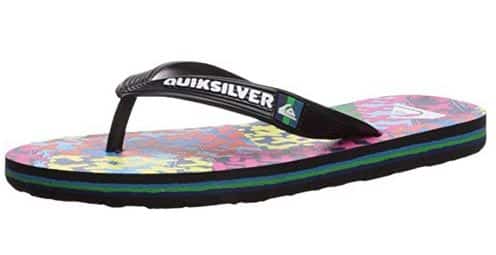 For a company that specializes in clothes and accessories for both ends of the spectrum, Quicksilver seems to know what they are doing. Since 1969, Quicksilver has toed the line for snow and surf fashions. They've even outfitted elite athletes from both ends of the spectrum.
Though they may look like a basic flip flop, there's nothing basic about the colors and patterns of the Molokai flip flips. The Quicksilver logo is on the footbed, and the name appears on the upper straps. Further, the footbed is textured to reduce slipping.
Materials
Fully synthetic flip flops with water-friendly lining.
Pros:
Appealing patterns and designs with many unisex and neutral choices.
A good price point for flip flops.
Most reviewers stated they look cute and can endure the wear and tear of toddlers and young children.
Cons:
Several reviewers note that they run small.
No extra cushioning or arch support.
OluKai was created by three Hawaiians who chose the name Kulapa Kai because it means "to frolic in the ocean." The brand was built on the idea that anybody and everybody can live life like native Hawaiians.
These sandals are advertised as vegan-friendly and water friendly. The simple appearance should not be mistaken for a compromise of comfort or style. There are half a dozen color choices, and the sole has built-in arch support for a sleek look and comfortable feel.
Materials
The synthetic blend is noted to be vegan-friendly.
Pros:
Reviewers note they are comfortable and have arch support.
Several reviews praise the durability of these flip flops.
Multiple reviewers comment on the fact that they don't rub or leave blisters like other brands.
Cons:
Pricewise, they are at the higher end of the spectrum.
A few reviews noted that their feet would be black on the bottoms after wearing them.
Roxy is an offshoot of Quicksilver that was created in 1990 to cater to women. Like Quicksilver, Roxy caters to the snow and surf crowds with an additional line dedicated to fitness gear.
There's not a lot of flashiness to the basic design of these flip flops, but a lot of thought went into the color schemes. Like Quicksilver's flip flops, Roxy's Pebbles focus on the colors and patterns associated with surf, sun, and beach.
Materials
These flip flops are fully synthetic.
Pros:
Fun, colorful, beach-oriented colors and patterns.
Straps are detailed to match or complement the graphic footbed.
Cons:
Some reviewers note that they run small.
They may be a bit expensive for a basic flip flop.
Teva has made a name for themselves in the footwear world with sturdy, outdoorsy sandals. They are known for straps sporting the iconic Teva logo, and the flip flops are just another installment in their franchise.
The Olowahu sandal offers a "strappier" flip flop by going beyond the traditional Y-shaped strap by adding an additional pair of straps to create a unique look. All of the straps water ready and will dry quickly after getting them wet, making for a versatile sandal.
Materials
The sole and straps are synthetic.
Pros:
Reviewers report they are comfortable enough to wear for long periods.
The top sole is noted to be squishy so that it forms to your foot over time.
They are easy to clean.
Cons:
There are not as many color choices as other brands.
Some reviewers reported they were not as durable for active kids.
One of only two brands to make the list twice, Reef created a sleeker flip flop with a bit more support in their Kids' Rover sandal. They have the support and feel of an athletic sandal with the Y-shaped strap and shape of a flip flop.
Rovers were designed with built-in arch support and treading on the outsole to give kids traction when walking. They may be a good choice if you're looking for a versatile flip flop that can work in multiple situations.
Materials
The sole is rubber with a high-density EVA outsole and softly padded synthetic straps.
Pros:
Reviewers comment on the durability, even for kids who are notoriously tough on footwear.
Tread patterns on the bottom provide traction.
Toddler sizes include a removable strap for around the ankle.
Cons:
There are not a lot of color choices.
Some reviews noted sizing issues with the flip flops running small.
Crocs is the other brand to make the list twice. The Kids' Crocband Strap design is sportier with a white stripe around the midsole. These also feature a heel strap, which many reviewers appreciated since they allowed kids to use them more things. The straps that go between the toes and around the heel are fabric instead of Croslite foam.
Materials
The Crocband Strap Flip Flop is synthetic Croslite foam, except for the toe and heel straps which are synthetic fibers.
Pros:
Reviewers state they are comfortable and appealing with a variety of colors and
Several reviewers noted repurchasing this style in a larger size when their kids outgrew them.
Water-friendly and easy to clean.
Cons:
There are only three choices of color – candy pink, navy, and blue jean.
Some reviewers noted that they came apart too easily.
Under Armour does sports, so it's no surprise they edged into the flip flop market. Their athletic slides are probably more well known, but they've carried flip flops for the past several years as well.
The athletic influence is present in Under Armour's flip flops. Their logo appears on the top of the textured straps and imprinted on the heel of the sole. Beach and shower use won't pose a problem for these flip flops because they were designed to dry fast.
Materials
Synthetic rubber sole with thermoplastic polyurethane (TPU) strap.
Pros:
They come in gender-neutral colors, making them truly unisex.
Several reviewers reported they were very comfortable for their kids and worn frequently.
Some parents appreciated that they could be worn to the beach and casually in public.
Cons:
There are only two color combinations to choose from: red/black and black/graphite.
Some people complained that they turned their kids' feet colors and that it was difficult to wash off.
Indosole is building their name on being eco-friendly. They use recycled tire soles to keep them out of garbage dumps and give them new life. Indosole is a B Corp, which is similar to the Fair Trade certification in the coffee industry. For parents who work at being green, this may be the choice for you.
There's nothing flashy about these flip flops, but they aren't meant to be flashy. These waterproof sandals were designed for function and to be environmentally friendly. The company notes that they provide arch support and are sufficient for all terrains.
Materials
Rubber soles created from recycles tires and straps created from vegan fibers.
Pros:
Simple, stylish design.
An eco-friendly option because they use recycled tires for the soles.
Cons:
There are not a lot of color choices and none of the fun patterns that other flip flops have.
The kids' version is relatively new, so there's not a lot of information on durability.
Ipanema chose to add a little bit of glamour to the basic flip flop design. They do claim to use 100% recyclable plastic for their dressed-up version. A mini bow adorns the sparkling straps, and you can choose from eight different color combinations. There is a slight heel, but the sole is mostly flat.
Materials
Synthetic sole and straps.
Pros:
It's a simple design embellished with a little flare and sparkle.
The recycled plastic makes them a green-friendly choice.
Many reviewers commented on the quality and noted that the glitter doesn't fall off when wearing them.
Cons:
Some reviewers complained about sizing issues.
There were some complaints about durability and quality.
Joules is a British company that built a name on durable clothing with surprise elements. When it comes to their kids' flip flops, they didn't hold back on style.
These lightweight flip flops stand out because of their brilliant prints. Florals and mermaids are set off by faux flowers and pom-poms on some pairs while sharks swim along the footbeds of others. They all bear the Joules logo on the straps.
Materials
These are 100% rubber.
Pros:
Covered in eye-catching designs that are colorful and fun.
Several reviewers commented on the durability, even for daily wear.
Cons:
Most reviews noted that they run small compared to other footwear.
A few reviewers noted that the prints were not as brilliant as they appeared in the pictures.
The Final Word on the Best Flip Flops for Kids
It was too difficult to pick just one top flip flop, so we selected a winner in each of three categories.
Best Overall
Like many other Crocs products, the Classic Flip Flops are comfortable and functional. It was difficult to find negative reviews about the style, function, or durability of the flip flops. Even though there are no cool patterns or characters on these flip flops, there's enough of a color selection to please most kids.
They have arch support and back ankle straps in the toddler sizes to improve support and stability. For parents seeking versatile summer footwear that can be worn to the beach, to a casual dinner, or for running quick errands, this could be an excellent choice.
If you're looking to make the most of your money without compromising quality, the Crocs Classic Flip Flop may be your best bet.
Best High-End Choice
OluKai Kids' Kulapa Kai is one of the most expensive styles on this list, but they are repeatedly noted to be durable and comfortable. The arch support and sleek design make them versatile enough to walk the boardwalk and hit the beach.
Unlike some of the other high-price products, the Kulapa Kais work in and around water without fear of destroying them. While you may not want to use these flip flops as shower shoes, they were literally made to rock the beach.
If you're looking for a more stylish pair of flip flops to wear for vacation or a special occasion in warm weather, these could work for you.
Best Value
Quicksilver's Kids' Molokai Flip Flops have a basic design, but they are the best deal on the list with the lowest overall price point. Though they don't have any arch support, they do have a textured footbed to provide some slip resistance.
You don't have to worry about ruining them at the beach or in the shower because they can handle the water and dry quickly. They will also offer some level of protection in those situations. However, because they lack the support of other styles, you may want to caution your kids about running around in them too much.
If you're looking for a basic flip flop to protect against the hot ground or exposure in a community area, these will do the job well enough.
Flip flops carry connotations of warm weather and beaches, but that's not their only purpose. If your kids need flip flops for any reason, this guide should have you feeling prepared to choose wisely.