When you're eager to find a sandal that can keep up with your wanderlust, you'll need the best pair of travel sandals on the market.
If you're interested in looking fashionable while you travel, however, you'll need to know more about what makes for a good pair of travel sandals before choosing one to accompany you on your journeys.
Whether it's a pair of sandals that have stellar arch support, superior durability, or fantastic aesthetics, you'll need to take a careful inventory of your preferences and your intended use cases before you'll be able to find the best pair of travel sandals for your needs.
In this article, we'll round up the top 10 best travel sandals and describe their features to you so that you can be an informed consumer.
Our Top Picks
Before we hop into our reviews of travel sandals, we'll walk you through the things to look for in a pair of travel sandals so that you'll know which features to look for and why.
How to Choose the Best Travel Sandals for You
When you're in the market for travel sandals, there are a handful of factors which you will need to attend to, including:
Sandal style
Intended purpose
Durability
Size and fitting
Arch support
Comfort
Aesthetics
In this section, we'll dive deeper into each of these factors so that you'll know which ones are the most important and which ones may not be the highest on your list of priorities for features.
Style and Purpose
The overall style and intended purpose of a pair of sandals is the essential thing that you should consider.
Sandals intended for travel have several formats, including:
Flip-flop
Wrap-up
Ankle wrap
Buckle-on
Flip flops are the most basic format for sandals, but many people find them to be the most comfortable. On the other hand, many people also find flip flops to be the least comfortable on account of the friction generated by walking as a result of the thong.
For most people, flip flops aren't suitable for extended periods of walking around, but they may be great for people who are accustomed to the way that they feel. For nearly everyone, flip flops aren't suitable for active traveling like jogging or climbing.
Wrap-ups are characterized by their over-foot loops, which hold your foot and the sandal close together. Wrap-ups are as comfortable as flip flops to kick off of your feet at the end of a long day, but they tend to be more comfortable for extended periods of walking.
Wrap-ups aren't exceptionally comfortable for more active physical activities, either, however. On the bright side, they tend to have more comfortable soles and better arch support than flip flops.
Ankle wraps are complex sandals that wrap around the ankle as well as the top of the foot in the way that wrap-ups do. Ankle wrapped sandals are great for walking, and some may be solid enough for running or climbing.
Ankle-wrapped sandals aren't as comfortable to remove at the end of the day as other sandals, but they are frequently extremely comfortable. Some people dislike the way they look, however.
Buckle-ons are similar to ankle-wrapped sandals, but they include a buckle to make for an adjustable fit.
Durability
Durability is a critical concern for travel sandals because sandals are rarely wearable if they break.
In other words, if your sandals aren't durable, you might find that your plans for a day spent traveling can quickly become derailed when you need to spend time replacing your broken footwear.
Not all sandals for travel are made to a high standard, however. Furthermore, durability can be deceptive based on sandal design.
While it might seem that flip flops are the least durable type of sandals at first glance, in fact, more complicated sandals can fall apart much faster because they have more points of failure. With a flip flop, there are only three places where the thong can detach from the sole.
With an ankle-wrap or buckle-on sandal, there are likely a dozen different points of attachment, though no single point is likely to be critical to wearing the sandal. Furthermore, the soles of these more complex sandals tend to be easier to damage than with a flip flop.
Importantly, if you only plan to lounge on the beach with your travel sandals, you don't need to put durability very high on your list of priorities for finding a sandal. If you plan on mountain climbing or jogging, durability will be of superior importance.
Likewise, while most sandals are waterproof, you may find that some sandals are not, meaning that they are less suitable for active use.
Fitting
Most sandals are easy to fit your foot in comparison to shoes. In particular, the width and length of sandals are much less sensitive to variations in the wearer's foot size in comparison to other footwear.
However, you may still find that particular sandals are more well-fitted for your foot than others. In particular, many buckle-on sandals with advanced soles can be more finicky to fit than flip flops or wrap-ups.
Fitting is especially crucial for cork-soled sandals, which are meant to conform to the shape of your foot over time. Thus, if you think you are partial to sandals with specialty soles, you should tread carefully with your fitting.
Wrap-up sandals are often the easiest to fit because they have flexibility at multiple points. If you have wide feet, you should be sure to pick wider wrap-up sandals, however, as their flexibility is more substantial in the vertical dimension than the horizontal in most cases.
If you prefer flip flops, fitting is a smaller but still relevant concern. Most flip flops have built-in tolerance for extra-wide or long feet, and your only hesitation should be whether the sandal is too long to be comfortable or its thong is too tight to walk in.
In some situations, however, you may find that a too-tight flip flop strap can burn the outline of the thong into the top of your foot. This is especially likely to occur if you walk for very long periods when wearing flip flops.
Picking a larger sandal will typically mitigate the impact of a tight thong, but you may still find that sandals have straps that go between your toes that can also cause irritation.
Aesthetics
Aesthetics are a vital concern if you want to look cool while you're walking around. Consumer opinions vary widely with regard to the best sandal aesthetics, however. Finding sandals with the right look is something that will be mostly up to your judgment.
Women often prefer elegant wrap-ups or ankle-wrapping sandals, but flip flops are common choices as well. In contrast, men usually prefer sportier buckling sandals or minimalistic flip flops.
If you need a place to start looking for an aesthetically appealing travel sandal, try looking at sandals that use leather and cork as their primary materials, as both of these materials tend to look good without much effort.
Keep in mind that your sandals can either be the centerpiece of an outfit or an understated part of your outfit, but rarely can a single sandal fill both roles.
You will need to choose between a sandal that plays nice with most of the outfits you could imagine wearing and a sandal that commands attention.
This is an especially important consideration for women's sandals, as men's sandals tend to have aesthetics that aim to blend in rather than to stand out.
If you don't care about the aesthetics of your travel sandal, however, you should opt for whatever makes you the most comfortable while you're walking.
Support
Foot support is frequently difficult to find in a pair of travel sandals. There are several reasons for this, the most important of which being that sandals are more tenuously attached to your foot than other footwear.
This means that sandal soles can't be as heavy as they might be with other footwear. As a result, if you have unique arch or heel support needs, you'll need to look harder to find a travel sandal that is right for you.
Arch support is generally easier to come by in travel sandals than heel or front-foot support. While some travel sandals have built-in arch support, which will conform to your foot, it's very difficult to replace soles or add insoles with sandals like you might with other footwear.
Thus, if you have special needs for arch support, you'll probably have the best bet if you find an ankle-wrap or buckle-on sandal because these sandals are the most likely to keep your foot in contact with the bottom of the sole.
With flip flops or wrap-ups, the arch of your foot is only in contact with the sole when you're standing still. Most of the stress of walking will be on your footpad.
This also means that if you need front-foot support due to weak hamstrings or upper leg muscles, you'll be hard-pressed to find it with most sandals that don't strap your foot into place.
In other words, for front-foot support, you'll probably need buckling sandals rather than flip flops. If you have issues with the ball of your foot, flip flops will be especially painful to wear as a result of their minimal shock absorbance, so choose accordingly.
If you need heel support, the same principles apply. Most sandals have poor heel support, but, especially for women, some buckle-on and ankle-wrap sandals avoid being part of the trend.
In general, a sandal's level of comfort is also connected to its level of shock-absorbing material in the sole. As sandals are not intended for activewear applications like running in most cases, the soles of most sandals are not symmetrical in terms of their shock-absorbing capabilities.
The rule of thumb to remember is that sandals with more shock absorbance will have physically larger soles and treads than sandals with less shock absorbance.
However, the size of shock-absorbing soles typically balloons beyond a reasonable level very quickly, unlike with sneakers or other footwear.
This means that if you are wondering why certain pairs of sandals appear to be taller than platform heels, the reason is that they are likely highly shock absorbent.
Comfort
Sandal comfort means more than the amount of support. Many people find the thong of flip flops uncomfortable for the space between their toes. However, not all flip flops will be equally uncomfortable.
Look for flip flops that have a soft material that won't cause discomfort via friction on the thong. The thong can cause discomfort between your toes, on the top of your feet, and even on the sides of your foot if there is too much friction during each step.
Similarly, some people find that the straps associated with buckle-on and ankle-wrap sandals are confining and irritating for the skin. Leather is typically the best material choice for sandal straps in part because its naturally soft texture doesn't cause abrasion with repeated stepping.
Some people prefer synthetic materials for their sandal straps as synthetic materials are more likely to be more breathable, however.
Notably, few people would say that the cork-bottom soles of premium travel sandals are uncomfortable. In contrast, you'll find few people raving about the comfort of synthetic or rubber soles, though many people wear them without complaint.
Thus, you should prioritize finding the style of sandals which you find the most comfortable, then look within the selection of sandals of your preferred style to find the best sole.
Read Also: Best Walking Sandals
Best Travel Sandal Reviews
Now that you know what to look for in a pair of travel sandals, it's time to jump into our travel sandal roundup so that you'll have a handful of good ideas about where to start your search.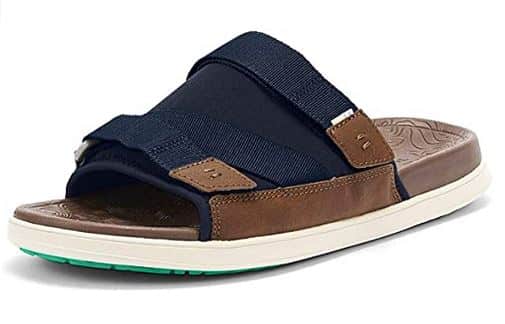 The TOMS TRVL LITE sandals are a variation on the wrap-up style, which incorporates a comfortable rubber sole, a beachside aesthetic, and a comfortable over-foot wrap piece that provides some much-needed sun protection for the top of your foot.
Unlike many wrap-up sandals, you'll find that these TOMS don't make a characteristically loud sound while you walk around because of how closely they remain aligned parallel to your foot.
The sole of these sandals is excellent for your midfoot, and it provides more arch support than you might expect from sandals of this style. However, if you need robust ankle support while walking, these sandals probably aren't the right choice for you.
Similarly, if you want to do high-impact exercise, these sandals probably aren't the right choice. They're perfect for walking along the beach, but anything more vigorous will have the sandals flying off of your feet at an inopportune time.
The only downside to the pleasant aesthetic of these sandals is the bright green treads, which stand out in an undesirable way with several of the sandal's color options.
While you probably won't notice the bright green treads while you're walking around, anyone who is walking behind you will probably see the flash of green every time you step.
Pros:
Comfortable sole
Highly durable
Easy to adjust
Great for walking or lounging
Easy to clean
Cons:
May get hot in the summer
Not waterproof
The brightly colored tread may be unappealing
Leather stitching may become discolored
Birkenstock is a legendary name in the sandal market because of the brand's reputation for superior comfort, exceptional quality, and their characteristic aesthetics.
These Milano travel sandals uphold Birkenstock's reputation, complete with the iconic Birkenstock style, which consumers love.
These sandals have a cork sole, Amalfi leather straps, coppered iron buckles, a rubber tread, and a build quality that you can expect to last for nearly a lifetime of wear without breaking.
Because of the cork sole, these Birks will mold themselves to the shape of your foot the longer you walk with them. Eventually, the sandals will be perfectly shaped to your sole, making them fully customized, unlike any other shoe you might wear.
However, this means that you'll need to spend more time fitting the sandal correctly the first time around. If you don't fit your Birkenstocks correctly, you'll never get the full advantage of the cork soles.
You'll probably still find that the sandals are exceptionally comfortable as a result of their three-buckle adjustable design, however.
There aren't any significant problems with the Milanos, but you should be aware that you will need to take care of the leather if you want them to last.
Unlike sandals made with synthetic materials, leather sandal straps need to be nourished with a leather preservative from time to time, especially if you want them to stay waterproof and avoid brittling over the years.
Likewise, you'll need to keep your Birkenstocks clean, especially if you walk with them by the ocean. Salt and sand particles can be abrasive for the leather, so if you wipe them off after a walk in the water, you will prevent them from accumulating any damage.
Pros:
Cork sole shapes itself to your foot
Excellent arch support
Excellent heel support
Exceptionally durable
High-traction tread
Cons:
May not be aesthetically appealing to everyone
Buckles may break with extended use
Difficult to fit properly
Difficult to maintain and clean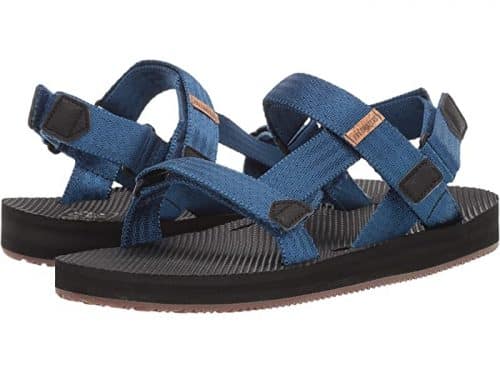 These Freewaters Supreem Sport Sandals live up to their name by being an excellent choice for sporting or activewear sandals as a result of their shock-absorbent sole and padded straps.
If you're into biking, hiking, or walking on the beach, these Freewaters will be a great choice for you. These sandals need minimal maintenance, even when you get them wet, sandy, or covered in dirt.
These sport sandals are also great for people who need a lightweight sandal that won't weigh them down while on a long trek. Because of the synthetic sole material, these sandals are significantly lighter than many other sandals, including flip flops.
The sole also provides a fair measure of the heel support, which will come in handy while climbing or pausing while on an incline.
If you have sensitive skin, you may find that these sandals cause painful friction on your feet during extended treks. The reason for this is that the sandals have a small amount of padding on the straps.
This padding may be comfortable for some people, but uncomfortable for others — if you have hairy feet, you'll probably be fine with these sandals because the hair will help to prevent unwanted friction.
Pros:
Great for use while climbing or hiking
Fully waterproof
No maintenance required
Lightweight
Moderate heel support
Cons:
Flimsy midfoot sole
Strap material may be irritating above the rear ankle when walking
Straps tend to fray easily
Few color options
These O'Neill Valencia sandals have an award-winning aesthetic, a comfortable specialty material sole, and a fantastic feeling.
The O'Neill's espadrille footbed has a woolen and furry appearance, which makes them exceptionally beautiful to behold. Most people will also find the material to be very comfortable, almost like walking on a rug.
However, some people may dislike the appearance of the footbed, and the heat-trapping nature of the material may be annoying for some people.
Likewise, the espadrille is difficult to clean, which means that you should probably avoid getting it dirty in the first place. It isn't waterproof, so it isn't the best for walks on the beach or situations where you might sweat heavily.
Overall, this is a sandal that is better for lounging than for long walks or strenuous activity.
Pros:
Very aesthetically appealing
Beautiful sole material
Comfortable for casual walking
Very easy to fit
Great footpad support
Cons:
Fragile; not waterproof
Animal-hide-like sole material may not feel comfortable for some people
Materials trap heat close to the foot
Sole material is challenging to clean
Billabong isn't the most established name in the sandal market, but these Wrap Me Up sandals are among the best that you'll find as a result of their comfort, great aesthetics, and foot-conforming soles.
Aside from the festive and attractive trim on the sandal's soles, the straps on these Billabong sandals are appealing as a result of their red leather. The straps are also very comfortable for the wearer as a result of their soft and buttery texture, as is the sandal's sole.
The leather sole of the sandal protects its cork interior, which gives it the ability to shape to your foot. However, because of all the leather in these sandals, they feel hot to wear. If you tend to get sweaty feet, these sandals may be somewhat uncomfortable as a result.
Furthermore, if you don't invest the time to fit these sandals to your feet, they may slip off your feet by accident in some situations.
Pros:
Trendy sole exterior aesthetic
Comfortable leather-clad soles
Buttery leather straps
Foot-conforming sole interior
Great for people with flat feet
Cons:
Leather soles trap heat and moisture excessively
Requires careful fitting for optimal walking comfort
Fragile tread
May slip off of feet too easily
The OTBT Nova is an excellent sandal for active use, assuming you can get over its bulk and somewhat clunky appearance.
You'll need to pick the right outfit to make the aesthetics of these sandals work for you, as they'll be a commanding component of your outfit, unlike more understated sandals might be.
The majority of the value of this sandal comes from its extra-tall tread, which is very durable.
Likewise, the heel and ankle support on this sandal is exceptionally good, especially for people who struggle with foot comfort during hikes. The straps are padded and frictionless, meaning that you won't struggle on long walks.
Nor will these sandals leave you feeling too hot as you walk around. While there isn't any cooling built into the sandal sole, your feet won't sweat too much because of the sole's material.
If you want a lightweight sandal, however, this sandal may be difficult for you to tolerate because of its heavyweight. The bulk of the sandal is valuable if you're hiking, but for lounging around, it is probably excessive.
Pros:
Great ankle support
Padded straps
Great for long walks or climbing
Easy to clean
Great tread traction
Cons:
Very bulky
May be uncomfortable for people who need front-foot support
Poor aesthetics
Heavy; may sink into sand or mud
If you're looking for a flip flop style sandal that's durable, comfortable, and minimalistic, these O'Neill sandals are right up your alley.
For flip flops, these Traveler sandals are very comfortable. While they make a loud flip-flopping noise with every step, you'll find that these sandals provide more heel and ankle support than most other flip flops as a result of the sole's gradual taper.
On the other hand, they provide even less than the minimal front-foot support that you'd expect from a flip flop, so if you tend to have a sensitive ball area of your foot, these sandals may not be the best for taking long walks.
On the bright side, these sandals require practically no cleaning or upkeep, as they're waterproof and made from synthetic materials. When you take long walks, even if your feet are prone to getting sweaty, the breathable thong will ensure that your feet don't feel hot.
Finally, these sandals have an understated aesthetic which will blend properly into whatever outfit you choose to wear. You will have a hard time making these sandals stand out, but if you're planning on a trek, it won't matter much.
Pros:
Padded thong for foot and toe comfort
Waterproof
Highly breathable
Sleek and understated aesthetic
Great heel support for a flip flop
Cons:
Only two color options
Very little front-foot support for a flip flop
Tends to break at the side straps
Tends to run long despite best efforts at fitting
These Reef Voyage LE flip flops are gorgeous and beach-ready sandals. If you're looking for a casual traveler's sandal, which is great for walking and looking great at the same time, you probably don't need to look much further than these sandals.
Thanks to the triple-layered soles of these sandals, you'll get a lightweight piece of footwear which doesn't skimp on support — at least, not for a flip flop.
If you need serious foot support, you will still need to look for something more involved than a flip flop, but if you only need a little bit of arch support, these Reef Voyage flip flops are among the most competitive on the market.
The only issue with these sandals is that the support has a cost in terms of the sandal's durability. Because of how complex the three-layer sole is, you can expect it to fray at the points where one part of the sole is glued to the next part along the exterior.
There isn't much you can do to avoid this fraying, as it's a natural consequence of the tension on the thong during each of your steps. However, if you don't mind the edge of the sandal having a slightly frayed look after a few hundred miles of usage, you won't have any problems.
Pros:
Classic beachside flip flop aesthetic
Triple-layer sole for lightweight comfort
Provides more arch support than most flip flops
Soft leather feeling on every foot-adjacent surface
Less cleaning and caretaking required than with other leather-based sandals
Cons:
Sole tends to fray
Thong and sole leather isn't breathable
Toe thong may irritate the skin in between your toes
Visually awkward brand tag placement
For a minimalistic and sporty flip flop, look no further than these Reef Slammed Rover Sandals.
Unlike other flip flops, these Reef sandals typically cling to your foot sufficiently for use during semi-strenuous activities. Likewise, the firm sole on these sandals means that if you step on awkward terrain, your foot's arch will be protected from an otherwise uncomfortable situation.
While it isn't a significant value-add for most people, these sandals also have a quieter flopping patter than most other flip flops as a result of their ability to cling to your feet more closely.
There aren't any major problems with these sandals, but there are a few things which you may find undesirable. First, you may have a difficult time fitting these sandals if you have a wide foot.
Likewise, if you have a tall foot, you may find that the padding on the thong doesn't do much to prevent the thong from digging into your foot. The solution to this issue is to pick the next size up and hope that it still retains the sandal's foot-clinging ability to a sufficient degree.
Pros:
Sleek and sporty aesthetic
Great for long walks
Great for people who want to have fresh feet
Minimal flopping noise
Firm sole
Cons:
Difficult to notice aesthetic
Doesn't have real leather
Runs narrow
Strap padding may not be very helpful
These OluKai Kulia Sandals are amazing on account of their artisanal aesthetics as well as their sporting-ready features, which are better than most other flip flops.
The first thing you'll notice about these sandals is that they are absolutely beautiful. The leather thong and sole are a joy to behold, and you'll find that they feel as comfortable as they look attractive.
The tapered sole helps to keep your ankle supported as well as your foot's arch. Likewise, the treading on the bottom of the sandal ensures that you won't slip while walking quickly.
There are a few issues to be aware of with these fantastically pretty sandals, however. First, the leather components of this sandal demand a higher standard of care. If they get wet or dirty, you'll need to clean them off if you want the leather to stay in good shape for the years to come.
Likewise, if you need support on the front of your foot, you'll find that these sandals are severely lacking.
You won't exactly feel every pebble, but as a result of the pressure-amplifying traction treading, stepping on certain surfaces will transfer the shock to the front of your foot instead of diffusing it.
Pros:
Stately fitted leather aesthetic
Great for leather lovers
Extra-comfortable thong toe lashing
High-traction treading
Good arch support
Cons:
Minimal heel support
Minimal front-foot support
May get weathered by extended sun exposure
Not very durable or easy to clean
The Verdict
That wraps up our roundup of the best traveler's sandals on the market. Now that you're up to speed on the most competitive travel sandals, it's time to deliver our verdict regarding which are our favorites and which you might be interested in taking a closer look at for other reasons.
Best Overall
The O'Neill Traveler Sandal is our top choice for the best overall traveler's sandal because it has good durability, great comfort, and acceptable aesthetics without being too high maintenance or difficult to fit properly.
The O'Neill will be a great pickup for people who want a flip flop style sandal that can serve the majority of their needs during traveling or trekking.
The only notable downside of the O'Neill is that it isn't attention-grabbing, so if you want to stand out, it may not be the best choice to round out your outfit.
Our runner up for the best overall is the Reef Voyage LE on account of its great comfort, great aesthetics, and high build quality.
However, we feel that the Reef Voyage LE's durability is slightly lower than the O'Neill's, and also that it tends to feel a bit too hot, which makes it less suitable for strenuous activities.
Best Premium Product
The OluKai Kulia sandals win our award for the best premium-tier travel sandals because of their unparalleled beauty, high level of comfort, and skillful use of all-leather components.
Especially if you're a leather lover, the Kulia is an excellent choice because of its excellent build quality and its buttery leather-wearing experience. While it isn't the best for sports, it's more than sufficient for general wear in most travel scenarios.
The only issue with the Kulia is that you'll need to take care of them properly if you want them to last, which may not be the case with all of the premium-tier travel sandals.
Best Value
The Birkenstock Milano sandals win our award for the best value on account of their buy-for-life durability, foot-conforming soles, characteristic Birkenstock aesthetic, and excellent build quality.
When you buy Birkenstocks, you'll get footwear that will improve with age rather than falling apart. You'll also find that you don't need to spend much time cleaning your Birkenstocks.
You'll need to invest a bit of extra time upfront in fitting your Birkenstocks properly, but it'll pay off with added comfort.
The aesthetic of the Birkenstocks is not for everyone, however.
Many people find that the Birkenstocks appear to be somewhat nerdy or unfashionable for their tastes, and their unique shape causes them to draw attention away from other parts of your outfit, which may be undesirable.
On the other hand, Birkenstocks are probably the single most comfortable buckle-up sandal, making them an excellent choice for nearly all travel sandal purposes.
Walking Off
That wraps up our roundup of the best travel sandals. We hope that you've found this guide to be useful and that you feel more prepared to pick sandals than ever before.
Remember to pick the sandals which are right for the purpose you intend to use them for, and don't forget that sandals often require just as much care as other footwear if they're made of leather or other heirloom-quality materials.