If you've looked at your toddler's feet lately, you probably noticed that they are fatter, flatter, and more flexible than your feet. These characteristics make it more challenging to find a sandal that not only fits well but won't harm your child's foot development as he or she begins walking and running.
In this article, we're going to explore the best toddler sandals on the market today. We'll give you the low-down on several different brands and styles. Whether you're seeking the absolute best option for the developmental stage of your child's foot, a more budget-friendly pair of sandals for the summer, or are most concerned with getting the best shoes for your money, we've got something for you in this list.
Our Top Picks
If you're looking for the nitty-gritty on these sandals along with more reviews and an in-depth buying guide, read on ahead.
The Anatomy of a Sandal
Sandals are a kind of open footwear. They are made up of a sole held in place by straps that go over the instep or around the ankle. A sandal leaves most of the foot exposed.
Sandals can be made with a sole that is assembled from rubber, wood, leather, tatami, or even rope. The strap that holds the shoe in place can be called a sabot strap or latchet. This length of material passes around the ankle or over the arch of the foot. Additionally, a thong may go between the first and second toe. Some sandals have high heels.
The sandal strap is tightened with a fastener or can be tied. One type of clasp utilizes hook-and-loop construction. This type of fastening system uses two sides of a material that interlock when placed together, like Velcro. The hook is the scratchy side, and the loop is the fuzzy side.
Buckles are another type of fastener. The buckle is a clasp that is flat square or rectangular frame with a hinged pin. The pin is inserted into holes on the sandal strap and then woven under another bar on the buckle.
In modern footwear, the sandal sole is made up of three layers. The bottom layer is the outsole. The outsole may have patterns to improve the traction of the sandal or may be smooth.
Then there is a second layer called the midsole. The midsole can be made up of EVA foam to provide additional cushioning to the foot when walking on hard surfaces. The top layer that comes in contact with the foot is the insole.
The insole is also known as the footbed. The footbed may have texturing to keep the foot from sliding around or may be smooth. Sometimes the footbed is treated with antimicrobial chemicals to reduce foot infections and smelliness.
The History of Sandals
The oldest pair of sandals were found in Fort Rock Cave, Oregon, in the United States. These sandals were woven from sagebrush bark. Scientists estimate that these particular shoes were at least 10,000 years old.
Sandals worn by the ancient Egyptians were made of papyrus and palm tree leaves. In ancient Greece, actors and philosophers wore shoes made of twigs and willow leaves. Men of higher rank and hunters work a type of boot sandals, which often had a layer of cork to add height to the wearer. Women also wore this type of footwear in ancient Greece.
In ancient Rome, sandals often had elaborate designs carved into the leather straps and soles. Biblical sandals are a type of classic footwear still manufactured in and around Israel. Originally these sandals were made from non-processed leather and dry grass and had little adornment in contrast to the Roman sandals.
Common Types of Sandals
There are many types of sandals worn throughout the world. In this section, we are going to concentrate on the styles of open footwear worn in the United States.
Fisherman sandals were initially manufactured to be worn by boys and men. They are a type of T-bar sandal where the toes are covered by several leather bands that are interwoven with a strap that goes along the center lengthwise. The cross strap is fastened with a buckle. The heel of this type of sandal can be completely enclosed or secured by a single strap that attaches to the cross strap.
The fisherman sandal inspired jelly sandals. Instead of leather, they were made with PVC plastic. Jellies were invented in 1946 because of the post-war leather shortage. Although women and girls most often wear jelly sandals, there are a variety of unisex designs available.
Salt-water sandals are a type of flat shoes that are primarily worn by children. Again, this style was created in the 1940s when leather was in high demand. Salt-water sandals were made with the leftover materials from manufactured army boots.
Flip-flops consist of a flat sole that is held to the foot by a Y-shaped strap or toe thong. The thong goes between the first and second toes and around both sides of the foot. The flip-flops design now commonly found in the United States was inspired by the Japanese zōri, which were brought back from Japan by U.S. soldiers. Flip-flops became popular beginning in the 1960s.
Another style, most commonly known as sliders, has a strap that goes across all of the toes. The wearer slides his or her foot into the sandal. He or She does not need to grip the thong with the toes with this type.
High-heeled sandals have an elevated heel and are most often worn by women. These types of shoes can be casual or formal, depending on the style of the shoe. These are not meant to be worn in areas of sand, gravel, or grass since the heel will sink into the soft ground making it difficult for the wearer to walk.
Trekking or hiking sandals are designed to be worn in hot and tropical climates. Typically, they have a durable rubber outsole and a softer EVA foam insole. Hiking sandals are usually shaped for arch support.
The straps can be made of nylon webbing or polyester. Manufacturers choose these materials because they are quick-drying and minimize foot perspiration. Hiking sandals are the preferred footwear for many types of adventure sports, such as paragliding, skydiving, and rafting.
Seafoam sandals are made from closed-cell soft foam. They use surgical tubing for the straps. Seafoam sandals were invented in 1973 and are sold mostly in the Texas Gulf Coast area near the beach.
Children mostly wear T-bar sandals. They have an enclosed toe and heel. These sandals are fastened by a cross-wise bar or strap, which can be secured by a buckle or Velcro. A strap extends from the front and center part of the shoe and joins the cross-strap at the arch forming a T shape.
Another type of T-bar sandal has two cross-straps. The toe of the shoe often has a pattern of slots or holes. The sole is low-heeled. It can be made from crepe rubber, which has been stitched to the upper.
Things to Look for When Choosing the Best Toddler Sandals
Since your toddler's feet are constantly growing, you may need to buy sandals every few months to keep up. Between the ages of one and three, your child's foot may grow up to 1.5 mm in length every month. That rapid growth can average out to a difference of two full shoe sizes per year until the age of four.
Furthermore, on average, children's shoes only last about four months or so, depending on the quality of the materials. Therefore, the most expensive pair might not be the best choice when buying sandals.
Toddler sandals should:
Be a comfortable fit in width and length
Have plenty of toe room and toe guards
Have a flat, flexible sole
Be wider at the front than the heel
Have a solid heel strap
Fasten securely
Have rubber skid-proof soles
Made from breathable materials
When deciding on the proper size, measure each foot's width and length. It's essential to measure both feet because a toddler's feet can vary as much as half a size. Generally, you want about a centimeter up to a half an inch of space, about a thumb's width, left at the front of the shoe to allow for growth. Sandals that are too big make for unstable walking. Shoes that are too tight can also cause walking difficulty and could lead to foot deformity.
Width is also important since, as we mentioned, your toddler's foot is fat and wide. For a good fit, make sure the sandal doesn't pinch either side of the foot. The sandal also shouldn't be so broad that that shoe moves loosely from side to side.
The toe-box should be broad and either square or round instead of entirely open. Having a partially closed toe will reduce the amount of toe-stubbing that occurs.
The sole should be flexible at the ball of the foot, but not at the heel counter. Instead, the heel strap should be firm and supportive. Your child's foot should not lift out of the sandals when walking, nor should the strap rub up and down.
Whether the sandals have Velcro or buckle fastenings, they should be able to be adjusted to fit snuggly but not so tight that they cut off circulation in the feet. Toddler sandals should be made from breathable materials, like leather, mesh, canvas, or cloth rather than plastic, to allow air to circulate and maintain their flexibility.
The soles can be manufactured from a variety of materials but should have a non-skid surface, especially since sandals are often worn in wet areas where the chances of your toddler slipping are higher. Avoid shoes that have deep grooves because they could snag on the edge of a rug or sidewalk.
Should Toddlers Wear Any Shoes, Including Sandals?
If you've ever watched a baby's first steps, you've probably noticed that they tend to turn their feet inward or occasionally outward. This awkward gait occurs because their ligaments have yet to stiffen up, and their muscles have not developed completely. As the bones in the foot develop and the muscles strengthen, a toddler's ability to walk improves.
Although shoes will protect your baby's tender feet in certain circumstances, a child that is learning to walk should be allowed to go barefoot as much as possible to aid in proper muscle and bone development. If shoes must be worn, they should be soft-soled. When toddlers are confident, independent walkers, they can begin to wear firmer soled shoes.
A typically developed foot has a medial arch that is formed by ligaments, bones, and muscles. Up until age two, a child's foot does not have much of an arch. Because of this, the soles of shoes your toddler wears should be flat rather than have an arch support built-in. The feet will develop an arch properly between the ages of 5 and 7, well past the toddler stage.
When Should a Toddler Wear Sandals?
Sandals are most often worn when the weather is warmer so that the wearer's feet are colder. Sandals are also usually less expensive than other types of footwear, so economics sometimes plays a factor in sandal choice in many countries. This type of shoe uses less material and is, therefore, less expensive to manufacture. Sandals can be a stylish option, as well.
Sandals, although they look so cute, are not meant for as everyday footwear for toddlers. Many shoes are not enclosed enough to protect your little one's feet from accidental injury. However, sandals are undoubtedly the best go-to footwear for at the beach.
Because your child's foot is still forming, toddlers should not wear flip-flops, baby Crocs, heeled, or pointy sandals. These types of shoes won't provide stability or support a toddler needs to navigate his or her world successfully.
Heeled sandals are especially difficult for toddlers to maneuver in because they force the foot and leg into an unnatural angle when walking. Pointy slippers inhibit the natural toe-curling that your toddler engages in. Long-term use of pointy sandals can hinder proper toe spacing, as well.
Crocs are designed to be loose and may not stay on your child's foot while he or she is walking. Furthermore, children wearing Crocs have been injured by escalators when their feet have gotten caught in the mechanism.
Flip-flops are another no-no for toddlers. The flip-flop design forces the wearer to grip the sandal with their toes. Toddlers, who are new to the walking circuit anyway, will have difficulty with this process.
Recommended Best Toddler Sandals
Take a look at our list of the best toddler sandals available on the market today. When we compiled our list, we considered several things, including whether or not the shoes had toe guards, the type of fasteners it had, and the materials used in manufacturing.
The Original Salt Water Sandal by Hoy Shoes is just darling. These water-friendly leather uppers are the perfect sandal for the beach. There is no problem with them being worn both in and out of the water, making them extremely versatile. They have a breathable leather lining and footbed and are held in place with a metallic ankle strap.
The heel measures about 0.5 inches, and the sandal is true to width. Since these are salt-water sandals, which are a flat style of shoe, there is no arch support, making them perfect for toddlers. The flat rubber sole is little-way stitched to keep little feet in place. The bottom of the sole is mostly smooth except where the stitching comes through. The lack of traction may not be the best for little walkers, however.
These sandals come in a variety of fashionable colors for girls and boys. For the best fit, the shoes should be soaked for about an hour then worn for several more hours to break them in. The wet leather will mold itself to your toddler's foot as it dries. If the sandals are worn without the molding process, the leather might chaff at your little one's feet.
The lack of a toe guard is another problematic issue with these sandals. Little tootsies are always running, and a toe guard provides more protection than an open-toe design.
Salt-water sandals have been manufactured for over 70 years. This style of footwear was originally crafted with scrap leather leftover from the production of military boots in 1944. They are still made with 100% leather with a flat, rubber sole.
Pros:
100% leather
Flat, rubber sole
Mold to foot
Cons:
If the sandals are worn without taking the time to mold them, they will cause blisters.
No toe guard
The Weestep Toddler Adjustable Strap Sandal comes in six fun colors for both boys and girls. It has two adjustable straps, at the ankle and at the toe, to adjust the size to fit your toddler best. These sandals are cushioned so they can be worn comfortably on hard pavement. They are also water-friendly because they are made with breathable materials allowing them to dry quickly.
The Weestep Toddler Sandals have a flexible construction with a lug sole. This design adds to the slip-resistant properties of its outsole, improving traction and stability for your toddler in wet environments. The insole also has a patterned marking, reducing foot slippage.
The footbed is crafted with EVA foam, which is a closed-cell foam often used for exercise mats. The foam cushions and lightly supports your toddler's foot. The hook-and-loop velcro closures allow you to quickly adjust the sizing and make sure the sandals fit securely on your toddler's tootsies.
The only drawback we found to the Weestep Toddler Sandals is the lack of a toe guard. We need to keep those little toes safe. All the other features, including the lug sole, water-friendly materials, and dual positioned velcro closures, are definite pluses in our book.
Pros:
Flexible rubber outsole with a lug sole
Water-friendly insole
Elastic hook-and-loop velcro closures
Cons:
Light support and cushioned
No toe guard
Littleplum Kids Sandals are quick drying and water friendly. They are made with breathable mesh straps and feature a rubber toe guard to protect your little one's feet. They are lined with water-repellent soft leather. The hook-and-loop strap lacing allows you to adjust the fit around the ankle and at the front of the foot, ensuring a snug and comfortable sandals.
The outsoles are made from flexible, non-marking rubber with an anti-slip lug sole. They are lightweight and well-ventilated.
Although we love the addition of the toe guard, there are some sizing issues with the Littleplum Kids Sandals. The sizes run small, so be sure to measure your toddler's foot carefully. The front strap also is a rubbing point for extremely chubby toddler toes.
Pros:
Toe guard
Two adjustable straps
Lightweight
Cons:
Sizes run small
For extremely chubby feet, the front strap might dig into the skin.
The Sun-San – Swimmer Salt Water Sandal is yet another from Hoy Shoes. The water-friendly leather upper has a breathable leather lining and footbed. The sole is synthetic cushioned urethane and scuff-resistant. The brass buckles on the ankle strap are rust-proof.
This lightweight sandal can be worn in and out of the water. The sole is textured to keep your child from slipping and falling. The Sun-San Swimmer is an excellent option for toddlers with thin feet as the sizing tends to run a little tight. The cushioned sole provides a slight amount of arch support.
The Sun-San Swimmer comes in a mix of colors for both boys and girls. The flat salt-water sandal design is excellent for toddlers. We didn't like that there wasn't a strap to adjust the front of the sandal, nor do these sandals have a toe guard.
Pros:
Great for narrow feet
Rust-proof ankle buckle
Textured urethane sole
Cons:
No toe guard
No adjustable front strap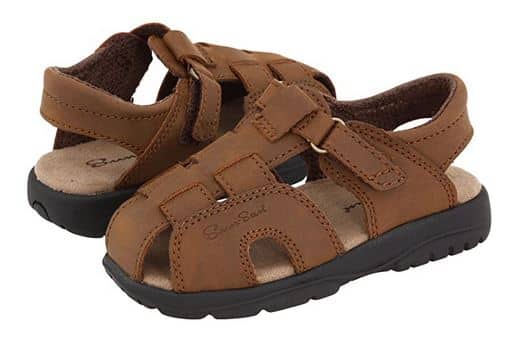 Sun-San Shark II, Salt Water Sandal by Hoy Shoes, is made with a breathable leather lining and footbed. The ankle strap with a velcro buckle closure provides a secure fit. The water-friendly premium leather is designed to be worn in and out of water.
The Sun-San Shark II have a synthetic sole with a patterned grip to reduce slippage. The outsole is flexible and lightweight. The partially enclosed toe will protect little toes. They fit wide toddler feet well. The back strap is ample for comfortable feet.
Unfortunately, these sandals don't have an adjustable front strap and are stiff until broken in. Otherwise, they are an excellent fit for wide toddler feet, have a large ankle strap for stability, and have an enclosed toe design.
Pros:
Great fit for wide toddler feet
Toe guard
Good width back strap
Cons:
No adjustable front strap
Stiff until broken in
The Stride Rite SRTech Harper Sandal is a fisherman style leather upper especially designed for independent walkers. With Stride Rite's Stage 3-Enhanced Natural Motion System, these sandals are formulated to mimic barefoot walking for proper foot development.
The Harper Sandal is flexible and has a seamless footbed with signature memory foam to cradle your toddler's feet. The durable rubber outsole has a tread design and sensory pods for better grip and traction as your toddler explores his world.
The hook-and-loop velcro closure allows for easy on and off. This style's collar and insole are both padded. Its rounded toe reduces stumbles and falls while protecting little toes. Furthermore, the Harper Sandal is an excellent fit for wide toddler feet.
Unfortunately, the Harper Sandal is not meant for extended water-play activities. The leather will shrink a bit. When cleaning these sandals, use a damp cloth with a mild detergent to wipe them down. Then stuff the shoes with newspapers so that they will retain their shape as they dry.
These sandals only come in premium brown leather and are more designed for little boys rather than girls in style. On the other hand, the cushioned inner sole, memory foam inserts, and enclosed toe make these good, solid toddler sandals.
Pros:
Toe guard
Cushioned back heel collar
Memory foam inserts
Cons:
Not designed for water play
Only comes in brown leather
The Crocs Kids' Crocband II Toddler Sandal is a stay-on fit for all-day wear. These synthetic sandals come in a variety of colors with a midsole racing stripe for both girls and boys. The shoes are made with Croslite foam, so they are incredibly lightweight. They have hook-and-loop velcro closures for easy on and off.
The Crocband II Toddler sandal can be easily cleaned with soap and water. While they don't have a toe box per se, the front of the shoe has a lip to help protect your child's foot from stubbing injury.
The footbed has a raised pattern to keep your child's foot from slipping around when wet. The bottom sole also has traction. The foot platform measures about 0.75 inches.
Because they are made from undisclosed synthetic materials, we aren't sure how long the Crocband II Toddler sandals will last under rough and tumble play conditions. We also don't like that the front of the shoe is not adjustable. If your child's foot is too thin or too wide for the allotted space, the sandal won't fit well.
Pros:
Raised lip for toe protection
Lightweight
Easy to clean
Cons:
No adjustable front strap
Synthetic materials
Native Kids Shoes Unisex Charley Sandal is a PETA certified vegan sandal in a satin PU upper style. They have two hook-and-loop closures for the perfect fit. The footbed is made up of a dual-density EVA lining. The outsole is also made of EVA, so it's more flexible and lighter than rubber.
These sandals are water-friendly. They are available in a variety of colors for both girls and boys. It's easy to keep a pair of Charley sandals clean, wash with a little soap and water. The footbed has texturing to keep little feet in place. The bottom of the sole has a tread pattern to reduce the risk of falling in wet conditions.
The sizes of the Charley sandals tend to run small, so be sure to take the time to find the best fit for your child. On the other hand, toddlers with narrow feet will find these an excellent fit. The open toe design is also a negative to these otherwise competitive contenders for the best toddler sandals category.
Pros:
PETA certified vegan
Dual straps are adjustable
Lightweight
Cons:
No toe guard
Sizes run small
The Keen Kids' Seacamp II CNX-C Sandals are made with 100% polyester and have a non-marking rubber outsole. They have a combination bungee elastic lacing and hook-and-loop strap for the perfect fit for wide feet. With so many colors to choose from for both boys and girls, you're sure to find a pair for every outfit.
The AEGIS Microbe Shield mesh lining is water-repelling. The Seacamp II CNX-C rubber toe bumper will protect those precious little toes from injury. The sandals are machine washable and made from Perfluorinated chemical-free materials. The heel is enclosed, further protecting the little foot inside.
The bottom sole has a thick tread pattern, and the EVA footbed is engineered to cradle the foot. These shoes are more difficult to remove once they are wet because of the lacing and strap closures, which also means they won't get lost in the pool.
Although they are adjustable, there is a limit to how much the laces can be taken in. Therefore, the Keen Kids' Seacamp II CNX-C Sandals may not be the best choice for toddlers with narrow feet and ankles.
Pros:
Combination lacing and adjustable straps for the perfect fit
Toe guard and closed heel
Machine washable
Cons:
Not the best for toddlers with narrow feet or ankles
More difficult to remove when wet
The Nike Kids' Sunray Adjust 4 Toddler Sandals are quick-drying synthetic uppers. The midsole is made with phylon and has sensory motion technology for lightweight cushioning and flexibility. The hook-and-loop closures are found both at the heel and top of the foot for easy on and off.
The Sunray Adjust 4 is available in a variety of colors for boys and girls. The sizes run small, so be sure to get a size that will adequately fit your toddler's foot. The bottom sole is treaded, and the footbed has a raised pattern to keep your little one's foot in place.
We liked that the front of the foot and the ankle had adjustable closures for the perfect fit. We didn't like that there was no toe guard to protect those toes.
Pros:
Lightweight
Dual adjustable closures for a proper fit
Lots of fun color choices
Cons:
Sizes run small
No toe guard
Nike Kids' Sunray Protect 2 Sandals is a sandal from Nike that does have toe guards for your toddler. This sandal is water-resistant and made with soft foam cushioning that stretches to fit your child's foot. The dual hook-and-loop straps, one on either side of the foot, make these easy-on and easy-off sandals.
The bottoms have treads for slippage control. The toe box has plenty of room for curling toes. The footbed is lightly textured.
Nike certainly improved its Sunray line with the addition of a toe guard. However, the dual adjustable closures are only around the ankle, not at the front of the foot like the Sunray Adjust 4 from Nike. A hybrid sandal, using the best features of both models, would be ideal.
Pros:
Lightweight
Dual adjustable closures for a proper fit
Toe guard
Cons:
Sizes run small
Not a lot of color selection
The Chaco ZX1 Ecotread Sandal has a grippy rubber outsole and adjustable sliding buckle. There are so many patterns and colors to choose from for girls and boys. The sandal is open-toed and has a textured footbed.
The sandal midsoles are crafted with durable Polyurethane foam. The double-strapped polyester webbing wraps through the midsole and around the foot for the perfect fit. The outsole is made with 25% recycled rubber, and all materials utilized in the sandals are vegan-friendly.
The Ecotread sandal is machine washable. These shoes have a kid-friendly pull-tab for easy on and off and are skid-resistant and non-marking, as well.
The ladder lock buckle is injection-molded for strength. Although we loved the design, the supporting arch, although perfect for an adult, may not be the most comfortable for your toddler's feet. The toe guard aspect is also missing in this design.
The Chaco company has been manufacturing durable footwear since 1989, with a children's collection added in 2007. The APMA has given its Seal of Acceptance to all of Chaco's biocentric footbed footwear, including the Ecotread Sandal featured here.
Pros:
Made with 25% recycled rubber
Textured footbed
APMA approved
Cons:
No toe guard
Arch support not recommended for toddlers
The Verdict
With the enormous number of options for the best toddler sandals these days, it's challenging to pick just one style. Therefore, we've selected three of them for your consideration. We've included the best overall pair of sandals, the premium toddler sandal design, and the best-valued sandals.
Best Overall
It wasn't an easy choice, but if we had to choose the best toddler sandals for your little one, they would have to be Keen Kids' Seacamp II CNX-C Sandals. These sandals have a unique bungee elastic lacing, which, when combined with the hook-and-loop strap, making them the most adjustable pair in our list.
We also loved that there were so many color options for boys or girls. Who doesn't enjoy a variety? The lining is made to be water-repelling, making them perfect summer footwear. The AEGIS Microbe Shield lining reduces odors. The rubber toe bumper and enclosed heel protect little feet. And, to top it off, they are machine washable.
Best Premium Product
When the price isn't an option, we choose the Stride Rite SRTech Harper Sandal as a premium toddler sandal. These fisherman style leather uppers are designed especially for your toddler as they mimic barefoot walking to encourage proper foot development.
The footbed is lined with memory foam for a perfect fit. The outsole has sensory pods for improved grip and traction. Their hook-and-loop closures make these sandals easy to put on and take off.
These sandals have heel and insole padding, which means no chafing sensitive skin. The toe guard and rounded design reduce spills and falls. Its classic brown leather design will look fantastic with casual or more formal outfits.
We'd love to see these sandals in colors other than brown, but for the quality of the shoe you are getting, it's a small matter.
Best Value
When it comes to the best value in toddler sandals, we believe the Weestep Toddler Adjustable Strap Sandal are the ones for you. These sandals have two adjustable straps, at the front and back of the foot, for better sizing. The shoes have a cushioning layer to protect your child's foot on the pavement but are also water friendly.
Unfortunately, this style doesn't have that coveted toe guard. However, the flexible rubber construction coupled with the lug sole makes these the perfect poolside sandals. This style comes in six attractive colors, so go ahead and pick up a few pairs. You won't be sorry at this price.
Finding the perfect sandal for your toddler doesn't have to be an overwhelming experience, provided you keep the following in mind. The best toddler sandals should be a comfortable fit both in width and length, have a flat, flexible sole, and have plenty of toe room to wiggle around in.