Summer is a time for getting out and about, which means a lot of walking. But who wants to wear socks and sneakers when it's hot outside? Having sweaty feet will only add to your discomfort.
You can always put on sandals to keep your feet cool, but not any sandals will do. Wearing flimsy flip flops or strappy dress sandals is asking for foot pain.
That's where walking sandals come in. Compared to standard sandals, they provide flexibility, shock absorption, and motion control. They also have cushioned footbeds and thicker soles to protect your feet from sharp objects like rocks.
With that in mind, we have put together a guide for how to find the best fit, a review of different walking sandal types, what to look for when shopping for the best walking sandals, and a list of our top picks for you to choose from.
If you're short on time and want to read about our top picks, here are our top picks for women and men (one of each).
Our Top Picks for Women
Our Top Picks for Men
Walking Sandal Features
Why would you want to buy walking sandals instead of regular sandals? Here are a few reasons to consider.
Comfort and Convenience
Many people rejoice when summer arrives because that means they can trade their clunky, uncomfortable shoes and bulky socks for the freedom of sandals. Walking sandals provide the ultimate in comfort due to their cushy soles and adjustable straps.
They are also more convenient to wear because they are easy to slip on and off, with no need to find matching socks or tie laces. They are especially convenient if you have kids, who are famous for losing socks and taking forever to tie their shoes.
Air Circulation
If you live where it's warm and humid year-round, walking sandals are ideal for keeping your feet cool because they allow air to circulate around your feet. This helps prevent blisters and also may reduce conditions such as athlete's foot that thrive on moisture.
Versatility
And last but not least, walking sandals are incredibly versatile. It's no wonder they have become more popular because they come in many different styles that you can wear almost anywhere, from going to the beach to a restaurant.
Different Walking Sandal Types
Shoe technology has come a long way. No longer are you limited to clunky walking sandals. There are now stylish walking sandals designed for active lifestyles and feature many of the same things you'd find in standard walking shoes, such as flexibility and motion control. Here are the main types.
Casual Sandals
This is the most common type of walking sandal because they are so versatile and will work for many different activities and environments, such as going from the beach to a low-key night out on the town. They come in many kinds of materials, such as leather or synthetic materials.
Fashion Sandals
Made to look good while still providing comfort, fashion walking sandals are ideal for people who don't want to sacrifice style for comfort.
Water Walking Sandals
Made for people who enjoy fishing, boating, or swimming in the summer, water sandals are the ideal type of walking sandal.
Their grippy soles help keep you from slipping on wet surfaces you might find on a boat, beach, or lake, and their water-resistant material help keep your feet from getting waterlogged.
Hiking Sandals
If you enjoy trail walking, camping, or rock climbing in the summer, you'll want to consider a hiking sandal. Because they are designed for walking over rough terrain, they usually have a more rugged appearance.
You'll find that the midsoles and upper are thicker than a standard walking sandal, and there are usually more straps that are constructed from stronger material. And, the sole has more traction.
How to Choose Your Walking Sandals
There are a few things to consider when looking for the best walking sandals for your needs, such as how they are constructed, the materials used, how you intend to use them, and their features.
Construction
Despite their relatively simple appearance, walking sandals have many different components that you will want to have a basic understanding of before purchasing them. There are four main components: the upper, insole, outsole, and midsole.
Upper
Insole
Outsole
Midsole
Heel and toe bumpers
On walking sandals, the upper is made from straps and adjustment points such as buckles. Some straps are padded for added comfort.
The insole, or footbed, is where the bottom of your foot comes into contact with the shoe. Walking sandals usually have a cushioned footbed that absorbs more impact than a standard sandal.
On the bottom of the sandal is the outsole or the tread. Walking sandals should have a decent amount of tread to provide the most traction and should be thicker than standard sandals to deal with more wear and tear. Some outsoles are water-resistant and even heat resistant.
And last but not least is the midsole, which lies between the insole and outsole. A good walking sandal midsole provides the backbone of the sandal and gives it strength as well as impact absorption.
You'll find heel and toe bumpers on hiking sandals, as they provide an added layer of protection for your toes and heels from things like rocks, roots, or other objects.
Materials
Walking sandals are made from various types of materials, from leather to synthetic or natural textiles. Which types of materials a sandal is made from will determine how comfortable they are, how durable they are, and their overall appearance.
Leather is an excellent choice for casual walking sandals as it is stylish yet stretchy and durable. It is not a suitable choice for wet environments since leather does stay wet for a long time. Water will not only weaken the leather, but wet leather will also cause blisters.
Natural textiles such as cotton and synthetic textiles such as nylon, polyester, rayon, and lycra are often used to construct the uppers of walking sandals. You'll find the most common materials are polyester and nylon, given they are durable, water-resistant, and cost-effective.
The outsoles are usually made out of one of two types of rubber: carbon rubber or blown rubber. Carbon rubber is much harder than blown rubber, which is infused with air for a softer and more flexible sole. Some walking sandals use both kinds of rubber to provide durability and comfort.
Read Also: Best Nike Walking Shoes
What to Look for in a Walking Sandal
Here are some factors to consider when selecting a sandal best-suited for walking.
Activities
First and foremost, you'll want to choose a walking sandal that is best suited for your intended activities. If you spend a lot of time on or near the water, a fashion walking sandal will probably not suit your needs.
With that said, it might be best to buy multiple pairs of sandals to best suit your lifestyle.
Arch Support
Arch support in a walking sandal is crucial to comfort because it takes the pressure of walking and spreads it out over the different parts of the foot.
Walking sandals with excellent arch support will help keep your feet from tiring out too fast. And if you have flat feet or very high arches, a walking sandal with extensive arch support is a must.
Cushioning and Flexibility
If you're extremely active, then you'll want to find walking sandals with cushy material in the midsole and insole to serve as a shock absorber. Look for EVA or Phylon for maximum comfort.
To accommodate our walking style, where we roll from the heel to the ball of the foot, a walking sandal that is flexible in the front and stiffer in the back is ideal for adding stability.
Strap Design and Placement
You should look for a walking sandal that has multiple adjustment points on the straps as well as strap placement to steer clear of friction that leads to irritation and blisters.
Walking Sandal Reviews
Now that we've covered the different types of walking sandals, what they're made of, how they're constructed, and what to look for, it's time to review our top picks.
We have divided it up into best walking sandals for men and women as well as the various types of sandals for different activities and budgets.
Read Also: Best Sandals for Plantar Fasciitis
Best Walking Sandals for Women
Here are our top 10 picks for women. From hiking to fashion to travel, there's something here for you.
We chose the Teva Women's W Sanborn Sandal as the best overall pick because it's the most versatile sandal in terms of comfort and style. It's a sandal you can wear for a walk around the neighborhood or for a casual night out on the town.
Teva is also a top brand when it comes to outdoor shoes, so you know you're getting the best quality of walking sandal.
The Sanborn comes in five colors to suit your style, including black, brown, blue, rose, and green. It's super comfortable thanks to its 1-inch heel and .75 inch platform made out of cushy injected EVA foam to keep the sandal lightweight yet shock-absorbent.
The upper is made of water-resistant polyester straps that dry quickly and are easy to adjust thanks to the hook and loop closure.
Pros:
They are versatile and can be worn almost anywhere.
Most people find them extremely comfortable.
They come in many different colors to suit your style.
Cons:
Arch support isn't adequate for some customers.
They may not fit wide feet well.
Just because you like to stay in style, it doesn't mean you have to sacrifice looks for comfort. There are more to choose from every day.
In fact, we had to limit ourselves to two sandals, because we could have spent the entire article talking about fashionable yet comfortable walking sandals.
If you're a fashionista who seeks comfort in her sandals, then the Munro Pisces walking sandals fit the bill. It comes in six different colors, and the patent leather upper toe strap adds a touch of style.
The comfort is supplied by a cork and latex footbed and a stretchy slingback style that does not lose its elasticity over time. With a 1-inch heel, you get a little height without sacrificing comfort. And, because the Munro Pisces comes in narrow and wide widths, finding the best fit is a snap.
If your arches need a little TLC, you'll appreciate the moderate level of arch support provided by the Munro Pisces. Customers claim that it really helps with keeping foot fatigue at bay.
Pros:
They are a great blend of style and comfort.
The range of widths makes getting the perfect fit a snap.
Cons:
They are expensive.
They run a little small.
If you want to buy a pair of walking sandals, but you have a small budget, we have found one recommendation. The Skechers brand is known for its affordable yet high-quality, comfortable shoes that almost anyone can afford. That's why we had to recommend the Skechers Performance Women's on the Go Brilliancy 600 for our budget-friendly walking sandals.
Due to its lightweight and responsive 5Gen cushioning and Goga Max high rebound insole, this sandal is exceptionally comfortable and stops foot fatigue in its path.
We also like the lightweight fabric strap uppers and padded, adjustable heel strap to keep your foot in place and prevent blisters. The fact that the footbed is textured is a nice bonus because it provides airflow and keeps your feet from slipping around. And, the sandals come in four different colors to suit your style preferences
Pros:
It is budget-friendly.
You get a superior level of comfort for the price.
It comes in wide widths.
Cons:
The sole is a bit slippery.
They run small.
Ever heard of MICROWOBBLEBOARD™? If you haven't, you're not alone. It's what makes the FitFlop Tia Leather Sandals best in terms of dealing with pressure points that can cause discomfort.
We also like how stylish they are. Looking at them, you wouldn't think that they were considered walking sandals. The strappy leather thong-style uppers look more like flimsy fashion sandals that wouldn't be very comfortable for walking long distances.
Many customers say they are casual enough to wear with jeans or for a night out on the town, making them great for wearing in the office or for travel, where you may be limited in the number of shoes you can bring.
The rubber sole provides excellent traction for walking in the city, and the 0.75-inch heel offers just enough lift to add style without taking away comfort.
Pros:
The MICROWOBBLEBOARD™ design works as intended
They are stylish and versatile
Cons:
The thong design is not very supportive.
They are more expensive than other thong-style sandals.
We have two brands of outdoor walking sandals to choose from. Which one you choose will depend on your budget and your style preferences.
When you're walking on trails or hiking on hills, you'll need to provide more protection for your feet. You never know when a root or rock will try to trip you up, so walking sandals with toe guards are a necessity.
That's where the Keen Women's Whisper sandals come in. Keen is another well-known and popular brand of outdoor shoe, so you know you're getting your money's worth.
You get excellent stability for conquering uneven ground thanks to the anatomic footbed and decent arch support. If you happen to get your feet wet, the uppers are made from a quick-dry mesh lining. And, the bungee lace system makes getting the perfect fit on the fly a breeze.
We also like the fact that you can toss them in the wash if they get too dirty after a day on the nature trails.
Pros:
The toe guards provide excellent protection.
The uppers are breathable and dry out quickly.
Cons:
They are pricey.
The sizing is inconsistent.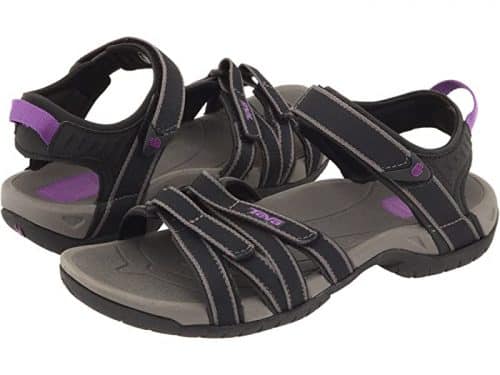 For walking around the neighborhood or paved trails, we recommend the Teva Women's Tirra Sandal. Why don't we recommend these for trail walking? They don't have any toe guards.
However, they are extremely durable and comfortable. We like the contoured footbed that provides great arch support and padding to absorb impact. And, the outsole is made from heavy-duty rubber that stands up to repeated use. If your walks take you into streams or creeks, you'll appreciate the quick-drying polyester uppers with hook-and-loop closures for a custom fit.
They also come in 8 colors, so if you're so inclined, you can buy a pair to match all the colors of your summer wardrobe.
Pros:
The footbed provides great arch support.
The thick sole provides excellent shock absorption.
There are tons of colors to choose from.
Cons:
Customers claim the sizing isn't consistent.
The price may be steep for some.
Podiatrists strongly recommend against flip flops because they usually provide little to no support, but that doesn't stop some women from wearing them and keeping them as a wardrobe staple.
Thankfully, there are now flip flops that are made with cushioning and support, and Orthaheel offers some of the best on the market.
Designed by a podiatrist, Orthaheel flip flops offer motion control features that regular flip flops just don't provide. The footbeds have a texture that helps massage the feet and minimize slippage, and the arch support is strong.
So, it's no wonder women with plantar fasciitis, bunions, and flat feet rave about how amazing these flip flops feel on their feet.
With 14 colors, two textures to choose from, and medium to wide widths, you can find a flip flop to suit your foot size and fashion sense.
Pros:
They offer stability and arch support.
They come in many different styles and colors.
Cons:
They are not suitable for narrow feet.
They are on the expensive side.
If you've never had to experience painful foot conditions, you're lucky. But for women who want to wear stylish walking sandals that won't cause more pain, we think we've found the solution.
You either love or hate how Birkenstocks look, but there's no dispute with how comfortable they are. It's no wonder they are highly sought after by people with flat feet and other painful foot conditions like plantar fasciitis.
That's thanks to the deep heel cup and latex cork sole that molds itself to the shape of your foot as you break it in. This design helps provide stability and proper alignment to keep your ankles from rolling, which is a problem for flat-footed individuals.
This leather ankle-strap design adds a bit of flair and stability when compared to the classic slide design.
Pros:
The deep heel footbed offers uncompromising comfort.
They are suitable for wide feet because of their roomy toe box.
Cons:
They are pricey.
The style goes in and out of fashion.
For women who have wide feet, finding walking sandals that fit can be a struggle. But there are two walking sandals you can choose from, depending on your style.
That's why we're thankful for shoes like the SAS Nudu Sandal. Not only are they comfortable, but they also come in wide and double-wide widths.
Thanks to a footbed that molds to the arches and contours of your foot, multiple layers of cushions to minimize pressure, and shock-absorbent outsole contours, you'll be hard-pressed to find a more comfortable wide-width walking sandal.
The padded straps also add to the sandal's comfort by minimizing friction and lessening the chances for blisters. And, the suede footbed lining keeps your feet dry and cool.
We also like how well this sandal works with the natural stride you have when you walk. It flexes and bends where you need it to in the front and provides ample stability toward the middle and back. The back strap helps keep your foot in the right place and prevents it from slipping out and causing accidents.
Pros:
Comes in five widths, from double-wide to narrow.
The footbed molds to your foot's contours.
Cons:
Not widely available in stores.
Some customers claim the arch support is lacking.
If you have wide feet and prefer slide walking sandals, you should try the Clarks Leisa Cacti Slide Sandal.
First, they are stylish thanks to their intricate studded and stitching accents and a wide array of 12 different colors. In fact, most people would never guess that they also are made for comfort.
But more importantly, these leather walking sandals come with a supportive ortholite footbed, cushioned outsole, fabric lining, and three adjustable hook-and-loop straps to get the best, most comfortable fit for your wide-width feet.
Pros:
They come in wide width
There are three hook-and-loop closures for a custom fit
They come in a wide array of colors.
Cons:
Some customers don't like the hook-and-loop closure.
The arch support could be better.
The Best Walking Sandals for Men
While there aren't as many styles to choose from when determining what the best walking shoes for men are, we did our best to track down a wide range of sandals to suit your needs.
We chose the Keen Men's Newport Sandal as the best overall sandals for a number of reasons.
In terms of style, the Newport is made out of waterproof leather uppers and comes in three different colors, making it versatile enough to walk the trails or around town.
For outdoor activities, you'll like that the sole is made out of thick, sturdy rubber with patented toe guards and treads that can take on rugged terrain. And the metatomical footbed molds to the unique curves and bumps of your foot, providing a comfortable and supportive fit.
To get the best fit, Keen uses a double-needle lace design that fits more snugly than a lot of other lace-up sandals do.
Pros:
They are versatile.
The patented metatomical footbed provides the ultimate in comfort.
Cons:
They are pricey.
The sizing has changed recently, so double-check before you buy.
If you're one to buy eco-friendly brands, then you might want to check out the Mephisto Shark Sandals. It should be noted that each pair is handcrafted using only sustainable materials, and the price tag reflects it.
The adjustable upper ankle and foot straps are made from super soft leather with mesh padding for added comfort, and the footbed is constructed from latex that fits your foot like a glove and cork that molds to your foot.
The outsole absorbs shock for added comfort and provides excellent traction for sure footing on a variety of terrains, from concrete sidewalks to nature trails.
And last but not least, they look and feel like the luxury sandals they are billed to be. In fact, those who have bought them say they're worth every penny.
Pros:
Each pair is made by hand by artisans.
They are made from environmentally friendly materials.
Cons:
They are not budget-friendly.
If you need a pair of slides that you can take to the pool or wear at the beach without breaking the bank, we suggest the Nike Benassi JDI Slide sandals.
These rubber slides are comfortable yet still have a sleek, stylish design you'll love wearing. We also like how lightweight they are as well as the super-comfortable cushy insole. Some users have said that wearing these slides feels like walking on a cloud.
We also like the grooves Nike added to the footbed to help the sandals move with your foot as well as provide airflow to keep your feet cool.
If showing off brand names is your thing, you'll like the large Nike swoosh logo on the top of the slide. It has five colors to choose from to suit your style.
Pros:
They are budget-friendly.
They are waterproof.
The slide style of sandal is convenient for wearing to the pool or beach.
Cons:
They are suitable for rugged terrain.
If, despite all of the warnings that flip-flops are terrible for your feet, you still can't give them up, give these top-rated thong sandals a try.
Aside from being high-quality walking sandals, the OluKai Hokua Men's Sandals are also fashionable with 12 colors to choose from. The water-resistant synthetic leather strap is lined with a jersey knit that dries quickly should you get your sandals wet while walking on the beach or near the pool.
The compression-molded EVA midsole also has a drop-in footbed to give you maximum comfort by molding to fit the unique contours of your feet.
Customers also seem to love the rubber sole that offers superior grip on both wet and dry surfaces, which is a great feature for walking sandals with no back strap.
Pros:
Synthetic leather is vegan-friendly.
They are waterproof.
They dry quickly.
Cons:
Some buyers say they are tight at first.
The straps might break easily.
Not to be outdone for the best thong-style walking sandals, the Teva Katavi is another excellent buy.
These look sturdy, thanks to the extra-thick, upper strap and 1.5-inch Durabrasion RubberTM outsole that provides excellent traction. They are also comfortable thanks to the contoured EVA footbed and ample arch support.
The suede upper is also padded with a breathable mesh that dries quickly, unlike standard thong-style shoes that may be made out of leather. This reduces chafing and irritation and the chances you'll develop blisters.
Pros:
The padded upper strap is breathable.
The footbed provides superior comfort.
The leather style adds a bit of style.
Cons:
Some buyers say they're a bit heavy.
They run narrow.
Before you roll your eyes at the mere mention of the name Crocs, these aren't the clogs that everyone loves to hate.
These are extremely comfortable flip-flops made out of Crocs proprietary croslite rubber, making them lightweight, waterproof, and extremely comfortable. They are so lightweight that they float on water, which is a bonus should you ever lose your Crocs at the pool or at the beach.
We also like the contoured, textured footbed, which adds traction as well as gives your feet a mini-massage every time you walk. Combined with ample arch support, they are some of the most comfortable rubber thongs you can find on the market today.
They come in 25 colors, but you should note that Crocbands are considered a unisex style, so some of the colors may not be your thing.
Pros:
They are waterproof.
They are lightweight.
The footbed and arch provide great support.
Cons:
Because they are unisex, you might have to play around with the sizes.
Like to be able to slide your feet into your sandals and go? Then have a look at these slide-style walking sandals.
In terms of comfort, you really can't go wrong with the Birkenstock Arizona slide style walking sandal. While some may balk at the style, others are extremely fond of it and would wear their "Birks" every day if they could.
The cork footbed provides what some refer to as a "barefoot experience" that is only achieved by breaking them in over time. But it is well worth the wait.
There is also ample arch support, which makes them a favorite of people who have painful foot issues like plantar fasciitis or weak arches.
We also like the fact that they come in both narrow and regular widths, which combined with the two adjustable leather straps create a great custom fit.
Pros:
They are some of the most comfortable slides around.
The arch support is top-notch.
The leather straps are adjustable and create a good custom fit.
Cons:
They are expensive.
Some may not like the style.
They tend to go out of fashion.
If you're not planning on hiking in rough terrain, then these open-toe walking sandals should do the trick.
Not to be confused with the thong-style Katavi reviewed above is the Katavi Outdoor Sandal. With a suede and mesh upper, these sport sandals are stylish enough to wear around town and sturdy enough to go on hiking adventures.
The contoured EVA footbed with excellent arch support and compression-molded EVA midsole provides a superior level of comfort that makes this a very popular choice among sport sandal enthusiasts.
To help stabilize your feet, this design uses three Velcro adjustable nylon straps in combination with a Durabrasion RubberTM outsole that provides excellent traction on a multitude of terrains.
Pros:
They are sturdy and solidly constructed.
The arch support and footbed provide superior comfort.
Adjusting the fit is quick and easy.
Cons:
Some users say they run large.
As one of the few open-toe sport sandals that have earned the American Podiatric Medical Association Seal of Acceptance, it's no wonder that they are truly one of the most comfortable and supportive walking sandals sold today.
Made from soft nubuck leather, these sandals also feature adjustable straps at the heels, ankle, and toes providing excellent stability as well as a customizable fit.
The footbed is anatomically molded to imitate the natural contours of your feet, thereby creating flexibility and comfort for any type of activity. We also believe that their ECCO FLUIDFORM Technology provides a good mix of rebound and softness, creating the ultimate level of comfort.
Pros:
It carries a medical seal of approval.
Having three adjustment points makes it easy to get the best fit.
Cons:
Memory foam lovers rejoice! There is a walking sandal that has taken memory foam out of the bedroom mattress and incorporated it into a plush foam footbed for the ultimate in comfort.
We also like that there are extended sizes, making it a good choice for men with bigger- and wider-than-average feet. If the overall wide design isn't enough, you can customize the fit with the hook-and-loop straps.
In terms of style, they only come in two colors, light and dark brown.
Pros:
It comes in extended sizes.
The memory foam adds a level of comfort not found in other walking shoes.
Cons:
Some users claim that they are a little too wide.
There's not a wide selection of colors.
The Final Verdict
In this article, we discussed the features that make the best walking sandals, how to choose them, what to look for in walking sandals, and listed 20 of the best walking sandals to choose from (10 for women and 10 for men).
But, if you're still feeling overwhelmed with all of the choices, here are some highlights of our top picks in the most popular styles as well as our top pick for people on a limited budget.
The Best Overall Sandals
It was hard to choose, but we firmly believe that the overall best walking sandals are the Teva Women's W Sanborn Sandal and the KEEN Men's Newport Sandal. They both offer the best in terms of quality, style, versatility, and comfort. These sandals do not sacrifice style for comfort, and moderate arch support provides adequate support throughout the day.
The Best Premium Walking Sandals
For women, we recommend the Munro Pisces, and for men, we can't speak highly enough of the Mephisto Shark Sandals. Our premium picks are close seconds to our best overall picks. We love the Mephisto Sharks for their unique and eco-friendly design while the Munro Pisces sandals are stylish without skimping on comfort.
Best Budget-Friendly Walking Sandals
While a good walking sandal is a worthy investment, you might have a budget that limits you from buying our best overall or premium picks. Our budget-friendly sandals are Skechers Performance Women's on the Go Brilliancy 600 or the Nike Benassi JDI Slide for Men.
Even though they are priced more affordably than other walking sandals on our list, they are still top-rated for quality, comfort, support, and durability.