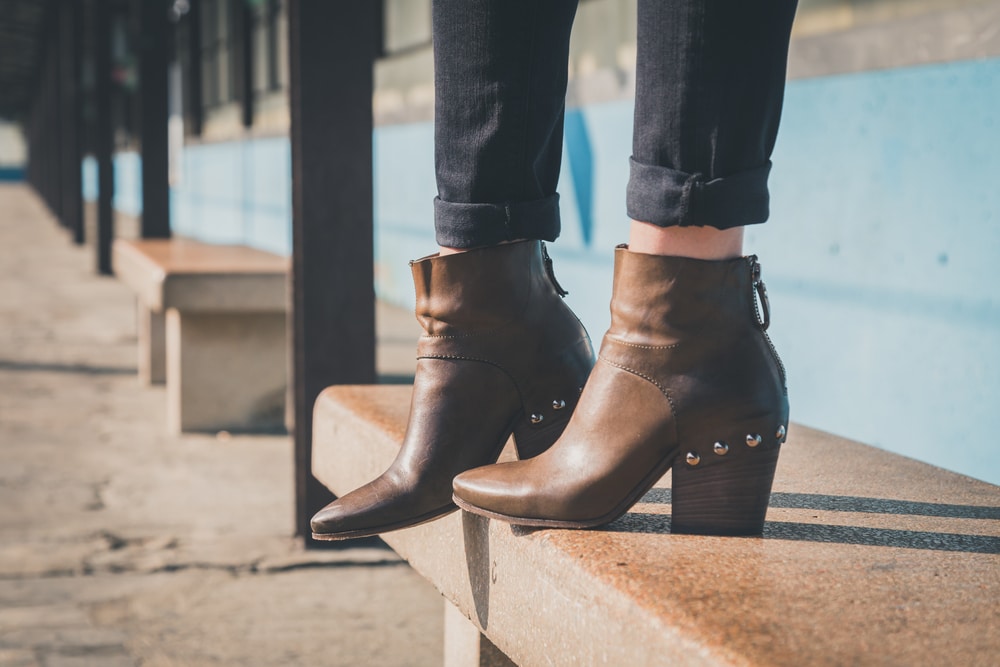 Boot shopping nowadays can be a challenge. With so many styles available to choose from, it can be tough to find a pair that's comfortable, fashionable, and functional. Fortunately, we're here to help.
When it comes to boots, The Frye Company is one of the top names in quality. Frye makes a wide variety of boot styles in soft, durable leather. You can find top-of-the-line boots designed for both men and women that offer the comfort and support that you need throughout the day. Here, we're going to go over some of the best Frye boots available on the market today.
Our Top Picks
The History of Frye Boots
The Frye Company first began back in 1863, when founder John Frye opened his first leather shop in Massachusetts. In 1888 the company produced its very first leather boot, which you can still see today at the Marlboro Historical Society.
In the late 1880s, the Frye factory joined other companies in switching from steam to electrical power. Frye's was the first factory in the Marlboro area to start operating entirely on the electrical grid.
The Frye company came out with more and more styles throughout the 1900s, from their first pair of cowboy boots in the 1940s to their signature harness boot in the 1960s. Nowadays, Frye boots are world-famous for their iconic designs and superior quality.
Types of Boots
When it comes to boots, there are endless styles to choose from to suit your unique needs, from fashion to function. It's a good idea to familiarize yourself with the different types of boots so that you can pick out the perfect pair for any occasion.
Hiking Boots
Tennis shoes and sneakers aren't always enough to protect you from the elements when you're out and about. Instead, it's best to opt for specially designed hiking boots. This style of boot is designed to offer superior support and comfort, helping to improve your stamina during a long or challenging hike. Deep tread patterns along the sole improve traction, giving you added grip in slick or icy conditions. Many hiking boots are also waterproof and weatherproof.
Knee-High Boots
Knee-high or thigh-high boots are a popular fashion choice these days, helping to elongate the leg and create a slim, sleek profile. Many options for women also come with a heel or a wedge for added height. You can wear knee-high boots as both casual and formal footwear, depending on the occasion. This style can be a particularly good choice to help keep you warm on chilly days.
Combat Boots
Similar to hiking boots, combat boots are designed to withstand heavy wear-and-tear. They were originally reserved for soldiers, but nowadays, you can find more fashionable options. Typically, combat boots are heavy, with plenty of padding and reinforcement in the ankle area. Many also lace all the way up for a snug, even fit.
Uggs
While Uggs may seem like a recent innovation, the design has been around since the late 1800s. Uggs originated in Australia and were used for warmth, gaining popularity amongst local surfers in the 1960s. Nowadays, many people wear Uggs as a fashion statement. The boots are still designed for warmth, with a soft, fleeced interior, thick padding, and a robust sole.
Wellington Boots
If you live somewhere with frequent rain, there's a good chance that you own a pair of wellington boots. While they can be worn for fashion, wellies are usually worn for more practical reasons. They're usually made of a waterproof material such as rubber to keep your feet dry, even in ankle-deep water. Some also have fleece or padding lining the interior for warmth.
Cowboy Boots
Cowboy boots are made to withstand the tough conditions of a cattle ranch and stand up to activities such as riding and wrassling without falling apart. Cowboy boots are typically made of reinforced leather and boast a pointed toe, a high collar, and a thick heel for leverage when on horseback. While you can find purely functional cowboy boots, many are also designed with fashion in mind and have leather patterns or embellishments along the sides.
Steel-Toe Boots
As the name suggests, steel-toe boots are set apart from other styles in that the toe is reinforced with metal, most often steel. This feature helps to protect your feet when working with heavy objects. If you stub your toe or drop something on your foot, the metal will protect your toes from damage. Many construction sites require workers to wear steel-toe boots to protect them from workplace accidents.
What to Look for in a Boot
Even if you know what type of boot you need, there are still countless variations from which to choose. Regardless of the type of boots you're looking for, there are some things to keep in mind when shopping.
The Material
You can find boots made from a wide variety of materials, including both synthetic and nonsynthetic options. One of the most popular options is leather. It tends to last longer than synthetics such as polyester or nylon, and it's naturally pliable to help it mold to the shape of your foot.
Not all leathers are created equal, however. Full-grain leather is some of the highest quality available, followed by top grain leather. Bonded leather, however, is often made of undesirable parts of the hide and tends to fall apart more quickly than leather with a higher grain.
The Sole
Replacing your boots each time they begin to wear can be expensive, not to mention the uncomfortable break-in period. When it comes to high-end boots, it's best to look for those that can be resoled to save yourself time, money, and frustration down the line.
A construction with a "Goodyear Welt" or a "Blake Welt" allows you to resole your shoes as needed. What's more, this style of boot is also built to be watertight, keeping your feet dry and warm even in poor weather conditions.
The Fit
As with any new shoe, it's important to make sure that a pair of boots fit your feet properly. Many boots run slightly large, and so you may find that you need to try on a half size down from what you're used to. You should also take into account the width of the shoe. Those with larger feet may need to buy a boot style that's designed to give extra width to help prevent blisters, burns, and general discomfort.
Our Favorite Frye Boots
The Frye Company offers thousands of boot designs for customers to choose from, and while having a range of options can be nice, it can also be overwhelming. Here, we're going to go over our top picks for the best tried and tested Frye boot styles.
These cozy, handcrafted boots are designed for winter weather, helping to keep your feet warm and toasty even in the worst weather. It's made in the style of a mukluk, which is a high, soft boot typically work in the Arctic to insulate feet. The boot comes in black, gray smoke, and pale cement so that you can find an option to match any outfit.
Instead of being made of sealskin like a traditional mukluk, the Gail Shearling is made of waterproof oiled suede to help keep your feet protected and to make your footwear easier to care for. The cuff of the boot reaches mid-calf and is lined with plush, long-haired shearling. This design not only gives the boot a striking, fuzzy appearance but also provides even more insulation around your ankles and calves.
You can keep the boot snugly in place with fashionable braided tassel-tipped wraparound laces. They ensure that your feet don't move around inside the boot, helping to prevent the formation of blisters and friction burns while also preventing wind, water, and more from getting to your feet.
The bottom of the sole is made of thick, durable rubber. It features deep ridges along the base, toe, and heel of the foot for improved traction even in icy conditions. The sole is 0.5" thick with a 1.25" heel to give you just a little bit of lift when wearing the boot.
The Gail is designed to be easy to slip on and off, with a large 12″ diameter opening. The material also offers some give around the cuff so that your feet don't get caught as you remove your boots.
Pros:
Warm, plush construction
Ideal for cold weather conditions
Made of high-quality waterproof suede and shearling
Snug fit thanks to wraparound laces
Extra grip along the sole
Cons:
Runs slightly large
Laces fray quickly
This knee-high boot combines both fashion and function with a classic, casual look that's inspired by equestrian fashion. Like riding boots, the Melissa Button features a high, supportive cuff, a rounded toe, and a thick block heel.
This boot is made of 100% soft, oiled leather, including along the heel and sole of the shoe. To keep the shoes looking at their best, they require careful upkeep to make sure that the material doesn't dry out or crack. However, with the right care, these boots can last for years on end.
The leather makes these boots soft and supple, allowing them to conform to the shape of your foot more easily. They come in both regular and wide sizing options, allowing the boots to accommodate even larger feet comfortably. An extra-wide opening of 15″ makes it easy to get these boots on and off, regardless of your shoe size.
Unlike other boots in the Frye Melissa line, this model features a sleek button closure at the top instead of a zipper. You can undo the closure to make the boots even easier to slip on and fasten it to keep them tight around your calf. Doing this can help to prevent unattractive sagging that may end up warping the shape of the leather.
The Melissa Button comes in a wide variety of colors, from neutral blacks and browns to vibrant red and orange hues. You can find the boot in over two dozen different colors, allowing you to coordinate with any outfit.
The interior of the boot is also lined with high-quality leather. This design helps to keep your feet cushioned and comfortable throughout the day while also offering reinforcement. The insoles along the bottom of the shoes help to support your heels and arches for added comfort.
Pros:
A casual, timeless look
Made of 100% high-quality leather
Attractive button closure
Easy to slip on and off thanks to 15" opening
Comes in a wide variety of color options
Cons:
No tread on the soles
Don't hold up well to regular wear and tear
The Valerie Strappy Shearling boot is made of 100% leather, making it warm, comfortable, and robust. The exterior is made of Italian leather, some of the finest used in bootmaking today, while the inside features soft shearling material. The shearling helps to cushion the foot while also offering insulation in cold weather conditions.
The outsole of the shoe is made of synthetic rubber, making it durable without sacrificing flexibility. The sole's lug design offers varied tread patterns along the bottom for maximum traction when walking along slick surfaces to help reduce your risk of dangerous slips and falls.
A short 1.25" heel gives you just enough lift to elongate your legs without making it a challenge to walk. Along the base of the shoe, a 0.5" platform helps to even out your feet and improve overall pronation.
The Strappy Valerie is designed to make a bold fashion statement. It's inspired by the moto fashion trend, with a rounded toe, an ankle-high cuff, and three thick buckled straps to hold the shoe in place.
Like all good moto-inspired boots, these are built to be heavy-duty. They're designed to withstand heavy wear and tear, especially in winter conditions. As with any leather boots, however, it's important to remember that these require regular maintenance to remain soft and supple.
Pros:
Italian leather exterior
Comfortable and warm shearling lining
Attractive moto-inspired designs
Three buckles straps for a tight fit
Robust rubber lug sole
Cons:
Sizing runs small
Leather wears quickly
The Tate Chelsea boot is designed with versatility in mind. It's simple yet chic design is ideal for just about any situation, from a casual day out to a night on the town. It has a higher heel than most other Frye boots, giving you a longer, leaner, and more attractive silhouette. The heel is a thick block style, allowing it to support just about any weight without making walking a challenge.
The boots have a convenient slip-on design to make them easy to take on and off in a flash. The upper sides of the cuff are lined with elastic, making the 8.5" boot opening stretchy enough to accommodate feet of all sizes. You won't have to worry about warping or damaging the leather by squeezing your feet into your shoes.
The Tate Chelsea is constructed of 100% leather, oiled suede, or haircalf, making them warm and comfortable. They come in a choice of black, charcoal, dark brown, Bordeaux, or whiskey. The sole, heel and elastic portions of the shoe are all sleek black.
The sole of this boot is designed to offer enough traction to give you grip in most weather conditions, making it ideal for city walking. The heel of the boot, however, doesn't provide much in the way of traction.
These boots offer plenty of support for your feet, especially around the ankle area. The leather is stiff and reinforced, keeping you from moving around too much within your shoe. While this makes the shoe more supportive, however, it can reduce comfort. It may take some time to break these boots in before wearing them.
Pros:
A versatile look works for both formal and casual occasions
Easy slip-on design
Made of quality leather, oiled suede, or haircalf
Sole offers ideal grip for city walking
Provide plenty of ankle support
Cons:
Stiff leather takes a while to break in
No tread on the heel
These cowboy boots were made for fashion, with attractive embroidery decorating the leather cuff of the shoe. Despite having a distinctively Western design, these boots still look elegant and feminine. They can be worn both casually or as formal footwear, depending on the occasion.
This cowboy boot is inspired by one of Frye's most popular boot styles, the Sacha. It has the same comfortable interior designed to cushion and support your foot as you walk along with a fashionable pointed-toe style. This boot also features a thick block heel measuring around 1.5″ tall. Thanks to its size, it's easy to walk on without worrying about slips or falls.
The sole of the shoe is made of thick, durable leather that's able to withstand regular wear and tear. However, the sole doesn't provide any traction. This boot is best worn in dry weather conditions. You should also do your best to avoid slippery floors. On the other hand, it's also best to avoid wearing these boots on rough or rocky terrain, as this can damage the leather sole more quickly.
Fortunately, the Shane Tall Western Boot features a Goodyear welt construction, making it easy to resole as needed. The vamp is attached to the cuff of the boot with an attractive scalloped design. The stitching that connects the cuff is made to match the patterns along the top of the boot.
The shaft of the boot features handcrafted decorative embroidery for a striking look. It's made of soft, high-quality leather that comes in black, charcoal, or whiskey. You can also find the boot in vegetable-tanned calf leather for a softer look.
Pros:
Easy to resole thanks to a Goodyear Welt construction
Western Cowboy style
Attractive and feminine embroidered design
Small block heel for a more attractive silhouette
Comes in a variety of colors and materials
Cons:
Too narrow for wide feet
No grip along the heel or sole of the boot
Runs half a size large
This top-of-the-line hiking boot is rugged enough to withstand just about any terrain or weather conditions, whether you're hiking through ice and mud or simply taking a walk through the city. The boot is designed to offer a contemporary look, with chunky lacing and a sleek silhouette. A thick heel on the back of the shoe helps to add both style and stability to the boot, making it as fashionable as it is functional.
Brass eyelets and cuff buttons not only add a unique aesthetic to this boot but also help to keep lacing firm and secure around your instep and ankle. As you hike, a tight fit helps to prevent your foot from rubbing around against the inside of your shoe, preventing the formation of blisters and improving your comfort to help you keep going all day long.
The exterior of the shoe is made of polished full-grain deerskin leather. It's tanned using natural oils, helping it to stay soft and supple for longer. A natural shine finish makes these boots an eye-catching addition to any avid hiker's kit.
The interior and footbed of the shoe are lined with soft, molded leather to help support and cushion your feet. The extra leather also helps to insulate and reinforce the shoe, helping to keep your feet feeling comfortable and secure all day long.
The interior of this boot also features extra insulation to keep your feet warm during cold-weather hikes. Extra padding around the ankle both helps to trap warm air and support your ankle, improving your pronation as you hike across potentially dangerous terrain.
The sole of the Alta Hiker is made of thigh, high-quality rubber with deep tread around both the heel and ball of the foot for added traction. A Goodyear Welt construction allows you to replace the sole when the tread starts wearing thin.
Pros:
Durable enough for long or strenuous hikes
Traditional lacing provides a snug fit
Made of soft, comfortable deerskin leather
Leather-lined and insulated interior
Goodyear welt construction allows for easy resoling
Cons:
Sizing runs small and narrow
The toe box is tight
This boot is one of Frye's best selling men's styles due in part to its versatility. It can be worn both casually and with formal wear, making it an ideal choice for any occasion. It features a rounded toe and a 1" block heel, while the cuff reaches past the ankle.
The boot is held in place by iconic buckle accents around the shaft and instep of the foot. The buckles come in either brushed black or silver to complement the look of the boot, depending on whether it's black, dark brown or Cognac. A washed finish gives the shoes a trendy vintage look.
The Tyler Engineer Boot is made of 100% Italian leather. It's soft, supple, and comfortable enough for all-day wear. The interior of the boot is also lined with soft leather to keep your feet cushioned and comfortable. The lining is smooth to help prevent blisters and burns. A padded leather footbed also cradles your foot, conforming to the curves of your arch for added comfort.
The sole of this boot is made of durable synthetic rubber to make it tough yet flexible. It boasts tread under the pressure points of the bottom of the foot, including the heels, toes, and balls of your feet. This design helps to give a superior grip wherever the boot makes contact with the ground.
A large 11" opening along with elastic side panels make the shoe easy to get on and off without causing warping or damage to the leather cuff. The shoe also boasts a back zipper closure for ease of use, but the zipper tends to get stuck.
Pros:
Stylish, classic design
Buckles accents for a better fit and a unique look
Made of 100% Italian leather
Soft leather lining and cushioned footbed
Treaded soles for superior grip
Cons:
Sizing runs large
Can be challenging to take on and off due to zipper
These boots have a unique vintage look that's inspired by the cavalry uniforms of the American Civil War. Harness straps wrap around the instep, the heel, and the sides of the foot, all held in place by a polished nickel or brushed brass O-ring and accent studs.
The soles of these boots are synthetic rubber, with a 0.5" platform and a 2" heel. They boast neoprene to help make them slip-resistant, along with textured tread for added grip. A full-length leather midsole helps to reinforce the outsole while adding cushioning and flexibility.
These boots feature a Goodyear welt construction, making the soles easy to replace when they wear thin. This design can help you to save money in the long run by allowing you to keep the boots feeling like new for longer, even with daily use.
The Harness 8R is made of 100% oiled leather for a snug yet comfortable fit. The interior is unlined, giving your feet more space to breathe. However, the boot does run narrow and might be uncomfortable for those with wider or larger feet than average.
Inside the boot, a cushioned insole molds to the shape of your feet, helping to offer support. The insole prevents you from placing too much pressure on sensitive points of the foot.
This boot is easy to slip on and off in a single movement. It has an extra-wide opening that measures 15" in diameter. The top of the cuff also features dual pull-loops built into the design. These give you extra grip when sliding your boots on and off, helping to prevent your toes or heels from catching and stretching the leather.
Pros:
Attractive cavalry-inspired design
Slip-resistant soles
Goodyear welt construction for easy resoling
Unlined for more breathing room
Easy to slip on and off
Cons:
Sizing runs narrow
Loose around the ankle
These sleek boots feature a zipper closure, allowing them to offer a smooth and uninterrupted profile. The zipper also makes the shoes easy to take on and off while still allowing for a snug fit around the ankle.
This timeless look goes with both casual and formal wear, making these shoes a good choice for any occasion. The Sawyer Fashion Boot functions just as well in the office as out around town.
A textured sole and a 1¼" block heel give the boots superior grip even on smooth surfaces. The sole is made of thick, durable rubber to ensure that the shoes have a long life even with heavy wear and tear.
These boots are made with a Goodyear welt, allowing you to replace the sole as it starts to wear thin. You don't have to worry about the tread smoothing over and increasing your risk of slips and falls.
The upper portion of the shoe is made of dip-dyed leather or oiled suede. You can find these boots in black, dark brown, Cognac, or wheat. The sole of the boot matches the color of the leather for a sleek, seamless look. All accents are in antique brass to lend a trendy vintage look.
Inside the shoe, a soft leather lining keeps your feet comfortable with or without socks. The footbed is also lightly cushioned with a thin leather lining that matches the contours of your feet. Your feet can stay comfortable all day long, making these boots an ideal choice for everyday wear.
Pros:
Convenient zipper closure
Versatile look
Durable, textured rubber sole
Goodyear welt design for easy resoling
Leather lined and cushioned insole
Cons:
Sized large
The zipper is poorly constructed
These boots, which reach about mid-calf, are both comfortable and fashionable. They boast a simple design the goes with just about any casual outfit. The cut is also snug enough to go under clothing, yet roomy enough to be worn as outerwear when desired.
The opening measures about 14″ around, making it easy to fit these boots around your feet and calves. A wide toe box and leg shaft allow these boots to fit larger than average feet without squeezing or pinching. For those with smaller calves, a rigid leather cuff can stay up against your leg without sagging.
Convenient leather pull tabs also make these boots a breeze to take on and off. They're seamlessly tucked inside the boot so that they don't affect the seamless appearance of the cuff area.
The exterior of the shoe is made of fine Montana leather, which is specially treated with colors and then hung to dry for a vintage crunch look. The boots come in several different color options, including black, walnut, saddle, and a vibrant yellow banana hue.
The sole of the boot is leather, with a stacked wooden heel for both style and support. The shoe features a Goodyear welt design to allow you to replace the sole without a fuss, as the leather tends to wear quickly.
Inside the Campus 14L, supple leather lining cushions your feet and helps to keep the entire length of your calf warm on chilly days. The boot also features a cushioned insole for improved support.
Pros:
Roomy enough for large or wide feet
Attractive, classic design that reaches mid-calf
Easy to take on and off
Made of vibrant Montana leather
Easy to replace the sole thanks to Goodyear construction
Cons:
No tread on the soles
The leather on soles wears quickly
May not be true to color advertised
These boots are built for everyday wear, with a flexible rubber sole that helps to improve comfort by working with your foot as you walk. They're inspired by Oxford style shoes, with a rounded toe, a 1¼" block heel, and laces that don't feature eyelets.
The laces are made of waxed fabric so that they're able to withstand weather and wear and tear without fraying. The lacing allows you to achieve a tight, even fit along the entire length of your foot, keeping it in place as you move. It goes all the way up to the top of the cuff, keeping the boots snug around your ankle.
The Corey Lace-Up Ankle Boot is made from dip-dyed goat leather, making them a soft yet hardy choice. They come in black, dark brown, and Cognac so that you can coordinate with any outfit, both casual and formal.
The inside of the boot is also lined with soft leather to help keep your feet comfortable. Extra padding around the ankles helps to keep them from chafing your skin without sacrificing the integrity of the cuff.
The outsole is rubber, with a light tread pattern that's ideal for urban exploration. The soles are constructed using a Goodyear welt both for stability and to make resoling easier when the need arises in the future.
The bottom of the shoe also boasts a leather insole along the interior to cushion and support your foot all day long. This feature helps to improve your pronation while also reducing the risk of injuring yourself or experiencing discomfort.
Pros:
Made of durable dip-dyed goat leather
Oxford-inspired design is suitable for most occasions
A sturdy rubber outsole with a light tread pattern
Long-lasting waxed fabric laces offer a snug fit
Leather-lined interior and insole
Cons:
Run slightly small and narrow
Stiff ankle material
These combat boots are made to tackle tough conditions just as well as they're able to handle city sidewalks. Their heavy-duty design makes these boots able to withstand wear and tear due to harsh terrain, bad weather, and regular use. They're ideal for casual, everyday wear.
The Scout Boot is also designed with fashion in mind. The boot is made of waxy canvas and pull-up leather or suede, with different colored panels to create a bold fashion statement. You can find these boots in a variety of colors, including black, olive, tan, and slate. The fabric is waterproof to help protect your foot against the elements.
Lacing along the shoe helps to hold it firmly in place. It stops just short of the ankle, where a cushioned tongue helps to cushion, support, and protect your ankle from excessive movement. On the back of the cuff, a pull tag makes it easy to slip shoes on and off without stressing material around the ankle.
The interior of this boot is breathable, making it an excellent choice for warm weather. The unlined design also leaves more wiggle room for large or wide feet. You won't have to worry about discomfort or blisters from excessive friction or pressure.
The outsole of the shoe is made of thick and heavyweight rubber, helping to improve your stability as you walk. The lugs of the tread are deep and pronounced, giving you superior traction across a wide range of conditions. The sole comes in different colors to match the upper portion of the shoe.
Pros:
Ideal for everyday casual wear
Durable, heavy-duty design
Snug fit thanks to adjustable lacing
Breathable, uncushioned interior
Extra traction on sole
Cons:
Not insulated for cold weather
Heavier than other boots
The Bottom Line on Frye Boots
The Frye Company is world-renowned for its high-quality leather boots. They make thousands of different styles for men and women that offer superior comfort, support, and durability. If you're looking for a new pair of boots, Frye is always a good choice in terms of quality leather construction.
In our opinion, the best overall choice of Frye boot is the Men's Corey Lace Up Ankle Boot. It offers a snug, comfortable fit and is versatile enough to use for just about any occasion. The boot is also made of high-quality leather and features a sturdy Goodyear welt construction.
Our favorite premium product is the Women's Shane Embroidered Tall Western Boot. Not only is this a well-constructed boot made of high-quality leather materials, but it features an attractively embroidered cowboy boot design that's suitable for both casual and formal wear.
When it comes to value, our favorite Frye boot is the Women's Melissa Button. These knee-high boots are both comfortable and fashionable and come at a price that won't break the bank. When it comes to quality, you can't go wrong opting for a pair of Frye boots.