Most people have no idea about the effort required to grow and harvest the food they eat every day. Without question, working on a farm is one of the toughest and most demanding jobs a person can have.
No matter what crops you're growing or animals you're raising, farm work has a variety of unique demands. You'll deal with slick surfaces, heavy equipment, dangerous chemicals, and long hours on your feet.
The right boots provide the foundation you need to get the job done each day. When selecting farm boots, you want a combination of durability, comfort, and protection.
Although they feature elements found in work boots and muck boots, farm boots also have unique features specifically designed for the daily chores found on a farm. They allow you to work efficiently while reducing stress and strain on your entire body.
Today, we're taking a closer look at the best boots available for working on a farm. Whether you're looking for the top premium option, the most affordable choice, or the maximum value for your money, we've got the perfect boots for you.
Our Top Picks
If you're looking to make the most informed decision possible, we've created a fun, detailed guide that explains everything you need to know when selecting boots for farm work – and it starts right now:
How to Choose the Best Boots for Farm Work
All farm boots are not the same. You need to consider a variety of different features. Here's a closer look at the main parts of a pair of farm boots.
Material
Let's start with the basics: What material is best? The right one makes a big difference in the boot's comfort, durability, and protective capabilities. Common materials used to make farm boots include:
Leather
Leather is a classic material used for centuries to make all types of footwear. It has a variety of benefits for use on the farm.
First, it's thick and durable. Leather resists cuts, punctures, burns, and other damage. As long as you take reasonable care of your leather boots, they'll last for years.
Additionally, leather is also comfortable. While it does require an initial break-in period, your leather boots will quickly conform to the shape of your feet for a custom, supportive fit.
When selecting leather boots for use on the farm, make sure they're waterproof. While thick leather is naturally water-resistant, you want extra waterproofing for your farm boots.
Rubber
Rubber is another popular material for these types of boots. Rubber boots typically provide the best waterproofing capabilities.
Look for rubber boots molded without seams. A lack of seams significantly reduces water's ability to seep inside.
Rubber thickness varies. While thinner rubber is lightweight with maximum flexibility, thick rubber protects against harsh and hazardous chemicals.
Sole
The sole is the underside of the boot. Because it's the part of the boot that makes direct contact with the ground, the material used makes a big difference in the boot's traction and comfort.
Most farm boots have rubber soles. Rubber is durable, long-lasting, and resists both impact and puncture damage. Plus, rubber resists practically all types of liquids, including water, oil, and even corrosive materials.
Also, rubber cushions impact well. You can reduce shock to your feet and legs. It helps you stay comfortable when you're on your feet all day.
Another popular material used to make soles is thermoplastic polyurethane, also called TPU. It's similar to rubber but with a lighter weight and increased abrasion resistance.
Generally, rubber is considered the strongest and most durable option, but TPU also works well in a typical farm environment.
There are three methods used to attach the sole to the upper part of the shoe:
Standard stitching
Welt stitching
Cement
Standard stitching is typically the first type to break down. For heavy-duty use like you'll find on a farm, you'll probably want stronger stitching.
With cement construction, the sole of the boot attaches with special glue. A cemented sole isn't removable. If the sole wears down, you'll have to replace the entire boot.
Welt construction is the most secure option and usually ideal for heavy-duty farm boots. It uses a strip of leather stitched to both the insole and the upper section. Finally, cement adds additional stability. Welt construction is a classic, reliable method of shoemaking.
Toe
Farm work boots need reinforcement over the top toe area to protect against impact. After all, farm work typically involves a variety of heavy equipment. If any massive object accidentally falls on your foot, you want your boot to protect you from injury.
A few different options are available:
Steel-toed boots are a reliable classic. As you've probably guessed, these boots use a steel plate to protect the top of your foot. It provides the most protection compared to the other materials.
On the downside, steel is a poor insulator. If you're working in cold temperatures, expect to feel a chill on your feet. Also, steel doesn't provide any flexibility, so the upper part of your boot will always feel stiff.
Aluminum doesn't provide as much protection as steel, but it's still strong enough for most general farm work. Plus, aluminum-toed boots are often cheaper than steel ones.
Finally, you have the option of a composite toe. A composite shield is made from a combination of plastic, rubber, and carbon fiber. They're lightweight, insulate well against the cold, and won't set off metal detectors.
So, which material is best?
Choose a steel-toed boot if you work around heavy-duty equipment that could seriously crush your foot in an accident.
However, go with aluminum or a composite if you're only around light and mid-weight equipment and want a lightweight boot. Composite is also the best option if you'll wear the boost in cold weather most of the time.
Are Steed-Toed Boots Dangerous?
Before we move onto the next feature, let's take a moment to address a common myth regarding steel-toed boots. Many people believe steel-toed boots are dangerous. The idea is that if an object falls on your boot, the steel plate will drop onto your foot and cut your toes off!
Fortunately, MythBusters determined the idea is false. Wearing boots with a protective shield, steel or otherwise, significantly reduces your risk of injury.
Puncture Plates
Of course, potential dangers aren't always from above. Farm grounds contain a diverse array of hazards, including glass, nails, and other sharp objects that can pierce your foot if stepped on.
Puncture plates add a layer of protection to the bottom of the boot. You want a plate strong enough to withstand even the sharpest hazards but not so heavy it impairs the flexibility of the sole.
Electrical Protection
Farm work involves electrical equipment and water – and those two elements don't always go together well.
Conductive boots insulate you against electric shock. They're usually the best option if there's any reasonable chance you'll work near electricity. Although electrical protection often increases the cost of the boot, it can also save your life.
Generally, you only want non-conductive boots for fieldwork or other situations with minimal risk of contact with electricity.
Interior
So far, we've focused on the exterior of farm boots. Now, let's take a closer look at what's inside. Interior features are divided into three general categories:
Insole
Arch Support
Lining
Insole
The insole is the inner part of the boot. It provides support, absorbs impact, and keeps your feet comfortable. Most insoles are made from either:
Gel
Memory Foam
Padding
EVA Foam
Removable insoles are often the best choice for farm boots. Taking the insole out allows for easier cleaning. Trust us, after spending long days at work, any feature that helps keep the boot clean is welcome.
Also, removable insoles are easy to replace. Insoles can wear down over time. However, replacing worn insoles is an easy and inexpensive alternative to buying a new boot.
Arch Support
Next, you'll want proper arch support. The arch of your foot absorbs the stress of every step. Proper arch support in your footwear helps reduce pain in your foot, legs, and back.
You want a boot with a thick midsole. It should contour to the shape of your arch to provide full support. Arch support can have a profound effect on how you feel at the end of the workday, so don't overlook this important feature.
Lining
The lining is the material on the inside of the boot. It can be any number of fabrics, although it's typically soft and quick drying.
Consider the typical temperature during your workday. If you're outside in the cold, an insulated lining is probably your best option. It'll help keep your feet warm.
However, when working in warmer temperatures, you'll want a lightweight, breathable lining. Consistent airflow keeps your feet cool and comfortable on hot days.
Additionally, you can find linings that help prevent fungus buildup. Anti-fungal linings don't just protect your feet, but they help the boots smell fresher, too.
Ease of Cleaning
Finally, the boots should be easy to clean. Generally, rubber is the easiest option to keep clean. You can simply spray them down with a hose.
Leather isn't terribly difficult to clean, but it does require more maintenance. You'll need to keep them conditioned to prevent cracks from developing. Additionally, leather boots shouldn't sit in direct sunlight for prolonged periods.
Common Types of Farm Injuries
Agricultural work is one of the most dangerous jobs in the country. According to the CDC, approximately 100 people are injured on farms each day. Here's a closer look at the types of injuries and how boots can help prevent them.
Transportation-Related Incidents
Vehicle-related accidents are the most common cause of farm-related fatalities Specifically, tractor overturns are the leading cause of death on a farm.
Properly-sized boots play a key role in protecting you from vehicle-related injuries. Boots that are too large reduce your ability to control a vehicle because you can't feel the pedals correctly.
Generally, farm boots run large. You'll most likely need a half or full size smaller than what you wear in a traditional shoe. However, every manufacturer is different.
Sizing boots when shopping online isn't always easy. Make sure the manufacturer has a return policy that allows you to swap sizes or get a refund if the boots don't fit properly.
Slips and Falls
Farm work is often a slippery business. You'll typically work on wet, muddy, and otherwise unstable ground. Choose a boot with reliable traction. Look for detailed tread patterns that not only provide traction but also help push water and debris away from the underside of the boot with each step.
Punctures
Punctures are another common cause of injury. To help prevent sharp objects from stabbing you in the foot, make sure your boots have a thick, puncture-resistant sole. Both rubber and TPU are materials strong enough to protect against sharp objects. Also, choose boots with an internal puncture plate.
Impact Injuries
Even a relatively lightweight object can cause serious injury if it falls onto your foot. Toe protection is a must. As mentioned above, steel-toed boots provide the most protection.
Aluminum and composite shields are also a good choice, especially in cold weather. However, if you want the safest boots possible, choose a steel toe shield.
Chemicals
Farm work often involves exposure to a variety of potentially dangerous chemicals, including pesticides, solvents, and more. You want to prevent any of these toxic materials from touching your skin. As you can likely guess, the greatest area for potential exposure is near the ground.
Rubber boots typically offer the most protection against chemicals. Look for seamless boots with a single-piece, molded design. Even tightly-stitched seams have minute openings that can potentially allow liquids to enter into the interior of your boots, but seamless boots create an impassable barrier.
Read Also: Best Oil Field Boots
Reviews of the Best Boots for Farm Work
Now that you know what features to look for when shopping, let's take a closer look at some of the most popular, highest-rated options:
Tingley's pulls off a nifty feat with their SZ11 Economy boots. They're flexible and comfortable but remain durable enough for heavy-duty use.
If serious waterproofing is what you need, these are the boots for you. They have injection-molded construction, which means they're entirely one piece. The lack of seams and sections reduces places for water from entering, helping to keep your feet dry even in the soggiest conditions.
Not only are they waterproof, but the PVC construction resists fats, hydrocarbons, caustics, certain acids, and other hazardous fluids.
Of course, when walking in a wet environment, you want to remain steady on your feet. Fortunately, a cleated outsole provides reliable and secure traction. It funnels debris away from underneath the boot with each step.
With a total height of 15", these boots are tall. However, they're also easy to walk in thanks to a flexible upper material that bends with you as you move. Also, they're a lightweight five pounds.
On the downside, sizing the boots isn't always easy. They're oversized, so you'll need anywhere from a half-size to a size larger than your normal shoe size.
Also, the manufacturing process creates a rubber/plastic smell that can linger for a few weeks, although that shouldn't be a major issue if you mainly wear them outside.
Pros:
Rubber material resists punctures and abrasions
Cleated outsole helps prevent debris buildup
Tall 15" height protects your calves
Lightweight construction won't tire your feet and legs
Cons:
A chemical smell can linger for weeks
Tall boots might irritate people with squat thighs
Xtratuf's Legacy Series boots combine a leather base with triple-dipped latex neoprene. They're as waterproof as a rubber boot but with increased flexibility and softness.
The hand-layered construction adds a comforting personal touch to the boots. They're pliable enough to move with you comfortably. However, they're also reinforced at several stress points to help ensure a long life.
When working in wet environments, you need a boot with more than a waterproof exterior. Fortunately, the inside of the Xtratuf is waterproof as well with a unique Breath-O-Prene construction. The open cell structure pulls moisture away from your feet while allowing for quick drying.
Plus, you'll stay steady on your feet with the slip-resistant Chevron outsole and heel counter. Also, the bottom of the boot is non-marking, so you don't have to worry about scuffing your floor when you enter your house
Another feature we love is the toe and heel guards. They help protect you from accidentally stubbing your toe and other injuries.
Pros:
Excellent waterproof construction with no seams
Slip-resistant outsole keeps you steady
Interior is waterproof, moisture wicking, and quick drying
Reinforced stress points for added durability
Non-marking soles allow for wear inside the house
Cons:
Formerly American-made boots are now made in China
Rubber can crack if left exposed to water for long periods
Add some country style to your wardrobe with these Groundbreaker work boots from Ariat. They feature a four-row stitch pattern with a classic western design.
Not only are they fashionable, but they're sturdy and waterproof, too. They're made from 100% full-grain leather with a suede upper. Additionally, the sole is made from a durable, high-quality rubber.
Your toes will stay safe and protected from injury thanks to the steel toe. At the same time, the boots remain lightweight, so your feet and legs won't get tired even after 12-hour workdays.
They're large, durable boots designed to protect your feet, ankles, and calves. The boot's shaft is 10 inches from the arch with a one-inch heel and a half-inch platform. Each boot weighs about two and a half pounds.
While the boot performs well in wet conditions, these boots aren't a good choice if you need to walk in the snow, especially if it's packed down. The sole is too hard to provide adequate traction.
Another potential issue is these are true leather cowboy boots, so they'll need a break-in period. Expect some discomfort for about a week or so while the leather conforms to the shape of your feet.
Pros:
Full-grain leather is durable, flexible, and waterproof
Steel plate protects your toes from impact injuries
Rubber sole cushions absorb shock to keep feet comfortable
Tall design protects calf and ankles
Cons:
Requires fairly extensive break-in period of a week or more
Manufacturing process gives boots a chemical smell that lasts for weeks
If you're looking for reliable protection from heel to toe, Honeywell's Servus Iron Duke has got you covered – literally!
The PVC polyblend molded construction is seamless with reinforced stress points. It'll last a long time, even with heavy-duty use in rough farm conditions.
It's 100% waterproof. However, unlike many other PVC boots, this pair stays flexible in cold temps. If you're sick of boots that stiffen up in the winter, these are a welcome alternative.
Of course, boots that are only strong on the outside aren't much good; they need interior comfort, too. Fortunately, these boots deliver a first-rate, foot-friendly experience with Honeywell's Foot Form contour cushion. It's a removable, washable support system for your arch and heel.
The interior steel shank provides additional support. If you suffer from frequent leg and foot pain after a long day on the farm, these boots can provide helpful relief.
It's also worth noting is that the steel shank provides support so you can climb ladders. The ability to safely step on the rungs of a ladder isn't found in every farm boot, making these botos one of the best choices if you're farm has an abundance of vertical spaces.
Finally, we'd be remiss not to mention the boot's main selling point: It offers tremendous protection against just about anything the farm can throw at you.
The steel toe protects against crushing and other impacts, the outsole prevents accidental electrocution, and the entire boot resists corrosive and toxic chemicals.
There aren't too many downsides to the boot. However, there is an interior ridge near the front, which can potentially rub and irritate your toes. Fortunately, thicker socks usually solve the problem.
Pros:
Lightweight PVC material allows for easy and comfortable maneuverability
Protects against impact, corrosive chemicals, electricity, and other hazards
The removable, washable insole is easy to keep clean
Seamless design prevents water from seeping inside
Interior steel shank provides support for foot and legs
Cons:
Interior ridge might irritate toes
Large size typically requires thick socks
In most cases, the best waterproof boots are made from rubber, but these leather boots from Ever Boots are a notable exception. Quite simply, they're one of the most waterproof boots you can find.
The secret is the Seal-Direct Attached Construction. A waterproof membrane creates a barrier that prevents liquid from touching your feet. At the same time, any moisture generated inside the shoe, such as sweat, wicks away from your skin.
We also like how the interior is well-ventilated. Many rubber boots grow hot inside when worn for long hours, but these leather boots have a mesh-insulated liner that allows for consistent, comfortable airflow.
They're comfortable, too. A polyurethane midsole cushions your entire foot while the outsole tread provides additional shock absorption.
You'll have no problem performing a full range of movements due to the multiple flex points that allow the boot to bend without strain. Additionally, the intricate and robust tread pattern keeps you steady in wet, muddy, and slick conditions.
Slipping the boots on and off is easy thanks to the pull loop on the back and the multiple hooks. You won't struggle to get them on even if you get up and ready before the sun rises.
Note that they're fairly large boots. You'll likely wear a half-size smaller than your regular shoe size. For comparison purposes, sizes run larger than Timberland boots.
Pros:
Top-of-the-line waterproofing
Intricate tread pattern keeps you steady in wet and slick conditions
Mesh liner promotes comfortable airflow
Polyurethane midsole cushions foot
Cons:
Ankle support is only average
Substandard laces will likely need replacing
Rugged and reliable, the Carbo Tec-M from Georgia Boot is an excellent example of how a boot with a relatively simple design can stand out from the competition thanks to high-quality materials.
The main feature is SPR leather. Due to a special tanning process, it's three times strong and two-and-a-half times more abrasion resistant than traditional leather. It resists a variety of toxic substances, including sulfuric acid, potassium phosphate, and more. You'll only find SPR leather in products from Georgia Boot.
Additionally, the boots have a unique waterproof system. Your feet will stay dry even when you're standing in stagnant water. At the same time, the boots remain well ventilated to help prevent heat buildup and sweating.
Additionally, these boots are built to last. They have Goodyear welt construction. A strong, flexible stitch holds the sole and upper section together. If the sole wears down after years of use, resoling is usually a fast and simple process.
Finally, they're comfortable and stylish. SPR leather requires no break-in period. It's soft and comfortable right away. Also, a unique Comfort Core insole cushions your foot while the fiberglass shank helps support your arch. You can spend all day walking and standing in these boots.
Pros:
Unique, durable SPR leather is superior to traditional leather
Interior Comfort Core cushions and supports your feet
Goodyear welt construction resists wear and tear
Stylish, classic design with Prairie Chestnut coloring
Cons:
Sizing runs excessively small
Marginal heel support
The first thing you'll likely notice about these boots is the intricate, blue-and-gray floral design. It's a feminine-looking style that won't appeal to every farmer.
However, beyond the look, these boots feature tough, high-quality construction. They have a flexible, Neoprene upper that comfortably bends with your leg as you walk. Plus, the rubber outsole provides reliable traction and also resists damage from harsh chemicals, including acid.
Inside, the boots have a cushioned footbed. You'll stay comfortable even after spending all day on your feet.
Additionally, the boots are versatile. You should have no problem operating a vehicle, riding a horse, or climbing a ladder while wearing them. They can handle whatever tasks the day throws your way.
While they aren't insulated, they do maintain a consistently comfortable internal temperature. The exterior rubber construction keeps your feet from getting too cold in winter, while their overall breathability helps to prevent overheating in summer, too.
Note that, unlike many boots on our list, these run true to size. Most people order them in the same size they wear in a traditional shoe.
Pros:
Flexible and durable Neoprene construction
Rubber outsole protects against harsh chemicals
Allows for a wide range of motion including climbing ladders
Breathable design helps keep feet comfortable and cool
Cons:
Interior isn't insulated
Floral design won't appeal to everyone
Although known primarily for their casual footwear, Crocs also makes heavy-duty work boots ideal for the demands of a working farm.
They're 100% synthetic with seamless, fully molded construction. Your feet will stay dry even when standing in deep water for extended periods. Every part of the boot is completely waterproof. They're even suitable for wading.
Crocs are known for comfort, and these work boots are no exception. The synthetic sole cushions your feet and conforms to their specific shape. If your current boots leave your feet and legs aching by the end of the day, these boots are a welcome alternative.
While the boots are comfortable when worn, getting them on your feet isn't as easy as we'd like. The upper portion is far skinnier than the sole. You'll likely have to point your toes straight down to slide your leg into the boot. Putting them on is awkward at best and can be downright uncomfortable.
However, once they're on, few boots feel more comfortable. They're an ideal choice for anyone who does a lot of walking throughout the day, especially in wet conditions.
Pros:
100% waterproof construction
Comfortable interior cushions your feet
Durable and damage resistant
Seamless construction keeps your feet dry
Trusted Crocs brand
Cons:
The narrow opening makes putting them on and taking them off needlessly difficult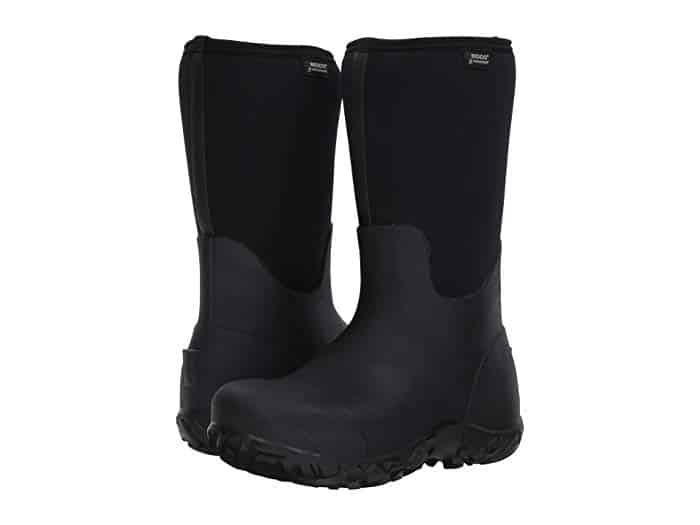 Bogs is an industry leader in durable, waterproof footwear, and these Workman boots are one of their premier options. They have heavy-duty construction that keeps mud, rain, and liquids away from your feet.
The exterior is made from natural rubber. It sits over a four-way stretch bootie that covers your foot. A 7.5mm layer of Neo-Tech insulation adds even more protection.
The outsole has a thick, detailed traction pattern to keep you upright on slick surfaces. After all, what's the point of a waterproof interior if you can't safely walk across wet ground? They're a great boot if you work around water for most of the day.
Another feature we love is the multiple inserts. You can adjust the fit down to a half-size. Plus, you can swap out inserts quickly as needed. It's a must-have feature because many boots change size after the initial break-in period.
If you've struggled to find boots that fit, you'll find these boots a welcome alternative. They offer the most versatile sizing options of any products on our list.
Finally, they hold up well in heavy snow. Not only are these boots waterproof, but the interior insulation helps keep your feet warm. Plus, the traction pattern funnels packed snow away from the shoe as you walk.
Pros:
Multiple inserts allow for precise sizing
Natural rubber construction resists punctures and damage
Designed for use in heavy snow
The waterproof interior keeps feet dry even in saturated conditions
Cons:
They have a clunky, generic style
Toe area can become hot
Skechers is known for combining fashion with function, and their Tarlac Steel Toe Boot is an excellent example of both.
It features a full-grain leather upper with a Relaxed Fit design. Although the boots fit securely, they won't squeeze your foot. Instead, they move with your foot as you walk.
Inside, a full-length Memory Foam insole cushions your entire foot. The gel-infused foam conforms to the specific shape of your foot to provide targeted support right where you need it.
Additionally, we like how easy these boots are to wear. The lace-up system with metal eyelets allows for precise adjustments. Also, a gusseted tongue helps block debris from slipping inside and irritating your feet. Finally, a pull loop on the heel helps slide your foot into the boot with struggle or strain.
Also, they provide reliable protection against environmental hazards. The steel toe blocks impact while the rubber outsole successfully withstands exposure to oil, caustic liquids, and other toxins. Also, they have excellent electrical resistance.
On the downside, they're not as waterproof as many others on our list. While the leather construction is naturally water-resistant, they can't withstand prolonged periods of exposure to deep water. If waterproofing is your number one concern, you'll likely want to choose a different pair of boots.
Pros:
Durable, tough full-grain leather construction
Protects against impacts, toxic chemicals, and other dangers
Secure lacing system allows for a comfortable, snug fit
Handsome, contemporary style
Cons:
Not as waterproof as other boots on our list
The Verdict
Farm business is serious work. When selecting a boot, you don't want to guess at which one is best. While all of the options above have numerous benefits, three boots stand out from the others.
Best Overall
Selecting the best boot is no easy feat. All of the ones on our list are highly-rated and well-made. Truthfully, you can't go wrong with any of them.
However, if we have to pick the best overall, we feel comfortable choosing the Tingley SZ11 Economy. They're the most versatile boot for tackling the widest range of farm-related jobs. If you're looking for one boot that you can comfortably wear throughout the entire year, this is that boot.
Another feature we like about these boots is how well they protect against hazards. The PVC exterior easily blocks dangerous chemicals, including acids. The number one job of a pair of farm boots is to keep your feet safe, and these succeed admirably in that regard.
Best Value
Fortunately, you don't need to spend big to get a solid, reliable pair of boots for farm work. Our favorite value option is the Premium Leather Work Boots from Ever Boots.
They're available for about $70, which is roughly half the cost of many similar boots. Even better, the low price doesn't translate to low quality.
These leather boots are extremely water-resistant, comfortable, and supportive. Plus, they're great for year-round use because they have excellent ventilation.
Best Premium Product
If money isn't a major concern, and you want a pair of boots built to last for years or even decades, our recommendation for the best Premium Product is the Ariat Groundbreaker WST Metguard ST.
You're getting quality and style here. Aside from the full-grain leather and suede construction, the boots also have a four-row stitch pattern with a classic Western design. They not only fit in down on the farm, but they also look great for a night out on the town.
Plus, they're durable and likely won't need major repairs. They also have steel plating to help protect you from serious injuries, making them a good choice if you're working around heavy-duty equipment.
No matter which boot you choose from our list above, each is highly rated, supportive, and durable. While farm work is never easy, these boots help improve the workday by keeping you safe and comfortable.