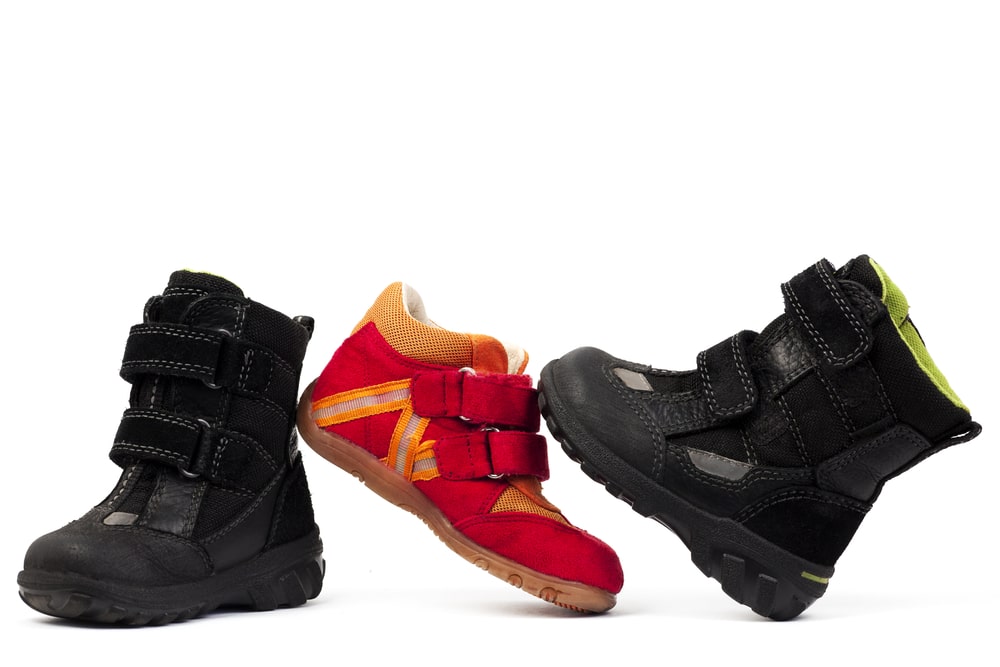 A good hike is what every working adult needs from time to time — and it's no different for kids. With 419 national parks in the United States alone, that means nearly 84 million acres of the beautiful scenery you and your family can explore.
Any avid hiker will tell you that one of the most essential pieces of gear they own is their hiking boots. Again, it's no different for kids. That's why we've picked some of the best hiking boots for kids on this list, with your favorites below.
Our Top Picks
How to Shop For Children's Shoes
The joy of having children is that they're always growing up. But a less exciting joy is that they're continually growing out of their shoes, making buying shoes for them in the first place difficult.
When it comes to buying shoes, you should keep the following tips in mind.
Go to a Child's Shoe Shop
This is especially important if your child is a fussy shopper or doesn't like buying shoes. The staff at a child-specific store will be able to assuage your child's concerns and help them buy a boot.
Besides, since the store mostly has kids stuff, there can be other necessities you can grab for your child as well, such as hiking socks to accompany the hiking boots you're buying.
Measure Your Child's Feet With Multiple Instruments
At every shoe store, there's an instrument you place your feet on to tell you what size you are. It works most of the time for children, but sometimes it's best to use a second instrument to help get the most accurate foot size. That helps then get the best shoe fit for your kid.
While you should consult the "place your foot here and I'll tell you your shoe size" instrument, you could also use a measuring tape to get the length, width, and height of your child's feet. Most online retailers for kid's shoes have these measurements on their websites, so you can more easily get the best-fitting shoes for your kids.
Buy Shoes At the Right Time of Day
As with adults, a child's foot tends to swell in the afternoon because of all the walking and playing they're doing. Therefore, you should buy shoes or take your child's foot measurements in the afternoon as well.
Ensuring you're accommodating your child's feet when they're the largest helps guarantee that the shoes you actually do end up buying fits with no problems. Since you've bought your child's shoes in the afternoon when they're naturally a bit bigger, the shoes won't pinch or chafe against your child's foot in the afternoon either.
You can avoid painful blisters and skin rubbed away by buying your child's hiking boots at the right time of day — the afternoon.
Measure the Correct Foot
Every person has a foot that's slightly larger than the other, and the same is valid for kids. When you're whipping out the tape measurer or the shoe store instrument that helps you get your shoe size, make sure you're using the right foot. Well, it doesn't have to be the right foot, per se, but the correct one.
Accidentally measuring the smaller foot means having to buy another pair of shoes quicker than you may have hoped. By banking on the bigger foot, you can save yourself from going to the shoe store for at least a few more months.
Ensure There's Enough Space in the Shoe
When your child tries on the shoe, pinch down on the front tip of the shoe. There should be about a half-inch of space between where your child's toes end and the end of the toe box.
You could leave a little bit more room and stuff your child's shoes with paper or tissues to ease any discomfort from wearing big shoes if you want to space out buying another pair of hiking boots. Kids grow, after all, but that doesn't mean you have to keep buying hiking boots constantly.
The big toe should be okay, but what about the pinky toe? Press your finger against the side of the shoe where your child's little toe should be. You'll know the shoe is too tight when the pinky toe bulges out, and you can press against it easily; it should feel like a hard obstruction against the side of the toe. In that case, choose a wider size or the next size up.
With plenty of space in the toe box, place your finger between your child's heel and the back edge of the shoe. Your finger should fit snugly and not cause too much friction to insert.
Next, check the shoe's ankles. Grab the rim of the child's shoes and flex it from side to side. The boot should give easily and have a bit of space between your child's skin and the edge of the shoe. Shoes that are too rigid can put pressure against your child's ankle, rubbing away at the skin and causing blisters, which you especially don't want while hiking.
Finally, remove your child's foot from the shoe and check the shoe's interior. There should be a tiny bump on the midsole for arch support. There should also be some padding under the tongue and around the heel so that your child is more comfortable while walking. Since they'll be walking a lot while hiking, extra padding and foot support are crucial.
If you need help finding the right shoe for your child, you can go to a child's store and find the right size there. Take some notes as to how the shoe fit. This information will help you when you determine if the shoes you bought online are suitable, as well.
Read Also: Best Hiking Boot Brands
Importance of Hiking Boots for Kids
If you're going for a light hike, it might be tempting to let your kids wear an older pair of shoes they don't usually wear to school on the trek. Most hiking trails have a well-manicured path, right? So why bother investing in a pair of hiking boots for kids?
Managing Environmental Conditions
The reason is that most hiking trails aren't dry and flat. They're often filled with rugged conditions like tree roots, slippery and dusty paths, rocks, and other items that can hurt your child's feet. Hiking boots are built to survive these tough environmental conditions.
In addition, most normal sneakers a child usually wears to school or around the town doesn't have the proper tread for hikes. The soles of a normal sneaker are flat, with little grip on the bottom because the shoe doesn't need it.
On a hike, though, that tread can keep you from slipping and falling on the trail, which can prevent injuries in places where you don't have access to medical care beyond a first aid kit.
Long-Distance Walking
When you're on a hike, you're walking for at least several miles at a time. That means your shoes have to be comfortable enough to support you and your feet throughout that whole time.
Hiking shoes are designed with better padding in the footbed and arch support to protect the feet from fatigue. Not only that, but they're equipped with better ventilation and quick-drying uppers because the hiking boot company knows that people's feet will be sweating up a storm while walking.
Lots of normal, everyday sneakers may have some of these qualities for kids — kids tend to be active and play a lot, after all, so shoes for active kids mimic some of the characteristics of hiking boots.
But when it comes to not only handling the athletic needs of the user as well as being able to survive harsher conditions, hiking boots provide a far better experience for the user than normal tennis shoes.
Hiking Shoes Tend to Last Longer
The treads of regular tennis shoes tend to wear down over time, as asphalt is an abrasive material and eats away at a shoe's outer soles. Not only that, but lots of companies simply don't plan for their shoes to last longer than a few years thanks to planned obsolescence. And since your kids are constantly growing and increasing their shoe sizes, that's doubly true.
Hiking boots tend to last longer because they're built to survive harsher conditions, such as allowing you to walk over jagged rocks and tree roots and streams and other rugged scenarios. That means when they're put through light use, such as on a pleasant hike on a nice trail, the shoes withstand the abuse better and thus live longer.
If your family doesn't go on hikes very often, a pair of tennis shoes should be fine for the occasional trip through the woods on a well-groomed path. But if you and your family want to make visiting national parks more regular an experience, investing in hiking boots for your kids will be worth it in the long run.
Read Also: Best Ballet Slippers
How to Help Your Child Enjoy the Outdoors Better
Lots of kids would prefer to sit around on the couch and play a game on their phone screen. It's a strikingly common phenomenon with the rise of handheld technology, so you might find it challenging to get your kids up and out the door.
That's why you should do these things to help foster your child's love for the outdoors.
Let Kids Be Curious
Kids naturally have a lot of questions as to why the world is the way it is. The natural environment is a great place to let your kids have unbridled curiosity, what with all the streams in which to collect rocks, stones to turn over, and small trees to climb.
Let kids be kids — when applicable, of course. Lots of parks don't let people veer off the trail too much to help preserve the local ecosystem, so you shouldn't let your kids get too rambunctious either.
But when you enter an explorable part of the park, let your kids wander around with moderate supervision. Yes, you should keep an eye on them to make sure they're not getting into too much trouble, but when you let your kids see just how cool nature is, chances are they'll want to come back for more.
Stay Consistent
That one trip to the grand canyon might be enough to make a few kids long-term lovers of nature, but the chances are high that you'll need multiple iterations of nature to get your kids really hooked on hiking.
Therefore, you should consider taking a trip to a national park every year. Since there are over 400 in the United States, there's bound to be a nice one in your state you can visit. Staying consistent and going on hikes as a family is not only a way to bond as a family but foster a collective sense of appreciation for the outdoors.
Get the Right Gear
Imagine: you're walking through a beautiful forest filled with high, green canopies and the quiet peacefulness that only nature provides when your child starts crying. Their shoes hurt, and they don't want to keep walking anymore. There are blisters on their toes and the backs of their heels because the shoes were too tight.
There's nothing worse than walking when your feel are in pain. When your kid's shoes make them feel such pain, they could learn to associate that discomfort with hiking and thus the environment, turning them off to nature altogether.
Therefore, it's crucial that you get the right gear for your child as you embark on family hikes. This not only includes hiking boots but socks, pants, jackets, and backpacks as well.
Read Also: Best Rain Boots for Kids
Best Hiking Boots for Kids Review
Starting off the list is a pair of Rampart Mid Hiking Boots from Northside. These shoes have the classic hiking boot aesthetic of caramel suede and mesh uppers, letting your child know that when they put on these shoes, they're about to have a grand adventure outside.
The front toe has an abrasion-resistant toe guard to protect your child's feet when they inevitably kick something they shouldn't. There's also the heel stabilizer to prevent their heels from slipping out and potentially losing their shoes.
These shoes wick away moisture and help keep your child's feet dry when walking for hours. Not only that, but the gusseted tongue helps keep dirt, debris, and other critters from the forest out of your child's shoes.
The interior sole of these shoes are removable and washable, help you keep these hiking boots clean on both the outside and inside. The padded collar and tongue help keep your child's feet comfortable as well.
For kids who don't know how to tie their shoes yet, the quick lace enclosures and heel pull strap make putting on and taking off these shoes a breeze.
The outsole and tread are durable and textured, letting your child keep their grip on both dry or wet surfaces. In addition, the shoe absorbs some of the shock of each step they take, reducing foot fatigue.
These are a high-quality pair of children's hiking boots at an affordable price. If you want to ensure your child has a good time hiking, consider the Northside Kids' Rampart Mid Hiking Boot.
Pros:
These shoes have an abrasion-resistant toe guard and durable tread to survive rugged conditions.
The interior midsole is cushioned and helps keep your feet comfortable.
These shoes are padded and help wick moisture away from the feet.
Cons:
While the manufacturer claims that these shoes are waterproof, some users say that they aren't.
Some parents say the heel strap isn't as functional as they'd like it to be.
Columbia is another company known for its high-quality hiking gear, and their children's boots are no different. For a high-quality pair of hiking boots that are durable, rugged, and built with your child's comfort in mind, we think the Columbia Kids' Newton Ridge Hiking Boot is the way to go.
There's a little bit of ankle protection thanks to the hi-top design. The Omni-Grip traction rubber on the bottom of these boots doesn't leave a mark on the ground but helps ensure the best traction on a variety of surfaces — wet or dry.
The entire shoe is incredibly lightweight, so your kids won't feel as tired as quickly and will want to keep up with their parents on the hike. In addition to that, the Techlite midsole is built for lasting comfort, high-energy return, and superior cushioning to help make the hiking experience a lot better.
The seams of the upper membrane are waterproof and will thus prevent your child's feet from soaking in moisture for too long. Not only are the seams waterproof, but the whole upper is as well.
Overall, the shoe has the aesthetic of a high-quality hiking boot. They don't come in a lace-free option, so you'll have to help your child tie their shoes. However, the performance you get from these shoes will make up for the minor inconvenience of not having velcro or strapless closures.
Pros:
The outsole of these shoes have good traction and will prevent slips and falls.
The internal cushioning and high-energy return from every step prevent foot fatigue.
The seams and upper are waterproof and help keep your child's feet dry.
Cons:
The hiking boots don't have a lace-free option, so you will have to help your child tie their shoes.
Some users report that the toe-guard comes off a little bit after purchasing sometimes, so beware.
Whether you want to give your kid a cool shoe to wear to school or a durable hiking boot to wear on a hike, these shoes have got you covered. The Merrell Kids' Girls' Ontario 85 Hiking Boot is made from high-quality materials from a company that knows how to get the outdoor gear right.
The suede upper and mesh panels not only gives these shoes a beautiful aesthetic experience, but they help ventilate the shoe and keep your child's feet cool. The round-toe features the M-select Dry membrane, which helps wick away moisture and stops extra water from getting into the toe bed.
There's no tying involved with these shoes. Instead, the lace-up closure and padded tongue allow your child to slip their feet easily into this hiking boot. You won't have to worry about stopping to tie your child's shoe either, removing that minor inconvenience as well.
The inner lining of these shoes is breathable, and the EVA midsole is cushioned for maximum comfort while wearing these shoes. The M-Select Grip rubber outsole provides excellent traction on both wet and dry surfaces, ensuring your child doesn't fall as often.
For a high-quality pair of hiking boots that last as long as your child can fit in them, consider the Merrell Kids' Girls' Ontario 85 Hiking Boot.
Pros:
Laceless design means you have to stop fewer times to tie your child's shoes.
The internal sole of these shoes are cushioned and decreases how tired your child's feet feel after a hike.
The mesh panels on the upper and the lining mean your child's feet remain cool and comfortable.
Cons:
The tread on these shoes is a bit shallow and thin, so you'll have to keep an eye on your child when they walk through the rocky substrate.
Another pair of high-quality boots from Merrell, the Ontario 85 WTRPF is like the regular Ontario 85 but with different coloring that most boys will appreciate.
The upper is made from supple and durable suede, giving the shoe a put together and upscale look. Not only that, but the suede is abrasion-resistant and fends off tears and scratches like a pro.
The rubber sole is durable and helps your child keep their grip on a variety of surfaces, both wet and dry. The lace closure avoids the need to tie your child's shoes, so young toddlers can slip these shoes on and explore the forest without getting bogged down by untied laces.
The EVA midsole helps cushion and comfort your feet, and the lightweight design of these shoes stops your child's legs from feeling heavy and sore after a long day's hike. The ankle-high design also protects your child's feet from scratches, as well as if they were to fall as well.
For another great pair of hiking boots designed for kids from Merrell, consider the Ontario 85 WTRPF.
Pros:
The outsole is rugged and capable of maintaining high traction over wet, dry, and rocky conditions.
The inner sole is cushioned and comfortable, allowing your child to walk for miles without discomfort.
These shoes are lightweight and breathable.
The no-tie design prevents your kid from tripping over their laces.
Cons:
The tread could be a little thicker to help protect your child's feet from more rugged environmental elements like rocks and tree roots.
For more accident-prone kids, you need a pair of shoes that can keep up with their antics. Not only that, but you need a pair of shoes that help prevent some of the consequences that usually accompany their antics, including anti-skid technology.
The JMFCHI Outdoor Sneaker does just that. The shoes have an incredibly textured and grippy outsole, so the shoes are no match for your child walking over rocks, tree roots, or other obstacles in their path.
The upper is made from leather, suede, mesh, and tear-resistant fabric to not only look good but help your child's feet remain cool as well. The lining is made from high-quality and warm plush, so the shoes are comfortable and soft to wear. These shoes are breathable and windproof, as well.
Your child can remain stable on a variety of terrains thanks to the non-slip metal claw and unique outsole pattern for maximum stability on various surfaces. The rubber soles also absorb the shock of each step, as well. With the ample heel support and ankle protection, your child is protected from the elements and whatever the environment can throw at them.
The simple hook and loop closer is so easy a child can do it. There are no laces to fumble with, so you don't have to continually stop to tie your child's shoes or fear they'll trip over their untied laces.
For an affordable pair of hiking boots that don't skimp on quality, consider picking up a pair of JMFCHI Outdoor Shoes for your child.
Pros:
The rubber sole is textured and durable, ensuring your child remains stable on unstable ground.
These shoes are highly affordable.
JMFCHI Outdoor Shoes are breathable and windproof.
Cons:
The shoes themselves are a bit heavy.
Some customers report that the shoes' treads wear down rather quickly over time.
Deer Stags thinks the outdoors should never be avoided, and that's especially true with its kids' collection of shoes. To satiate a child's natural curiosity and energy, the company created a boot to keep up with your boisterous child.
The shoes are vegan and made from breathable mesh and a synthetically reinforced upper. Your kid's feet stay cool and comfortable throughout their hike.
The corded lace closure system means there's no need to tie your child's shoes. They can simply slip the boots on and get running. The padded tongue and collar also help add comfort and stability to these shoes, so your kid's feet don't feel fatigued.
The multidirectional lugs on the outsole ensure top-notch traction on a variety of surfaces, which reduces the chance of your kid slipping and falling.
When it comes to durable and high-quality hiking shoes, Deer Stags has got you covered. Their hiking boots for children provides an excellent experience for woods-lovers and any family inclined to explore the great outdoors.
Pros:
The Deer Stags Drew Hiker Boots are slip-resistant, reducing the chance of your child slipping and falling.
The inner footbed, tongue, and collar are padded, so your child is the most comfortable while hiking.
The laceless closure system removes the need to tie your child's shoes.
Cons:
Many users say that the shoes are not waterproof, so you should ensure your child doesn't soak their feet in the water while wearing these shoes.
Merrell is one of the most efficient companies in providing high-quality hiking boots for their customers of all ages — especially kids.
The Merrell Kids M-Chameleon 7 Hiking Boot is first and foremost waterproof. If you live in a rainy area and don't want your kids' feet getting soaked, you could give them these shoes to help keep your child's feet dry. These shoes also maintain superior traction on all surfaces, even when wet outside. If you have a clumsy child, these are the shoes for you.
Inspired by chameleon's adaptability to changing conditions, the chameleon 7 has a waterproof construction to keep feet dry and superior traction on all kinds of surfaces. Durable and lightweight makes it an excellent shoe for kids, whether they are going on a hike or hitting the playground.
The leather and mesh upper not only provides maximum comfort but breathability as well, ensuring your child remains comfortable while playing outdoors. The shoes are also easy to take on and off, thanks to the no-tie closure.
Pros:
No-tie design means these shoes don't need to be re-knotted always.
The tread helps prevent slips and falls on a variety of surfaces — even when wet.
The upper is made from a breathable and comfortable material.
Cons:
Some users report that the shoes are less waterproof than they would have liked.
Sometimes you want your family to enjoy the great outdoors even when there's snow on the ground. In that case, you need shoes that can handle a new, more demanding environment. Your child's shoes need to be water-resistant and slip-resistant to ensure they're feet remain safe in the cold.
With the Wetike Winter Snow Hiking Shoes, you get just that. The soles have deep grooves that allow your child's feet to stay secure even on slippery ground, ensuring there are no slips and falls even on ice.
The suede, leather, and mesh upper not only looks good but helps your child's feet breath as well — all while ensuring no precious heat escapes from the footbed. The upper is waterproof as well, and the skin-friendly warm plush lining remains comfortable throughout the hiking experience.
The toe guard helps guide your child's foot in a natural motion to ensure they're walking properly. The toe guard also protects your child's feet in case they kick something hard.
The hook-loop closure makes putting on and taking off these shoes very easy, so you can dress your kid and ensure they don't miss a beat in the great outdoors.
Pros:
The upper is breathable and protects your child's feet.
The hook-loop enclosure avoids the need to tie your child's shoes.
The soles are slip-resistant and help prevent slips and falls.
Cons:
Some users say that these shoes are a bit too wide for their liking.
If your child is picky and doesn't like high-top shoes, give them the Merrell Trail Chaser Hiking Shoe to try on.
The upper is made from 100% suede and mesh, so your child's feet feel comfortable and breezy throughout the hiking experience. The rubber sole also has an M-Select GRIP that ensures your child doesn't slip and fall when coming across wet, dry, or rocky substrate.
The EVA removable footbed can be washed in case it gets dirty, allowing you to ensure your child's shoes remain clean on the inside and out.
The hook and loop closure not only provides a precise and secure fit but forgoes the need to tie your child's shoes. Without laces to worry about, they can slip on the boots and get hiking faster — and no need to stop to retie them either. There's even a pull tab on the heel to make putting on and taking off these shoes much easier as well.
The shoes come in three different colors to match your child's personality, so there's always a Merrell Trail Chaser Hiking Shoe to match your child's hiking needs.
Pros:
Breathable and durable upper prevents the buildup of internal moisture, letting your child's feet breath.
The bottom soles have high traction to stop your child from slipping and falling.
The velcro laces are perfect for children who don't know how to tie their shoes yet.
Cons:
Some users report that the velcro enclosures aren't as sturdy as they would like.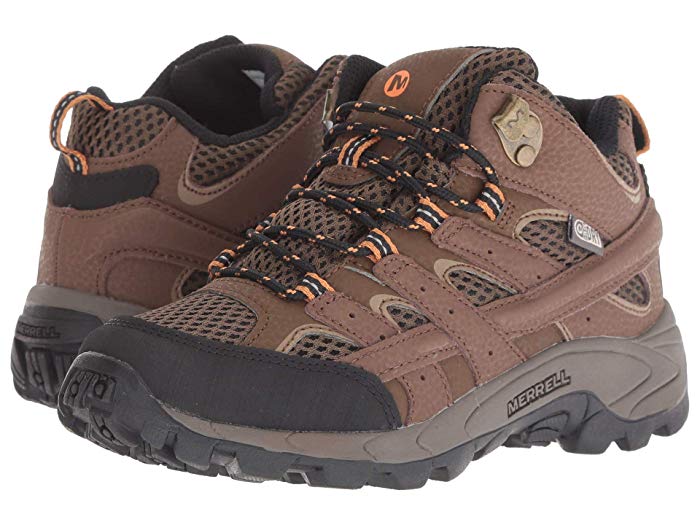 Last but not least, the Merrell Kids' Moab 2 Hiking Shoe provides all the excellent hiking prowess as its adult counterpart but compacted to benefit kids.
The Kids' Moab 2 is waterproof and highly breathable thanks to the mesh and suede upper. Not only do the shoes look good, but they're comfortable to wear.
Even though the upper is made from mesh, the M-Select Dry Bootie helps keep your feet dry, sealing water out while allowing moisture produced from walking to escape.
The lace-up enclosure stops any need from stopping to tie your child's shoe. The lightly padded footbed, tongue, and collar ensure your child gets all the comfort they can while walking for miles. The soft fabric lining doesn't chafe against the feet, and so your child can get ample use from wearing these shoes.
If your child is clumsy is prone to falling, they'll like how durable the M-Select Grip superior traction is. Even if your child isn't clumsy, they'll enjoy being able to walk along dry, dusty trails or wet ones that have just been rained on without the fear of slipping.
These shoes help give your child the best hiking experience they can. While a bit pricey, they would be worth the investment if it means ensuring your child has a safe, comfortable time while hiking.
Pros:
The outsoles are sturdy and textured, meaning they prevent slips and falls even on wet surfaces.
The upper is made from durable mesh and leather, allowing your child's feet to breathe while walking.
The footbed, tongue, and collar are padded to give your child the most comfortable walking experience.
Cons:
A few customers say that these shoes tend to run small, so order a half-size up.
Read Also: Best Survival Boots
The Verdict
You've seen the shoes and the reviews. All the shoes on this list are great and will help instill a love of the outdoors in your kid. But we feel the need to explain why the top three are our favorites.
Some of these shoes are a bit expensive for kids' shoes, but we think the Northside Kids' Rampart Mid Hiking Boot is priced cheaply for the performance it gives. The boots help keep your child's feet comfortable, secure, and safe from the rugged environment, all without extra fancy accessories you don't need. That's why these shoes are our top choice.
The Merrell Company knows its stuff, and they haven't failed its customers yet with the Ontario 85 WTRPF. The shoes lack laces, which is perfect for kids who don't know how to tie their shoes. The boots are durable, extra comfortable, and incredibly rugged on the sole.
While a little bit more expensive, we think the extra cost is worth it.
Hiking boots don't always have to be extra expensive, like the Ontario 85 WTRPF. We think the more affordable Deer Stags Drew Hiking Boot is just as good as nearly half the price. They're simple yet highly functional, making them an excellent boot to give kids as they grow up and out of their current size.
Those were some of the best hiking boots for kids. Which ones do you think your child will like the most?