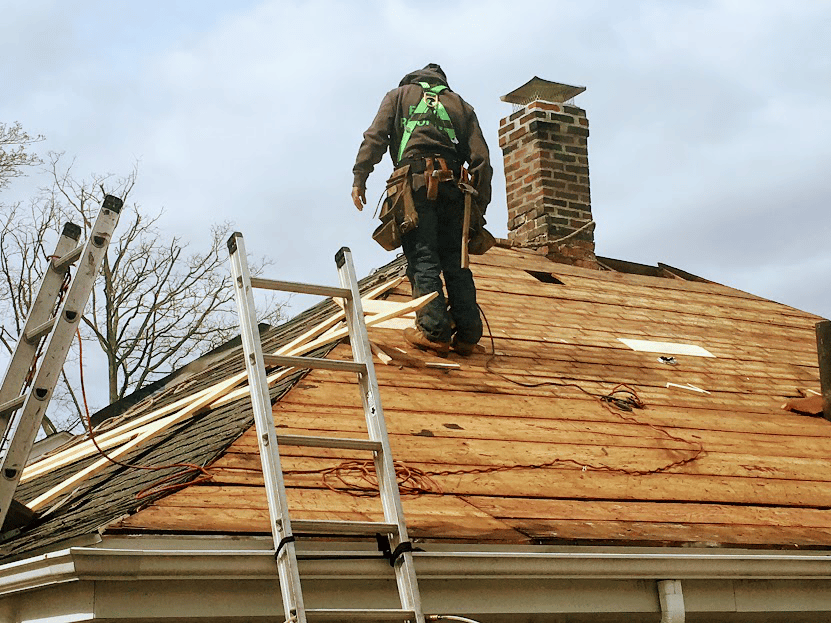 There are plenty of jobs that require you to be extremely cautious about where you step but most of them pale in comparison to the industry of roofing. The job comes with high risks; every day, it exposes you to uncertain situations. Along with the hazards related to constructions jobs, one big concern of roofers is that their workplace is at least 10-12 feet off the ground. One misstep can lead to significant injuries.
A steep slope, leaves, small stones, scattered tools, wet floor, and even the loss of balance due to some kind of distraction could cause you to trip and fall off from the roof you are working on, resulting in dangerous consequences. When it comes to lines of defense against potential injuries, one of your best options is quality footwear. You need to invest in footwear specially designed and manufactured to target the particular obstacles you'll be facing. It should allow you to work confidently under all circumstances.
You should invest in a pair of boots that provide you with ample comfort, snug support, and help you enhance your job performance. With so many brands and models available in the market, it might seem like a tall order. Therefore, after careful considerations and conducting extensive researches, we've prepared a mini-guide to help you with the process.
Buying Guide
Let's start with some important things you need to consider when shopping for roofing boots.
Factors to Consider When Shopping for Roofing Boots
Roof Materials
Before settling for a pair, you need to make sure that they are fit for your exact needs. Roofs can be made from different kinds of materials like asphalt, wood, metal, etc. All these various types require different boots; therefore, you need to choose accordingly.
· Cedar Roofing
To walk comfortably on cedar roofs, wearing boots with spikes is highly recommended. They also give you good stability and traction. We recommend boots that are equipped with cleats sharp enough to provide you with a strong grip. If they are too sharp, they might penetrate and damage the roof.
· Asphalt Roofing
Asphalt tiles are quite harsh on the uppers and the outsoles of any kind of footwear and if you buy low-quality sneakers, then the chances of them falling apart in a few days are quite high. For walking on these tiles, you need durable, comfortable, and slip-resistant boots. Full-grain leather is known as one of the most resistant types out there and footwear made out of them is very likely to last for a long period.
· Metal Roofing
By default, a metal roof is very slippery, especially when it's covered with oil residue, dust, or pollen or is wet. Boots with rubberized flat outsoles are great to be worn on metal surfaces. They give the best traction and strongest grip even on a wet metal roof. Moreover, rigid and heavy work footwear can scratch and damage your metal surface; therefore, you might want to opt for lightweight and soft-soled ones for the purpose.
Once you have successfully identified your roof type, you need to select a pair of boots that will keep you productive and comfortable all day long. Although professional boots are more costly, they can last for years and offer superior quality. Here are some other key factors you need to look for in a roofer boot:
Traction and Outsoles
When buying roofing boots, the outsole is one of the most important features to consider. It should be capable of giving sufficient traction and should also be slip-resistant to keep you from falling off the roof.
Look for flat soles that are made of rubber specially designed and manufactured to provide superior grip which can help provide increased stability and keep your balance. As roofing is a physically demanding job, a flexible sole is also essential to allow you to squat, bend, and stay in challenging positions with ease and flex accordingly.
Boot Materials
Full-Grain Leather
This material is the most durable and toughest leather of all. Although full-grain leather is not very breathable, it is made to withstand extreme abuse and last for a long period.
Suede Leather
Suede leather is a type of full-grain leather but comes with a softer finish. With increased breathability and flexibility, it offers decent durability and protection.
Synthetic Nylon, Canvas, Mesh
Although extremely breathable, this material doesn't provide much protection or durability.
Extreme Comfort
Some roofers work on their jobs for more than 10 hours a day and they deserve a pair of boots that can be worn comfortably all day long. Look for anti-fatigue and shock-absorption technology in the insoles and midsoles of your footwear which are specially designed to provide extra comfort. That being said, the upper material of the shoes should feel like it is hugging your feet.
Excellent Lacing System
Your boots should be able to lace up perfectly so that they fit the exact shape of your feet. A tight, secure, and snug fit with laces that remains tied on perfectly at all times is an ideal choice. The quality of the laces also plays an important role in determining the effectiveness of the boots. Lastly, remember to make a great knot to assure that you don't end up tripping over your shoelaces.
Features of a Good Roofing Construction Work Boot
Following are some features of a good roofing construction work boots summarized:
They shouldn't form a tripping hazard. The laces should be tied properly and the boots should be a good fit.
They shouldn't cause excessive damage to the roof.
They should come with support and comfort features to enable the constructor to work with ease for long periods.
They must not have any deep lugs.
Thin threads are a must.
They need to be able to withstand harsh weather conditions. Many roofers prefer owning a different pair of boots for hot and cold weather.
As part of their safety policy, some government jobs and companies require you to specifically wear steel toe work boots.
Read Also: Top Rated Work Boots
Our Top 3 Choices
---
Best Boots for Roofing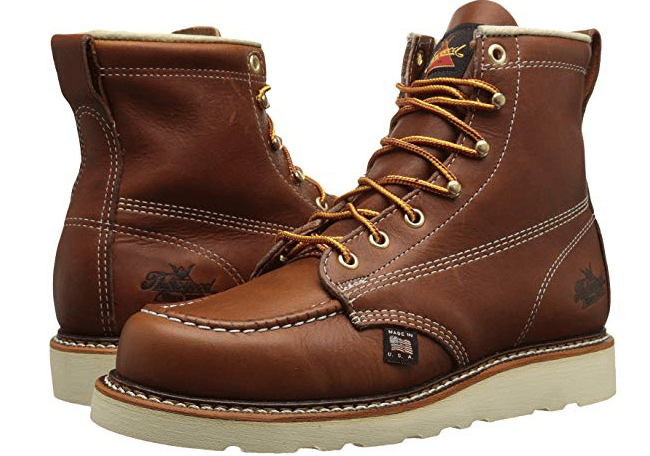 The supportive cushioning and the tough leather construction of these boots make it one of the best professional options on the market. These features allow your feet to be comfortable and its superior quality makes the model very popular among roofers. The uppers are manufactured with oil-tanned full-grain leather, which is the highest quality of leather you can find. The traditional lace-up work boots completed with metal eyelets and hooks provide a sturdy and comfortable fit.
While the full-grain provides durability and ruggedness, the cotton drill vamp lining adds to the breathability of the footwear. The removable, dual-density Ultimate Shock Absorption™ insert with Poron® 4000 comfort cushion provides superior comfort all day long. With the polyurethane wedge, you get all the traction you need on the steepest of slopes. It is durable yet soft, flexible and doesn't wear off easily. The engineered composite shank also offers excellent stability and support.
Along with all the mentioned comfort-adding features, these boots also come with a rubber midsole and non-safety soft toe. The Goodyear® storm welt construction and the non-marking Maxwear Wedge outsole which is oil and slip-resistant and provides excellent stability and traction completes the package. Thorogood 6" Soft Moc Toe Boots are extremely durable and they also perform amazingly on both metal and asphalt roofs. They come in plenty of colors to choose from and you can also opt for its Steel Toe version, according to your preference.
Pros of Thorogood 6" Soft Moc Toe Boots
Tough leather construction
Supportive cushioning
Oil-tanned leather upper
Non-safety soft toe
Excellent breathability
Removable, dual-density comfort cushion
Oil and slip-resistant outsole
Cons of Thorogood 6" Soft Moc Toe Boots
---
Being a roofer, you must be familiar with these popular Thorogood American Heritage Lace-to-Toe Roofer Boots. If you desire a steady foot and a sure fit, then these boots with reliable construction might just be what you need. Featuring a unique and practical lacing system with metal eyelets and hooks, these boots give you a secure and tight feeling from your ankles down to your toes. One feature that adds to the durability of these boots is its seam reinforcement rivets. Besides the excellent lacing method, they also come with thick, oil-tanned genuine leather that provides extra comfort.
Along with slip-resistant outsoles that allow you to avoid slipping incidents, these boots feature a cotton drill vamp lining for excellent breathability. Removable, dual-density Ultimate Shock Absorption™ insert with Poron® 4000 comfort cushions provide enhanced support and comfort all day long. The engineered composite shank offers ultra stability and support. This model now comes with MaxWear Wedge outsoles; these outsoles not only provide a rugged grip but also flexibility.
One factor that is very important to be kept in mind while purchasing boots is good traction to avoid falling from the roof. These boots almost stick onto the roof. The rubber slip-resistant outsoles provide excellent grip even on high pitched roofs such as metal roofs and asphalt shingles. Lastly, they are beautifully designed. If you show up at work wearing these boots, you will be in the spotlight with its double layers of leather on the sides, white wedge outsole, and triple stitching that beautifully stand out.
There isn't much to dislike about this shoe, which is why we believe that it is the best overall choice among the boots for roofing.
Pros of Thorogood American Heritage Lace-To-Toe Roofer Boots
100% leather
Synthetic sole
Removable insole
Oil-tanned leather upper
Excellent breathability
Removable, dual-density comfort cushion
Durable
Cons of Thorogood American Heritage Lace-To-Toe Roofer Boots
Some people complain of getting blisters
---
Professional roofers can greatly improve their performance in their workplace with the XTRATUF Full Rubber Ankle Deck Boots. These boots might be your next favorite thing if your workplace environment is exposed to a lot of rainfall, cold temperatures, and humidity. Individuals who have worn this footwear on metal roofs have reported being extremely satisfied with its performance. They feature a non-marking and slip-resistant Chevron outsole which provides excellent traction even in extreme conditions as well as on various surfaces.
The ExpressCool antimicrobial liner doesn't only wick moisture off the foot to create a wonderful cooling effect but the lining also adds to the breathability of the boots. They are extremely to put on or off. The large front and rear pull loops are very easy to grasp and, therefore, make for quick pull-on and removal. These boots are specially designed and manufactured for long days on water; therefore, you don't have to worry about wet roof surfaces. The ankle height and lightweight footwear provide long-wearing comfort and easy walking.
Another great thing about these XTRATUF Full Rubber Ankle Deck Boots is that they come in a wide variety of styles (low-cut to high-cut), sizes, and colors. This variety of prints and dark accents at the top and bottom of the boot adds the highly needed style to it. With availability in various colors such as black, chocolate/tan, gray/yellow, yeti white, Pontus blue, mandrake and navy/red, you won't have to worry about settling for the same old, boring, single-colored pair of boots.
Pros of XTRATUF Full Rubber Ankle Deck Boots
Slip-on closure
Unparalleled slip resistance
Breathable lining
Performance ankle deck
Built-in heel kicks
Waterproof outsole
Cons of XTRATUF Full Rubber Ankle Deck Boots
The grid pattern of the sole is not good at releasing mud
---
If you are looking for great value for money, Merrell Moab 2 Vent Roofer Boots are a great choice. They are extremely comfortable, breathable, slip-resistant, and made to last. They are mid-cut height, especially to provide added ankle support. The suede leather and mesh upper materials offer increased durability, flexibility, stability, and protection. The bellows tongue helps keep dirt and debris out making the boots easy-to-clean. Along with roofing, you can also utilize these boots to perform well on steep and difficult terrains, especially during your hiking and camping trips.
The Vibram TC5+ outsole is non-slip, extremely durable, and of high quality that lets you experience out-of-the-box comfort. The Vibram traction, a supportive footbed, and durable leathers make it a great package on the whole. In front of the shoe, you'll also see an extra protective rubber toe cap that also adds to the comfort of the footwear. The "Vent" in the title stands for Ventilation, indicating the ultra breathability of the material which keeps your feet fresh and dry even during hot temperatures and that too all day long.
Ideal for metal and asphalt roofing, these boots also come with lace-up closure, foam insole, protective toe rand, EVA midsole that supplies stable cushioning, heel-pull loop, molded nylon arch shank, padded tongue and collar, and breathable mesh and comfortable fabric lining which offers a great in-shoe feel. Lastly, the Merrell air cushioning in the heel helps add stability and absorb shock to a great extent.
Pros of Merrell Moab 2 Vent Roofer Boots
Mid-cut height for added ankle support
Air cushioning in the heel helps add stability and absorb shock
Suede leather and mesh upper materials
Padded tongue and collar
EVA midsole supplies stable cushioning
Bellow's tongue helps keep debris out
Foam insole
Lace-up closure
Comfortable fabric lining
Protective toe rand
Heel-pull loop
Cons of Merrell Moab 2 Vent Roofer Boots
Creaking sound
The sole isn't very long-lasting
---
IF you are looking for an ultra-comfortable pair of roofer boots, then upgrading your work gear with Timberland PRO Barstow Wedge Work Boots might just be the right choice for you. They don't only come with anti-fatigue technology but also with electric hazard protection providing you with a safe and comfortable experience. The wedged sole gives you the right amount of friction and traction that you need, even when you're working on a wet roof.
Timberland Pro Boots come with plenty of toe room which gives your toes enough space to move and raise their level of comfort, making them an excellent product for wide feet. The full-grain leather upper provides ultra-durability and the TiTan® construction ensures a superior fit. The mesh tongue lining and open-cell PU footbed with Agion® antimicrobial treatment provide a more comfortable foot environment and excellent odor control. The Goodyear welt construction is also one of the features that offer long-lasting durability.
The dual-density dynamic anti-fatigue technology helps in shock absorption and return energy at key zones of the foot while providing enhanced moisture management. The lightweight EVA midsole provides supportive cushioning. The Timberland Company believes in corporate responsibility and thus, the usage of sustainable and recycled materials in the shoes work as an added bonus. Finally, the durable rubber outsole is abrasion, oil, and slip-resistant and thus, allows you to work on slippery surfaces without worrying about the risk of slipping and falling off the roof.
Pros of Timberland PRO Barstow Wedge Work Boots
Rubber sole
Soft toe
Anti-fatigue technology
Waterproof
Sustainable and recycled materials are used in the manufacturing of the boots and their packaging
Cons of Timberland PRO Barstow Wedge Work Boots
---
If you're looking for roofer boots that can offer quality, protection, and comfort, then these all-in-one Irish Setter Work Boots tick all the boxes. They have a classic boot design that is manufactured with durable modern materials that can keep your feet comfortable and secure during your day at work. The outsole is made of Briar Turbo Vegas full-grain leather; the material is the toughest of all, making the footwear last longer and capable of withstanding extreme abuse. The Moc-toe style with triple-stitching adds extra detail and makes the construction stronger.
Featuring the traditional lace-up system with durable metal eyelets, the boots are a classic. The collar is padded for extra comfort and the rear pull loop provides easy on and off. The Goodyear welt construction and the upper made from Vietnam-made full-grain waterproof leather increases the durability of the footwear and the removable PU footbed provides comfort all day long. One feature of the boot that provides superior cushioned support is the EVA midsole.
These boots also feature the white rubber EVA Traction Tred outsole that offers better grip on various roofs preventing slipping and falling incidents to a great extent. The shoe also comes with features like heat resistance, electrical hazard protection, waterproof material, and safety toe. Irish Setter is a famous brand owned by Red Wing, so you can expect the quality of these boots to be fantastic. To clean these boots, all you need to do is wipe or spray them with lukewarm water after every use and allow them to dry naturally before wearing them again.
Pros of Irish Setter Work 83605 Roofer Boots
Full-grain waterproof leather
Removable polyurethane footbed
Heat-resistant outsole
Non-woven nylon vamp lining
Rubber sole
Antique Brass Eyelets
Electrical hazard protective sole and heel construction
Cons of Irish Setter Work 83605 Roofer Boots
---
The Danner Bull Run Work Boots are known for their high-quality leather manufacturing and durability. The sole of these boots is designed beautifully and also comes with a decent grip. For the price, you would normally expect more but the good thing about the soles is that they are easily replaceable once they wear out. For roofers working in asphalt roofing environments, the sole replacement time is recommended to be around 6 to 8 months. For this purpose, Vibram Outsole might work the best for you, as it offers the best grip and traction needed on slippery surfaces.
The durable, oiled, full-grain leather is difficult to break in. You might experience some pain during the first few weeks but once the leather breaks in, you will enjoy a comfortable and secure-fit feeling around the ankles. Danner's hand-crafted stitchdown construction adds to the strength and stability of the shoe and enables it to withstand harsh roofing conditions. These boots perform excellently and can last you years, even after several seasons of hard roofing.
At Danner's, the craftsmen pay extra attention to details. The wedge sole, cushioned OrthoLite PU footbed, and fiberglass shank complete the package. Non-marking Vibram 4014 Christy outsole made from blown rubber and softer compounds are specially designed to provide extra comfort. Lastly, the outsole is also oil and slip-resistant offering superior traction and making the boots ideal for roofing purposes. The brand Danner is especially known for its durable footwear. These US-made boots are not only durable but they also come with high-quality beautiful stitching. The white wedge-sole completes the look and gives the boots a nice touch of fashion and stylishness.
Pros of Danner Bull Run Work Boots
100% leather
Wedge sole
Durable, oiled, full-grain leather upper
Steel shank
Cushioning OrthoLite footbed
Handcrafted, stitch-down construction
Danner Wedge non-marking, slip, and oil-resistant outsole
Ultra traction
Electrical hazard protection
Cons of Danner Bull Run Work Boots
Difficult to break-in
Small tongue
---
The special thing about these Red Wing Heritage Round Roofer Boots is that their round toe design is meant to give your toes extra room which makes the boots an ideal choice for people with wider feet. The extremely high-quality 100% full-grain leather construction doesn't only add to the durability of the shoes but also makes them the toughest of all. Although the leather doesn't bring too much breathability into the product, the fact that it can withstand extreme weather conditions and lasts longer compensates for that feature. The leather manufacturing also makes these boots last you hard seasons of roofing.
The Traction Tred sole, Goodyear welt construction, and triple-stitched quality makes the boots more stable and adds to their strength. Known for its high-quality work footwear, Red Wing is one of the most respected brands. For a century, they have been producing top-notch quality shoes and boots that can handle the daily challenges of roofing. The 6-inch classic toe lace-up boot with a plain toe, wedge heel, and triple stitching might just be what you need to complete your work gear.
The shoe is available in a unique color known as the Charcoal Rough & Tough and also available in different sizes to provide you with a secure fit. Red Wing's boots and shoes are created with four essential principles in mind: comfort, quality, craftsmanship, and quality. Each shoe or boot is given a special hand inspection before it is sent out the door, ensuring that it meets the standards of the company.
Pros of Red Wing Heritage Round Roofer Boots
100% leather
Crepe sole
Triple stitching
Wedge heel
Round toe styling
Durable and comfortable
Cons of Red Wing Heritage Round Roofer Boots
---
If you're looking for some cheap roofing shoes without wanting to compromise on quality, then these EVER BOOTS Ultra Dry Roofer Boots might just be the way to go! They perform extremely well on all kinds of roof including metal surfaces. The tread pattern on these shoes provides shock-absorbing qualities and on the arch and heel of your foot along with superior traction. This pattern also creates flex points that allow better and more flexible movement as compared to other work boots.
The Ultra Dry boots are made with quality leather, making them entirely waterproof. They also use a Seal-Direct Attached Construction that forms a weather-proof, superior bond to the uppers. Some additional features include rubber sole, the waterproof membrane that creates an impenetrable barrier from liquids and allows moisture generated by the foot to escape, and the mesh insulated liner that wicks moisture and sweat; this enhances the breathability factor and keeps your feet fresh and dry.
Everything from the full-grain leather upper and the membrane lining to the stitching is waterproof. The shock-absorbent PU construction, weather-resistant outsole, and lace-up closure with waterproof laces make the boots safe to worn during hard roofing experiences. The outsole is also made of a non-slip material, preventing slipping accidents. The Ultra Dry boots offer you great features and benefits at an affordable price and also come with a 30-days waterproof money-back warranty. Along with being suitable for roofing purposes, these boots can also be used for heavy-duty construction jobs, landscaping, farming, gardening, and outdoor hiking.
Pros of EVER BOOTS Ultra Dry Roofer Boots
Waterproof full-grain leather upper
Shock absorbent polyurethane midsole
Waterproof sealed-direct attach construction
Weather-resistant, durable rubber outsole
Waterproof breathable membrane lining
Polyester lining insulation
Waterproof stitching
Lace-up closure
Cons of EVER BOOTS Ultra Dry Roofer Boots
Not enough support
Narrow toe box
---
Timberland PRO 6" Boss Soft Toe Boots enable you to have a safe roofing experience; they are tough and most importantly they are extremely comfortable. They are specially designed and manufactured to resist in the toughest of conditions and for difficult and physically demanding jobs, making them an ideal choice for roofers. The rugged nubuck leather upper keeps comfort at maximum and provides long-lasting wear. The traditional lace-up design with metal eyelets and cast metal top hooks allow the boots to be a perfectly secure fit.
These leather work boots meet ANSI safety standards and feature oil, abrasion, and slip-resistant outsoles for enhanced traction and good ankle support. The unique comfort system of the Comfort Suspension technology helps in the reduction of foot fatigue, cushions every step, and supports the arch. The boots feature a roomy toe box for minimal-to-no foot ache. You also get to benefit from odor control through the removable, open-cell PU footbed with antimicrobial treatment.
The PU midsole also provides underfoot comfort. Lightweight nylon shock-diffusion plate isn't only good for providing support but also for torsional rigidity. In addition to the amazing features mentioned, the Soft Toe boots also meet electrical hazard standards to provide secondary underfoot protection in case of emergencies such as stepping on electrically energized parts, conductors, apparatus or live electrical circuits. The removable insole protects your precious feet from getting blisters without forcing you to compromise on your work. Finally, the unsurpassed traction-grip of these high-quality boots allow you to easily work on the wet, slippery surface.
Pros of Timberland PRO 6" Pit Boss Soft Toe Boots
Rugged leather upper
Long-lasting wear
Traditional lace-up design with metal eyelets
Cast metal top hooks for a secure fit
Removable, open-cell polyurethane footbed
Odor control
Underfoot comfort with PU midsole
Abrasion, slip, and oil-resistant rubber outsole
Cons of Timberland PRO 6" Pit Boss Soft Toe Boots
---
If you're looking to stay focused on your roofing job, without having to worry about slipping incidents or foot fatigue then KEEN UTILITY Milwaukee Steel Toe Work Boots might just be the right choice of roofer boots for you. The rugged design makes the footwear stand out. KEEN UTILITY is known for its production of practical work boots for almost all types of work industry. The uppers are made from waterproof, abrasion-resistant, tough-tec, full-grain leather and the midsole features a dual-density EVA footbed which is not only shock-absorbent but also adds comfort to the boots.
Slip resistance is a very important factor when it comes to buying the best boots for roofing and thus the slip and oil-resistant outsole completes the package. Anatomically correct design and the left and right asymmetrical steel toes offer decent comfort and a roomier toe box. Locking metal hooks and eyelets are included for durable lacing and a secure fit. The waterproof and breathable KEEN DRY membrane allows you to work on wet surfaces and in rainfall and doesn't let the water in.
The boots also feature lining with hydrophilic and hydrophobic two-zone comfort technology, removable metatomical footbed which is an internal support mechanism that is engineered anatomically to provide excellent support while holding the natural contours of your hardworking feet. The steel toe also meets or even exceeds Electrical Hazard standards to provide you protection in case of electrical accidents. Lastly, these multi-purpose boots are not only suitable for roofing but also for your hiking and beach trips.
Pros of KEEN UTILITY Milwaukee Steel Toe Work Boots
100% leather
Rubber sole
Locking metal lace hooks
Removable metatomical, dual-density EVA footbed
Abrasion-resistant, tough construction
Left and right asymmetrical steel toes
Cons of KEEN UTILITY Milwaukee Steel Toe Work Boots
Short-lived
Not easy to break-in
---
Built lightweight, these Wolverine Moc-Toe Work Boots are overall good looking, well-constructed and comfortable boots. They fit into a middle category between regular and professional shoes and although they don't last as much as the ones manufactured by Thorogood, you can rely on them safely for some seasonal roofing jobs. Because of their lightweight construction, they keep your feet stress-free and comfortable. With the lightweight nylon shank's fatigue-fighting reinforcement and a breathable lining, you don't have to worry about your feet getting exhausted during your demanding work.
The genuine full-grain leather upper gives the boots a versatile appearance. Along with featuring lightweight cement construction, Wolverine Moc-Toe boots also comes with removable full-cushion footbed. Their ultra-durability makes them ideal for asphalt roofing and they also come in three amazing different colors so that you can choose one according to your preferences. Tough, comfortable, and reliable footwear like this one is essential to complete your work gear.
The leather wedge-heel style design is ideal for roofing, construction jobs, and even for physical activities such as hiking on uneven mountains. They come with a crepe sole, lace-up vamp, padded collar, and contrast stitching and are also available in optional steel toe. As they are built using the class Goodyear welt construction and are equipped springy rubber midsole, they help keep stress away from your feet. Finally, the sole is well-treated for various kinds of surfaces, specifically to resist water, abrasion, and oil.
Pros of Wolverine Moc-Toe 6" Work Boots
100% genuine full-grain leather
Crepe sole
Moc-toe boot featuring lace-up vamp and contrast stitching
Padded collar
Lightweight
Breathable lining
Fatigue-fighting reinforcement
Oil, water and abrasion-resistant sole
Cons of Wolverine Moc-Toe 6" Work Boots
---
Chippewa Plain-Toe Roofer Boots come with superior quality and a bit of a vintage look. They provide support, lasting comfort and let you perform at your very best every day. The sticky grip on roofs makes it ideal to be used for roofing purposes. These boots are built to stand the test of time and whether you're looking to upgrade your work gear or need a pair of multi-purpose boots, this footwear might just be what you need. They are manufactured using genuine 100% vintage leather which is also breathable and allows air to flow in and out easily, maximizing your work productivity even on a hot summer day.
The Plain-Toe boots feature Vibram rubber outsole, traditional lacing system to offer you a secure fit, and a lightly padded collar for added comfort. Contoured footbed offers light and sufficient underfoot cushioning and the leather is lined for a great in-shoe feel. Being an American tradition since 1901 in outdoor lifestyle footwear Chippewa Boot Company uses superior-quality components and expert craftsmanship for the construction of every pair of these durable boots. So whether you wear them for fashion or function, they won't let you down.
These sex-inch boots also feature waxed laces, debossed logo at the side, Poron insole with grain cover, and Goodyear welt construction. For optimum results, keep your rugged outdoor footwear clean using a brush or a clean cloth and always allow the leather to dry before you wear them. Treating leather with an all-natural leather conditioner or mink oil is also a great way to extend the life of your precious boots.
Pros of Chippewa 6" Plain-Toe Roofer Boots
100% leather
Waxed laces
Debossed logo at the sie
Poron insole with grain cover
Vibram christy crepe wedge sole
Goodyear welt construction
Cons of Chippewa 6" Plain-Toe Roofer Boots
---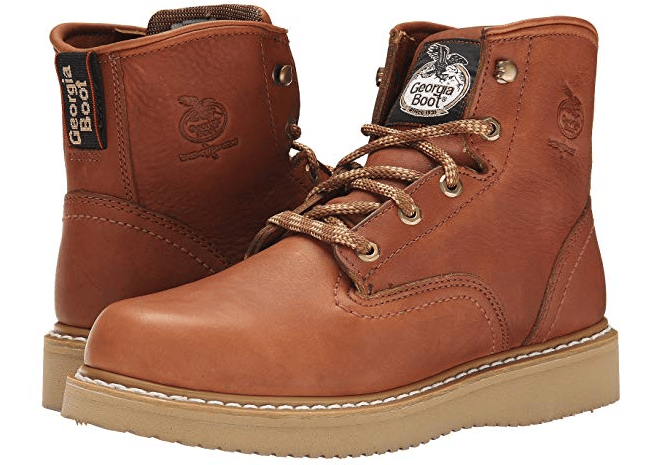 Georgia Wedge Boots features Goodyear welt construction and is a classic choice. It is one of the most trusted and strongest bonds in footwear construction. The sole and the uppers are sewn together through a flexible, strong stitch increasing the durability of the product. The construction also allows for resoling without the upper structure getting compromised. The upper material is manufactured using 100% SPR leather. SPR stands for soft, premium and comfortable. This leather doesn't only undergo a special tanning process to provide 2.5 times more abrasion resistance and 3 times the strength than conventional leathers but also offers better protection against chemicals.
The rubberized outsole is almost flat for extra balance and good stability, specially designed for increased slip resistance, making the boots ideal for roofers. Additional features of these boots that affect its performance and comfort are the proprietary oil-resistant PU wedge, flex-notched quarters, steel shank, and covered cushioned insole. These wedge boots are also lined in leather that gives a smooth feel. The cushioned insole provides maximum comfort with each step and the steel shank gives you arch support and steady footing.
Combine all the abilities above and you'll end up wearing great work boots. This Georgia Boot design is suitable for harsh working conditions in the field or on the job. Available in Barracuda Gold color, these tough and sturdy boots might just turn out to be what you're looking for.
Pros of Georgia Boot 6" Wedge Boots
Durable, flexible, and comfortable
Chemical resistant and pasture-proof
Soft toe
Nylon back pull loop
Leather lining for added comfort
Covered cushion insole for added underfoot support
Proprietary oil-resistant polyurethane wedge outsole
Cons of Georgia Boot 6" Wedge Boots
---
Final Thoughts
With all the aforementioned options and this knowledge about the best boots for roofing, you should be able to easily find a suitable pair that meets all your needs. However, if you are still confused and are unable to reach a final conclusion, we'll try to make things easier for you.
Remember, we mentioned our top picks earlier in this guide? Well, now we'll further elaborate on those picks and tell you exactly why the Thorogood American Heritage Lace-To-Toe Roofer Boots is the best overall choice product, what makes Timberland PRO Barstow Wedge Work Boots the best premium product, and why we believe the EVER BOOTS Premium Leather Roofer Boots is the best value offering.
If you've already made your decision, you can skip the following part but if not then continue reading to let us help you in making a final informed decision.
Best Overall Choice
When it comes to the best overall choice, none can beat the Thorogood American Heritage Lace-To-Toe Roofer Boots. The durability, ultra breathability, and the excellent oil-tanned genuine leather construction of these boots make them popular among roofers. These boots boast of a lace-up closure design that gives you the added ability of a steady foot and a secure fit. These boots don't only give you a tight and secure feeling from your ankles down to your toes but also features slip-resistant outsoles and removable dual-density Ultimate Shock Absorption™ insert with Poron® 4000 comfort cushions that provide you with support, stability, and comfort all day long. As mentioned earlier, there isn't much to dislike about this shoe, which is why we believe that it is the best overall choice among the boots for roofing.
Premium Product
The finishing of Timberland PRO Barstow Wedge Work Boots is top-notch and they have a premium touch to them. The roomy toe box provides your toes enough space to move comfortably and making them an excellent choice for wider feet. They are made from full-grain leather which is one of the most premium and durable materials out there. The dual-density dynamic and anti-fatigue technology make these boots a treat to wear. If the price isn't too much of a concern for you, then Timberland Wedge Boots is an option worth considering.
Best Value
Finally wrapping up the list, if you want a pair of roofer boots that give you the best value for money, we recommend EVER BOOTS Ultra Dry Roofer Boots. The waterproof full-grain leather upper, shock-absorbent PU midsole, waterproof sealed-direct attach construction, polyester lining insulation, lace-up closure, and weather-resistant rubber outsole make this the perfect package. Although these boots come with a narrow toe box, at this price range these might be your best bet!
Now pick a pair from our list and enjoy walking without being troubled from foot pain and worrying about slipping incidents from the roof. When making your decision, consider the factors we discussed earlier including the material of the roof you'll be working on, the material of the boots, lacing system, etc.
We have provided detailed information on roofer boots but if you are still finding it hard to select a pair or have any questions to ask from us, feel free to contact us. We'll be more than happy to assist you in finding the best pair of boots for roofing.