Every day can seem like a marathon for people who are out there working on the field for various professions. A lot of people will find themselves spending their entire day standing on their feet while others will find themselves walking a lot longer than the average person does during a day. People who have such labor-intensive jobs truly understand the importance of having the best work boots on their feet to help them make the best of the workday with minimal impact on their health. So you may wonder what are the most comfortable work boots?
If you do not know this already, standing on your feet for hours on end can have a drastic and adverse effect on your overall health. Professionals with jobs doing manual labor in various fields like construction sites, farms and several different industries need to fight the effects of all that work from the ground up. The right pair of shoes can make all the difference in the world. It can provide them comfort and better productivity during a long day at work. The best shoes will also protect their toes and feet and allow them to feel less fatigued by the end of the day while offering them the kind of grip they need on different surfaces while they are on the job.
There are a lot of critical factors about your footwear while you are on the job that can have an impact on your health in the long run. One of the main areas where inadequate work boots fail is the aspect of providing arch support. Think about the bottom of your foot. When it comes to contact with the ground, four main parts of the foot touch the ground: the heel, the arch, the ball of the foot and the toes.
The foot is supposed to strike the ground in a way that the heels touch first, the arch then rolls forward which is followed by the ball of the foot and then the toes. The best footwear is supposed to support the shape of the arch your foot has. Without the support, the arch does not keep its shape properly and the foot rolls out flat. This stretches the ligament, nerves and the muscles of the foot more than they are supposed to.
This is called over-pronation and it is the leading cause of plantar fasciitis – one of the most common foot injuries people suffer from. Also known as the policeman's heel, plantar fasciitis causes people to feel a lot of pain at the rear of the arch. While you can employ plenty of home remedies to fix the problem, it is better to address the cause and prevent the chances of even getting this injury.
The question is, "How do you prevent injuries like this?" well, wearing the best pair of work boots is a good enough start. Wearing the proper work boots will allow your feet to come into contact with the ground how they are supposed to. The right footwear will also make sure that your feet get the proper arch support they need so you can work for extended hours without the risk of injuring your feet.
For those of you who have actively looked for work boots, you know that there are a plethora of choices out there in terms of manufacturers and models. We understand that choosing the best one out of all of them can be quite difficult since everybody markets their product as the best.
To that end, we have put together a guide complete with a list of the top-rated work boots which will help you get through the workday with improved productivity and lessen the fatigue on your feet and overall health. Before we take a good look at the work boots, let us discuss some important factors that you should know about work boots.
Buying Guide for Comfortable Work Boots
As you will read the list of reviews, you will find that not all work boots are made the same. When you are in the search for new work boots that will suit your needs, there are a number of things you have to keep in mind:
Protective Toes
People who work on jobs on construction sites, loading docks or anywhere there is a risk of something heavy falling on their foot, you will need work boots that have steel toes. If there is little to no danger of something possibly crushing your toes, you should definitely go for work boots with soft toes since steel-toed shoes weigh a lot more. Nobody wants their boots to be heavier than they should be. It helps if the shoes are also punctured and slip-resistant. There are a few different types of toes on work boots you can consider depending on the application:
Steel Toe– the most recognized safety feature to consider, steel toe boots are favored by construction workers, dock loaders and carpenters. They provide the best protection if something ever falls on your toes or step on nails.
Alloy Toe– alloy toe boots consist of a blend of metals including steel. They may or may not be as durable as steel toe boots, but the main reason they are used is because of the weight. If you can find protective toe boots at half the weight, why not consider them?
Composite Toe – lighter boots, many composite toe models blend steel with other materials that offer better weight distribution for your boots. The composite consists of a lot of different materials including rubber, carbon, fiberglass, and Kevlar.
Soft Toe – if the application will not see you face the risk of anything falling on your toes, it is best to go for soft toe boots since it is lighter and offers you better mobility.
Puncture Proof – having puncture-proof shoes is a critical feature your work boots should have. Never run the risk of letting anything puncture through the boots and losing a digit from your toes by going for puncture-proof boots.
Electrical Protection
Work boots should offer you the kind of insulation you need to protect yourself from electric shocks through your feet. Non-conductive materials that are designed to eliminate any chances of electrocution – whether or not you need them depends on the nature of your work.
Waterproofing
For people working outside, waterproofing is crucial. It is one of the qualities your work boots are supposed to have even if the nature of your work does not necessarily compel it. It is also a good idea to look for boots that offer thermal insulation along with waterproofing; especially if your work takes you out into the snow.
Durability
Durability is one of the most critical factors when it comes to working boots and how well they work out for you. The cheaper the material used in the boots, the less durable they will be. This is why the general rule is: the lower the price, the lower the quality of materials used and the shorter the lifespan. You get what you pay for when you buy work boots.
Slip Resistance
Slip resistance is a feature that comes in very handy when you find yourself in a workplace with different kinds of landscapes and surfaces. It allows you to reduce the chances of injuries caused by accidental slipping.
Benefits of Having the Best Comfortable Work Boots
Having the right work boots can ensure that you can maintain the right posture for your work. This makes it easier for you to be more productive on the job. As a result, work becomes easier and more enjoyable.
Proper Foot Support
It provides you the ability to stand properly with the right balance. The foot support allows you to keep the weight distribution on your feet just right.
Reduce Stress
Walking or standing on the job sees the entire weight of your body on your feet. Unsupportive footwear can cause a lot of stress for your feet and result in excessive fatigue that leads to long term damage. Proper work boots help reduce that stress on your feet.
Lower the Risk of Injury
High quality work boots disperse the force of impact equally when your feet strike the ground. This minimizes the shock they have on your feet, knees, hips and the lower back. This significantly reduces the chances of incurring injuries in your entire lower body.
Read Also: Best Waterproof Work Boots for Men
Our Top 3 Choices for Comfortable Boots for Work
Best Overall Choice: Caterpillar Men's Second Shift 6 inch Steel Toe Boot
Premium Product: Timberland PRO Men's Pitboss 6″ Soft-Toe Boot
Best Value: Ever Boots Tank Men's Soft Toe Work Boots
---
Most Comfortable Work Boots
Caterpillar is a name associated with reliability and durability. A brand that has a reputation for producing some of the best work boots since the company started, Caterpillar makes nothing but superior quality products. There are plenty of reasons to consider the Caterpillar Men's Second Shift second to none when it comes to the top work boots. The boot does not just come from one of the most well-known brands, but it also boasts a performance and features to match.
If you are looking for work boots that can withstand the harshest of working environments, this pair of Caterpillar work boots are the perfect addition to your work gear. The model is ideal for professionals in the field of construction, engineers and steelworkers among more. The Second Shift is perfect for workers who find themselves on their toes for long hours.
You get significant protection for your feet. The padded collar provides excellent cushioning around your ankles, which makes it easier to stand for hours on end on the job. Like all other work boots that Caterpillar makes, the Second Shift brings the perfect combination of durability and comfort for long-lasting top-of-the-line performance.
The Climasphere sock lining inside the boots regulates the temperature within the boots. It keeps the feet warm in cold conditions and cold in warm conditions. The liner is made using a nylon mesh which makes it breathable and protects your feet from sweat.
One of the features which makes it a favorite is that the work boots have a trendy design. You can wear them while on the job, but they look equally good when it comes to everyday use. These are the best ankle-cut work boots you can get in the market.
This pair boasts all the best safety features you need to look for in work boots. Oil and slip-resistant, they also boast excellent steel toes for added protection. The outsole is attached with Goodyear welt construction while the boot itself is made using premium and full-grain leather.
Pros
Steel toe work boots
Rubber sole that is oil and slip-resistant
Tough leather construction with plush collar
Maximum comfort, support, and breathability for your feet
Cons
The pair is on the heavy side
Not a lot of flexibility
---
The Timberland Pro Men's Pit Boss Work Boots are ideal for people who find themselves standing on their feet for long hours during the workday looking for relief from the pain that it causes. The shaft measures 5.5 inches from the arch and the padded top collar on the pair makes it surprisingly comfortable for the wearer even after standing for several hours on end.
Timberland is also one of the biggest names when it comes to working boots. This pair of work boots offer unbeatable comfort and support for your feet to give you the maximum ease of use while you are at work. Timberland created a specialized suspension system in this pair. It provides an exceptionally comfortable layer of cushioning for the arches of your feet and that significantly reduces the stress on your feet.
There is a removable liner on the boot, which makes it easier for you to clean the liner when the time comes for maintenance. Perhaps, one of our favorite features with the Timberland Pit Boss work boots is the fact that there is a polyurethane midsole. This provides excellent breathability for your feet as it wicks away the moisture. No matter how long you wear them, you can count on your feet being dry and safe from excessive sweat.
The large toe box will allow you to move around your toes easily so that your toes do not feel restricted – the perfect feature if you find yourself standing stationary for hours. The Pit Boss also features some of the best shock-absorption we have seen in work boots. This means that they will be very comfortable for you even if your work involves a lot of running and jumping.
It does take a long time to break into these boots. The fact that they are not waterproof means that we do not recommend them to electricians working outdoors.
Pros
A very safe pair of work boots
Perfect for long shifts
Reduced stress on feet
Highly comfortable pair
Cons
Not a waterproof pair of boots
Takes a long time to break into the boots
---
Workers who need to stand throughout most of the shift on the job need to keep their feet well protected and comfortable all day. Owning a pair of work boots that provide you the safety and comfort you need and look good at the same time does not seem like a bad option at all, does it? That is what you get with the Ever Boots Tank Men's Work Boots.
Designed to sustain all kinds of heavy-duty use in the most adverse work environments, these full-grain leather insulated work boots provide the ultimate protection for your feet. The premium quality materials, along with the high quality build, allow this excellent pair of leather boots to make sure your feet are safe and they look good at the same time.
We found the rubber soles to be a particularly useful feature in these boots. They provide better torsion control so that you can enjoy better stability when you find yourself working on uneven surfaces on the job.
The high shaft of the pair measures around 7 inches from the arch of your feet. The long-lasting durability, sleek finish, and comfort that can guarantee 100% protection makes this pair one of our favorites.
While you might not like it, these are soft toe work boots. Workers in mills and factories love these boots. For the professionals who operate heavy machinery or their workplaces them in slippery surfaces, the slip-resistant and insulated construction of the Ever Boot Tank Men's Work Boots ensures there are no accidental slips.
The fact that you can find these in plenty of sizes also makes them a popular pair. With Goodyear welt construction, durability will never be in question with this pair on your feet for a very long time. To give you extra peace of mind, the Ever Boots Tank comes with a three-month warranty. The company will fix any of the following issues for free within three months from the purchase date: torn leather, upper and outsole falling apart, outsole detaching.
You will also appreciate the fact that this pair is not as highly-priced as most other work boots with premium features. This is why we feel that the Ever Boots Tank provides you the best value for your money.
Pros
Full-grain leather construction
Provides premium features for a lower price range
Oil and slip-resistant
Comes with a three-month manufacturer warranty
Cons
Does not feature steel toes
Does not come with cushions on the side that make longer walks comfortable
---
Danner is not a company that is known as one of the best boot manufacturers in the world. This is the reason why we were as surprised as you might be to see a boot by this manufacturer as one of our top recommendations for the top work boots.
The one thing we immediately noticed with the Danner Men's Bull Run work boots is the high-quality leather used to make it. You can see this right from the point you open the box and hold this pair in your hands.
The Bull Run is a pair of boots that provide you all the functionality you will need at work but with a lot more style. The boot has a stylish profile and it boasts a short but supportive ankle area. The rich brown leather construction with a tan sole immediately gives this boot a more fashionable look, but that does not take anything away from its functionality.
The shaft of the Bull Run by Danner is six inches from the arch of the shoe, providing you with plenty of support and comfort around the ankles without restricting the movement of your ankles. The full-grain leather upper is not just for good looks. The material is designed for heavy-duty use and it is highly durable.
Inside the Danner Men's Bull Run, the OrthoLite footbed cushioning provides excellent cushioning which you can really appreciate. The insole reduces the stress that your foot goes through during a long day at work and your feet feel less sore when you finally head home and take the pair off.
One thing that will disappoint many about the Bull Run is that the pair does not offer any toe protection, but it is going to protect you from electrical hazards without a problem. The soles are pretty capable in providing you a grip, but they are not as slip-resistant as some of the other work boots we have reviewed.
Pros
High-quality leather construction
Durable pair of work boots
Comfortable
Perfect for warm outdoor use
Cons
Very long break-in period
Not waterproof
---
Professionals who spend most of their day at work standing on their feet appreciate the importance of work boots that do not leave their feet feeling painful at the end of the day. Thorogood Men's American Heritage is a pair of steel toe work boots definitely qualify as one of the most comfortable pairs you can get.
The boots are constructed using tobacco oil-tanned leather of the highest quality. Along with the Poron 4000 Cushioning for your feet, these boots are breathable enough to keep the feet well-aired inside during long hours at work without any compromise on functionality and safety. There is also a composite shank that provides support for the arch on your feet.
We feel that they are one of the best pairs you can get for sore feet. The steel toe offers substantial protection while the leather upper is built to last. This pair is designed to withstand the harshest working environments.
The traction on the soles of this pair of work boots by Thorogood is unmatchable. You can expect to retain excellent footing no matter what kind of surface your work environment puts you in. Whether it is raining, snowing or if you are in the mud, we know that this pair will not let you slip.
It helps that the Thorogood Men's American Heritage is a steel toe boot with a dual-density and shock-absorbing footbed. If your work often finds you running or jumping, you can rely on these boots to protect you from the impact as it cushions the force.
The shaft measures 6.5 inches from the arch that delivers more than enough support for your ankle while keeping it in a comfortable position. Its unique design will also prevent you from losing any control when you walk, twist or turn on the ankle.
Pros
Steel toe work boot
High-quality leather
Excellent traction
Maximum ankle support
Cons
Sizing has been known to be a problem with this pair
Break-in period is quite long
---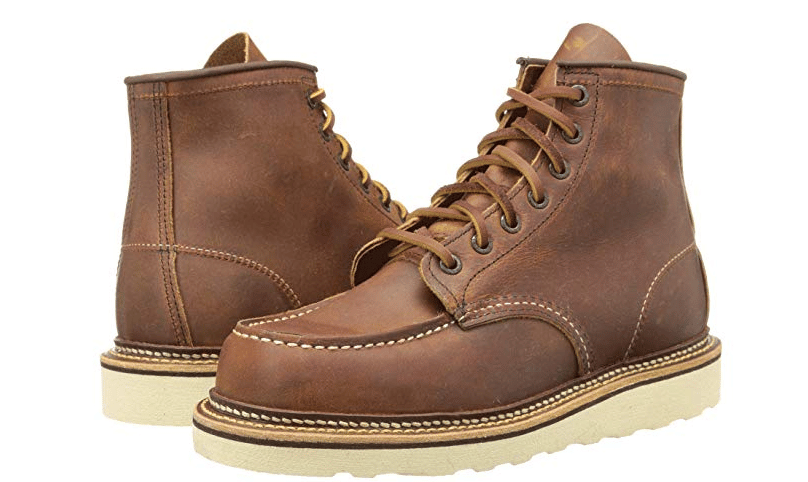 Red Wing is one of the more popular brands. The company made its start when they produced boots for use in the First and the Second World Wars. Since then, the company has built a reputation for producing some of the best work boots you can get in the market right now.
The thick sole of the Heritage Line by Red Wing is shaped perfectly to support the foot from the heel through to the toes. This makes them particularly useful when it comes to work done on hard surfaces like concrete.
We were particularly impressed with the triple-stitched seams and the welted outsoles. These are premium features which provide unmatchable durability for this pair of shoes – something usually found in pairs a lot expensive than they are.
You will also find this pair of work boots pretty lightweight and they also look quite good as casual wear as well. This is the reason why the Red Wing Heritage is popular in warehouses and even casual corporate wear.
The leather construction throughout, including the inner and upper sole, along with triple-stitched seams, means that these boots were built for excessive heavy0duty applications. The Norwegian welt construction of the boots adds to the stability and the overall strength of these boots as well.
The contoured outer sole also helps you keep a better grip on slippery surfaces as it works with the Red Wing patented Traction Tred cushion crepe wedge. A sweat-resistant insole means that you will not have to worry about sweat stains bothering you even after wearing these boots for extended periods of time.
Pros
Excellent construction and craftsmanship
Durable and slip-resistant
Lightweight work boots
Perspiration resistant boots
Cons
Takes a lot of time to break-in
Expensive for non-steel toe boots
---
The Keen company is a brand manufacturing boots which reflect the kind of grittiness you see in tough cities. The Keen Utility Men's Warren Waterproof Work Boots are among our favorites because they actually do what they are advertised for: They are waterproof.
Waterproofing is just one of the features which make this pair of work boots a favorite for us. The boot provides the wearer with ruggedness and safety – an unbeatable combination. We found that these boots have a lot going for them in several aspects. The Dry-Lex waterproof membrane inside this boot makes sure that your feet remain dry from outside moisture, but it also offers breathability to keep foot odor away.
This automatically makes it a work boot best for people with sweaty feet and for those who work in conditions with a lot of moisture. The manufacturer says that this pair offers the comfort of hiking shoes along with the necessary grit to protect your feet in the toughest of work environments and we feel inclined to agree. Both of the shoes in the pair feature toe protection along with a larger toe box that gives your toe the room to move around and prevent any pinching, which you would normally experience from work boots with tighter toe boxes.
The contoured heel lock and removable EVA footbed provide a lot of arch support as well as support for your heels. This is a very useful feature that can help you withstand long hours of standing on your feet while you are at work. The outer sole of the work boots is excellent in helping you maintain stable footing even on hard surfaces of a different kind. The design of its treads makes it slip and oil-resistant so you can expect to wear these in a variety of different applications.
Pros
Keep your feet dry and cool
Large toe box
Slip and oil-resistant traction
Best waterproof work boots
Cons
Some users find the heel uncomfortable
Heavy pair of work boots
---
Not as heavy as steel toe boots but definitely more protective for your feet than soft toe boots, the Carhartt Men's Composite Toe work boots provide the perfect balance between weight and functionality with safety and security for you on the job.
The toe construction is made from non-metallic materials like carbon, rubber, Kevlar, plastic, and fiberglass to make a toe capable of withstanding large amounts of force without losing its shape and form. In fact, they are almost as sturdy as steel toe boots with half the weight.
The composite toe also means that they are excellent in situations where you face electrical hazards on the job. While the toe might not be made with steel, it is one rugged pair of work boots. Known for the tough and up to the task clothing, Carhartt's work boots fall in line with the brand's reputation.
The unique Rugged Flex technology that Carhartt uses enables the boot's material to move and stretch naturally throughout the day without compromising on safety. Made from 100% leather, these boots are built to last a very long time. They are also incredibly comfortable to help you get through the longest of workdays without your feet feeling sore by the end of it.
The padded tongue allows for added comfort along with the EVA midsole and OrthoLite insole. These are all lightweight materials that provide several layers of cushioning for your feet. You can expect the best arch support and overall comfort from these shoes to keep your feet from feeling fatigued by the end of the day.
The outer rubber sole of this pair is also excellent in providing you traction in any kind of environment. The soles are also oil and slip-resistant. The grooves are designed in a way that they make it easier for you to climb ladders.
You might not like how the boots look. Considering the fact that they are work boots, after all, they will already take a lot of beating over the course of use.
Pros
Flex technology allows you excellent comfort throughout the day
Outer sole is made with shock-absorbing materials
Oil-tanned leather makes the boot pliable and soft for ease of use
Chemical-resistant work boots
Cons
Sizing might be too large
They do not offer the best looks from all the boots reviewed
---
This Michigan-based American brand has been one of the top footwear manufacturers in the country for over 130 years and they are still going strong with the likes of the Wolverine Raider Work Boot. In fact, this pair of work boots has to be the best thing that they have to offer so far and that is saying a lot.
This pair of boots provide both functionality and style in one amazing package. The design of the boots allows them to operate in the toughest of conditions through a variety of different jobs and situations – all the while making sure that your feet feel comfortable and relaxed throughout. This is largely due to Wolverine's unique Multishox Comfort System.
The Mutlishox system made by Wolverine for its boots consists of multiple pressure pads placed on the exterior as well as a comfortable insole gel. The comfort system also boasts greater flexibility despite providing top-of-the-line arch support. This lets you experience greater mobility with uncompromised support in the area between the heels and the toes. The pressure pads work to provide you maximum shock absorption for the areas that come into contact with the ground.
The contoured welt design on each Wolverine Raider boot provides you the kind of cushioning you would expect from an athletic shoe and the toughness of the top work boots at the same time. The Raider boots are well known for their durability that others have not been able to match so far.
The manufacturer also placed a lot of emphasis on providing the most updated safety features on these work boots. The steel toe is definitely there to make sure that nothing happens to your digits in case anything heavy falls on your foot, but there is more to it. The outer sole of these work boots offers excellent traction – perfect for giving you a good grip and better stability on a variety of surfaces. It is also resistant to oil and slipping in general.
The arch is deep and sturdy enough to allow you to stay safe even when you are climbing ladders. While they are not a water-resistant pair of boots, they are made from genuine leather that will keep your feet dry from most of the outside moisture you will face on the job. If you are finding your feet in more than the occasional puddle of water, you will find it annoying that they cannot keep your feet dry.
This pair might not feel the most comfortable when you wear it right out of the box, but if you give it a couple of days to break-in, it is going to be one of the best fitting pair of work boots you can get. The Wolverine Raider comes in both black and brown, but the brown color really brings out a classic aesthetic when it comes to style.
Wolverine is very sure about the quality of their products. In fact, they have even placed money-back guarantee with no questions asked if you do not like how they feel on your feet. That is never going to be the case and the manufacturer knows it.
Pros
Comfortable and durable pair of work boots
Provides excellent shock absorption
Slip-resistant and oil-resistant traction
Unmatchable arch support
Cons
Take a couple of days to break-in
Not waterproof
---
Contractors often find themselves working diverse jobs which take them through a lot of different working environments. This includes construction sites and other areas where the work is tough and requires hours of strenuous labor. It is up to the boots they wear to provide them both comfort and protection and that is something Timberland guarantees with its Pro Titan Work Boots.
In our experience with the Timberland Titans, we have seen these boots to be able to provide ample protection for your feet while you engage in some of the most heavy-duty tasks on the job site. The Titan Pro is a lightweight pair of work boots, which allow you to go for a whole 10 to 12-hour shift without experiencing foot fatigue that work boots normally put you through. The pair is able to provide you this level of protection with a lightweight due to the alloy toe.
The material used is lighter than steel, but it provides you the same level of protection you can expect from steel toes in tough working conditions where you are at risk of dropping something heavy on your feet. The boots are also very good at protecting your feet from electrical hazards as well as overall protection.
We found a lot of reasons to like this pair of boots. The heel and arch support is substantial in the Timberland Titan Pro work boots, which make them perfect for men suffering from plantar fasciitis or who have flat feet. The padded collar around the ankle means additional cushioning and support – something necessary for long shifts at work.
These are one of the few pairs we have reviewed that do not need a lot of time for you to break in and get comfortable with. The premium leather construction throughout and rubber outer soles work with the polyurethane midsole to make a waterproof pair that also keeps your feet free from perspiration.
You will find these work boots comfortable through a wide range of conditions. They keep your feet dry and they will not become too hot during a long and hot day. The mesh moisture channeling spacer is treated with anti-microbial application that also helps in eliminating the foot odor.
Pros
Excellent construction quality
Superior comfort
Water-resistant design
Slip-resistant and oil-resistant traction
Cons
Toe leather may wear out quickly compared to the rest of the body
Not entirely waterproof
---
Final Thoughts
Well, that is about it from the list of the top work boots you can get. We know that the list of ten different pairs is still a lot to narrow down, but the reviews might help you better understand the different qualities each of them has. Hopefully, the guide and the reviews of each of these will help you narrow down the list even further so you can get the pair of work boots that work out the best for you.
If you are still facing some trouble with selecting a pair from these, we will make things even easier for you. When we started the list, we mentioned three pairs that were our top picks. We will now tell you why the Caterpillar Second Shift, the Timberland Pro Pit Boss, and the Ever Boots Tank work boots all make it to the top of our recommendations.
Best Overall Choice
The Caterpillar Second Shift really is a no-brainer when it comes to being the top choice. Made by a manufacturer that has always retained a top spot in the industry for work boots, the Second Shift is a pair that offers everything you need from a pair of boots.
It is a completely comfortable pair. The inner lining is soft; particularly along the top of the foot. The contoured shape on the inside of the boots provides excellent arch support – an important feature for use during long shifts. The boots are well insulated for all working conditions which can see you both indoors and outdoors. The nylon mesh lining is moisture-wicking and it keeps your feet free from perspiration.
The oil-resistant rubber outsole does not just protect it from getting stained by oil around the job site – it also keeps you from slipping while you are on the job. The ladder-safe heel arch keeps you upright while climbing ladders and the steel toe offers superior protection without taking away anything from the overall comfort the pair provides.
Premium Product
The Timberland Pro Pit Boss Work Boots align with Timberland's reputation for unmatchable comfort with excellent support and protection for your feet. If there is one manufacturer that has a reputation as big as Caterpillar, it is Timberland and the manufacturer shows us why through the Pit Boss.
The impressive suspension system is not something you would normally expect from work boots while the removable liner and padded collar support your feet and ankles as a whole. The pair of boots keeps your feet dry during long shifts and they also happen to look very stylish. The large toe box does not keep your toes restricted and you can easily move around the job site without feeling discomfort.
Best Value
The Ever Boots Tank Men's Soft Toe work boots prove that the title of the top work boots does not necessarily have to go to the longstanding industry leaders. They also prove that all work boots don't need to have steel toes. The Ever Boots Tank has the name "Tank" despite being a pair of soft toe work boots because they are still very capable of protecting your feet.
This is durable enough for a lot of tough work through difficult conditions and it is also comfortable enough that your feet will not be in a world of pain by the end of the day. The arch has a steel shank that supports your arch and alleviates the pressure on your feet while climbing ladders. The signature tread pattern keeps you steady on the most slippery surfaces and they do not take a lot of time to break-in.
The fact that they do not cost a lot as most of the other work boots we have reviewed and provides you premium features make them the perfect choice for workers who are conscious about both their safety and their budget.
Now, we think you will be able to decide on a suitable pair for you from these three if not from the rest. When making your decision, please consider all the factors we discussed regarding the features of the best work boots.
If you are still facing issues selecting a pair of work boots that will work out for you, please feel free to contact us at any time. We will be more than happy to help you find the boots that are just right for your needs.