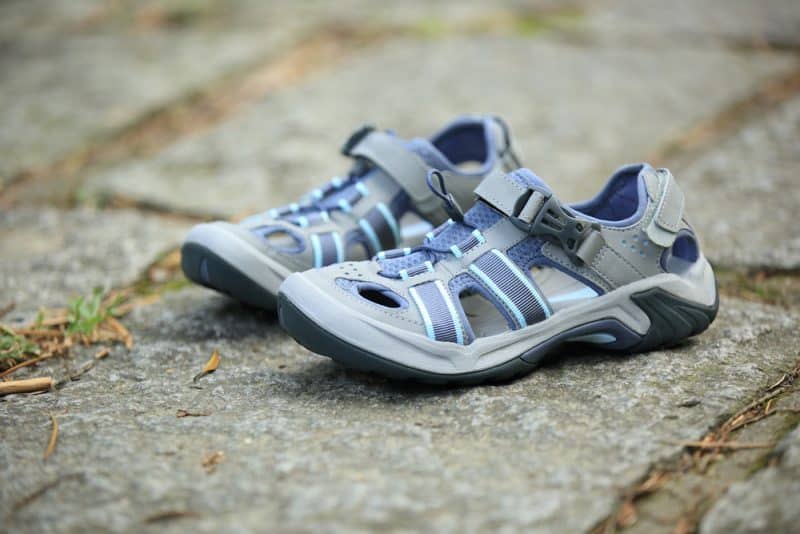 Best Hiking Sandals. Hiking is a great experience. It offers a way to exercise while experiencing amazing scenery and views that not just anyone gets to see. Hiking gives you a sense of accomplishment. After all, only the people willing to put in the work get to enjoy the experience.
The physical and mental health benefits of a day on the trail are hard to match. One of the best parts of hiking is that you do not need a ton of expensive equipment. Plus, people in most physical conditions can start and test their stamina at different trails all around the globe.
However, shoes are one of the most critical pieces of gear when you are hiking. When you think about hitting the trails, the first thing that comes to mind might be a good pair of hiking boots. However, hiking sandals offer a lot more versatility when it comes to hiking in warmer climates and anywhere with streams or bodies of water that you may want to walk through.
So, we are going to go over some of the very best hiking sandals to help you pick a great pair. We are reviewing the best features of a variety of styles and selecting the best overall, premium, and the most valuable pair available on the market today. These are our top picks if you want to get right to it.
Read Also: Best Hiking Socks
Our Top Picks
If you want more information about the most important things to consider when you are picking a pair, as well as an in-depth look at some of the most popular options available, keep reading.
How to Choose the Best Hiking Sandals
Choosing the right pair of sandals depends on several factors, including your foot shape, size, arch height, and personal preferences.
Other things you need to consider are the terrain you are tackling and how long you will be out on the trail.
Some types are better if you suffer from specific foot ailments, like plantar fasciitis, bunions, or arthritis in your joints.
Are Hiking Sandals Safe
Hiking sandals offer versatility that boots lack. There are many reasons to wear a pair of sandals, especially in warm weather or when you are going through a lot of water. A high-quality pair of hiking sandals will help protect you from ailments like:
Tough Terrain
The great thing about hiking sandals is that they have features that protect your feet in most situations. Of course, you should always use your best judgment, because there are some situations when you should probably choose boots over sandals.
Off-Trail Hiking
Off-trail hiking is enjoyable. You have the opportunity to explore things that other hikers may not have seen. However, there are some things you need to consider in this situation. Like, how rough is the terrain? Are there thorns, snakes, or ants that could get into your shoes?
You can wear sandals when hiking off the trail, but you need to take more precautions. So, it is best to weigh your options in these situations.
Colder Weather
You can safely wear hiking sandals in colder climates. However, there are some precautions you must take. You need to wear socks to protect your feet when it is cold. So, it is a good idea to invest in a good pair of wool socks.
When you start hiking, your body temperature will rise, which will help to keep your feet warm. Also, sandals are always great for crossing bodies of water. If it is cold, consider taking off your socks before submerging your feet. Also, it is effortless to bring extra pairs of socks with you, but carrying extra pairs of boots is a lot more complicated and honestly impractical.
When You Should Not Wear Hiking Sandals
Hiking sandals are phenomenal in the right conditions, but in some situations, it is better to wear something that offers you more coverage. When it is cold outside, you should choose an appropriate shoe to keep your feet warm.
Additionally, if you are in an area with a lot of large thorns, poisonous insects, or venomous snakes, you should choose a pair of shoes that are going to protect your foot from these dangers. Foot injuries are one of the significant injuries affecting people who are on the trail.
Another situation you need to be mindful of is proper ankle support if you suffer from ankle problems. Sandals do not protect the ankle from strains or sprains. So, if you have an ankle injury, it is best not to wear something with little support until it heals completely.
Likewise, if you often suffer from ankle injuries or you have undergone surgery before on your ankles, sandals may not be the best choice when hiking. Light hikes might be okay, but when you are tackling rougher terrain, you might need additional ankle support.
Foot Conditions and Hiking
Avid hikers know you can suffer significantly from a slew of foot ailments. Especially if you are not wearing the right shoes. Some of the most common foot problems experienced on the trail include:
Cuts
When you hike in rough terrain, there is always a chance of getting cuts or abrasions on your feet. So, you should select a pair of sandals that give your foot more comprehensive coverage to reduce the chances of these injuries.
Injuries to Toenails
Another common ailment suffered by many hikers is damage to toenails. Loss of toenails can happen when you kick debris on the hiking trail. To avoid this, pick a shoe that offers some protection for your toes.
Plantar Fasciitis
Many hikers experience plantar fasciitis after a long hike, especially while wearing shoes that do not offer adequate arch support. The condition is an inflammation of the fascia that connects the heel to the toes.
To avoid this, pick sandals that offer arch support. Many do, but some provide better support and more cushion or shock absorption, which makes them a better option when you suffer from plantar fasciitis.
Blisters
It is likely if you frequently hike that at some time, you have dealt with blisters. One of the best ways to prevent blisters is to wear shoes that fit correctly and to keep your feet dry. Moisture and friction are a recipe for disaster when it comes to blisters.
Athletes Foot
Athletes foot is a fungus which is common in people who wear sweaty shoes frequently, and the fungus spreads in locker rooms and other community areas that are contaminated. Wearing hot wet shoes makes athletes foot symptoms much worse.
If you suffer from this annoying condition, wearing a sandal allows your foot to breath. Additionally, many options come with antimicrobial or antifungal materials to help combat athlete's foot when you are hiking.
Trench Foot
Trench foot occurs when you wear wet shoes for an extended period. When your toes or feet "prune" and do not have a chance to dry out, you are at risk of developing trench foot. It is an incredibly painful condition that many hikers experience, and it can cause severe damage.
You can use hiking sandals to reduce your chance of getting trench foot even if you are hiking in terrain that is better suited for boots. For example, you would be at a higher risk for trench foot when you are backpacking and camping for a more extended time.
So, including a pair of lightweight hiking sandals in your pack is a great idea. When you make it to your camp, switch out of your hiking boots. Changing into sandals when you can, gives your feet a chance to air out and your shoes a chance to dry.
Read Also: Hiking Boots vs Work Boots
Popular Hiking Sandal Features and Materials
Selecting the best hiking sandals is all about picking a pair that offers you all of the elements you need to give you the best comfort and protection. Luckily, these versatile shoes come in a slew of different features, including:
Foot Bed
The footbed is the part of the shoe where your foot sits.
Outsole
An outsole is the very bottom of the shoe.
Midsole
The midsole is very important when it comes to selecting the right hiking sandals for your feet. There are several types of materials that are used to make midsoles. Some offer more cushion and less durability, while others provide more significant support and last longer.
Lug
The pattern on the bottom of the shoe is the lug. Various lugs are better for different terrain. For example, deeper lug gives better traction in steep terrain, while a wider lug pattern makes it easier for the shoe to shed mud and debris you pick up along the trail.
Velcro
Velcro is a common material found on hiking shoes for the closure. Velcro offers excellent security, however over time the velcro can wear out, and unlike other designs, shoes that utilize velcro are challenging to repair when the velcro is no longer sufficient.
Buckles
Buckles are also commonly found to secure the straps of hiking sandals. These fasteners tend to be secure. However, it is crucial to choose a pair with a durable buckle that does not give out in the middle of a long trek.
Bungees
Another closure type uses bungees to secure the sandal to the foot. Bungees offer an easy option for people who want to get in and out of their shoes quickly. However, bungees do tend to wear out when they are worn in water and after many uses where you adjust them.
The great part about bungees is that many of the options that use them, offer you the ability to change them out when they become worn. So, you do not have to worry about buying a whole new pair of shoes.
Closed-Toe
Closed-toe sandals offer some toe protection. So, they are a better option for longer hikes through rough terrain. Or, for use when you have an existing toe or toenail injury.
Opened-Toe
Some styles come in an open-toe design that is more suitable for hotter climates and less rugged terrain where you are not as worried about running into things. Also, open toe designs do dry more quickly, and they are usually lighter.
Antimicrobial
Some shoes offer an antimicrobial footbed, which helps to prevent fungus and infections.
Neoprene
Neoprene is a highly durable and flexible rubber-like material. Used to make things like wetsuits, shoes, and other water-resistant items, it is incredibly versatile, lightweight, and comfortable to wear.
Ethylene-Vinyl Acetate (EVA)
EVA is a lightweight and highly durable material rubber-like material that gives shoes great support without adding a ton of weight.
Polyurethane (PU)
Polyurethane is a light and durable material used to construct shoes, especially the sole. This material is more robust than other materials like EVA, but it is also not as soft. However, like EVA, it is also water-resistant.
Thermo Plastic Rubber (TPR)
TPR is a recyclable, lightweight synthetic rubber material that offers excellent slip-resistance.
AEGIS Microbe Shield
AEGIS Microbe Shield is a cutting edge fabric technology that protects the wearer from bacteria and fungus. As a result, products featuring this are less likely to develop an unpleasant odor after frequent use.
Hiking Sandal Reviews
Now that you know a little more about how to choose the right pair of hiking sandals to fit your specific needs and activities, let's get into some reviews of the best hiking sandals available.
The Northside Burke II Sport Athletic Sandal is a fantastic option for hikers who need a thick tread and protection around the entire foot.
The upper part of the shoe is breathable, but it covers the majority of the foot on the top, which gives excellent protection from the elements and rough terrain.
The neoprene fabric fits your foot snugly to prevent blisters, and it gives you security when moving through water or even mud, as you will not have to worry about this sandal falling off.
A durable closed toe design with rubber enforcement protects toes from bruises, cuts, and damage to nails.
Plus, the tread is a full 1.25″ thick, so it protects the heel and pad of the foot from injury when you are out on long hikes or harder ground. The EVA used to create the sole prevents these shoes from being too bulky even when they are wet.
Bungee laces make it easy to put them on and take them off quickly, and you do not have to worry about them coming undone. However, the overall design is meant for the trail, so you may not want to wear them as frequently as some other options.
Pros:
Thick soles that offer support for longer hikes
Tight fit to avoid blisters caused by friction
Lightweight materials do not get heavy when submerged in water
Quick-drying so they are comfortable after you get them wet
Thicker soles offer better protection on rougher terrain
Cons:
They are tight and challenging to get off after they get wet
The EVA construction means they will not last as long as some products
Bungee closures often wear out faster than other options
If you want a pair of shoes that are great for everyday wear and hiking, the Chaco Women's Zcloud X2 Sport sandals are a fantastic option. These are one of the most attractive pairs of sport sandals available thanks to the sleek sole design and webbed jacquard polyester uppers.
Plus, you will not have to sacrifice comfort for style when you select this option. These shoes come with a unique dual PU design. It offers a sturdy midsole for peace of mind and support and a pillow-top like footbed for all-day comfort.
Furthermore, the choice of materials means you can get them wet without them becoming bulky, and they dry fast to keep your feet feeling great. Also, enjoy the antimicrobial protection on the footbed, which protects against bacteria, fungus, and foot and shoe odors. So, you can go from the trail to the town without worrying about changing your shoes.
All of the great features make these shoes a must-have for out of town backpacking trips and local hikes. Plus, they are vegan and environmentally-friendly.  The only real downfall is the lack of toe support, and you may notice that it is easier for debris to become stuck under your foot because there is not as much coverage.
Pros:
The lightweight design is comfortable to wear all-day
Polyester jacquard uppers are water-resistant
Features contoured arch support certified by the American Podiatric Medical Association
Antimicrobial coating on the footbed prevents foot odors
Cons:
There is no way to adjust the upper foot and toe straps
They lack toe protection
Debris can get lodged under your foot in rough terrain
Leather and other high-quality materials used to make the sandals give these shoes a great look and feel. Three velcro straps allow you to adjust the fit at the ankle and around the toes. So, they are great for people with broader or skinnier feet.
Additionally, the 3-point adjustable straps make putting them on and fitting them properly easy every time you wear them. If you find they are too tight after hours of hiking, you can adjust them within a few seconds and get back to enjoying your outdoor experience.
The flexibility in terms of fit also means they are an excellent option for use with and without socks. However, the open toe design is perfect for warmer climates. One thing to keep in mind with this pair of sandals, though, is the uppers are made of 100% leather, so they take a bit longer to dry than other materials once you get them wet.
Overall, these are one of the most comfortable options you have for long trips on the trail. The molded EVA midsole has a foam microfiber cover that makes them extremely lovely on foot, especially after some time. They feel like they mold to your specific foot with excellent support to prevent your feet from feeling fatigued.
Pros:
Comfortable for long hikes
Easily adjustable to fit any width foot
High-quality materials for long term use
Rubber sole for excellent grip on any terrain
Cons:
The leather upper takes a longer time to dry
Velcro straps might wear
No toe protection
The design makes them less suitable for everyday wear
Keen Women's Rose sandals are a fantastic option for hikers who are serious about hitting the trails but want a shoe with less coverage and more versatility. These shoes are something you can wear on and off the path as the design is appealing, and they come in tons of colors so you can match them with almost anything.
They give decent support, but the arch is a little lower than some other options, so they might not be the best option for people with plantar fasciitis or extremely high arches.
The sandals feature a velcro strap that secures them around your ankle. However, the ankle strap is not adjustable, which is not the best design. Also, these shoes fit a medium width foot perfect, but if you have wider feet or ankles, these might not be the best option for you.
Another great feature is the ability to throw these shoes in the washer machine. You wash them on the gentle cycle with a little bit of detergent. Then, let them air dry, and they are as good as new again.
Pros:
An attractive design you can wear almost anywhere
Machine-washable so they are easy to clean
Available in a ton of colors
Offer toe protection without being too bulky
Features AEGIS Microbe Shield technology
Cons:
The ankle strap is not as adjustable as it should be
The material is not the highest-quality
People with high arches might need more support
When you are taking your kids for a hike, one of the most important things to do is to make sure that they have a great pair of hiking sandals to protect their feet. The HOBIBEAR closed-toe water sandals have everything your little one needs to stay safe and have a great time on the trail.
The open mesh uppers are quick-drying, so you do not have to worry about them getting wet and taking a long time to dry. Plus, the material is comfortable to wear even as they are drying. The strap around the ankle adjusts and is easy to fasten with velcro. So, taking them off and putting them back on is relatively easy.
Smaller children may need help getting them on though, because they fit snugly around the foot, and it might be hard even with the adjustable strap for them to get the shoe over the heel of their foot.
The outsole has excellent traction, which is extremely important for younger kids. The closed-toe protects tiny toes from bumps and bruises. Plus, the design fits the foot snuggly, so you do not have to worry about them coming off when they get wet or as you are hiking with your family.
These shoes also come in several colors that are appealing to kids, so they will enjoy wearing them. Aside from wearing these on the trail, your child can enjoy wearing them during other outdoor activities, as well.
Pros:
Protects children's' feet both on and off the trail
Several appealing colors and designs to choose from
The mesh upper dries quickly for maximum comfort
Thick tread helps give traction on a variety of surfaces
Cons:
Kids might need help putting them on and taking them off
There is not a way to loosen or tighten the upper around the top of the foot
These shoes might not last as long on growing feet because they are not adjustable
The KEEN Kids' Seacamp sandals are a fantastic shoe for little explorers thanks to the adjustable ankle strap and a bungee on the upper that allows the shoes to be snuggly secured to the child's foot and loosened to make removing them after a long day easy.
All parents know how difficult it can be to get shoes on and off of little feet, especially after a long day. So, parents can appreciate the thought put into designing these hiking sandals. Another thing you will enjoy with these shoes is the effective rubber toe guard that protects toes from injuries that can end a day of exploration.
AEGIS Microbe Shield lining of the upper and footbed offers antimicrobial protection to help prevent foot fungus and bacteria. It also helps to keep the shoes and your child's feet from smelling after a long day in the water and sun.
When they get dirty, you can throw them in the washing machine on the gentle cycle with a mild detergent, and they should come out looking like new again. Be sure to set the washer on the gentle cycle and do not dry the sandals in the dryer or they will likely be damaged.
Another thing we like about this option is the ability to choose from over three dozen colors and designs in a variety of sizes that fit toddlers to big kids. So, there are plenty of chances for independent adventurers to show their personality.
Pros:
The antimicrobial feature keeps these shoes smelling good and feet fungus free
Adjustable to fit kids feet whether they are wider or more narrow
Available in plenty of colors and sizes
Machine washable for easy cleaning
Cons:
Not easy enough for smaller children to put on by themselves
Debris is hard to get out without taking the shoes off
You might have to try a few pairs before finding the right fit
Backpackers and hikers can appreciate the lightweight design and comfort of the Chaco MEGA Z Cloud sandals for men. They are light enough to bring with you almost anywhere, but they still offer excellent protection and support while you are wearing them.
The attractive design also makes them perfect for wearing on and off the trail, which is why we love taking these with us when we travel. On the flip side, these shoes lack some protection for the toes and the top of the foot, so they are not great for rough trails.
Debris is easily lodged under your foot if you are hiking where there is a lot of loose dirt, leaves, and even small rocks. Luckily, it is easy to remove any debris that might get under your foot without having to remove the entire shoe, though.
If you are looking for shoes to wear during the summer or in warm wet areas, these shoes might suit your needs well. The lug allows debris that is picked up along your journey to be removed pretty easily, as well.
Pros:
Features an antimicrobial application that helps reduce foot odor
A stylish design you can wear on and off the trail
The lightweight construction is great for traveling and backpacking
Wearing them is comfortable even after hours on your feet
Cons:
The strap across the top of the foot is not adjustable
There is little protection from debris
These sandals are not well suited for tough terrain
If you need an affordable outdoor shoe for men, the ATIKA hiking sandal is an excellent option. The style is simple yet attractive, and the design makes it useful on the trail. The shoe has triple hook and loop straps that make it comfortable on any shape foot.
The EVA midsole is excellent if you are looking for more cushion, and the footbed offers excellent padding as well as support in the arch, heel, and ball of the foot. The excellent foot support helps to protect you from injuries.
The velcro straps make these sandals easy to put on and take off quickly. Adjusting them on the trail is also fast and straightforward. Plus, the single support strap that links the toe to the heel does not restrict broader feet. It also accommodates any swelling you may experience after a long day on your feet.
While wearing these, you have excellent traction on multiple surfaces. The lug is substantial enough for most terrains but designed to make it easy to clear them of mud and other debris, so they do not get weighed down.
Read Also: 22 Hiking Boot Brands
Pros:
Light and easy to take with you almost anywhere
Good foot support
An excellent choice for everyday wear and hiking
The EVA footbed is comfortable for longer hikes
Cons:
This option lacks coverage needed to protect toes
Debris can easily get lodged under toes
The thick woven straps take a while to dry after they are submerged
KEEN Newport H2 sandals are some of the best hiking sandals you can buy if you are an avid hiker. The upper webbing is made of polyester and waterproof leather, which give the shoe a great look and durability.
KEEN constructs the midsole of the shoe with EVA, which gives them significant cushion. They are great for extended hikes. The outsole has a rugged lug that offers excellent traction in moving water and on rougher terrain.
Another feature of these sandals is a removable PU insole that gives support and the ability to clean the shoes more easily. If you want to give them a deep clean, you can always put them in the washer machine with a mild detergent and air dry them. However, this option takes a long time, so the removable footbed gives you a way to clean them more quickly if you need to wear them.
On the downside, these shoes take a while to dry thoroughly when you submerge your feet. However, they do offer excellent protection on and off the trails with built-in rubber toe support.
Pros:
These shoes are suitable for rough terrain
An attractive option for people who want to wear them for everyday activities
They come in plenty of colors and styles
They are easy to clean
Cons:
They are heavier than open toe options
After submerged, they take a while to completely dry
They can be challenging to put on and take off
People with wider feet might find them to be too tight
The Northside Men's Burke II Athletic Sandal is another top pick for hitting the trails for a rugged path. They are even great for exploring off the trails. Northside created these shoes for use in river valleys, so the lug is designed to help give stability on different surfaces, but also to quickly shed debris.
They also have a thick rubber toe guard that is substantial enough to protect your toes when walking through rocky streams. The outsole is made out of TPR, so it gives the shoe an excellent grip even with the lack of a heavily rutted lug.
These shoes tend to run a bit smaller than others, so you need to consider that when purchasing them. They also get tighter as you spend more time on your feet, and they will get a bit soggy after a long day hiking. They have cutouts to allow your feet to breathe. However, the shoe-like design does trap in a lot of heat and moisture.
These are not a great option if you want to wear socks with your hiking shoes as that might make them too tight, and the design does not allow for a lot of adjustability. So, these are better suited for summer weather.
However, if you need a versatile shoe that offers sufficient foot support, protection for the entire foot, and the ability to walk through varying terrains, this might be an excellent option for you.
Pros:
Excellent toe protection
Well-suited for walking through rushing streams
Bungee closures are easily adjustable
Cons:
These shoes run a half to a whole size too small
After they are wet, they are more challenging to take off
The ankle strap is not adjustable and might be uncomfortable for some people
Read Also: Best Hiking Boots for Kids
The Verdict
Okay, now that we have reviewed ten of the best options for hiking sandals, it is time to make a decision on which are the best. Choosing the best is not an easy task because there are so many different styles to choose from. So, we are going to go with the three best options.
Best Overall
Our favorite overall pick is the Northside Burke II Sport Athletic Sandal because it offers superior support, protection, comfort, and style. Plus, there are options available to fit your whole family.
The price is also affordable, so you do not have to break the bank for a great pair of hiking sandals that you can wear anywhere.
Best Premium Product
Our pick for the best premium product is the Chaco Men's MEGA Z Cloud Sport Sandal. It is a must-have for backpackers and people who travel and hike frequently. We think everyone should pack a pair of these on their next adventure.
They are perfect for wearing in the water, at the campsite, or on a hike. Plus, you can wear this option running around the city and in the wilderness.
Best Value
ECCO Women's Offroad Lite Sandal is the best value for your money, in our opinion. The nubuck leather upper and is attractive and available in a variety of colors. These also come in a version made specifically to fit men's feet.
The footbed is comfortable for long hikes thanks to a dual-layer design. Adjustable straps give you the ability to wear them with or without socks, making them suitable for warm and cooler weather.
We love the attention to detail in these sandals. It goes a long way in providing functionality and a shoe you enjoy wearing. In fact, we find ourselves not wanting to take these off.