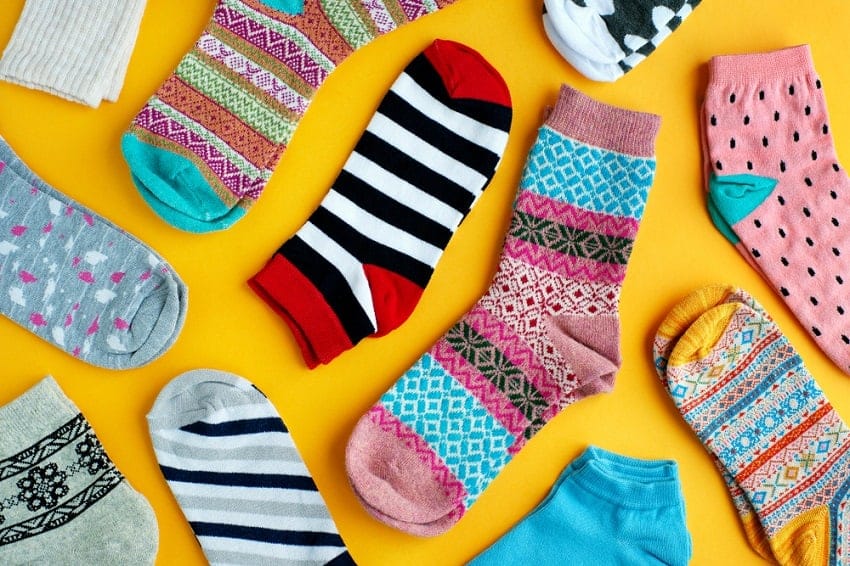 Socks are a necessity and a staple in everyone's wardrobe. Of course, we virtually all have simple, solid-colored socks, but there's something to be said for fun, expected novelty socks. With loud, funny, and even beautiful colors and prints, novelty socks are a wonderful garment to add to your collection, and you can easily find them at any number of online sock stores.
Online sock stores are bursting with personality and creativity. You may be surprised to see the huge assortment of completely unique sock designs that you can find online. Socks can make great gifts, too, especially for your friend with a fabulous sense of humor.
Here, we've gathered up the top online sock shops to visit today. Each with one-of-a-kind product options and plenty of charisma, you'll have a blast shopping at these virtual stores.
Read Also: Best Online Sneaker Stores
Best Online Sock Stores
The Sock Drawer is an online sock shop packed with bright, playful socks in a remarkable range of categories. Based in California, shoppers will love the many different prints and colors that you can find within The Sock Drawer's extensive product selection. With options for men, women, and kids, The Sock Drawer is a sock store for the entire family.
For both men and women's socks on The Sock Drawer, there are six main categories: Trending, Humor, Animals, Food and Drink, Pop Culture, and Specialty. You'll find options with themes that you would never have imagined being printed on a pair of socks. For example, there are multiple socks from The Sock Shop printed with Bob Ross, the beloved TV personality and painter. There are also socks with the mascots for your favorite brands of cereal and Harry Potter-themed socks. These are just a handful of the many different sock options available on The Sock Shop.
History
The Sock Drawer began in 2007 when Brooke English, the brand's founder, opened a small sock shop located in San Luis Obispo, California. The shop, located downtown, quickly became popular and a fixture in the community. English took the shop online in 2011 to reach a wider audience, and it has been flourishing ever since. In fact, it's now one of the largest online sock retailers on the planet.
The Sock Drawer has kept its base in San Luis Obispo, and the company has initiated philanthropic efforts to support those in need around the world.
Main Features
The Sock Drawers offers free shipping on orders within the U.S. totaling $45 or more. This is an awesome feature to help you save money while shopping online.
If you sign up for The Sock Drawer's online newsletter, you'll receive a 10% off coupon. Just provide an email to start getting the newsletter (and coupon) sent to your email inbox.
The Sock Shop has its own blog and regularly posts all sorts of sock-related articles. Article titles include How to Make a Fashion Statement with Fun Socks, 3 Reasons Novelty Socks Make the Best Gifts, and Spread a Little Joy with Funny Socks, just to name a few. Sock shoppers can enjoy reading these articles and learning more about the philosophy behind The Sock Drawer.
The Sock Drawer has a "Best Sellers" category where you can find all of the socks that have become customer favorites. This category is especially helpful when you're seeking out a foolproof gift.
Happy Socks sells whimsical socks for men, women, and kids. With an enormous range of products and a focus on innovative designs, shoppers are sure to have a blast browsing this online store.
Under both the men's and women's sock categories on Happy Socks, there are several categories to choose from. The main categories are New Arrivals, Low Socks, Athletic Socks, Dressed Socks, Underwear, Swimwear, and Accessories.
Accessories are an unusual category to see on an online sock store and set Happy Socks apart from many of its competitors. Beyond just socks, this online store offers colorful accessory options including smartphone cases, laptop bags, and even select shoe and apparel options. The products that you see under "Accessories" will usually vary depending on the season. For example, in the summer, bath towels and pool toys in vibrant tones and prints may be available on Happy Socks.
History
Happy Socks began in 2008 with founders Mikael Söderlindh and Viktor Tell. These close friends and eventual business partners aimed to transform regular, everyday socks into something special.  As a graphic designer and illustrator, Viktor took on the role of an artistic mastermind, while Mikael, an experienced advertising guru, took on the business foundations of Happy Socks. They achieved this goal, designing and selling fun, colorful socks that have become items of fashion!
Main Features
When you sign up for the Happy Socks online newsletter, you'll get a 10% discount off your first order. All you have to do is provide an email address, and you'll get offers and shop updates sent regularly to your inbox.
One special aspect of Happy Socks is its collaborations with artists and designers. By incorporating the work of artistic talents like Keith Haring, a beloved pop artist in New York City, into sock designs, Happy Socks has become a name in an innovative fashion.
Happy Socks has an "Outlet" section in which you'll find socks from their fun product selection at a discount. The Happy Socks Outlet includes sock and underwear options for men, women, and kids, and most options are 30% off! An outlet is a perfect place for budget-conscious shoppers to find low-priced items with the Happy Sock's one-of-a-kind style.
Happy Socks has an entire section of its online shop dedicated to limited edition products. These socks have been created by top designers and artists and are only available for sale for a limited period of time. An Andy Warhol socks collection and Rolling Stones-themed socks are just two examples of the varied limited edition sock options on this online store.
Happy Socks offers a student discount – a unique feature and a wonderful addition to this shop's benefits. The discount is 20% off your order and free shipping, which amounts to sizable savings. If you're a student, you can get the discount code to use at the checkout by registering with Student Beans. There, you'll be asked to verify your student status. Once that's done, you'll be sent to coupon code to use at Happy Socks.
Proudly based in Santa Cruz, California, Socksmith has a diverse and frequently updated stock of products. Inspired by its sunny city of origin, their goal as a brand is simple: no boring socks! Socksmith also has rotating sock collections that keep shoppers coming back to see their newest sock additions.
Socksmith sells socks for men, women, and kids. Their fantastic website layout makes it simple to organize product listings in the way that's most simple for you. You may select from one of their many themes, which include: food, animals, historical figures, licensing, cats, dogs, and art. Or, you can organize socks by length (shorties, crew, knee-high, or over the knee), material (cotton, wicking cotton, or bamboo), color, or size. These product filters make it easy and convenient to navigate the enormous sock selection at the Socksmith online shop.
History
Socksmith put down roots as a company in 1988. In that year, the founders, Ellen and Eric Gil, opened a small boutique just for socks. At that time, it was called Sockshop and Shoe Company. The little 450-square-foot shop has since expanded into an emblematic store located in downtown Santa Cruz.
Socksmith was born out of Sockshop and Shoe Company in 2007. The Gils established this sock design business with the aim to create unique, top-quality novelty socks using cutting-edge manufacturing techniques.
Main Features
You can make an account on Socksmith simply by inputting your email address and first and last names, then create a password. When you have an account at this online store, you can check out quickly, track your order, and create a wishlist, among other special features.
Socksmith has an online newsletter than you can subscribe to by providing your email address. The newsletter contains updates on products, features, and general goings-on at Socksmith. Subscribing to the newsletter will also keep you up-to-date on the latest deals.
Socksmith offers free shipping on orders of $40 within the United States. Free shipping earns you First Class Mail, which will arrive in 7 to 10 business days. Socksmith does offer international shipping for overseas orders, though they won't qualify for free shipping.
On the Socksmith website, you'll see a store locator tool in which you can track down a physical storefront that stocks Socksmith products near you. While the Socksmith online store is always on option, you can have fun viewing their unique sock collection in person.
Socksmith has a blog, "Sock Talk" that posts fun sock-related content for shoppers. From gift guides to holiday articles to Socksmith stories and more, "Sock Talk" is a great addition to this online shop.
The Joy of Socks is one of the longest standing online sock stores that you'll find. This store offers countless sock options for men, women, and kids. From food to animals to art and more, you'll find socks that you would have never guessed existed at Joy of Socks.
One great aspect of Joy of Socks is the huge assortment of categories that it gives you to choose from. When you select the main category, like "Men", "Women", or "Kids", you'll then see all of the products in that category listed. Along the left side of all of the products, you can choose from an extensive number of second and third categories. For example, under "Men", one subcategory is "Animals". This category has its own subcategories, including dogs, cats, sharks and fish, wildlife, dinosaurs, and birds. This staggering selection of different socks just goes to show how impressive the product selection is at Joy of Socks.
History
The Joy of Socks online store was created in 1998. Based out of a small apartment in Boston's North End, Joy of Socks had humble beginnings and was spurred purely from the desire to sell something online. With experience in retail in the city of Boston, the company's founders settled on socks, and the company was born.
The joy of Socks rapidly grew and gained success. In its first year of operation, the sock company was featured in the Yahoo magazine. Physical stores were soon opened in Rockport and Gloucester in Massachusetts. In a strategic business move, the company chose to work operate only online in 2007. Now, Joy of Socks continues to be a family-owned business and operates out of a warehouse in Newburyport, Massachusetts.
Main Features
In addition to socks, Joy of Socks also sells tights and "Sassy Gifts". Under the gift category, you'll find all sorts of novelty items other fun gifts, such as oven mitts, dish towels, candy, bags, and more.
The joy of Socks has an extensive selection of sale items. You can easily find discounted items under the "Sale" section of the drop-down menu. Socks are marked down as low as half off or more!
The joy of Socks offers free shipping to addresses within the United States on orders over $25. This shipping deal is especially helpful when you consider how the large cost shipping can add to online orders on other sites.
When you sign up for the Joy of Socks newsletter, you'll receive a 10% off coupon. All you need to do is provide a name and email address. The Joy of Socks newsletter will keep you updated on the latest sock products, as well as notify you when sales and promotions hit this online store.
The Joy of Socks has a rewards program so that returning customers can get rewarded for stock purchases. You'll earn points by placing an order at the Joy of Socks, following the brands Instagram account, liking the account on Facebook, and creating an account. You'll also earn points on your birthday! Points earned through the Joy of Socks rewards program can be used to save money on purchases. Every 100 points is worth $5 off your next order.