Police officers work hard to protect the community. Their gear should work as hard as they do. Whether you are military personnel or law enforcement officer, you need boots that are comfortable enough to get you through long days spent on your feet. Those shoes must also withstand the elements, allow you to move freely, and minimize pain and fatigue.
While you might think that's a tall order, it's not hard to find the best police boots. Many brands make boots specifically for this purpose. They have taken your needs into account and produced footwear that lets you be ready for anything.
Police boots are not standard-issued. Therefore, there is a lot of leeway in what you might find. Just like with civilian shoes, what works for one person may not be ideal for the next. Here are some features to look for and reviews on the best police boots for men and women.
Our Top Picks
What Are Police Boots Used For?
Police boots, or tactical boots, should be more robust, more protective, and more comfortable than the shoes that you would wear to run errands, hike, or go about your everyday life. Tactical boots must protect people from sand, water, mud, and rain. They need to be thick enough to withstand hazards, but they can't be so heavy that you can't move comfortably in them.
People who might need police boots include:
Forest rangers
Patrol officers
Traffic officers
Military personnel
Public safety officers
What to Look for in Police Boots
Shopping for police boots is different than seeking everyday boots. Some features are essential for police boots.
Airflow
Your boots need to encase your feet and protect them from the elements. However, they must be breathable. Adequate ventilation will keep your feet cool even when you're undergoing rigorous training or involved in demanding activities.
Breathable boots also prevent your feet from sweating as much. They'll dry more quickly than other types of materials. When you reduce moisture inside your shoes, you diminish the risk of experiencing mildew and mold issues. Less dampness also means that you'll be less prone to getting blisters.
Weight
Police boots are incredibly supportive. They contain durable fabrics that support your ankles and prevent your feet from being hurt from sharp objects. Police boots also need to have significant outsoles that protect your feet in all types of terrain. Because of this, they can have more weight than your everyday shoes.
Heavy boots will prevent you from moving around freely, though. You should look for boots that don't hold you back. Plus, if your footwear is too heavy, your feet may get tired out quickly. You'll stay more comfortable in lightweight boots.
Cushioning
The insoles of your boots must have cushioning. Ample padding will absorb shock as you run and provide a buffer between your feet and the ground. You'll be less likely to develop soreness, pain, and blisters. Plus, the shoes will be more comfortable. There's no point in buying durable, rugged boots if they're not comfortable enough to wear for long shifts.
Flexible, Quiet Soles
Although the soles of your shoes must be rugged and durable, they should also be flexible. Your feet need to have a maximum range of movement. However, you should note that because police boots are so protective, they're probably not going to feel as flexible as the sneakers that you wear to the gym. The soles of many police boots are puncture-proof and keep you safe in a wide variety of environments.
Also, the soles shouldn't make squeaking or tapping noises when you walk. Finally, the treads should have non-slip features to keep you steady no matter what job you're doing.
Durability
You don't want anything to interfere with your work. Therefore, look for boots with zippers that don't snag and stitching that won't unravel mid-mission. The laces should be durable and withstand heavy use. Slash-resistant material gives you added peace of mind.
Height
Police boots should cover your ankle. The extra height will stabilize your ankle and prevent you from rolling it as you travel over uneven terrain. Some boots extend as high as your mid-calf. Others are lower.
Tall boots might restrict your movement somewhat. However, they're warmer than short boots and hold your ankle steadier. Ultimately, you should choose the height based on the type of work that you're doing and how comfortable you feel in the footwear.
Components of a Police Boot
When you're reading about the features of various boots, it helps to understand some of the terminologies. You'll see some of the words below in product descriptions. Keep reading to familiarize yourself with what they mean.
Tongue
The tongue is the part of the boot that covers the gap through which the laces thread. It keeps your feet warm and protects dirt and debris from entering. Some tongues connect to the boot along the entire length, which means that there are no breaks in the fabric to trap particles. This type of tongue will also prevent moisture from entering.
A durable tongue protects the front of your foot, ankle, and shin from chafing. The laces won't rub directly on your skin
Collar
The ring around the top of the boot should be reinforced with extra stitching. Padding in this area can make the boot more comfortable around your ankle, shin and calf. If you have trouble slipping your feet into boots, look for a pull tab on the collar. You'll be able to hold onto it while you insert your foot into the shoe.
Toecap
Many police boots have toecaps, which are reinforced areas at the front of the foot. Toecaps can keep your feet safe if heavy objects fall on them. Manufacturers usually create them from steel or rigid plastic. Some brands make their boots with a composite toecap, which is made from a blend of metals and often contains Kevlar, fiberglass, or carbon fiber.
Composite-toe boots weigh less than steel-toe boots. They're often more comfortable to wear for long days. The composite material doesn't conduct heat the way metal does. Therefore, composite-toe boots might be more comfortable to wear outside in very hot or cold weather. However, they don't endure the high level of force that steel toe boots do.
Some boots include a toe rand, which covers the outside of the toe. The toe rand adds a protective feature and prevents the upper material from getting scuffed.
Upper
The upper is the fabric portion that covers your foot and ankle. It should contain rugged, but durable, material. Many police boots have ballistic nylon uppers. Manufacturers introduced this material to uniforms during World War II. It protects the skin from flying debris, punctures, and other impacts. It also resists tearing and abrasion.
Lugs
People in the know refer to the tread on the bottom of the boot as the lugs. These grooves and patterns encourage traction and help you stay stable on your feet.
Deep lugs help prevent slipping on gravel surfaces. The depth allows pebbles and other fragments to enter the empty spaces, while the bottoms of the soles remain on the ground.
Lining
The material that lines the inside of the boot should be softer than the fabric on the outside. You want to have a comfortable ride. Many linings also have moisture-wicking properties or cushioning for extra comfort.
Read Also: Best Tactical Boots
How to Clean and Maintain Your Police Boots
Once you've paid for a high-quality pair of police boots, you probably want to keep your investment in as good a shape as possible. They'll likely be getting a great deal of use, and you should take some steps to maintain them.
Break your boots in before you wear them to work – Wear them around the house, and go for some walks or runs with them on to ensure that they're comfortable and accommodate your feet.
Wipe off your boots after every use – You can use a soft cloth or shoe brush to remove dust and debris, which can work its way into pores in the material and abrade the fabric. Wipe the outsoles too; oil-based residue can degrade the rubber over time.
Let your boots dry – If your boots get wet from the weather or your sweaty feet, let them dry before you wear them again. Doing this will prevent them from getting stinky and extends their lifespan.
Use a shoe cleaner and conditioner – Find a high-quality product that's designed for the specific material that your boots are made out of; it should clean and condition your shoes to keep them supple for as long as possible.
Best Police Boots Reviews
This military and tactical boot has the feel of a sneaker and the protection of a boot. If you do a lot of running or agility work on the job, you'll appreciate the minimalist design, flexible feel, and ergonomic rubber outsole.
You can run, jump and climb with these boots and don't have to worry about slipping. They have an anti-slip grip on slick surfaces. Plus, your foot can move naturally in them. They're not restrictive in any way.
The boots do cover the ankle, which provides you with some support. However, they don't rise very high up the calf, which allows for a wide range of motion.
These are excellent boots for everyday wear. They have quick-dry fabric that isn't waterproof but won't stay wet for long. A molded Ortholite sock liner combats the bacteria that can cause odor.
These shoes are light and breathable. They're not insulated. Therefore, they're ideal for people whose feet tend to get hot, and they provide all-day comfort in warm environments. However, your feet might get cold if you wear these boots in the snow or during frigid weather.
Pounding the pavement or working on concrete floors won't wear your feet down when you have these boots. The EVA midsole is well-cushioned for long days on the job. The reinforced TPU shank offers added protection.
The boots lace up, which means that you can adjust their fit around your foot and ankle. The collar is not very padded, which might not be comfortable for some wearers.
Even though these boots look somewhat casual, you can dress them up by polishing the toe cap. They take on a gorgeous sheen. Because the leather and synthetic upper is so smooth, it's easy to clean. It doesn't have a lot of places to hold dirt or debris.
These boots don't have added protection in the toe area. Therefore, they might not be the best option for people who work with heavy objects. They're better suited for someone who is on the go and needs versatile boots for a variety of activities.
Pros:
Quick-dry fabric
Lightweight
No-slip tread
Flexible footbed
Pull-on tab at the ankle
Cons:
Not waterproof
No toe protection
Feet might get cold in snow and ice
No side zipper
Whether you're an avid outdoorsman or work in inclement weather frequently, you might place water resistance high on your list of priorities when searching for the best police boots. If that's the case, then these Bates Ultra-Lite Waterproof Boots may be the solution for you.
The uppers contain leather and nylon, which offer breathability and repel water. The GORE-TEX shell stands up to the elements, including snow, ice, sleet, and water. Plus, it keeps your feet insulated and warm. The lining wicks moisture away from your feet so that you stay comfortable all day and avoid getting blisters.
The GX-8 style has side zippers so that you can easily get your boot on and off. Once you adjust the laces to your size, you won't need to retie those. You can use the zipper to open and close the boots.
The lugs on the outsole are profound and have a varied pattern. They're made of thick rubber, which keeps you stable on all types of surfaces.
Although these boots don't have toecaps, they feature cement construction. This means that the upper extends around the outsole. It's connected with an adhesive that makes the shoes work as one unit. You typically can't resole boots with this kind of construction. However, the construction of the boots makes them extremely durable.
The uppers protect the vulnerable areas of your foot from harm. The footbed is cushioned and comfortable. The manufacturer has incorporated padded shocks in the soles to protect your joints from impact and reduce foot pain.
Although these boots are lightweight, they may be more substantial than some other options. Depending on the size, each boot weighs about 3 pounds.
Pros:
Side zippers for easy on and off
Breathable
The GORE-TEX lining protects you from the elements
Cement construction is durable
The cushioned insert is removable
Lining wicks moisture and keeps feet dry
Boots are completely waterproof
Cons:
No reinforced toe
Shoes may squeak
If you work in law enforcement or enjoy outdoor adventures, these boots will serve you well. They have several features to promote your safety and allow you to tackle all of your duties. They're durable and designed to wear for long hours in the field.
They're easy to put on and take off because they have different options for closures. The side zippers allow you to insert or remove your foot quickly. If you need to customize the fit further, you can adjust the laces to accommodate your foot.
The brand makes the uppers with a blend of 70 percent leather and 30 percent ballistic nylon. The combination allows the shoes to be breathable and lightweight but protective and durable. The boots are also easy to clean.
With a midsole shaft that comes up to the mid-calf, these boots protect your ankle. The opening is approximately 30 centimeters in circumference, but it can be adjusted using the laces. The collar is padded and should feel comfortable around your calf and shin.
The rubber outsole has a unique, rounded lug pattern that keeps you safe on slick surfaces and gravel. You'll get plenty of traction whether you're walking or running in these boots. Furthermore, the outsole is oil-resistant. It won't degrade over time if it comes in contact with petroleum-based spills on the surface of the road.
The footwear is also comfortable. The boots feature removable EVA insoles and shock-absorbing cushions. They also have a mesh lining, which provides adequate ventilation and allows your feet to breathe even when they're hot and sweaty.
Bates boots come with an exclusive DRYGuard waterproofing system. Unlike some waterproofing components, this lining allows for airflow while keeping your feet dry.
Pros:
Ultra-lightweight at about 1.4 pounds each
Flexible sole bends with your foot
Very cushioned and comfortable
Roomy toe box
Cons:
Boots may squeak on vinyl floors
Don't have a reinforced toe
Not completely waterproof
These are good-looking combat boots with a great sense of style. They're sleek, sturdy, and easy to wear, especially if you have narrow feet. The contoured footbed doesn't have any extra bulk. If your feet feel like they swim in large police boots, you might be more comfortable in these.
Even though the boots are tapered, they feel solid and protective. The sole is quite stiff, but it protects the bottom of your feet. The manufacturer has built these boots for stability.
The Airthotic footbed feels as good as it sounds. It has plenty of cushioning to offer support and a plush feel underfoot. The footbed will mold to the contours of your feet over time.
If you need the added protection of a higher calf, you might want to consider these boots. They're snug around your lower legs and can prevent you from rolling an ankle. Because they lace up, you can get the perfect fit.
The non-metallic toe won't set off metal detectors. However, there is no added toe cap. Therefore, these boots may not be ideal for people who need extra toe protection.
You'll get plenty of sure-footed traction from these shoes. Large lugs make these ideal for rugged terrain. You could even wear these as hiking boots for off-road adventures.
The uppers are waterproof and protect you from the elements, making these boots extremely durable. Even though they have so many features, they're not heavy. You will feel light on your feet once you break the boots in.
Pros:
Great for narrow feet
Streamlined profile
High-rise calf for added support
Fiberglass shank supports the ankle
Waterproof but breathable
Cons:
Not much room in the toe box
Takes time to loosen all the laces to step into the boots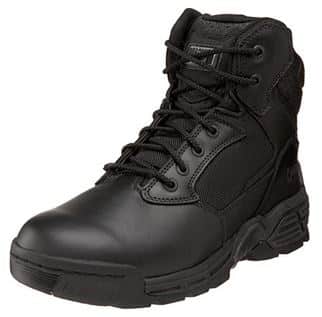 If you really need sneakers to get around the job properly, you might want to look into these. They're so versatile that it's difficult to call them boots. They resemble high-top basketball shoes, but they have all of the features of a police boot.
The upper is made of leather with some synthetic mesh panels for breathability. The toes are covered in leather for protection and water resistance. The area that contains the eyelets for the laces is also reinforced with leather.
You don't have to worry about resilience with these boots. They'll last a long time.
Plus, they're probably more comfortable than your running shoes. The memory foam sock liner conforms to the shape of your feet. Plus, the insole is removable, which gives your feet more room or accommodates a custom orthotic. The RECOIL midsole is responsive and helps you move through each step smoothly.
If you're all about comfort, you'll probably let out a sigh of relief when you feel how padded the tongue and collar of these boots are. They provide protection between the tops of your feet and the laces as well as the skin around your ankle.
You can get where you're going quickly when you wear these comfortable shoes. Plus, they're easy to get on and off because they have zippered side panels.
One of the signature features of this brand is that they have high-traction outsoles. They're designed to be worn on any terrain.
Plus, the outsoles are ATSM rated as electrical hazard boots. This means that they significantly thwart the current of electricity between your body and the ground. They're ideal for people who might be at risk of stepping on live wires or being involved in other electrical situations.
Pros:
Feel like a sneaker but protect like a boot
High-traction outsoles
Zippered side panels for easy-on, easy-off
Protect you from electrical hazards
Extremely comfortable
Quiet
Cons:
Don't go far up the calf
No toe cap or reinforcement
You have probably noticed that many of the police boots that we reviewed aren't entirely waterproof. If you're looking for footwear that you can wear in the snow, swampy mud or anything in between, these might be the answer.
These tactical boots are designed to withstand moisture. They have a leather and synthetic upper, like many of the other boots in this review. The GORE-TEX fabric bootie that lines your foot keeps you completely dry.
These boots may seem too good to be true. They're lightweight and breathable, yet warm enough for winter weather. They're extremely durable and protective, but the leather is pliable and allows your feet and ankles to flex.
The 8-inch shaft is well-padded and provides enough ankle support for most people. However, the design of the leather that is stitched to the outside of the ankle area makes it rub against some people's ankle bones. This may be uncomfortable.
The Vibram "Ibex" outsole is exclusive and provides excellent traction. It's grippy on wet, slick, and gravelly surfaces. It's thick enough to keep you stable on a flat road or a hilly hike.
If you've experienced foot pain from long days of standing, walking, or running, these shoes might provide an effective solution to your discomfort. The heel counter secures your foot in place, which aligns your ankle and gives you stability.
The high-performance orthotic insert has arch support, which is excellent for people with flat feet or high arches. Even if you have normal arches, you should find these shoes comfortable. The shock-absorbing midsole protects your feet, legs, back, and joints from forceful impacts.
Although the toe isn't reinforced, it feels extremely firm. These shoes deliver adequate protection in a lightweight body.
Pros:
Great ankle and heel support
Ideal for people with plantar fasciitis or foot pain
High-performance orthotic insert
Non-slip sole
Side-zip entry
Cons:
No toe cap
Not as breathable as some other boots
Boots with lace hooks are easy to get on and off, and these are no exception. Even though the laces climb up the well-supported ankle, they can be removed in an instant to get your shoes on and off. But you might want to keep these boots on all day because they are so comfortable.
The footbeds feel like sneakers, and the ankle support is like a second skin. The interior of the shoes hug your feet and allow you to move freely. Because of this, they're also supportive and not likely to rub or chafe your skin.
The shaft is approximately 5.5 inches tall when measured from the arch. This is an ideal medium level of support. It doesn't rise so high that it limits mobility, but it encases your ankle and holds it steady.
You can step into puddles with confidence when you wear these boots. The outsole is connected to the upper via a welded, abrasion-resistant film. Water won't sneak into any cracks.
However, these shoes aren't completely waterproof. The uppers are somewhat porous and can soak up moisture. You can treat them with a waterproofing product, though.
UA Micro G foam extends along the entire footbed, cushioning your foot and absorbing shock with every stride. It transfers your power so that you can take off just as intensely as you land. The TPU shank in the mid-foot is stabilizing.
Keep stinkiness away with the treated Ortholite sock liner. It resists moisture and prevents bacteria from growing inside of the shoe.
The TPU toe cap provides a solid barrier between your delicate toes and the environment. It's made of a composite material that won't set off metal detectors.
Pros:
Lace hooks make these boots easy to slip on and off
Composite toe cap
Anti-odor technology
Water-resistant
Extremely lightweight
No break-in time
Cons:
Fully synthetic and lack the durability of leather uppers
Thin laces may compress foot uncomfortably
For women who need added calf and shin protection, these boots might be the solution. They have an 8-inch shaft when measured from the arch. They hit at the mid-calf and protect the skin from impacts.
One of the best features that these boots have is the sausage shoelaces. They're extra-thick and have a sausage weave for flexibility and durability. You secure them in such a way that you don't have to worry about tying them or tripping over the excess.
The exterior of the upper is made of leather and nylon. It's rugged and well-stitched to support your feet and provide plenty of protection.
The interior has a moisture-wicking lining, which keeps your feet cool and dry even when they sweat. The antimicrobial lining will also keep bacteria at bay and prevent your shoes from developing odors.
People who are on their feet for long periods will enjoy the shock-absorbing capabilities of these boots. Open-cell foam cushioning can withstand heavy pressure and strong impacts without making your feet hurt.
These boots are semi-rigid at the toe and heel. They're the kind of police boots that you can use to kick in doors.
You don't have to worry about where you step, either. These boots have oil-resistant outsoles with excellent traction.
These might not be the best boots for extremely wet environments. They're not very waterproof. Therefore, you might not want to wear them as snow boots, and you may wish to have an extra pair for rainy days.
Some wearers have had trouble with the durability of these boots. When you invest in police boots, they need to stand up to the job at hand. These tend to develop signs of wear and tear faster than some other brands and styles.
Pros:
No-tie shoelaces keep everything in place
Polished leather toe has an upscale feel
Rigid toe reinforcement
Oil-resistant outsole
Lightweight but sturdy
Excellent arch support
Cons:
Not completely waterproof
Might develop internal squeak in the sole
May not be as durable as other police boots
Do you want a pair of police boots that looks unique? This one sets itself apart from the rest with its style and function.
One of the most notable features is the upper. It's made of a synthetic fabric that's covered by a cast polyurethane structure. It almost looks like a cage that surrounds your foot.
The framework protects your feet from getting damaged, but it's flexible and lightweight. It won't hold you back.
The toe and heel are reinforced with thicker material for protection. There is an external TPU heel counter that cradles the heel. It also stabilizes your foot in the shoe, which protects your ankle and midsole.
You need a pair of boots that give you enough padding without taking away the spring in your step. With a charged cushioning pack under the base of your foot, these shoes feel plush, but they're responsive. These boots don't make for lazy feet.
The rubber sole has a broad base. It helps you stay steady in many different environments.
The 6-inch shaft adds to the reliability of these shoes. It's an ideal mid-range between tall calf boots and lower sneaker-style police boots. The height gives you added support, and it's comfortable because it's padded.
Sometimes, taller boots that don't have zippered side panels are difficult to put on and take off. These are simple, though. The laces are secured with a variety of elements, including recessed eyelets and hooks. Therefore, you can quickly loosen the shoes, slip your feet in, and secure them so that you can get back to your job.
Another feature that makes these boots easy to put on and remove is the wide footbed. These might not be the best boots for narrow feet, but they're highly accommodating for people with broad feet.
Pros:
Very sturdy boots
External protective structure is unique
Removable insole
Roomy toe box
Ankle loop helps boots slide on and off
Cons:
Not waterproof
Don't hold a shine from polish
Not as well-padded as some other options
These police boots feel more like hiking shoes. They offer ankle support but don't rise up the calf. They have the styling of a sneaker. But they provide the durability and protection of a tactical boot.
If it's essential that you keep your feet dry from the elements, this boot might be your best bet. Its leather and synthetic upper is completely waterproof. The textile contains M-Select Dry technology, which repels moisture and keeps your feet dry.
Some shoes have waterproof fabric, but they contain cracks that allow water to seep in. With these, the tongue is attached to the uppers along both sides, creating a completely enclosed bootie.
One of the only things that you might not want to do in these boots is to wade through deeper bodies of water. Because the shaft is relatively low, moisture can seep in from the top.
If you've ever worn Merrell shoes before, you know that they're designed for comfort. These are no different. That's why they almost feel like everyday casual shoes.
The kinetic fit advanced footbed responds to your feet. It provides support, whether you're standing or doing high-impact movements. Plus, the Merrell air cushion prevents foot pain and keeps you comfortable for long hours.
There's an appropriate amount of support in the arch zone. The heel has cushioning for shock absorption and foot health.
Even though these boots look like sneakers and have a casual feel, they are sleek and sophisticated. The toe holds polish, and you can buff it to a sheen.
The outsole is just as durable as the rest of the boot. It has 5-millimeter lugs, which are ideal in just about any situation. The Vibram outsole is grippy and provides excellent traction.
Pros:
Fully waterproof
Tongue is fully attached at sides
Cons:
Shaft is not very high
Not the most lightweight shoes
Conclusion
All of these police boots will serve you well in the field. Although few of them have toe caps, that's what keeps them lightweight and perfect for going out in the field. They're all fairly versatile and excellent for hiking, walking, or serving your duty.
We like the 5.11 Tactical 8" boots the best. They're a wonderful blend of comfort, durability, functionality, and style. We like that there is plenty of leather, which can be shined to wear to dressy occasions. But these are also perfect for more casual events.
They have a side-zip feature and sausage laces, which give you plenty of options for making adjustments. Plus, the odor-fighting system gives us confidence that we can wear these day in and day out without embarrassment.
If you'd like to invest your money in a premium boot, look no further than the Danner men's Acadia 8-inch boot. This is really a good-looking pair of police footwear, and it's just as comfortable and durable as it is attractive. One of the only downsides is that it's not ideal for wide feet.
We chose the Under Armour Stellar Military and Tactical boot for the best budget pick. It costs less than $100, which is more affordable than many running shoes. It's just as comfortable as a sneaker but has the durability and traction of a police boot.
Ultimately, the boots that you choose must match your level of activity and be comfortable. Some have a longer break-in period than others. You should always try the shoes on for a few hours around the house before subjecting your feet to 12-hour days in the police boots.