Your wedding day will go down in history as one of the most important days of your life, along with the birth of your children, the day you met your spouse, and the day you graduated college.
That being said, your fashion choices matter now more than ever.
Even women who do not typically involve themselves in matters of clothing or shoes can become frantic at the idea of picking out a wedding dress, a hairstyle, and the perfect pair of shoes for their big, romantic day.
Every bride should feel like a princess and nothing less at their wedding. Picking the right pair of shoes can help you get there. Let's talk about popular types of wedding shoes for women and how you can make sure you pick the perfect pair.
What to Consider
When you're picking a shoe for any occasion, there are certain things you should consider before choosing the first pair you try on. To help you along in the process a little more, we're going to talk about a few things to keep in mind as you start shopping for your day-of footwear.
The Season
One of the very first questions you should ask yourself about your wedding shoes is: what season will you be tying the knot?
Seasons are super important because they can determine the kind of shoes that you wear. For example, if you're getting married in December, then winter certainly isn't a very appropriate time to wear open-toed shoes or sandals because of the cold.
If you're getting married in the spring or the summer, then you may lean more towards a strappy heel or even a wedge.
Depending on how in-tune with the fashion world you are, basing your shoe around the seasons can be a big step in deciding what type of wedding shoe you will wear.
The Location
The location of your wedding can also play a significant role in determining the style of shoe you will wear the day of. In certain circumstances, it just doesn't make sense to wear a specific type of shoe.
Outdoor venues are beautiful and popular for weddings, but you should go and check out the ceremony area before you invest in an expensive pair of shoes. Some outdoor venues feature intricate cobblestone designs. While this is undoubtedly a unique and fabulous addition to the beauty of your special day, it would make walking in high heels next to impossible.
The same goes for beach weddings. Imagine having a wedding on the beach but deciding to wear heels or wedges anyway. Even certain kinds of sandals can get caught in the sand and flick it up on your back and dress.
Even if your wedding is at a more traditional outdoor setting, you may have trouble wearing stiletto heels if there's a lot of grass in the reception area.
Consider where you plan on having both the ceremony and the reception. In some cases, brides will even opt to have two different pairs of shoes for the day to accommodate the two locations.
Comfort
We have all heard the phrase "beauty is pain," but do you really want to endure several hours of pain on the happiest day of your life? Comfort comes high on the list of priorities for wedding shoes. You should pick a style that you're comfortable in.
If you're not someone who typically rocks high stiletto heels, then it's probably not a good idea to wear them for the very first time on your wedding day. The last thing any bride wants is to trip her way down the aisle in front of her family, friends, and fiancé.
Don't' forget that while this is a magical day, it tends to be a very long one for the bride and groom. You'll get ready, put on your shoes for pictures, walk down the aisle, stand for the duration of the ceremony, and then after all of that – there's the reception.
If you're not aware, many couples end up spending most of the reception standing. Whether you're doing the rounds and greeting guests or on the dancefloor busting a move, you're going to be on your feet a lot.
Comfort will surely be an important factor after you consider all of the time you'll be spending on your feet.
That being said, it's okay to take a step out of the norm for a special occasion such as this. Just make sure that you spend plenty of time at the store trying on the styles and walking around in them. If you're dead set on wearing the highest heels you can find to reach that perfect eye-level height of your future hubby, then make sure you spend intentional time practicing in the shoes before the day of.
Another common trick is to store a pair of flats or even socks in the bridal suite. You can slip into them after the formal parts of the reception, like the introduction and special dances.
Your Dress
Of course, when picking out your wedding shoes, you need to make sure they go well with the dress. First of all, if you plan on going the traditional route and wearing all white, then you need to make sure that your whites match.
This may sound like a silly thing to say to some, but having two different whites can be super obvious and is not a good look, especially on the day when you're supposed to feel like a supermodel.
You also need to match the style of your shoes to the style of your dress. Ladies, we all should know what this means. Think of your everyday clothing. You wouldn't wear a pair of flip flops with your prom dress, and you wouldn't rock a pair of sneakers with a business suit.
Some styles just are not meant to go together, so your shoes and dress must make a match as perfect as you and your future spouse.
Finally, think about the length of your dress. This is important because the length of your dress could affect what kind of shoes you need to wear. If your dress isn't long enough, wearing a pair of super high heels might make it look a little funny.
At the same time, long dresses tend to get caught on the back of stiletto heels. Doing so may cause a tear in your beautiful and likely expensive gown, so it's something to consider.
While some women choose to buy their wedding dress and match their shoes to it, others like to get their shoes first and bring them along to try on dresses. Either way works, but remember to consider one in the purchase of the other.
Budget
Finally, establish and stick to a budget. It's no grand secret that weddings are expensive affairs. You have to pay for the venue, the caterer, the DJ or band, the dress, the tux, and more. The last thing you need to do is blow a big chunk of your budget on your shoes.
Set a price that you're comfortable with when you start shoe shopping. If you don't consider yourself a "shoe person," it may surprise you how easy it is to drop a pretty penny on a nice pair of footwear.
Have patience and stick to your goals. Setting a budget may require a little more shopping time, but you'll feel much better buying shoes that are within your price range.
Different Types of Wedding Shoes
Once you consider all of the details that go into purchasing your dream wedding shoes, you can start looking at the various styles available to you.
Below is a list of popular types of wedding shoes for women, so let's check them out!
Open or Close-Toed Wedding Shoes
The open and close-toe option applies to almost any kind of shoes you can find, so we'll start the list with these types.
Open-toed shoes are shoes that expose your toes. This can mean sandals, peep toes, or flats. As we mentioned before, the main factor in whether you wear open-toed shoes or not will depend on the time of year and the setting of your wedding.
Close-toed shoes are, of course, just the opposite. They are any shoes that completely cover your toes.
Both of these styles can be elegant, feminine, practical, and beautiful, but they also come in many different types of shoes.
Flats
Flats are a staple in the world of women's footwear, and they can make excellent choices for a wedding. Flats are shoes that typically have no heel, hence their name. The most common style is called the ballet flat due to its similarity to shoes that ballet dancers wear.
While there are many very casual and simple styles of flats, there are also beautiful, elegant designs as well.
Flats are perfect for any woman who wants to look stylish, cute, and elegant for their wedding but would prefer not to wear a heel. They make walking down the aisle a breeze and will let you dance the night away without the painful side effects.
Additionally, flats can include sneakers. While these are not considered traditional wedding shoes per se, brides have toyed with this playful look down the aisle for years and have pulled off an adorable touch to their special day in comfort and style.
You can find flats with elegant designs, sparkles, or simple whites. Flats can also be open-toed or close-toed.
Wedges
Wedges are typically considered a popular option for bridesmaids, but even the bride can rock a pair of these comfortable heels too.
Wedges are great for weddings because their stable heel is more comfortable to walk in than stilettos. Additionally, the heel of a wedge won't get caught on the bottom of your dress like a stiletto might, eliminating the risk of tripping or ripping.
This type of shoes is great for spring or summer weddings. They are very stylish and popular shoes, and a pair of white ones can easily complete your bridal look.
Stilettos
Contrary to popular belief, a stiletto heel does not necessarily mean five inches in height. The word stiletto refers to the style of the heel, which is very thin. Stilettos come in a wide range of heights, and so they can make the perfect wedding shoe.
Stilettos are known to be classy, elegant, and sexy. They come in so many variations that there's a good chance you'll find one that suits your needs. Your stilettos can give you extra height if you want it, or they can sit at merely an inch or two.
You can also find stilettos in open and closed toes, as well as both summer and winter designs. The options are endless when it comes to this classic choice.
Sandals
Sandals are another style of shoe that comes in many different forms. You can wear flat sandals for a beach wedding. You can also sport heeled sandals for a summery romantic feel. Sandals can be as simple or as extravagant as you want them to be, making them the perfect choice for a warm-season wedding.
Boots
Boots are a less popular but still very much legitimate choice for women's wedding shoes. Some brides like to have a touch of personal flair in their weddings, and boots – more specifically, cowboy boots – can certainly help them achieve this.
Cowboy boots are very trendy as of now, but southern belles love the idea of rocking their cowboy boots under their white wedding dress.
Cowboy boots add so much personality to your wedding attire and go great with rustic, outdoor themes. There are so many venues on farms, vineyards, and fields that would make boots the perfect fit. Plus, having your bridesmaids in cocktail dresses with cowboy boots is twice as adorable.
Creative Wedding Shoe Ideas
The more time goes on, the more and more creative people get. With things like the internet, Pinterest, and just good old-fashioned innovation, people are coming up with tons of ways to make their weddings unique and memorable.
One way you can get creative is with your shoes. Take a look at some of these creative ideas that you can try out for a special twist to your wedding day.
Colors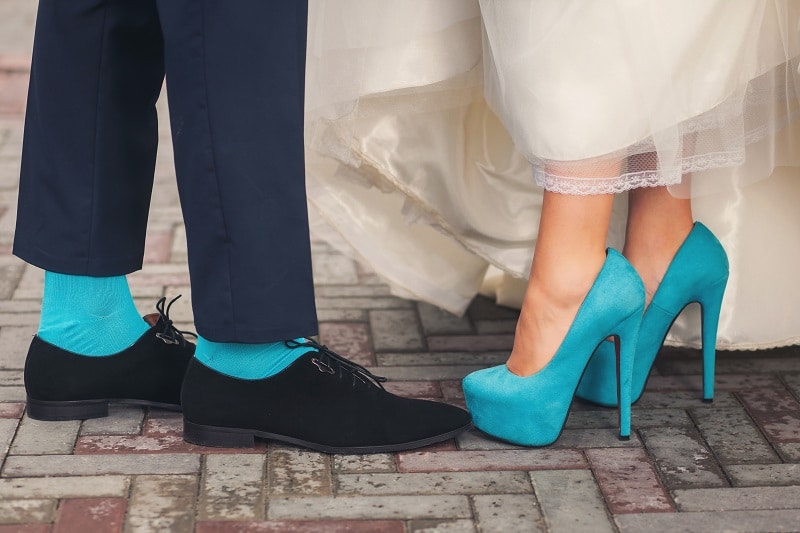 While most brides tend to stick to traditional colors of white, nude, or even silver, others like to get a little funkier. If you're looking to add a touch of style, some flair, and a pop of color, you can get yourself a colored pair of shoes.
Consider your wedding colors. If your flowers are roses and red is one of your colors, think about getting yourself a bold pair of red pumps. They'll not only match your theme, but they'll stand out against your white gown for an impressive, eye-catching, and fun look.
Sneakers
There's something that seems freeing and fun about wearing sneakers with your wedding dress. Brides have been doing it for years, but it's definitely not considered traditional or even normal.
However, it can be super giggling to think that you're wearing kicks under your gown as your walking down the aisle, and no one knows it.
Sneakers can be a fun and flirty idea for a bride who leans more towards the sporty and comfortable rather than fashionable and classic. Plus, your hubby can rock a cool pair of sneaks as well, making it a special "thing" for the two of you to share.
Writing on the Bottom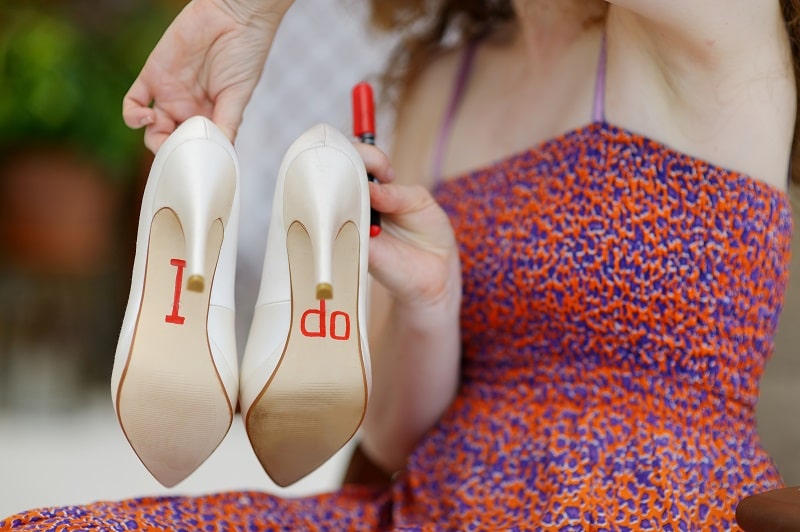 Many couples have taken to the idea of writing little messages on the bottom of their wedding shoes. You can try writing the words "I do" on the bottom of your pumps, or scribe the date of your wedding on your shoes.
Some brides like to write their new titles, like "Mrs. Smith," on the bottom of their shoes.
This idea can be fun because you can do something together with your future spouse. It makes for something small and simple to bond you too during the planning process, and it can also be perfect for adorable pictures.
Take some time out of your larger planning to sit alone with your fiancé to come up with something cute and meaningful to write on the bottom of your shoes together.
There's a good chance that you're going to hold onto your wedding shoes for quite some time after your wedding day. While some may view the shoe aspect of the day as unimportant, the truth is that choosing the perfect wedding shoes can be a fun and exciting part of wedding planning.
It can also be a great way to relax a little during what can be a very stressful process.
So, take the time to find a pair of wedding shoes that are special to you. This small detail of your best day ever can, at the very least, put a smile on your face and deliver some very fond memories that you can hold onto for years to come.