A Good Day Starts with Comfortable Footwear!
In the United States, an estimated 23,000 people (both athletes and non-athletes), walk (or rather, limp) into hospital emergency wards in need of medical attention due to an ankle sprain or other foot-related injuries. While traditionally, footwear has been used for protecting one's feet, it's increasingly being used as part of rehabilitation for those who are suffering from discomfort or recovering from a foot injury.
To this end, various types of footwear have been modified to improve locomotion and address specific patient needs related to injury prevention and rehabilitation. One such type of footwear that's been modified to meet the clinical needs of patients is rocker bottom shoes.
Introducing Rocker Bottom Shoes
The rocker bottom shoe is defined as a shoe that has contoured out-sole or outsole rocker bar to create a curved anteroposterior profile. In other words, the rocker bottom shoe is a shoe that features a thicker-than-usual sole and a rounded heel.
A rocker bottom sole is designed to have an arc with a person's foot at a slight angle. This is to prevent the wearer's foot from flattening out. Rocker soles can replace regular soles on any style of footwear, while rocker bottom shoes are purpose-built.
The first bottom rocker shoe was designed by a Swiss engineer, Karl Muller, who founded MBT (Masai Barefoot Technology). The interest in rocker bottoms peaked during the 1950s, but it was not until 1991 that a study done by Schaff and Cavanagh revealed that peak plantar pressures were reduced by 30% in the central, and medial forefoot, including toe regions after using rocker bottoms.
Given that rocker bottom shoes offer several mechanical remedies, such as aiding in movement and painful joint motion, it's easy to see why rocker bottoms (apart from orthotic devices) are often referred to as the proverbial "aspirin" for easing temporary and chronic foot issues.
Both rocker bottom shoes and rocker bottom soles are designed to help ease any pain which results from the lack of movement due to an injury or medical condition. Here, we are going to focus on rocker bottom shoes, and what to look for when choosing the right pair of rocker bottom shoes.
While the unique 'curved' design of the rocker shoe might give the impression that they are designed to perform a specific function for those with walking or standing issues, they are also quite often used in daily practice as well.
Some of the most common medical conditions that result in a podiatrist or chiropodist, recommending rocker bottom shoes are arthritis, plantar fasciitis, ankle sprains, ulcers, etc. Patients with diabetes might also be recommended to wear rocker bottom shoes to redistribute plantar pressures during gait.
Choosing the Right Rocker Bottom Shoes
Whether you've decided to use shoes with a rocker profile as a personal style statement or for its effectiveness in relieving pain and managing gait issues, to get the most out of your rocker bottoms, you will first have to choose the right pair.
Sadly, this is easier said than done thanks to the huge variety of rocker bottom shoes that are available in the market. The following are some of the factors to consider while choosing rocker bottom shoes.
Foot Type
Before you consider the type of rocker bottom shoes you would like to wear, you have to pay attention to your foot type. For instance, do you have healthy feet or do you have a medical condition such as Pes Planus aka flat feet or rheumatoid arthritis?
It should be noted here that prolonged standing or walking in rocker bottoms could do more harm than good if you do not have a foot condition. On the other hand, if you do have a medical condition, wearing rocker bottoms ran relieve any pain or discomfort you are experiencing.
Shoe Design (biomechanics of a rocker bottom)
It is common for podiatrists to recommend rocker bottoms to their patients. It is important to consider the biomechanics of the particular rocker bottom you are about to invest in to make sure it can facilitate in the repair and healing process of your internal rockers.
The biomechanics of a shoe is determined by the rigidity or softness of the insoles. Harder or firmer insoles are more beneficial as compared to soft insoles since they aid in the renewal and repair process of your internal rockers.
Stability
Just like with every other shoe, the sole is the most important feature of rocker bottoms. Furthermore, all three regions of the sole play an important role in the effectiveness and stability of the rocker bottom shoe. Here's what to focus on with the insole, midsole, and outsole of the rocker bottom shoe you are about to get.
The shape of the sole is critical to its therapeutic benefits because the sole helps stabilize and prevents any movement for the metatarsals. This helps relieve any pain or discomfort while walking. Since the sole guides the foot through a natural gait, the sole of a rocker bottom features a smooth curve from heel to toe. The heel of a rocker bottom shoe is also rounded to encourage a proper gait.
The sole of a well-made rocker bottom shoe is always going to be thicker than normal to provide shock absorption while walking. As a rule of thumb, it is important to always choose a rocker bottom shoe that has a 30 mm thick sole the runs from the bottom of the outsole to the top of the midsole.
Outsole
The rocker shoe's outsole should be able to provide good traction. For instance, hiking boots need different traction as compared to office shoes. Keeping that in mind, rubber is one of the best materials for the design of outsoles mainly because they offer the right amount of durability, while also offering cushioning and traction to the wearer.
In rocker bottom shoes, the outsole is what makes the most contact with the different surfaces or foreign objects while walking or running. This means that the outsole has to be sturdy enough to resist any wear and tear caused by the surfaces it comes in contact with. This is why rubber or synthetic rubber is the preferred choice for an outsole, especially when it comes to rocker bottom shoes.
It is not uncommon to find rocker bottom shoes to feature both an outsole made of rubber as well as reinforced rubber where the shoe comes in contact with the surface more often, and as a result, shows signs of wear and tear.
Midsole
When it comes to rocker bottom shoes, the midsole gets most of the action. This is the reason why the midsole of these shoes usually contain multiple layers of a firm and pliable material. The most common materials that are used in the construction of the midsole of a rocker bottom shoe is either polyurethane or EVA.
The reason why the midsole should not be flexible is that it doesn't have to be this way. The function of the midsole is to stabilize the metatarsal area of the foot. It is common to find some rocker bottom shoes that have been modified in this area to offer even more stability.
For those who have foot conditions such as plantar fasciitis or arthritis, the insole needs to adapt to the foot while offering comfort while walking. To achieve that, rocker bottom shoes are made from materials such as latex, cork or memory foam, with some featuring molded EVA insoles.
Comfort
When trying to choose a comfortable rocker bottom shoe (or any shoe for that matter), it is important to first identify what comfort is. There are some general criteria to help you out with determining the right type of rocker bottom shoe that's also comfortable. For instance, the insole of the shoe should be cushioned to provide you with shock absorption and the comfort you need. The outsole should be designed to prevent any slipping which can end up exhausting your feet and could also lead to injuries.
Breathability
Comfortable feet also mean having cool and dry feet. A rocker bottom shoe that's been designed well will be breathable. To ensure that, many manufacturers use canvas or mesh to design breathable shoes. That being said, leather can also be a breathable material and can also work by wicking away moisture from the feet.
Closures
Well made rocker bottom shoes have closures that are easy to use. In rocker bottom shoes, the preferred choice for closures is Velcro. Shoes that have the right closures fit snuggly without being too tight.
Soft Liners
A well-designed rocker bottom shoe will always have a soft liner without any seams that can lead to discomfort by rubbing against the top, back or sides of the foot. The liner should also be able to absorb any moisture and keep the foot dry. The best options for liners are soft fabric or cow leather.
Padding
Another element that makes up a comfortable rocker bottom shoe is padding. This feature enhances the comfort level of the shoe and also assists during walking or running. Rocker bottom shoes should have padding along the collar and tongue so that the top of your feet and ankle is comfortable.
Durability
The rocker bottom shoe you purchase is going to be an investment, which is why you would want to get the most out of it before having to replace it. If you live in an area which receives lots of rain, then you would want to invest in a rocker bottom shoe that's water-resistant.
The best way to make sure your rocker bottom shoes are ideal for damp weather is to choose ones that have been made from good quality leather or mesh, or at least materials that have a water-resistant coating.
How to Get a Perfect Size?
It is common for rocker bottom shoes to not fit. This is mainly because the term 'true to size' is subjective since various shoe manufacturers use different standards for sizing the shoes. There are also differences in shoe sizes between regions. It is important to note that just like we do not have a standard size for our feet, the shoe sizes are not standard either.
The best way to get the right size rocker bottom is to look at the size chart provided by the manufacturer and make sure to measure your feet correctly. You can also have a podiatrist do that for you to ensure you get the right size.
Read Also: Best Athletic Shoes
Rocker Bottom Types
Contrary to popular belief, the types of soles in a rocker bottom shoe varies mainly because the different types of soles are intended for specific functions. This means, to get the therapeutic benefits of rocker bottoms you will need to choose a rocker bottom sole type that corresponds to your needs. Keeping that in mind, the following are some of the different types of rocker bottoms that you can choose from;
Ankle Joint —This type of rocker bottom is usually thicker in the midfoot and heel area to help restrict motion of the ankle joints. The ankle joint rocker bottom absorbs much of the impact of the heel strike and is the best choice for those who experience limited back and front ankle mobility. The rocker bottoms also help reduce any pain and discomfort that's caused by arthritis in the ankle and ankle fusion.
Lisfranc Rocker —This type of rocker has been designed to reduce propulsive force to the midfoot region.
Met Head Rocker —The met-head rocker's function is to reduce any ground reactive forces to the ball of the foot.
MPJ Rocker — The MPJ rocker is designed to inhibit demand for dorsiflexion of the toes.
Heel Rocker –Similar to the met-head rocker, this rocker has been designed to reduce any ground reactive forces to the heel.
Healing Rocker –The healing rocker has been designed to hold foot dorsiflexed to the off-load forefoot to improve gait.
Our Top 3 Choices
Finding the right rocker bottom shoe is no easy feat (pun intended). Luckily for you, we've combed the internet to find the best options. Behold the coolest rocker bottom shoes available online today.
10 Best Rocker Bottom Shoes Reviewed
Skechers USA, Inc. is an American lifestyle and performance footwear company that's headquartered in Manhattan Beach, California. The brand made its debut in 1992 and since then, has rolled out a lineup of footwear for men and women.
This rocker bottom shoe has been built keeping the wearer in mind. The mesh panel offers incredible breathability which is great for those people who like to go on long walks and want to avoid sweaty feet. This rocker also features a convenient pull loop, which is a nifty addition to its design and makes it easier to take the shoe on or off.
You also get extra padding with the Skechers 2.0 Comfort Stride which fulfills the promise of Skechers in delivering a rocker bottom shoe that's truly comfortable to walk or run in. All these features have been neatly integrated into a well-built and sturdy polyurethane frame.
The frame provides your feet with the support they need while the soft foam wedge midsole offers more than enough shock absorption while walking or running. Overall, the Skechers 2.0 Comfort Stride rocker bottom shoes offer your feet with the support it needs by taking the burden off your heels.
Pros and Cons
Pros
Features sides, toe and heel overlays
Comes with padded collar and tongue
Memory foam insoles provide superior shock absorption
Features kinetic wedge midsoles
Attractive stitching accents lend a touch of style
Cons
Not available in wide sizes
---
This might not be a household name in the footwear niche, but Exersteps have figured out a way to combine functionality and style with the Exersteps Men's Whirlwind Black Sneakers. With this rocker bottom, you're going to get premium leather uppers that come in both black and white. While there's not a lot of color options, the company more than makes up for it with the design features.
The curved bottom outsole ensures that the muscles of your feet are exercised without risking any injury or resulting in pain or discomfort while you walk. It also features a lightweight midsole that is the perfect thickness to cushion any blows and minimizes the impact on the soles while walking or running.
One addition that stands out with Exersteps Men's Whirlwind Black Sneakers is the removable insoles which not only improves the overall functionality of the rocker but adds to its versatility as well. You also get non-marking outsoles that offer reliable traction for better mobility. The molded sock offers further protection to your feet.
Pros and Cons
Pros
Excellent shock absorption
Does not require any break-in
Features premium leather uppers
Available in true-to-size
Features a wide toe box
Cons
Not suitable for those looking for flexibility
Not ideal for jogging
---
Drew Shoe is famous for delivering stylish footwear along with therapeutic benefits that have made it a major player in the rocker bottom shoes' niche. Through the years, the brand has come up with some of the best rocker bottom shoes, and the Drew Show Men's Force Athletic Walking Shoe is yet another feather in their cap.
The Men's Force shoe features premium quality Dri-lex covered insoles for added comfort, along with AGEIS antimicrobial properties to ensure that your feet are not only comfortable but also clean and safe from fungal infections. The Drew Shoe Men's Force Athletic Walking Shoe also features a wide shank rocker bottom that has been designed to improve overall comfort and support while walking.
Apart from the incredible stability that the shoe provides you also get built-in cushion pads for heel support. This helps reduce the impact on the heels while running or walking while improving your overall performance. The convenient lace-up closure ensures the perfect fit while the tri-support removable insole adds to its versatility.
Pros and Cons
Pros
Impressive comfort across the board
Designed to absorb impacts
AGEIS antimicrobial properties wick moisture
Comfortable fit with easy to find sizes
Cons
Not as durable
Might need a few days to break-in
Does not offer great traction
---
HOKA ONE ONE is a brand that is known for its cutting-edge approach towards footwear design. What makes this footwear brand unique is that the founders Jean-Luc Diard and Nicholas Mermoudhave several years of experience in gravity sports, along with being trail runners themselves.
This has enabled them to integrate all the features that enhance comfort while running. The rocker bottom shoes from HOKA ONE ONE have gained quite the fan following through the years for their comfortable rocker bottom shoes. With the HOKA ONE ONEMensArahi Running Shoe, you get a 3D puff print frame upper combined with J-frame technology for the footbed. The result is a rocker bottom shoe that's designed to provide the ultimate comfort and shock absorption while running.
The meta rocker on the insole coupled with a low heel-to-toe differential encourages a natural gait. On the outsides, you get a sturdy rubber outsole along with reinforcements in common areas of wear and tear. Overall, this rocker bottom shoe has been designed for comfort and functionality while also offering a hint of style. The rockers are available in multiple sizes so you shouldn't have any trouble finding the right fit.
Pros and Cons
Pros
Midsole rocker feature a low heel-to-toe differential
Features a 3D puff print frame upper gives it a stylish look
J-Frame technology offers superior shock absorption
Available in multiple sizes and colors
Cons
Tight fit takes time to loosen up
Can turn very hot in warmer climates
---
Alegria shoes are all about style and comfort. One of the main selling points of Alegria is its patented footbed that comprises of specially formulated cork, memory foam, and polyurethane to deliver incredible shock absorption and superior comfort. This allows you to wear the rocker bottom for long periods without any pain or discomfort.
The ergonomic design of the Alegria Debra Professional is nicely complemented by the stain-resistant leather upper, which gives it a premium-quality look. The breathable leather interior has been designed to wick moisture away from the feet to ensure your feet stay comfortable and dry.
This rocker bottom also features a non-slip PU outsole that's been specifically engineered to reduce any central and heel metatarsal pressure. Other features of this rocker bottom include the milk rocker outsole that is securely fitted inside the shoe with Alegria's patented interlocking system. The unique design of the footbed means that the footbed can be removed for cleaning or including an orthopedic insert with a simple twist and snap.
The Alegria Debra Professional rocker bottom shoe is great for those who have plantar fasciitis or arthritis and are looking for a shoe that gives them excellent arch support.
Pros and Cons
Pros
Features Alegria outsole technology
Designed to offer cushiony support
Convenient slip-on design
Available in different colors
Cons
May start squeaking while walking
---
Skechers is known for providing premium quality footwear that comes with all the bells and whistles you would want in comfortable shoes. With the Skechers Sport Men's Shape Ups XT All Day Comfort Sneaker, you get a product that's 100% leather and synthetic. This shoe features uppers that are made out of leather, side ventilation and lots of stitching detail that provides effortless style and unmatched comfort.
When it comes to the rockers, you get two-part soft and firm density midsole support. The midsole foam acts as a reliable shock absorber while the outsole has been sculpted from rubber to provide superior traction. If you are looking to get a rocker bottom shoe that can relieve a lot of pain and discomfort then the Skechers Sport Men's Shape Ups XT All Day Comfort Sneaker should be right up your alley. It's important to note that these shoes are not in production anymore and are only available from third-party vendors.
Pros and Cons
Pros
Available in a variety of colors
Provides superior comfort with a memory foam insole
Sturdy rubber sole helps relieve pain while improving mobility
Cons
Hard to find the right size.
No longer produced by Skechers, which means available sizes are limited.
---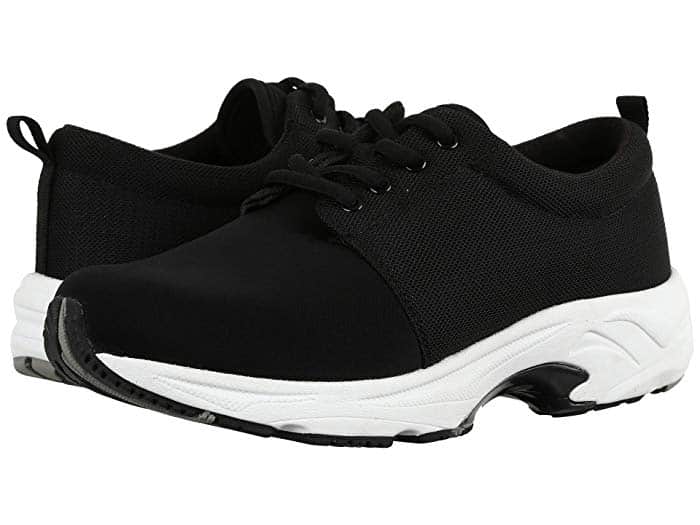 Drew offers several footwear designs that have been geared towards various foot conditions. The brand has built a reputation for creating high-quality footwear that is both functional and stylish. The Drew Excel rocker bottom shoe is just another example of the high level of quality that the company has been able to maintain through the years.
With the Drew Excel Rocker Bottom shoe, you get footwear that features the latest design technology. The shoe features breathable and flexible mesh uppers that are stylish and easy to clean. There's also a cushioned tongue and collar that keeps your feet safe and ensures a snug fit.
Other stand out features of the Excel includes the removable Drilex lined footbed that's been treated with the AEGIS Microbe Shield to keep your feet safe from dampness and odor. The Plus Fitting System that's been added to the Excel design gives you two removable footbeds which can be easily removed to get comfortable fit.
But the most important feature of the Excel has got to be the insole that's been designed for improving walking stability while also providing adequate shock absorption. The lightweight EVA midsole featuring a durable rubber rocker bottom outsole makes walking a breeze.
Pros and Cons
Pros
Available in multiple sizes
Easy lace-up closure
Features Drilex lined removable footbed
Insole treated with AEGIS Microbe Shield to wick moisture
Plus Fitting System features two removable footbeds
Dual Shank System for better stability
Cons
Not the prettiest rocker bottom shoe out there
---
The Alegria Paloma is designed for the woman on the go. Its design is perfect for those in the nursing or hospitality field and is looking for footwear that offers them comfort and support. The Alegria Paloma offers both with a touch of style. This rocker bottom shoe is a stylish twist on the classic Mary Jane, which is much loved for its casual design.
Featuring patent leather uppers and a stylish button accent, you can tell that you're looking at a premium quality product right out the box. This rocker bottom also features ultra-soft leather interiors to help promote good foot hygiene. The leather-lined latex and cork footbed has been designed to form to your foot's natural shape ensuring you get a snug fit every time. It also offers just the right amount of shock absorption to keep your heels safe.
The PU outsole has been engineered to reduce any heel or central metatarsal pressure for improved balance and stability while walking. The stand out feature with the Alegria Paloma rocker bottom shoe is its foundation which has been designed to offer the ultimate in sturdiness and functionality. The ergonomically designed rocker can be conveniently secured with a sturdy hook and loop strap and also comes with elastic gore for maximum comfort.
Pros and Cons
Pros
Ultra soft leather interior
Beautiful, patented leather uppers
Offers unmatched support and comfort
Excellent arch support
PU outsole engineered to promote better gait
Sturdy hook and loop instep strap
Cons
Not available in an open-toe design
---
The first thing you will notice as soon as you slip on Sketchers Metabolize is the unbelievable comfort it provides. This is an incredibly comfortable rocker bottom shoe that's been built to last. The shoe has been specifically designed for those who work out and are constantly experiencing ankle sprains and discomfort. Sketchers Metabolize offers your feet with the support it needs while your walking or running.
Metabolize boasts of a soft foam kinetic wedge midsole that offers an amazing level of shock absorption. This takes all the pressure off your heels and forefoot, resulting in a comfortable, pain-free gait. Also, your feet are not going to fall flat on the ground or any surface when you are walking in this rocker bottom shoe because of the reinforced outsole and padding.
Skechers Metabolize has been primarily designed to fulfill two purposes – to provide superior durability and better traction while you walk. Other features of these rockers include fabric eyelets, looped pulls along with a padded tongue and collar.
The convenient lace-up design ensures you get a comfortable, snug fit every time. Speaking of fit, the Metabolize series was discontinued a short while ago, which means Skechers is not manufacturing this product anymore. But the good news is that the rocker bottom shoe is well-stocked online.
Pros and Cons
Pros
Premium leather uppers
Build to provide superior comfort
Padded collar
Sturdy rubber outsole and polyurethane frame
Cons
Some folks might find it a bit heavy
---
And last but certainly not the least, New Balance is a brand that's been manufacturing incredibly designed rocker bottom shoes for a while now. When it comes to premium-quality rocker bottoms, New Balance's Men's Suede Rocker Bottom Shoes are one of the top choices, and for good reason.
The interior features removable polyurethane footbeds along with ABZORB midfoot cushioning and a seamless liner that ensures nothing is going to scratch against the back or sides of your feet. Also, the interior footbed has gone through odor-resistant treatment to keep your feet safe, clean and odor-free.
The rubber outsole featuring ROLLBAR and Walking Strike Path technologies for superior stability is featured at the bottom. This provides the perfect amount of shock absorption for your heels and makes sure your walks are as comfortable as possible.
With the New Balance Men's Suede Rocker Bottom Shoes, you get a comfy shoe that's available in five different widths from narrow to extra-wide. This makes it easier to find the perfect size for your feet.
Pros and Cons
Pros
Features 100% synthetic/mesh design
Sturdy rubber sole
Premium leather and natural cork uppers
Microfiber-wrapped EVA footbed wicks moisture
Available in six different colors
Can be purchased in five different widths
Cons
No specific rocker bottom features
---
Conclusion
The information provided here on the best rocker bottom shoes only highlights the significant role that footwear plays for the improvement of function and performance. This is one of the reasons why rocker bottom shoes are frequently used in rehabilitation to help modify plantar pressure distribution, accommodate deformities, and improve the overall stability and balance of an individual.
It's easy to see how rocker bottom shoes can be beneficial for improving gait patterns by providing a better fit and higher comfort levels. Keeping all of these unique benefits of the rocker bottom shoes in mind, here are our top choices:
Best Overall Choice
Exersteps Men's Whirlwind Black Sneakers is our best overall choice for obvious reasons. While it might not be a famous brand yet, the product that they offer is of premium quality and does what it promises. From the leather uppers that lends a premium quality look and feel to the rocker, to the meticulously engineered outsole that makes sure all your feet muscles are properly exercised, the Exersteps Men's Whirlwind Sneakers offers the complete package.
The removable insoles are a great addition that makes it easy to get a snug fit every time, and we all know how important getting the perfect fit is when it comes to rocker bottom shoes. The non-marking outsoles have been designed for greater traction while you walk. There's also a molded sock that offers further protection for your feet.
Premium Product
With the Skechers 2.0 Comfort Stride, flexibility and grip is the name of the game. The sole of this rocker has been specifically designed to provide superior comfort and protection by acting as a buffer between your foot and the surface you're treading on.
The brand is well known for rolling out amazing rocker bottom shoes that are built keeping the wearer in mind, so you know your getting a premium product right off the bat. The 2.0 Comfort Stride oozes of features, from the padded collar and tongue to the firm polyurethane frame, kinetic wedge midsoles, and the specially sculpted rubber outsoles, not to mention the attractive stitching accents.
With the Skechers 2.0 Comfort Stride, you get a rocker bottom shoe that's been built to provide your feet with the comfort and support it needs while reversing the negative impact that regular shoes have done to your feet.
Best Value
Drew Shoe has enjoyed a reputation for producing some of the best-designed rocker bottom shoes available in the market, so it's no surprise to see the Men's Force Athletic Walking Shoe on the list. This shoe boasts of added depth with its Drilex-covered insoles for superior safety and hygiene. The built-in cushion pads coupled with the wide-shank rocker bottom provides you with the perfect amount of shock absorption to keep your heels safe.
This is one of the few athletic shoe brands that offer rocker bottom shoes that feature both added depth and double added depth in the same shoe. Besides that, you get a great looking athletic-style rocker bottom that also has incredible therapeutic properties as well.