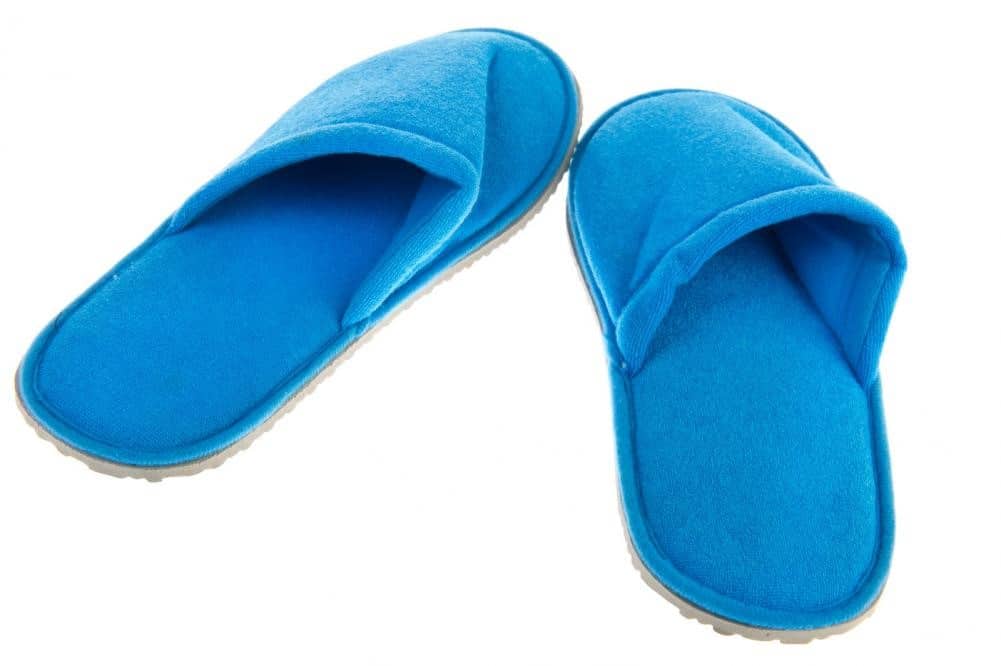 As the weather becomes cooler, it is time to put aside your beloved flip flips and snuggle your feet into warm and comfortable footwear. One of the greatest feelings that your feet can experience is the loving embrace from sheepskin slippers. If you do not already own a pair of sheepskin slippers, you and your feet are missing out on something truly remarkable.
Sheepskin shearling has many lovable qualities, which makes it the perfect material for a variety of products, including clothes and shoes. When it comes to footwear, the material's sheer softness and durability make it a winner in the books of everybody who has had the experience of wearing sheepskin slippers. Perhaps, one of the most brilliant things about the material is that it regulates temperature well. In other words, it keeps you warm in cold weather and cool in the heat.
If you have never worn sheepskin slippers and are curious to know about them, you are in for a treat here. For those who have actually searched for sheepskin slippers, you might have come across countless options. Picking the right pair can be daunting, especially when you have so many options to choose from, which appear so similar yet so different.
Therefore, we have put together this helpful guide to make your life simpler, warmer, and a lot more comfortable. In this guide to buying the best sheepskin slippers, we will discuss everything that you need to know about these awesome slippers. We will discuss what they are, why they are so good, their different types, and what you should expect from the best quality sheepskin slippers.
Additionally, we have thoroughly reviewed the top ten sheepskin slippers in the market right now. From the guide and the list of reviews, you will have all the information you need to pick out the pair that is perfect for your needs in this winter and all year round.
Best Sheepskin Slippers Buying Guide
Have you ever walked into any store that sells sheepskin slippers? You will be spoiled for choice with all the different shapes and sizes available. There is a slipper for every season. With so many options available, you might find it a bit difficult to select a pair that can best suit your specific needs. This is why you need to need to understand this product better.
Read on to learn essential information about sheepskin slippers:
What are Slippers?
Essentially, slippers are just comfortable footwear that you mostly wear indoors. Putting them on and taking them off is simply a matter of slipping your feet in and out of them – hence, the name slippers. Slippers are the best footwear for your feet after a long and hard day when you want to do nothing but relax.
While the shoes that you wear outdoors also provide a comfortable sensation, nothing compares to indoor slippers. Unlike outdoor shoes, our slippers tend to stay clean for many days as we wear them indoors. With slippers, the entire focus is on offering comfort and warmth to the wearer. You do not need to bother with traction for high speed turns or protection against rough terrain.
Why are Slippers Important?
Plenty of people choose not to wear anything at all on their feet when they are indoors. Or they might roam around indoors wearing socks only. That is completely fine if you like to roll that way, but there are several reasons that slippers can be an important part of your wardrobe.
Keep your feet clean
Perhaps, the most obvious reason why slippers are important is that they help keep your feet clean. Neat freaks and people who are generally concerned about their hygiene and cleanliness can appreciate the barrier that slippers provide their feet from the floor even when they are indoors.
Your home floors and carpets, no matter how clean you keep them, get dirty. It does not matter if you vacuum your carpets regularly or wipe the floors with a germ-killing cleaner, they can accumulate dust and microbes in no time. Walking around barefoot exposes your feet to bacteria, while walking around in socks will make your socks dirty.
If you don't wear slippers indoors, your feet will become dirty very quickly and you will have to wash them several times a day. If you are someone who is in white socks all-day-long, you know how difficult it is to wash out the stains from dirty socks. Slippers can remove all these problems for you.
Keeping your feet warm in cold weather
It is no secret that woolen socks are a favorite for most people when it comes to keeping their feet warm during the chilly winter seasons.
Combining woolen socks with sheepskin slippers, or even wearing sheepskin slippers on their own, can add that extra foundation between your feet and the ground. While it might not seem like much, you will notice a massive difference. This slight addition can completely prevent any chills from the cold floor creeping up to your feet.
Besides the underfoot area, your feet will have an extra layer wrapping them. The extra layer will not just keep the cold air from creeping up to your feet from below, but help keep them warmer by preventing heat loss due to exposed feet.
No more skipping on concrete floors in the summer
There are plenty of reasons you might find yourself walking outdoors for a little bit. Who would bother putting on a pair of socks and shoes for just a few minutes to go outside to check the mailbox, get the morning paper, and so on. You might be relaxing on the couch and would not feel like putting on a pair of shoes.
If you decide to walk outside barefoot in the hot summer season, you will feel like you are walking on coals. Imagine skipping, dancing and hopping on the scorching hot concrete pavement as you make a dash for the letter box. This is why slippers make life more convenient! Just slip on your pair of sheepskin slippers and walk outside without having to wear socks or tie laces.
Protecting your feet from sharp objects
Even within the confines of the four walls, you call home, many dangers can be lurking around, which can injure your bare feet. It can be anything from your child's scattered or isolated Lego blocks to the corners of your furniture stubbing your toes.
By wearing slippers indoors, you can keep your feet clean and comfy and protect them from sharp objects at your home. Where stepping on Lego blocks or stubbing your toe are relatively minor issues in terms of actual injuries, stepping on thumbnails is no joke. That can actually create a big problem for you.
Some sheepskin slippers can even protect you from the odd thumbnail lying on the floor. The most that will happen is that the thumbnail will embed itself in the slipper, but it will keep your feet free from penetration.
Types of Slippers
You would be surprised to know that slippers come in a variety of types, styles, and materials. There are several different designs that suit a number of people, based on their preferences and needs. While you might have a general perception about what a pair of slippers should look like, quite a few types of footwear may qualify as slippers.
Different slippers are designed for varying purposes. So, when you are browsing through different types of slippers to the perfect pair for yourself, make sure to take into account your specific requirements and expectations. These are important factors that can help you pick the right pair of slippers for everyday use. Here are some of the most common types of slippers and their qualities that can help you understand each one of them better.
Open heel slippers
Having a traditional design, these are the most widely used slippers. This design does not come with a backing on the heel of the slipper. That is why it has the name open heel slipper. Many people also call these slip-ons.
They are the easiest to put on and take off from your feet. As easy as that is, it means they are also the most likely to slip off by mistake. This also means you should not consider wearing them if you want to go out for a walk. They typically come with hard soles with little cushioning. While your heels are uncovered, open heel slippers do provide a bit of protection for your feet from the underside and the front to midfoot areas.
Open heel sheepskin slippers provide plenty of warmth to wearers, but the exposed parts of the feet can feel cold. It is a good idea to pair them up with a pair of thick, woolen socks to protect yourself in winters. The same quality about these slippers makes them great when it is warm. They allow your feet to easily cool down.
Read Also: Best Slippers for Women
Closed-back slippers
Closed-back slippers are more commonly known as moccasins. They are more akin to what you would consider shoes than slippers, but their design technically qualifies them as slippers. After all, you can easily slide your feet in and slide them out with very little effort. They resemble loafers a lot in terms of design. Loafers technically qualify more like shoes than slippers because they have laces.
Closed-back slippers have a backing on the heel of the slipper. The backing area holds the foot within the shoe and prevents it from slipping out too easily.
They are great as they come in a lot of variety. Moccasins can offer a lot of support with padding or can be minimal with a hard sole, depending on where your preference lies. If you are planning to walk around a lot with your slippers on, closed-back slippers made from sheepskin are amazing.
Slipper boots
Slipper boots definitely look and feel more like boots than traditional slippers. While other slippers can be made from a wide variety of materials, slipper boots are traditionally made using fleece or sheepskin. It is safe to say they can provide plenty of warmth and cushion for your feet.
These also come with a hard sole, and are ideal for wearing while walking. Slipper boots can help prevent heat loss since they can easily wrap around your entire feet. Therefore, they are perfect for keeping your feet warm in the winters.
The fact that there are no laces and that you can slide your feet in and out of the shoes with just a little bit of effort qualify them as slippers. However, keep in mind that slipper boots can be too warm for the summer days.
As they trap heat, your feet will sweat a lot when the weather gets a bit hot and uncomfortable. It is also better to wear these with socks because they can cause perspiration even in cold weather.
Sandal slippers
Sandal slippers are like a cross between traditional, open heel slippers and sandals. They have an open heel at the back and they do not cover the toes at the front. The wearer's feet are exposed to the temperatures outside, keeping them cool and dry. At the same time, they provide ample protection from the ground.
These slippers offer very little support for your feet, with the arch and heel particularly exposed to external elements. Sandal slippers look more like flip flops than anything else, with their straps between the two bigger toes. If the strap is too large, it can spread your toes too far and make you feel uncomfortable.
Sandal slippers are least recommended in terms of protection from injuries and warmth in cold seasons. This type of slipper does not come in sheepskin design because it would eliminate the practical benefits of sheepskin material.
Reasons to Love Sheepskin Slippers
Wearing slippers is the perfect way to keep your feet dry, comfy and safe. They can be made from a variety of materials, but sheepskin is a material widely considered to be the best. Let us take a look at why and why you will fall in love with sheepskin slippers as compared to the ones made with other materials.
They are comfortable all year
Perhaps, one of the most important reasons sheepskin beats all other slipper materials is that it is naturally thermostatic. Sheepskin adjusts to your body temperature to keep your feet comfortable, regardless of the season.
When the temperatures outside are too hot, sheepskin can keep your feet cool. On the other hand, when it is too cold, sheepskin is excellent for heat retention to keep your feet warm.
They are antibacterial and hypoallergenic
A lot of people love wearing slippers without the hassle of putting on or taking off socks. The only problem with the more closed slippers can be that they can cause your feet to develop a foul-smelling odor. When you have a pair of slippers made from sheepskin, you can bid odor farewell.
Sheepskin is a completely natural material that has lanolin. This material has antibacterial qualities naturally, which is perfect for keeping the smelly bacteria away from your feet. You can expect your feet to feel and smell fresh for hours while wearing sheepskin slippers.
Another great thing about sheepskin is that it repels mildew and dust mites. If you are allergic to these, your sheepskin slippers can help protect you from getting allergic reactions on your feet.
The material is naturally moisture-wicking
Even if the bacteria that cause smelly feet go away, moisture can definitely start to annoy you. Luckily, sheepskin does not just eliminate bacteria, but it is also naturally capable of wicking away moisture as compared to other similar materials.
Your feet will still sweat due to the warmth inside the covered areas of the slippers. But, the synthetic material will trap the sweat, and sheepskin will absorb the moisture from your feet. This will keep your feet comfortable and dry even if you wear the slippers without socks on.
Sheepskin is extremely durable
With all these good qualities and how incredible the material feels on your feet, you might expect sheepskin slippers to be too fragile to last long. You will be surprised to learn that sheepskin is in it for the long haul. Technically speaking, sheepskin is still genuine leather.
Unlike manmade synthetic fibers and faux leather that have shorter lifespans, sheepskin can withstand wear and tear for a much longer period of time. Once you find the perfect pair of sheepskin slippers for yourself, you can expect to enjoy them for several years. Of course, you should take good care of them so you can get the best out of them.
Sheepskin is the softest material when it comes to footwear
Sheepskin is definitely the best among all kinds of leather materials. Your feet will feel like they are getting the warmest hugs on all sides covered by the slippers. We do not think there is any material that can actually beat sheepskin in terms of comfort and provide the same level of durability.
Thanks to its durable nature, you can expect to get that same, comfortable feeling every time you wear these slippers for as long as the slippers themselves last.
Things to Consider when Choosing Sheepskin Slippers
Sheepskin leather is being increasingly used for making a variety of apparel and accessories in recent years, especially slippers. The material has actually been in use for slippers for a very long time. People in rural China, Australia, and the Arctic would use them to keep their feet warm.
Here are some of the things you should consider when you are picking out a pair of sheepskin slippers. Keep in mind, your requirements may differ from someone else's. However, the following are the most important factors that people need to look for when buying these slippers:
Sheepskin Quality
Your slippers are only as good as the material used. Due to the increasing popularity of sheepskin for slippers and apparel, there are a lot of producers that use imitative materials that resemble and sometimes even feel like sheepskin. But, there is a huge difference between these fake materials and sheepskin, especially in terms of quality. Unlike sheepskin, they have low quality.
Remember an authentic sheepskin shearling material never sheds. The loose wool that remains on slippers during the manufacturing process will detach itself with passing time. In cheaper alternatives, the wool itself will shed other than the loose fibers coming off. If your slippers are problematic, it is because of substandard tanning, and that makes sheepskin low quality as well.
Make sure you consider sheepskin slippers made by brands that are producing ethically sourced sheepskin. This is processed properly, from extraction to tanning and final production. Never go for the cheaper sheepskin alternatives that are flooding the market. The sheepskin slippers we have mentioned later in this guide are all genuine. We've carefully filtered out all the substandard options widely available in the market.
Color and Styles
As we've mentioned, sheepskin slippers come in various shapes, designs, and types. Each type of slipper can cater to a variety of needs and expectations that people have from these slippers. The type of slipper should be an important consideration when you are deciding on a pair for yourself.
Sizes, Comfort and Durability
Ideal sizes for sheepskin slippers can vary. There is rarely a need to wear something that hugs your feet tightly. Since sheepskin does tend to break your feet in, getting something a little snug means it will loosen up to become more comfortable later on. Depending on how much you plan to walk in them and the type of slipper you are going for, the size can vary, based on your preference.
Make sure that there is no compromise on comfort and durability for the pair you're considering getting. Each type might have different requirements in terms of durability based on how you will be using the slippers.
Our Top Picks
Best Overall Sheepskin Slippers: Overland Women's Emma Classic Sheepskin Slippers
Best Premium Quality Sheepskin Slippers: Acorn Women's Sheepskin Bootie Slipper
Best Value Sheepskin Slippers: UGG Women's Lane Slipper
---
Best Sheepskin Slippers
Finding and picking out the ten best sheepskin slippers in a market where there is such a huge variety is a feat in itself. Even when you have enough information, the number of slipper choices can still be overwhelming. This is why we have compiled and reviewed the top ten sheepskin slippers in the market.
These slippers range in terms of style and type, so you can count on finding a pair that will suit your needs. After you read the detailed reviews and compared them to what you learned in the buying guide, we are confident that you will be able to pick an ideal pair of sheepskin slippers for yourself.
The first entry on the list of the best sheepskin slippers is a pair of sheepskin boots made by Overland: the Emma Classic. These are the perfect pair of kicks to have on your feet in the fall and winter seasons. Their design makes these sheepskin slippers excellent for both indoor and outdoor use.
Whether you want to pair these slippers up with your pajamas or wear them with your jeans, these stylish boots will keep your feet feeling warm and comfy, no matter how cold it gets. These are made with genuine and incredibly soft sheepskin suede. The inner side of the slippers is lined with trimmed, natural sheepskin shearling. Rest assured, these slippers are incredibly soft and comfortable.
Available in a range of color choices, including blue, gray and chestnut, they are a cute looking pair of slippers. A cowhide leather trim and a thick outer sole made from high traction rubber make them suitable for outdoor use. One thing you should remember is that they come in full sizes. If you have a half-size, we would recommend going a size up rather than size down.
Pros:
Very comfortable and cute
Made using natural sheepskin shearling and genuine sheepskin suede
Good for both indoor and outdoor wear
Can be worn casually and as a fashion statement
Cons:
Inner sole is not well padded
Sticky soles make them a little uncomfortable when you walk on rugs
Only available in full sizes
---
Our second entry on the list of the best sheepskin slippers is also not a traditional open heeled slipper. Acorn's sheepskin bootie slipper, however, offers you the best of both moccasins and boot style slippers. The tongue and high sides of these sheepskin slippers are convertible so you can switch between moc style and boot style slippers at will with simple adjustments.
You can wear these in one of three ways. You can fold the sides and tongue down, you can slip them on with the tongue down and sides up, or just lace them up like a classic shearling bootie. Needless to say, you can enjoy the looks of different sheepskin slippers by investing in one pair. Speaking of investment, these kicks are on the more expensive side. A lot of people might not want to pay so much for them.
There are many reasons to love these slippers though. Their sheepskin shearling lining naturally wicks away moisture, whereas the slipper material is eco-friendly and hypoallergenic. The contrasting moc-toe stitching of these slippers adds to their overall durability.
The skid-resistant rubber outer sole makes them ideal for outdoor use while you drive. With that said, they are suitable for indoor use as well. You get a range of full sizes with these slippers as well as four different color styles to choose from.
Pros:
Extra warm and comfy
Natural sheepskin shearling construction
Two different styles in one
Three different ways you can wear them
Cons:
On the expensive side of the spectrum
Sizes tend to run a little small
Heavier compared to some of the other models reviewed
---
This pair of sheepskin slippers comes from a very well-known brand. UGG creates a variety of footwear and they excel at the use of sheepskin. The open heel Women's Lane Slipper is the third entry on our list, and it has a perfect minimalist aesthetic for people who do not want to wear something bulky.
The sheepskin suede upper features a UGG metal logo on the sides of each slipper. The notched style over the shank of these slippers adds a classic fashion touch to them. The shearling peeps out a little bit from the double seams of these shoes, giving it an impressive look.
The inner sole of the Lane Slippers is lined with 7 mm trimmed and natural sheepskin to provide your feet with constant warmth and comfort. The type of material used allows these slippers to gradually mold themselves to the shape of your foot, making them more and more comfortable the longer you wear them.
The nubby rubber soles offer excellent traction and added padding for your feet, making them suitable for indoor use. The fact that you can only get full sizes means you need to go a size up if you are half size. Available in five different colors, they are ideal indoor slippers.
Pros:
Minimalist style slippers
Molds themselves to your feet over wear
Stylish looking slippers
Grippy rubber soles that are ideal for indoor use
Cons:
Their open heel means they have a tendency to slip out from time to time
Only available in full sizes
---
Another open heel slipper made from sheepskin, the EMY Australia Women's Jolie Slipper is a treat for women. There is nothing easier to wear than an open heel slipper and this slipper takes it to the next level. Expect nothing but the highest quality sheepskin shearling and suede when you wear these.
The upper side is made with sheepskin suede, while it is lined with Australian sheepskin shearling — a material renowned for its durability and comfort. Australian sheepskin shearling is also a very effective material for regulating temperatures. It can keep your feet warm in winters and cool in summers.
The double-stitched construction adds more durability to these slippers. The dual-density EVA sole provides great support for easily walking indoors. You can even wear these slippers for those quick runs outside to get the mail or the morning paper. Furthermore, the rolled cuff of these slippers looks super cute.
With so many reasons to love these slippers, can it get any better? There are seven different colors available, but it is less likely to get all the sizes for every color. The darker colored shearling also tends to bleed its color a little when your feet are sweaty.
Pros:
Slide open heel style
Grippy and skid-free outer sole
Plenty of color options
Sheepskin shearling regulates temperature
Cons:
Not all sizes available in every color
Not available in half sizes
Darker color shearling tends to leave color on sweaty feet
---
Keeping up with the open heel slipper style, the Bearpaw Women's Effie Slide Slipper is perfect for those cold and harsh winters when you want to keep your feet warm but do not want to wear shoes indoors. These shoes look like a very cute cross between cable knit and natural sheepskin shearling.
The Bearpaw Effie Slide Slippers feature a supple and fleecy collar that helps retain the warmth in the area of the feet they cover. The lightweight knit upper section looks and feels great. A cow skin upper double is stitched to the upper so that there is a more secure fit between the upper section and the sole of the slippers.
The outer sole is made using thick and cushy rubber, making them great to walk in. The collar on the upper section also helps these slippers stay on your feet better, instead of just sliding your feet out every minute. The wool blend lining works well with the sheepskin footbed to create an incredible experience.
While there is sheepskin used in these slippers, the blend with other materials affects its drying qualities. You can only air-dry these slippers. They also come in full sizes only, like all of the other entries on the list so far.
Pros:
Super comfy and warm
Durable slippers
Rubber outer sole makes them suitable for indoor and outdoor use
Perfect for casual wear
Cons:
Has to be air-dried
Only available in full sizes
Size tends to run a little small
---
There are few things as comforting as the company of an old friend, and the footwear made by Old Friend truly reflects such a relationship. Women's Snowbird by the company is a pair of sheepskin slippers akin to the boot style more than traditional open heel slippers. In fact, these slippers look more like sheepskin clogs.
The product's suede upper features aesthetically pleasing whip-stitching right up the center and zig-zag details down the sides. The inside of these slippers is lined with fuzzy and warm sheep fur that you can count on to keep your feet warm, no matter how cold it gets outside. These slippers are more than suitable for both indoor and outdoor use.
Most slippers that feature outdoor-friendly designs can still be used indoors. The dual-density rubber outer sole on the Snowbird makes them very capable of handling adverse conditions outside your house. The rubber outer sole gives you a little more height and can protect you from the water in case it rains. You can wear these slippers practically anywhere.
The outer sole also boasts a great tread pattern that helps you get a good grip even if the floor is a little slippery. We haven't found anything off about these slippers, but a few customers have reported a funny fur smell from the slippers.
Pros:
High sculpted outer sole made with dual density rubber
Rugged tread patterns for better grip
100% sheepskin inner sole
Adds a little bit of height to protect you from getting wet on a wet floor
Cons:
Size runs a little small
Some customers found that the slippers have a funny smell
---
A lot of sheepskin slippers that you will find for indoor use are not particularly great when it comes to using around the house. Many more models happen to be quite bulky because of how manufacturers use sheepskin shearling. With the Snugrugs Elena Women's Sheepskin slippers, you will not just get a minimalist looking pair of closed-back slippers, you get one that you can even dance in.
These cute looking sheepskin slippers are made keeping indoor use in mind. They look more like ballet shoes rather than looking like traditional slippers, and that is exactly what you can expect from them. These ballet slippers deliver all the comfort from the sheepskin material in a petite style that gives you the perfect excuse to just stay indoors during the cold weather.
As they entail the use of suede for the outer sole, it means you should not wear them when you go out. While suede is a material that is suitable for use on a carpeted floor, rug or a wooden floor, it will not last long outside. Just keep in mind that these really are ballet slippers and they can tend to run small from the sides. You can get them in either dusty gray or pastel pink colors, depending on your personal taste and preferences.
Pros:
Ballerina style slippers
Sheepskin construction
High-quality construction
Cons:
Strictly made for indoor use
Size runs small
---
If you ever thought that you have become too old for bunny slippers, you might want to think again once you see the UGG Women's Addison Slippers. While they are still technically not bunny slippers, they do pretty much look the part, thanks to their adorable build. These UGG open-heel slippers are the plushest bit of footwear you will set your eyes on.
The curly and plentiful lambskin wraps around your feet, delivering a sensation that can be described as no less amazing than the cold side of the pillow. These slippers also boast a soft foam midsole, which makes the underside of your feet feel completely relaxed. The satin bow right on the front of the slippers completes the adorable aesthetic that the UGG Addison has to offer.
When buying a pair of sheepskin slippers, it is important to know that you are getting a genuine product. These stylish slippers feature the UGG logo metallic rivet so you know that you are getting something from one of the top brands of sheepskin slippers. The rubber outer sole does make the slippers useful if you ever have to head outside, but they can be worn indoors. Keeping them indoors will protect the plush exterior of the slippers.
A furry look means that the slippers are pretty difficult to keep clean. They do happen to be bulkier than a lot of others, but the fluff looks pretty amazing in peachy tan or gray colors.
Pros:
Best bunny slipper alternative
Cutest looking slippers on the list
Rubber outer sole makes them suitable for outdoor use
Cons:
Very difficult to keep clean
Fleece liner tends to wear out fast
Not a very practical pair of slippers
They stretch out quite a bit
---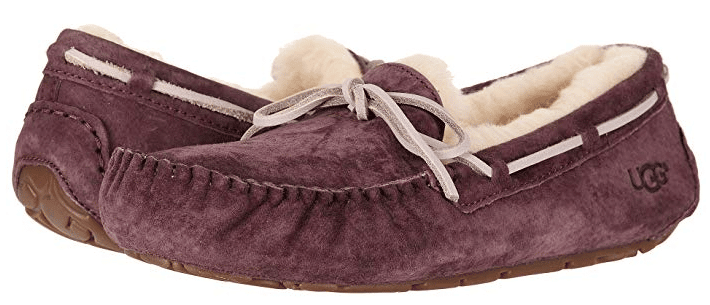 Another top-rated moccasin style slipper by UGG featured on our list proves just how amazing the brand is for sheepskin slippers. The list of the best sheepskin slippers would not be complete without the Dakota Moccasin slippers. These are suitable for indoor use and you can even take them outside due to their Silkee suede upper.
The material used to make these slippers is both soft and incredibly durable. The water-resistant suede also repels stains, so you do not need to worry a lot about these slippers becoming too dirty or their clean up. The inside of these slippers is lined completely with plush, pure, and furry wool.
The inner sole itself is made from the same furry wool at 17 mm thick to ensure that your feet have the most comfortable barrier from the ground below. Once you put on these slippers, you can go on for hours without ever wanting to take them off your feet. The rubber on the outer sole helps you keep a good footing. You can get plenty of color options but not all of the colors are available in every size.
Pros:
Classic moccasin style
Super thick sheepskin shearling inner sole
Non-skid rubber outer sole for outdoor use
Water and stain-resistant suede upper
Cons:
Can be pretty expensive
Size limitations in certain colors
Difficult to keep the inner liner clean
---
One of the biggest problems you may face with sheepskin slippers is that you will no longer need to use them in the warm summer months. With the Ripa Himalayan Shearling Slippers, that will no longer be a problem. This is a slipper made by the manufacturer so you can wear it all year round without ever feeling the need to throw them in the back of your closet.
The natural sheepskin shearling is everywhere in these slippers and even on the footbed. The material molds itself to the shape of your feet, keeping them warm. The sandal style upper is breathable and leaves your toes free to breathe. While this is not an ideal way of keeping your feet very warm during the winters, you can still wear them with a pair of socks to protect yourself from the cold.
The slippers come in sizes suitable for both men and women. The design options you get are all in neutral color options so there is a pair for everybody.
Pros:
Soft shearling lined straps
Blend of slippers and flip flops
Great design for indoor and outdoor wear
Cons:
Not the best for the coldest climate
No cushy liner
Shearling has questionable durability
---
The Best of the Best
With that, we hope you have all the information you need to pick out the perfect pair of sheepskin slippers for yourself. We understand that even with proper knowledge, ten options might be too much to choose from, and that is why we have taken out our top picks and laid them out for you.
The Best Overall Sheepskin Slippers
The Overland Women's Emma Classic Sheepskin Slippers comes in as our top pick and there's a good reason for that. This pair provides you with a complete experience that you can expect from the best sheepskin slippers at a reasonable price.
The Best Premium Quality Sheepskin Slippers
If you're willing to invest a little more money than people generally like to in slippers, the Acorn Women's Sheepskin Bootie Slipper is a great investment. It is a bootie style slipper that you can wear as a moccasin or a bootie in three different ways.
The Best Value Sheepskin Slippers
The most reliable brand when it comes to sheepskin slippers produced the UGG Women's Lane Slipper. These slippers offer great value for your money, and they feel amazing on your feet. They also have a price tag that is much lower than most of the other top sheepskin slippers.