Now that winter is full force, you might be thinking it's time to get your toddler some snow boots. Well, you're in luck. We've scoured the internet for the ten best snow boots for toddlers and compiled them here just for you. You're sure to find a pair of snowshoes just right for your little one. Keep reading to see which one is right for your munchkin.
Top 3 Best Snow Boots for Toddlers
Gubarun Winter Snow Boots – Editor's Pick
Merrell Snow Quest Lite 2.0 – Luxury Pick
Nova Mountain Boot – Budget Pick
Snow Boots for Toddlers
When it's time to buy footwear for your toddler, you want to be picky. Don't just grab a pair off the shelf at your local retail store. You need to be sure that the boots you pick are up to the crucial task of keeping your baby's feet warm and dry while he's out playing in the snow or jumping in the mud.
Cold feet can ruin anyone's day – especially a younger person. The last thing you want to deal with is a toddler who's gotten cold and cranky from poor boot function. Or worse, for your kiddo to end up sick because her boots weren't up to par.
We know you're a busy parent. That's why we've provided you with our top 3 best snow boots for your quick perusal. But if you're wanting to do more in-depth research on the topic before making a decision, well, we commend you.
In this guide, we're going to talk about the essential features of a good snow boot so you'll know what to look for before making your final pick. And that's not all. We're also going to review our top 10 favorite snow boots for toddlers. By the time you finish with this article, you'll be a toddler snow shoe expert.
What to Look for in Snow Boots
Without further ado, here's all the information you'll want to know before choosing your child's next pair of snowshoes. Each of the following factors should be considered a snow boot. And we'll explain why it's so important.
Are they Insulated?
The first thing you should check when looking for new shoes is insulation. A proper snow boot will have some type of insulation on the inside to keep your kid's feet nice and warm.
Often, this insulation comes in the form of a liner, which can be a soft material like fleece, wool, or faux fur. These types of fabric wick or absorb moisture, so you don't feel wet. If your kiddos feet sweat in his boots, he could end up with cold, wet feet, despite the waterproof design of the boot.
A wickable liner will absorb the dampness so that tiny feet stay feeling dry and warm. You won't have to worry about any more complaining of frozen toes if you get a good pair of warm snow boots for your toddler.
Will they Keep Feet Dry?
A common problem I see when people leave negative reviews on products is that they improperly used the product. It's especially common for boots. I can't tell you how many times I've read a customer complaint that a pair of shoes worked great at first – until they misused it.
For example, let's look at a crucial factor of boots – waterproof. When reading the product description for shoes, you must pay attention to the actual wording. Some snow boots will say they are water-resistant. Does this mean they are waterproof? Absolutely not.
Water-resistant means that they can withstand slight water, like walking through a parking lot in the rain. If your boots are water-resistant, they'll keep your feet dry while walking in the rain or snow. However, if you're trying to wear these resistant boots through a shin-deep puddle, be prepared to get wet.
These water-resistant materials shed water at first, but if they start getting too wet, the fabric will begin to absorb the water instead. If a shoe is going to be waterproof, it needs to be a waterproof material, like leather.
Most snow boots do come with a waterproof shell, which is where the rubber sole has been molded up the boot to keep the bottom part of your shoes completely waterproof. However, the shaft is typically not waterproof (The shaft is the part of the boot that comes up your leg and protects your ankle and shin).
How Do they Close?
The way a pair of boots secures to your feet is also a factor you'll want to consider. If the shoes are held on by a velcro tongue that doesn't stay secure, your kiddo's feet might get too much air and get cold.
A good pair of snow boots will zip up or have laces or bungee cords that will allow you to control the tightness of the boot shaft. Being able to have this extra adjustment is also handy for kids who have wide feet or thick calves. You might need boots where you can adjust the tightness.
Similarly, you'll want to consider how difficult, or natural, these boots are to get on and off. You want to find a kick that your child can put on without assistance, or with as little help as possible. Maybe he can get the boots on by himself; you just have to zip them closed. Teamwork does make the dream work.
How Tall are They?
You'll want to consider how tall you want your kid's boots to be before you purchase them. For a proper snow boot, you'll need a shaft that's between 7" and 9 inches tall. The boot will reach around mid-calf, which will keep your child's feet dry and warm.
The lower the boot goes, the less protection your kid's feet will have. The higher it goes, the harder it may be for your kid to walk. You don't want the boot coming up to his knees, but you don't want it to be low near your ankle, either.
Also, check the height of the heel and the platform. If your toddler hasn't gotten a complete hang of walking yet, a thick, chunky heel could cause him a problem while he's wobbling. A typical snow boot heel is usually around 1" tall. At this height, your child shouldn't experience much difference walking in boots compared to tennis shoes.
Look for Thick, Patterned Tread
A good snow boot will have thick, ridged tread. You want a beefy pattern on the bottom of your toddler's boot, so he'll have plenty of traction and grip while walking across icy ground. A lot of our recommendations come with anti-slip technology outsoles.
If the boot you're looking at has a smooth tread pattern on the bottom, you'll be better off making that into early spring, late fall type of boot. Not one that you'll want to let your child wear out in the slippery ice and snow – and probably not the rain either.
You'll most certainly want to make sure that the bootie you pick has a rubber sole as well. Rubber is waterproof, meaning that as long as it is made correctly, water won't get inside. Remember that waterproof is different than water-resistant.
Top 10 Best Snow Boots for Toddlers
Now that we've covered some critical features that you'll want to consider when picking your toddler's next pair of snowshoes so let's look at our top 10 favorite snow boots for toddlers. We're going to explain their features and give you our pros and cons so you can make an educated decision on which pair would be best for your child. Happy reading!
10 Best Snow Boots for Toddlers
Out of all the snow boots we've looked at, the Gubarun Winter Snow Boots takes the cake for our Editor's Pick of the best snow boots for toddlers. These boots are available for toddlers in sizes 6.5, 7.5, 8.5, 9, or 10. These adorable boots are also available for little kids and big kids. However, there are no infant sizes.
These snow boots have a textured rubber outsole with slip-resistant technology and are completely waterproof. Not only do they have a thick, gripped rubber bottom sole, but the fabric and leather upper are also waterproof, so your children's entire feet stay dry from the tippy-toes to the high calves.
The inside of these comfy boots is thick faux fur, which does provide plenty of warmth. However, this fur is not wicking, so many customers complained that these boots would make your feet too warm.
These 9" boots hug your calves with two adjustable elastic straps that provide you with reasonable control of how tight the shoes fit. The hook and loop closures are easy to snap closed, although it might be hard for younger toddlers to unclasp them. The clasps secure the boot closed with velcro.
These boots were made to be easy to get on and pull off, although there is no pull tab at the back to assist with getting them on. These boots fit true to size, although you might want to get a size larger if your child is wearing thick socks.
You have a wide variety of colors and styles to choose from: black, blue, gray, purple 75, rose red, purple, blue/black, black, pink, dark blue/red, black-gray, blue75, light gray, deep pink, or black 2. And at a reasonable cost, you can buy multiple pairs to match all your child's outfits.
If you're looking for a stylish snow boot that will keep your toddler's feet warm and dry, try our Editor's Pick, the Gubarun Winter Snow Boots.
Pros:
Waterproof
Toddler, little kid, and big kid sizes
Lightweight
Faux fur liner
Multiple color options
Cons:
Can make feet sweat
Not available in all toddler sizes
No infant sizes
If you're looking for a 100% waterproof snow boot that will work for your toddler, check out our luxury pick the Merrell Snow Quest Lite 2.0 Jr. With an easy pull tab on the back of the 6" shaft, your toddler can get these boots on and off with no problem. Talk about a great way to make them feel like big, independent kids!
These slip-on boots have a bungee cord pull string with an adjustable hook and loop closure so you can provide a customized fit. The boot opening is 6", meaning if your toddler has a thicker calf, these might not be the right boots for you.
Your child's feet are sure to stay warm with the soft M Select 400 gram insulation, which is rated for up to -25° temperatures – although some customers did mention that these boots aren't as cold-resistant as expected.
The temperature ratings are based on high activity levels. If your child is not active while wearing these, the warmth protection might not be as adequate. We should also mention that these boots do not have wicking properties. If your feet sweat, your feet will feel wet.
Merell uses a signature IMEVA rubber shell around the entire rounded-toe boot to provide a 360-degree flex for maximum comfort and protection against water and snow. These boots have a Select GRIP flexible, non-marking sole, and are made using M Select Dry waterproof construction.
This style boot is available in two colors – gray/purple or pink. You can get these in toddler sizes 5 to 10. If you want a quality snow boot with all the essential features you need, we present our luxury pick the Merrell Snow Quest Lite 2.0 Jr.
Pros:
Waterproof
100% leather
Insulated
Works in -25° temperatures
6" shaft
Cons:
Temperature resistance is based on activity levels
Some toddlers might not stay as warm
Insulation does not wick moisture
If you're on a budget, we've got you covered. Check out our budget pick snow boots made by Nova. These shoes have all the critical features you'd want to keep your toddler safe and dry rain, snow, or shine.
Need them to be waterproof? Check. Nova boots are made of waterproof synthetic materials with a fabric upper. What this means for your tot is that the bottom half of his shoes will keep him nice and dry. The top half is water-resistant, meaning it'll protect from water to some degree but not completely.
These boots are a snap to get on. Just loosen the bungee cord tie and slip your foot inside. It's so easy that even a toddler can do it. Having to help your child with his shoes will be a thing of the past with these slip-on boots. There is no pull tab to help pull these boots on, but they do have a gusseted tongue that can fold forward so your toddler can easily slip his foot inside.
These adorable toddler boots are lightweight at 1.3 pounds, so your baby won't get tired of walking around wearing them. Cold weather won't be a challenge for your toddler in these bad boys. They're rated for use in temperatures as low as -25°F.
Thick faux fur helps keep your kiddo's feet toasty, while a reflective patch on the heel helps keep them safe when they're playing outdoors. The cushioned footbed keeps your toddler's feet comfortable and supported for all-day adventures. And the anti-skid outsole provides traction and grip, so there's no slipping on icy patches. Your toddler will have complete safety in these fashionable boots.
These shoes are available in a wide variety of different sizes, styles, and even models. Just how many, you ask? Try 17 options to choose from. You're sure to find a choice that matches your child's fashion tastes. You can get these cute little boots in sizes 6 to 10 toddlers, 1-3 and 11-13 in little kids, or even 4 or 5 big kids. However, not every style is available in every color.
If you need a stylish snow boot that doesn't skip on the safety features, try our budget pick the Nova Mountain Boot.
Pros:
Waterproof
Insulated
Anti-skid outsole
Cushioned footbed
Easy to get on and off
Cons:
No pull tab for easy on and off
Not all styles are available in all sizes
Water-resistant upper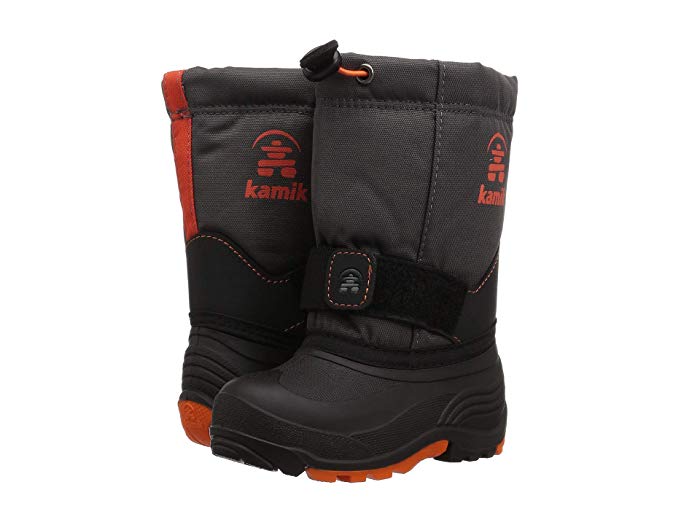 While this boot didn't make our top three, it certainly earned a place in our top 10. Made in the USA with imported and domestic materials, the Kamik Rocket Wide is ideal for extreme temperatures, with a temperature rating of -40℉. These are the perfect example of how snow boots should be made.
These 13-ounce boots are designed wide so your child will have plenty of room; however, you don't want the shoes to be too loose. This can actually make your baby's feet colder. With an upper made of 600 denier nylon and a seam-sealed bootie, these are the ultimate waterproof boots.
The shaft is nine ¼ inches high with a leg opening of 12 inches and a platform height of ½ inch. These boots are available in a ton of color options – 21, to be exact. Although not all colors are available in all sizes. Toddlers, little kids, and big kids alike can all match with these durable, well-constructed snow boots.
The moisture-wicking liner keeps your toddler's feet from sweating so they'll be nice and dry. The 8mm Zylex arched sole footbed is removable for easy cleaning and drying. And it's made of 97% recycled material for those of you who like to go green. Need to put in a specialized sole to treat flat foot? No problem.
A synthetic rubber shell keeps your feet dry while the trademarked SNOWAVE outsole gives your baby all the traction he needs for icy ground. The deep lug tread makes for perfect gripping, so you don't have to worry if your toddler is teetering through the mud.
An adjustable hook-and-loop ankle strap and adjustable toggle collar give these boots the perfect custom fit. While most customers felt these boots were true to size, a lot did find that these boots were too narrow.
You can get these boots in sizes 8-10 toddler, medium, and wide sizes. But you can also get them in little kids sizes 1-3, medium and wide, and 4-7 big kids sizes.
If you're looking for the perfect cold-weather snow boot for your toddler, try our recommendation for the Kamik Rocket Wide.
Pros:
Made for wide feet
Large selection of colors
Waterproof
-40-degree temperature rating
Removable footbed
Cons:
Some customers felt these boots ran narrow
The wide toe can make the shoe fit improperly
Not all colors available in all sizes
Next on our list of the best snow boots for toddlers is the Sorel Kids Flurry. These snow boots are available in 7 colors – collegiate navy/atmosphere, black/bright red 1, black/city gray 1, black/super blue 1, dark gray/warning yellow, quarry/cyber green, or red jasper/mountain red and in sizes toddler 8-10, little kid 11-3, and big kid 4 to 7.
An injection-molded thermal rubber shell makes these boots waterproof. They're also wind-resistant – the upper of these boots are made of a polyurethane-coated synthetic textile so your little one's feet will stay warm and toasty.
A gusset tongue keeps debris out of your shoes; however, it can let in cold air if not properly strapped up. The inside of these shoes is lined with a Sherpa pile snow cuff, and a removable 6 mm washable felt liner that's made from recycled materials.
An adjustable hook-and-loop velcro instep strap lets you adjust these shoes to fit your child's feet around the ankles so you'll get the perfect fit. The bungee cord fastener controls how tight these boots fit around the calves. Some customers felt that these boots weren't true to size.
The manufacturers took great care to make sure these boots are warm and safe for your toddlers. A 25 mm bonded felt front plug midsole cushions your toddler's feet. The lug sole – the tread of your shoes – is multi-directional, giving your kiddo plenty of traction for mud or ice alike. However, the tread isn't very deep, so it might not be as supportive as you need.
Rated at -32°F, these boots make the perfect winter companions for your toddler's tootsies. They're lightweight at just 10 ounces, with a 7 ½ inch shaft and a foot opening of 11 inches.
If you're looking for a pair of stylish boots that can resist cold temperatures, water, snow, and even wind, check out the Sorel Kids Flurry.
Pros:
Waterproof
Wind resistant
-32° temperature rating
Lightweight
Made of recycled materials
Cons:
Gusset tongue can let in air
Might not be true to size for all users
Not very gripped
Another excellent snow boot we love is the Northside Frosty Snow Boots. Available in 43 different colors, there's plenty to pick from. Although not all color choices are available in every size. Speaking of sizes, these shoes come in 5-10 Toddlers, as well as sizes 1-6 and 10-13 in little kids and 1-7 and 12 or 13 in big kids.
Made of 100% nylon, these simple waterproof slip-on boots were made with young children in mind. There's a pull tab on the back to assist your little one with getting dressed. It even has a reflective strip for added security. The velcro hook-and-loop strap provides a slight degree of fit adjustment, but it won't help if the boots are too big. It's important to remember to get the right size.
The shaft is 7.5," and a bungee cord collar allows you to cinch the boot as tight around the calf as needed for a warm, secure fit. There's a 1-inch heel, and the platform is about .25" high. The boot opening is around 12.5," which should be suitable for most toddlers.
These boots are rated for -25°F temperatures, thanks to 200g Thinsulate. While this is a nice feature, remember that some of our other selections are better for extreme cold. On the inside, a Berber liner provides extra warmth and comfort while also wicking moisture from sweaty feet.
The bottom half of these shoes is protected with a fully waterproof TPR shell with a slightly gripped non-slip rubber outsole. These boots even have an EVA removable insole covered with Berber lining that is machine washable. No more smelly boots in your household.
At just 8 ounces, these boots are light enough to wear all day without complaint. These boots are imported, so it's essential to follow the size chart to make sure you order the correct US size.
As a precaution, we'd like to point out that these boots do come with a California Proposition 65 warning, which means these boots are made with chemicals that have been known to be harmful to your health. Click the link to learn more.
If you're looking for a basic design waterproof snow boot that will keep your toddler's feet warm in temperatures above -25°F temperatures, we recommend the Northside Frosty Snow Boots.
Pros:
Waterproof
Huge selection of colors and styles
Easy on and off
Berber lined and lightly insulated
Lightweight
Cons:
California Proposition 65 warning
Imported so sizes might not match
Not meant for extreme cold
Arctic Shield is known for making quality hunting equipment meant for even worse weather conditions. When we found out they also make toddler boots, we had to include them on our top 10 list for the best snow boots. The Arctic Shield Snow Boots have everything you'll need for a perfect winter boot for your toddler.
One downside that we weren't too pleased about with these boots is that there are only two color choices available – pink or blue. Pretty simple right? These boots have a 9" opening and a zippered front for easy on and off. If your toddler has thick thighs, he might find these boots too constrictive to be comfortable for long periods.
A slip-resistant outsole keeps your children's feet dry and warm against rain, snow, or mud. While a heat-resistant Arctic Shield insulation returns up to 90% of your child's body heat, so their feet stay warm and toasty – it's like having a built-in heater.
These boots are water-resistant, not waterproof, but they are windproof, so you don't have to worry about those arctic chills ruining your child's day early. These boots do weigh 1.5 pounds apiece, which is heavier than some of our other recommendations.
You can get these in sizes 5-10 Toddler, 1-3 and 11-13 little kids, and size 4 in big kids. Although these boots are insulated, they do not have a wicking liner, so your baby may complain of damp feet from sweating. There's also no arch support or removable cushioned inner liner.
If you're looking for a zippered snow boot that can endure snow, wind, and rain, check out our recommendation for the Arctic Shield Snow Boots.
Pros:
Windproof
Retains 90% of body heat
Cons:
Water-resistant
Only two color options
No wicking material on inside to keep feet dry from sweat
The Tundra Quebec Wide Boots have everything we look for in a great snow boot, which is why they made it onto this impressive list. With a classic snow boot design, these water-resistant nylon boots are temperature rated at -22°F.
They're available in 5 colors – black/grey, black/lime green, black/red, black/royal, or navy, and in sizes 5-10 toddler, 11-3 little kids, or 4-5 big kids. These are wide boots, so if your toddler has a narrow foot, these aren't the right boots for you.
Weighing 1.13 pounds, these boots are a bit heavier than some of our recommendations, but they certainly aren't the heaviest on the list. They have a heel height of 1 ¼", which is the highest of all the boots we've featured. They have a 9" shaft and a boot opening of 14 ½". If your toddler has chunky, wide feet and thick calves, you might have just found the perfect winter boot for him or her.
The nylon upper is water-resistant, not waterproof, but the thick rubber outsole and shell provide some waterproofing. As long as your youngin' isn't traipsing through water, snow, or mud past his ankles, his feet should stay pretty dry.
There is no pull tab to help get these boots on, but there is an ankle strap to help keep a secure fit. The adjustable bungee cord collar toggles closed on the back of the heel, so you get the best fit around the calves.
On the inside, there's a felt liner that provides extra warmth for your child's little feet. However, the material is not wicking, so your kiddo might end up with damp socks from sweating. The liner is not removable, which is a bummer because wet shoes can start to smell over time.
If you need a simple snow boot that will be suitable for mild snowstorms and temperatures, we present to you the Tundra Quebec Wide Boots.
Pros:
Waterproof rubber outsole
Rated for -22°F temperatures
Ankle strap and bungee cord strap for proper fit
Felt liner
Made for wide feet
Cons:
No wicking liner for sweaty feet
Liner is non-removable
Only water-resistant, not waterproof
With only two more spots to go, we couldn't leave out the fabulous Cior Snow Boots. Available in 22 different colors and styles, these adorable toddler boots give you everything you need for a proper snow boot. However, not all colors are available in all sizes or styles.
Available in toddler sizes 5-9, little kid's 1-4 or 10-13, these boots come in four different styles.
All styles are oxford material, which is water and wind repellent. And all styles have a non-removable fur liner to keep your toddler's tootsies nice and warm. The V shape design gives your toddler extra room and makes these boots more flexible
Style one is a slip-on with a bungee cord collar to provide ultimate fit against your calf with a side zipper. However, side zipper boots can be a bit more challenging to get on if your toddler has wide feet as the opening doesn't stretch as wide.
The second style is a pull on with a hoop and loop velcro strap that will keep the boot secure on your child's foot. The third style has two velcro straps that secure over the top of your child's foot and ankle.
The fourth style has a velcro strap that wraps from the back of the boot to secure around the ankle. You can fold these down into an ankle boot, which allows for easy on and off access. Your color choices are:
Black
Blue
Gray
Pink
Navy rose
Red
White
A non-slip rubber sole provides traction and grip, so you don't have to worry about your toddler toppling down. Although adorably patterned, they're not thickly treaded, so you may not get the best results in severe conditions. If you're genuinely safety conscious, these boots have reflective piping on the heel for visibility in the dark.
All of these styles of boots are so lightweight; your toddler will hardly notice he's wearing them. They only weigh .64 ounces.
If you want a stylish boot that will keep your toddler's feet dry and warm, check out Cior Snow Boots.
Pros:
Huge selection of colors and styles
Lightweight
Non-slip outsole for better traction and safety
Reflective strip on the heel
Oxford material for waterproof
Cons:
Not thickly treaded
Side zipper can be hard to get on
Not for wide feet
Last but not least on our list is ICEFACE Winter Boots. These stylish boots are the ultimate in winter fashion and comfort. Rated for -20 degree temperatures, your toddler will stay warm and look good with these winter shoes.
Most customers found that these boots fit correctly; however, the manufacturer warns that these boots may run small, so it's best to get a size bigger than you usually would. You can get these in sizes 8-10 toddler, 1-3 or 11-13 little kids, or even 4-7 in big kids and seven colors – black, pink, red, plum, rose-red, purple, or gray/pink. Some of these styles are better suited for girls rather than boys.
A waterproof rubber shell keeps your feet dry while an oxford cloth upper repels most moisture. A faux fur collar protects the top of the boot, so no rain, snow, or other debris can get inside. The faux fur liner extends through the whole boot for complete dryness and warms to your toddler's tippy toes.
Get the perfect fit with a one-pull bungee lacing system, which makes them snug against your calves. These boots are easy to get off due to the ribbed rubber back, but they do not have a tab to help pull them on.
The anti-slip rubber sole keeps your toddler's feet dry from snow and water while the deep tread provides traction and grip so you can let your toddler play without worrying about slipping on icy ground. The deep tread pattern makes these the perfect boots for nasty winter weather.
If you're looking for a tall, fur-lined stylish snow boot for your toddler this winter, consider ICEFACE Winter Boots.
Pros:
Stylish
Fur-lined
One pull lacing
Anti-slip rubber sole
-20 degree rated
Cons:
Style and colors are a bit girlish
No removable insole
Can be challenging to get on
Protect Your Toddler with the Best Snow Boots
This winter, make sure your toddler's got all the protection he or she needs with proper snow boots. We've given you ten great options to get you started on your search. But don't forget about our top three picks for the best snow boots for toddlers.
Gubarun Winter Snow Boots – Editor's Pick
Merrell Snow Quest Lite 2.0 – Luxury Pick
Nova Mountain Boot – Budget Pick