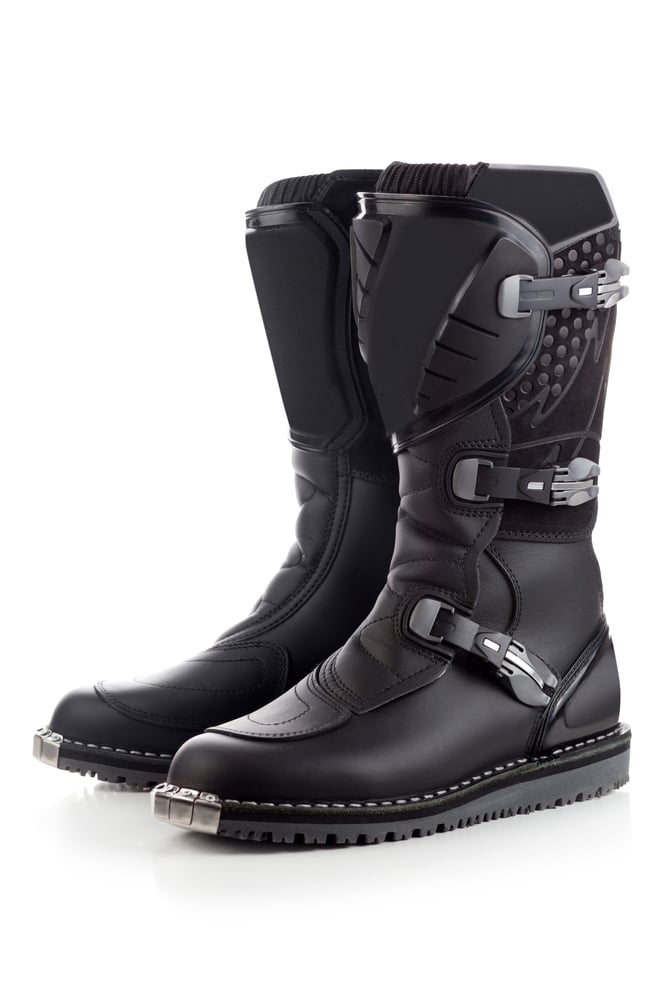 Motocross boots are an essential part of any rider's wardrobe. While a full motocross suit on its own is vital, your calves and ankles are some of the most vulnerable areas of your body while you're out on your dirt bike. Dirt and mud can easily spray across your feet and ankles, and if you're out on the trails, branches, rocks, and sticks can be even more dangerous.
Not to mention that keeping your feet and ankles supported and strong while dirt-biking is extremely important. Almost all of your support and balance originates in your legs, and if your boots don't support that, you could end up losing your balance and falling off.
While your motorbiking boots need to support and protect you, they need to be flexible and breathable, too. If you can't flex and move your feet to reach all the pedals you need while riding, that can cause enormous problems.
Coupled with the fact that motocross boots can vary widely in price, there can be a lot of options, add-ons, and features to sort through. As such, with this list, we've compiled a broad assortment of motocross boots across several categories. Regardless of whether you're new or old, experienced, or a novice, you should be able to find something on this list that speaks to you.
Our Top Picks
Parts of a Good Motocross Boot
There are several parts of a good motocross boot that you should keep in mind while shopping. Different riders will have different priorities, of course, but to start, you should keep in mind things like:
Protection
Appearance
Flexibility
Grip
Materials
Features
Comfort
Price
The trifecta of traits, of course, is protection, comfort, and function. It makes little sense to wear motocross boots if they don't protect you in the process, and wearing uncomfortable boots is equally as bad. Additionally, if your shoes don't fulfill the functions you need, they're useless.
Price is an incredibly important metric, too, as you'll get more bells-and-whistles as your budget goes up. Don't forget that you can still get excellent boots for a budget price if you take the time to look, though.
Read Also: Best Ski Boots
Protection
The primary purpose of motocross boots is to protect your feet and legs from injury. This can be as simple as scrapes, grazes, and bruises from impacting flying rocks and sticks, or it can be as advanced as protecting a rider's calf bone from breaking when impacting the ground during a wipeout.
Predictably, the faster and more intense your motocross activities, the more protective your motocross boots should be. For someone who regularly jumps and does stunts, a more protective boot that keeps the calf rigid and protected is extremely important. However, for someone who tends to drive more slowly across trails with no jumps, they may be able to get by with a bit less protection.
It's never a good idea to skimp on the protection of your motocross boots. You can never get too much protection, after all. However, an appropriate amount of protection is okay, too. More security is always good, but it tends to be more expensive, also. A good, sound pair of motocross boots that's appropriate for your current activity level is enough.
Read Also: Best Yoga Shoes
Comfort
The next most crucial part of your selection will be how comfortable the boots are. When you're dirt-biking, you might spend hours at a time in your motocross boots. If you're at a camp or competition or you're on vacation, you could even spend days in your boots. While they're not really meant for wearing off your bike – they're made to maintain the position your legs occupy while riding a dirt bike – they should be comfortable there nonetheless.
If you're in constant pain or discomfort while wearing your motocross boots, not only will your focus be less than optimal while riding your bike (which can be incredibly hazardous), but you'll end up with foot problems, too. Ill-fitting, uncomfortable motocross boots can result in issues like:
Plantar fasciitis
Blisters
Corns and calluses
Hammertoes
Ingrown toenails
Function
Of course, if your shoes don't fulfill your needs in a motocross boot, there's little point in having them in the first place. While you may need to compromise a bit on function if you're looking for a budget boot, try not to if you can help it. After all, if you buy the wrong boots for your motocross activities, such as trail boots instead of track boots, you'll end up with extras that you don't need and a lack of what you do need.
Function in a motocross boot can go in many different directions. For example, motocross boots can utilize one or multiple different closure techniques, such as zippers, clips, velcro, laces, and more. If you dislike one type or find that it doesn't work well for you, you may be able to find a boot that uses a different one if you look carefully and are flexible with your budget.
Price
While we didn't list price as one of our "trifecta," cost is, essentially, the be-all and the end-all of your motocross boots. If you want certain features, but you can't afford them, well, your choices are to give those features up or save more money and buy them later.
There are more creative ways to get around price barriers, of course. For example, you can look into purchasing second-hand boots in your size if there's a particular pair you want that you can't afford new. You can wait for sales on specific boots, too, if you're patient enough. However, as a general rule, your budget is the biggest determiner of the quality of the motocross boots you'll end up purchasing.
Best Motocross Boots
While motocross boots have a similar look regardless of their shape and size, they vary in every observable way, including color! In the sections below, we'll introduce you to our very favorite motocross boots, spanning across a wide range of colors, sizes, and prices.
These boots from O'Neal are an excellent all-around boot and a great starting point for our lineup. These boots are sturdy and are of good quality for the price, so they offer decent value, too. However, like any other shoe, they have some drawbacks.
Some motocross boots are made to be waterproof or at least water-resistant if they're made to be worn in wet or dirty conditions. These shoes, however, are not water-resistant at all. They let water in rather quickly. If you hit as much as a puddle, you'll have wet socks for the rest of your race or practice.
While wet feet are never fun, it's easy enough to avoid this by wearing hydrophobic socks or applying a water-repellent layer to your boots. For an entry-level boot with an impressive amount of features, this is a drawback that's pleasantly easy to work around. Additionally, because the water gets in so quickly, that means air can get in easily, too. These boots breathe quite well, which not all motocross boots can boast.
These boots don't have the best traction in wet conditions, either, so if you invest in these, it may be best to shelve them when the weather is wet outside. While not everyone has that luxury, of course, do keep in mind that these shoes make much better dry than wet shoes. They can work, but they're not ideal in wet conditions.
As far as flexibility, these shoes could use some work. They're not ideal for walking in, so if you're looking to make a pit stop at a gas station or on a trail ride, you should either bring walking shoes with you or invest in a more flexible type of shoe. This is rather easy to work around, too, though taking an extra pair of shoes with you while out on the trails is easier said than done when you're in full motocross gear.
As such, this boot is definitely more suited to an asphalt track than anything else. If you keep them away from mud and water, these shoes will perform exceedingly well for you, with few drawbacks. However, they can work as an all-around boot for the beginner, too, as long as you're sure to address the moisture issue.
Pros:
Durable and long-wearing
Excellent price
Comfortable
Excellent leg protection
Breathable
Cons:
Leaky
On the thin side
A bit stiff
Not great for walking
This Element boot from O'Neal is the brother to the Rider we looked at above. Unlike the Rider boot, this boot comes in white to match other color schemes, but other than that, it's almost identical to the Rider boot in terms of specs (even price).
However, these Element boots, though they start stiff, soften up more than the Rider boots do. While the break-in period is a bit long, if you give it time, these boots will eventually soften and allow you to get a decent amount of movement out of them. They can even soften up enough to be suitable for some minor walking. Of course, this is mainly dependent on how much you wear them, but it's possible.
While both these and the Rider boot are quite comfortable, the Element boot has extra padding and heel support for a bit of extra comfort, too. Additionally, they're geared a bit more towards water resistance and less toward breathability.
As such, if you really need a breathable boot, the Rider style might be best for you. The Element boot doesn't breathe as much, but it's much more water resistant than the average boot. It all depends on precisely what you want in a motocross shoe.
Unfortunately, the buckle system on these boots (and many others like it) is a bit controversial. While it's not a problem if you're used to buckle-style motocross boots, they can be hard to buckle if they're not perfectly centered. As such, those who are used to buckles most likely won't mind, but those who dislike buckle-style closures may hate these boots.
All in all, these are excellent entry-level boots, just like the Riders above. While some riders may not like the buckle system with these boots, they're an excellent value, so it may be worth compromising over. These boots provide a unique mix of just about every other requirement, including water resistance and comfort, so they make both an excellent introductory boot and a great budget boot for experts.
Pros:
Water-resistant
Good protection
Comfortable
Flexible (after break-in)
Suitable for short walks
Great for beginners and experts alike
Excellent budget price
Cons:
Finicky buckle system may bother some people
Long break-in period
The Fox Racing Comp boots are an exceedingly popular variety of motocross boot that has variations for men, women, and children, too. This boot is fundamentally different from both of the O'Neil boots we've looked at so far, and you will probably see why if you look at both brands side-by-side.
These boots look a bit like the inner area was cut off and replaced with gripping material. In practicality, it wasn't simply cut off – this is how these boots were designed. The shoes are made to have extra grip on your motocross bike for jumps, bumpy conditions, and whatever obstacles might come your way.
While this gripping material serves its purpose, it does have an unfortunate downside. It's just not as durable or as thick as the synthetic exterior material typically used on motocross boots. It can be prone to puncturing and shearing, among other things.
As such, while this extra grip can be convenient, you need to be extra careful while wearing these boots to keep it intact. Because of this, these boots may not be a good option for trail riders or for those who treat their boots roughly.
Like the other two boots we've looked at so far, this boot has a TPU shin plate that protects the lower leg from injury and damage. However, unlike our other two, this boot has an internal lacing system in addition to its buckle system to help provide an even better fit. Since boots like the Element can fit some people differently due to different foot shapes and sizes, this extra lacing system helps secure a better fit than its competitors can manage.
All in all, while this Comp boot has some advantages over our other options, it has some drawbacks too. It's a tad more expensive than the O'Neils we looked at above, though its only practical advantage over them is the extra lacing system inside the shoe. While some riders might appreciate the grip area on the inside of these boots, they may end up doing more harm than good since it's somewhat fragile.
Pros:
Extra lacing system provides a snug fit
Comfortable
Flexible
Cons:
Runs small
Gripping area is fragile
Extra features don't justify the extra price
With this boot, we're back to O'Neal, but this time with an entirely different type of boot. This time, we have a "shorty" two-buckle model that only reaches up to the ankle. While these shoes are undeniably motocross boots, they don't have nearly as much protection as a full-sized motocross boot.
As such, this boot isn't appropriate for the trails or the dirt track. While it's inexpensive, it's intended to be a shoe that motocross and motorcycle enthusiasts can wear both on and off their bikes. Because of this, it offers much more freedom of movement, but at the cost of a significant amount of protection.
While these shoes will work okay for a bit of off-road riding, be aware that it only takes one accident while wearing non-protective boots to leave you hurt or disabled. The shin and ankle areas of your legs are particularly vulnerable while riding a motorcycle or dirt bike, but motocross boots usually mitigate this risk. These boots, however, only protect your feet and most of your ankle.
Be very cautious if you plan to wear these boots for recreational riding. While they will work for it, it's incredibly dangerous, and we do not recommend it.
Surprisingly, these shoes are somewhat heavy, despite missing the shin protectors that some of the other boots in this list have. That being said, though, they're easy to put on and take off, and what protection they do provide is excellent. They're also incredibly stylish, suitable for everyday wear in addition to wearing on your bike.
However, these should not be your only (or even your main) pair of motocross boots. If you're an individual that's always on their dirt bike, even on the way to work and the grocery store, these boots have a place in your closet for sure. Otherwise, they're nothing more than an expensive fashion statement.
Pros:
Attractive
Inexpensive
Comfortable (with break-in)
Sturdy
Cons:
Not enough protection for trails and races; only appropriate for street riding
A bit heavy
These Maverick boots by Fly Racing are the first colorful boot to feature in our roundup! This boot is available both in a basic black and white and in a more eye-catching black and lime combination. This is another affordable boot for beginners and budget-minded experts alike, and while it may be lacking some high-end features, it provides all the basics that you need in one unisex package. This is truly the beginner boot of beginner boots; it even comes in a youth size.
Unfortunately, these boots are a bit stiff, and that's a result of the external molding on these. However, that's somewhat to be expected of a full-size motocross boot. The trade-off for this, though, is that you have a pleasant amount of water resistance in exchange for that flexibility.
These boots fit nice and snug, which is to be expected of any motocross boot. However, they have rather slick bottoms, which is also common in motocross boots, but it can also be dangerous in slippery conditions. If you plan to wear these out in the mud, be very careful how and where you walk.
These boots do run a bit large, so keep this in mind when ordering yours. However, besides their extra color choice, these shoes aren't much different than the O'Neil boots we reviewed at the beginning of this article. They have more or less the same features. However, because they have the same features at the same price, this enables you to nitpick your favorite features, such as color, as well.
Additionally, these are unisex shoes that are available in a variety of sizes. While unisex shoes tend to fit both sexes a little worse than shoes designed for one specific sex, these are still an excellent option for beginners. Unisex boots, for example, tend to cost less than motocross boots made specifically for women or men.
All in all, these shoes aren't that different than the shoes we've already looked at in this article. They're a great value shoe because of their unisex status, but other than that, they're rather basic. That basicness, however, makes them an excellent novice's boot.
Pros:
Inexpensive
Basic
Functional
High-visibility option
Sturdy
Breathable
Cons:
No new features; generic
Slippery
Rigid and inflexible (before break-in)
Finally, we come to a premium option in our motocross boot lineup. These boots from Alpinestars are the most expensive option on our list by a significant margin, but that premium price is reflected in this boot's features. For one, these shoes come in several different colored options, so you can match your outfit, your bike, or both if you so desire!
The first thing you'll notice that's different about these boots is the quality of the materials. These motocross boots both look and feel expensive. For example, instead of synthetic leather, these motocross boots incorporate real suede leather into the boot. Additionally, instead of inexpensive, nameless textiles and vinyl, the gaiter at the top is made with soft microfiber.
For the person with extra money, these material upgrades will be worth the cost. They do make a difference in the feel of the shoe itself. However, this shoe is made with injection-molded TPU plastic, just like inexpensive motocross shoes. As such, no matter how expensive the shoe, there are some things that you just can't upgrade.
One thing to note is that these boots do the grip panel from the Fox Racing Comp boots the right way. Instead of replacing the entire medial panel of the boot, the Tech 7 incorporates smaller rubber panels instead. These panels increase grip strength in areas where it's needed, but the integrity of the boot itself is preserved.
One very notable drawback of these shoes, surprisingly, is the built-in arch support. While it's excellent for people that need arch support, it's rather hard and immobile, and it can bother people with flat feet who need less support.
All in all, these boots come at a premium price, but fortunately, the quality is premium, too. These shoes are comfortable, sturdy, durable, easy to manage, and they're attractive, also. While the price will put them out of reach for many people, if you have a few (hundred) extra dollars to spend, these will probably be some of the best motocross boots you'll ever own.
Pros:
Excellent all-around quality
Comfortable
Sturdy
Long-lasting
Many color combinations
Cons:
May bother people with flat feet
These Tech 3s from Alpinestars are like the little brother to the Tech 7 above. While still expensive, these boots come in at a median price point. They make a great upgrade from a basic beginner's boot that won't break the bank. While they have fewer color options to choose from, there are still several available to help you show your unique style.
Both in looks and features, these boots resemble the Tech 7 we just looked at, but in a more affordable package. These boots are very water-repellent and mud-proof, and they're easy to clean, too. They feature both Velcro on the inside and latches on the outside for a doubly-secure fit.
Like the Tech 7s, these boots are built to last, and they're surprisingly lightweight, too. They do have a smaller, slimmer profile than the Tech 7s above, so this explains why they're a bit lighter.
The only thing to watch for with these is that they may not fit people with large calves. Since they have a smaller, form-fitting profile, they fit more snugly and look less bulky, but they don't have the extra space for large calves. Those with large calves may need to upgrade to the Tech 7s or downgrade to another boot.
These boots are lined with plush textiles, making them very comfortable to wear, and both the outsole and footbed are replaceable. Because of this, if you wear down the sole of this boot, you can replace it without buying entirely new ones. If you tend to wear through soles quickly, this may actually be a money-saving solution for you despite the initial price of these boots.
All in all, these are an excellent all-around option for all motocross riders. This is definitely a premium boot for a beginning rider, but it's a worthy upgrade for novices who've started to learn the ropes and need a more comfortable shoe. This boot is an excellent middle-ground for experts, as well, who want a decent motocross boot without breaking the bank.
Pros:
Long-lasting and sturdy
Comfortable
High-quality
Snug fit
Replaceable soles
Cons:
Not for people with large calves
Here we have another pair of shorty boots for motocross riding. As we said with our other pair, these boots aren't really meant for riding in dangerous or rough conditions, as a wipeout will leave your shins and calves vulnerable to significant injury. Instead, keep them for asphalt use only.
Like the Fox Racing Comp boots we looked at, these boots have a gripping area along the medial side that is intended to help you grip your bike better with your legs and feet. However, unlike the Comp boots, these Bomber boots do the grip area correctly. The area isn't as prone to puncture and damage, and it does its intended job of providing grip.
The heavy outsole of these shoes is also meant to provide traction when you need it, though the soles are suspiciously flat for that purpose. They're also designed to be comfortable for all-day wear and very easy to close. Like our other shorty boots, these are meant to be a hybrid boot that brings the capabilities of motocross boots to everyday shoes.
The outside of these shoes is full synthetic leather, and TPU plating is used to reinforce the shoe and protect what parts of your feet these shoes cover. While they're rugged enough to handle mud, dirt, and water, they don't have the shin and calf protection of an actual motocross boot.
This shoe does have a double tongue that some wearers will not like. While this double tongue is excellent for keeping out water and keeping in warmth, it can be uncomfortable and unwieldy when putting the shoe on or taking it off.
Do be aware that the buckles on these shoes can come unscrewed from the shoe itself over time. This can easily be remedied with an Allen key or a few dabs of glue.
All in all, these are another excellent option if you're looking for shorty boots to wear on the street or out on the town. However, these shouldn't be your first or only pair of motocross boots for safety reasons.
Pros:
Sturdy and comfortable
Medial grip panels
Water-resistant
Fits snugly
Thick, grippy soles
Cons:
Much more expensive than our other shorty boots
Double-tongue can be uncomfortable and confusing
If you want a full-coverage motocross boot, but you're not a fan of the bulky look or inflexible feel, these boots should be on your list. Unlike many of the other options on this list, these boots provide excellent grip, too. Just take a look at their soles compared to any other boot in this lineup, and you'll see a noticeable difference in construction.
Instead of a smooth, synthetic outsole, these boots have a grooved gum rubber outsole that provides more grip than any other motocross boot we've seen. While the downside of this is that the bottom of these boots can get caught on pedals and other areas much more easily, the trade-off is excellent grip in slippery, muddy conditions.
When comparing these boots to other full-coverage options in this lineup, you'll immediately notice that these boots have a mostly-leather exterior. This is genuine leather, too – not synthetic. It also doesn't have nearly as many visibly-reinforced areas as the other motocross boots we've looked at so far. While this suggests less protection, rest assured that these boots also have injection-molded TPU shin protectors, too.
While this all-leather exterior is beautiful, it makes the boots a great deal more expensive, too. While they're still not as expensive as the Tech 7s we looked at earlier; they come closer than any other option in our lineup.
Less bulk and padding in these boots may indeed result in more danger to you while riding – there's no way to know for sure unless you test them side-by-side with a bulkier pair of motocross boots. However, all signs seem to point to their holding up well to abuse.
These leather motocross boots are also more flexible than a pair with more reinforced areas. However, that could end up meaning less-supportive boots as they break in over time, too.
All in all, these shoes are an excellent option for those looking for a more flexible, lower-profile alternative to bulky motocross boots. These boots also are a great step up from "shorty" boots for people that mostly ride on the street. While these boots won't be suitable for everyone, they will make the people that do need them very satisfied.
Pros:
Sturdy
Leather exterior
Grippy gum rubber sole with traction treads
Suitable for trail and street riding
Cons:
Not water-resistant or repellant
Expensive
These AXO Drone boots are the last option in our extensive lineup of motocross boots, and they go back to the budget options we were looking at at the beginning of this guide. These boots are inexpensive and affordable, though they're a lesser-known brand, too. Unfortunately, because these are a lesser-known brand, they're prone to some quality-control issues.
Out of the box, these are attractive and functional boots – potentially more attractive than any of the other budget boots in our lineup. However, these boots don't hold up to water well – your feet will get wet immediately – and the buckles on these boots can get easily clogged with mud and dirt particles.
As such, these boots are best for track or road riding. Try to avoid wet conditions and debris if you decide to purchase these shoes. Resist the urge to buy them because they're cheap and look cool!
Unfortunately, the straps on these boots can be prone to breakage, too. While this can happen to any boot, it happens too much with these to be a fluke or mistake. While these boots would likely work for just about anyone – especially if you treat them gently – with the other excellent (sturdy) options in this lineup, you may want to stay away. It's a wonder that they're so popular with how many better alternatives are on the market.
Another unfortunate issue with these boots is that they seem to be unwilling (or unable) to break-in. It may be the synthetic leather they're made of, but even after getting them wet, these shoes remain constrictive and difficult to move in.
All in all, unless you really like the appearance of these shoes for some reason, or you're trying to buy a gift for your worst enemy, stay away from these shoes. They look nice, but there are a number of options in this lineup that are superior in just about every way.
Pros:
Attractive
Structured
Inexpensive
Cons:
Cheap, breakable parts
Very susceptible to water
Restrictive
Conclusion
All of the boots in this lineup (except the last one, maybe) have redeeming qualities that make them excellent options. Regardless of which boots you pick, you'll walk away with something functional, useful, and safe for motocross activities. However, there are a few winners that stand out clearly from the rest.
First and foremost, the Alpinestars Tech 7 Off-Road Motocross Boot is the best of the best when it comes to these motocross boots. However, because they also come at a high price, they're our "premium pick" of the day. While they will easily give you everything you never knew you needed in a motocross boot, you'll have to pay quite a bit more for that luxury.
Next, our best all-around option also goes to Alpinestars! The Alpinestars Tech 3 Motocross Boots are an excellent midpoint between the premium Tech 7s and the other budget boots in our lineup. They're both an excellent option for ambitious beginners and a significant upgrade for novices that have started to learn the robes. Even experts can get a lot out of these well-crafted motocross boots.
However, when it comes to our best value pick, we're at a bit of an impasse. The O'Neal New Logo, the O'Neal Element, and the Fly Racing Maverick boots are all excellent budget options – you can't go wrong with any of them! However, in the end, our favorite pick is the Fly Racing Unisex Maverick Mix Boots because of their unisex and youth-friendly options.
We have a lot of options in this lineup that are great for novices and experts alike. With how many options are out there for you for motocross boots, you'll surely be able to find one that suits you best.