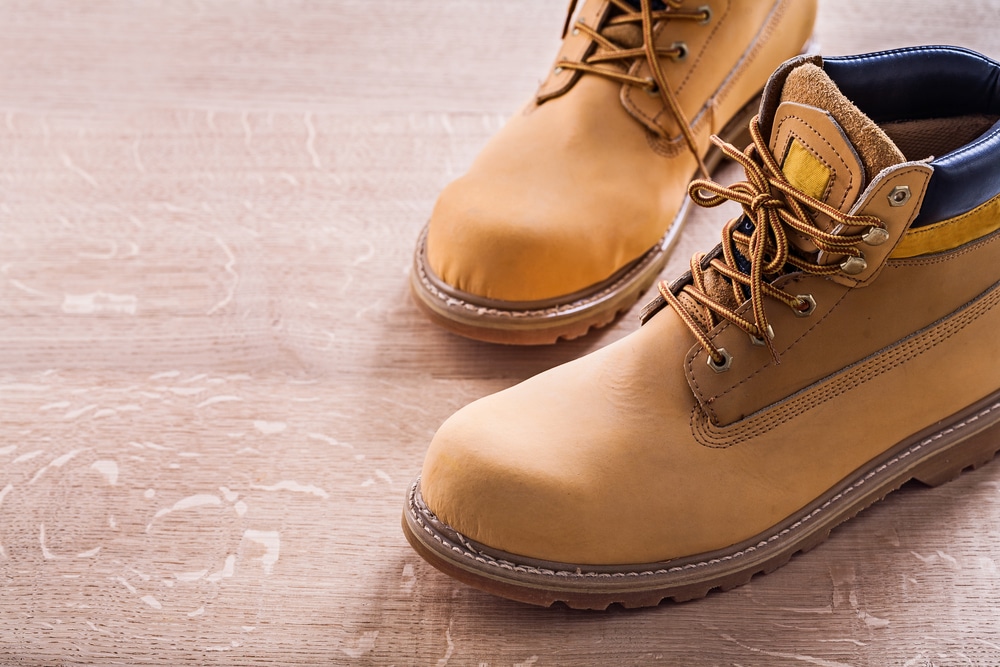 Many people in this world work jobs that require great attention to detail, a high level of safety awareness, and the need for a supportive and comfortable work boot. Whether you're working in construction, maintaining warehouse operations, or leading a team of EMTs, the right work boot is going to serve you well.
When you're in an active and hectic environment, your work boot must be not only supportive and comfortable but breathable. Few things are worse than a pair of sweaty feet suffocating in the wrong pair of work boots – especially when you're working outdoors in the summertime.
While you may be tempted to switch up your shoes, many people can't for reasons of safety. On specific job sites, work boots are mandatory to protect your feet from crushing blows and falling debris.
Today, we're going to take a more in-depth look into the best breathable work boots that are going to make working in hot environments a breeze for dedicated professionals.
Our Top Products
Now, let's work through some of the details you should keep an eye out for, and then we'll get right into the products.
How to Buy Breathable Work Boots
Whether you've been buying work boots for years or you're just starting a brand-new position that requires you to wear them for the first time, there's always something else you can learn about buying the product.
You can use this guide now and revisit it later – anytime you need a new pair of work boots, make sure you follow these recommendations for the best results.
Ventilation
If you really want to find yourself a nice, breathable pair of work boots, then the first and foremost feature you should be looking for is excellent ventilation. Ventilation is the exact detail that is going to ensure that your feet can breathe when they're all laced up in a pair of boots.
So, what does proper ventilation look like?
Ventilation is what's going to ensure there's a constant movement of air both in and out of your work boots as you're completing your daily tasks on the job. This airflow keeps the temperature low inside your shoes, keeping your feet fresh and unrestricted.
Ultimately, keeping the temperature down on your feet is going to help keep your entire body cooler. When your feet are too warm, it can cause your whole body heat to rise. This is why it's essential to have different work boots for winter and summer work – primarily if you work outdoors.
A work boot with solid ventilation typically uses some mesh material that encourages airflow. Mesh is made with hundreds of tiny holes that let air in and out while still covering your entire foot.
This ventilation is also important because, even with superb airflow, our feet tend to get sweaty inside our shoes. When we're working hard on the job, the last thing we need to be worrying about is whether our sweaty feet are going to lead to foot fungus or athlete's foot.
A well-ventilated work boot can help prevent sweat and bacteria from getting trapped in your shoe and around your feet, lessening the risk of future foot issues.
Support and Comfort
Beyond top-notch ventilation, the rest of the features you should keep high on your priority list are just like you would with any other work boot.
Support and comfort are two details that you don't want to be lax about. In fact, when it comes to finding a quality, breathable work boot, I would list these bad boys as numbers two and three, coming after only your excellent ventilation.
Arch support is key in any functional footwear. When you're buying a pair of flip-flops for the beach or sky-high boots for a night on the town, arch support may not be your primary focus. But for your work boots, it's essential to have proper support for the weight that your body puts on your feet.
With the right arch support, your work boots can actually help promote and maintain alignment of your lower back. It has also proven to mitigate issues like leg pain and foot pain. So, in a profession where you will likely be on your feet for long hours, it's crucial that your work boots can do a lot of the heavy lifting for you.
Of course, comfort often comes hand-in-hand with support. It seems obviously fruitless to wear a pair of work boots for hours on end that are not comfortable. Yet, some people still need to hear it: find yourself a comfortable pair of work boots that offer cushion and a proper fit.
Think about the last time your feet hurt in a pair of shoes. It's not easy to compartmentalize that kind of discomfort. Most of the time, when your feet hurt, all you can think about is getting home and taking off those shoes.
Don't be afraid to pay a little more for comfort.
In some cases, you may want to consider a work boot that has a removable insert. That way, you can customize your comfort in case the provided insole isn't enough for your needs. Many shoes these days incorporate gel-filled inserts or memory foam cushioning. You may also find work boots with extra padding in the toes, heels, and along the tongue and collar.
Also, remember that a proper fit has a lot to do with comfort. You should ensure that your work boots are snug enough that you're not sliding around in them or falling over, but they shouldn't feel tight.
Slip Resistant
Depending on the job site you're working on, there's a good chance that there's going to be something that could cause you to slip. From something as simple as rainwater to more potent materials like oil, it seems like there's always a risk of slippage.
In fact, many job accidents and injuries are a result of slips and falls.
Because of this well-reported information, we can confidently say that your work boots should certainly include some slip-resistant material used on the soles. Even better, try to find work boots that incorporate an oil-resistant outsole, as they prove to be reliable and more effective than typical slip-resistant shoes.
A slip may not seem like a big deal right now, but slips and falls on the job are known to lead to sprains, bruises, and broken bones. In more severe instances, a slip and fall can put you out of a job for a significant amount of time.
One of the best things you can do for your health and your career is to invest in a quality pair of boots that are going to hold up in even the slipperiest situations.
Safety Toe
If you've been in the construction industry or a related field for any length of time, you are certainly aware of the steel-toe boot. However, safety toes come in all shapes and sizes, and they all work to prevent severe injuries to your toes.
You can find safety toes in steel, of course, but you can also purchase them in composite or aluminum. While steel-toe are the most common, composite toes have risen in popularity in warmer weather as they do not conduct temperatures like steel does.
This is a little-known but essential factor to consider when you're looking for breathable shoes. If you want breathable, there's a good chance you're either working in the summer, or you tend to have hot and sweaty feet in general.
Either way, a composite toe will do a better job of keeping your feet cool because it won't absorb or conduct the heat released from your feet like steel will.
Aluminum toes are also fine, though they may not hold up as long and strong as steel. However, they are super lightweight, so using aluminum toes can give you some relief while still maintaining ANSI safety standards.
Waterproof
Depending on your specific job or working conditions, you might be in the market for a pair of work boots that are waterproof. Fair warning – it may be challenging to find a good pair of boots that are both ventilated and completely waterproof.
If you think about it, the mesh is not waterproof, but it is the type of material you would want for a well-ventilated pair of work boots.
You may be able to get your hands on a breathable pair of boots that are water-resistant, which, of course, is not the same as waterproof. This decision will be solely up to your purposes and needs. You may have to weigh the importance of waterproof versus the need for breathability according to the job and location.
Quality & Construction
You're going to be putting your work boots through a lot of stressful situations. Chances are, they are going to get beat up just as much as you are throughout your workday. It's super important that you make sure the work boots you purchased are made with quality materials and excellent construction.
Many shoes use glue in their makeup, which is completely fine and reasonable, but high-quality boots often use various kinds of stitching that make them extra durable and reliable.
Some durable materials you can keep an eye out for during your search include plastic, steel, suede, rubber, and full-grain leather. All of these materials are used throughout both the inside and outside of the shoe and have proven that they hold up well against wear and tear.
As a bonus, you can also look into getting non-marking rubber, which makes for a strong and sturdy base of your boot that won't mark up your kitchen floor as you prepare your breakfast in the morning.
When you buy a quality shoe, there's a very good chance that you are going to be paying a hefty price for it. We're going to get into that next.
Price
The average price for a good, quality pair of work boots is usually somewhere between the high 80s and the low 100s. Of course, you can go to local department stores and find them for much cheaper, but this is where some people get caught up.
A lower price may be an attractive feature for someone who is on a strict budget, but keep in mind that a cheap, $30 boot is not going to last nearly as long as a higher-price, quality pair. When you factor in how often you will have to replace the cheaper boots versus the more expensive one, the more inexpensive style adds up much quicker.
Our advice to you is this: don't break the bank or go into debt over a $200 boot, but don't let the $30 fool you. Be willing to put out a little more money to receive the quality for which you are looking. In the end, it will be worth it when your work boots last you a long time.
Read Also: Best Welding Boots
Who Needs Work Boots?
There are many occupations that require their workers to wear work boots, and if so, they will likely let you know about this rule. However, you might still be wondering if you should be sporting these shoes for your job or not.
One of the most apparent professionals who should be wearing work boots on a regular basis is a construction crew member. On a job site, a construction worker is exposed to many dangerous things that could harm your feet.
From nails and glass to falling objects and heavy machinery, work boots – especially those with a steel toe – are ideal for anyone in the construction industry.
Of course, that being said, you can also make a solid case for anyone in a factory or warehouse setting to wear work boots. Professionals in this area are often exposed to similar things as a construction worker and should take extra steps to protect their feet.
Any environment that is going to put you at risk for slips and falls should be one where you consider work boots. For example, emergency medical services professionals often wear some kind of work boot or tactical boot to prevent slips and falls and to give them a solid grip during hectic shifts.
Even kitchen workers sometimes sport work boots to avoid slipping on various food debris and liquid on a slick kitchen floor.
Anyone who works outside can find work boots a valuable asset. Whether you're a nature guide, a forest ranger, a gardener, or even a mailperson, a nice pair of work boots can help you get the job done in comfort and safety.
Finally, any job that follows OSHA guidelines is going to require that you wear a specific kind of shoe. In most cases, that would be a steel-toe, slip-resistant work boot. If you're still not sure, the best thing you can do is check with your supervisor to see what kind of gear you should be buying.
The Best Breathable Work Boots
Now that we know what goes into a great work boot, we can narrow down the search a bit a look for the ones that offer the highest level of breathability. When it comes to ventilation, I think we all know now how important that can be on the job.
We're going to take you through a wide-ranging list of work boots that deliver excellence not only in breathability but in many of the other crucial components a work boot has to offer.
Keen has long been a trusted name in footwear and gear, so it shouldn't be a surprise to find the brand listed on our top work boots. The Flint Mid Work Boot from this company delivers a classic style in terms of men's work boots. There's no second-guessing the look of this boot.
While sleek and stylish, the boot delivers more than a refreshing upgrade to your last pair of work boots. Made from 100% leather with a solid rubber sole, you can bet on the durable construction of this boot. With mesh panels built-in throughout the sides of the shoes, your feet with get a constant flow of air to keep your cool and comfortable.
And speaking of comfort, this boot offers both a padded tongue and collar for your best fit. No longer will you feel the laces digging into the top of your foot or discomfort around your ankle. In addition, the company incorporates a dual-density midsole for cushioning along with a stability shank for extra support.
A removable footbed lets you customize your arch support, meaning that you can use your own insoles to find your perfect level of support. You and your loved ones will especially like the non-marking soles that will keep the clean kitchen floor sparkling.
Pros:
Highly breathable boots keep your feet cool and dry
Lightweight design makes it easy to wear all day
Steel safety toes protect feet
Excellent shoelace design for a secure fit
Comfortable fit for all-day support
Cons:
Boots squeak on floors during the break-in period
Shoes are not waterproof
When you think of a work boot, one of the first brand names likely to pop into your head is Timberland. Timberland is known for making high-quality work boots, and the name remains popular for a reason.
Constructed with quality leather and fabrics, the combination delivers an attractive appearance that any hard worker can appreciate. The sturdy rubber outsole offers a robust support system that is oil-resistant, making it safer for you to wear.
In addition, the outsole is non-marking, so you can wear it in official buildings, stores, and even in your own home with the fear of ruining floors.
The midsole and footbed work in collaboration to ensure that you have the most comfortable fit and highest levels of support. A compression-molded midsole offers you an excellent arch, while the Ortholite footbed provides comfort.
The footbed also includes an Agion antimicrobial cover, which helps to keep your feet feeling clean and fresh all day.
As far as protection goes, you can count on the ANSI-rated steel toe as well as the built-in electrical hazard protection.
Pros:
Excellent fit with high levels of comfort
Lightweight design makes it easy to wear all day
The antimicrobial cover keeps your feet cool, clean, and fresh
ANSI-rater steel toes deliver superb protection
Well-ventilated and breathable
Cons:
Fabric shoelace loops are not durable and tear easily
Not waterproof or water-resistant
Minor fraying occurs at the seams
Anyone who is on a budget knows how frustrating and fruitless shoe shopping can be. We all want quality footwear, but not all of us can afford the top brands. Dickies offers an excellent solution for anyone who wants the most bang for their buck.
Their Escape Hiker Work Boot is an affordable option that offers high ventilation and breathability. The shoe is constructed with mesh underlays and a moisture-wicking mesh lining. These features not only promote airflow, but they help absorb sweat to keep you dry and cool.
Safety is a priority when it comes to this boot. Not only do you get a reliable steel toe to prevent injury, but the toes and heels are also reinforced for extra protection.
Finally, one more important feature everyone wants in a work boot is comfort. With an EVA foam insole and midsole, your feet will be surrounded by comfort padding. The collar and tongue are also padded, so you get a full 360-degree comfort experience.
With a solid rubber bottom and a lace-up, secure fit, you can't go wrong with this bargain boot.
Pros:
Made from suede, leather, and mesh for durable construction
Extra foam and padding delivers high levels of comfort
Protective features keep your feet safe from all angles
Mesh features keep you dry and cool
Real rubber sole has excellent traction
Cons:
Boots are not waterproof
Sizes run small
The original insole may not be supportive enough for some
A steel-toe kick is an excellent choice for someone who is a high-risk environment, but they're not always optimal for anyone who's trying to avoid a hot foot. Because steel is a good conductor of heat, it's sometimes better to go with a composite toe – which is why we have featured the Wolverine Overpass Composite Toe Work Boot.
Made from a leather and textile mix, this durable boot features a flexible, athletic design that moves with you, allowing for free movement rather than boxing your foot into place. As we mentioned earlier, this boot uses a composite toe that offers excellent protection from falling objects and heavy machinery.
Not only is the boot abrasion-resistant, but it also combats slips, oil, water, and chemicals for all the protection you could need on any job site.
The waterproof leather exterior design keeps your dry, while the ortholite cushioned footbed delivers support and all-day comfort.
Pros:
Composite toe offers protection that is lightweight and cooler than steel (ASTM approved)
Waterproof overpass keeps you dry but is also breathable
Motion Max technology allows flexibility at essential points
Excellent fit and quality construction
Various levels of safety that resists slips, oil, chemicals, and abrasions
Attractive and unique appearance
Cons:
Sole of the boot may split after heavy use
Composite toe box doesn't entirely cover toes
We could hardly write about the best work boots without including Timberland more than once. These beautifully made work boots come in three different colors, making them the best style option for anyone or any work outfit.
Aside from that, the Timberland PRO Pit Boss Steel Toe boots are highly functional and very reliable. The Goodyear welt construction and leather upper offer high levels of durability and sturdiness that is unmatched in other shoes.
The equally as durable outsole is made from thick rubber that resists abrasions, slips, and oil. With excellent traction like this, you'll be able to sport these work boots in just about any environment safely.
And along with anti-slip technology, you also get an ASTM approved steel toe that is guaranteed to not only keep your toes safe from heavy objects, but it also meets ASTM electrical hazard standards.
As far as breathability goes, while the shoe isn't made from any mesh material, it does hold its own set of technology that keeps your feet cool and prevents them from feeling trapped.
The boot features Cambrelle fabric lining that boasts antimicrobial treatment coupled with an open-cell polyurethane footbed. These details work together to absorb moisture and control odor. The shoe takes in the moisture and releases it back out so that it's not trapped in your boot with your feet.
Other notable features include a comfort suspension system for arch support, a padded tongue and collar for comfort, and metal eyelets that are sure to last.
Pros:
High levels of safety in various features are ANSI and ATSM approved
Highly durable and extremely comfortable for long-term use
Goodyear welt construction means you can have your outsole repaired and replaced as needed
Antimicrobial lining takes care of moisture and lets your feet breathe
Cons:
Boots take a few days to break in
Rubbing on the back of the heel can cause blisters
Aggressive treads trap mud and dirt
Thorogood is undoubtedly a trustworthy brand, and we have to commend them for their unique take on the standard work boot. Made from 100% leather, this well-made boot takes a different approach to durability, style, and support.
Using Goodyear storm welt construction with a cotton drill vamp lining, you can be sure than this shoe is going to last you a very long time. The rubber midsole works together with the MAXwear wedge rubber outsole, which not only provides quality slip protection but offers longevity approved for in-field performance.
On the inside, you'll find a shock absorption footbed along with comfort cushioning. Your feet will feel supported and comfortable, while the new technology protects your feet from high impact.
The heels of these boots are also made to withstand several thousand volts of electricity, protecting you from dangerous environments. With four different tobacco oil-tanned leather color options, there's a style here for every professional.
Pros:
Outsole wedge design is built to last longer than other soles
Slip-resistant and highly resistant to electrical shock
Comfort cushion insole
Quality and durable construction extends to stitching and laces
Highly comfortable in hot weather
Cons:
Break-in time can be uncomfortable
Higher price point
Red Wing is another more high-end kind of work boot that is very popular among professionals. Aside from the fact that its makeup is 100% beautiful leather, it also has many useful and functional details.
The Goodyear welt construction is built to be tough and resilient, giving you long-term use of this product. The synthetic sole couples with the moc toe, delivering traction treading, and high gripping power to prevent slips.
The outsole also features a cushioned wedge, which helps with stability, durability, and overall comfort. The triple-stitched design ensures that all the pieces of this boot stay in one place, while the nickel eyelets are sturdy for tight and secure lacing.
You can buy this fashionable and functional work boot in seven different colors, which certainly sets it apart from its competitors. Safety, durability, and style – what more could you want?
Pros:
The wedge-style sole delivers a firm foundation, stability, and high-traction treading
Leather is stain and perspiration resistant
The lightweight and breathable design is perfect for sweaty feet and hot climates
Supportive footbed offers moisture-wicking technology
Cons:
Leather upper is slightly water-resistant but nowhere near waterproof
Higher price point
The old-school design may not be suitable for long shifts on your feet
The name of this work boot might be a bit of a mouthful, but we can already see that we're dealing with quality as we're looking at yet another pair of Timberland work boots.
The Powertrain Industrial Work Boot by Timberland PRO is a tough boot – and it even looks it. The all-black design delivers a sense of confidence and power, while the reliable and durable construction runs from the upper, the ghillie-style lacing, the alloy toe, and the reliable tongue.
While the construction is certainly durable, the boot itself is surprisingly flexible in all the right places. This lets you experience the comfort and support of the shoe immediately without having to wait for a break-in period.
The internal makeup features a mesh lining that is super breathable and has great ventilation. Also, this lining has an antimicrobial treatment that helps to control odor and promote cleanliness and comfort.
The polyurethane midsole is conductive, meaning that it helps dissipate static electricity for additional protection. When you couple this with the alloy toe, you have a pretty darn safe work boot.
Pros:
Highly comfortable to wear all day
Very lightweight, making it easy to move in
The shoe is flexible and allows for natural foot movement and less pain
Uses breathable mesh with odor control
Safety features protect from drops and electricity
Cons:
May experience soles cracking after a few months of use
Sole made from dense foam, not rubber
If you're looking for a work boot that's going to treat you well in the hot weather, then the Carhartt Force Work Boot is a solid choice for you. Both lightweight and breathable, these boots are perfect for anyone who spends a lot of time on their feet while they're on the job.
The high-quality leather construction is waterproof, so it's made to keep your feet dry. However, the breathable makeup of the shoe allows your feet to breathe. Ventilation is located at the top of the ankle as well as at the back of the boot, delivering free airflow consistently.
The solid rubber sole was made with safety in mind, providing excellent grip and traction with oil and slip-resistant technology. With a composite toe, you can rest assured that your toes are protected. The composite design will also help eliminate extra heat buildup.
An additional insole gives you prime comfort for all-day wear, while the supportive construction reduces strain and aches. With a very athletic fit, professionals can have confidence that they can perform in these boots.
Pros:
Storm Defender waterproof liner keeps you dry while remaining breathable
Fast Dry technology uses moisture-wicking features to eliminate sweat
Ortholite insole delivers comfort and support
High ankle offers additional ankle support
Composite toe protects your feet and minimizes heat
Cons:
Uses some cheap materials in construction
Boots can rub against heels and cause blisters
Who doesn't love a classic work boot with a reliable steel toe? The Ariat Groundbreaker is the perfect fit for anyone who wants a great-looking shoe with high levels of protection and safety.
Along with a reliable and sturdy steel toe, this boot also features heavy-duty oil and slip resistance, making its outsole one of the best on the market.
On the inside, the mesh lining ensures that your feet aren't trapped. They can breathe, and a solid airflow through the shoe will help keep you cool and comfortable.
At the same time, the full-grain leather construction looks great and keeps the water out. With Waterproof Pro construction, you can't go wrong if your job involves getting wet.
A high ankle means you get all the support you need, while the platform delivers extra support and absorbs shock as you're on your feet.
With an advanced four-layer footbed, you'll feel like you're walking on air in these highly comfortable and supportive boots. ASTM approved, there's no cause for concern in this purchase.
Pros:
ASTM safety approval
Waterproof yet breathable for dry and comfortable feet
Four-layer footbed offers support and all-day comfort
The thick sole is excellent for absorbing shock and minimizing strain
Oil and slip-resistant outsole
Heavy-duty materials and construction
Cons:
Tongue rubs ankle in a bad way during the break-in period
Soft leather folds and buckles easily
Though not technically boots, these work shoes certainly live up to many of the standards set by work boot manufacturers today. If you're someone who prefers the look and feel of a sneaker but needs the toughness of a work boot, the Reebok Work Sublite Cushion Work Shoes might be for you.
Featuring a higher ankle like a work boot, these shoes offer excellent support. The majority of their upper is made from mesh, meaning it's incredibly breathable and very well ventilated to keep your feet cool and dry.
Though tough and durable, these shoes are super lightweight and are great for working long shifts. The toe is made from alloy, so while it may not be as tough as steel, it does offer more protection than a sneaker while remaining lightweight.
The mesh materials continue on the inside with a functional lining that wicks away moisture, preventing sweat buildup throughout the day. It has ESD dual resistor protection, a removable but cushioned footbed with massage technology, and a slip-resistant rubber outsole.
Pros:
Meets ASTM and static dissipating safety standards
Delivers an athletic and appealing look
Alloy safety toe protects toes
Lightweight and comfortable to wear all day long
Cushioned footbed uses massage technology for comfort and support
Slip-resistant outsole
Highly breathable with large amounts of mesh
Cons:
Footbed could use more cushion
Toe safety not as highly rated as steel or composite
Not waterproof or resistant
Conclusion
Anyone who has a tough job knows that it takes a tough boot to get things done correctly. Things only get tougher when the temperatures rise, so a quality work boot with excellent breathability and ventilation is going to be vital to keeping you comfortable and at your best.
The above list of highly rated, breathable work boots gives you tons of options as to what you can check out and buy. In a wide range of styles, colors, and prices, there's a little bit of something for every need.
Of course, we had to go ahead and choose a few of our favorite products to feature for anyone who might still be on the fence.
Our pick for the best breathable work boot overall is the Ariat Groundbreaker Steel Toe Work Boot. This boot takes on a classic look with a gorgeous leather finish that almost looks like a dress boot. However, it's all work and no play in these shoes.
With a Duratread sole, Waterproof Pro construction, a steel toe, and a four-layer comfort footbed, this boot seems to have everything you need in terms of safety, support, and comfort. Though the outside is waterproof, the inside has a mesh lining that promotes breathability and absorbs moisture.
The thick sole also helps with support and absorbs shock so that you can feel comfortable on your feet for even the longest of shifts.
If you're willing to spend a little more money, then you should definitely go with our choice for the premium product. The Thorogood American Heritage MAXwear Boots are an excellent and stylish option for anyone looking for a great pair of boots. Highly comfortable with little to no break-in period, there's a good chance you'll be happy with these boots right out of the box.
The unique design of these boots features a wedge sole that delivers top-notch support and long-lasting use. The entire product is made from quality materials, intricate stitching, and thoughtful construction. With slip-resistant soles, Goodyear welt construction, and shock-absorbing footbeds, you'll be glad you spent the extra cash on these great-looking boots.
And finally, our best value work boot is the Dickies Escape Hiker Work Boot. It's not often that you find a quality work boot for under $80, but somehow, Dickies has managed to do it. With this boot, you get a solid rubber sole with a reinforced toe and heel guards for full-on protection. These, along with the built-in steel toe, ensure that your feet are safe on the job.
Additionally, the boot is lined with breathable, moisture-wicking mesh designed to keep your feet fresh and keep the airflow coming. The mesh underlays also add to this detail, making this boot perfect for warm environments and hot seasons.
Finally, we love the padded collar, padded tongue, and EVA foam insole and midsole that all deliver fantastic comfort and support.
Check out these boots and the ones above to find your perfect pair.