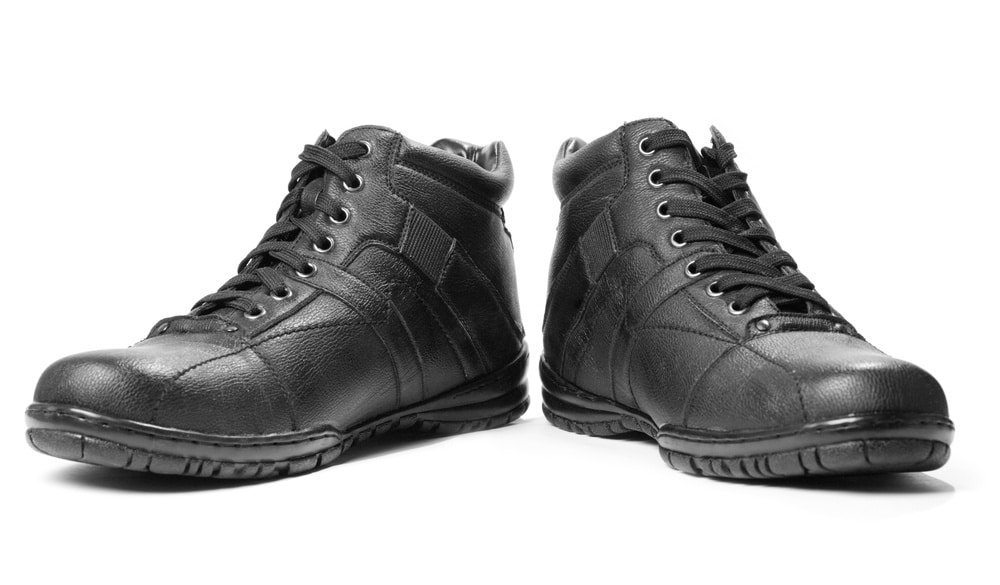 Best Boots for Rucking. Rucking is a great cardio workout and strength-building exercise. It burns more calories than merely walking, without the strain on your knees and other joints that you get from jogging or running. It's good for your mental health as well.
Although rucking is good exercise and probably more fun than going to the gym, two factors can take your rucking experience from good to great. One is the rucksack you're using; the other is the type of shoes you're wearing.
In this article, we'll be taking a look at some of the best boots for Rucking on the market today to help you get out there and start reaping the benefits of this fun and healthy exercise.
Our Top Picks
If you'd like more in-depth information about these boots and other great offerings on the market today, read on.
What to Look for in Rucking Boots
As a general rule, when picking a pair of ruck boots, you want something light and durable. A heavy shoe will weigh you down and make you get tired faster.
Traction and Support
It's a good idea to look for high traction soles and boots with ankle support, especially for rougher terrain.
Comfortable Fit
Always make sure the shoes you choose fit well. Select shoes with plenty of toe room so your toes can breathe and stretch as you walk, about 1/2 inch of toe room is ideal. Make sure the shoes you wear don't rub or pinch to help reduce the risk of blisters.
Before deciding to purchase boots for rucking, check the sizing. Different footwear may run big or small, and you might need a slightly different size than what you wear in your regular walking shoes. You don't want the boots to fit too tight. Get a pair of shoes big enough for your feet to move around slightly, but still stays firmly on your ankle.
Temperature Control
Along with fitting well, you want to try to get a shoe that releases heat rather than traps it inside. Your feet will most likely heat up as you go and start to sweat; materials that release the heat will help cool your feet down and keep you more comfortable.
Moisture Control
Although it seems counter-intuitive, instead of looking for waterproof shoes when it comes to rucking, your priority should be looking for shoes that drain quickly.
Sometimes when you're rucking over rough terrain, you cross areas where water is deep enough to submerge your foot. The problem with waterproof footwear is that once the water gets over the top, your foot will inevitably get wet, and the water will stay inside the shoes the whole day.
Shoes with drainage holes, like many new shoes that have recently appeared on the market, actually help your feet dry out faster because as you walk, the water is pushed out by the movement of your foot. If water stays in the shoes, your feet remain wet, which softens your skin, making it easier to develop blisters similar to what happens when your feet sweat.
Flexibility
Not only does your foot need to fit comfortably and have room to move a little, but the shoe material itself needs to be flexible. When you're rucking, you want the resistance to come from the weight on your back, not the stiffness of your shoes.
Choosing the Right Boots for Your Needs
Besides the general features listed above, there are other specific features you should consider. You should think about the climate and terrain you're planning on rucking in, as well as the distance you are planning on traveling.
Climate
When selecting boots for purchase, consider whether the area regularly gets heavy rainfall and what the average temperature is there during the time of year you'll be going. In an area where there is a lot of precipitation but less chance of full submersion in the water, you may want a waterproof boot, so the moisture doesn't seep through.
If you're in a colder area, you may want to buy boots that are a little bigger to accommodate a thicker sock. When hiking in a warmer area, consider something that minimizes sweating, and that keeps your feet feeling cooler.
Terrain
Reflect on the type of land you intend on rucking and if its rocky, muddy, or sandy, or thick with vegetation and any other special environmental conditions you may encounter.
If you are planning on rucking on rocky terrain, you should look for a boot with strong but flexible ankle support.
For areas that are muddy or slippery, it's a good idea to get a boot with thicker, deeper treads to give you as much grip as possible and reduce the risk of you slipping and falling.
If you are going into an area where you may encounter thorns or sharp sticks and rocks, you also want to look for tear-resistant material.
Distance
Anytime you're rucking across longer distances; lightweight is the way to go. You will have difficulty getting through a long ruck with a weighted rucksack if your shoes are too heavy.
Heavy footwear will not only cause you to tire faster, but it will also put extra strain on your foot and ankle muscles, and they will get very sore quickly. If you intend to do more than a few miles, we recommend getting a boot that states that it is lightweight. Your feet will thank you.
Read Also: Best Motocross Boots
Best Boots for Rucking Reviews
Now that we've taken a look at some general traits and considered other factors that may come into play when rucking, it's time to take a look at some of the top-performing boots available on the market today. We've reviewed a wide variety of boots to serve different needs and environmental uses.
The Danner Full Bore 4.5″ Danner Dry boot is ideal for mountainous areas. They were designed as a tactical boot for the military, but are great for hiking trails through rough terrain. However, this doesn't mean they are not versatile. They are comfortable enough to wear on the street for everyday use as well.
The boot has a full leather top but with mesh panels along the side for better breathability. The breathability also makes them a suitable choice in warmer wetter climates to keep your feet cool and a little dryer.
Although they aren't fully waterproof, the boots are water-resistant, so if you get caught in the rain on the trail, your feet will stay reasonably dry. However, you shouldn't depend on these shoes if you are rucking somewhere your foot might get fully submerged in water. They do not contain drainage holes so the water will stay trapped inside.
The soles use durable Vibram Megagrip technology explicitly designed for reliable traction on wet surfaces.
These boots are also lightweight, only 21 ounces per shoe. If you feel like you need a little extra comfort and support, this is also a good boot for you. It features a cushioned footbed and light but supportive midsole.
These boots are ankle height, so if you prefer taller boots, than this might not be the best choice for you. You should also be aware this product runs a little large, so you might need to order half a size smaller than you usually do for your best fit.
Pros:
Good grip on soles
Versatile wear
Breathable
Water Resistant
Lightweight
Cons:
Runs a little large, so you might need to get a smaller size than you usually buy
Ankle Length
Not waterproof and no drainage holes
The Keen Voyageur Mid is an excellent choice for hiking in dry conditions. They hold up for long-distance rucking but are not waterproof.
The shoe is leather with a mesh underlay for proper ventilation for use in warm weather. Although they are not waterproof, the mesh material drains and dries out quickly.
The Keen Voyageur Mid comes in at about 20 ounces per shoe. The soles are on the thinner side and don't offer as much support as other boots on the market, but they do offer great flexibility. Flatter insoles don't necessarily have to be a deal-breaker, however, since adding a padded insole seems to solve the support problem.
Unfortunately, there is one major drawback with these boots. After repeated use, the adhesive on the soles begin to fail, so be prepared for the possibility of having to re-glue them in areas where it separates from the boot.
Keen recommends that you clean and condition the leather regularly if you plan on wearing them for daily use.
The Voyageur Mid comes in both men and women's sizes, but the women's sizes may be slightly on the narrow side, so if you're a woman with a broader foot, you could be better off getting a man's shoe since they are the same in appearance.
This boot has a lot of toe room so your toes can stretch and splay, but it also has a narrower heel that keeps the boot from rubbing, which reduces the risk of blisters.
Pros:
Lightweight
Well-ventilated
Lots of toe room
Narrow heel keeps the boot from rubbing
Cons:
Not waterproof
Not a lot of support so you may need to buy an insertable cushioned insole
After repeated use the sole begins to separate from the boot, and you may have to re-glue it
The Salomon XA Forces Mid is an ankle height boot that is great for rucking in hot and humid weather. They will also do well in cooler weather with proper socks. Salomon XA Forces are a solid performance boot. The Salomon company developed its Contagrip soles for excellent traction control and durability so you can depend on their performance for a variety of terrain.
Despite being constructed of leather and mesh, the mesh is tight enough that debris and fine materials won't be able to get through. The gusseted tongue of the shoe is attached to the upper part of the shoe, which also keeps debris from getting in, making this could be advantageous if you'll be rucking in a sandy area.
These boots are well-padded and provide good support, but some people may find the arch support is too high for their comfort. They are relatively light, as well. The boots include a protective rubber cap on both the toe and the heel, offering you more protection without the added weight of a steel toe.
These boots have a narrow fit, so you might need to get a larger boot size if you have wider feet. The regular XA Forces Mid boot is not waterproof, but Salomon offers another version of the same shoe, the XA Mid GTX, that is waterproof.
Whichever version you purchase, these boots are of high quality. However, they are on the expensive side for rucking boots and may not be a viable option if you have a smaller budget.
The laces on these boots don't tie like traditional boots. You simply pull the laces to tighten or loosen the boot, allowing you to get going faster, and at the end of your ruck, take them off quickly as well.
Pros:
Great Traction on a variety of terrain
Very Durable
Built to keep out debris
Good support and padding
Cons:
Narrow fit
Not waterproof
On the higher end in price
This boot is another outstanding Danner product. The design gets rid of any extra weight but is still durable. The Duty Boots weigh only 35 ounces for the pair!
The upper part of the boot is nylon and leather with a rubber sole. These boots are a little on the taller side and will reach up to about your shins.
They also feature a specially designed polyurethane footbed that not only is an effective shock absorber but also allows for air circulation to keep your feet cool and dry.
The soles are slip-resistant and have unique pentagonal shaped grips on the bottom of the boots that hold the ground securely. The boots hug the heel and forefoot to fit the natural shape of the foot better. They also have a generous amount of room in the toes so you can move and stretch them freely as you walk.
The Gore-Tex liner is fully waterproof and breathable, so it dries out fast if you sweat in these boots. However, because they are so lightweight, they don't provide a great deal of protection, especially in the toe and heel areas and along the sides. Also, if you're planning on wearing these in cold weather, you are going to want a warm sock to wear with it.
If you prefer a lot of support and cushion, stay away from these shoes, but if you're looking for something light and flexible and want to keep everything to a minimum, you should give these boots a try.
Pros:
Very lightweight
Durable
Polyurethane footbed is good for shock absorption and air circulation
Shaped to better fit the natural shape of your foot
Waterproof but still breathable
Dries out quickly
Cons:
Thin cushion
Doesn't offer a lot of support
Doesn't have toe or heel protection
Ryno Gear Tactical Combat Boots are a well-built boot and a nice price for those needing a more budget-friendly option. They include a side zipper making them easy to put on and take off. The boots also feature removable insoles. Although the company claims the insoles are shock absorbent, you may find you need a better-padded insole for rucking.
This product includes small metal vents on the side of the foot to help with ventilation. They have decent traction, but you may have trouble on slicker surfaces like mossy rocks because they don't have very deep treads.
These boots are not for cold weather use, so if you are in an area that experiences cold winters, you should probably invest in a warm pair of socks to wear with them.
The soles are not as rugged as other boots and a little thinner, so if you think you'll be encountering sharp objects on the ground during your ruck, this is probably not a great choice. However, the soles are flexible, and the entire boot is lightweight.
These boots are also not waterproof, so if you're rucking in moist conditions, stay away from these. This boot is an excellent choice if you are a less experienced rucker because it is relatively minimalist but will give you enough support to keep your feet comfortable and won't be a huge investment.
They are not the most durable boot if you're planning on wearing them every day and can't take massive abuse, but they are durable enough for regular weekend rucks.
As a bonus, these boots come with a free pair of cool max socks.
Pros:
Metal vents to ventilate your feet
Lightweight
Flexible sole
Very comfortable
Comes with a free pair of socks
Inexpensive
Cons:
Doesn't grip slick surfaces well
Thin soles don't protect feet from sharp objects
Not super durable
The T8 Bifida Tactical Boots are one of the heavier offerings in rucking boots, but the build is well suited for it. These hardworking, durable boots can take a lot of abuse. They do well for long distances and offer dependable ankle support on uneven terrain and great support all around.
These boots are not waterproof, but they dry fast when they get wet. Despite being a very rugged boot, they are surprisingly comfortable, but for some people, they may find it takes a while to break these boots in.
The rubber soles feature deep treads for a strong grip, even in wet and slippery environments. These boots are military-grade, so if you don't need something that heavy-duty, these boots may be overkill, but they are undeniably an excellent boot.
Some people have found this boot to run a little narrow, so if you wear a standard shoe size, you should have no issues, but if you need something a little more spacious, you should consider purchasing a half a size larger.
You may find you have some issues with hot spots in these boots, particularly around the back of the heel and by the middle lace grommets, so we recommend you wear a thicker sock with them.
They have acceptable ventilation but are not the airiest boot on the market, so expect your feet to sweat a little in these boots. They are also not the most flexible boot, but again the flexibility is acceptable.
Pros:
Durable
The sole has deep treads for maximum grip on a variety of surfaces
Outstanding support in ankles and throughout the shoe
Material dries out quickly when it gets wet
Cons:
Fit is a little narrow
Some issues with hot spots at the back of the heels and near the middle lace grommets
These boots by Under Armour are incredibly lightweight, coming in at about 15 ounces. They have a leather sole and a fabric and synthetic leather upper for very light construction. The material is also flexible, and the shoes are well padded. In terms of breathability, these shoes don't disappoint.
Valsetz Military & Tactical boots have a comfortably roomy toe box and moderate arch support. The ankle support grips and molds to your ankle for excellent ankle protection. The shoes also feature a toe cap for extra protection on rocky terrain.
Even though they offer the security of a boot, when you wear them, they feel more like an athletic shoe. These boots are so comfortable you can wear them even if you suffer from problems like diabetes and arthritis.
The design is better suited for dry environments as they don't have the best grip on slippery surfaces. They are not insulated at all, so if you are rucking in colder climates, you might want to look for a different product.
Under Armour offers two versions of this boot, one with a side zipper and another that laces up like traditional boots. It's a matter of personal preference as to which you prefer, but some people have found the zippers begin to unzip when wearing actively for an extended period.
Although this isn't a major flaw, it can get annoying. However, the side zipper also makes it easier to take on and off, so there are pros and cons to both versions.
The only major downside to these boots is that because the fabric used in the upper is so light, it isn't that durable. If you are only interested in products with a long lifespan, stay away from this one.
Pros:
Very lightweight
Breathable
Comfortable toe box
Great support especially at the ankles
Comfortable to wear even if you suffer from diabetes or arthritis
Cons:
Not durable
Less than stellar grips on soles
Not insulated
If you're planning on rucking in colder climates, Salomon's Quest 4D 3 GORE-TEX is a superb choice. They will do well, keeping your feet warm in below-freezing temperatures. These boots weigh about 22.5 ounces, so while they are not the lightest weight boots available, they are still a reasonably comfortable weight for rucking.
When Salomon designed this boot, they were looking to create a hybrid between a light cushioned running shoe and a performance boot, and they succeeded. This shoe has excellent forefoot flexibility while still offering sturdy protection.
The outside of the boot is leather, and the lining is mesh and textile. The outer sole is rubber. It also has a protective toe cap and a gusseted tongue to keep debris out.
These boots have a Contagrip sole that offers reliable support and stability and excellent grip on a lot of different types of terrain. The GORE-TEX lining makes these boots waterproof but breathable.
They get high marks all around for long-distance comfort and durability, as well as for support for your feet. The boot's design keeps your heel and instep cushioned. It also has a memory foam insole that adapts to your foot for a personalized cushion where you need it most.
The top of the boot features lock-in technology for a snug fit along your ankle without also tightening the bottom portion of the shoe where you need more room for your feet to move and stretch. The only real downside to this boot is that it's on the expensive side.
Pros:
Performs well for cold weather use
Great support and cushion that adapts to your feet
Can lock laces at the ankle for more support
Good Grip on a variety of terrain
Cons:
Expensive
Not very breathable
These shoes are nylon, leather, and mesh with an outer rubber sole. They are on the taller size height wise and reach about calf-high. They are also a little bulky. Each boot weighs approximately 30 ounces. These boots are also quite budget-friendly compared to the price of other boot brands without sacrificing quality.
They come in standard shoe sizes and a variety of widths, so you are sure to find the size that will fit you comfortably. These boots run true to size, so it takes out some of the guesswork you have to do with certain other boot brands.
They have the right amount of traction and are great for slippery surfaces. This shoe isn't waterproof, but they do contain moisture-wicking mesh to draw moisture away from your feet if your feet sweat. The side zippers are well built, so you don't have to worry about them breaking.
These boots offer sturdy ankle support and include a removable cushioned insert. The tongue is not attached to the side of the boot, so they can sometimes slip and will need to be readjusted every time you wear them.
The top part of the shoe will need a little breaking in, so be prepared for some rubbing when you first start wearing them, but once they get broken in they are very comfortable and durable. This product performs well on rough terrain and will last a long time even with heavy use if you are willing to do a little maintenance.
Pros:
Come in a variety of widths
Fit true to size
Moisture-wicking mesh draws moisture away from feet
Strong Side Zippers
Durable
Good grip on slippery surfaces
Good for rough terrain
More budget-friendly than similar quality boot brands
Cons:
Not waterproof
Will rub until broken in
Tongue of shoe slips and needs readjustment every time you put on the boot
This boot produced by Belleville is a warm-weather boot for rucking in steep mountainous terrain. They are a lightweight boot coming in at 23.5 ounces a boot. They are not waterproof but feature a Combat Lunar lining that will keep your feet cool even in incredible heat.
These boots feature a padded tongue for added comfort and are a top performer for stabilizing and protecting your foot. The Vibram "Ibex" outsoles were initially designed for use by the military in the mountains of Afghanistan and offer some of the most exceptional traction offered by any rucking boot.
It also includes a toe rake at the front and a heel brake at the back for even more traction and will actually help catch you if you slip and fall.
The laces lock in place to give you a custom boot fit, and the orthopedic insole is designed to fit your foot and firmly support the arch. The built-in heel cup helps to lock your ankle in the boot to drastically reduce the risk of twisting your ankle on steep terrain.
If you're an experienced rucker and are looking to level up your load capacity, these boots can give you the support and stability you need to carry more weight safely. If you are a beginner, these boots are probably more than you need to get yourself started.
Pros:
Excellent traction
Padded tongue for comfort
A lot of foot and ankle support
Help you safely carry a lot of weight
Very Durable can stand up to a lot of abuse
Cons:
Not the best boot for beginners
Some find the insole to be too hard to be comfortable
The Oakley Men's Light Assault Boots weigh approximately 14 ounces per shoe. The uppers are durable synthetic fabric, and the midsoles and outsoles move with your foot rather than offering resistance, making these boots quite flexible. In terms of price, this is a middle-range boot.
They are not the best-cushioned boot and lack arch and ankle support, which is a factor for rucking. These are also not built for cold weather and don't offer the best protection in treacherous terrain.
The Light Assault boots don't stand up to heavy-duty wear, but they do allow you greater mobility than other boot offerings. The design also isn't suitable for use as a rugged terrain boot, but it's okay if you are on flatter surfaces like concrete, asphalt, and gravel.
Although not a boot I would choose for military use, it will work just fine for civilian use. This footwear will serve you well if you are rucking in an urban environment, on well-maintained trails, or if you are new to the sport and aren't carrying tremendously heavyweight loads.
These boots are not water-resistant, but they feature draining holes for the water to quickly be pushed out of the shoe, making them suitable for wet or muddy environments. Be careful when you are walking on slippery surfaces, however, since these boots don't have a tremendous amount of traction, but do a decent job of gripping most surfaces as long as it's not too rocky or steep.
These boots are true to size, but they do take some breaking- in. After they are broken in, however, they are a very comfortable rucking boot.
Pros:
Flexible
Very Lightweight
Has drainage holes for quicker drying
Good for beginners
Cons:
Not very durable
No cushion or support
Not the best traction
Doesn't offer a lot of foot protection
Take a while to break-in
The Salomon X Ultra 3 Mid GORE-TEX Hiking Boots are an improvement on Salomon's XA Forces Mid. This boot is 100% synthetic rather than the XA Forces leather and synthetic combination.
The X Ultra 3 also has a redesigned sole that makes use of two different types of rubber rather than just one for an even better grip on rough or slippery terrain. This boot design gives you better stability and traction, especially when you are going downhill.
They include a protective toe cap and a gusseted tongue to keep debris out. This model is also about an ounce lighter than the older XA model, which may not seem like a lot, but for a strenuous ruck, every ounce of additional weight counts.
The Salomon X Ultra 3 GTX is waterproof, making them useful for rain and snow as long as you don't submerge them, but there is another version of the boot that doesn't have the Gore-Tex lining as well if you don't want it.
These boots are also a little wider, so if you have broader feet and have had issues with Salomon footwear fitting comfortably in the past, this might be a good option for you.
Like other Salomon models, they have good cushion and support, and they hold up well. However, beware of the mesh in these boots. It is not quite as breathable as in other models. It is a good idea to invest in a thin pair of wool socks to wear with this boot if your feet sweat a lot. On the positive side, they are also a slightly less expensive offering than other Salomon products.
Pros:
Excellent grip
Fits wider feet
Waterproof
Good cushion and support
Cons:
Not as breathable as other boots
Does not dry out quickly if submerged in water
The Verdict
There are a lot of high quality options out there for rucking boots, and it's difficult to name one as the first place winner. So instead of picking just one, we've chosen three winners for three different categories: Best Value Product, Best Premium Product, and Best Overall Product.
Best Value Product
We chose Ryno Gear Tactical Combat Boots with Coolmax Lining as our best value product because it offers enough support and ventilation to keep your feet comfortable while still being economical.
It's an excellent boot for beginners who are not ready to invest a whole lot of money to start rucking. Its lightweight and flexible, and the metal vents help with temperature and moisture control.
Best Premium Product
Salomon Quest 4D 3 GORE-TEX Men's Backpacking Boots seems to have it all. It works well in a lot of different temperatures and terrains. This boot also is loaded with great support and stability and can stand up to abuse.
We love the locking laces at the ankle that give you extra ankle support without squeezing the lower part of your foot. Giving your feet the ability to splay and behave naturally to accommodate carrying a large amount of weight, without having to worry about turning your ankles. Yes, they are one of the most expensive products on the market, but you pay for the higher quality.
Best Overall Product
Salomon X Ultra 3 Mid GORE-TEX Men's Wide Hiking Boots will give you the most bang for your buck. It offers good cushion and support and works well for beginners and experienced ruckers alike.
These boots are durable and will cover you on a lot of different terrains. It is slightly more minimalist than other models, but still a good quality and durable. It offers adequate protection for most environments and is a little wider to accommodate more foot sizes comfortably.
Beginner or veteran, soldier, or civilian, we are confident you can find a boot on this list to fit your particular needs and help you get out there and keep you going as you strive to reach your personal rucking goals.