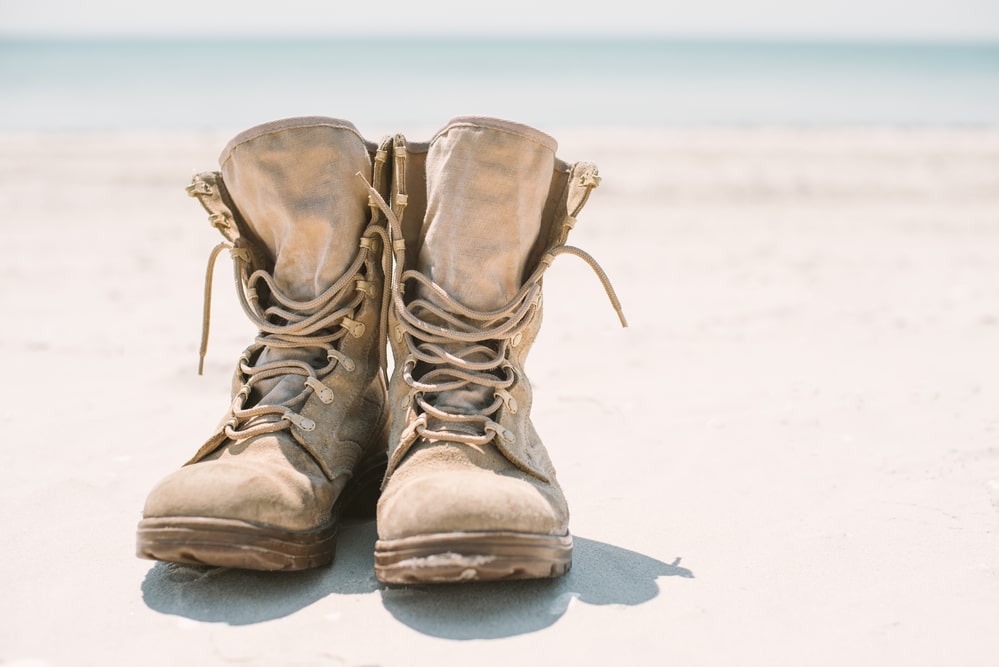 As an expert in the shoe industry, I understand the importance of selecting the right shoes for specific occasions. And this time, I want to share my insights on the best boots for Ranger School. This program is one of the most stringent programs a military member can go through, and you will need an especially tough pair to get through it!
From what I've learned, Ranger School will test not only your physical abilities but also your mental capacity. Before you even arrive at phase one of the training initiatives, a lot of hard work goes into preparing for Ranger School.
It involves long lists of required gear and equipment that must all fit into your rucksack. You'll be packing and unpacking for several weeks, and the gear itself can be a game-changer for this 60+ day excursion.
One of the crucial items on your list of necessary gear is your boots. Even the toughest of soldiers can be brought down by a foot injury. Whether you're dealing with general discomfort, blisters, or soggy socks, the condition of your feet can play a decisive role in whether or not you pass Ranger School.
As someone who has extensive knowledge of the shoe industry, I've rigorously tested and reviewed the best boots for Ranger School, and I'm excited to share my findings with you!
Our Top Choices
For everyone else, let's dive into a bit about Ranger School and why it's so essential that you have the right pair of boots.
What Does Ranger School Look Like?
Ranger School has been compared by some to the camping trip from hell -and even that description isn't heavy enough for some participants.
The course is comprised of three stages: Darby, Mountain, and Swamps. The Darby and Mountain phases take place in Georgia, one on Fort Benning and the other, as the name suggests, in the mountains.
Should you pass these two phases, you would then move on to the Swamp phase, which is located in the swamps of Florida.
It's important to note these three different phases because they each take various skill sets and require proper gear that is suitable for them. For instance, your boots need to be able to handle all three of these stages since they happen one right after the other.
Ranger School is technically a 62-day course of constant physical testing, leadership skills, and mission execution. However, soldiers can fail any of these three stages and receive a "no-go," meaning they haven't qualified to move on to the next phase.
When this happens, a soldier must start the phase over and try again. Depending on how many times this happens, an individual could be in Ranger School for as long as 250 days or longer. Soldiers are analyzed, reviewed by, and led by Ranger Instructors, or RIs, who will decide whether or not they've passed the phase.
Additionally, soldiers working with one another also rate their peers based on their performance. A low peer review can also result in a no-go, even if you technically passed the phase based on your RI's review.
RAP Phase (Benning Phase)
When you first enter the first phases of Ranger School, you must pass something called RAP week, which stands for the Ranger Assessment Phase. Technically, this phase comes before even the first phase, and it's designed to test a soldier through various physical challenges.
Your boots are essential in this part of Ranger School because the various tests you must pass include things like a 12-mile foot march, a 5-mile run, a combat water survival test, and night terrain runs. All of these physical excursions become much easier when you have the right footwear.
The Mountain Phase
After RAP week, the Darby phase puts personnel through the fundamentals of patrolling and small unit tactics. These exercises involve a ton of walking while carrying a 50-pound rucksack on your back.
The rough terrain and continuous movement can be hard on your feet, giving you another reason to ensure you're wearing the best possible boots.
During the Mountain phase, soldiers lead and operate missions with small units through whatever conditions the mountains throw at them. This means climbing up steep slopes, maneuvering down significant declines, and walking at odd angles on the side of mountains.
A boot with superb ankle support, excellent traction, and a comfortable insole is vital to surviving this 20-day portion of the course.
Florida Phase
Finally, the Swamp phase in Florida focuses specifically on boat operations, which means – you guessed it – water. If you can get a boot that's waterproof, then you'll be in good condition. However, it's also super important to find a pair of boots that dry out quickly.
There's a good chance that you will have very little time – if any – to wash yourself up and dry out your gear, so if your boot does well drying out as you're on your feet, then you're going to feel a lot better than the guy next to you with soggy socks and a host of foot-related medical issues.
A Summary: What Should A Ranger Boot Include?
Based on the rough and miserable circumstances that Ranger School puts a candidate through, I can compile a shortlist of qualifications that your Ranger School boots should include. Let's take a closer look so you can be sure.
Lightweight
If you're headed towards Ranger School, you need to know right away that you're looking at spending a lot of time on your feet. By a lot of time, I mean hours, even days, without really getting much of a break at all.
One of the components that's going to help you out a lot is if your boot is a lightweight model. While a few ounces or pounds here and there doesn't seem like a huge difference, you really will be able to feel it when you get out there and have to complete your 12-mile ruck.
Other physical events like running, pull-ups, and water operations are going to be a little easier on you with a lightweight boot. It's important to try to give yourself a little bit of help anywhere you can, even if it doesn't seem like it'll do much for you.
Traction
If you don't have a boot with excellent traction, you may as well quit before you even get started. Not only are you going to be walking a lot, but you're going to be maneuvering various kinds of terrain, altitudes, and inclines that may include rain or snow if you're especially unlucky.
If your boot have quality traction, it's going to save you a lot of time and potentially protect you from injury. Traction is vital through the Darby phase as it includes a lot of loose direct, but it's absolutely critical during the Mountain phase when you're always walking on some kind of incline or decline.
As if the steep slopes of the mountains aren't a challenge enough, you will also be walking on loose soil and rocky terrain, making the perfect environment for slipping and falling.
Traction will be helpful in the Florida phase as well, just because your boots will be wet for a lot of the time, and the friction will help keep you from slipping around on various surfaces. A pair of non-slips boots will improve your performance greatly.
Read Also: Best Breathable Work Boots
Support
Your boots will be your best friend in Ranger School if you ensure that they come equipped with quality support. This feature includes both arch and ankle support.
A boot with excellent arch support is really going to help keep your feet from aching too much. There's really no way to prevent your feet from hurting at all during Ranger School, but if your boot is lacking arch support, then it's going to be much more painful than it has to be. With all the walking, running, jumping, and climbing you have to do, a well-supported arch can only serve to help you out.
Additionally, support in your ankles is also something that can save you from significant pain or injury. All Ranger School boots have high ankles, but the best ones are tough and sturdy with top-notch laces that tighten all the way to the top.
This support is extra useful during the Mountain phase when you're at a higher risk of rolling or twisting your ankle. Of course, during all the other stages, a well-supported ankle can help keep you on your feet when you need it the most.
Some folks prefer a tactical boot that fits more like a sneaker but still has a high and supportive ankle. Many boots feature designs like this, so you can run and walk in a shoe that feels like it was made for performance.
Waterproof and Drying
When you're in the Florida phase, the majority of your time is spent wet and soggy. Florida phase is located in the swamps of Florida, where you complete water and boat operations, so everyone gets wet and mostly stays wet over the course of those last few weeks.
If you can find yourself a waterproof boot or water-resistant one, then you're going to be in pretty decent shape for this phase of the program.
However, you'll feel even better if you have a shoe that doesn't hold water and dries out fairly quickly.
If you have ever walked around for any amount of time in wet socks and shoes, then you know just how miserable it can be. Now think about doing that for a solid 20 days and nights. When something is off with your feet, your whole body suffers for it.
With boots that dry quickly, you can use any time you have in the sun to get them at least a little dryer than they were before. As I said before, when it comes to Ranger School, every slight advantage you can find for yourself helps, so don't discount shoes that will dry quicker than others.
Durability
And finally, one thing you should always look for in a good pair of boots for Ranger School is durability. Your boots are going through all of the stress and taking on all the same hits as you are, so it's crucial that they're well-built and can withstand the elements, actions, and mishaps.
The last thing you want is for your boots to start falling apart on you through this challenging and tasking course. Unraveled threads, broken soles, and the start of a hole can be such a sole-crusher during this time. These are the last things you want to see.
On top of that, these boots are not cheap. Though you bought them for Ranger School, there's a perfect chance that you will continue to use them afterward during your typical workday or for other schools, missions, etc.
Because these boots are so expensive, your best bet is to put the money towards a quality shoe that's going to last you a long time. Although the course is 62 days straight through, a large percentage of soldiers will fail and repeat phases, so your boots need to be able to last for well over 100 days in these conditions.
Remember that no one feels sorry for you when you're in Ranger School. If something happens to your shoes, you probably won't be handed another pair. Start off strong with a reliable and robust product that will get you to the finish line.
Cost
I have already implied that tactical boots are no joke cost-wise. It's pretty much guaranteed that you will spend a decent chunk of money on these boots.
Tactical or army boots can cost anywhere from $90 to upwards of $300.
Obviously, not everyone can afford to buy the highest-priced tactical boot with the most recognizable brand name out there. Budgets are a real thing, even when you're going through something as serious as Ranger School.
That being said, it's worth it at this point to simply accept that you're going to be spending more than you would on a pair of Skechers. Don't be too upset about it – when you're going through some of the worst days of your life with a heavy ruck on your back; you'll be happy you didn't sacrifice quality for a lower price.
Really take a good look at a product's details and features before focusing too much on the price. Once you've narrowed your options down to a few solid pairs of tactical boots, then you can make further cuts based on their price tag.
There are certainly a few key favorites that you'll hear about when you ask a ranger about his choice of boots, but to make things easier on you, I'm going to give you a nearly exhaustive list of some of the best boots out there.
Best Boots for Ranger School
The Garmont T8 NFS is a lightweight tactical military work boot that is highly suitable for multi-terrain environments like the ones you'll encounter during Ranger School. In demanding field conditions, you can expect this boot to deliver top support and comfort.
Made from suede leather and nylon mesh, this Garmont model is lightweight, durable, and breathable. The nylon mesh ensures quality airflow and ventilation, which not only helps keep your feet fresh but promotes quick drying after rainfall or water operations.
When quality support is at the forefront of your priorities, the Garmont T8 comes to deliver. Using zero optical refraction hardware and ball-bearing instep, your feet will be surrounded by support and comfort in every step.
The support couples well with the high levels of traction from the Vibram sole as well as stability and shock absorption to help you conquer every step of dirt, mud, rock, and water.
Pros:
Super lightweight design is excellent for long days and intensive training
Comfortable and supportive
It has a concise break-in period for immediate use
Excellent for warm weather or naturally hot feet
Highly breathable boots with excellent ventilation and quick-drying
Cons:
Consistently getting wet and drying can cause the boots to shrink over time
Boots take on consistent damage during long, intensive training
Many soldiers prefer the Oakley Light Assault Boot because of its trusted brand name but also because of its proven ability to stand up in rough circumstances. These boots have a look, but they also feature performance.
Made from leather, the outer makeup of this boot offers excellent protection and support from toe to ankle. This lightweight model makes movement effortless, while the entire shoe allows for natural flexibility all around.
On the inside of these boots, you will find an EVA midsole that delivers plush comfort and relieves shock absorption, which will be great for running on hard surfaces and jumping on rocky mountains.
The upper uses a synthetic material that is highly breathable, ensuring that your feet don't feel suffocated. The constant airflow helps to cool and dry your feet and your shoes, so even wet weather can't slow you down for long.
Even the laces on these shoes meet all the standards, providing reliable closure to support your ankles.
Pros:
Extremely lightweight; easy to carry and walk long distances in
Breathable design allows for excellent airflow and ventilation
Very comfortable to wear for long periods of time
High-quality laces let you wear your boot tight
Flexible and great for running with little risk of blisters
Cons:
A small amount of arch support
Soles are squeaky
Not waterproof
It has a lightweight design that offers little ankle support
For a few extra bucks, you can get yourself a sturdy, US-made tactical boot that is bound to exceed your Ranger School expectations. When the job gets tough, this boot proves that it's tougher, and I can explain the reasons why.
The Rocky RKC050 is a uniform-compliant boot that you can wear with any variation of operational camouflage. It uses flash-resistant and water-resistant leather and nylon to protect you from the elements, especially water, and fire.
The combination of S2V Sieve technology and wicking Dri-Lex linings help absorb sweat and push water out of your boots. These details promote air circulation so that your feet and shoes dry quickly and stay for ultimate comfort.
If you're looking for some extra support and comfort, then this boot could be the one for you. The roll-stop ankle stability gives you a secure fit, while the stretch tongues help to hug your feet for even more protection from injury.
Everyone who has experience in Ranger School knows how vital a good sole is, and these boots have some of the best with Vibram materials. It features high-walled deep treads for the best traction. Finally, the air-port footbed gives you a cushion like none other for ultimate comfort during some of the most uncomfortable situations.
Pros:
Excellent ankle support for varying terrain
Highly comfortable fit with good arch support
Deep rubber treads provide superb traction
Heavy construction holds up well under pressure, stress, and different situations
Unique technology promotes fantastic airflow and moisture wicking
Cons:
Shoelaces are slick and don't always stay tied
More substantial than some lightweight boots
The Belleville 320 is a boot that comes highly recommended by previous Ranger School attendees, mainly because it is one of the lightest Berry Compliant boots on the market today. This lightweight design is conducive during tactical situations, timed runs, and long rucks. It's also ideal for carrying in an already heavy pack.
Aside from its weight, this Belleville boot is made from a classic suede and leather design that is built tough. The quality construction stays put through your toughest circumstances, and the athletic design gives you a natural fit.
The Vibram incisor outsole is an exclusive feature that provides reliable traction for all terrains and weather, while the perforated upper allows for proper airflow.
These minimalist boots may not have all the bells and whistles that some other boots have, but they offer quality construction that lets you move fast and get the job done: short, sweet, and to the point.
Pros:
Minimalist design is ultra-lightweight for quick movements and no drag
The comfortable fit is suitable for long-term wear
Vibram sole is aggressive and reliable in all kinds of weather
Highly draining and quick-drying
Spacious toe box for added comfort
Removable inserts are great for adding custom support
Cons:
Sizes run large
Not as durable as heavier boots
While the previous Garmont boot I listed in this guide stands out in terms of its lightweight appeal, this model wins out in its heavy durability and attention to detail.
The classic suede appearance pairs up with an upgrade on nylon webbing, metallic eyelets, and Gore-Tex.
Made for comfort, the Garmont T8 Bifida features a PU breathable footbed and an EVA insole. Additional hardware ensures your best performance in the instep for support at all levels of tactical operations.
Like most tactical boots, the Bifida uses a solid rubber sole. However, this boot offers a high level of dedication to an anti-slip surface with deep treads that grip the ground and prevent falls.
Though this boot is heavier than some, it's still considered relatively lightweight and won't weigh you down during your missions, runs, and training. The upper is highly durable yet widely breathable, providing wearers with excellent ventilation and quick drying.
Pros:
Slip-resistant and highly gripping treads are great for all surfaces
Quality construction uses durable materials, great stitching, and protective details
Very breathable with excellent ventilation and quick drying
Supportive and comfortable with no hot spots
Cons:
Not waterproof or water-resistant
Awkward tongue design puts unnecessary pressure on the ankles
Danner is another one of those brand names that people see and get excited about because they're known to be reliable and quality products. The Desert TFX G3 Duty Boot is no different.
Made with a rough-out leather upper and rugged denier nylon, not only is this boot built to take a hit, but it's super lightweight. The unique lacing system lets you achieve a custom fit for a glove-like feel, while the cross-stitch construction ensures your boot will last a long time.
The outsole uses Vibram materials, but it also invokes a 360-degree pentagonal low lug pattern that promotes gripping and traction from all angles. AR 670-1 approved, this boot might just be your next favorite.
Pros:
Unique rubber sole design evades water and provides excellent traction
Innovative lacing ensures a glove-like, personalized fit
Quality materials and cross-stitching make for a durable boot
Boots give phenomenal support
Cons:
Cut of the boot is not traditional and may be uncomfortable for some
The Bates GX-8 is one of the few boots on this list that features a composite toe design. While this certainly isn't a requirement for participating in Ranger School, it definitely is a great safety bonus that is rated for impact and compression protection.
Made with Wolverine Warrior Leather, these boots are oil, stain, and abrasion-resistant, leaving you with boots that look and perform great for longer.
The nylon panels on the upper are perfect for comfort levels, delivering excellent breathability for a well-ventilated and dry boot. The padded collar and tongue work alongside a removable insole and a mesh lining to make sure your feet are highly comfortable in tough conditions.
A cushioned midsole gives you not only great support but impact protection with shock absorption.
The solid rubber outsole has a reliable and slip-resistant grip that surpassed SATRA WTM 144 testing expectations. With a lightweight construction, you'll fly through Ranger School in these boots.
Pros:
The slip-resistant rubber sole is perfect for various conditions
Composite toe delivers additional impact protection during missions
Lightweight and easy to walk and run in
Cushioned midsole and padding offers unmatched comfort
High ankle support
Cons:
Construction does not hold up over long periods of wear and tear
Smith & Wesson brought us the Breach 2.0 Tactical Boots as their way of saying they're quality, and they know it. This brand incorporates top reliability and the best experience in these performance boots, ensuring your time in Ranger School is a breeze.
Made with leather and nylon, the construction of these boots provides full-on protection and a gusseted tongue to keep dirt out. The rubber outsole was made to complement this protection by adding maximum traction with unique gripping patterns to combat dirt, rocks, and slick surfaces.
The EVA midsole, steel shank, and board-lasted makeup all work in collaboration to deliver a highly comfortable experience for long-term wear. With cradled support and a lightweight feel, Breach 2.0 ensures you feel your best for the longest of missions.
While the lace-up design gives you a snug fit, the zipper on the side offers a quick way to slide your boots on and off when you're in a hurry. Whether you're running late or find yourself in an emergency situation, the zipper will be a feature you'll be happy to have.
Pros:
Reinforced toe offers additional safety and protection
The lightweight feel is perfect for long runs or periods of walking
Innovative rubber outsole design is highly gripping
Solid and comfortable construction
Cons:
The finish on the toe doesn't last
Stitching is cheap
5.11 is a brand well-known for producing high-quality tactical gear and equipment that meets and exceeds expectations on a regular basis. Their ATAC Combat Military Boots certainly live up to the 5.11 name and the reputation the company has established.
With the classic look of any military combat boots, these shoes are as tough as they come. The authentic leather construction is rugged and durable, with 100% full-grain quality. They are made to take on all the wear and tear you need to throw at them, and they won't disappoint.
The standard of quality here is just as high as the standard of comfort. The innovative design features a full-length insole with dual density and an Ortholite X25 foam layer. Your foot will instantly feel the comfort of this cushioned detail, making it excellent for long-term wear and intense environments.
A unique breathable tongue promotes high airflow, meaning your feet won't feel trapped inside this shoe – even with its snug and secure fit. The tongue's design lets air come in and out, which also helps to dry the boots quickly.
5.11 is always up to military standards, so you know they're tough enough to keep you on your feet with great traction and excellent support.
Pros:
Durable construction holds up well over long periods of time
Zipper allows for quick on and off as needed
Boots are highly comfortable and supportive
The lightweight design is great for intense activities and carrying
Cons:
Eyelets are not very durable and break easily
Slip-resistance doesn't hold up in colder weather
It's no surprise that I get to feature yet another Danner boot on this exclusive list of the most quality tactical boots on the market. The name itself draws respect from consumers, and the products have certainly earned that entitlement.
The 100% synthetic fabric material may not be as quality as leather, but it certainly performs well. This particular makeup is perfect for keeping your boots lightweight without any extra frills holding them down. It's also incredibly great for air-drying, delivering quick drying for your time in wet environments.
The outsole of the boot features Danner Tachyon rubber, which uses an effective pentagonal lug design. This design ensures the best surface contact, detracting water and eliminating the risk of slipping.
The internal makeup boasts an open-cell polyurethane footbed that promotes airflow, keeping your feet cool and dry during hard days in the field. The boot is topped off with an abrasion-resistant toe cap that will keep your toes safe and give your boots a long wear life.
Pros:
Very lightweight and perfect for everyday wear
Open-cell design is great for airflow and quick drying
Innovative rubber sole treat design offers excellent grip and traction
Very comfortable and good for running
Cons:
Not water-resistant and get wet quickly
The lightweight sole design does not deliver extra support
Not as durable as other boots
The Original SWAT Classic Tactical Boot is one that is used by many professionals, not just the military. You can find these boots on emergency medical services professionals as well as anyone else who needs a tough, quality boot.
Because its use is so widespread, it's not often the first choice of servicemembers. However, it's a solid one, nonetheless.
Made from leather, this great-look boot dedicates its details to excellent support and comfort. The shoe features a custom-molded thermoplastic heel counter and toe box that promotes lateral support and ultimate comfort through the toughest of situations.
It also uses a custom-molded phylon EVA midsole that not only cradles your foot for comfort and support but is also super lightweight to keep the shoe from being too heavy.
On the inside, the shoe is lined with moisture-wicking material that is also antimicrobial-resistant, keeping your feet from soaking up bacteria that can cause foot fungus and other ailments.
The durable construction will ensure that this shoe gets you through Ranger School with any issues, and you can definitely count on the solid rubber treaded soles that are slip-resistant certified.
Pros:
A cheaper alternative to "traditional" military boots but still AR 670-1 compliant
Weight is comparable to a lightweight assault boot, which is easy for maneuvering around and packing
Highly comfortable boot with excellent support and no hot spots
Good for both hot weather and cold weather
Cons:
Ankle support is more gradual than straight-forward and tight
Not waterproof
Conclusion
I know just how difficult your next 62+ days are going to be, and that's why I've made it a priority to make sure you are getting the best boots ever before you attend the Ranger School program.
Earlier, I mentioned a few of our top favorite products, and I'd like to give them another nod here to perhaps help you along with your choice a little quicker.
Best Overall
Our best overall boot for Ranger School is the Belleville 320. This boot is one that is often chosen and recommended by Ranger candidates and tab-wearers alike.
Best Premium Boots
For the premium product, I recommend the Rocky RKC050 Military and Tactical Boot. Anyone who's willing to spend a little extra money deserves nothing but the best, and that's what you're sure to get if you pay top dollar for this Rocky model. With all the features you could want and need, you'll be extremely happy you purchased this boot.
The Rocky boot is made with quality stitching, features highly innovative airflow and moisture-wicking technology, and delivers top-notch ankle support. The deep Vibram treats are perfect for all-terrain traction, and the flame-resistant coating is just yet another bonus. With a comfortable fit and reliable lace-up design, this shoe takes the cake.
The Best Value
Finally, for our best value product, I chose a boot that has excellent qualities but for a reasonable and affordable price. The Garmont T8 Bifida Tactical Boot is one that has everything you need for a successful run at Ranger School but for a fair and acceptable price.
With this Garmont model, soldiers get high-quality and durable construction, a breathable and quick-drying design, and excellent grip and traction on all surfaces. The well-known brand name delivers strong attention to detail and a dedication to quality that you just can't pass up.
The boot you choose in Ranger School can make or break your entire experience. You can avoid a lot of pain, stress, and frustration by knowing you've made a solid footwear decision.
Use this list and this guide to help you through one of the toughest and most important courses of your military career. All of the details and features I have explained are crucial to a positive Ranger School experience, so keep them all in mind to find the best boots that help you achieve your best performance!