Whether you're brand new to skiing or no stranger to the black diamond slopes, it's important that you have all of the necessary gear in your kit to enjoy your time out on the powder. In addition to a nice, warm ski suit and a pair of high-quality skis, you'll also need the right pair of boots before hitting the slopes.
The ski boots that you wear not only affect your comfort throughout the day but also your safety and overall performance. Fortunately, there are unique designs available to suit just about any foot. Here, we'll go over what to look for in a pair of quality ski boots and our favorite styles for skiers of any ability level.
Our Top Picks
Why Wear Ski Boots?
Your boots can affect your skiing performance more than just about any other type of gear. They're designed to translate movement in your feet and ankles to your skis, giving you a smooth stride. Because the boots are designed to be stiffer than your average shoe, they offer plenty of support around the ankles to prevent issues such as rolls or sprains.
Padding within each boot holds your feet and ankles in place, giving you additional support. Your feet won't slide around in your ski boots as you move, while your ankles won't suffer from excessive side-to-side movement. The padding also provides comfort that can help to improve your stamina over the course of the day.
Ski boots not only help to keep you safe and comfortable but also warm. The exterior is designed to be watertight so that you don't have to worry about your feet getting wet and freezing. Each boot is also padded along the interior, trapping in heat and providing plenty of insulation to protect you against concerns such as hypothermia and frostbite. This feature can help you to keep going for longer in just about any conditions.
The Parts of a Ski Boot
While ski boots may look like most other shoes, they're designed differently than everyday footwear. Here, we're going to go over the different parts of a ski boot that help to support your feet and improve your performance.
The Shell
All ski boots have a solid outer layer that's designed to protect and insulate. In general, it's made of two parts. The lower shell houses your foot, protecting it from rough terrain, weather, and heavy impacts. The cuff is the upper portion of the shoe and is designed to protect the ankle.
The very first ski boots produced in the early to mid-1900s were primarily made of leather. It wasn't until the 1960s that Bob Lange and Dave Luensmann created the first vacuum-molded plastic ski boot shell.
Nowadays, the vast majority of skiing boots have a polymer plastic shell. Some of the most common materials include Polyurethane or Polyether. Many shells are even composed of several different plastic materials to offer optimal strength on any terrain or in any weather conditions.
The shell of a ski boot is typically held in place by a series of buckles. Most traditional boot designs offer two buckles over the top of the foot and two around the shin, while newer models may have fewer. Most ski boots also have a strap around the cuff for support, which is sometimes referred to as a power strap.
The Liner
In between the hard shell of a ski boot and your foot, a liner helps to offer comfort and protection. Like the shell, the liner of a boot can vary to suit different foot types, skiing styles, and more.
Liners are primarily used for comfort and support. They're padded, preventing the pressure of the hard shell from causing damaging your feet and ankles. The liner also helps to keep you from moving around too much with each stride and keeps your feet warm in cold-weather skiing conditions. Many are made from insulating synthetic fibers, while others offer natural insulators such as wool.
Liners can be different weights depending on the shape of your foot, the boots that you wear, and your skiing habits. Often, thick liners are best for those seeking comfort and support, though that may reduce responsiveness and mobility. They tend to be the liner of choice for beginners and intermediate skiers.
Thin boot liners, on the other hand, don't offer much in the way of insulation or support. Instead, the design focuses on speed and power transmission. Light liners are generally reserved for experienced and competitive skiers, especially racers.
Read Also: Best Ski Boots for Women
The Insole
The insole of a shoe, also known as a footbed, is what lies underneath your feet as you walk. All shoes, including specialized skiing boots, come with an insole to offer comfort and support.
Unfortunately, as with many other types of shoes, the insole that comes with most ski boots tends to be lacking. Often, it's thin and offers minimal support to allow it to fit the widest range of people. While you can find ski boots with substantial insoles, many people choose to replace the original with a design that molds better to their foot shape.
If your otherwise perfect ski boot doesn't have a comfortable insole, don't worry. It's easy to replace the insole in most shoes with a better version. You can find a variety of easily affordable over-the-counter styles that can be cut to size, or see a professional to get fitted for custom orthotics.
The Sole
The main reason that you can't wear your favorite shoes with your skis is that they won't fit the bindings, leaving you free to slip out and injure yourself. The soles of ski boots are specially designed to attach to standard skis so that they stay firmly in place.
Most skis require a boot that adheres to the ISO 5355 design standard. When looking for new ski boots, seeing this standard can help you to be sure that your shoes will fit the binding on just about any modern alpine ski.
What to Look for in a Pair of Ski Boots
Shopping for a new pair of ski boots is never easy. Whether you're buying your first pair of ski boots or looking for a different fit, there's a couple of important things that you should keep in mind.
The Flex of the Boot
Ski boots have to be stiff and rigid in order to offer the support that you need to tackle downhill slopes. While this may make walking on flat surfaces a challenge, it makes skiing much safer by restricting ankle movement.
The flex of a boot measures just how much it will move under pressure, and ratings usually range between 50 and 140. While flex index ratings aren't unanimous across every ski gear manufacturer, they can give you a good idea of just how stiff a boot might be. The most common flex fits include:
Soft: These boots are ideal for beginners and casual skiers. They are comfortable but don't offer much in the way of support. Typically, the flex index is below 70 for women and 80 for men.
Medium: Boots with a medium flex are slightly stiffer and offer improved performance for intermediate skiers. The flex usually ranges between 70 and 90 for women, and between 80 and 100 for men.
Stiff: These are highly responsive boots that are designed for competitive performance. They're ideal for advanced skiing, but may be too rigid for beginners. Stiff flex boots most often have a flex index of above 90 for women and above 100 for men.
Versatility and Adjustability
Many ski boots are adjustable, allowing you to use them in a variety of conditions. Because the inflexibility of the shell and cuff can make walking difficult, some high-end boots allow you to separate and reattach the shell from the sole so that the boot can function as everyday footwear.
There are also ski boots that allow you to adjust flex to suit your needs. Some designs have a flip or switch to adjust rigidity in certain areas. This design can help you to customize your skiing style to suit whatever snow lies on the slopes, whether it might be powdered or compacted.
If the issue is with the fit, you may be able to adjust your boot to suit the shape of your foot better. You can buy more snug orthotics, or you can turn to inserts such as wedges and insertable foam pads. Foot liners can also improve fit by preventing movement within your boot.
Best Ski Boots Review
With so many different varieties of ski boots to choose from, shopping for the right pair can be overwhelming. We're going to go over some of the most popular styles on the market today for skiers of all ages and experience levels.
These boots are both attractive and comfortable, offering a wide fit that won't cramp or pinch larger feet. A 102mm last is designed to fit wider feet than the average boot, while a high instep gives more wiggle room around the upper foot.
The boot's shell is black with red and chrome accents for a sleek, fashionable look that's sure to stand out on the slopes. The exterior is made of polyolefine, which is a sturdy yet lightweight plastic that's able to withstand frequent wear and tear.
The Tecnica Ten.2 70 HVL offers a medium flex, with an index rating of 70. It's ideal for beginners and intermediate skiers, as the shell provides plenty of support without making walking too tricky. An i-Rebound Construction adds forward flex resistance, while reinforcement in the back gives plenty of rearward support.
Technica's unique Quick Instep Max design makes these ski boots easy to take on and off as needed. Softer plastic is injected at key points across the top of the foot, making it more flexible as you slip your foot inside.
Four sturdy buckles around the top of the foot and ankle help to hold the boot safely in place as you move. A 35mm power strap secures the cuff of the foot, keeping in the heat and offering plenty of ankle support.
The interior of the boot is padded with an UltraFit High Volume Last (HVL) liner. It's heat-moldable, allowing you to easily create a custom fit that's snug around your foot. The liner is also thick enough to protect your feet against the elements, yet thin enough to allow plenty of breathing room for your feet.
Pros:
Medium flex is ideal for beginners and intermediate skiers
Designed to fit wide or large feet comfortably
Heat moldable HVL liner
Quick Instep Max design makes the boot easy to slip on and off
Four buckles and a 35mm power strap for closure
Cons:
May not fit small or narrow feet well
Not enough support for advanced skiing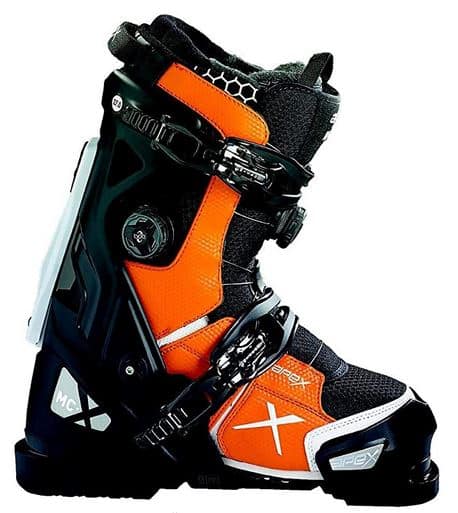 This boot is built for high-performance skiing in even the roughest of conditions, with a durable outer shell and solid fastenings. They have a stiff flex, making them ideal for downhill skiing and racing by giving you plenty of support and control.
The soles of these boots are designed to work with most modern ski shapes, making them a versatile choice for those who prefer a little bit of variety during their time on the slopes. Along the inner side of the boot, Vibram® soles give plenty of traction when climbing to make walking safer and easier.
The interior of the Apex MC-X boasts a comfortable, insulated liner that helps to keep your feet warm and allows you to spend more time outdoors. The liner is heat moldable so that it conforms to the exact shape of your feet for a better fit.
A dual boa closure system ensures that your feet stay dry and warm throughout the day. There are eighteen separate points of closure with micro-adjustable ratcheting buckles, giving you a tight, precise fit. The shell of the boot is designed to close slowly using a knob system, which allows for complete control over how tight your boot is. Lacing cables ensure that your boots place even pressure across the surface of your feet.
Apex makes it easy to find the right fit for your feet when shopping for ski boots. The MC-X follows standard shoe sizing, meaning that the right fit for you is most likely the same size as your everyday footwear. They do run slightly small, however, and so you may have to try on a size up from what you're used to wearing.
Pros:
Stiff flex for superior downhill performance
A dual boa closure system for a tight and even fit
Heat-moldable liner
Closes slowly and evenly using a knob
Easy to understand sizing
Cons:
The top latch may pop out of the Boa closure
Difficult to take on and off
Sized small
This ski boot is specially designed to fit children's feet and help introduce them to the world of skiing. They have a soft, comfortable flex, making them ideal for beginners. They're easy to both walk and ski in as needed.
The Roces Idea Adjustable Kids Ski Boot is also easy to take on and off as needed. The liner boasts spandex around the cuff, making it easier to slide a foot in and out of the boot with ease. The rest of the liner is made of memory foam, allowing it to conform to any foot shape. It also helps to insulate, keeping kids' feet warm all day out on the powder.
The shell of the shoe is made of a tough, durable plastic that can withstand plenty of abuse over the years. It comes in a variety of fun colors and styles for both boys and girls. The sole fits most standard children's ski designs.
Perhaps the most attractive feature that these ski boots have to offer is their adjustability. As any parent knows, kids' feet can grow fast. It gets expensive replacing ski boots once to twice per year, and so instead, this style offers a design that's able to grow alongside a child's feet.
The length of the boot, the width, the cuff height, and the cuff width are all completely adjustable. In just three simple steps, the Length Growth Compensator system allows you to readjust the boot for a snug fit. The Height Growth Compensator can accommodate the calves and legs as they grow, while the Width Growth Compensator helps to ensure a tight fit with micro-adjustable buckles. These boots can cover up to six mondo point sizes.
Pros:
Adjustable up to six mondo point sizes
Comfortable and stylish
Easy to slip on and off
The soft flex is ideal for beginners
Insulated memory foam liner
Cons:
May not be warm enough for small children
The rigid cuffs may cause discomfort
This boot is built for comfort, with a design that's easier to walk in than other high-performance ski boots. It's made for intermediate to advanced skiers, with a medium flex of between 95 and 115. An open-chassis external frame allows you to customize the flex level of the boots to suit your current needs. You can create a stiffer shell for more support on downhill slopes, or ease off and allow more flex for cross-country expeditions.
The outsole of the boot boasts a textured design, allowing for more traction when walking without skis. The tread helps to give you grip against packed snow or icy conditions, making it easier and safer to walk around.
This ski boot also offers superior stability, helping you to stay balanced even when tackling more difficult slopes. Precise edge control gives you optimal performance during downhill skiing sessions.
Thanks to the tough outer shell and raised cuff design, the Apex HP All-Mountain Ski Boot offers 360-degree support from both the front and back. A dual Boa™ lace system offers 14 separate points of closure, keeping your boot snug against your foot and locking your heel in place for better control. The lacing system is stainless steel so that it can stand up against the elements for years without showing signs of wear.
Each boot has an EVA heat-moldable liner inside that is able to conform perfectly to the shape of your foot. Medial and lateral cuff alignment also both help to give you a perfect fit all day long out on the slopes. In general, this shoe fits true to the sizing of street footwear, making it easy to find the right size for your feet.
Pros:
Walkable design with textured tread for traction
360-degree support for enhanced stability
Boa™ lace system for a tight fit
Comfortable, heat-moldable liner
True to size
Cons:
Difficult to take on and off
May not fit larger feet
These boots are built for the advanced downhill skier, with a stiff flex index rating of 120. Despite being rigid and durable, however, the boot is also lightweight. This feature makes it ideal for high-speed skiing and easy to bring with you on your trips to the slopes.
The boot fits snug against your foot without placing too much stress on sensitive pressure points. A heat-moldable shell allows you to customize each boot to fit the unique shape of your feet. And Endofit tongue design also helps to keep the shoe in place over your instep.
Customizable foam 3D Pro Liners in each boot grip your foot without placing too much pressure on your joints. The liners also conform to the contours of your feet, enhancing comfort while reducing your risk of blisters.
When you're not wearing your skis, a Motion Flex design with a Surelock mechanism gives you a greater range of motion in the foot and ankle. This design feature makes it easier to walk around without a stiff cuff getting in your way. When it's time to ski, you can simply lock the boots back in place.
A Twinframe2 design also helps to improve flex in addition to 24mm oversize pivot bolts. These features help to efficiently transfer power from your boots to your skis, giving you better control and superior performance.
You can secure each boot in place using three micro-adjustable aluminum buckles. They're light to keep them from weighing down the shoe, yet sturdy enough to stand up to regular wear and tear. The buckle around the cuff of the boot offers a walking mode, making it easier to move around without your skis.
Pros:
Snug, customizable fit
Wide range of motion when walking
Efficiently transfers power to your skis
Strong yet lightweight aluminum buckles
Stiff flex is ideal for advanced skiers
Cons:
Take some time to break in
Flex may feel softer than 120
These ski boots offer a wide fit that's ideal for those with a large forefoot and a medium to wide leg shape. They allow for plenty of wiggle room without cramping the toes or cutting off circulation to the foot, making them a good choice for all-day wear.
The Rossignol Speed 90 has a medium flex, making it an excellent choice for beginners and intermediate skiers looking for a quality downhill boot. It's also relatively easy to walk in and even features textured soles for added grip.
A unique sensor matrix constriction uses grid positioning along the upper cuff and the lower portion of the boot's shell to help reduce pressure on your foot and improve comfort. This design also effectively transfers energy from your lower body to your skis, giving you better performance on any slope. What's more, the sensor matrix lowers the overall weight of the boot.
The Speed 90 is designed to be easy to get on and off, thanks to its Easy Entry Insert design. Across the top of the foot, a soft, plastic insert offers increased flexibility to give you more wiggle room around your instep and ankle.
Inside the boot, an Optisensor Liner keeps your foot warm and comfortable as you ski. The liner is heat-moldable, allowing it to conform to the exact shape of your foot. The liner helps to hold your foot in place thanks to the addition of rigid padding in the heel and ankle pocket, which both prevent excessive movement.
Four sturdy buckles work to hold the shell of the boot in place and prevent cold or moisture from seeping in. Around the cuff of the boot, a velcro ankle strap provides support along with a snug, even fit.
Pros:
Extra-wide design
Medium flex is ideal for beginners and intermediate skiers
A sensor matrix construction improves performance and comfort
Easy to take on and off
Optisensor liner molds to your foot to keep you warm and comfortable
Four buckles hold the shell firmly in place
Cons:
May not be stiff enough for advanced skiers
Not ideal for narrow feet
With a rear-entry design, these ski boots are easy to take on and off without any issues. They open wider than front-entry boots, allowing even those with larger feet to slip the boots on and off in just seconds.
These boots are ideal for beginners both because of their ease of use and their soft flex. They have an index rating of just 40, making them both comfortable and flexible. They're easier to walk in than stiffer ski boots, and won't put as much pressure on your ankles.
These boots are designed to fit feet of all sizes, with a width of 105mm in the forefoot area. This means that the boot won't cramp your toes, even if you have wider than average feet. However, people with narrow feet may find that they need extra padding to keep their feet in place when moving.
The interior of this boot is lined with thermal material to keep you warm in any conditions. There's even extra thermal padding in the toe to keep you warm and reduce your risk of issues such as frostbite.
These ski boots feature removable pads in the toe and the heel. These help to cushion your feet and hold them firmly in place but can wear down quickly. Instead of replacing the whole boot, these shoes make it easy for you to remove old and worn padding and replace it with new plates.
A durable plastic power strap around the ankle of the boot helps to hold your foot in place and support your ankle as you ski. It's adjustable, giving you the best possible fit for your body shape. The strap also wears down less quickly than more delicate velcro options.
Pros:
Easy to slip on and off thanks to rear entry design
A soft flex is ideal for beginners
Extra-wide to fit larger feet
Lined with thermal material, including extra around the toe
Durable and adjustable plastic power strap
Cons:
Sizing runs differently than most boots
May cause a backward lean
These ski boots are designed to look and feel like streetwear, with a sneaker design complete with laces. The top of the boot is made of mesh and synthetic leather, giving it both breathability and durability. The boot is also made of King Tex fabric, a high-tech material made to be waterproof, wind-proof, and exceptionally durable.
Though the shoes are breathable, they also offer plenty of insulation for skiing in cold weather. The interior is lined with 100g low-bulk Thinsulate® insulation, helping to keep you warm without adding excessive weight to the boots. The liner is padded, keeping your feet comfortable, and designed to dry quickly if it does happen to get wet.
There's also a padded insole inside the boot for added comfort and support. It's completely removable in the event that you want to place it with a custom insole or orthotic. A gusseted tongue helps to hold your feet firmly in place, while front and rear pull loops make it easy to take the boot on and off whenever necessary.
The sole boasts a reinforced toe guard and heel counter for both comfort and stability. A D-ring on the toe offers a convenient spot for you to attach a gaiter, making the shoes easy to transport when they're not on your feet.
The Whitewoods Nordic Cross Country XC Ski Boot is easy to adjust thanks to metal speed-lacing eyelets. Instead of having a buckle system, these boots lace up just like normal trainers for a snug and secure fit with minimal effort.
These ski boots work with any 75mm, or 3-pin, binding system. This means that the boots can attach to skis using three conveniently placed metal pins. This type of binding is safe and secure but can be a hassle to attach and remove.
Pros:
Look and feel like regular sneakers
Easy fit thanks to lacing
Breathable yet insulated
Padded, removable insole and comfortable lining
Work with any 3-pin binding system
Cons:
Sizing runs small
Doesn't work with all ski styles
Difficult to attach and remove from skis
This ski boot is designed for superior performance, with an extra stiff flex that offers the maximum amount of support from all directions. A raised cuff offers plenty of ankle support to help prevent the risk of accidents or injuries, even on the toughest of slopes. It's an ideal boot for racing and other high-speed pursuits and is best for advanced skiers.
A Twinframe2 construction helps to make this ski boot more responsive at high speeds, both to improve performance and keep you safe from accidents and injuries. The design features stiffer plastic on the sole of the boot than the shell, helping to eliminate torsional twisting.
A set of 24mm oversized pivot bolts attach the cuff to the shell of the boot, helping to direct energy appropriately as you ski. Movement is translated down to the edges of your skis, giving you greater control over edge grip and power.
Any authorized Salomon dealer can customize the X-Max Race 120's 360-degree shell. The plastic is molded and shaped in an oven for a snug, comfortable fit and will match the exact shape of your foot. This gives you optimal support and performance.
Four sturdy plastic buckles help to hold the boot in place and give a tight, sealed fit. Inside the boot, a padded lip and liner help to cushion your foot and add extra support to the molded outer casing.
This boot fits narrow to medium feet and a medium calf best. It may not be the ideal choice for those with wide or large feet, as the casing may end up being too tight for comfort. However, the boots fit true to size for most.
Pros:
High-performance racing design
Customizable shell for a tight fit
Twinframe2 construction for better performance at high speeds
Oversized pivot bolts translate energy effectively
Four buckles for a tight fit
Cons:
Not the most comfortable shoes
May not fit wide or large feet
This ski boot is both comfortable and fashionable. It looks and feels just like a regular trainer, making it easy to walk out of your skis when out on an expedition. They're specifically designed to keep you comfortable and improve your stamina during cross-country skiing trips. The T5 has a super soft flex and is designed for beginners to intermediate-level skiers.
Inside the shoe, Thinsulate insulation helps to keep your foot warm and toasty even in bitterly cold conditions. What's more, the lining is thin enough that it doesn't add much extra weight to the boot, and it leaves plenty of room for larger feet.
Lacing across the top of the boot gives it an adjustable fit that will rest snugly against just about any instep height. Thick padding around the lip and cuff of the shoe not only cushions your ankle but also helps to hold your foot firmly in place as you walk, preventing friction burns and blisters.
Inside the shoe, the insole is made to mold to the natural shape of your foot, giving you both support and comfort. Thin, breathable padding also helps to keep your feet comfortable even during long cross-country tours.
The sole of the boot is made of heavy-duty rubber and features deep ridges, giving you superior grip in slippery or icy conditions. A Rottefella NNN T4 design allows the boot to attach to compatible Rottefella NNN Touring Auto bindings and other similar adult binding styles. However, the shoe doesn't fit with all popular modern ski designs.
Pros:
Looks and feels like a regular sneaker
Thinsulate insulation keeps your feet warm
Easy-to-use, adjustable lacing
Molds to the shape of your foot
A soft flex is ideal for beginner and intermediate cross-country skiers
Cons:
Tight around the ankle
Doesn't fit with many binding styles
The Bottom Line on Ski Boots
A pair of quality ski boots is a must-have for any trip to the slopes, whether you're a beginner or an expert skier. The type of ski boot that will work best for you depends on a number of factors, such as your size, your skiing habits, and your experience level.
Out of all the ski boots that we've reviewed, our best overall choice is the Tecnica Ten.2 70 HVL Ski Boots. The shoe is built for performance and durability, with a tight, customizable fit that can mold to just about any foot.
Our favorite premium product is the Apex HP All-Mountain Ski Boot thanks to its high-quality build. The boots have an adjustable flex, making them a versatile choice for any skier.
When it comes to value, our top pick is the Alpina R4 Rear Entry Ski Boots. These boots are affordable without sacrificing quality. What's more, they offer a convenient rear entry design and an adjustable fit that's ideal for beginners and intermediate skiers alike.