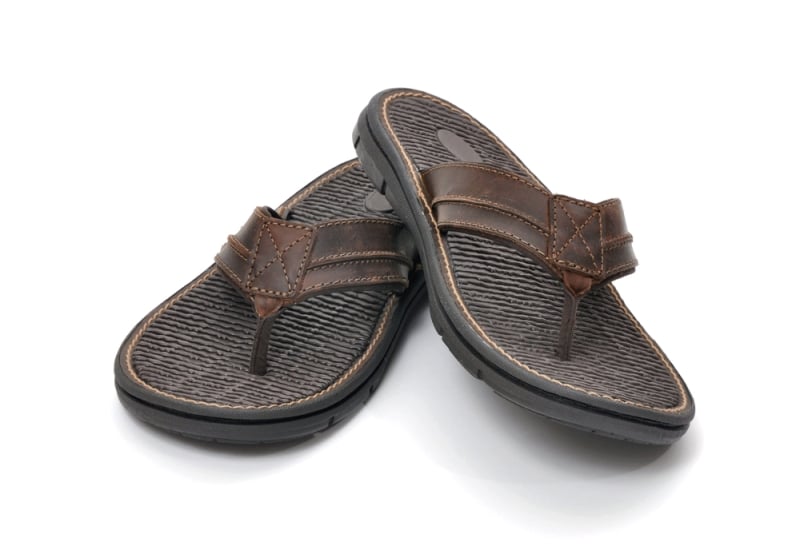 Whether you're spending a day at the beach, quickly running out the door to take care of some errands, or tying together a casual outfit, a good pair of flip flops is a versatile staple of any wardrobe. Of course, you could get one of those cheap plastic pairs. But those tend to be flimsy, often not even lasting a full season before falling apart.
If you're looking for a reliable, long-lasting, stylish flip flop, a leather pair could be perfect for you. Leather flip flops look good with any outfit, if you take care of them, they can last for years, and best of all, they're good for your feet. According to the American Podiatric Medical Association, leather flip flops can help prevent blisters and irritation.
Leather flip flops can be expensive, though, with a price range comparable to closed-toed sneakers. If you're going to invest in a pair, you want to get it right. There are a wide variety of options available, each with their own strengths and weaknesses. But don't worry, we have you covered. If you have time, read on through our handy buyer's guide.
Our Top Picks
Buyer's Guide
So, you want to buy a pair of leather flip flops. But how do you know what to look for? What leather flip flops best fit your needs? Let's start by talking a bit about what flip flops are, and how you plan on using them.
Leather Flip Flop 101
Flip flops and sandals are amongst the oldest forms of footwear. The first known sandals were found in Fort Rock Cave, Oregon, and archaeologists believe them to be nearly 10,000 years old. Traditional flip flops, meanwhile, were shown in Egyptian art dating back 4,000 years, and they were also common in ancient Greece, China, and Japan.
The modern flip flop was popularized in the United States following World War II when returning soldiers came home with traditional Japanese zori sandals. By the 1950s, companies began mass-producing flip flops in the form we know today.
They have since become one of the most popular styles of casual footwear available. They are great for a wide variety of different purposes. And some models are better for specific purposes than others. So the first thing to look at when trying to determine the right flip flops for you is the purpose for which you'll be using them.
Read Also: Best Flip-Flops for Walking
Day to Day Use
Day to day use will likely be the most common use among those of you reading this article. That would be those of you who are using flip flops for your everyday life. These are flip flops that might live by your front door, that you'll slip on your feet as you're heading out the door to run errands. Or, you might be wearing them to tie together a casual outfit.
For this type of use, you're probably looking for style and comfort. Urban flip flops need to be able to stand up to long days traveling between different shops. And they also need to look good.
Flip flops probably aren't the first thing you think of when you think about fashionable footwear, but they certainly can be. Subtle, earth-toned flip flops can be the perfect finishing piece for casual summer outfits. That is particularly true with quality leather flip flops. Or, if you're looking for a bolder piece, there are some leather flip flops with bright pops of color as well.
Plus, if you're going to be wearing them as your primary footwear during the summer months, you're going to want them to be comfortable. For this, you'll be looking for soles that mold to your feet or have an ergonomic design.
Beach Use
A classic use for flip flops is to take them to the beach (or lake, or river). The slip-on, open-toed design is perfect for going through sand and water and keeping your feet comfortable. And they're easy to take on and off for hopping in and out of the water.
However, leather doesn't always respond well to water. So, if this is your main priority with your flip flops, consider exploring synthetic materials. However, if you want to get leather flip flops to use at the beach, make sure you're prioritizing durability.
Just about any leather will require maintenance following consistent exposure to water. But some models will deteriorate faster than others, depending on the type of leather and the way its treated. So, if you're going to be using your leather flip flops in water very often, you need to look for models specifically designed to stand up to the elements. And if you want them to last, you need to make sure you're well versed in leather maintenance. We'll have more on this later.
Outdoor Use
If you're an avid hiker, or into outdoor activities generally, open-toed shoes might be very appealing. You don't have to worry about sweaty socks, and your feet stay feeling fresh. However, traditional flip flops might not be the best option for these types of activities, given how loosely they fit.
For outdoor use, you should really focus on stability above all else. You have to make sure your footwear is staying on your feet and supporting your ankles. While most flip flops aren't sufficient in this regard, we do have a few models on our list with strong stability. They're not great for intense hikes, but for more casual outdoor activities, they'll do the job.
Flip Flop Structure
For such a seemingly narrow product, leather flip flops can have several subtle differences that you'll have to account for when making your decision. There are going to be variation in the size, strap, sole, and more. Follow along, and we'll break it all down.
Sizing
Getting the sizing right is one of the most critical factors in ensuring your leather flip flops are comfortable and long-lasting. There are no socks—it's just the flip flop and your feet, and they're already very loose-fitting by design. That means if you get the sizing wrong in either direction (too big or too small), they can be tremendously uncomfortable and even put you at risk for foot or ankle injuries.
If your flip flop is too small, your toes can hang over the edge, and the strap is vulnerable to breaking. If they're too large, you have very little stability—your feet can slide around, and the flip flops will fall off easily. Correctly fitting flip flops should extend just beyond the tips of your toes, with a strap that lays snugly along the bridge of your foot.
Sole
Leather flip flop soles can vary dramatically in both thickness and shape. Some will mold to the shape of your foot or have nubs on the treads for increased comfort. If you're going to be wearing them for extended periods of time, this might be something you prioritize, but if you're just looking for quick slip-ons for the beach, that might not be as big of a deal.
On the other hand, you might prioritize a thicker sole for beach or river flip flops, as you'll be walking over rocks and rougher terrain than you would for day to day use. And if you're going to be more active in them, you might emphasize soles with raised edges and extra contour for increased stability. Some flip flops will also have additional arch support, as well.
One thing you'll have to pay attention to with leather flip flops, in particular, is a break-in period. Some models will be comfortable right away, but others might take some time to get broken in. They might be stiff and uncomfortable at first, but after you wear them for a while, they will adjust to your feet.
Sturdy flip flops should have some bend to them, but they should only bend at the ball of the feet. Models that bend all throughout the sole are unlikely to be very durable. But flip flops with no bend at all are very stiff and can be unpleasant to wear.
Straps
Most straps will be reasonably similar on most pairs of leather flip flops. But there are a few key things to look out for. First, you want them to fit across the bridge of your feet snugly, but not too tightly. While a loose strap makes it easy to fall out of your flip flop, an overly tight strap can cause blisters and irritation.
Additionally, rough stitching on the underside of the strap can irritate as well. If you are dealing with this type of stitching, it is possible to sand or polish the straps down to make sure the underside of the belt becomes smooth.
Flip Flop Maintenance
As is the case with all leather products, leather flip flops will require upkeep if they're going to last. Leather is a very sensitive material, and this is particularly true if you plan on using your flip flops at the beach or around other water. No leather flip flops will last forever, but if you take the necessary steps to preserve the material, you can extend their lifespan considerably.
Some flip flops will already be treated with wax to make them water friendly. But if it isn't, and you plan on using your flip flops for water activities, you should consider a wax treatment.
From there, it's all about simple habits and intermittent upkeep. Leather does not respond well to heat or sunlight. While it's okay to wear your flip flops in those conditions, make sure to store them in a cool, dry area. Beyond that, you should also look to clean them on a regular basis.
While there are specific leather shampoos you can purchase if you're serious, basic household soaps work as well. Simply wipe down the leather portions of your flip flop with a damp (not soaked!) cloth and some soap, then let it air dry. If you do this regularly, you will get the most mileage possible out of your leather flip flops.
Recommendations
Let's move forward and look at some specific models. Here is our list of the most popular leather flip flops available today:
The Birkenstock Arizona leather flip flops are one of the more expensive items on our list today, but this is a true example of getting what you pay for. These unisex sandals are made with a combination of cork and leather, and they are a true classic. Birkenstock has barely altered the design since they first began making sandals in 1774! That's right; this shoe predates the United States of America.
Birkenstocks are comfortable and their soles mold to the shape of your feet, so it is like each shoe is custom made. As opposed to more traditional flip flops with a single strap, Birkenstock Arizonas have a second strap for added stability and comfort. The soles also have raised edges designed to ensure the sandal remains secure on your feet. They're thicker than most of the other flip flops on the list, about half an inch thick, with additional arch support.
The Birkenstock Arizona is available in dozens of wide-ranging colors and styles, including simple varieties like black oiled leather, and flashier options like a milky way red. Sizes are available in both standard and narrow variations, and it comes with a sizing chart to help you find the right fit.
Pros:
Very comfortable, molds to the shape of your feet
Extra arch support
Enhanced stability
Massive variety of styles
Cons:
On the expensive side
Not a traditional flip flop design
When you think of Crocs footwear, you probably don't think of conventional flip flops. Nor do you think of a subtle fashionable style. But these Crocs Yukon leather flip flops offer both of those things. What you probably do think of when you think of Crocs is comfortable shoes, and the Yukon flip flops have that too.
These flip flops emphasize comfort with a light, contoured sole and a nubby footbed. The nubs massage your feet as you walk, keeping them fresh and comfortable throughout the day.
The Crocs Yukon flip flop is made from a combination of leather and Crocs' proprietary Croslite resin blend. That creates a mix of comfort, durability, and style. The Croslite base can stand up to any climate or weather, while the 100% leather strap with visible stitching allows it to go with any casual outfit.
The Yukons are available in two earth-toned colors: khaki and espresso. If you're looking to wear flip flops for an extended period, these might be the pair for you.
Pros:
Extreme comfort
Stylish leather strap
Nubby footbed
Stands up to all types of weather
Cons:
Not a leather sole
Limited sizing
One of the more affordable fully leather options on the list, Rainbow Leather Sandals Double Layer still produces significant performance. They have a reinforced, double-layered sole to make sure your feet stay protected on any surface—great for outdoor use. And they are triple glued to improve durability.
The nylon toe pieced is also reinforced, thanks to the extra sturdy cross box stitching. The leather strap is extra wide. Customers have mentioned that the break-in period is shorter than other leather flip flops they've worn before—they're comfortable very quickly. They have a contoured sole and offer extra arch support.
The biggest downside that customers have mentioned is that they require extra maintenance if they get wet. The leather will deteriorate if left untreated after getting wet, and they can start to stink as well. That is a bit of an inconvenience given that their rugged nature otherwise makes them great for river and lake trips. But they are still very well-reviewed overall.
They are available in 14 different colors. Most are earth tones, but a few options have bright pops of primary colors so that you can match them to your own personal style. As opposed to traditional shoe sizes, they are available in sizes small through XXX-large, but there is a size chart available to help you pick the right fit.
Pros:
Cost friendly
Extra durable
Shorter break-in period
Wide variety of colors available
Cons:
They require additional maintenance if you get them wet
Cross stitch on the strap can cause irritation
The Reef Smoothy flip flop is one of the most popular models of open-toed footwear. It is typically made with a woven strap and a synthetic foam base, but Reef now makes the Smoothy in leather as well while maintaining the same classic design. The Leather Smoothy is the first of four Reef models to make our list.
The Leather Smoothy is made from high quality full grain leather with a light polyester lining. This lining makes the Smoothy great for water use relative to most leather flip flops. There is also a rubber outsole designed for maximum traction. That combination means if you're looking for a flip flop for beach and outdoor use, these could be the perfect fit.
They're also designed to minimize the break-in period thanks to Reef's triple-density EVA construction. They also have additional arch support, to maximize comfort and help prevent foot injuries.
They are available in four different earth-toned colors: black, brown, bronze, and bronze/brown. They are an attractive, classic flip flop design that will go with any summer outfit.
Pros:
Great for outdoor wear
Water-resistant
Minimal break-in period
Cons:
They run small
Some customers have reported arch discomfort
Here's another model from the trusted Reef sandal brand. The Reef Leather Fanning is a comfort-driven leather flip flop. Made as an answer to flimsy, thin-soled flip flops, the Reef Leather Fanning is a heavy-duty model, with the sole of a bulked-up sneaker. Not only does it have an extra thick base, but it also has an airbag in the heel and a padded footbed.
That helps ease the impact on your feet, keeping them fresh and comfortable no matter how long you're walking around in your flip flops. The heel support is 360 degrees, keeping you covered no matter what direction you lean. Plus, the sole is heavily contoured to support the shape of your foot, and it has raised edges to keep you securely in place. If you're looking for a flip flop to wear as your primary footwear, this might be the pick for you.
The Leather Fannings have a light air mesh liner for breathability. Plus, there's a bottle opener embedded in every sole as an added bonus. They're available in five different colors, all with different contrasting combinations of black and tan.
The main drawback is complaints about the durability. While reviews are generally high, most low reviews are focused on quickly worn out soles or broken straps. If this is intended to be your go-to footwear, be aware that you might have to replace them quicker than you'd like.
Pros:
Thick base with padded footbed
Airbag in heel
Heavily contoured sole
Extra breathability
Cons:
Customers have reported concerns about durability.
Limited color options
A great option for shoppers on a budget, the Quiksilver Carver Suede Three Point Flip Flop is considerably more affordable than many of the other options on this list. It's made with a leather footbed, rubber base, and suede straps, giving it a simple but classy appearance.
The no frills design is perfect for people who want a basic, classic flip flop. If you already have another shoe as your primary footwear and are just looking for a simple leather flip flop as a complementary piece, this could be the perfect model for you. It's inexpensive and durable as well, and it does provide moderate arch support.
Unfortunately, no-frills is taken to an extreme with this model. The mostly flat base has limited contour and few added features for stability or comfort. Further, the Quiksilver Carver Suede Three Point Flip Flop does not perform well when wet. The leather can start to smell, and the suede strap can deteriorate if it does not quickly dry out. Plus, if you put them on while they are wet, the strap can stain your feet a blue-green color.
The Quiksilver Carver Suede Three Point is not a performance-oriented flip flop. But you're not paying for one. Taken as a complimentary slip on, you get a classic look and durable construction at a reasonable price point. It comes in four colors: black, tan, gray, and demitasse.
Pros:
Affordable price
Classic look
Durable if primarily worn dry
Cons:
Very few features
Poor performance when wet
Teva is best known for their iconic closed-heel sport sandals. But they make excellent flip flops as well. The Teva Pajaro Men's Flip Flops is one of the particularly unique models on our list. The standout feature is the extra-large, triple textured strap, made with a blend of fabric and leather.
The strap's additional width gives this model the best traction and stability on our list. This is complemented by the raised edges that go around the entire circumference of the footbed. It's still a flip flop, but it's designed to stay put on your foot as well as possible. If you're interested in a leather flip flop for hiking or other outdoor activities, the Teva Pajaro could be your best bet.
They are also made to be extremely comfortable with a soft leather footbed and a thick rubber sole. The Teva Pajaro absorbs all the impact, keeping your feet fresh for long periods. The sole is also heavily contoured, with extra support in the heel and arch. Teva is known for comfortable sport sandals, and the Pajaro flip flop is no exception.
Unfortunately, durability is a significant concern, in more ways than one. Customers have reported that the footbed can crack apart near the front when they are worn often. They don't respond well to water, deteriorating if soaked for too long. And they can even shrink if left exposed to heat and sun for an extended period of time. Despite all this, they get very good reviews overall.
Pros:
Extra thick strap with reliable traction
Raised edges for increased stability
Rubber sport sole
Comfortable footbed
Cons:
Concerns about durability
Does not respond well to extreme conditions
Another Reef brand flip flop, the Reef Draftsmen is a rugged, stylish model. They're made to look well-worn from the moment you get them, so you'll have maximum beach bum style right away.
They're made with a split-leather strap and footbed, with a polished wax finish. That gives the Draftsman its rugged style, and also makes it perfect for the beach. And while it looks like a simple design, it has a cushioned EVA midsole with arch support to help deliver comfort as well as style. They also come with a bottle opener on the underside of the sole.
All Reef sandals are made for the beach, and the Draftsman is no exception. But it can perform in other settings as well, thanks to the solid traction of the molded rubber outsole. If you're looking for a stylish, versatile leather sandal that is great for the beach, this could be the pair for you.
The biggest downside is that the Draftsman is a bit style over substance. It's solid all-around but doesn't particularly stand out in any one area, and it comes at a relatively high price point. One more thing to watch for is that some customers have reported the color they received is noticeably lighter than what is pictured.
Pros:
Very stylish
Quality leather constriction
Cushioned EVA midsole
Hidden bottle opener
Cons:
A jack of all trades, master of none
Color is not always true to the picture
The Olukai Women's Ho'Opio Sandal is a casual, comfortable leather flip flop available at a moderate price point. The simple, thin strap is made with full-grain leather, and the outsole is made with a blended Thermoset rubber.
Made for maximum comfort, the Ho'Opio is made with a padded micro-textured midsole and is anatomically molded to fit feet like a glove, providing support in all the right places. It has very subtle raised edges in the heel and toe to make sure you don't slide around on the sole. The outsole is made from Thermoset rubber—a blend of natural and synthetic rubber—which won't leave scuffs on any surface. It also has textured pods all along the bottom for maximum traction and increased durability.
The Olukai Ho'Opio is available in a staggering 64 different colors. Some are simple and classic, like dark java; others are bold and vivid, like deep magenta or mineral blue. It is labeled as a women's flip flop, but it has men's sizes as well.
The biggest downside customers have noted is the strap. Several have reported that it is overly tight and uncomfortable. And that can even cause the strap to rip out of the sole. Other customers felt let down by the lack of arch support. Overall, however, the vast majority of reviews were positive.
Pros:
Ergonomic fit; extremely comfortable
Maximum traction on the outsole
An immense variety of colors available
Cons:
Tight fit
Concerns about the durability of the strap
The Reef Cushion Bounce Swing Leather Flip Flop is Reef's premiers leather flip flop designed for women. They are handcrafted with a woven strap, leather sole, and rubber outsole. Like all Reef flip flops, the Cushion Bounce Swing is made for the beach, with the leather treated to be water-friendly and durable.
Many leather flip flops have an extended break-in period—a stretch of time where the flip flops will be stiff and uncomfortable before they become fully broken in. But Reef prides itself on providing a minimal break-in period, and the Cushion Bounce Swing is no different. They arrive in an immediately wearable condition.
The sole doesn't look particularly comfortable; it appears thin and stiff. But that is deceptive. It's actually constructed with the namesake cushion bounce technology designed to absorb as much impact as possible. The outsole is made from a spongy rubber that effectively acts as a shock absorber, keeping your feet as fresh as possible.
The biggest complaint from customers is that they run relatively small. Reviewers across multiple sites noted that their standard size felt tight and uncomfortable. Further, other negative reviews mentioned a lack of stability, with their feet sliding around across the soles. Most reviewers expressed satisfaction, however.
Pros:
Cushion bounce outsole for increased comfort
Water-friendly
No break-in period
Cons:
Tight fit
Only one color available
The Polo Ralph Lauren Men's Sullivan Flip Flop is a fashionable and surprisingly affordable model. Polo is an iconic brand known primarily for clothing and sneakers, but they make flip flops as well. The Sullivan is their premier leather model. The sole is made from 100% full grain leather. The strap is made from a combination of leather and woven fabric, and the outsole is made from fully synthetic rubber.
The Polo Sullivan flip flop is the most formally styled flip flop on our list. It looks great not only with casual summer outfits but even with jeans or linen pants as well. These would fit in at a swanky summer cocktail party just as well as they would at the beach.
They're made with subtly contrasting colors along the strap and midsole, in three different options: Newport navy on dark brown, dark brown on brown, and dark suede on black. If you're looking for a leather flip flop with maximum style and class, this could be the fit for you.
There are really two major drawbacks with this model. For one, there were consistent reports that the size runs small. Even many positive reviews remarked on this. We recommend you go to a full size larger than your standard shoe size.
The other issue is that the leather material on the sole can be extremely slippery. Not just in terms of when they get wet, but if your feet are sweating, the sole becomes slick, and your feet become vulnerable to blisters. Even reviews that remark on these issues are often positive, though.
Pros:
Very formal and stylish
Surprisingly affordable
Strong tread
Cons:
Slippery material
Run very small
The Final Verdict
Every leather flip flop on this list is a high quality, well-reviewed product. They all have their own strengths and weaknesses, and depending on your needs, you can't go wrong with any of them. The perfect pair for one person might be completely different from the perfect pair for someone else. Weighing all the factors, however, here are our picks for the best of the best:
Best Overall
We considered many contenders for this spot, but ultimately we chose the Reef Leather Smoothy. We believe this is the most well-rounded leather flip flop overall with a wide-ranging number of features designed to maximize comfort, stability, and durability.
The Smoothy is perfect for the beach, thanks to a water-friendly polyester lining. It has a padded, triple-layered EVA midsole designed to maximize comfort, and a rubber outsole to transition straight from the beach to the street. And the remaining material is a high quality, full grain leather for maximum durability.
It has very few weaknesses, running a little tight (though it is available in half sizes, so you can look for a more precise fit) and creating mild arch discomfort in some customers. And it's available at a competitive price. Weighing all the factors together, we believe this is the best overall leather flip flop available on the market.
Premium Product
The Birkenstock Arizona is our choice for a premium product. They are definitely a sizable investment—the costliest item on the list—but they pack a serious performance punch. They're incredibly comfortable, with Birkenstock's patented insole molding to fit the exact shape of each individual foot.
They have extra support in the most vulnerable areas of the foot—the arch and the heel—and they emphasize stability thanks to the raised edges and double strap design. They have a detailed fitting chart and are available in wide and narrow sizes, and half-sized options as well. Plus, they are customizable to fit anyone's sense of style, with dozens of color combinations available.
The Birkenstock Arizona is an extremely high-quality product, with the comfort to wear on all-day excursions, and maximum stability if you want to take them out for a hike. They're on the expensive side, but you get what you pay for. And no model on our list is better suited to be someone's primary footwear.
Best Value
For shoppers who are on a budget but don't want to sacrifice quality, we believe the best leather flip flop is the Quiksilver Carver Suede 3-Point Flip Flop. Available for a fraction of the price of most other models on this list, the Carver Suede is still a solid, versatile model with very strong reviews.
It is not without its flaws. The biggest drawback is that it's not designed to perform well in water. They can shrink if they get hot while they're wet, and if you wear them while they're soaked, the suede strap can stain your feet blue-green.
However, they are an excellent product for day to day life. They have a simple, classic style that looks great with a casual summer outfit. They have a moderately contoured sole that provides arch support, so they are reasonably comfortable. And if you keep them dry, it's a reliable, durable material that could last you for years.