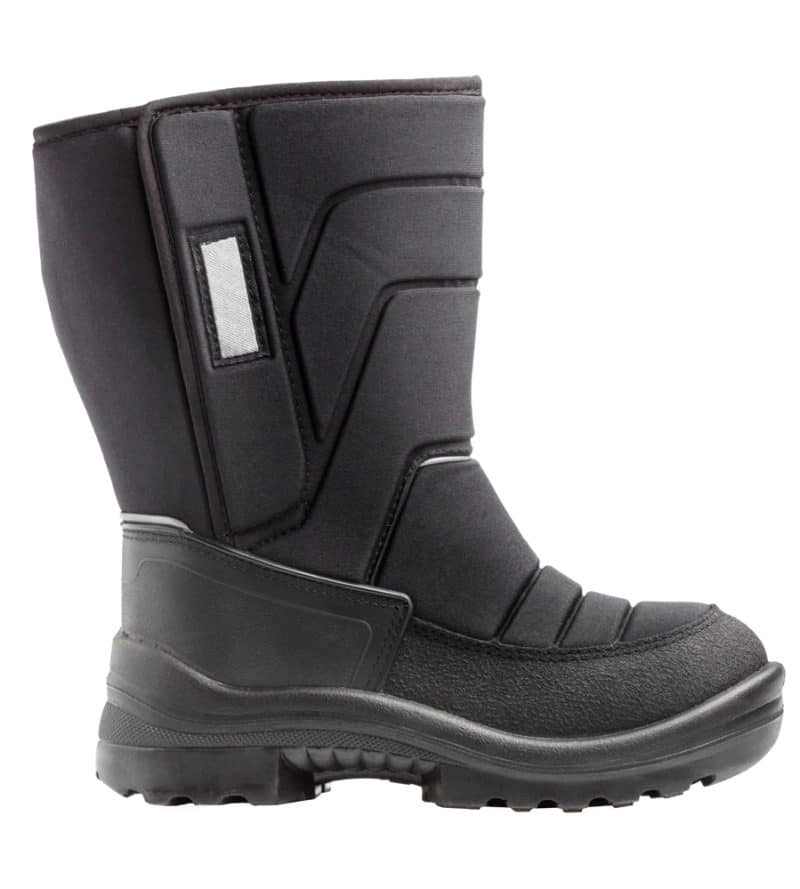 Living in a cold climate is fantastic if you have the proper gear to get through the winter season. One of the most critical parts of your wardrobe, when you enjoy snowshoeing, is a Best Snowshoe Boots.
Owning a pair can make you comfortable when you would otherwise be miserable. Plus, you face a potentially hazardous situation in the snow if you do not wear appropriate shoes. Plenty of people have ended up with significant nerve damage or even missing toes due to freezing temperatures.
Even if you already own a pair of snow boots, it might be time to look at purchasing another pair. The shoes today are lighter, and they offer features not found in older pairs. One of these great options will help you have a better time during outdoor activities.
We looked far and wide for the perfect snowshoe boots to make you and your feet happy. If you want to get right to it, these are our top picks
:
Our Top Picks
However, if you want to find out more, we put together a great guide to help familiarize you with the many options available in snowshoe boots so you know what you want and need. Then, we reviewed ten of the best pairs, so you know the features that each offers. Keep reading to find the best pair to buy for you or someone close to you.
What Are Snowshoes?
Snowshoes are a platform that distributes your weight so you can walk across areas of thick snow without sinking into it. The base usually has a frame around the outside and a center that is made of a smooth material.
Traditionally, they were made using wood and rawhide. Today, most are made with synthetic fabric, plastic, and light-weight metal. However, some popular brands still use mostly wood construction as it is light and practical.
A snowshoe is not an actual shoe. It is merely a base that attaches to a snow boot. The top has a bracket with a non-slip material that you use to connect the platform to your boot using adjustable straps.
An average snowshoe is between 22″ and 36″ long and 7″ to 9″ wide. They generally weigh between 4 lbs and 7 lbs. These average size shoes can keep people up to about 300lbs on top of the snow efficiently.
Using a pair gives you the ability to hike without becoming overly tired by having to tread snow. Snowshoes also help prevent accidents and allow for a lot more outdoor activity in areas where people experience a lot of snow on the ground.
Snowshoeing is a great way to exercise, and almost anyone can enjoy it with just a few pieces of equipment.
Choosing Boots for Your Snowshoes
Many people enjoy snowshoeing. However, finding a pair of snowshoes that fit your needs is not the only thing you have to think about if you want to try this winter activity. You also need a great pair of boots to wear with them. The boot you wear is essential because it will directly impact the comfort of your feet.
It also can impact your health. So, you need to pay special attention when selecting a pair of boots. The best options are comfortable, well-fitting, and stay dry even in wet conditions.
You might also want to consider the weight of the boot and the snowshoe. If you are wearing heavier footgear, you will likely become fatigued sooner. So, finding something that is not too heavy, but has all of the features you need is the goal.
Some excellent optional features are soft insoles, washable and removable interior boot liners, and a lug that gives you the ability to wear the boots with or without the snowshoe attached.
Temperature Ratings
One of the most important things to consider when you are selecting a pair of boots for snowshoeing is the temperatures you will be exposed to for extended periods. You absolutely have to choose shoes that protect you from the elements.
In most conditions, a general snow boot that has a rating for temperatures down to -25 degrees Fahrenheit will suffice. However, if you are planning to venture out in temperatures that are colder than that, you must wear suitable shoes. All snow boots should give a temperature rating to help you choose the right pair.
However, the temperature ratings are not always a good indicator of what your comfort level will be while wearing the boot in icy conditions. In addition to a boot that is weatherproof, you need to wear socks to keep your feet warm and dry. Keeping your feet dry is essential to keeping them warm.
Read Also: Best Snowmobile Boots
Snowshoe Boot Construction
Snow boots are made with all different materials. It is important to know some of the most popular materials and qualities to make a good decision. So, below there is a list to get you familiar with some you might see.
Parts of Boots
Winter boots are all going to have reasonably similar construction. Knowing the parts will help you look for features in each component that fit your needs and personal style.
Upper
The upper is part of the boot that goes around your ankle. It is what the closure attaches to and what covers the top of your foot. Uppers are typically made from leather or synthetic materials that are water and wind resistant. You want the upper to come up a little way on your calf to give your ankles excellent support when you are snowshoeing.
An upper that offers good ankle support will make your adventure more enjoyable and help to prevent ankle injuries.
Lower
The lower is directly below the upper and it covers your foot to the outsole. This part of the show is often a molded material that gives added protection for your toes. It is also made of heavy-duty material that is puncture-resistant to prevent sticks, branches, and other debris from coming through the side of your show when you are hiking.
Cuff
The cuff is at the top of the boot upper. It is usually made of fur, wool, fleece, or synthetic materials, and it is attached to the liner in the interior.
Footbed
The footbed is the surface your foot sits on in the shoe.
Insole
An insole is a removable portion of the shoe that your foot sits on. The insole in snow boots is usually thick to offer protection from cold weather. These parts of the shoe offer support above what the shoe itself offers. If you find the boots you wear do not offer enough support you can add an additional insole that better fits your foot.
Outsole
The outsole is the bottom part of the shoe, and it usually features a lug.
Lug
The lug on the outsole is a pattern that gives the boot grip to make it suitable for various terrains. You want to choose a lug that provides traction but is easy to clean. Many thick lugs get debris caught in them easily and cleaning them is difficult.
In order to properly attach them to a snowshoe, you want the boot to be free of debris. So, you might find it better to choose an option with a thinner lug when snowshoeing.
Closures
Most boots use laces to secure to your foot, but there are some that you can pull on too. For boots that lace, several different systems are typically found, including:
D-rings – D-shaped hinged metal rings.
Eyelets – Holes in the upper reinforced with metal.
Webbing loops – Pieces of nylon sewn onto the upper that you use to lace the boots.
Hooks – Hooks attached to the upper that the laces wrap around.
Combinations – Many boots use a combination of two or more of the above methods.
Many of these options use bungee laces with a drawstring to make it easy to get them on and off. However, some also use traditional laces.
Another standard method of securing boots to the foot is with straps that Velcro or buckle. All these varieties work well for the most part. However, when you are snowshoeing, you want to make sure that the straps do not interfere with the closures on your boots. If they do, you might not get a proper fit. Or it might make your boots uncomfortable.
Gaiter
A gaiter usually fits over the outside of a winter boot and prevents debris, including snow from getting inside. However, some shoes have a gaiter attached, which is an excellent feature if you can find it.
Insulation
Snow boats feature some form of insulation in the inside. The type of insulation you select is a matter of personal preference. However, it is important to remember that you will also be wearing thick socks, typically people wear wool socks to absorb moisture and keep their feet warm.
Materials Found In Snowshoe Boots
Outdoor gear companies use a variety of quality materials to construct boots that effectively keep feet warm, dry, and protected from elements. The materials used to make these shoes are more useful than ever at getting the job done.
GORE-TEX
A waterproof material that is found on outdoor adventure footwear as well as boots of all kinds. GORE-TEX is one of the most effective waterproofing agents available.
EVA
Ethylene-Vinyl Acetate or EVA is an elastic rubber-like polymer. EVA is soft and has some spring to it, which is durable for some time. However, EVA is softer than a lot of other materials, and with extensive use, it tends to become compressed, and it loses shape.
Nubuck
Nubuck is leather that is sanded from the outside. This type of leather is suitable for making boots because it tends to be more durable than traditional leather sanded from the softer interior. Nubuck takes longer to work than regular leather, though, which usually makes it more expensive.
Polyurethane (PU)
Polyurethane, commonly abbreviated as PU, is a plastic-like material that is extremely versatile. Shoemakers use it to coat the outside of shoes, which gives it a waterproof exterior, or they use it in sheets to create durable outsoles.
Omni-Heat
Omni-Heat technology created by Columbia is a breathable material that helps to insulate your body heat without retaining sweat. Many shoes now utilize this technology as it is incredibly effective and lightweight.
PrimaLoft
Many companies use PrimaLoft because it is a light-weight insulator that is warm and extremely water-resistant.
Thinsulate
Another insulator used by many bootmakers is Thinsulate. It offers thinner insulation that is still reasonably warm and does a good job of keeping feet relatively dry.
M Select WARM
Merrell created M Select WARM, which is the insulation they use in shoes they produce. It is effective because it distributes the body heat around the feet and retains it to keep you warm.
Read Also: Best Snow Boots for Toddlers
Best Snowshoe Boots Reviews
Here are our reviews of the absolute best boots for snowshoeing.
These boots are heavy-duty and offer everything you need when snowshoeing. Plus, they are an excellent looking option that you can wear on their own too.
The upper is both waterproof and windproof, so you stay warm and dry, which is essential when you are hiking in a cold climate. The lower is constructed of high-quality vulcanized rubber to make it extremely durable for many seasons.
We love these boots because they are easy to slip on and off. They lace up at the ankle using a few d-rings. They also feature a built-in gaiter that prevents any snow or debris from getting in.
The arch support is moderate, and they are comfortable to wear for long periods. You won't realize how much time you have been wearing this option because your feet will remain feeling great throughout the day.
The sizes fit true to your typical shoe size, so if you plan to wear several pairs of socks, you might want to get a half size larger. However, with all the protection these boots offer, you will not need to wear as many layers, but that depends on your personal preference.
Additionally, you can choose from different widths, which makes the fit more customizable for your specific foot size.
Pros:
Waterproof design keeps your feet dry
Omni-Heat keeps heat in without causing excessive sweating
They feature a built-in gaiter eliminating the need for extra gear
The outsole is thick, and the lug compliments it nicely to give adequate traction
Cons:
These boots can get heavy after hiking for extended times
They are more expensive than some options
You might need a boot dryer as they take a long time to dry
These Columbia boots have a ton of features that make them perfect for snowshoeing. The interior features Omni-Heat technology, which gives them excellent heat retention, and the exterior utilizes a light-weight material that protects you from exterior elements.
They come to just above the ankle, which is perfect for guys who do not want to wear a midcalf or higher boot. However, you will need gaiters with these boots.
They secure around your ankle using a combination lacing system that has two hooks at the top. The top hooks make it easy to loosen or tighten them around your leg without relacing. Wearing these boots is comfortable with a variety of pants because they are so easily adjustable.
One of the great things about these boots is that they are comfortable to walk in and they are less stiff than some other options. They allow your foot to bend a bit more at the toe. So, these are great for people who need to load and unload gear. They are also nice on and off of the snowshoes, and they are suitable for hiking on different terrain.
You will need to order these slightly larger than your typical shoe size for wearing with socks. You might also want to add an insole that offers additional arch support if you have a high arch.
Pros:
Suitable for use in temperatures as low as -25 degrees Fahrenheit
Thick outsole and lug for use on and off of snowshoes
These shoes do not require a lot of time to get them broken in
Available in half sizes which makes it easier to get a good fit
Cons:
They are not the easiest to put on and take off
The liner comes apart in the inside after you wear them for a while
You will need to wear gaiters on top of them in heavy snow
Kamik Nationplus boots for men offer a lot of things other shoes do not. For their price point, they are some of the best you can buy.
The Kamik boots keep your feet warm in temperatures as low as -40 degrees Fahrenheit. A removable Thinsulate liner wicks moisture away to keep your feet warm and dry for hours.
They are more challenging to put on than some boots, but we appreciate the high-quality construction. The lacing system uses a combination of rust-proof eyelets, hooks, and d-rings.
Kamik makes the upper with real leather and rubber, which holds up well when put to the test. You can wear these indoors and outdoors and while doing many activities. We like this because you can put them on when you leave the house and get straight into snowshoeing without having to change boots first.
These boots fit truer to size than a lot of boots, but you still might want to get a half size larger than you typically wear to fit socks. Additionally, these do an excellent job of keeping your feet warm at temperatures near zero, but when you are in colder weather, you need to protect your feet with thick wool socks.
Pros:
Great for colder temperatures and more extended periods outdoors
Made with high-quality materials like real leather
Excellent for snowshoeing and other winter activities outdoors
The liner is removable
Cons:
There is not a built-in gaiter
More difficult to put on and take off than other boots
You still need to layer socks in icy weather
The soles are thin but okay for use with snowshoes
Kamik men's Greenbay Cold-Weather boots offer you a great variety of features in an attractive boot made of all man-made materials. These are easy to get on and off because they utilize a simple strap at the ankle and a drawstring around the gaiter top.
We like that they are an all in one style boot without the need of an extra gaiter over them. The nylon upper is water-resistant, and the lower is waterproof rubber. In addition to high-quality exterior construction, you will appreciate the removable interior liner.
One of the great features this boot has is a long strip of velcro on the boot and the strap. Some shoes only have a small area to velcro, making them too wide at the ankle for some people. These boots do a great job of remedying that problem.
Something nice about these shoes is the boot kick on the back of the boot that makes it easy to take them off after a long day adventuring. This feature is also great for snowshoeing as it helps to keep the boot secured tightly to the snowshoe.
The thick outsole is perfect for treks when you are doing a combination of snowshoeing and hiking. They give adequate protection from the cold as well as appropriate grip for a variety of terrains.
Drying them does not take an unreasonable amount of time either, especially when you remove the liner. This feature makes these shoes great for wearing more frequently.
Pros:
A removable liner and builtin gaiters
Thick soles protect your feet from ice and snow
They are easy to put on and take
A wider area of velcro to adjust to different ankle sizes
Cons:
They do not come in half sizes so finding the right fit might be difficult
These boots might get wet inside if you step in water
They might be tight if you are wearing them over pants
The Northside snow boots for kids are some of the best available for snowshoeing. We absolutely love these shoes because they give parents peace of mind when it comes to the safety of their kids in icy conditions. The winter snow boots are rated for temperatures as low as -25 degrees Fahrenheit.
Furthermore, these come in sizes to fit toddlers to big kids. They are also available in more than two dozen styles and colors for boys and girls.
However, they go beyond appealing to little ones. They have a stretchy velcro strap around the ankle, making them secure on foot. Plus, these boots have an attached gaiter that secures tightly around the mid-calf with a drawstring bungee.
The boot features a molded lower and waterproof synthetic upper that is also wind resistant. The interior has a Berber lining that is soft and warm. The shoes also have a Berber insole that is removable and washable.
On the back, there is an easy kick off lip, but this little lip also helps to keep snowshoes tightly secured to little feet. So, the dual purpose is especially nifty.
Pros:
These shoes are rated for low temperatures
Lightweight enough for small kids to be active without getting fatigued too easily
Secures tightly to feet
Available for kids of all ages and genders
Cons:
The lug is relatively thick and can pick up debris
The fabric composite sole comes off after extended wear in the snow
Snow can get caught in the bottom creating a slick, icy surface
The Nova Mountain kid's winter snow boots are a good option for snowshoeing. They are versatile and have sturdy construction. You can choose between two styles that both have beneficial features.
The first utilizes d-rings and a bungee with a pull-tye to fit securely around the ankle. The lace-up version has a furry cuff, though. So, if you choose this style, you will need to purchase gaiters for your child as well.
The second option has a built-in gaiter and secures tightly around the ankle with a velcro strap. For ease of use, the second option is a better choice because it eliminates the need for additional gear. It is also easier to put on and take off of little feet.
Both are an excellent option, though, and it just boils down to what you or your child prefer. Like many snow boots, either style gives protection in temperatures as low as -25 degrees Fahrenheit.
We suggest wearing extra socks with them if you are going to be outdoors for extended periods. While the 200g insulation is pretty warm, wearing extra socks with them gives additional protection and helps to wick water away from the feet to keep them dry.
Pros:
Lightweight for comfort on longer hikes
Easy to take off and put on
Suitable for toddlers and older kids
Cons:
They might fit snuggly on kids with more full feet
The bungee closures tend to break after extensive use
The sizes run big making it difficult to select the correct one
For extreme temperatures, these women's insulated boots by Baffin are a great option. They are waterproof and keep feet warm. The rating given to them by the maker says they are approved for wear in temperatures as low as -148 degrees Fahrenheit.
So, these are good for snowshoeing adventures that are longer and in locations where the temperature reaches well under zero. However, they are bulky and that makes longer trips more tiring.
Also, even though they are for lower temperatures, you will need extra pairs of socks. The sizes are smaller than your average boot size, so you have to take that into account when you are buying them. Order a shoe size bigger at least if you plan to wear them in really cold climates with several pairs of socks or with heated insoles.
They are easy to put on with a wide opening that secured using two drawstrings. The first is around the ankle. The other is at the top of the built-in gaiter part of the shoe.
These shoes do a great job of keeping debris and moisture out, but they also trap in some moisture.
So, if you wear these boots frequently, you might want to invest in a boot dryer.
You also do not want to wear these boots for activities like driving because they have a stiff construction that makes it difficult to do some things. However, these are an excellent option for snowshoeing.
Pros:
Great for freezing weather
Easy to put on and take off in a relatively short amount of time
Work well with snowshoes
Cons:
Not meant for wearing during daily activities like driving
Sizes run smaller than most people expect
Larger sizes cost more than smaller sizes
You need to wear several layers of socks in extreme temperatures
The Columbia Minx Mid II winter boots are perfect for snowshoeing. Plus, they are comfortable in and out of the snow, and they look great too. The upper features a synthetic quilted nylon material that is waterproof.
The boots lace up the front with a combination lacing system, but they are reasonably easy to get on. They are also sleek and lighter than most boots at just over 13 ounces. However, the soles are not very thick. OMNI-HEAT keeps your feet warm without a lot of bulky material and added weight, though.
These boots are comfortable to wear and great for any winter adventure. When you are snowshoeing, you will find them comfortable to wear for longer distances. Plus, you can go from hiking to snowshoeing, to running errands in town in these without changing shoes between activities.
The insoles are thick, and they offer a ton of support, which is great for preventing foot fatigue. Additionally, the thicker insole makes up for, the thinner sole in terms of protecting feet while you are in icy conditions.
All around, this is a phenomenal shoe for snowshoeing. The only thing this boot is missing is a gaiter, but with the laces tight, the faux-fur cuff at the top does a decent job of keeping snow out of these boots.
Pros:
Extremely flexible which makes them comfortable for extended periods
A high-quality insole that supports your foot
Material that retains heat without retaining moisture
The outsole offers excellent traction and utilizes mark resistant rubber
Cons:
Lacing them is a bit difficult
They are narrow and not suitable for people with wide feet
They are not great for extremely wet conditions
The Merrell Women's Murren snow boot is nice. It reaches halfway up your calf and has a sleek profile that is perfect for snowshoeing. These shoes do not use a lacing system on the upper, so you do not have to worry about the laces interfering with the clamps on your snowshoes.
The upper features man-made and leather materials that are waterproof. Plus, this boot has an excellent thick outsole that protects the feet, as well as a fleece insole and lining to keep your feet warm.
People with wider feet might find these shoes a bit too tight, and it is a good idea to order them at least a half to a whole size bigger to accommodate thick winter socks.
These boots are high, so they stay put while you are active, even with the zipper closure. We like the fact that these are easy to get on and off but secure while snowshoeing.
Another cool thing about these boots is the M-Select FRESH technology that keeps these boots smelling better longer. Of course, you do have to make sure they dry correctly just like any other boots, but this is reasonably easy if you leave them unzipped because they dry faster.
The outsole on these boots is rigid, so they are great for snowshoeing, but other activities where you are bending your toes a lot might be more difficult.
Pros:
M-Select FRESH technology keeps them from smelling bad
These boots utilize a zipper closure that makes it quick to get them on and off
The lack of laces and straps makes them perfect for use with snowshoes
The fleece interior is warm and soft
They offer excellent protection against cold, wind, and water
Cons:
They might be too narrow for people with wide feet
The outsole is stiff, so it takes a while to get them broken in
Not great for everyday activities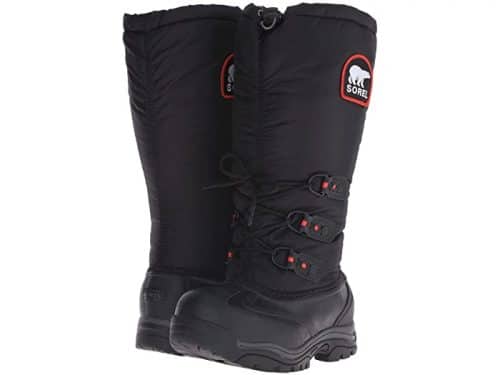 The SOREL Snowlion XT boots are a top of the line option for women, and they are excellent snowshoe boots. These offer you protection in extreme cold with wind-resistant and water-resistant uppers.
The laces are simple and allow you to secure them using just a few d-rings that are strategically placed on the ankle. So, no matter what size foot or ankle you have, you get a good fit from these shoes.
Additionally, this pair features gaiters that are builtin to the boot, so there is no need to purchase them separately. The opening is wide enough that you can wear the boots over your pants, and they are thin enough to wear under some pants that have a wider ankle. The inside is made from felt which itself is made from recycled materials.
Drying these boots is not difficult if you remove the liners and allow them to dry separately. Trying to dry them without removing it takes a long time and might cause them to smell funny. However, with this level of insulation, you should expect that from most shoes.
Attaching them to your snowshoes should be straightforward because the location of the laces does not interfere with the clamps. These are also a good option for people who plan to hike and snowshoe during the same excursion.
Pros:
Excellent all-around protection from weather
The construction is durable, and these boots should last a long time
Truly waterproof with builtin gaiters to prevent snow and debris from entering
Removable liner that makes drying easy
Cons:
These boots are difficult to wear while driving
The shoe is short, and the width is wider than an average shoe
The laces come untied easily
The Verdict
There are so many great options available, and not every style or shoe will appeal to all buyers. So, we picked three of the best boots for snowshoeing. Here are our picks:
Best Overall
When it comes to the best overall boot for snowshoeing, the SOREL Glacier XT is our top pick. It offers everything you need without a bunch of extra unnecessary features. We appreciate the protection this pair of shoes gives and the fact they are easy to secure to snowshoes without a lot of adjustment needed. So, you can enjoy what we love quicker.
Furthermore, these are boots you can enjoy for years. You won't have to worry about faulty stitching or poor quality, causing problems with them as soon as you get them broken in.
Best Premium Product
Our favorite premium product is the Merrell Women's Murren Mid Waterproof-W Snow Boot. These boots are packed with bells and whistles to make you comfortable longer. We also like the unique zipper closure design they offer that makes getting them on and off super simple.
Another thing we love about these boots is the high-quality construction that is sure to last for many years. That makes these boots worth every penny.
Best Value
The Kamik Men's Greenbay 4 Cold-Weather Boot wins for best overall value, in our opinion. You can purchase a pair for under $100, and they give you everything you need and more to enjoy snowshoeing in almost any climate.
Plus, they have built-in gaiters to keep the inside of your boots free of snow and debris. They offer excellent warmth without being too bulky or heavy.