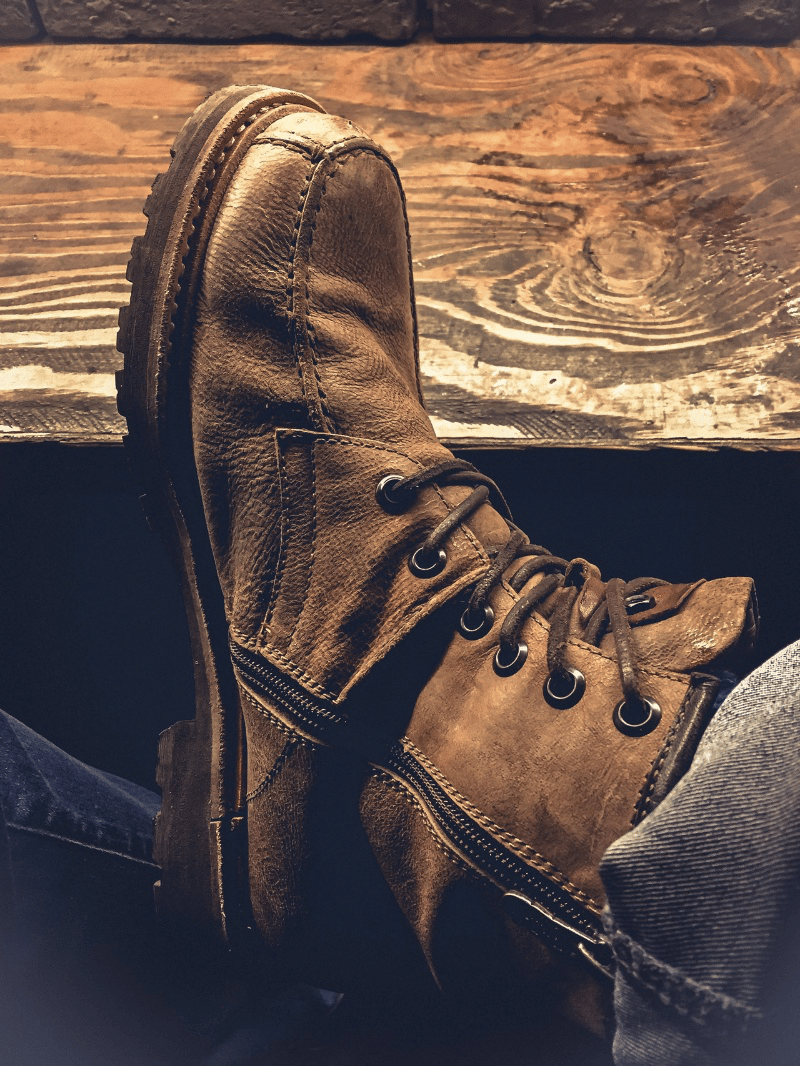 No matter the weather outside, millions of men and women around the world leave the comfort of their homes each day to go to work. When it comes to keeping your feet safe, there are plenty of office-friendly options available that should suffice. But, not everyone who goes out every morning to earn an honest living sits in an office cubicle. There are many professions that require people to wear sturdy, heavy-duty footwear as a necessity.
For some professions such as farmers, firefighters, linemen, engineers and the like, wearing work boots is a requirement for your feet. Work boots are essential to keep your feet comfortable and protected while on the job, especially while carrying out labor-intensive tasks.
While many people choose work boots based on their aesthetic appeal the most important factor that is oftentimes left out of the equation is the breathability of the work boot. Contrary to popular belief, the level of breathability that a work boot is able to deliver is a crucial factor regardless of whether it is being used in a labor-intensive profession, for hiking across the countryside or for regular use.
If you plan on wearing these work boots for a prolonged period of time then your best bet will be to go with breathable work boots. Choosing the right pair of work boots not only makes sure your feet stay comfortable by keeping it dry, but it will also offer an adequate amount of protection for your feet while maneuvering through tricky surfaces or working in hazardous conditions.
27 Best Work Boot Brands
Here are the best work boot brands available on the market today.
Hytest
Dexter
Carhartt
Hi-Tec
Ariat
Ever Boots
Justin Original
Under Armour
Rocky
Irish Setter
Georgia Boot
Nautilus
Sketchers
Warson Group
Blundstone
Keen Utility
Chippewa
Danner
Dr. Martens
Golden Fox
Harley Davidson
Maelstrom
Wolverine
Importance of Breathable Work Boots
Millions of men work in risky and hazardous environments, which require them to wear gloves, hard hats, coverall, and heavy-duty boots to stay protected while on the job. In labor-intensive professions, this usually means having to spend hours on end standing in these work boots. This is why choosing a good quality, breathable work boot is crucial for your feet.
When it comes to work boots, one of the key features to consider should be breathability. This is particularly important if you are working in a field that requires you to walk around in work boots for many hours. Another important factor in buying work boots is the environment in which you are going to be working in. If you work in an area where the temperature is always higher than normal, for instance, out in the desert or in a boiler room, it is easier to get uncomfortable with regular work boots.
While there are many different types of work boots that are available for different environments and professions, one of the most sought out features in all types of work boots is the level of comfort that they are able to provide. Breathable work boots are a type of footwear that has not only been designed to offer protection to your feet, but the materials that are used in its design encourage maximum airflow within the work boot, without compromising on its protective properties.
Needless to say, the comfort of one's feet is associated with the level of breathability of the work boot they are wearing. The free circulation of fresh air passing throughout the work boot reduces the buildup of sweat and moisture which can lead to blisters, fungus, corns, and plantar fasciitis. This is the main reason why it is extremely important to always wear work boots that have been designed to keep your feet dry to prevent chafing or blistering.
Protecting Your Feet Against Moisture
In the world of footwear, moisture is the worst enemy. According to the American Podiatric Medical Association (APMA), the condition of sweaty feet or hyperhidrosis happens all the time regardless of whether you're feeling hot or not. While the condition is inherited, having sweaty feet can lead to many other problems apart from the most common ones being infections and odor.
Sweaty feet, whether it is due to a medical condition or just working in hot environments also increases the chances of bacteria and germs in your feet which can lead to foot fungus. This is another reason why it is important to choose work boots that are made from materials that absorb moisture rather than trapping it in the boot.
Types of Safety Toes in Work Boots
While it is important to choose work boots that are breathable, that doesn't mean you have to compromise on the level of protection the work boots offer. A safety toe is a feature that was invented specifically for those who work outdoors or in labor-intensive fields. The safety toe is another important factor in work boots and can protect you from countless injuries while on the job. For instance, here are the different types of safety toes that can be found in work boots.
Steel Toes
The steel toe work boot is one of the heaviest options that's available in the market. While the downside of these work boots is that they're heavy, the plus side is that these boots have been designed to offer complete protection to your toes. This makes it the go-to option for people who need protection against massive or sharp objects or protection against electric shock.
Aluminum Toes
The aluminum toe work boots are considered to be lighter than the steel toe option. While these boots are not as heavy, they still deliver in durability and protection. In these boots, the toe area is constructed with an allow of either aluminum or titanium which offers the toe area protection against sharp or falling objects. The thinner silhouette of the inlay results in more room for the toes to breath while being a bit more comfortable to move around in.
Composite Toes
Those work boots that have safety toes made from composites such as carbon fiber, plastic or Kevlar are considered to be much lighter as compared to steel-toe or aluminum-toe boots. While these boots are the lightest, they still provide a shield against those unwanted bumps and impacts that occur while on the job. Additionally, composite toe work boots can be used in all weather conditions since they are comfortable to wear.
Factors to Consider When Buying Work Boots
While breathability of work boots is the most important feature that sets certain work boots apart from the rest, there are also other factors that need to be considered while choosing the best work boots.
Through the years, the popularity of work boots has increased tremendously, especially because of the high level of safety and protection that they provide. This has led to many brands coming up with their own versions of the work boot.
Sadly, like most other things in life, not all work boots are made equal. This can make choosing the right breathable work boot a tough nut to crack. Luckily, for you, here are some of the most important factors to consider while choosing breathable work boots.
Strength and Durability
Having a good pair of work boots can stand the test of time by surviving the many perils that have been associated with a hazardous workplace environment. Heavy-duty work boots have been specifically designed to not give in easily to the wear and tear that comes about when operating in a labor-intensive working environment.
When it comes to choosing a breathable work boot that's durable it is not always a good idea to go with big-name brands, since there are many smaller manufacturers that are offering work boots that are breathable, well made and durable.
However, the factors that you must consider when it comes to the durability of work boots are the quality of the upper material, insole and the type of toe construction. Other factors to consider also include the tread thickness and the overall build quality of the work boot.
Work boots that are made from durable materials offer the right amount of protection and are also waterproof. Additionally, the design of high-quality work boots also contains air pockets that can provide additional protection for the feet, especially while working in wet conditions.
When choosing work boots, it is important to go with options that will provide you with the best comfort and protection. Keeping that in mind, work boots that have steel or aluminum toes have been designed to offer the best protection against punctures or heavy impacts.
Regardless of the type of work boots, you choose its structural integrity is going to play an important part in providing your feet with the protection they need. It is important to note that thick untreated leather maintains its shape better than soft leather.
Furthermore, genuine rubber has the ability to resist slips far better as compared to synthetic rubber and also tends to last longer by having wear and tear resisting properties. The following is a quick breakdown of the features that enhance the durability of work boots.
Leather vs. Synthetic Welt
For a rugged and durable work boot construction, leather or synthetic welt is normally used by stitching a strip of the material with the upper and lower sole of the work boot. The result is a rugged construction that's durable enough to stand the test of time. Another advantage of work boots made from leather or synthetic welt is that the bottom can easily be replaced if needed.
Toe Protection
There are various types of toe protection that can be found in work boots, depending on the type of work you plan to use the boots for and the industry. Certain industries require specifically designed work boots with steel reinforced toes for added protection.
While steel reinforced toes are the preferred choice for those professionals who operate in demanding or hazardous conditions such as farming, construction, or manufacturing plants, composite toes and aluminum toes also offer a fair amount of protection for the toe area.
Boot Reinforcements
Boot reinforcements offer an added layer of protection to the work boot, which makes them more likely to last for years to come. To enhance the protection of a work boot, an elastic material is attached to the sole. This paste is made from molten rubber and is poured between the upper and the outsole. Once it is hardened, this layer acts as a lightweight addition to the work boot which protects the feet by absorbing impact.
Enhanced Protection
Most of the notable work boot manufacturers use a cementing method to improve the protection of the work boot. This is achieved by using a high-strength, pliant adhesive that is used to attach the outsole to the upper part of the work boot.
This also happens to be a cheap and effective way of enhancing the protection of a work boot while still keeping its design lightweight and comfortable. The only downside with this type of work boot is that they need to be discarded if the sole breaks due to the wear and tear of the workplace.
Comfort and Fit
If you're going to be wearing the work boots for many hours (and you probably are) then it will help to ensure that the work boots you invest in are comfortable. Wearing work boots that are either too big or too tight increases the chances of falls and puts needless strain on your heels and ankles which can lead to foot injuries.
When it comes to comfort and fit a few factors need to be taken into consideration. These are the fitting, size, type of material of the upper, the insole, the outsole and the lining within the boot. All of these factors will determine how comfortable a work boot really is.
Break-In Time
This is the amount of time it takes for the user to feel comfortable wearing the work boots. The break-in period of heavy-duty work boots is mainly going to depend on the quality of the materials that have been used for its construction. This means the quality of the leather and fabric used for the upper and the insole, along with the presence or absence of any inner lining in the boot.
It is also important to note that while work boots tend to be rough and rugged, those work boots that have been constructed using full-grain leather with a cushioned layer and padded collar tend to be easier to feel comfortable in after a week of use. That being said, the break-in timeline can stretch to a month in some cases.
Size Adjustments
The sizing and adjustment options that are given in work boots ensure that the fitting will be comfortable and not too tight or loose. A fit that is too tight, narrow, short or having too much space between your foot and the boot is not considered to be ideal. This is why it's important to find work boots that have laces or straps for adjusting the boots for a better fit.
Fabric
Work boots that are built for use in hot climates are usually designed using lighter fabrics and materials. This ensures that the temperature in the boot is regulated. Work boots that offer more breathability keep your feet comfortable even after wearing the boots for many hours.
When it comes to the fabric of the work boots, waterproofing is going to be another key element of the work boot which is mainly going to depend on whether or not you work in or near water. This is where removable boot soles and air pockets can make all the difference when it comes to maintaining the comfort level of the work boot.
Some of the main features of comfortable and breathable work boots are thick, flat soles along with reinforcements at key areas of the boot, such as the toe and heel area and extra padding, flexible rubber soles, and cushioned insoles all make for a comfortable work boot. These features also provide relief from some of the most common foot problems that occur while the person is standing or walking for a prolonged period of time in work boots.
Weight
While many people will prefer work boots that are lightweight, the truth is some professions require a person to wear heavy-duty work boots that offer better protection. This requires the boots to have additional layers of material and steel toe protection, which means that the design will have more weight. It is best to first consider the task that you will be using the work boots for before you can make a decision on whether or not to go with the lightweight or heavyweight work boot design.
Stability
The amount of stability that work boots provide mainly depends on its construction. It goes without saying that a work boot that's been constructed poorly is not going to provide your feet with the stability you need and is more likely to fall victim to wear and tear of the workplace a lot quicker.
On the other hand, a work boot that's been crafted well can last you for years to come while providing you with the stability you need while carrying out tasks in hazardous environments.
The overall stability that a work boot provides the user mainly depends on the flexibility, performance, and weight of the work boot. The following are a few different types of work boots that offer varying levels of support and stability to the person.
Cement Construction
Those work boots that feature a cement foundation have been designed to be firmly cemented to the upper sole of the work boot. This means that there's no way for the boot to be re-soled. Contrary to popular belief, these boots are surprisingly lightweight and offer a lot of flexibility. The only downside of having work boots with a cement construction is that they quickly fall victim to de-lamination after prolonged use.
Goodyear Welt Construction
With the propriety Goodyear Welt Construction, both the upper and lower ends of the sole are stitched together with a leather welt or strip. This is then stitched together through the Goodyear welt which makes its construction even more durable. Another benefit of the Goodyear welt construction is that the work boots can be easily re-soled when needed.
KEEN Utility Welted Construction
The KEEN Utility Welted Construction is a new and innovative design technique that combines the cemented toe surface of the work boot while at the same time creating flexibility and stability in the work boot's design with Goodyear welt construction. This combination is the ideal choice for those occupations such as welders who need to bend a lot during the day while wearing their work boots.
The Soles
The soles play an important role in the overall stability of the work boot. The sole is also an important factor when determining the level of comfort of the work boots. It is important to remember that insoles that have an excessive amount of cushioning are considered to be the ideal choice for either those workers who normally remain immobile for a prolonged period of time or those who work in an environment where there are constant vibrations such as in construction or at manufacturing plants.
That being said, when it comes to work boots, soles that are highly cushioned are not recommended for those who are constantly moving. Midsoles which have been designed from EVA act as a stress and impact resistant agent when used in work boots, making them the preferred option for work boots that are to be used in labor-extensive environments.
Apart from that, the outsoles of the work boots also need to have the right amount of flex property to ensure better foot contact with the surface. This is also a crucial factor for the redistribution of energy to key areas of the work boot to avoid any foot injuries or discomfort.
Technology that Addresses Breathability
If you were wondering what technology is available to address common foot-related problems and injuries then you will be pleased to know that there are quite a few. The following are some of the features that you would want to look out for when considering work boots.
Read Also: Best Shoe Brands
Gore-Tex Fabric
The purpose of Gore-Tex Fabric is to improve the breathability of work boots. It does this by keeping the feet dry thanks to its patented Gore-Tex membrane technology which keeps your feet dry and comfortable. Those work boots which contain this specially designed membrane wick away the build up or sweat or moisture within the boot which keeps your feet dry and avoids the buildup of bacteria and fungus.
Thermolite
Smartwool, Primaloft, Thinsulate and Thermolite are all specially designed materials which are highly effective in protecting the feet while working in cold environments. These fabrics are able to achieve this by using a combination of shearling, fleece and other recycled materials, including plastics in their design. Also, fabrics such as, Ethel-Vinyl-Acetate (EVA) and thermoplastic polyurethane (TPU) are two other outsole materials that are used to provide the work boot with flexibility and cushioning when walking on different surfaces.
According to the National Safety Council, an average of 24,000 construction related injuries occur each year due to slipping and tripping. These accidents are unnecessary because slips are totally preventable with the right footwear. Maxum Lite, AeroTek, and AeroGrip are all outsole shoe designs that have been specifically made to reduce slipping on various surfaces. The amount of slip-resistant safety that they offer makes them one of the most sought-after features for working environments where slips and falls occur often.
Pillow Cushion Technology makes use of memory foam to create a comfortable cushion for the support of your feet. This is a great feature for work boots, especially for those who remain on their feet for long hours.
Otholite is a patented open-foam technology that features several layers for extra foot comfort. The design encourages both support and breathability in the work boot.
Ion-Mask Technology is a new cutting-edge technology that uses hydro management nano processes which offers both enhanced breathability and chemical resistant properties that's similar to what hazmat teams require in their work boots.
Read Also: Best Pull-On Work Boots
Our Top Three Choices of Work Boots
Best Overall Choice: Skechers for Work Men's Radford Boot
Premium Product: Wolverine Men's Edge LX Nano Toe Work Boot
Best Value: Timberland PRO Ascender Alloy Safety Toe Shoe
---
Best Work Boot Brands We Like
For those of you who do not know, Skechers is an award-winning footwear brand that has been setting the trend when it comes to functional, stylish and breathable footwear, and the USA Men's Mariner Utility Boot is no exception.
Their Mariner lineup does not only offer that classic tough-as-nails style that the brand is known for, but also includes some modern technology that improves comfort. Case in point is the oiled leather upper with stitching and overlay accents coupled with the low ankle height increases its versatility as both a work boot and casual boot.
The leather material is high quality which gives you value for money. The tread is thick and well-designed providing you with the perfect level of grip and support while walking on various surfaces.
But, the main standout feature of Skechers USA Men's Mariner Utility Boot has got to be the superior level of comfort that this work boot offers. This work boot features a deep toe box that makes it gives your toes room to move around.
It also features an instep and a lace-up closure that goes all the way up to the end of the tongue which makes it easier to secure the boot by getting the perfect fit. The large midsole and rubberized outsoles of the Mariner Utility Booth are able to absorb a lot of punishment which reduces the effects of an impact on your feet.
The boot also offers excellent breathability thanks to the soft fabric inside that wicks away any sweat or moisture keeping your feet fresh, dry and comfortable. There's also a smooth boot lining that does not scratch against the sides of your feet, while the boot is on. You also get an excellent amount of traction with this work boot which makes it the perfect choice for many different types of demanding jobs where you need to keep your feet comfortable and protected.
Pros and Cons
Pros
Made from 100% leather
Versatile design can be used as a work or casual boot
Reinforced seam detailing
Memory foam insole offers better shock absorption
Breathable fabric keeps your feet dry and comfortable
Cons
Outsole is not designed for oily surfaces
---
If you're looking for some additional protection with the work boots you wear then you should go with ARCTIV8 Men's TITAN-S Pro Steel Toe Work Boots. These work boots have been designed from premium quality full-grain leather, which means it is not going to show signs of wear and tear that easily. The work boots also features a combination of Nubuck and Goodyear welt construction which offers impressive slip resistance.
Apart from its impressive design, the Titan-S Pro features a spacious toe box that keeps your toes comfortable. The insole and midsole of this work boot offers just the right amount of shock absorption to keep your heel safe from injuries.
The rubber outsole is constructed to be tensile and has a thick tread that absorbs shocks effortlessly. The high-quality fabric makes the Titan-S Pro highly breathable which means your feet stay comfortable and dry even after hours of use. The overall high build quality of the titan-S Pro makes this one of the best options for those who are looking for superior protection and a reliable and long-lasting work boot.
Pros and Cons
Pros
Upper made from genuine leather
Premium quality build
Nubuck and Goodyear welt construction offers a sturdy design
Rubber outsoles with thick tread provides better shock absorption.
Steel toe offers added protection
Cons
Lacking in some features
Not waterproof
---
The Ultra Dry Men's Premium Leather Work Boots from the brand Ever Boots does exactly what the name suggests. This work boot offers a superior level of durability, comfort, and functionality for its price point. The leather exterior boasts of metal eyelets and visible stitching accents that enhance the ankle-high design.
Ever Boots is a brand that's known for delivering high-quality waterproof work boots and the Ultra Dry Men's Premium Leather Work Boots is no exception. In fact, the company is so sure of the quality that they deliver that you get a 30-day moneyback guarantee if the sealed seams don't stand up to water as they should.
When it comes to comfort, you get a full leather design with a padded collar and tongue that keeps your feet safe and firmly in place. The waterproof feature keeps the water out while the moisture-wicking fabric in the insole of the boots means your feet will remain dry. This is achieved with the mesh lining in the interior and the open-cell design in the polyurethane midsole.
Pros and Cons
Pros
Sturdy build quality
Stylish and attractive design
Insulated lining for wearing in cold environments
Lightweight, waterproof and breathable design
30-day waterproof moneyback guarantee
Cons
Poor quality laces
Does not have a steel toe cap
---
As a footwear brand, Skechers needs no introduction. The brand is synonymous with creating well-made versatile and durable footwear. The Radford Boot features smooth oiled leather, a nitrile outsole and a composite safety toe for added protection. With a clever combination of textured surfaces and additional padding, the Radford is a versatile boot that's a great choice for those who are looking for a stylish boot that also protects their feet.
The boot features a sculpted rubber shell construction with a sealed seam for wearing in wet conditions. The cushioned insole offers additional underfoot support. Another clever feature of the Radford boot is that the memory foam insole can be replaced with one that matches your feet. The midsole offers an adequate amount of shock absorption against the impacts while working in a hazardous environment.
Apart from the sealed seam, the ankle high lace-up design keeps you safe from water. The Thinsulate insulation offers a snug fit even if the temperature drops. The safety toe is made from composites which offer protection for the toe area. The nitrile rubber outsoles are oil and chemical resistant which provides optimal traction. The fabric is also breathable which makes it comfortable to wear.
Pros and Cons
Pros
100% leather and synthetic
Excellent midsole shock absorption
Oil and chemical resistant nitrate rubber outsole
Thinsulate insulation for keeping your feet warm in cold environments
Cons
The adhesive used to attach the foot tread and upper tends to wear out.
---
Timberland is another recognized brand when it comes to men's footwear. The company is responsible for rolling out many high-quality and stylish men's boots, and Timberland's Men's Basic Contrast Collar boot is no exception. Don't let the name fool you because there's nothing basic about this high-quality, versatile boot.
Constructed from high-quality Nubuck leather, this work boot can double as a stylish footwear option for everyday use with ease. The visible stitching accents and metal eyelets add to its premium appearance. The sealed seam and the direct-attach build adds to its durability. The rubber soles of the Basic Collar Boot is thicker than most boots of its size and as a result, offers better shock absorption.
When it come to comfort, the Basic Collar Boot delivers in spades. You get thick padding on the midsole and a padded collar, along with soft foam around the ankle for a comfy fit. But, the stand out feature of this boot is that its PrimaLoft ECO insulation which retains the warmth even if you are wet which makes it a great option if your work exposes you to water.
The only downside is that the boot does not come with a steel toe or EH-rating, which means it cannot be used for any precarious work. That said, the breathable material makes it ideal for keeping your feet dry in just about any condition.
Pros and Cons
Pros
Made from high-quality Nubuck leather
Features a synthetic sole
400 grams of PrimaLoft insulation
Padded collar
Rustproof hardware
Sealed seam for better waterproofing
Cons
Leather tends to collect stains
No steel toe protection
---
The Carhartt brand is more famous for their clothing line, but the company is also dabbled in footwear, and the result has been amazing quality boots. The Safety Toe NWP Work Boot is a steel-toe design that offers your feet with all the protection it needs while keeping it safe and dry at the same time. Carhartt is a brand that's synonymous with quality and its easy to see why.
With the Carhartt Men's Work Safety Toe NWP Work Boot, you get a product that features a Bon Welt constructed upper and outsole, which makes it one of the most durable footwear options in the market. The leather oil tanned upper lends the boots a premium look with metal hardware that gives it a rough and rugged appearance.
For comfort, the boot has a padded collar and a comfort tongue which results in a reduced break-in period. The almost pillow like padding for the ankles makes it a comfortable wear even for long hours. You also get a lace up closure design which ensures a snug fit and speed-lace studs which gives its premium look a nice finish.
The boot boasts of FastDry technology which wicks any moisture buildup in the boots to keep your feet comfortable and dry. The polyurethane strobel pads featuring a PU cushion insole makes these boots even more comfortable while absorbing any impacts. The boots meet ASTM standards which means it offers an extra layer of protection from any electrical accidents while on the job. All these features coupled with the reinforced steel shank for arch support and ladder lock grips makes this one of your best options when looking for a fully functional work boot.
Pros and Cons
Pros
Classic design
Steel toe for added protection
FastDry technology keeps moisture at bay
Meets ASTM standards for protection against electrical accidents
Cons
No genuine leather
Not waterproof
---
This is one brand that's been manufacturing work boots for the past 100 years. The brand has been synonymous with high-quality footwear and the Men's Edge LX Nano Toe Work Boot is yet another feather in their cap. The Edge LX Nano Toe is one of the first work boots of its kind since it uses nanotechnology in its design.
The Edge LX Nano Toe features a sturdy leather upper with a premium rubber outsole and nylon mesh lining which adds to its look. The rubber outsole provides protection against sharp objects or walking on rough terrain. The Nubuck leather used in the design is waterproof, which makes it a great choice for wearing in wet conditions.
Since a work boot needs to have safety features, the Edge LX Nano Toe has quite a few. Thanks to the latest nanotechnology which was used in the designing process of this boot, its weight has been significantly reduced.
The lighter design makes the toe caps thinner, providing more room for your toes. The EPX technology of the footbed makes the boots anti-fatigue, which means you can wear these work boots for hours. The compression molded EVA and PU midsole also adds to the comfort level of the Edge LX Nano Toe work boots.
Pros and Cons
Pros
Made from 100% leather
Nanotechnology design
Anti-fatigue footbed
Features an EPX honeycomb heel for shock absorption
Waterproof design
Features CarbonMax safety toe
30-day comfort guarantee
Cons
Studs and eyelets aren't metal
Tone area isn't waterproof
---
Red Wing Shoes has been the brand of choice for hunters and workers for many years. The company is known for blending the latest footwear technologies with classic designs to create truly unique footwear that stand out. The Irish Setter Ashby 83605 Work Boot seems to be following that same legacy by offering a classic design with all the bells and whistles of a modern-day work boot.
The Irish Setter Ashby is made from Briar Turbo Vegas Leather which is the best non-marking rubber outsole in the market today. Additionally, you also get a high-quality Goodyer welt construction which makes it one of the toughest work boots out there. These work boots have a few things going for it, one of which is the US raised steer hides that have been handcrafted exclusively by the company, which gives it that classic look.
Apart from the full-grain leather, other features include a non-woven nylon lining, molded heel, thick sole and a sturdy lace-up system that offers unmatched comfort. The rubber EVA outsole and removable PU footbed both work as reliable shock absorbers, providing traction and support for your feet. The fabric is breathable which means you're not going to break a sweat when wearing these work boots.
Pros and Cons
Pros
Made from high-quality Briar Turbo Vegas Leather
Rubber EVA outsole offers impressive shock absorption
Features a removable PU footbed
Sturdy and long-lasting Goodyer welt construction
Cons
Does not have a steel toe cap
---
The CMF6366 Composite Toe Boot is an attractive and sturdy work boot that delivers in spades. Made from full-grain leather with double and triple stitching, this work boot oozes of style. But, that's not the only reason why this is on the list. The CMF6366 Composite Toe Boot features leather that is water resistant.
The cement construction makes these boots versatile enough to be used anywhere either at work or while exploring the outdoors. The boot features a well-padded collar and tongue for a snug fit. An OrthoLite insole provides multiple layers of cushioning along with an anti-odor treatment that's an added advantage.
The lightweight EVA midsole and steel shank offer better protection for the heels by absorbing any shock produced by impact. The addition of Rugged Flex technology eases movement and provides better traction. You also get composite toe that offers additional protection for the toe area.
Pros and Cons
Pros
Made with 100% leather
Features full-grain leather
EVA midsole
Rubber outsole with gripping lugs
Cons
The soles tend to delaminate
Isn't waterproof
---
Timberland PRO Ascender Boots have been designed keeping the user in mind. The boot boasts of a full-grain leather upper along with Goodyear welt for added durability. This boot features a fiberglass shank which reduces the weight of the boot significantly and also provides additional rigidity for better protection of the ankles.
Other features of the PRO Ascender Alloy Safety Toe Shoe includes a padded collar and tongue and solid binding of the sole. You also get a convenient lace-up system and antimicrobial technology for added protection against the buildup of bacteria in the boot.
PU open cell footbed offers additional cushioning for the feet, while the ergonomic design of the work boot makes sure your feet remain comfortable. This boot also meets ASTM standards for impact resistance and electrical shock. The PU outsole provides unmatched traction and anti-slip properties makes it easier to walk on different types of surfaces.
Pros and Cons
Pros
Made from 100% full-grain leather
Synthetic sole
ASTM approved
High breathability
Antimicrobial technology keeps your feet clean
Specially constructed fiberglass shank reduces weight
Cons
---
Final Thoughts
If you are looking for the best breathable work boots then you should be able to find one that suits your needs in the aforementioned options. The work boots that have been mentioned here offers something for everybody, which makes them the best choice for anybody who is looking to keep their feet safe and comfortable while working in a demanding and hazardous environment.
Best Overall Choice
Skechers for Work Men's Radford Boot comes from an award-winning brand which promises of superior quality right off the bat. This work boot gives you a product that's made from 100% leather with reinforced seams detailing and excellent midsole shock absorption. Not only is the fabric breathable, but it also features Thinsulate insulation for keeping your feet warm in cold environments.
Premium Product
Wolverine Men's Edge LX Nano Toe Work Boot comes from a brand that's been making work boots for over 100 years. This high-quality footwear boasts of 100% natural leather and a cutting-edge nanotechnology design which makes the work boot lighter and more comfortable. You also get an anti-fatigue footbed and a breathable fabric that keeps your toes dry. Other features include EPX honeycomb heel for shock absorption, CarbonMax safety toe and a waterproof design.
Best Value
The Timberland PRO Ascender Alloy Safety Toe Shoe is highly rated as one of the best work boots available. Some of the stand out features of this boot includes the 100% full-grain leather outsole which gives it a premium-quality look. The boot also boasts of antimicrobial technology that keeps your feet clean and is ASTM approved.