We couldn't wait any longer! Before the holiday weekend officially begins, we had to share a peek of the beautiful new Christian Louboutin Fall 2015 collection!
Check out these just-released campaign images debuting seven styles – you can see more designs featured on the Christian Louboutin Facebook page.
Our review (including more styles!) will be posted shortly but here's a look at the latest designs and new arrivals.
You can pre-order this collection at Neiman Marcus, Saks Fifth Avenue and Christian Louboutin.
Our current favorites include the Benedetta sandal, Fetish pump and Toerless Muse in red suede.
Araknene 120mm bootie in black leather with sheer fishnet panels; available at Christian Louboutin, similar style with a platform & peep-toe at Saks Fifth Avenue
Akenana mule in black leather with silver & gold chainlink trim and 100mm heel; available at Saks Fifth Avenue
Benedetta strappy t-strap sandal in black patent leather with a small platform and 120mm heel; spotted on on Kate Beckinsale
Carapachoc colorblock suede bootie with small spike stud trim and 100mm heel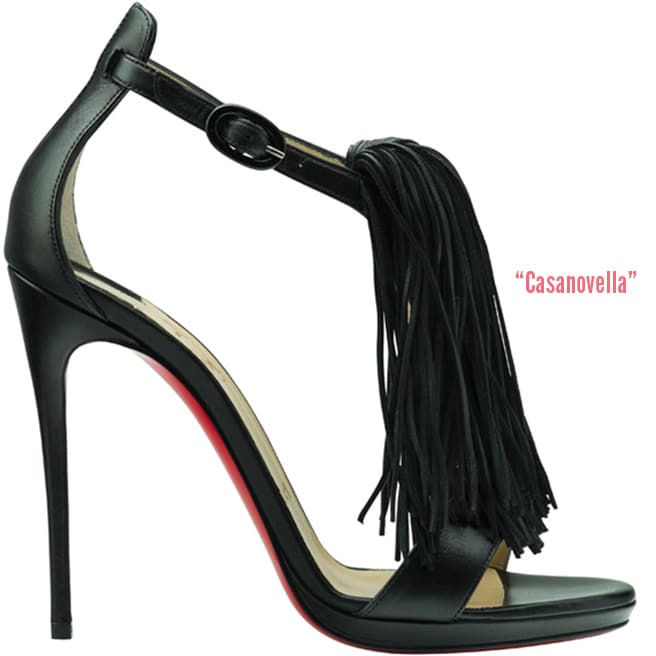 Casanovella t-strap sandal in black leather, full fringe front and 120mm heel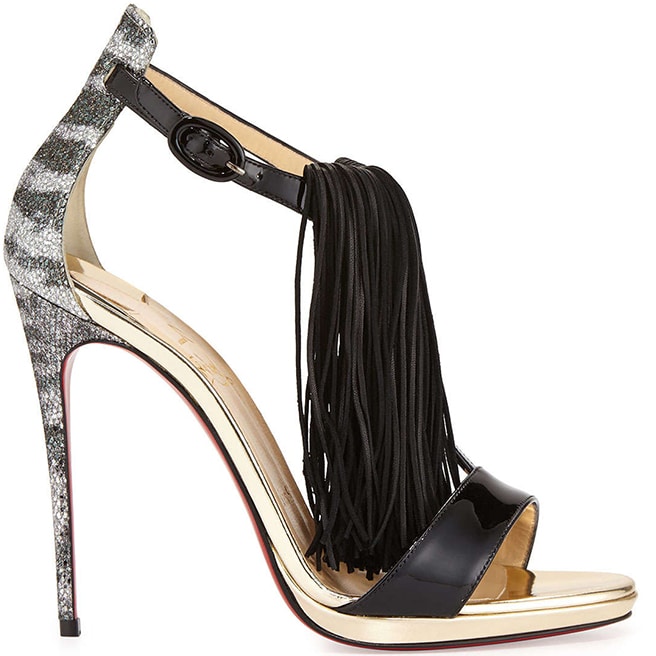 Casanovella sandal in nappa glitter serene and black patent leather with a 120mm heel; available at Neiman Marcus
Decoupadiva sandal in white snakeskin with floral laser cut detailing and sculpted 120mm heel
Decoupadiva sandal in glossy black patent leather with laser-cut detailing and 120mm heel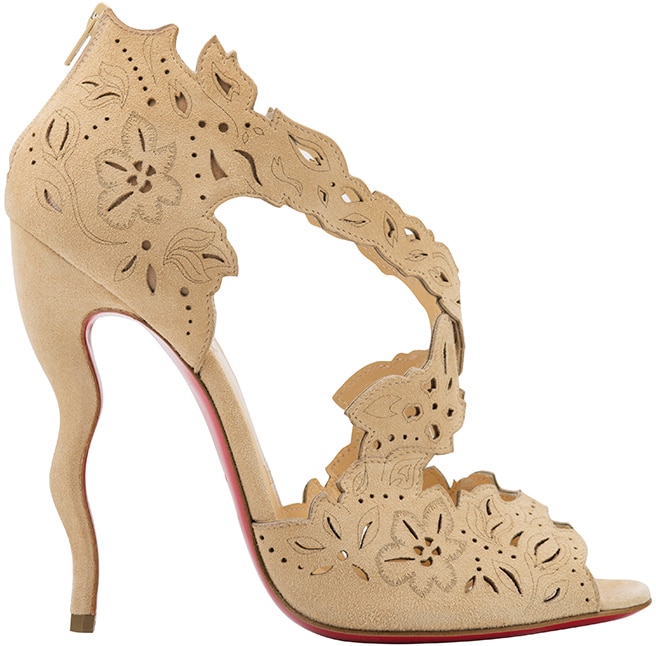 Decoupadiva sandal in nude suede with floral laser-cut detailing and 120mm curvy sculpted heel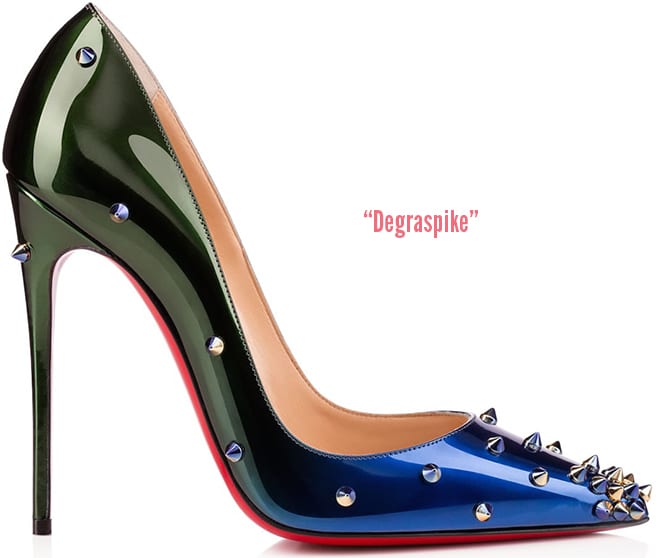 Degraspike 120mm pump in a patent ocean & amazon dégradé-effect; available Saks Fifth Avenue and Christian Louboutin

Dolly Birdy Mary Jane pump in aquarium patent leather with a glitter covered 30mm heel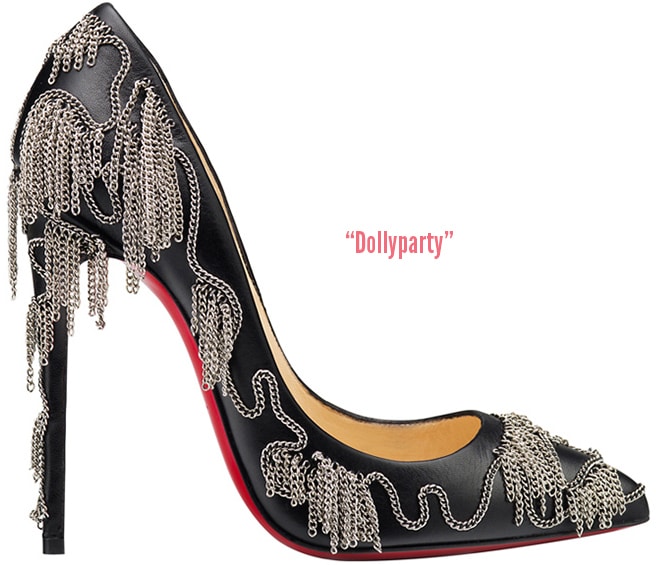 Dollyparty 120mm pump in black leather covered with silver chain embellishment throughout
Dollyparty in nuit suede embellished with gold chain and 120mm stiletto heel
Elastagram sporty cross-strap in white, orange & blue with a mirrored pale gold covered 120mm heel; available at Neiman Marcus
Elastagram sandal with glitter elastic straps, mirrored gold leather and tech mesh; available at Saks Fifth Avenue and Christian Louboutin
Electrapump in horizon baby blue leather with a spike-accented 100mm heel and silver studs
Electroboot in black suede with a tapered 100mm heel, spiked heel and gold studs
Fetish d'Orsay pump accented with a grosgrain bow, silver padlock ankle-strap and sky-high 130mm heel
Follies Spikes 120mm pump in patent rose digitle with a dégradé-effect at Christian Louboutin
Iriza half d'Orsay pump in alucuir anthracite with a 120mm heel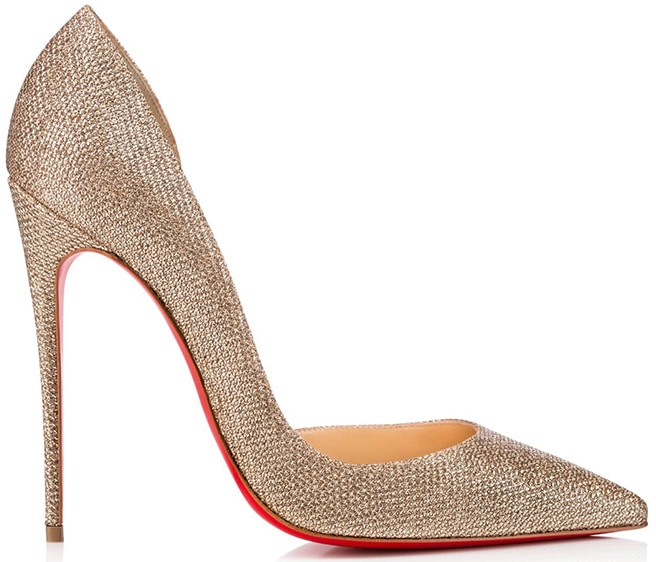 Iriza 120mm half d'Orsay pump in gold glitter luminor fabric; available at Christian Louboutin
J String sleek t-strap pointed-toe pump with a 120mm heel; available at Christian Louboutin
Neotrente ankle-strap pump in horzion pale blue with silver glitter details and peep-toe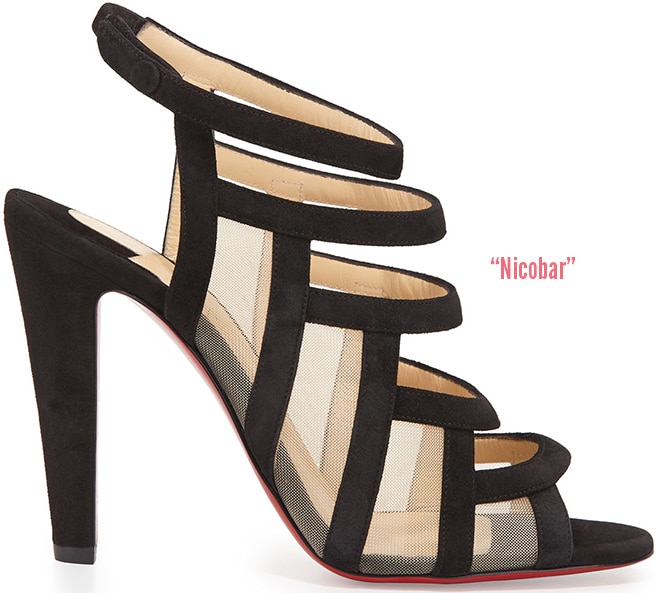 Nicobar strappy sandal in black suede with sheer mesh nude paneling and tapered 100mm heel; available at Neiman Marcus
Nicole strappy sandal in mirrored gold leather with a 120mm heel; available at Neiman Marcus and black at Saks Fifth Avenue
Perucora pointed-toe pump in black velour velvet with multicolor embellished heart-shape detailing at the toe and 120mm heel
Pigalle Follies 120mm pump with a dégradé-effect in glossy red & nude patent leather
Salonu in dentelle sevillana ivory and 100mm covered heel; available at Christian Louboutin
Saudade 160mm pump in shiny black leather pump with a triple stacked platform covered in silver studs and almond toe
Sharpstagram pump in glossy black patent leather, 100mm heel and elastic cross-straps; available at Neiman Marcus and Saks Fifth Avenue
Signifiamma nude sheer mesh peep-toe bootie with black suede detailing and silver chain embellishment; available at Neiman Marcus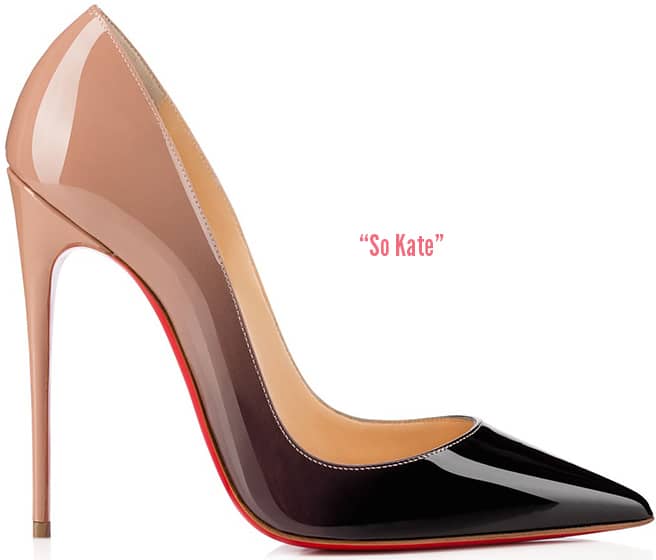 So Kate pointed-toe pump in nude & black patent leather with a dégradé-effect and 120mm heel, spotted on Emma Stone; available at Christian Louboutin
So Kate pointed-pump in laser-cut black leather and mosaic-inspired lining; available at Christian Louboutin
Tac-Clac half d'Orsay pump with a v-cut front and glitter sirene covered 100mm heel; availbale at Saks Fifth Avenue
Toerless Muse triple-strap pump in black leather with a 120mm heel
Toerless Muse strappy pump in gold glitter luminor fabric; as seen on Rihanna
Toerless Muse triple-strap pump in suede-oeillet with a 120mm heel; available in red at Saks Fifth Avenue
Treliliane round-toe pump with a 30mm heel in horizon blue patent leather embellished with small silver spikes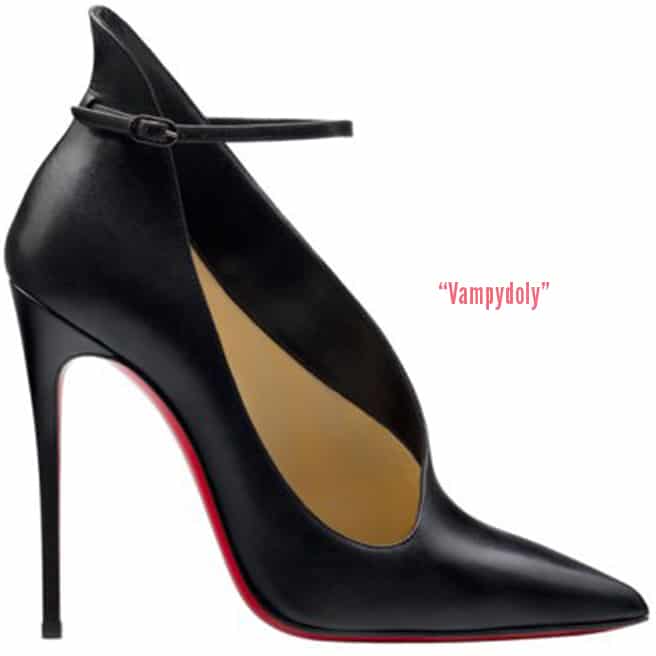 Vampydoly 120mm pump in black leather with an asymmetrical front, high-rise back and thin ankle-strap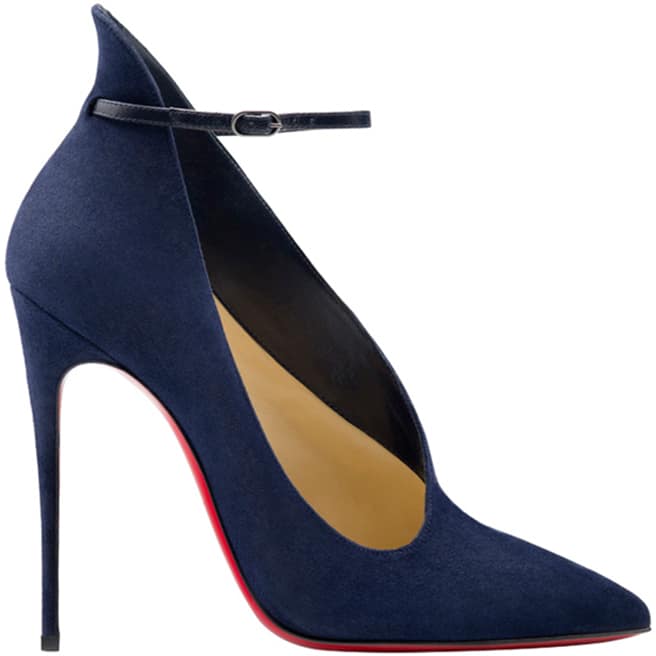 Vampydoly in suede nuit with a 120mm heel, sleek pointed-toe and matching ankle-strap
Images via WWD, Footwear News and Christian Louboutin