Christian Louboutin has been unveiling the latest spring collection a little differently this season. Instead of having the usual countdown and hosting an interactive look book on his web site, they're slowly releasing new designs through the e-boutique.
The spring styles are always brighter, more playful and I think this is one of the more wearable collections. It's a mix of media madness (a trend in shoes this season) balanced out with several feminine, classic designs (such as the V-Neck, Flo).
We've already seen Jessica Alba wear the June slingback, Gemma Arterton in the Fifi Spikes and Jessica Biel wore the V-Neck in ELLE.
I like the Pigalle stripes, colorful Diptic bootie and nude Fifi Spikes.
**You can shop the latest styles online at Saks Fifth Avenue, Bergdorf Goodman, Neiman Marcus and Net-A-Porter.**
Arnold multicolor t-strap sandal; available online at Christian Louboutin US
Belbride strappy sandal; available online at Christian Louboutin US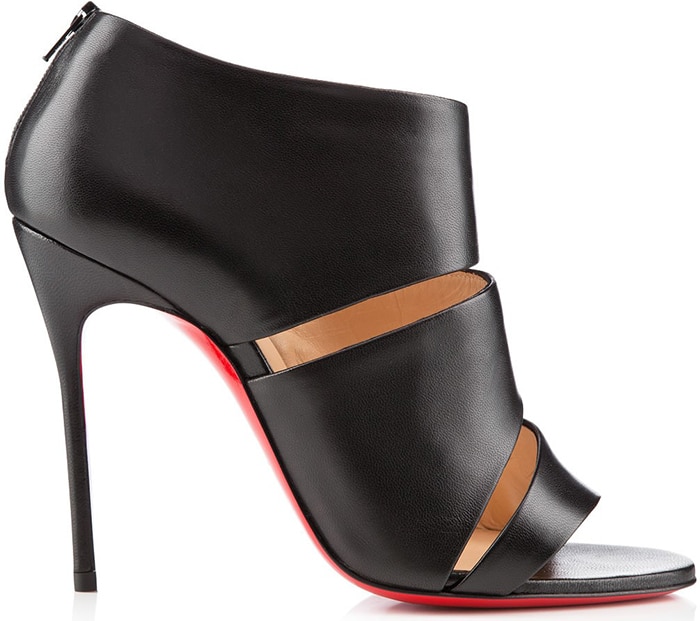 Cachottiere leather cut-out bootie; available online at Bergdorf Goodman, Neiman Marcus and Christian Louboutin US
Cataclou studded wedge; available online in brown at Neiman Marcus, taupe at Net-A-Porter
Coup de Bleu slingback sandal; available online in multicolor & black at Christian Louboutin
Diptic ankle-strap bootie; available online in grey at Barneys, black at Net-A-Porter and grey & black at Christian Louboutin US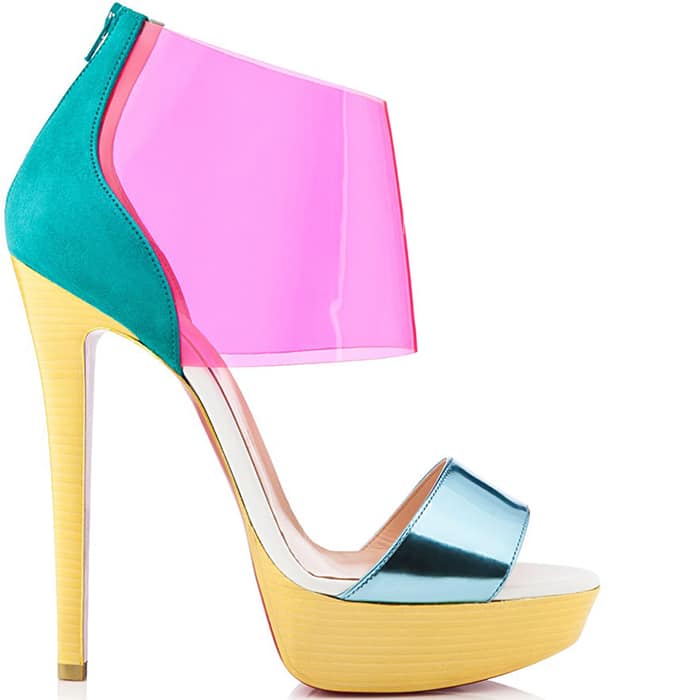 Dufoura sandal; available online in muticolor at Neiman Marcus, Bergdorf Goodman, Christian Louboutin US and grey at Barneys
Ever slingback; available online in red/light gold glitter at Neiman Marcus/Bergdorf Goodman and several different styles at Christian Louboutin US
Flo peep-toe platform pump; available online in nude, pink, black at Saks Fifth Avenue, yellow at Net-A-Porter and black & white watersnake, canari & black at Christian Louboutin US
Flo peep-toe platform slingback; available online in black at Bergdorf Goodman, Saks Fifth Avenue, Neiman Marcus, Barneys & Christian Louboutin US, teal at Bergdorf Goodman, Neiman Marcus & Christian Louboutin US or pink at Bergdorf Goodman & Christian Louboutin US
Fifi pump featuring nude satin with crystal-embellished netting
Fifi Spikes; available online in pink at Christian Louboutin US, black at Saks Fifth Avenue & ShopSavannahs,
Fifi Spikes; available online in nude at Bergdorf Goodman, Neiman Marcus & Christian Louboutin US, in black at Bergdorf Goodman, ShopSavannahs, Neiman Marcus & Christian Louboutin US
Fossile cut-out platform bootie; available online in teal/yellow at Christian Louboutin US and in black at Barneys
Guerilla open-toe studded bootie; available online on black at Saks Fifth Avenue, Barneys, Christian Louboutin US, Footcandy and in teal at Bergdorf Goodman & Neiman Marcus
June slingback; available online in pink & black at Christian Louboutin US
Livree d'Orsay; available online in white satin at Saks Fifth Avenue and Christian Louboutin US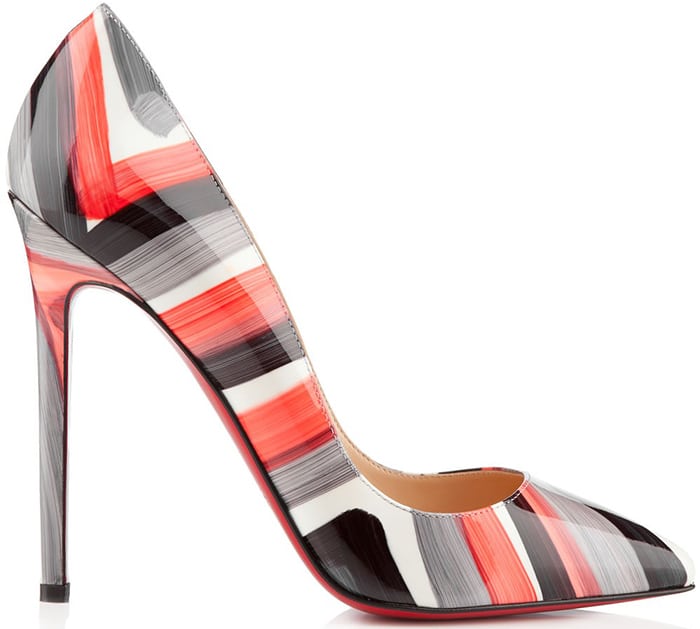 Pigalle with stripes; available online at Christian Louboutin US
Pigalle Spikes; available online in pink at Christian Louboutin US (check back), baby pink at Christian Louboutin US,
Pigalle Plato with colorblock design; available online at Christian Louboutin US
Pitou; available online in colorful patchwork at Neiman Marcus, Bergdorf Goodman, Saks Fifth Avenue, brown at Christian Louboutin US, black at Neiman Marcus, Bergdorf Goodman, Saks Fifth Avenue and in suede/python at Christian Louboutin EU
V-Neck t-strap pump; available online in red at Net-A-Porter & Christian Louboutin US
Zoulou strappy platform sandal; available online in nude/black at Saks Fifth Avenue, black at Barneys and a variety of styles at Christian Louboutin US
Credit: Christian Louboutin & WWD