For Spring 2016, Christian Louboutin draws inspiration from the iconic woman of the '50s. Think less poodle skirts and more of a stylish trend-setter daydreaming about a luxurious life filled with tropical getaways, exotic safaris and of course, red soles.
'The Day Dreamer' fantasy takes us on a tour through a dramatic range of jet setting destinations from the striking Hawaiian tropics, adventurous urban treks and even an ancient Mexican tribal journey. Similarly to the alluring range of themes, the color palette is equally intriguing featuring elegant pastels, earthy neutrals and several bright neons.
A Louboutin collection is comfortable and never complete without a little glitz n' glamour. Crystals, studs and spikes adorn many of the statement styles including the Circus City, Jeremina and GirlsBestFriend.
There are also a few new staple silhouettes including the Cross Blake and Rivierina – which we just spotted Kristen Wiig debut on the red carpet this week.
This collection offers a shoe for every woman. Our top three? The Bouvines pump, Discodeporte sandal and Mrs Early t-strap.
Shop it at Neiman Marcus, Bergdorf Goodman, Saks Fifth Avenue and Christian Louboutin.

Baila Spike d'Orsay pump in black leather with a silver studded front; available at Barneys and in a variety of colors at Christian Louboutin.

Bouvines mesh fishnet pump in black & nude leather with studded straps and 120mm heel

Circus City cutout peep-toe pump with studded arches and gold spike studded embellishment; available in gold glitter at Neiman Marcus, pale pink leather at Saks Fifth Avenue, black suede at Barneys and Christian Louboutin
Cross Blake with slender cross-straps and cut-away vamp with a 120mm heel; available in black, blue & magenta patent leather at Barneys & Saks Fifth Avenue, or Hawaiian print at Christian Louboutin
Discodeporte ankle-strap d'Orsay sandal in orange python, iridescent snakeskin, black velvet, white leather and raspberry suede
Dorissima in sensational black suede embellished with multicolored 'clair de lune' themed crystals; available in a variety of styles at Barneys, Saks Fifth Avenue, Net-A-Porter.
Electropop peep-toe pump in black suede embellished with a gold-spiked shocking pink patent cockscomb accessory; available at Christian Louboutin Germany.
Girlsbestfriend sandal in mirrored silver leather embellished with hand-placed baguette crystals plus a chain and crystal brooch accessory; available at Christian Louboutin EU.
Gradipump in black suede covered with gold embroidery throughout and 120mm heel.
Ha Why Luna ankle-strap sandal featuring a crystal and pearl embellished laser-cut leather floral appliqué and electric roccia python heel; available at Christian Louboutin.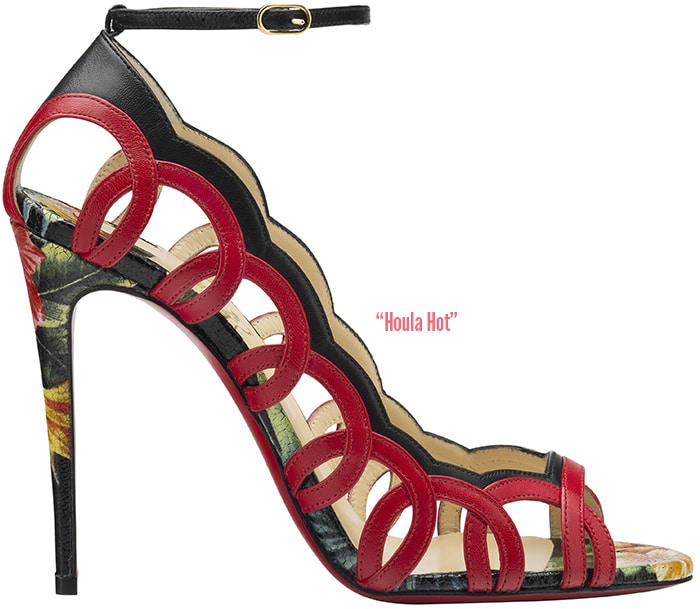 Houla Hot cutout lattice ankle-strap peep-toe pump; at Christian Louboutin EU and in white leather at Neiman Marcus.
Jeremina strappy fishnet pointed-toe pump with mesh underlay and 6 criss-cross button straps.
La Aichinger muted floral faille t-strap pump with round toe, nude fishnet details and mirrored gold trim; available in black suede at Christian Louboutin.
Miss Taos Mexican beautifully beaded pointed-toe pump with sleek toe and 120mm heel.
Mosaika Strass peep-toe pump in cobalt leather with an embellished "shield" detail, papaya leather heel and mirrored leather toe.
Mrs Early t-stap pump in hot pink & lemon patent leather and pink raffia, available in black at Neiman Marcus and beige floral faille at Net-A-Porter.
Pigalle Follies pump in multicolor tissu sao, black patent leather trim and leather 120mm heel.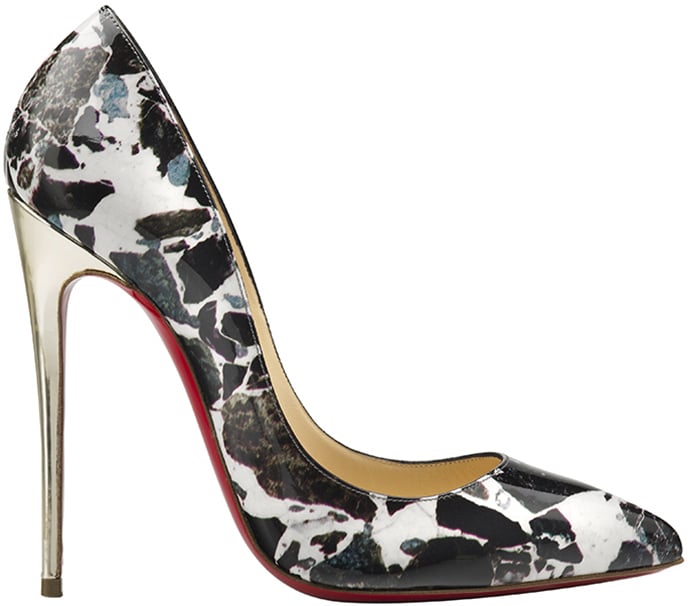 Pigalle Follies marble-effect pointed-toe pump with mirrored pale gold stiletto heel.
Soustelissimo strappy pump with low-cut vamp; available in black patent leather at Neiman Marcus or pink at Christian Louboutin.
So Baker tribal fishnet pump in leopard pony with python toe, fishnet upper with raffia tassel fringe.
So Kate in black & white striped patent leather and bright yellow covered 120mm heel.
So Kate painted cork pointed-toe pump with sleek toe and 120mm heel; available at Neiman Marcus, Bergdorf Goodman and Christian Louboutin.
So Kate pump in python raye laminato sun electric vert and mirrored leather covered stiletto.
So Kate pointed-toe pump in python roccia electric vert and 120mm heel; available at Neiman Marcus.
Tipika sandal with multicolor hand embroidery, colorblock patent leather straps.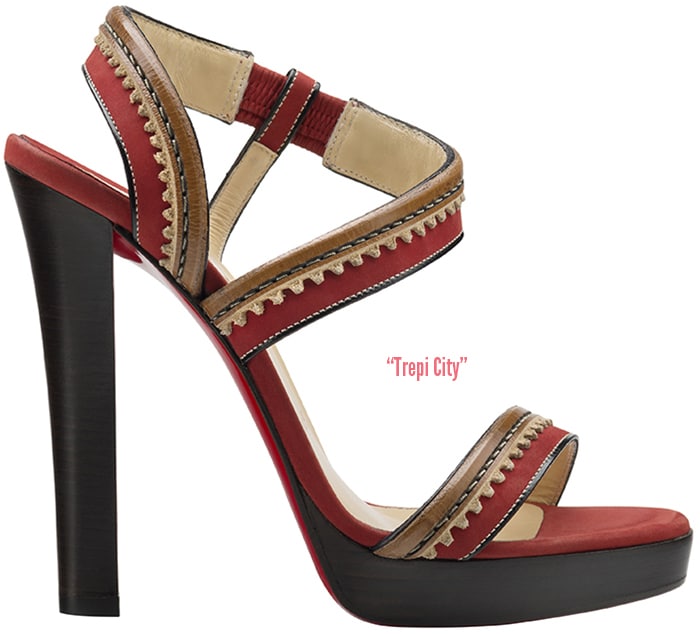 Trepi City dark red suede platform sandal with a stacked dark wood heel and nude suede trim.
Trezotro rainbow python, mirrored gold leather and black suede buckled sandal; available at Barneys and Christian Louboutin.
Tuctivista peep-toe platform pump in magenta patent leather with a marbled platform and striped leather covered heel.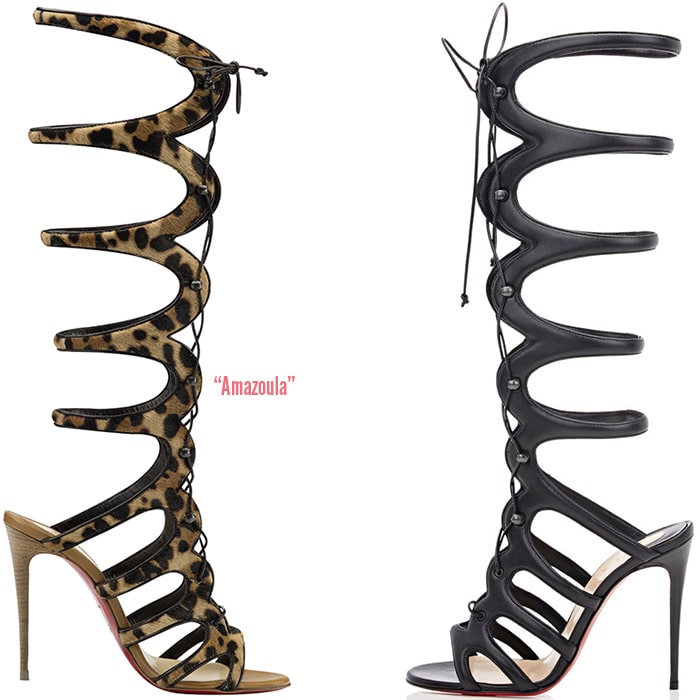 Amazoula knee-high gladiator sandal; available in leopard at Christian Louboutin and black at Neiman Marcus, Nordstrom and Barneys.