Are you ready to buy a new pair of boots? Timberlands has some good options, but you may not have the chance to try everything.
Instead of guessing on sizes, you should know how to choose your correct size. Then, you can accommodate Timberlands that run big, small, or true to size.
You won't have to worry about excess pain, and you can wear good shoes even if you have foot problems. Keep reading to learn more about Timberlands sizing to get the best fit.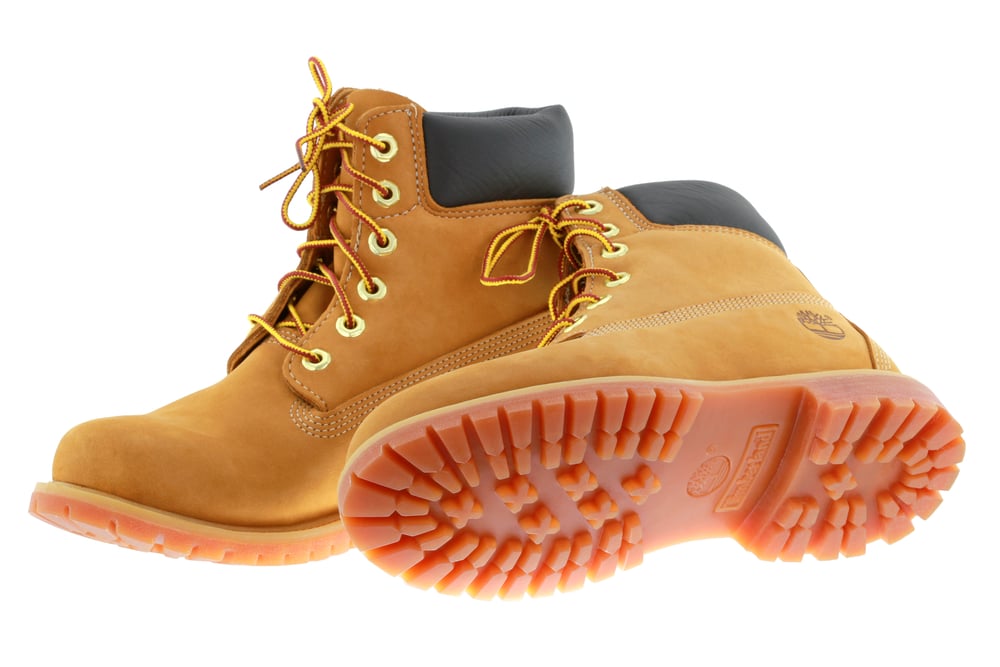 Do Timberlands Run Big or Small?
It depends on the style of the shoe. Some Timberlands run big, some run small, and some are quite true to size. Here we have listed different styles of Timberlands and their sizing.
Timberlands That Run Big
Some Timberlands can run a bit bigger, so you may want to go down a size. The classic 6-inch waterproof boot is one common style that runs larger. Another boot that tends to run big is the Earthkeepers style.
The PRO Titan Oxfords and the Groveton also run big. If you get the Groveton, you may need to go down a full size or at least a half size.
When buying the PRO Titan Oxfords, you should try on half a size smaller, or you may get your regular size as some say they aren't that big.
You can go down a half or whole size to get a better fit with any of the shoes that run large. Alternatively, you might stick to your usual size if you want some extra room in your Timberlands. Then, you won't have to feel like your feet don't have room to move.
Timberlands That Run True to Size
Many Timberlands run true to size, which can make shoe shopping much easier. The Mt. Maddsen style is a hiking boot that you should fit if you get your regular size. However, you may find it runs a bit narrow if your feet are on the wider side.
Another boot that runs true to size is the Killington Chukka style. The Direct Attach boots also follow this rule, though Timberlands sometimes recommends sizing down. Of course, you may need to size up or down if you don't wear the correct shoe size now.
The White Ledge boot has received mixed reviews when it comes to sizing. Some people say it fits true to size, others say the shoe is too big, and a third group says the size is too small. If you want to try that style, be sure to test a few sizes to find the right one.
Timberlands That Run Small
As mentioned, some people say the Timberland White Ledge boots run small. This is usually the case for people with wide feet as the style can be a bit narrow. Most people shouldn't find that the White Ledge boots are on the small side.
Fortunately, most of the other Timberlands shoes are true to size or big. But if you want to get a pair of White Ledge, consider going up a size. Then, you can account for the chance of the shoes being too small, and you can compensate if they're too big.
Ideally, you'd be able to try a few sizes in that style to choose what's comfortable for you. If you can't try before you buy, go with your true size. You can then stretch the boots if they're too small, or you can wear more socks if the shoes are too big.
Timberlands Size Chart
Timberlands Women's Shoe Chart
| | | | | |
| --- | --- | --- | --- | --- |
| USA | EU | UK | IN | CM |
| 5 | 35.5 | 3 | 8.7 | 22 |
| 5.5 | 36 | 3.5 | 8.9 | 22.5 |
| 6 | 37 | 4 | 9.1 | 23 |
| 6.5 | 37.5 | 4.5 | 9.3 | 23.5 |
| 7 | 38 | 5 | 9.5 | 24 |
| 7.5 | 38.5 | 5.5 | 9.6 | 24.5 |
| 8 | 39 | 6 | 9.8 | 25 |
| 8.5 | 39.5 | 6.5 | 10 | 25.5 |
| 9 | 40 | 7 | 10.2 | 26 |
| 9.5 | 41 | 7.5 | 10.4 | 26.5 |
| 10 | 41.5 | 8 | 10.6 | 27 |
| 11 | 42 | 9 | 11 | 28 |
Timberlands Men's Shoe Chart
Men's Footwear
| | | | | |
| --- | --- | --- | --- | --- |
| USA | EU | UK | IN | CM |
| 5 | 37.5 | 4.5 | 9.3 | 23.5 |
| 5.5 | 38 | 5 | 9.4 | 24 |
| 6 | 39 | 5.5 | 9.4 | 24 |
| 6.5 | 39.5 | 6 | 9.6 | 24.5 |
| 7 | 40 | 6.5 | 9.8 | 25 |
| 7.5 | 41 | 7 | 10 | 25.5 |
| 8 | 41.5 | 7.5 | 10.2 | 26 |
| 8.5 | 42 | 8 | 10.4 | 26.5 |
| 9 | 43 | 8.5 | 10.6 | 27 |
| 9.5 | 43.5 | 9 | 10.8 | 27.5 |
| 10 | 44 | 9.5 | 11 | 28 |
| 10.5 | 44.5 | 10 | 11.2 | 28.5 |
| 11 | 45 | 10.5 | 11.4 | 29 |
| 11.5 | 45.5 | 11 | 11.6 | 29.5 |
| 12 | 46 | 11.5 | 11.8 | 30 |
| 13 | 47.5 | 12.5 | 12.2 | 31 |
| 14 | 49 | 13.5 | 12.6 | 32 |
| 15 | 50 | 14.5 | 13 | 33 |
How to Choose the Right Size
Knowing which Timberlands styles run big, small, or true to size is excellent. However, you should know how to find the best size for you. You won't have to worry about wasting time testing sizes that won't work for your feet.
Whether you've worn Timberlands before or not, you should start from scratch. That will give you a clean slate, and you can increase the chances of choosing the correct size at first.
Give the following steps a try when shopping for your next pair of Timberlands.
Don't Go Off Your Current Size
One of the most limiting things you can do when shopping for boots is to use your current size to guide you. In some cases, it may help, such as if you have a comfortable pair of Timberlands. But relying on your current size can lead to problems.
For one, you may not be wearing the correct shoe size. Using that size could lead you to choose a pair of Timberlands that's too big or too small. So you may need to try a few sizes before you find a comfortable fit.
You may also be wearing shoes that do run small or that run true to size. If you wear a size 9, for example, you may need to get a pair of Timberlands in a size 8. Be sure to consider the style of Timberlands that you want and if they run large or true to size, and compare that to your current shoes.
Measure Your Feet
Since you aren't using your current size, you should measure your feet. You can use a special device at a shoe store. However, you may want to measure your feet at home to get an accurate result to compare to a Timberlands size chart.
One way to measure your feet is to use a piece of paper and a pencil. Mark the back of your heel and the tip of your big toe to get the length of your foot. Alternatively, you can have a friend use a ruler to measure your foot for you.
In both cases, be sure to get the measurement in centimeters since that is what Timberlands uses on its size chart. Then, you'll be able to convert the measurement in centimeters to the correct size for men or women.
Try Multiple Pairs and Styles
Once you get your size, you should still try a few pairs of boots. If the "correct" size feels too big, you can go down a size to get a better fit. The most important part is that your feet feel comfortable, not that your size matches what a size chart says.
You might also want to test out different Timberlands styles. Some may fit your feet better or provide more support. Think about if you want a boot, an Oxford shoe, or some other option, then see what Timberlands offers.
Start with the size that corresponds to your foot measurements. Don't be afraid to experiment with other styles and sizes to see what works best. You may find that a style you didn't think you'd like is your favorite.
Wear Your Favorite Socks
Speaking of favorites, be sure to use your favorite socks when trying on Timberlands. Since some styles run big, a thick pair of socks may compensate for that sizing. If you only wear the thin foot liners in a store, the shoes may feel much larger.
You could decide to buy a size smaller, but you may not be able to wear your socks with the boots. To make sure you get the right size, bring any pairs of socks you'll want to wear with the Timberlands.
Try on a few combinations of socks and shoes to see what feels good. Even if the style you select normally runs large, you might get your typical size. It could feel comfortable and fit well because your socks fill out the inside.
Decide If You'll Wear Insoles
Another thing that can affect the size of Timberlands you choose is if you'll pair them with insoles. A good pair of insoles can help support your feet as you walk or stand. However, some insoles are thick enough to change how a shoe fits.
Similar to thick socks, an insole may make the inside of a shoe feel smaller. In that case, you may want to go up a size so that you'll still have room for your insoles. Or you might stick to your regular size if you have insoles and want to get a Timberlands boot that runs large.
If possible, bring a pair of insoles with you when you try on Timberlands. Then, you'll be able to verify that they will fit inside the boots you want to get.
Consider Foot Conditions
You may also need to think about any foot problems you have. Maybe you have plantar fasciitis, bunions, or hammertoe. All of these and other foot conditions can affect how your feet feel in a certain pair of shoes.
If you have bunions, for example, you may need to go up a size to give your feet plenty of room. When you have a problem like plantar fasciitis, you might need to choose a size where the arch support is in the correct spot.
No matter what foot problems you have, consider talking to a doctor. They can help recommend how to choose the correct shoe size. Your doctor might also help you find good insoles or orthotics to help protect your feet when wearing any shoes, Timberlands or otherwise.
Review Your Lifestyle
As you shop for Timberlands, think about how much you'll be on your feet. You should walk around the shoe store or your home when shopping online. While you can't tell how they'll feel after a long day, you can get a good idea of how the shoes will feel at first.
If you plan to wear your Timberlands and are on your feet a lot, you may need more support. Or if your feet tend to swell throughout the day, you might want to go up a size. However, if you work sitting down, you may not need to think about those things.
Consider where and for how long you plan to wear your new Timberlands. Then, you'll be able to choose the correct size and style for you. When you're ready to wear the boots, you shouldn't have to worry as much about them causing pain.
Do Timberlands Run Wide or Narrow?
Timberlands usually run a bit wide, or they follow normal sizing. Just like how they may feel big from front to back, your usual size may feel large from side to side. You should be able to choose your normal shoe size and have the boots fit the width of your feet.
However, you may need to go up a size if your feet are significantly wide. Similarly, going up a size may be worth it if you want to get the White Ledge boots. Some people say the shoes are small, and they can feel too narrow if your feet are wider than most.
Wide feet aren't anything you need to worry about, but knowing if you have wide feet can help you when shopping for shoes. As you measure your feet, consider measuring the width as well as the length to help you find the perfect fit.
How Mens' and Womens' Sizes Differ
Just like with other brands, Timberlands mens' and womens' sizes are different. The mens' sizes are 1.5 sizes smaller than womens' when using centimeters to get your size. Be sure to refer to the correct size chart from Timberlands when choosing the right size for you.
In some cases, you may be able to use your usual size as a man or woman. However, it helps to refer to the size chart to verify your size, especially if you're buying shoes online. You should also consult the size chart if you're buying shoes for your kids.
Luckily, the styles that run big can give your kids time to wear the boots without them getting too small. You can buy your child's current size, and they may grow into boots. Then, you won't have to replace the pair as quickly.
How to Make Timberlands Smaller
You can make Timberlands feel smaller in a few ways, which is nice if you get a size too big.
An easy way to make the boots feel smaller is to add a good insole. Make sure you buy an insole from a reputable company to make sure it won't fall apart.
If the insole is one you cut down to size, do that. Then, you can place the insole in the shoe to see how well it affects the fit. Insoles may not help with front-to-back size issues, but they can help if you have a lot of room on the top of your feet.
To help with having too much space all over, you can wear a thick pair of socks. The thickness can make it feel like the shoes are smaller than they are. Good socks can also keep your feet from rubbing directly against the inside of the boots and causing blisters.
You may also want to try pulling the laces tighter. This will primarily affect the fit around your ankles, but it can help secure the boots to your feet.
How to Make Timberlands Bigger
As you wear your Timberlands and break them in, the leather should stretch. That will help make the shoes feel bigger, which can be nice if you buy a size too small. Now, this can take time because leather takes a while to stretch and adjust to fit your feet.
Once you do break in the shoes, they may start to feel perfect on the top and sides of your feet. And if you still have problems, you may want to remove the insoles if you can. That will give your feet a bit of extra space.
Another excellent option is to use a shoe stretcher. You can place the device inside of your boots to help the leather stretch and move. If you don't have one of those, consider stuffing the shoes with plenty of socks and letting them sit for a couple of days.
How to Break-in Timberlands
After you purchase a pair of Timberlands, it can take time to break them in. Like other leather shoes, you have to wait for the leather to adapt to fit your feet and to feel most comfortable. One of the easiest ways to break in the shoes is to start wearing them as you plan to.
Wear the shoes to work or on your next hike to force them to break in. You can also wear them around the house and on short outings. That way, you'll be able to break the shoes in slowly, but you can take them off before they start to cause pain.
Be sure to remain patient as you break in the new Timberlands. It may seem annoying now, but you'll be able to wear the shoes for a long time. After the break-in period, all of that work will be worth it for shoes that support your feet and are good for many tasks.
Will You Buy a Pair of Timberlands?
Timberlands boots are some of the most popular styles out there. But before you buy your next pair, you should consider the sizing. Then, you'll be able to select the correct size from the start, and you can choose boots that will feel good.
You shouldn't have to wear uncomfortable shoes, and you shouldn't have to deal with pain. If you feel any of that, look for a different size or style to, hopefully, eliminate the problem.