Everyone likes when they get a new pair of shoes in their original box, right? There is nothing worse than when someone gets the shoes in the mail and they don't have an original box. They either put them in a wrong bag or put them in too big or small of a box.
Shipping shoes is easy and not too expensive. Shipping shoes can be a good way to make more money if you have time. There are many ways to pack and ship the shoes, but they all need to be done right. If you do it the wrong way, you will get less money for all of your work.
You might want to ship some footwear around and many people wonder how to do this. Keep reading how to ship shoes in the original box or if you don't have the original box then what you should do.
How to Pack Shoes for Shipping?
Please note that this guide only covers shipping from the US. When you ship your shoes, you need packing tape, boxes to put the shoes in, and bubble wrap.
First of all: Make sure you package your shoe in its original box. If you don't have a box, make a careful assessment as to whether or not your shoe will fit comfortably into another sneaker box – do not try to squeeze a size 13 foot inside an Asics 9-1/2 sized box!
Also, try to use the same brand of shoes as the one inside the box if possible – Nike boxes are a perfect fit for Nike's, Adidas boxes are a perfect fit for Adidas'.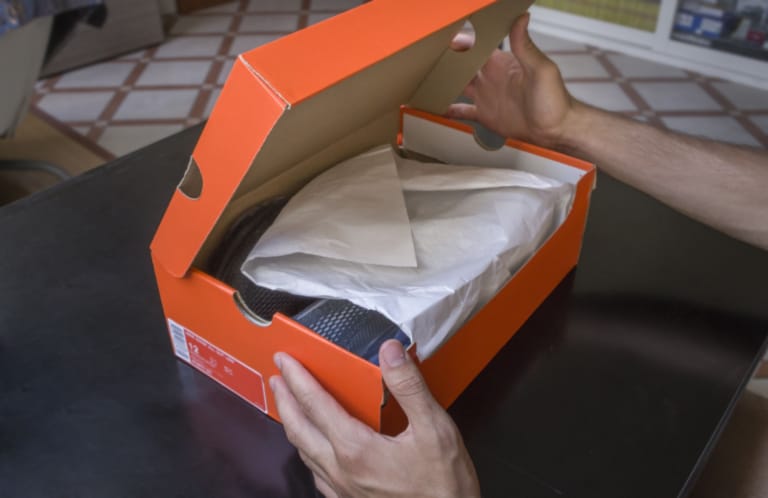 The toes and sides should be protected from any damage that may happen during shipping by paper stuffing or bubble wrap – if this is not done correctly damage can occur when shoes move around inside the box during shipment.
Use shoe trees. The right type of shoe tree can keep your shoes looking like they are new. The shoe tree keeps the toes of the shoe in good shape and helps to keep the leather strong.
If you are shipping things that are not easily shaped, then you should use padding to make sure they don't break or bend. You can use bubble wrap, packing peanuts, or other materials. This is also good if you need to keep objects like shoe horns from moving too much in the box.
Box Options for Shipping Shoes
There are many different types of shoe boxes. You want to choose the right one for your shoes. Those that need long-distance shipping, like overseas, should use corrugated boxes. If you have delicate shoes like ones with buttons or trinkets, then you can use flat cardboard mailers and bubble mailers.
The shipping box for the shoes should be small enough to fit all of your order. If there is any extra space in the box, you can put padding in it.
---
You might also like:
---
Double Box The Shoes
That means that you can put your shoes in a box and then put that box in another bigger box. Most people want the original shoebox from the brand, but sometimes they keep it in their shoe collection.
If you send out the original shoebox on its own, it might get broken on the way to someone or be messy inside. You should double-box because it protects your shoes and you can keep them from getting damaged.
How to Ship Shoes in The Original Box?
You can just use the original box if you have flip flops or slippers for other shoes, you need to place the original shoe box in another, bigger box to protect the shoes from damage. You can buy a box and put your shoes neatly inside it. Then you need to use packaging paper and fill the bigger box with enough packing peanuts or paper.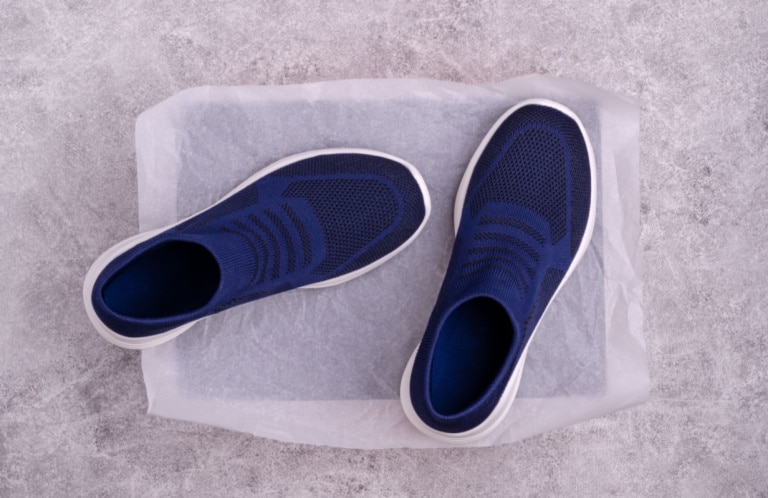 Close the box and seal it carefully. Add bubble wrap if you want to protect them better before shipping them off, but be careful so they don't get ripped open!
How to Ship Shoes Without A Box?
You can send a single pair of shoes in a bubble mailer. But if you are sending more than one pair, or the shoes are large or heavy, then you need to put them in boxes. Flip flops or slippers can easily be placed in the bubble mailer but other shoes should be placed in a sturdy box with padding.
Read Also: How Much Do Shoes Weigh?
How Much Does It Cost to Ship Shoes?
Most of the time, it is cheapest to ship shoes using USPS. When you need to ship more than one pair of shoes, you should compare different shipping services. Parcel shipping can be expensive if you have a lot of boxes. You might want to use consignment instead because that is cheaper for large shipments.
The United States Postal Service has made shipping shoes easier. You can use the Priority Mail Shoebox for free and pay the rate for shipping. This box is specially designed for shipping shoes and other footwear.
Retailers often use this method, too! You can order a stack of them online, too. All you need to do is put your original shoebox with your shoe inside into the Priority Mail Shoebox, then slide in the box that has your other shoe in it. It is a great idea if you are sending someone shoes as a gift or for repair.
The Priority Mail Shoebox
The size of a USPS shoebox is 7-1/2 x 5-1/8 x 14-3.8 inches. Women's shoes can fit in that box, but men's shoes that are bigger than size 13 need a bigger box. This box is for shoes sizes 5-13 in adult sizes. The Priority Mail Shoebox is not a flat rate box.
There's also Priority Mail flat rate boxes you may want to use, they come in small, medium and large sizes. The box is free, you just pay for the flat rate. So if you have heavier shoes, you might want to use the Priority Mail flat rate box instead.
Priority Mail flat rate boxes cost:
Padded flat rate envelope
(12 ½" x 9 ½")
$8.30
Small box
(8 ⅝" x 5 ⅜" x 1 ⅝")
$8.30
Medium box
(13 ⅝" x 11 ⅞" x 11" or 11" x 8 ½" x 5 ½")
$15.05
Large box
(23 11/16" x 11 ¾" x 12" or 12" x 12" x 5 ½")
$21.10
There's also First Class Mail. With First Class Mail you can pay different rates, depending on how much the package weighs, and how far it has to travel. This type of shipping is more expensive than flat rate shipping, but it is cheaper than Priority Mail. You can use your own packaging and speeds are available including overnight delivery.
With UPS or FedEx, the price of your shipment will depend on a number of factors. This includes the size and weight, the speed and distance it is going, and if it is going to a commercial or residential area. The cost will be different for each.
---
Latest Posts:
---
Final Thought
Navigating the process of shipping shoes isn't just about sending a package; it's about sending a piece of comfort and style to someone's doorstep. With a bit of care and attention, you can ensure that your beloved footwear arrives at its destination in pristine condition. Remember, each shoe tells a story of the places it has been and the adventures it has seen.
So, as you prepare to ship your shoes, embrace the role of a storyteller, sharing a bit of your journey with each carefully packaged pair. By following these simple steps, you're not just mailing shoes – you're sending a piece of yourself, ready to step into new horizons.